Well hello there March, you funny thing you! One part winter, one part spring — the only certainly is plenty of rain so get prepared folks. February has been a wonderful month. I was able to catch up on work and spend some time working on blog posts, like this one in one of my favorite neighborhoods, santo spirito, secret museums in Florence, or one on our adventures wine tasting at a nearby Tuscan castle. This past weekend, I was discovering a country I really love, Slovenia, which I will soon be covering on the blog, so stay tuned! With March comes an early Easter (the end of this month) and hopefully better weather in Florence. The rain has been relentless, but alas that's pretty normal for this season. I strap on my rain boots and grab one of many broken umbrellas and slush my way through the city getting errands done.
Regarding events, this month I did something a little different. The events are listed under sub-categories to make it a little easier for you guys to find what you really want to do. Since Easter is this month, I will include a special section of what's going on that weekend, just be aware that often I find things out last minute. I've gotten a few emails asking about what's on during that period but even I don't know yet besides the scoppio dello carro 'explosion of the cart' on Easter Sunday morning in piazza duomo square (more below).
Also if you haven't yet, consider subscribing to the blog to get posts directly to your inbox, if you like what you read. I promise to send no spam or ask you to do anything else, but I do appreciate the support!
Workshops
Free Workshop | 'INTERNET 101 with Mike Strunin' @Creative People in Florence at Via di Mezzo 6r, March 2nd 7-9pm, FREE
"In this FREE info session Mike Strunin will present a series of topics related to websites and doing business online. It will be in the form of an open lesson/presentation and is OPEN TO ALL. Based on the feedback of participants at the Session, Mike will then develop a series of workshops and/or one-to-one lessons…. Read more about it here."
Special Course | Material Culture in Early Modern Italy, March 21-June 6th, British Institute of Florence, Italy
As you know I adore both the Creative People in Florence group and The British Institute in Florence. And lo and behold they have banded together for a special 15 session course (Monday evenings and Saturday mornings) course that is open to anyone, and everyone! Course Fee: €450. The description is below, to sign up click here. 
"The course is devoted to the role of the applied arts in the shaping of Italian culture from the 13th to 17th centuries. With a strong focus on the city of Florence, its Renaissance guilds of craftsmen and later workshops of the Medici Court, this course provides historical context and interpretation for the ornament, apparel and furnishings of Florence's golden age.
From household furniture and clothing to precious reliquaries and diplomatic gifts, creativity has persistently informed all aspects of Florentine life, and the artists and patrons of this culture established standards of style and taste that continue to inspire today. Specific themes include the form and function of the arts of illumination, early printing and bookmaking, textile production and costume, gold and silverwork, ivory, marquetry and pietre dure manufacture, as well as the visual and literary evidence of this material culture in the paintings, sculpture, architecture and archives of Italy.
This course has been specifically designed for members of Creative People in Florence. To participate in the course you must become a member of the group by paying a 10 euro membership fee for 2016. To learn more about the group and other benefits of membership, please visit the Creative People in Florence website. Fees for new members are payable in cash on or before the first course meeting.
Sales/Fashion
Sample Sale | Check Out This Special Sale With Jennifer Diederich of Suite//Sara Amrhein Contemporary Jewelry, March 5th, 11:00 am – 7:00 pm @Via di Mezzo 6r
Two of my favorite artisans/designers are hosting a sample sale this Saturday for one day only. It will feature the work by contemporary jewelry designer Sara Amrhein and fashion designer Jennifer Diederich of Suite. Come by for a glass of prosecco and treat yourself to a few statement pieces–with prices that are just as unique!
https://www.instagram.com/p/BCI73vhk10C/?taken-by=suite_jennifer
Music & Meetups
Speakeasy Multilingual Happy Hour — Conversation in English/Italian (plus), March 2nd & 9th, piazza tasso, 7pm
Want to relax and practice English? Come to a Speakeasy multilingual happy hours to drink, eat and chat with new friends. A native English-speaking "coach" can help you along. Want to practice Italian? You can do that too in our Italian "break-off" groups during the happy hour. Let us know what other languages interest you. French, Spanish, Portuguese….? Regular happy hours occur every Wednesday at 7:00 pm at Aurora in Piazza Tasso. The price is €10, including food and wine (from 7:00 pm to 8:30 pm). Write speakeasyenglishfi@gmail.com for more information, including about other special events. more info here.
Alfred Hitchcock's Psycho in Original Sound | Movie Aperitivo at Todo Modo, March 3rd @6:3pm
Watch the iconic movie 'Psycho' by Alfred Hitchcock at a special meetup/aperitivo created by The Foreigners in Florence facebook group. The film will be shown in English with subtitles. Aperitivo starts at 18:30. Cocktail (Milano-Torino) or Beer or Wine or Fresh Juice + some food for 10€ . Movie starts at 19:15. Check out the event listing here.
Open Mic | March Open Mic at Tasso Hostel, March 2nd, 8:30pm. 
Text from Facebook "On 2nd March, there will be the monthly explosion of creativity at Hostel Tasso's open mic! And I will be your host – magician, writer, and performer, Lorenzo Novani. The Open Mic is quite simply the best FREE entertainment you're going to find anywhere on a Wednesday night in Florence. Come, buy a drink (or 3), watch the acts then make friends. Thats the itinerary. 5 – 10 minute time slots are available to ANYONE who fancies doing ANYTHING; Poetry, Theatre, Magic, Comedy, Music etc etc. Want to perform something at the open mic? Drop me a message and I'll guarantee you a spot and introduce you by name (!) OR turn up on the night and we'll squeeze you in at some point!" Address: Via Villani 15 (piazza tasso area), event details here.
https://www.facebook.com/openmicflorence/photos/gm.1696137107296096/1222307264465039/?type=3&theater
Note al Museo | March 17th, Opera del Duomo Museum, 9-11pm
This is seriously cool, the Opera del Duomo museum will be hosting a musical concert in its newly renovated space with Italy's top emerging classical artists. Including Georg Friedrich Handel, l'italiano. Website.
St. Patty's Day | 'Irlanda in Festa' March 18th, 2016, Obihall from 7:30pm onwards
Celebrate St. Patty's Day on March 18th at the Obihall (an easy bus ride away). There will be Irish music, dancing, a small market with local products and of course, plenty of beer.
General Events & Openings
Ditta Artigianale Oltrarno – Opening Party, March 3rd, via dello sprone 5r, 6:30pm. 
Lo and behold, the oltrarno is getting a 'Ditta Artigianale', brainchild of talented barista Francesco Sanapo. A new coffeeshop/restaurant/cocktail bar in a brand new space on my street, via dello sprone. The opening party is on March 3rd, a Thursday and I'm sure it will be packed to the brim since this place is so popular. You can see the event listing here. 
https://www.facebook.com/536042673171261/photos/gm.741437145990031/844919895616869/?type=3&theater
Vote! Democrats Abroad Presidential Nominating Process, At California State University, 3-5pm. 
Come vote in person and participate in the 2016 United States presidential nominating process for the Democratic party, at my old school California State University Florence address: Via Giacomo Leopardi 1.
Woman's Day, Tuesday — March 8th, All Over Italy 
March 8th is a day dedicated to women, in fact this must be the best day ever for flower sellers who sell tons of Mimosa flowers (the typical gift for women) on this day. As a plus, all state museums in Italy will be free for girls. Typically Italian women go out with their girlfriends on this day so expect to see many happy, giggly groups all over Florence on March 8th. There will be a special exhibitiojn dedicated to women at La Galleria360 on Via Il Prato, 11 r. For girls who really want to have fun, I recommend the dinner and 'show' (35 euros) at Otel Variety Club (you'll need a taxi) which will have some of the best stripteasing men in France as that day's spectacle. If you just want to dance, after midnight it's 15 euros to get in. address: Via Generale Carlo Alberto Dalla Chiesa, 9 · Firenze.
'Capodanno Firenze' New Years for Florence! Friday, March 25th, Piazza SS Annunziata
According to the old calendar of Florence (celebrated up to 1582 before it switched to the Gregorian version), this is New Year's Day in our city in the center of the Renaissance. There will be a historical parade in the afternoon, starting around 3:30pm at piazza davanzati up to via dei servi, ending in piazza ss. annunziata where there will be an all day market.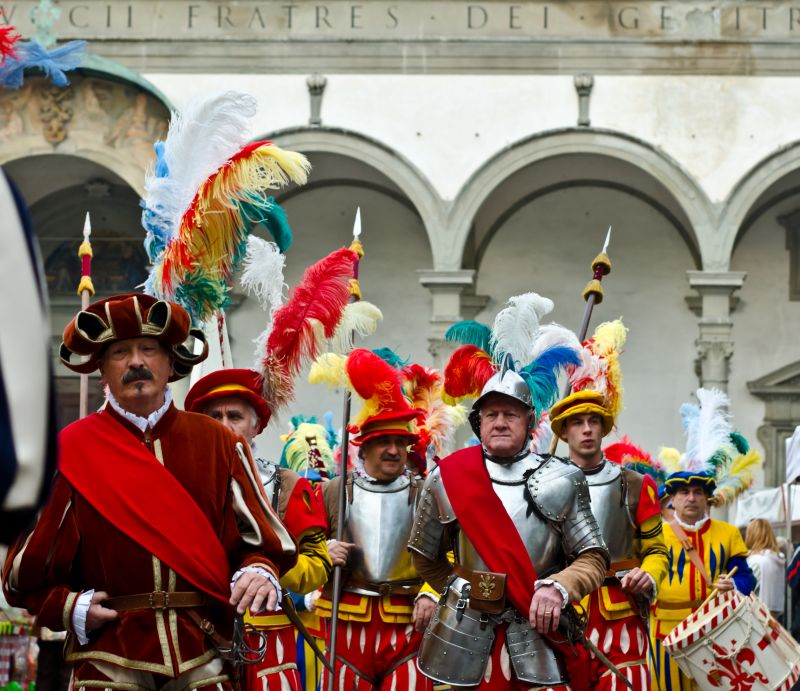 Fai Spring Days" March 19-20th, Special Openings to the public, All Over Italy
Lucky for us the Fondo Ambiente Italiano, dedicated to preserving cultural heritage, has decided to host another spring initiative opening up typically closed to the public spaces for FREE visits at various locations all over Italy. I really appreciate what they are about since because of them, I discovered this library last year during the same sort of weekend.  In Florence you can visit the The Military Geographical Institute (10 – 4:30pm, Via Cesare Battisti, 10,  and the Palazzo della Banca d'Italia (10:30-4:30pm — Via dell'Oriuolo, 37), there are also two other openings in Impruneta. You can see the pdf here.
Food & Wine
11th Edition of Taste Florence, March 12-14th, Saturday – Monday afternoon. Stazione Leopolda & Teatro del OPera
One of the biggest (if not the biggest) foodie events in the industry in Florence in its 11th edition comes back to the Stazione Leopolda (and the new Teatro del Opera) for another round of showcasing the newest in foodie products, there will be around 330 sellers presenting their goods during the 'taste tour'. Over 14,000 people visited last year's event and this year the theme is around a village fair with colorful lights and green installations. When and how much? It's open to the public on Saturday, Sunday from 14.30 to 19.30 and Monday all day (from 9.30 to 4:30pm) the cost € 20. For those who download the App PittiSmart you can get in for only 10€.
More info here.  Stazione Leopolda address: Viale Fratelli Rosselli 5, Firenze.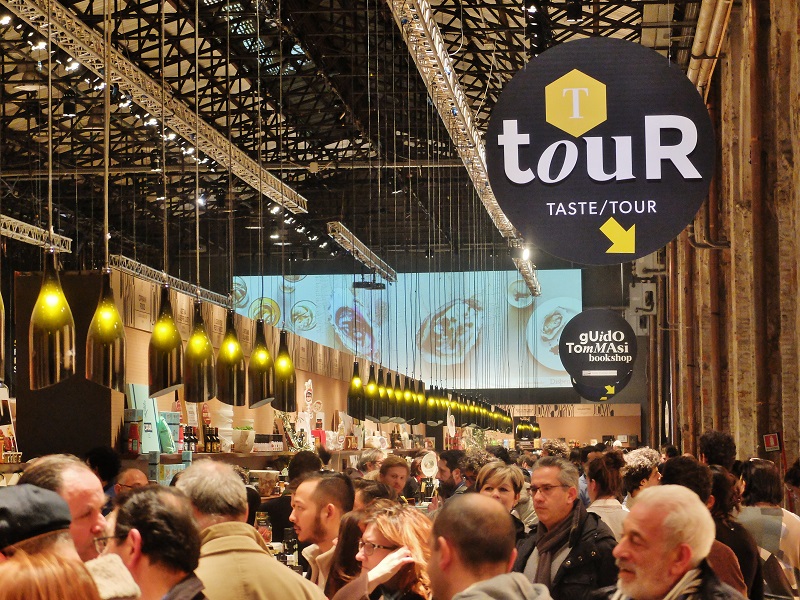 Fuori di Taste Events
As always, there are many foodie events outside of the taste fair related around food at local restaurants, hotels and clubs. I will add more to this list when I have time but take a look at the full PDF of events here. 
'Fuori di Taste' Restaurant at Frescobaldi


Thursday, March 10, 2016, 20:30
Frescobaldi hoosts the Brewery Del Forte
A special menu devised and created by the chef Alessandro Zanieri with foods prepared and paired with artisan beer from Versilia by Francesco Mancini.
Perle Sovrane: Il Bianco Incontra il Nero

. March 10th, 10am-9pm. Procacci, via tornabuoni. At this special all-day event you can try a selection of Franciacorta bubbles paired with caviar. Costs 20 euros. For more info and reservations: call  055 211656 procacci@antinori.it, www.procacci1885.it
Very Very Vernaccia! March 23rd, Hosted By The Florentine, 7pm, Vini e Delizie, via dei Banchi 45r, 
My pals over at The Florentine are hosting yet another wine lovers event at a really nice little store on via dei banchi, 'Vini e Delizie' which also happens to be steps from that cool Ramen place ;-). Come and discover San Gimignano white wines selected by  Emily O'Hare and meet top winemakers Letizia Cesani and Federica Manzieri Fenzi. More info can be found here. 
Art
"Women And Wikipedia" with AWA, March 2nd, From 6–8pm @Syracuse University, piazza Savonarola 15.
Join a special wikipedia editing marathon tomorrow at Syracuse University to help fill the gaps in Wikipedia content on the achievements of women artists, both historical and contemporary. The Advancing Women Artists Foundation, Syracuse University in Florence and the U.S. Consulate in Florence are joining forces to commemorate International Women's Day with this collective Editing Marathon. This a seriously cool cause and a great opportunity to meet fun, like-minded folk. I had the pleasure of working with AWA and can vouch for the certainty that these artists are seriously undermentioned in Wikipedia.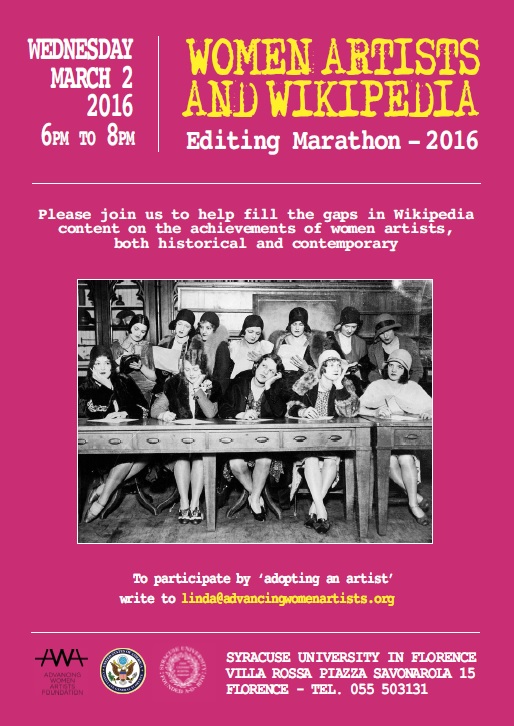 Free First Sundays, March 6th, All Over Italy #domenicalmuseo
As you all know, every first Sunday of the month, state museums (Uffizi gallery, Accademia, Palazzo Pitti) all over Italy are free to the public, while city museums are free only to Florentine residents. Yes the major museums will be crowded so unless you have the Firenze card, you can't skip the line on first free Sundays. My recommendation is to either go first thing in the morning or an hour before closing to not kick yourself in the butt in a long line. Also consider visiting less well-known state museums such as the Bargello (which is fantastic!) and the Medici Chapels and San Marco (only open in the morning).
Museo di Palazzo Vecchio (hours 9.00/23.00), **Torre di Arnolfo which has the best view of town (hours 10.00/17.00, 30 people every half hour), Scavi archeologici di Palazzo Vecchio (hours 9.00/19.00, 25 people every half hour), Santa Maria Novella (hours 13.00/17.30), Museo Stefano Bardini (hours 11.00/17.00), Fondazione Salvatore Romano (hours 10.00/16.00), Museo Novecento (hours 9.00/18.00), Cappella Brancacci in Santa Maria del Carmine (hours 13.15/16.45, last access at 16.15,30 people every half hour), Museo Gino Bartali (hours 10.00-16.00), Museo del Bigallo (hours 9.30-12.00)
The full list and more details can be found in this list by Discover Tuscany.
Special Museum Visits With Alexandra Lawrence, March 12th & 19th, Palazzo Vecchio, Galileo & San Marco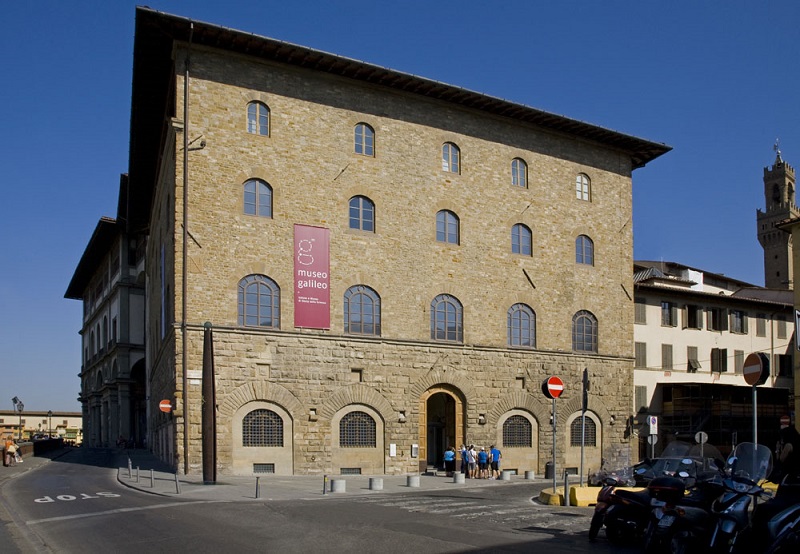 As you know, I am a huge fan of discovering our city of Florence continuously through these fun, informative tours with my friend and expert guide Alexandra Lawrence. I highly recommend attending one of her walks if you are the curious sort, just email to reserve your spot as they typically go fast! exploreflorence@gmail.com
Mapping the World in the Renaissance


Saturday, March 12th at 10am
20 euro + 9 euro entrance ticket. "Florentine merchants of the Renaissance played a crucial role in both the discovery and artistic representation of the world. While many people know that America is named after the Florentine Amerigo Vespucci, few understand the role this city played in developing modern mapping practices as we know them today. We will spend two hours with Sean Nelson* who will take us on a visit focusing on the rebirth of maps in Florence. Beginning at Palazzo Vecchio, we will see a selection of printed maps from the 15th and 16th centuries. Here we will come to understand the crucial role the Medici family played in promoting accurate geographical knowledge from the era of Cosimo il Vecchio to the rule of the Medici Grand Dukes. From there, we head to the Museo Galileo where we will learn about the fundamental relationship between classical astronomy and map-making. Works of art in and of themselves, ancient instruments like the astrolabe were used to create accurate maps and globes. Sean will lead us through the museum's extensive map collection, observing the differences between medieval maps, portolan charts, and their Renaissance counterparts. We conclude with the man who redrew the stars, Galileo Galilei, and a discussion of how he used the telescope to map the surface of the moon."
*Sean Nelson earned his Ph.D. in Art History from the University of Southern California specializing in the patronage of the Medici Grand Dukes. He is the program coordinator for the "Art, Space, and Mobility" project at the Kunsthistorisches Institut.
Beato Angelico in San Marco


Saturday, March 19th at 2:30pm
15 euro + 4 euro entrance ticket. "Cosimo the Elder's first project after his return from exile in the mid-1430s was to renovate his neighborhood convent of San Marco. During our visit we will concentrate primarily on the figure of friar and artist Beato Angelico and his role in communicating the message of the Observant Dominicans crafted by the convent's prior, Antonino Pierozzi, and more generally by Pope Eugenius IV. We will also explore the role of Medici portraits and symbols in Fra Angelico's painting, both in his altarpieces and in the frescos that decorate the various convent spaces."
From Kandinsky to Pollock 'The Art Of The Guggenheim Collections', New Exhibit at Palazzo Strozzi, Starts March 19th 
Starting 19 March and running till 24 July 2016, Palazzo Strozzi is to host a major exhibition bringing to Florence over one hundred masterpieces of European and American art from the 1920s to the 1960s, in a narrative that reconstructs the relationship and the ties between the two sides of the Atlantic through the lives of two leading American collectors, Peggy and Solomon Guggenheim.
Open Daily including holidays 10.00-20.00, Thursdays: 10.00-23.00. Full price €12.00, Concessions and groups €9.50 and €4.00, Advance sale charge per ticket (excluding schools) is €1.00.
Museum Week! March 24-30th, first Worldwide Cultural Initiative on twitter 
For those of you who love art and happen to be on twitter. From March 24-30, museums across Europe will be taking part in the first ever #MuseumWeek. You can follow all participating museums across UK, France, Spain and Italy on these discover pages, and join the conversation by tweeting #MuseumWeek. You can follow the official account in Italy here.  And here is the official website. 
New permanent photography exhibition at Santa Maria Novella train station, Until March 31st
This permanent exhibition was made for the 80th anniversary of the train station's opening and features 100 archival photographs that shed light on the processes of construction that the station went through. Can be seen at the Santa Maria Novella Station, piazza della Stazione
Markets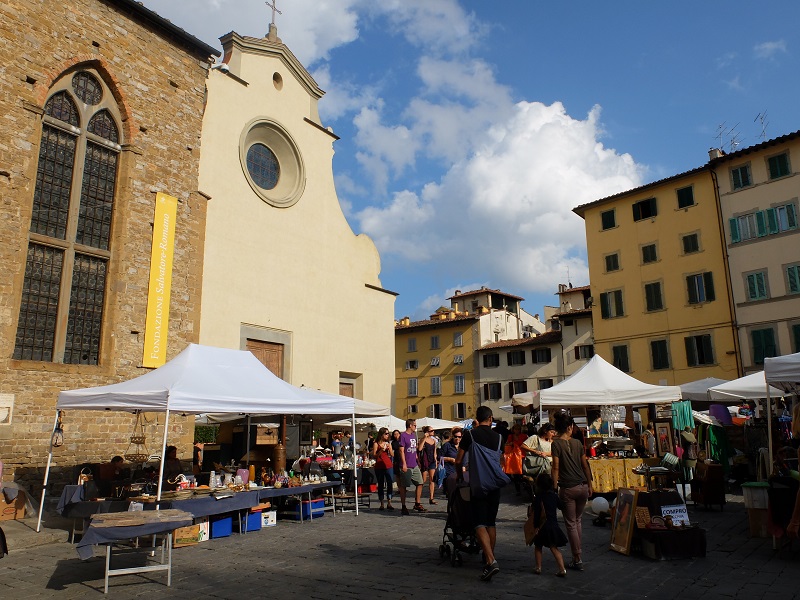 Antique Market, Piazza Vittori Veneto, When? March 19th and 20th, 9am -7pm
This is the monthly reoccurring antique market which is typically at the fortezza di basso but has moved to Cascine (starting this weekend). It is the kind of place to discover odd baubles, find things like antique coat hangers and browse through old maps. I love it and I think it's a great excuse to get to know Cascine park.
Market, 'Fierucolina di S.Giuseppe e dei legnaioli' piazza santo spirito, When? March 20th, All Day 
Your general flea market in santo spirito is on March 20th this month, with the focus being on wooden goods and the like. It's always a lot of fun browsing the items here and I highly recommend a visit if you're in town. It's a good excuse to get a coffee at Volume or lunch at nearby Gurdulu or Trattoria Giovanni.
Flea Market, Piazza Ciompi, When? March 27th (Easter Sunday), 9am-7pm
A larger version of the flea market that occurs in this area of Florence every single day. It is certainly a site to see as sellers lay their wares around the surrounding streets. Not sure how Easter will affect this month's market..
Cinema
Original-Language Movies, @Odeon Firenze, The Entire Month Of March,  Piazza Strozzi. 
I went ahead and bought Odeon cinema ticket package so I am actively promoting any trips to the cinema with friends. We already saw the beautiful Carol and a few others and I am so excited for this month's lineup, including a flick I've been dying to see, Joy. Films at the Odeon are in their original language. And there are plenty this month celebrating a special Oscar week, 'The Big Short', 'The Martian' and a special art film series. Price: 8 euros for a normal ticket, or you can get a pass for 8 shows for 44 euros. Program for this month.
https://www.instagram.com/p/BBS1RyYRTCp/?taken-by=girlinflorence
Easter 2016 in Florence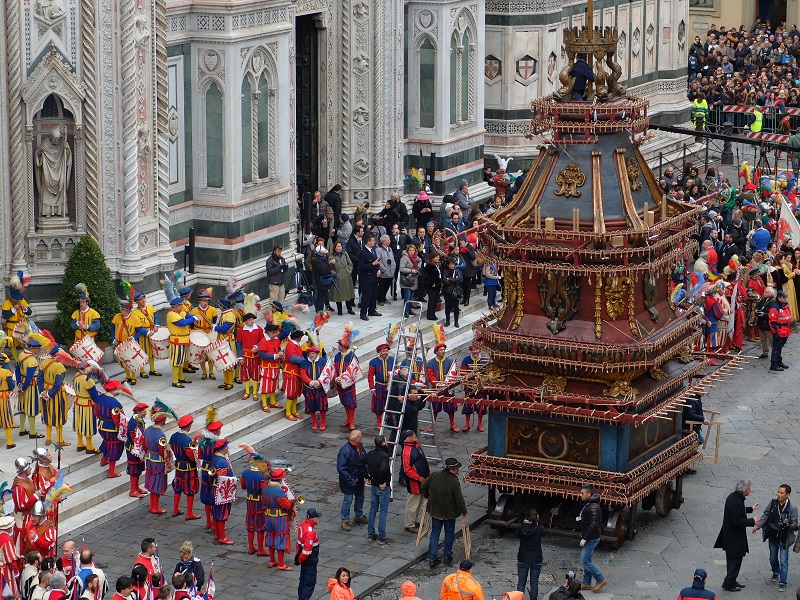 "Scoppio del Carro" 'Explosion of the cart' March 27th, Easter Sunday, Piazza Duomo
Obviously the biggest Easter celebration happens in the center of piazza duomo, which dates back 350 years. These Florentines know how to have fun! Keep in mind that you need to get there early for a nice spot, the procession starts at 10am, explosion at 11am. You can read more about the history about this event om Discover Tuscany.
I will be adding to 'Easter in Florence' as I find out about events. Be aware that many shops will likely be closed on Easter Sunday and Monday. I predict there will be a ton of people as it is a long weekend and it's the beginning of 'the season' of tourism in Florence. If you have a car, I highly recommend reserving Easter Lunch at Fattoria LaVacchio in Pontassieve, about a 40 minute drive. Everything there is organic, including their wine. I had a wonderful experience there a few year's ago with Nico and his family.
---
Like this post? Please take a moment to pin it ( I created this fun image below), tweet it or share on facebook. I appreciate your support!