It's taken me eight years, but I finally made it to the 'truffle' capital of Tuscany, the beautiful & slightly mysterious San Miniato. For Tuscany newbies who might not have heard of this Tuscan town, it is by and far the 'capital' of fragrant fungi high in the hills, between the valleys of Egola and Elsa in province of Pisa.
Every year in November & December, they throw the festivals of all festivals, featuring white & black truffles found by local hunters in the surrounding valleys at stands all around the town each weekend during this period.
This year in 2014, marks the 44th 'Mostra mercato nazionale Tartufo Bianco di San Miniato, basically over 40 year's of truffle, truffles and more truffles.These smelly mushrooms are so special because despite the fact that there are many types, few you can actually eat and we all know that they are rare, especially the white ones you see pictured below. You pay by the weight.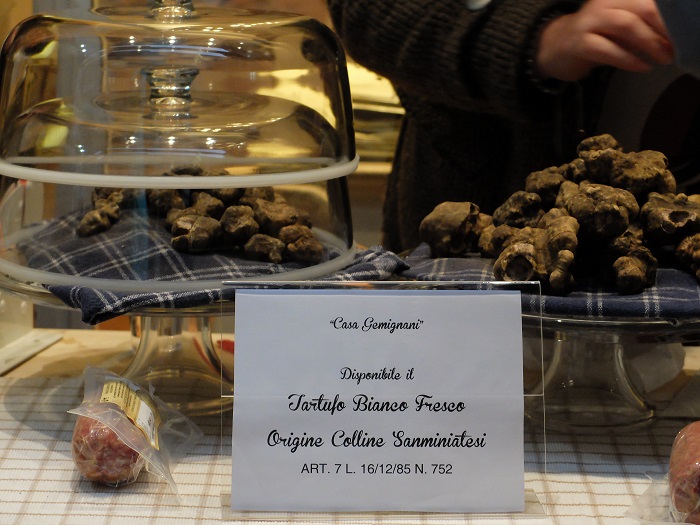 They are found under certain trees (normally chestnut) and bushes but they are the finicky type and no one can guess where they'll be, which is why you have to 'smell' them out using trained dogs. I got the chance to go on a mini-truffle hunt in Le Marche last year and see how they train truffle hounds which was a truly fascinating experience that I recommend to anyone who wants to learn more about these 'diamonds in the ruff'.
I wasn't there alone, in tow was my boyfriend Nico, fellow truffle lover and recent wearer of dandy hats, my friend Sophie a Dutch blogger of SenseFlorence and BlogCiaoTutti that is always up for any adventure, along with her boyfriend Marco and Father 'Heinrich' or as we like to remember him, just 'Hank'.
We lunched in nearby Fucecchio, a tiny town famous for wetlands that we spotted before heading up, up and up a little more to San Miniato's truffle corners. Because the fair is so popular they have you park below and take special shuttle buses to  the 'San Miniato alto', and the surprising part is that the bus service is top-notch. I recommend noting where you park as it seems there are several drop-off points and only one of remembered where we actually were.
Once we got to San Miniato, truth be told, the weather wans't the best. Tuscany this November has been draped with thunderstorms and rainstorms, often flooding towns and surrounding countryside.
We made do with the not so beautiful weather and got into the festival spirit, walking past several of the food festival stands, the smell of truffle wafted through the air. The town has that perfect autumn charm I love, crisp air and vendors selling candies like the tasty 'addormenta la suocera' (candied nuts that literally mean: makes your mother-in-law fall asleep, they are that good).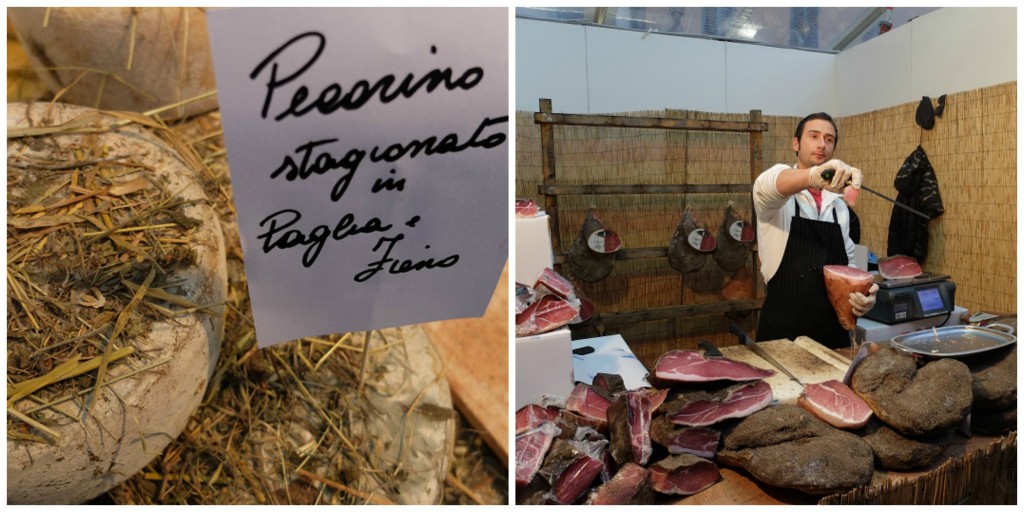 Because we only had a short time before the sun went down, Nico and I climbed up to the tower of federico II, built in the 1200's but destroyed during the great world war, only to be rebuilt in the 1950's.
Coming here was the best idea ever because we were rewarded with a truly stunning panoramic view of the Valdarno, all just for us. At the very moment we stood gazing at the valley, a bright red sunset was intermingling with a pretty powerful storm. Plus as you can see below, Franco Frenchman can fly ;-).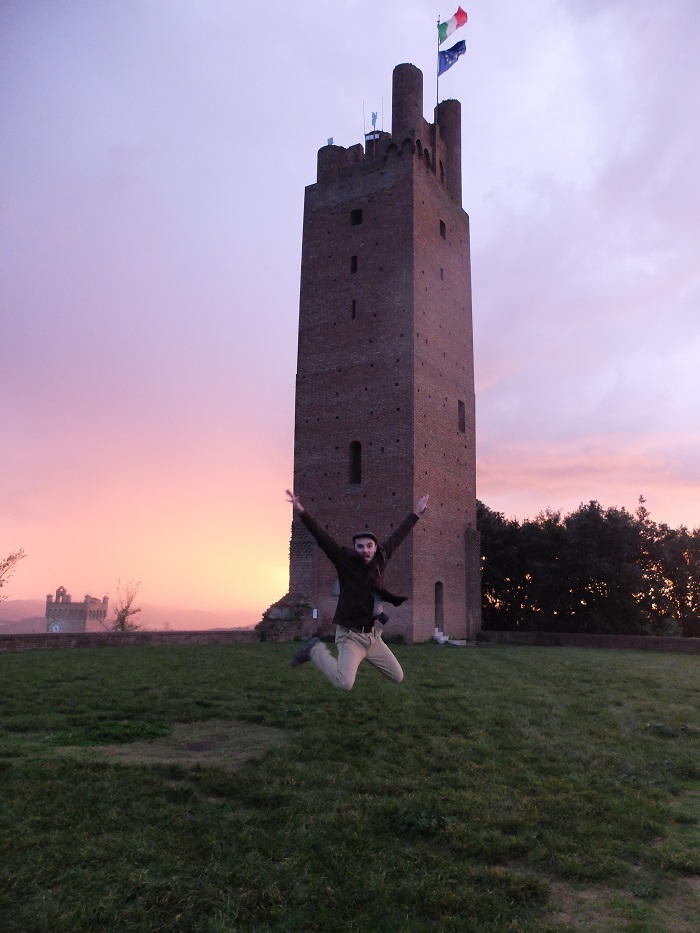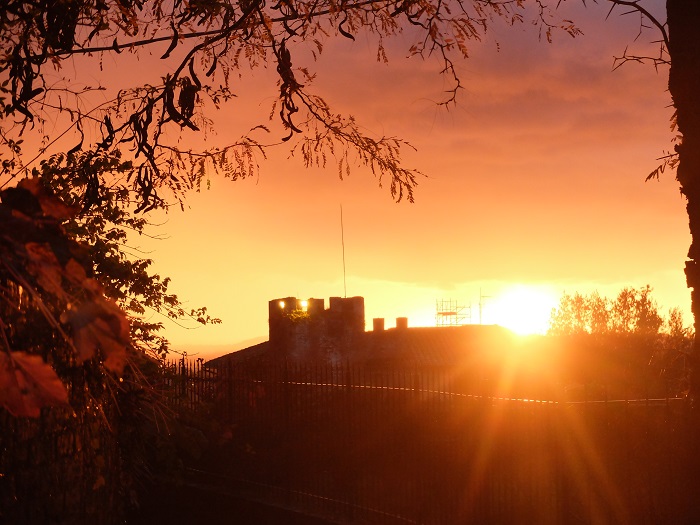 Of course we navigated San Miniato's tiny streets, a very characteristic Tuscan town, colorful doors and pretty lights strung up around town. Lots of interesting shops and artisans, we even got a little Christmas shopping done which was impressive considering the crowds. I would like to come back when the truffle fever is over and visit all of the various monuments, this trip was all about gastronomic goodies.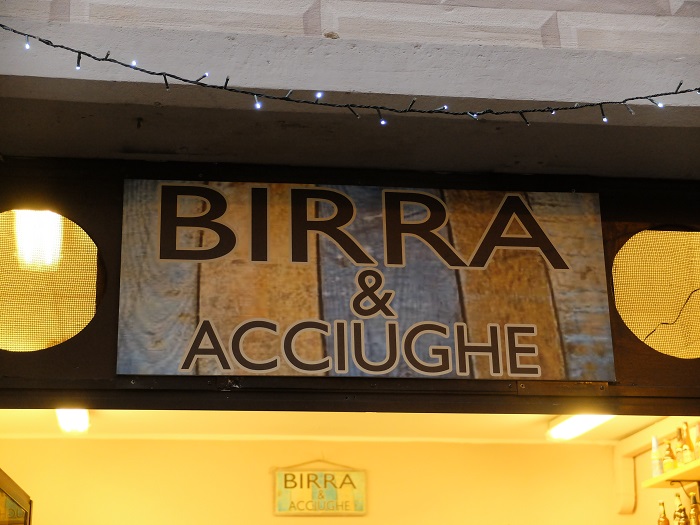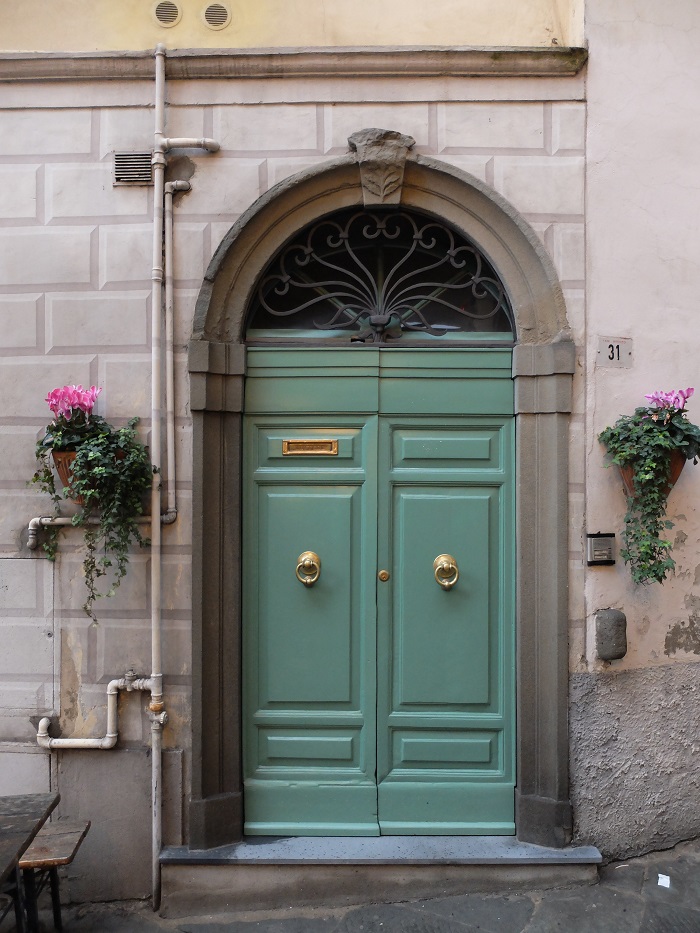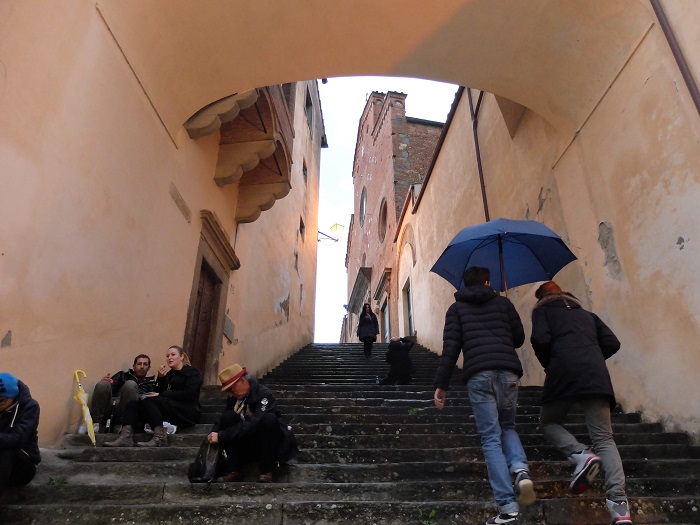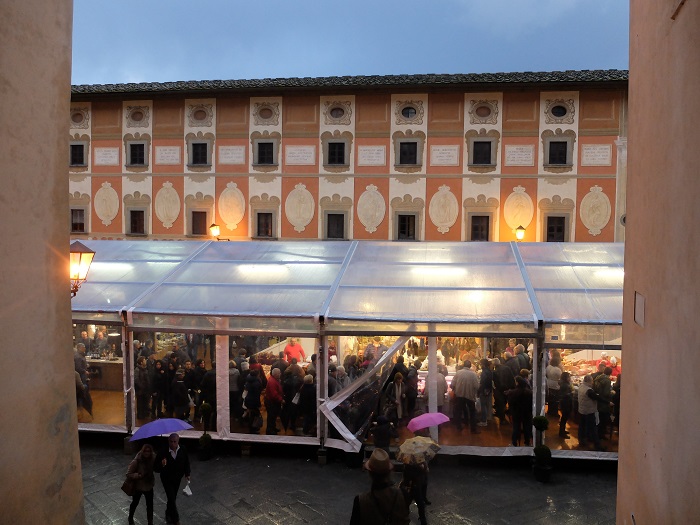 During the rainstorm that made us leave our lovely panoramic point, we found the wine tasting tent to stay dry  and no this was not coincidental After a few glasses of red, our confidence grew and it was time to shop truffles!  We found a guy we liked and bought one white and one black, spending around 20 euros for both (they were tiny but who cares, it was my first experience).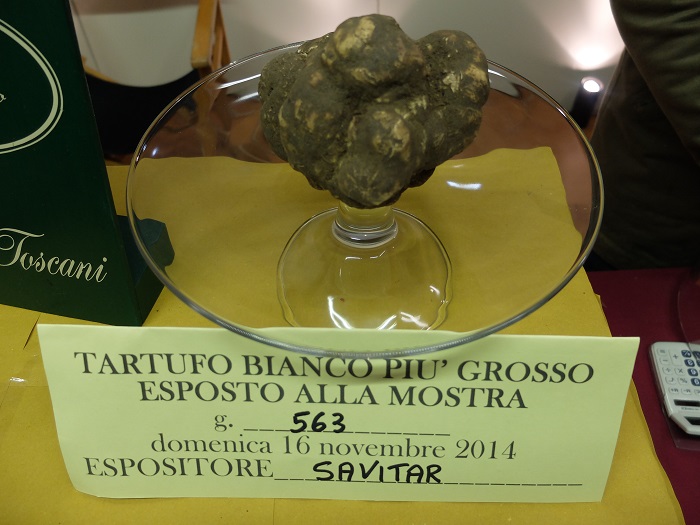 The biggest truffle at the fair, weighing a whopping 563 grams, I did not buy this truffle
 The truffle salesman advised us to wrap each one in a paper towel and keep in an enclosed glass jar. I followed the man's orders and planned on making our Monday night the most special one as can be. We had a bottle of Amarone 2009 that was begging to be opened so I headed to a pasta shop in the oltrarno and picked some fresh tagliatelli, the signora selling them to me was just as exited if not more than I was.
To actually use the truffles you need to clean them using a brush, wash with cold water and then shave right before eating on top of your freshly-cooked pasta, the only other ingredient I used was a great brand of French butter. The black truffle will be shaved later on top of some scrambled eggs, which is how I had them in Le Marche and really the best way to taste those truffles.
I would be lying if I said I wasn't nervous using them, the last thing I wanted to do was serve Nico a sticky, bland plate of pasta but luckily it came out better than expected. The real' truffle flavor a delight to the senses, very different from the artificial oil and flavorings you often find used or sold in stores or restaurants.
Plus isn't that really the best way to end a Monday?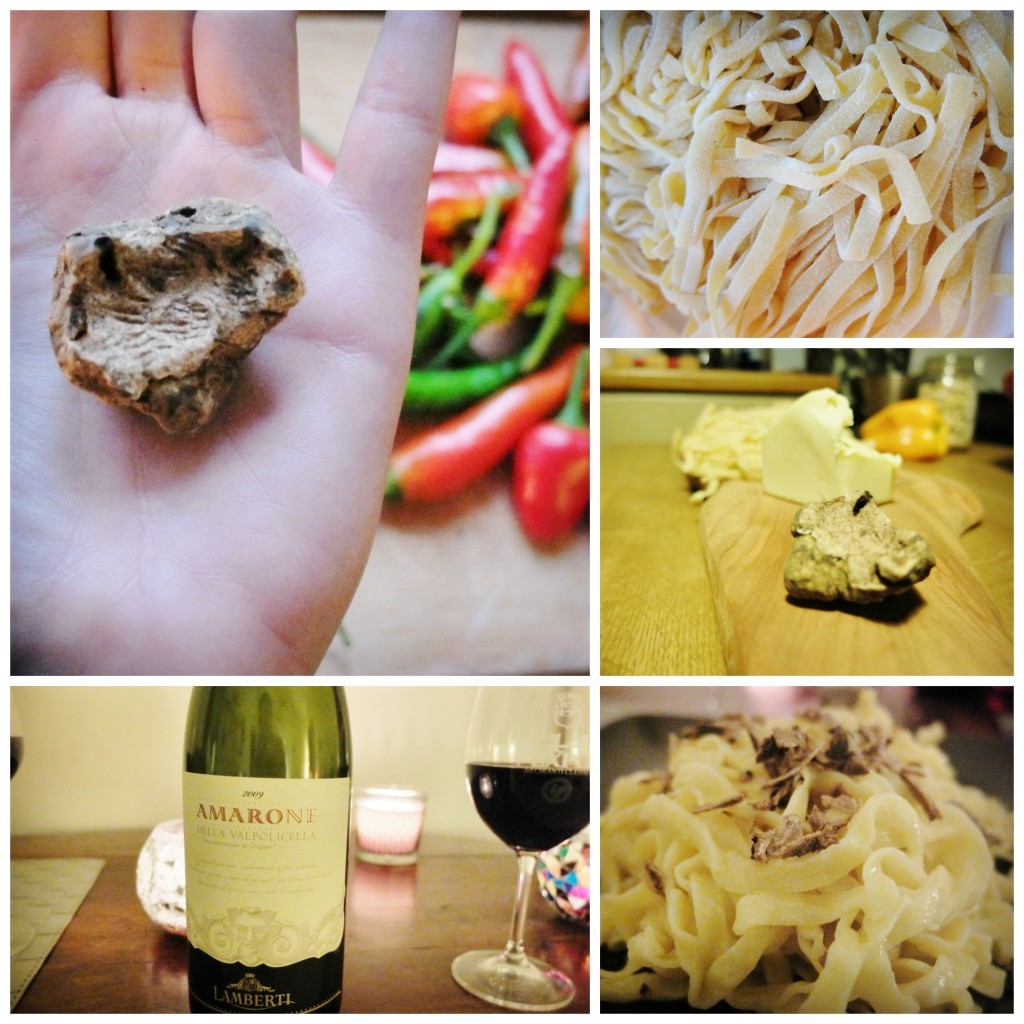 ---
 When?
The 44th annual San Miniato Truffle Fair, last three weekend of November and the first weekend of December.  November 15th – 16th, 22th – 23th, 29th – 30th and December 6th – 7th – 8th 2014
What?
Full Program of this year's truffle events, also I highly recommend reading this San Miniato guide (in English) with some truly valuable tips and this handy post on how to day-trip there from Tuscany. I also enjoyed this fun photo diary from Lost In Florence's Facebook page, we were there on the same day but I just missed her!
How To Get There
By car you can hop on the A1 highway and transfer to the famous (and free) Fi-Pi-Li aka (Firenze, Pisa & Livorno) and exit at San Minato. Follow signs to the town center. There are several parking lots where you can leave your car and take the shuttle bus to the top (3 euros) which is well-served. By train it's an easy 30-40 minute trip, get your tickets at Trenitalia or at the station directly.