I remember having a conversation with a friend a few years ago where chatted about what to do in Tuscany, I admitted to her that I thought tours in Italy were too expensive for the average person. Bike tours, Vespa tours, horseback riding all around 70-100 euros per person which are out of reach for many people I know. That being said, after living here as long as I have, I get that sometimes you have to look a little out of the box for more affordable, but not any less cool, activities in Tuscany. The trick is to head out of lesser-known areas that are less saturated with tourists, places where Italians go for holiday, not  the classic and more famous Chianti or Val D'Orcia.
One of the most fabulous days I had while recently on a blog tour discovering Carrara and the area, was an electric bike tour through the villages of Lunigiana, north Tuscany, with my fellow bloggers Tiana & Valentina and our video team Milo Films. What makes Lunigiana special is its stunning natural beauty, surrounding by mountains and part of a national park, everywhere you can explore pristine quaint villages and more castles than you could imagine along the old pilgrim route, via francigena. Traveling in this area is like traveling back in time.
I had never even seen an electric bike before this day and wasn't sure what to expect. Is it like a slower scooter, meant for grannies with their daily shopping or 14-year-old Italian kids? I was expecting to completely make a ridiculous spectacle of myself which wouldn't be out of norm for this clumsy Tuscan Texan. What surprised me the most was just how sore I was even after using an electric bike but sore, in a good way ;-).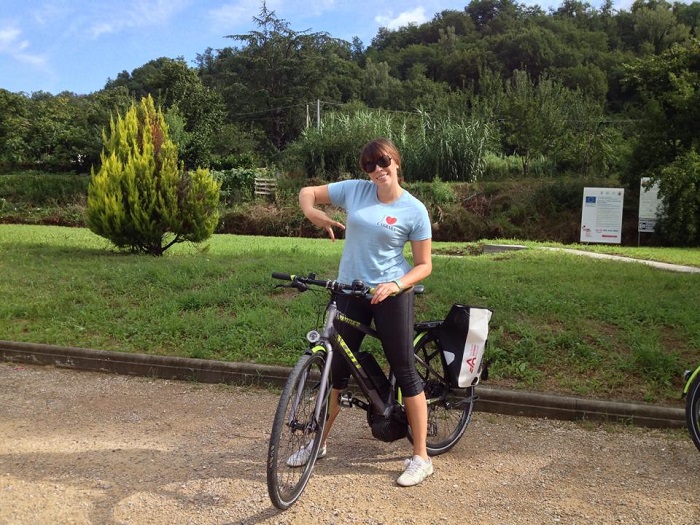 It can be tough trying to look cool on an electric bike
Not Your Average Bike Tour in Tuscany
Our day started around 9:30 am at Pieve di Sorano in Filattiera, once an iconic stopping point for ancient traveling pilgrims. Here we met our guides from Farfalle in Cammino who hooked us up to our nifty electronic bikes and explained how it worked. The electronic part basically serves as a 'boost' to the normal actions of the otherwise regular bike (yes you still have to work those legs!). There are three different levels to use depending on the difficulty of the route. You can choose to never use it or blast level '3' (like we loved to do) even on flat ground though it would definitely wear out the battery faster, in any case the meter tells you how many kilometers you can go on a certain speed. Since the bike is heavier than a normal one, you want to have a fully charged e-bike at your disposal before hitting those Lunigiana hills, which are many.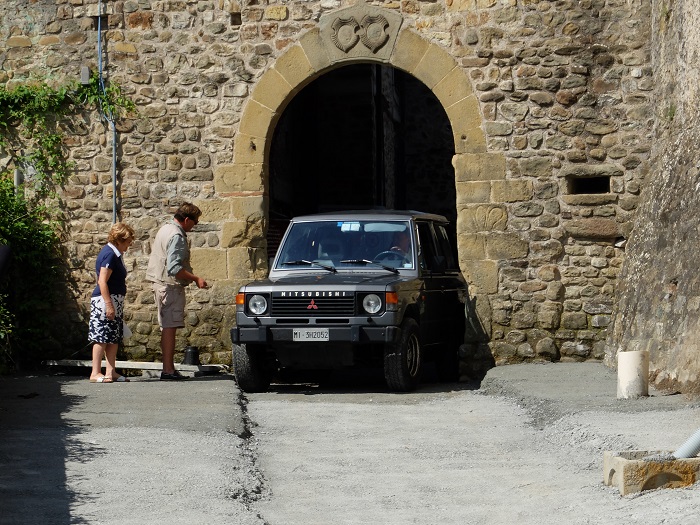 Unknown local nonna  & 'guru guide' Gabriele Giuntoni helping this guy get out of Malgrate
Once we got going, this easily became one of the most fun bike tours I have ever been on. Because of the fact that you have some 'Mario-Kart like booster power',  it took all the stress away from feeling unable to keep up with the rest of the tour. Plenty of Italians were there with us and we made our first stop at the impressive Malgrate Castle (VillaFranca in Lunigiana), built in the 1200's by the powerful Malaspina family of Filattiera and restored later. What makes this place really special are the incredible views and pretty borgo, plus they have an impressive series of summer events including a 'night under the stars' this week!
A Short video featuring stupendous Malgrate, plus more Tuscany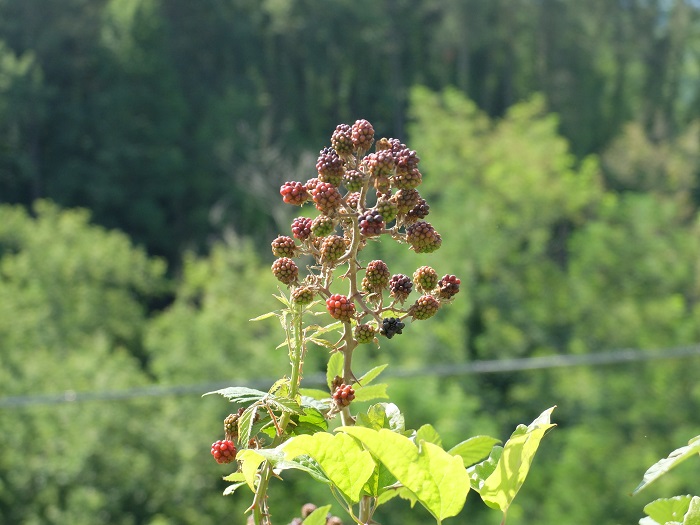 Back on our electric bikes we scooted along to our next stop, the pretty town of Bagnone, imposing and dramatic in all of its stone glory dating back to the Bronze age.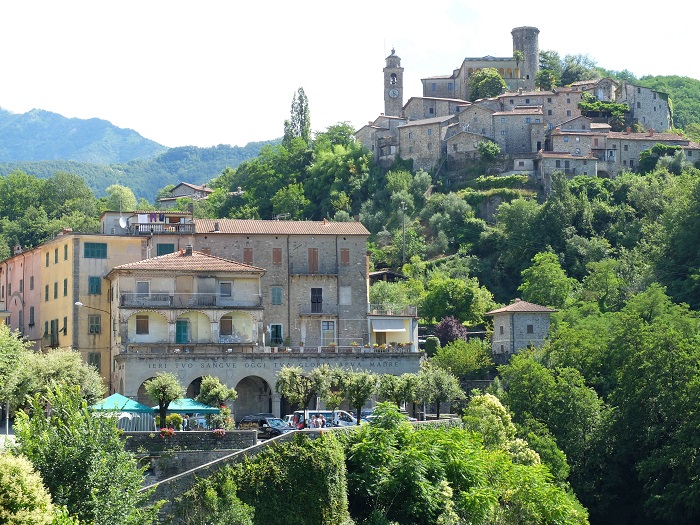 Lovely village of Bagnone, a must visit in Lunigiana
Since we had the best tour guide Gabriele, he also led us to off-the-beaten-path viewpoints for our blogger 'snap-happy' fingers and to my surprise Bagnone also had a 'Ponte Vecchio' (not exclusive to Florence it seems).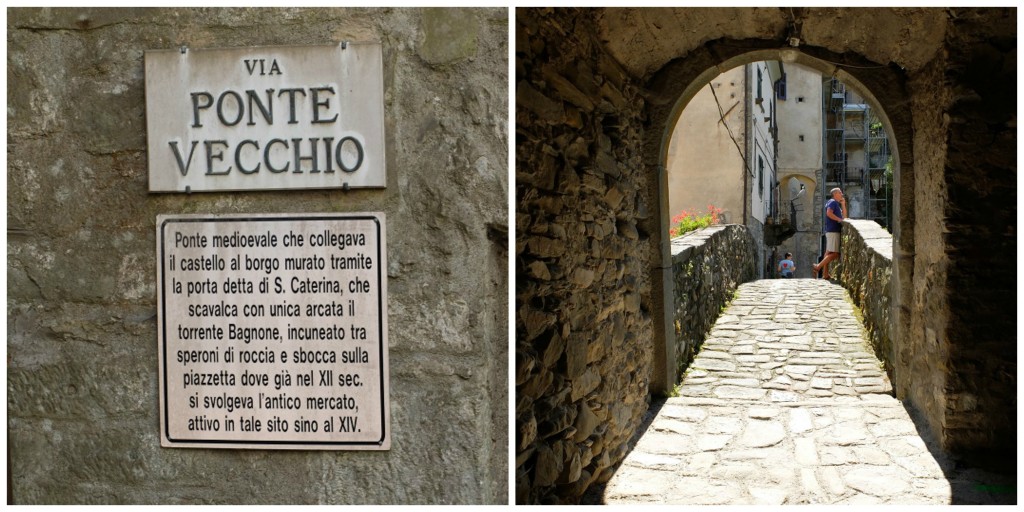 Such a beautiful place, it was difficult to move on but I was happy we did after stopping in the beautiful town of Castiglione del Terziere. Known for its ancient castle also called 'Castiglione dei Corbellari' we took our time exploring this town and even made a friend in the process.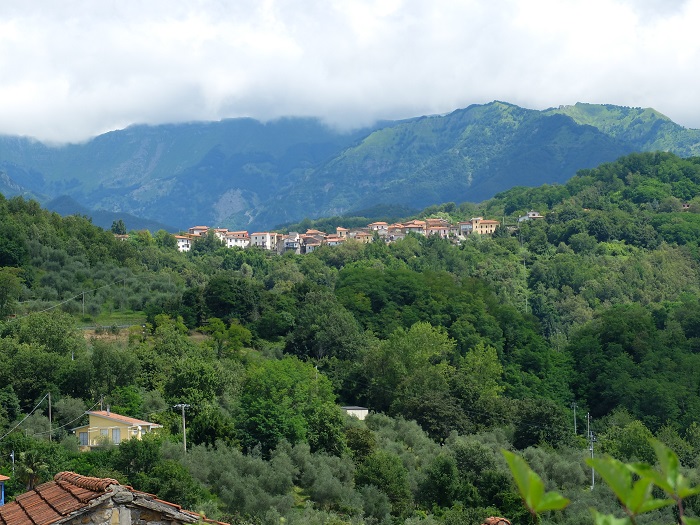 Meet Dina, 91 years young who grew up in this town, now only visiting during the summer months. After spotting us walking down one of the stone streets, she so kindly invited us into her home,  impeccably clean, and showed us a photo of her late husband, who left her a widow at relatively young age. As she spoke to us about her life, I thought about an awesome article I once read via Letters of Florence titled 'The Nonni Economy' which offers some very real and true insight into the way Italy works. Dina is just one of the many nonni who are the backbone of Italian society.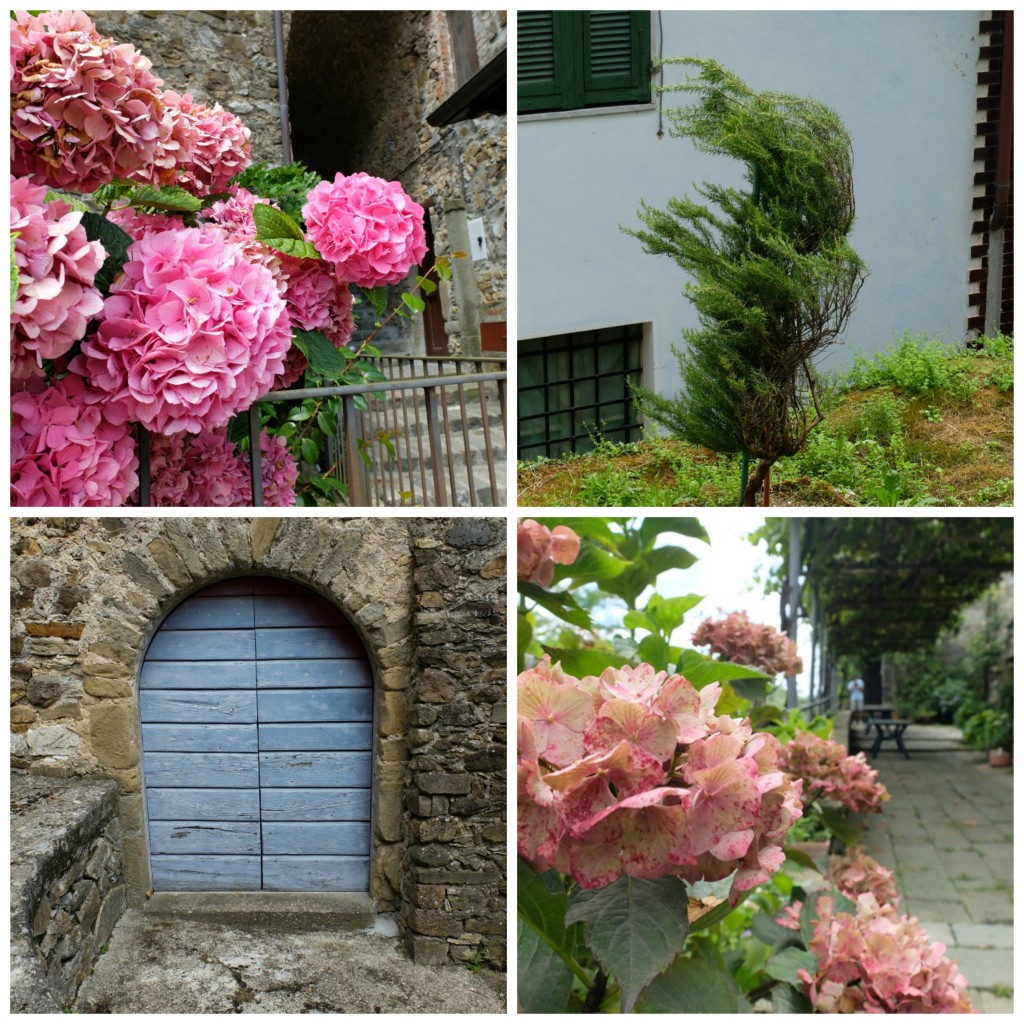 Scenes of Lunigiana, a stunning place and full of floral action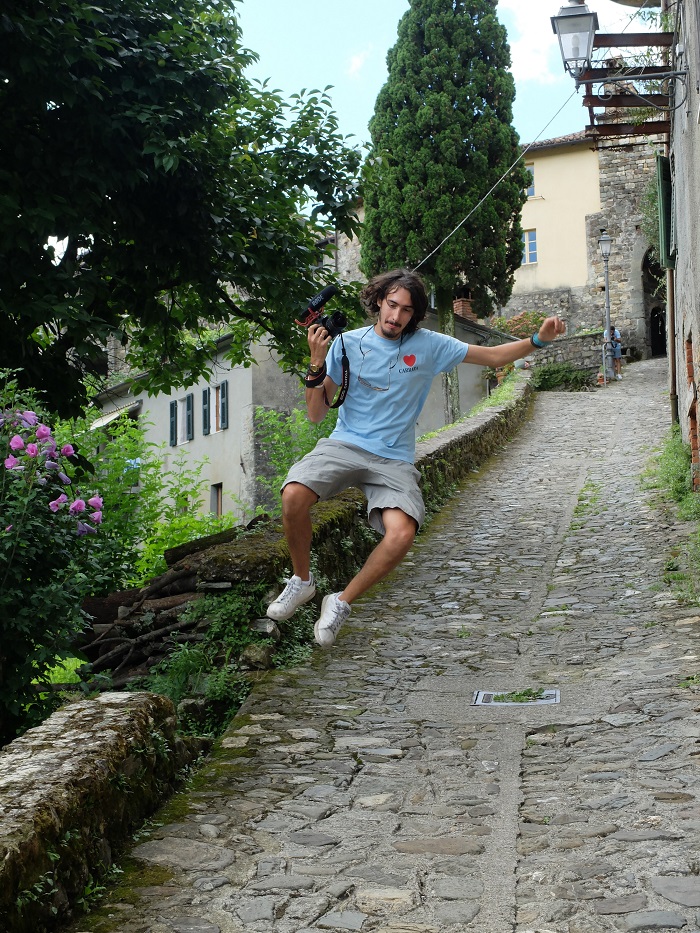 ' I believe I can fly' Stefano from Milo Films caught 'mid flight' during our bike tour
As we sped down hills and through villages, I was happy as a clam – this place a sort of undiscovered paradise that I never knew even existed. The contrast in landscapes, saturated with castles intermingled with lovely flowers draping each well-kept house. We ended our tour with lunch in the walled town of Filetto, a charming delight and where I even managed to run into a girl from Texas (no joke!) selling her wares at the local Sunday market. I also found out that they are well-known for an annual medieval market taking place the second week of August (more details here), sounds like a must visit!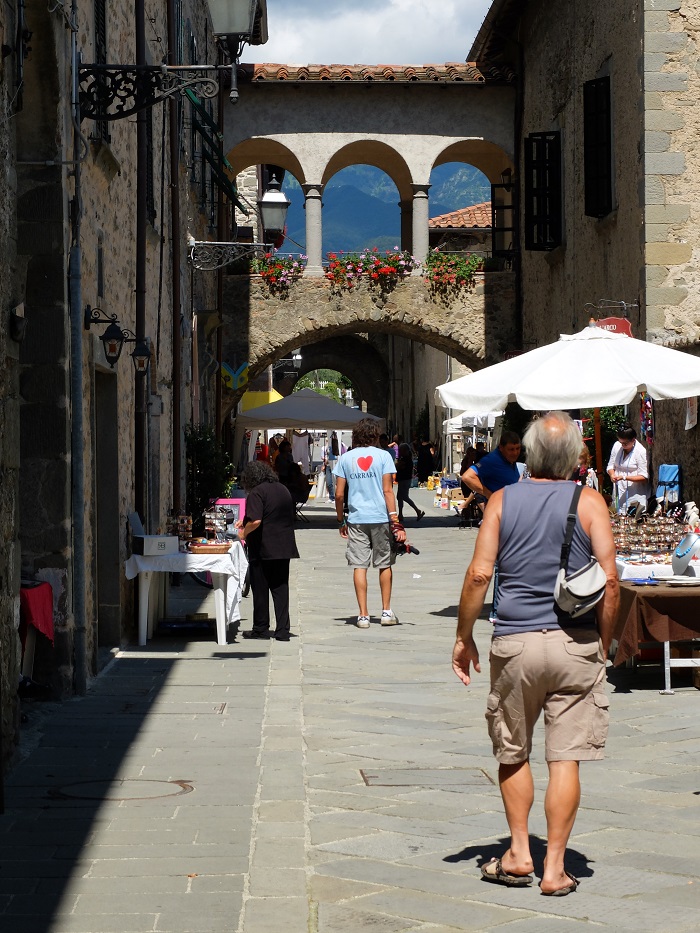 Oh charming Filetto, how I love thee…. I cannot count the ways..
Lunch was the perfect ending, we sat at a beautiful outdoor table nestled in a medieval stone square with heavy red wine goblets, every absolutely famished. Up for local delights, my favorite the testaroli pasta, only found in Lunigiana, made of wheat flour, water and salt, cooked in a cast iron pot and served with pesto. The consistency is that of a pancake and I have never tasted anything like it, my foodie heart filled to the brim.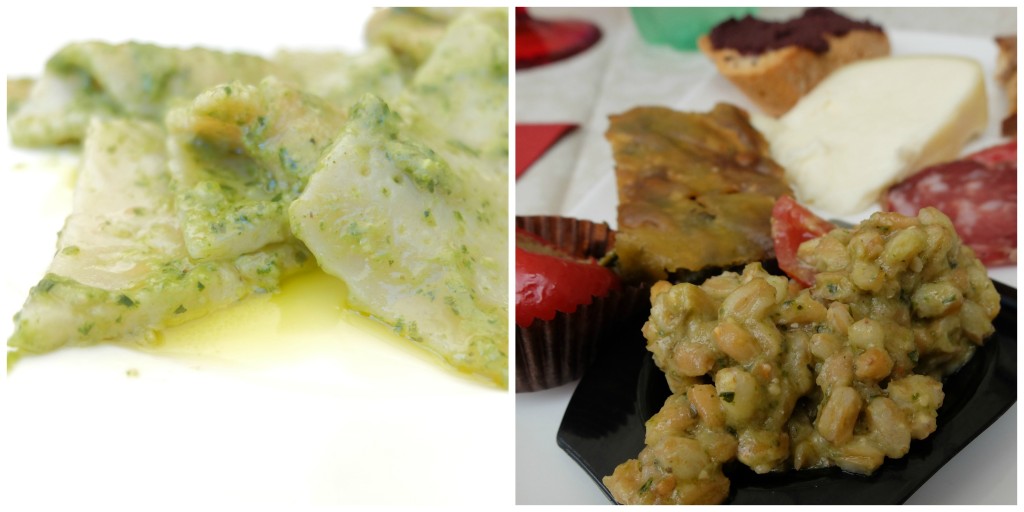 The yummylicious Testaroli & Tuscan appetizers
Needless to say we were sorry to leave these e-bikes behind in Pieve di Sorano, even if my behind was starting to go slightly numb. The biggest surprise of all was the price, as we handed back our helmets and asked for a few brochures, I was absolutely shocked that a tour like this only cost 25 euros (without lunch). I am going to write that again, only 25 EUROS, included with that an expert guide, various stops and of course use of a really rad bike! Another reminder that exploring areas of Tuscany can be done on a budget.
Our Experience made by MiloFilms, music by Rossini
---
The Tour Company who led our e-bike tour is the awesome Farfalle in Cammino, I should mention that they have other tours that might also be of interest, walking through the Apuan alps, swimming in a gorge (seriously), discovering Pontremoli and a walk along via francigena, the pilgrim route. None of the tours cost more than 30 euros per person and must be reserved in advance.
Farfalle in Cammino, Tel: +39 348 8097918
[email protected]
www.farfalleincammino.org