Fortitudo mea in rota
Latin for "My force is in the wheel" – the quote of Carrara, a town most famous for its legendary marble quarries used to build the Pantheon and Trajan's Column in Rome, and a place with over 2,000 years of history. Also known as the birthplace of  luxury bathrooms and where artists like Michelangelo got the marble to create masterpieces you 'might' have heard about like you know, The David. Marble from this area can be spotted in the mountainous landscape that frame every picturesque scene here. One thing to keep in mind is to not call Carrara, Massa (a mistake I might have made a few times), centuries-old feuds mean that despite being in the same province of massa carrara, they are two very different places and people like to remind you of that.
This past weekend I was invited by the province of Massa Carrara along with bloggers Valentina from Too Much Tuscany, Tiana Kai &  videographers Milo Films to explore the town and surrounding area during the marble weeks, a series of events such as art exhibits, live music, and more celebrating the 'land of the marble' (which lasts until August 3rd). I knew about this city from my Italian friend Enrico, local to the area, who often told me I needed to come and visit, and especially during this summer festival. Advice taken and I am super thrilled that I finally did, the old town center is beyond charming and it's absolutely a place I would come back and explore again. I think next time, I will look more into the local cuisine and visit a few marble workshops.
It was hard to sum up why you should visit this place in just one post so in this fun style to highlight what I loved about the city, here are 9 reasons why Carrara in Tuscany deserves a visit! 
1. Colorful Architecture
What stood out to us bloggers as we strolled the streets of Carrara was just how colorful the town is, peppered with a definitive Baroque style of architecture that I personally adore. Florence is amazing, no doubt about that, though 'popping with color' not so much. Walking in Piazza Alberica in the center of town was an absolute delight, I recommend stopping for a shakerato (cold coffee) like we did and just spend some time people watching. Life here never moves in a hurry and the vibe of the piazza is strong, being small town Italy we spotted plenty of older people standing around having a chat with their friends. An added plus that it isn't a touristy town by any means, many shop owners were surprised to see us there and encouraged us to share the word about visiting this 'off the beaten path' part of Tuscany which I was more than happy to do.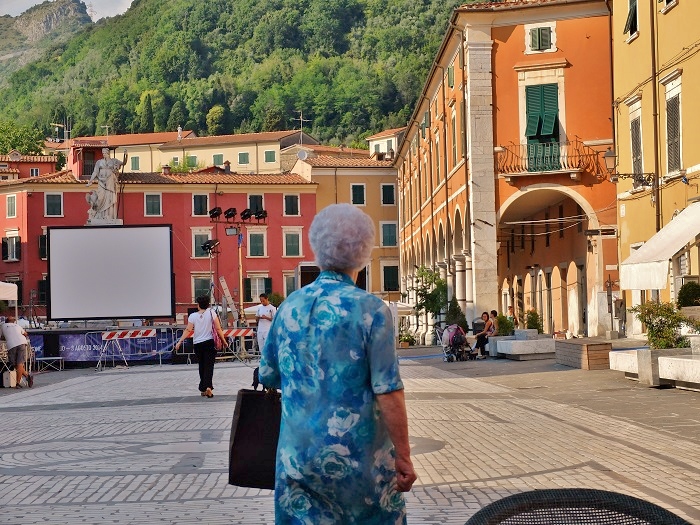 2. Marble is everywhere (really)
They don't call this city 'marbleous' for anything. Everywhere you go you will undoubtedly run into something made of marble, benches, statues, sculptures, pavement, fountains – and of course the main cathedral. Any Four Seasons hotel around the world would get serious bout of  'marble-envy' after walking around Carrara.
3. They have a sense of humor
When walking around with our fabulous guide Gabriele, besides discovering all of the ancient history that like any Italian town, is plentiful in Carrara – there were some more interesting details which makes me think that people from this area always had a sense of humor. One of which being these circular basins that stick out of some of the local palazzi around town. Of course we had no idea what they were but when I found out they were actually ancient outdoor bedpans (I am not lying) to help keep the streets clean, I had to have a giggle. Hats off to them for that innovative technique and let's hope that they are still not being used for that today.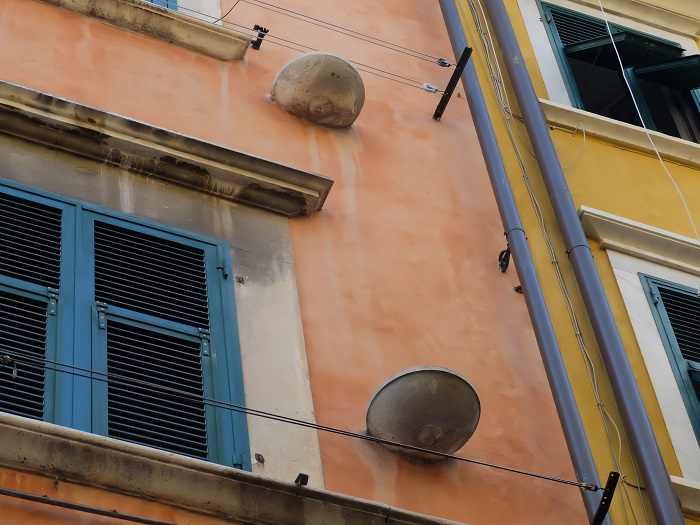 Outdoor plumbing never looked so good
Another detail we spotted was a nude boy caved into a wall near Carrara's Duomo church. Gabriele mentioned that not everyone might appreciate such a garish act of nudity, the idea behind this was that by seeing this boy in all of his glory, the public was reminded of their public duty to behave and uphold a social code of decency. Whether this worked or not, was anyone's guess!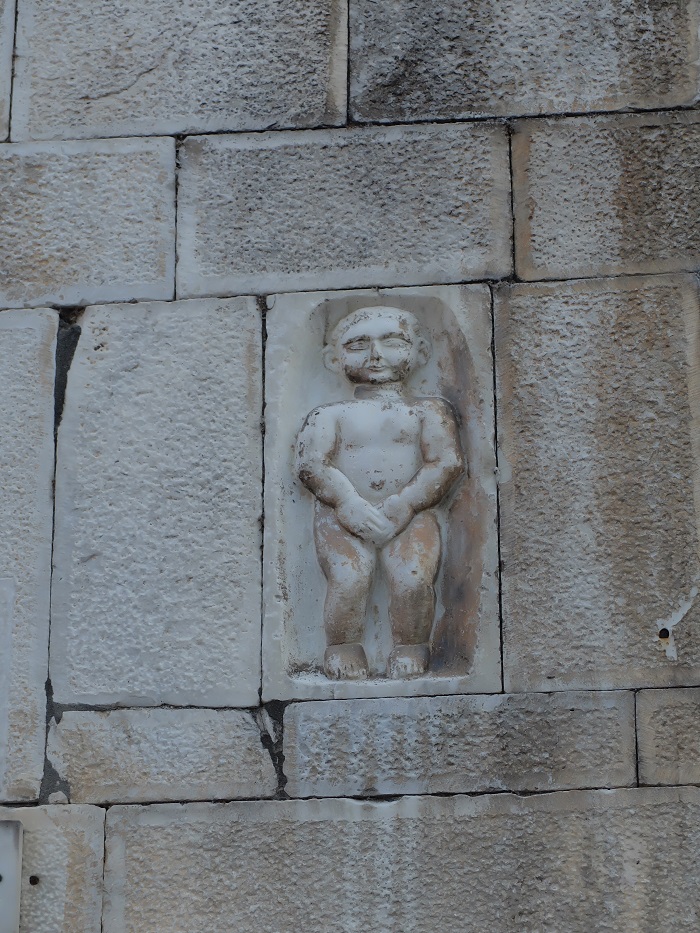 I should that even now, I can personally attest that the locals have a pretty amazing sense of humor. We chatted with people while walking around, they were really open to talking with us and cracking  jokes, a human touch that I truly love about Italy.  After stopping in a little shop serving their own version of fried chickpea 'bread', called locally 'calda calda' and known to the Florentines as 'cecina', the spirited cook was fast to claim that any other versions 'fa schifo' or in layman's terms 'were not so good'. Tell us how it is Nonna! I wasn't about to disagree with her.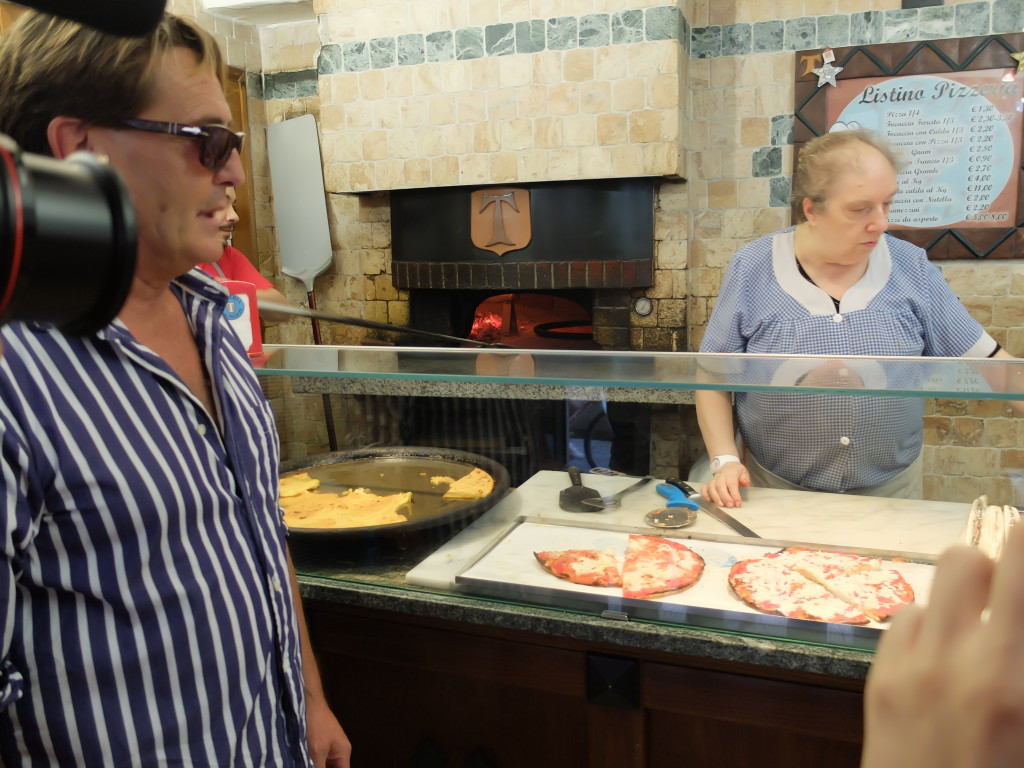 Buy a peice of 'calda calda', cover it in a little ground black pepper and please DON'T call it 'cecina' 😉
4. Anarchy is in their soul
One of the first things we learned about Carrara, is like the name of the local theater' Teatro Degli Animosi,' the local populationwas famous for being 'animated with a dash of anarchy' . This was thought to have originated in the quarries among the stone carvers, people with radical beliefs who had no problem sharing them. It is because of this movement that they were able to organize labor unions and obtain better rights for the workers.
On a side note, we stopped by a photography exhibit by Reinhold Kohl called "Io mi chiamo G e sono ancora qui" for the Lunatica Festival (also in the summer) at an ancient hospital for pilgrims along the via  francigena path, 'Ex Ospedale S. Giacomo [free entrance, the exhibit runs until August 10th). The exhibition contained photos and quotes of Giorgio Gaber, a famous Italian singer, composer, actor & playright'). I spotted one quote below by Giorgio which essentially states that 'freedom is participation'. Strong words which really resonated with me as I thought about Gabriele's mention of an animated and anarchism-friendly local society that still remains strong today.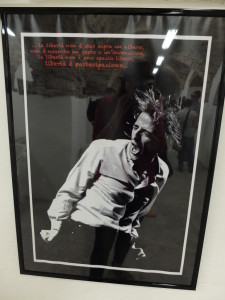 'La libertà non è star sopra un albero
non è neanche il volo di un moscone
la libertà non è uno spazio libero
libertà è partecipazione. '  (lyrics by Giorgio Gaber).
5. 'I Salotti' (Palazzo Del Medico)
Imagine a place to purchase tailored  formal wear, covered in marble – a labyrinth of rooms each more amazing than the last. Like a dream concocted by Alice in Wonderland. Featuring the fancy tailor Gazzillo, but not only, also an ancient palazzo with a tea-room and soon to boast a restaurant. Yes Carrara has just this kind of place and I can say with 100% certainty that it blew my mind and that of my fellow bloggers. We got a behind-the-scenes look at where they make the clothes and I vowed to myself to come back once I earn a ton of money (a girl can dream) and buy a dress there.  Who knew places like this really existed? The view from the Palazzo opens up into Piazza Alberica which is a pretty sweet view if you ask me. Even more fun, we actually we ran into someone famous while there (see below) ;-). If you come to Carrara, this is a must-visit (call ahead to book a visit).
I Salotti (Palazzo del Medico) 'Tailoring meets Tea & Art" , Piazza Alberica 5, Carrara. Website, instagram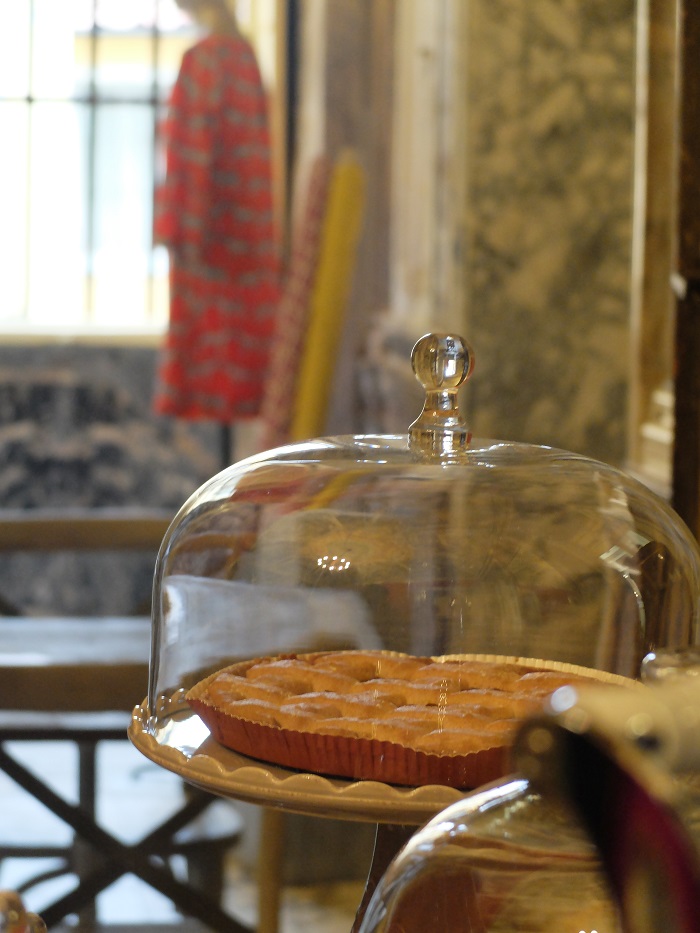 Shoppers can sip on a tea (from Via del Tè  Firenze) while getting measured for a unique gown or suit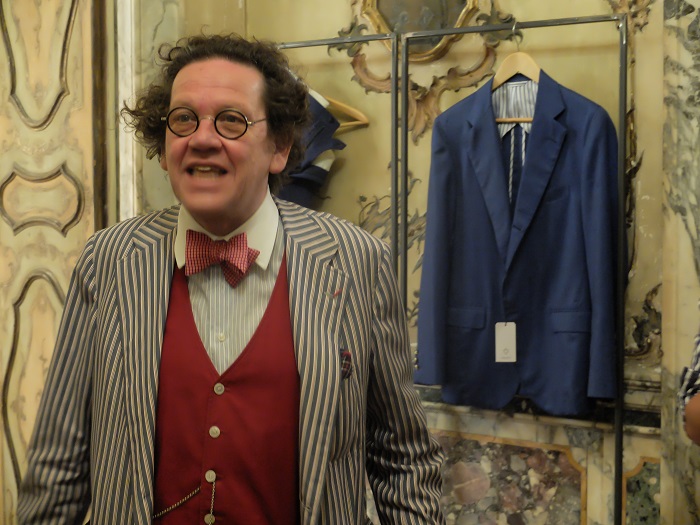 Running into Philippe Daverio, famous art historian and TV presenter spotted at I Salotti
6.  Gabriele Giuntoni
It would have been impossible for me to talk about Carrara and not mention the 'Guru of Guides' that is THE man of town, Gabriele Giuntoni, our tour guide for the weekend. This man speaks four languages, knows everything about anything, takes himself too seriously in a good way and was a load of fun to be around. He runs off-road marble tours in the Cave Di Carrara and knows all the best places to stop for a snack. Our weekend would not have been nearly as awesome if Gabriele wasn't involved, his energy and wealth of knowledge was impressive. We all wished we could take him back to Florence with us. If you want to really see the most you can in this region, call Gabriele and book one of his fascinating tours  (+39 328 415 6084).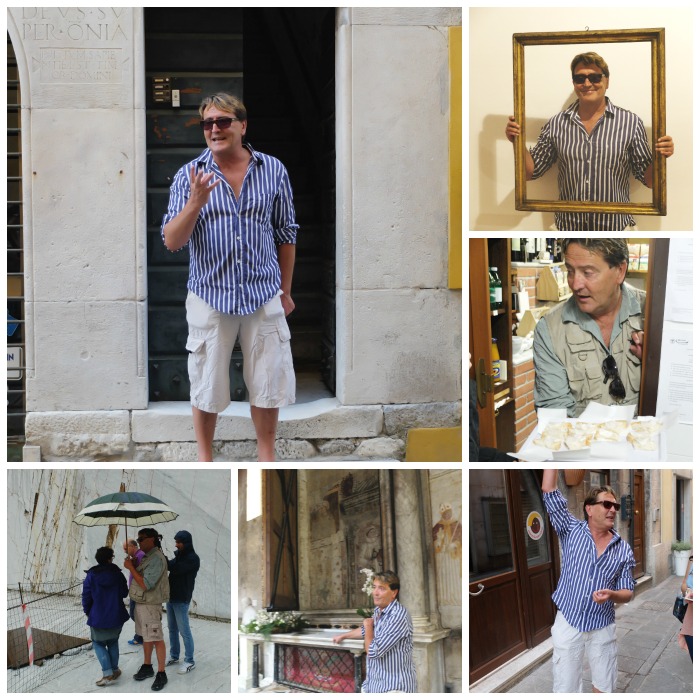 The many faces of Gabriele, the 'guru' of guides based in Carrara
7. The Marble Mountains
Visiting the Cave di Marble aka 'The Marble Mountains' is an absolute must for any adventure traveler. I'll never forget the incredible thrill I got being inside an off-road vehicle, gripping the sides of the vehicle while it climbed up steep paths in order to reach the quarries, a journey many workers make every single day. Your reward for what can be a teeth-gripping experience is the view from the top, marble as far as the eye can see, which will certainly take anyone's breath away. It shocked me how men could have possible moved these massive tons of marble, much less make them into masterpieces like Michelangelo's David and works by Canova. From up above, you get the gorgeous view of the Apuan Alps along with a peek at the Ligurian-Tuscan coastline. One thing to note when booking a tour is to choose wisely, we were warned that some work illegally which could put tourists in danger by not having risk insurance. I highly recommend our tour by Gabriele, recommended by the province of massa carrara and run by colorful Gabriele (see point #6.) Cave di marmo tours – Powered by Il Tau Guide turistiche, email [email protected]. I would also ask about visiting a Marble workshop which is something I might try the next time I visit this area. I read via the NY times that over 15,000 tons or marble are extracted from these mountains every day.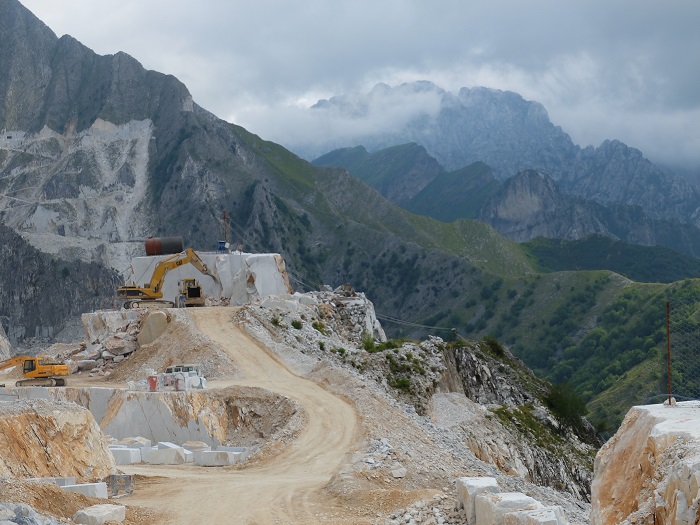 8. Lard
I never thought 'lard' would be on any top list of Girl in Florence but it made the list, you can officially call me 'lard-friendly' after this trip. Lard has a bad rap because of books like 'The Jungle' written by Upton Sinclair but obviously they haven't been to the charming town of Colonnata. Here lard is something truly special, IGP quality certification, a pork lard salami covered in an array of beautiful spices (sea salt, black pepper, rosemary, garlic, nutmeg etc.) that you eat in thin slices over toasted Tuscan bread. For those who scoff at the notion of eating Lard, remember that this type is actually a good cholesterol, Gabriele mentioned this to us at least five times and I think he is a man of his word.  After our cave di marble tour we visited 'Larderia La Stazione' where the tradition of making lard stays strong, they showed us the special 'conche'  or marble basins where the lard is cured for 181 days. It has a very 'melt in your mouth' consistency and was delicious! If that wasn't enough, my friend Enrico also brought us 'crema di lardo' from his father which will soon be made into crostini on top of my wooden 'tagliere' from Pienza. You can read more about the town of Colonnata, which unfortunately we didn't get to visit via this great article by Serena Puosi via Around Tuscany. An additional must-read is this blog post 'The Perfect Pig'  from Annette Joseph Style where she explains more about lardo di Colonnata and provides a recipe that I am planning on trying using the lard I bought from the area (if it comes out good, I will share with you guys via this blog).
Larderia La Stazione, Colonnata, website (also in English)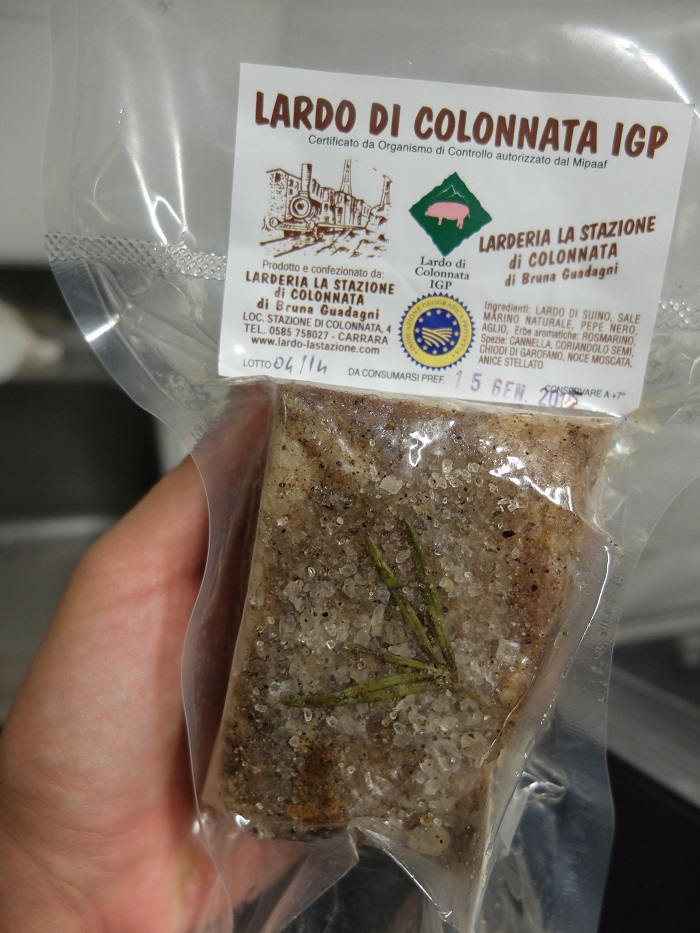 9. Proximity to Seaside
One thing that might surprise most people is just how close Carrara is to the seaside, about a 15-20 minute drive. One of the only places in Tuscany where you gaze at an incredible mountain view which sports snow in the winter and marble in the summer. We stopped at nearby Marina di Massa for a quick look (it was painful not to jump in the water) and had a last dinner with everyone at the marvelous Hotel Villa Maremonti, a beautiful hotel where I'm pretty sure dreams are made. Marina di Massa is your typical Italian seaside resort, you will find plenty of beach clubs, and public areas with colorful outdoor markets in the summer. Ritzy Forte dei Marmi is nearby if you are looking for a little nightclub fun after a day on the water. Malaspina Castle is also a recommended visit.
---
A big thank you to Paola from the Provincia di Massa Carrara and the Camera di Commercio for sponsoring this tour and showing us bloggers an amazing time, as well as 'Guru' Gabriele, the best tour guide in Carrara!  You can discover more about the region via their website www.turismomassacarrara.it 
Where to Stay in Carrara
Art & Design Hotel Michelangelo (naturally, this being Carrara). Corso Carlo Rosselli, n°3 Carrara(MS) 54033 +39 0585/777161-2 +39 0585/74545, email: [email protected]. You can see my vine video of the hotel here.
How to get to Carrara
Getting to Carrara from Florence is easy, by car you are looking at only about an hour and 40 minutes drive, Follow A11 and A12/E80 to Carrara. Take exit Carrara from A12/E80.
By train: The time is about the same (an hour and 40 minutes) and is around 20 euros, take the train from Florence Santa Maria novella to Pisa centrale where you will change trains and head to La Spezia, getting off at Carrara Avenza and then taking the last one to Carrara MS. (more info here) 
Must visit in Carrara
Marble Duomo Cathedral, 12th century, Piazza Duomo, 54033 Carrara, Italy
Palazzo Cybo-Malaspina, Via Roma, 1, Carrara, Italy (panoramic views of the city and landscape can be seen here)
Museo del Marmo, localita S.Francesco | via canal del Rio, 54033 Carrara, Italy
People watching in Piazza Alberica 
Carrara Marble Weeks ( a series of events featuring live music, art, photography and more in and around the city of Marble)  – runs until August 3rd.
When to visit
While I am definitely not a local, I got the impression that the best time to visit Carrara is during the summer, when you can use the charming town as a base to explore the surrounding area. Also summertime here means festivals and open markets (like the famous Marble weeks mentioned above) so you can add a bit of culture to your vacation.