December, as you might expect, is chock full of exciting markets, festive cheer and interesting events (here's a list for all over Italy). This is why we love it. The weeks leading up to Christmas and New Year's Eve in the city are quite busy ones for locals looking to stock up on gifts while also celebrating the year with treasured friends and colleagues. I particularly enjoy being here at this time as the streets are sweetly softened with the yellow and white gold of Christmas lights and I secretly love layers. Get your steaming cups of thick, Italian hot chocolate from Rivoire or Hemingway and spiced mulled wine from the Weihnachtsmark in Piazza Santa Croce.
It's also the season where my pants need to be stretchy and when I vow to go to the gym more… and don't.
We will be here until the 15th, then it's off for Xmas fun in California (San Diego and Los Angeles) and of course Texas. I am still trying to figure out if we should go to Marfa for a night and celebrate in Santa Fe, New Mexico for New Year's Eve, let me know if you have any ideas if you happen to live in these areas. We have been absolute shit at making decent plans this year.
https://www.instagram.com/p/BcJ0-S9Drey/?taken-by=girlinflorence
Before I tell you what events I'm looking forward to this month, enjoy your monthly dose of "link love."
Don't forget this year's holiday gift guide – dedicated to authentic, quality presents that are made in Tuscany, mostly by local artisans.
The Weihnachtsmarkt or German Christmas Market that annually takes place in Piazza Santa Croce has officially kicked off on November 29th until December 21st, expect to see mulled wine, holiday gifts, fuzzy slippers and the odor of sausage permeating the air. Oh yeah, I hope they have that burger food truck again, it's finger-licking delicious.  
A musical festival  "Strings City" dedicated to all instruments with a string is taking place all over the city from today and tomorrow (Dec 2-3rd) in various venues around town (over 50 in total!). This is the perfect moment to get your classical music kick in some of the city's most iconic locations. Check out the full program here.
For those seeking Nativity scenes (I've already gotten a few emails and messages about this, you'll get to see a number of 'presepe' around town very soon. The most famous one will be set up outside the Duomo cathedral. I recommend heading to the Church of Santa Felicita in Piazza Santa Felicita and the church of Santa Maria dei Ricci in via del Corso for a peek, also because these churches are rarely visited by tourists. 
Next up is a contemporary "block party" on via maggio this Saturday December 2nd (afternoon to evening ) kicking off at 4pm, a street known for its antiquities but which has a more contemporary influence in the past five years. You'll get to see some of the city's best shops extending their opening hours and the official turning on of the lights by the local mayor, ps. Betty Soldi will be writing calligraphy on her signature ornaments. 
A bit further up is an X-Mas Bazaar on December 2-3rd at via san gaggio 26 (an easy bus ride from porta romana – 36/37/11) hosted by Zetadistudio featuring some of my favorite local creatives and artisans, 10% of the proceeds will go to a charity.
Consider yourself a foodie and want to see what's going on locally? At the Stazione Leopolda, the Food & Wine Progress fair will be taking place on December 2nd and 3rd to showcase excellence in innovation in the gastronomic sector locally. New this year is a cocktail mixology class that looks bang on, entrance isn't cheap (20€ for adults, less of kids).
This year the AILO Charity Bazaar is early (Dec 2-3rd) and will be held at the Convitto della Calza (Porta Romana) from 10am-5pm. You can expect a plethora of amazing crafts, food and much more, all benefitting this great organization. I especially love that they will be having a "white elephant" table with second-hand items. Visitors can also look forward to American food on the grill and a special raffle with a variety of great prizes. Free entrance!
December 3rd also marks the day when State Museums are OPEN to the public for free (this if of course means, more crowds) on a day that is also consequentially crowded with many, many Christmas markets. You can't do it all ;-). State museums include the Uffizi Galleries (Palazzo Pitti & Boboli Gardens too) the Accademia, Bargello Museum, the Museum of Palazzo Davanzati, the Museum of Casa Martelli and the Church and Museum of Orsanmichele. 
One of my favorite charitable markets started yesterday in their annual location at Palazzo Corsini alone the Arno river (near ponte santa trinita). For those who don't know FILE, it is the Fondazione Italiana di Leniterapia whose aim it is to assist terminally ill people and their families in Prato and Florence during the most difficult time in their lives. The market itself is one of the prettiest in town, usually a mix of high-quality items (clothes, vintage goods, toys, jewelry and much more), this is also a great place to pick up Panettoneperfile, a special Christmas cake (like a fruit cake) that they they always sell at this market. Open until Sunday December 3rd, when it will close at 7pm.
The Creative Factory Xmas Edition will take place at Raribistro this Sunday, December 3rd (10:30am – 9pm) at Lungarno Francesco Ferrucci 24. 
I'm really excited to share with you all an event that I will be participating in next week on December 6th, with the lovely ladies of "Cultural Salon Florence" (an association that offers a creative social life to those in the city ). I will be there for a "coffee and a chat" just to share a little bit about what I'm doing here in Florence and answering any questions you guys might have. The event will take place at 11:30am at Hotel Helvetia & Bristol (by Piazza della Repubblica) and you can RSVO by emailing RSVP: culturalsalonfirenze@gmail.com. 
December 6th marks this month's open-mic night at Tasso Hostel where anyone can perform their original content to a fun group of locals (I always adore the group – it's a great way to meet people). I'm waiting to post the link to the official event page which isn't up yet but usually the fun starts around 9pm. 
My friends over at Officine Nora have opened up their studio to the public this season to offer the chance to design a unique jewelry piece for your loved one (I honestly adore their work!). I will be showcasing a preview workshop this Thursday, the 30th of November on Instagram so stay tuned!
I'm very excited for the return of the "River to River Indian Film Festival" at Cinema La Compania from the 7th to the 12th of December under the aegis of Regione Toscana and Fondazione Sistema Toscana.. This weather begs for more movie nights at this film festival and it will kick off on the 7th at 8:30 with the film "Amit Masurkar", with both Italian and English subtitles (the synopsis is "Newton, in charge of a voting station in the midst of the jungle, wants to make sure everything will run smoothly. Amidst organisational complications and the hostility of his colleagues at the polling station, that will be an experience he will not easily forget…"). Here's the full program. 
Luminous Florence returns as the F-LIGHT Firenze Light Festival kicks off on December 8th with the inaugural lighting of the Christmas tree in Piazza Duomo at 6pm. As part of this lights festival you can expect many famous monuments around town to get "lit up" (sounds bad when I write it like that, but you get me). 
Since December 8th is a national holiday in Italy – there will also be an open market in Piazza SS. Annunziata "Fierucola dell'Immacolata" until the 10th of December. You can expect food, gifts and plenty of wandering locals just enjoying a bit of free time from work, love these open markets!
The Museo Novecento is hosting a contemporary musical festival (GAMO) until December 10th with the following two in December: Sunday 3 December at 11.00 a.m. Dusan Bogdanovic a Firenze – Dusan Bogdanovic in Florence
and Sunday 10 December at 11:00 a.m., Ophelia Suite. Ticket price: 5 euro full price. Admission to the museum is not included.Info: [email protected], Box Office tel. 055 210804.
I saw on Facebook that Dorin Vasilescu is hosting a fun photowalk on December 9th at 4pm to check out Christmas lights and snap away in some of the popular areas around Florence (Palazzo Vecchio, Santa Croce), this would be a great way to meet new people and share in the fun of the city's holiday charm. Mulled wine WILL be involved.
Excited to announce that my friends over at Creative People in Florence are hosting their third annual holiday event bringing together a selection of artists, artisans and designers for a weekend of holiday cheer, including a pop-up market featuring top quality jewelry, accessories, homewares and more, workshops, tastings and live music, all at the spectacular location of Palazzo San Niccolò. On Saturday and Sunday December 9-10, visitors can browse for unique, handmade gifts and get to know the artisans and designers who made them, or stop in for a workshop (for adults and children!) or a tasting. WHERE: Via di San Niccolò 79, WHEN: December 9 (11am-7pm, followed by aperitivo from 7-9:30pm) and December 10 (11am-6pm). More info can be found here.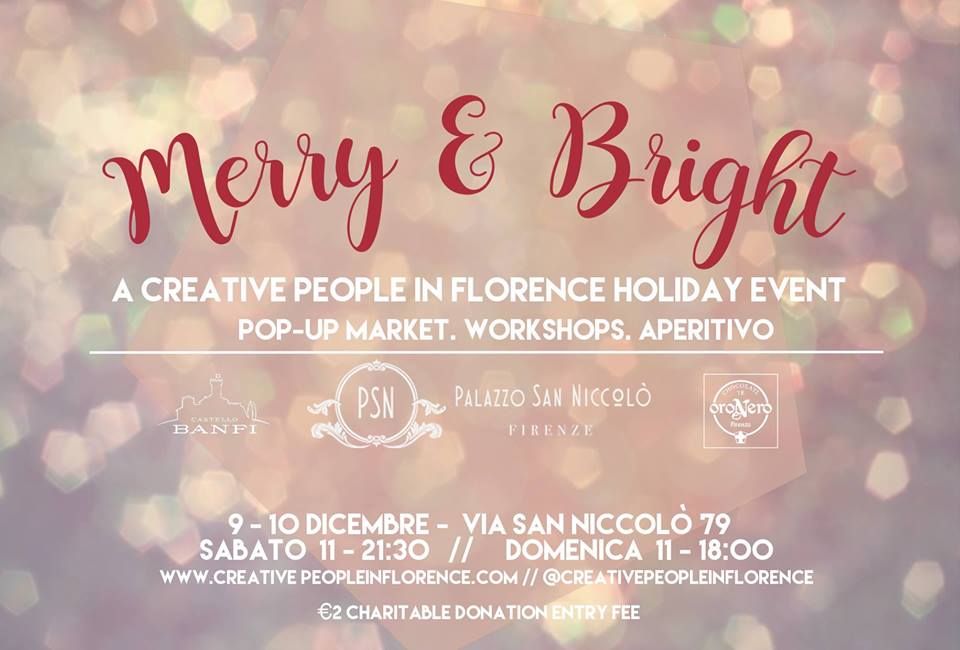 Looking to relax during this holiday season? Luckily there is a studio in Florence dedicated to 360 degrees of wellness and offers a variety of spa treatments, relaxations techniques, yoga and more. I love these people and absolutely recommend a pampering session or mind-body experience at Relax Firenze.
Art lovers will be seriously excited about the new exhibit at Palazzo Strozzi this month which will be on until 21 January 2018. It is titled The Cinquecento in Florence. From Michelangelo and Pontormo to Giambologna and it is a spectacular exhibition devoted to the art of the 16th century in Florence showcasing over seventy works of art by such artists as Michelangelo, Bronzino, Giorgio Vasari, Rosso Fiorentino, Pontormo, Santi di Tito, Giambologna and Bartolomeo Ammannati." 
The above also pairs well with the CCC Strozzina exhibit at Palazzo Strozzi, Radical Utopias, covering exciting movement in Florence in the 60's and 70's. The exhibition will be bringing together for the very first time in a single venue the visionary work of such groups and figures as 9999, Archizoom, Remo Buti, Gianni Pettena, Superstudio, Ufo and Zzigurat, in a kaleidoscopic dialogue between objects of design, videos, installations, performances and narratives.
This is quite sweet and relevant to those with families, I spotted a special storytelling event at the British Institute of Florence on December 14th where they will read Paddington and the Christmas Surprise to children aged 3 to 8, but all ages welcome.
If you are as obsessed with wine as I am, Signorvino by the Ponte Vecchio is offering 4 evenings of an informative yet informal introduction to wine which will combine 4 glasses paired with finger foods for the cost of 35€ otherwise you can do all four classes for €109,90. Below are the options for this December through February. Please note that the tastings will be in English and Italian!
Thursday 14th December from 20:00: White Wines
Thursday 18 January from 20:00: Red Wines
Thursday, February 15, from 20:00: Food & Wine pairing
In its third edition "Notes to the Museum" (Note al Museo), is a concert series created by the Opera of Santa Maria del Fiore held every year in the spectacular Sala del Paradiso of the Museo dell'Opera del Duomo. The December edition is on the 14th, more info here.
The perfect December activity is a trip to the trusty cinema, in my case our beloved original-language theater Odeon which is back on track with a superb list of options. And there is plenty to see this month including the much anticipated Murder on the Orient-Express check out the program here  Price: 8 euros for a normal ticket.
I absolutely adore the British Institute of Florence and this Christmas fair on December 15th will be featuring items such as books, crafts and more to help support the Harold Acton Library (well worth visiting if you get the chance). Tea and cakes will be served from 15:00 to 18:00. You can win a special prize in their annual raffle. More info here.
A special, Fierucolina di Natale, open market themed around Christmas returns to Florence with a special holiday theme in piazza di santo spirito on December 17th. Open from 9am-8pm, this is always one of my favorites!
The Firenze Winter Park is back in action along the Lungarno (you can take the number 14 bus) and offers a chance to ice-skate and "snow tube" down a man-made ramp. Great for kids and masochistic adults.
Don't forget that this year's open day at the Four Seasons Florence's Parco della Gherardesca will take place on December 17th, 10am – 4pm. One of the most beautiful private gardens in the city opens its doors one Sunday for a good cause. With an entrance fee of just 1 euro, you will be helping raise funds for the rebuilding of two schools devastated by the Livorno downpour last September. There will be music, an area for kids, Santa Clause and you can try a range of delicious winter foods like polenta, grilled meats, chestnuts. More info can be found here. address:  Via Gino Capponi 54, Borgo Pinti 97 e Piazzale Donatello 12.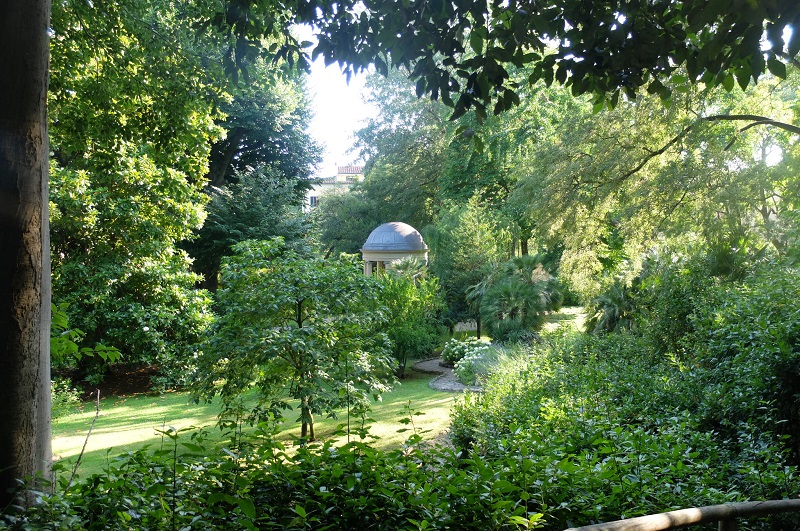 Head to Florence's concert space Obihall for the a Christmas Gospel Choir Concert by Love LIFE on December 19th at 9:30pm. More info can be found here (tickets must be booked in advance).
It's back, The Nutcracker at Teatro della Pergola, Dec 23rd, 5:45pm and 8:45pm. I'm a total Nutcracker lover, since I was a child my parents took me to see this ballet that tells a story about a certain toy coming to life and battling for his treasured friend. For those in Florence during Christmas season looking for something to do, why not reserve a spot at the esteemed Pergola theater for a special showing of The Nutcracker by the St. Petersburg Ballet. address: Via della pergola 12.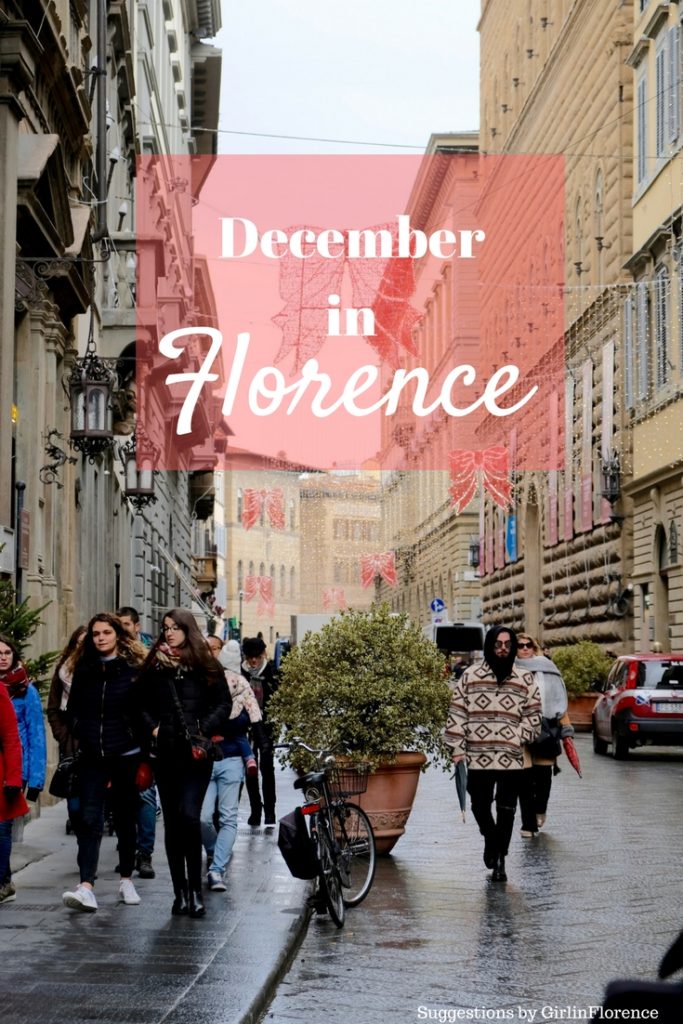 ---
New Year's Eve in Florence (?)
People always write me about what to do for Capodanno or New Year's Eve in Florence. Truth be told, it's always remained one of my least favorite holidays because it seems to be a time when locals get drunk for the first time ever and proceed to throw firecrackers at YOU while watching outdoor concerts. Not cool. My advice is to hold a house party with your best local friends or go to a local restaurant for a nice meet and glass of bubbles.
Warning rant coming your way: Honestly, the city needs to get it together with providing more info on New Year's Eve for visiting people (and locals), I NEVER can find anything before publishing the sport except for restaurants and crappy discos. It would be very nice to have a long, extensive and dare I say it, family-friendly list to give to people. One day Firenze, one day.. 
Maybe I'm looking in the wrong place. If you see anything, please dear god please, let me know.
Options include (I will be adding this list as I see more events online that I like)
My friends over at Osteria dell'Enoteca have organized a lovely New Year's Eve dinner that includes quite the menu of treats, I'm especially drooling over that braised Chianina beef and risotto. Read more about it here.
A New Year's Eve dinner on December 31st, in the ancient Byzantine Tower at the "Saloni delle Feste" (drinks at the table included) at Hotel Brunelleschi. It actually is an amazing space and I do think this would be a fun place to spend NYE.
Outdoor concerts (waiting for the official notice to be announced) in Piazza Michelangelo, Piazza Carmine, Piazza della Signoria, 

Piazza Santissima Annunziata, Piazza Bartali a Gavinana. 
*Keep in mind that transportation is best left to not taking your car into Florence on NYE, usually there are free trams and the center is normally completely closed off to cars on Capodanno.
SaveSaveSaveSave
SaveSaveSaveSaveSaveSaveSaveSaveSaveSaveSaveSaveSaveSave
SaveSave
SaveSaveSaveSave
SaveSave
SaveSave