Yesterday the Palazzo Strozzi unveiled an exciting new exhibit "Radical Utopias" in Strozzina curated by Pino Brugellis, Gianni Pettena, Alberto Salvadori on the the Radical Architecture Movement in Florence that took place during the 1960s and '70s.
This was a time post flood (November 1966) when fundamental questions were raised on the future of the city, actively debated by young students of the architecture department in the city of Florence.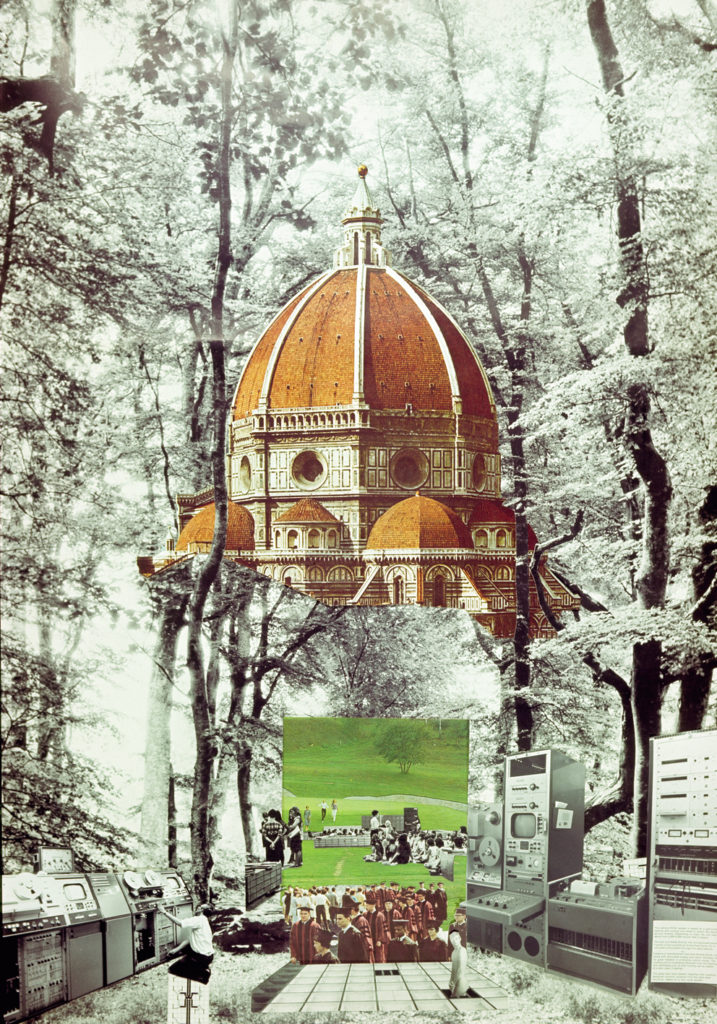 This will be a chance to see the cultural movement of individuals who revolutionized contemporary architecture, midway between utopia and the demolition of the discipline in a fantastical series at Strozzina. This includes the work of Archizoom, Remo Buti, 9999, Superstudio, Gianni Pettena, UFO and Zziggurat. 
I walked through the exhibit early yesterday (perks of being a blogger) and I was very impressed in how well-thought out the layout is and how much time I actually spent looking at everything, I walked through the entire exhibit twice. The works consist of an interplay between art, design and architecture – and not only.
You will be able to see a variety of mediums representing the movement of the era, clothing design meant to exhibit freedom and comfort, sketching, photography, porcelain lamps, video, sci-fi like models and depictions of space (remember this avant-garde period was at the same time of watching the "space race" between Russia and the USA).
My advice is to take your time and try to put yourself mentally in the space these groups were experiencing in the 60's and 70's as society was undergoing its own radical and social changes that influenced a larger movement worldwide.
Also notable are the inflatable installations "Urboeffimeri" by the UFO group (once placed in Piazza Signoria and Piazza Duomo in 1968) that are a seriously-cool eye-catcher in the Renaissance courtyard of Palazzo Strozzi and Mercato Centrale.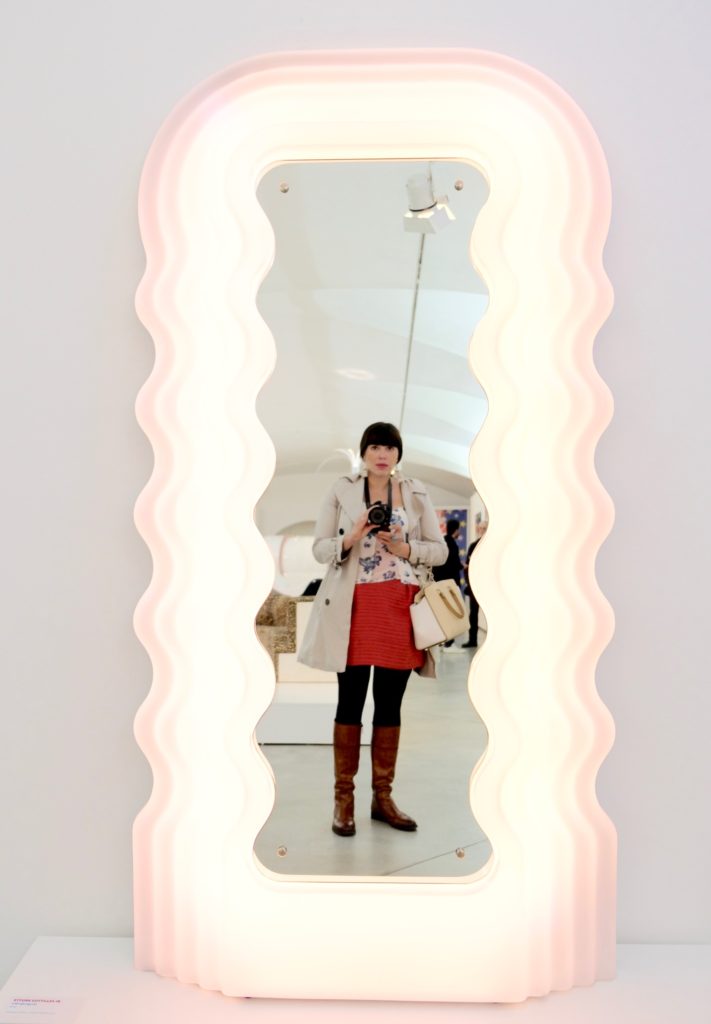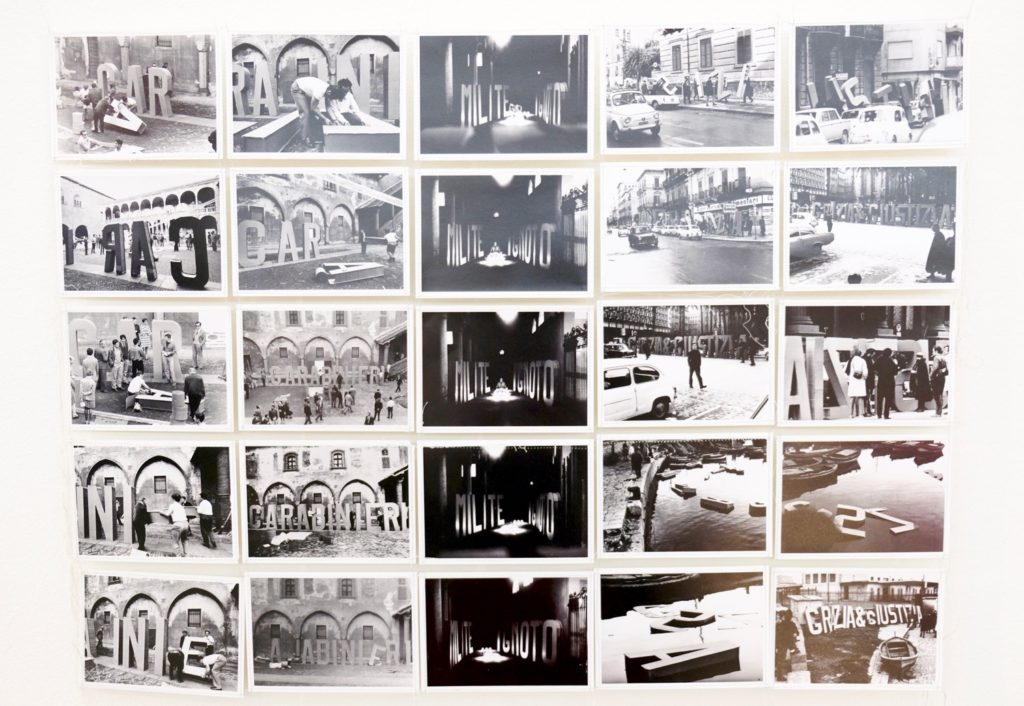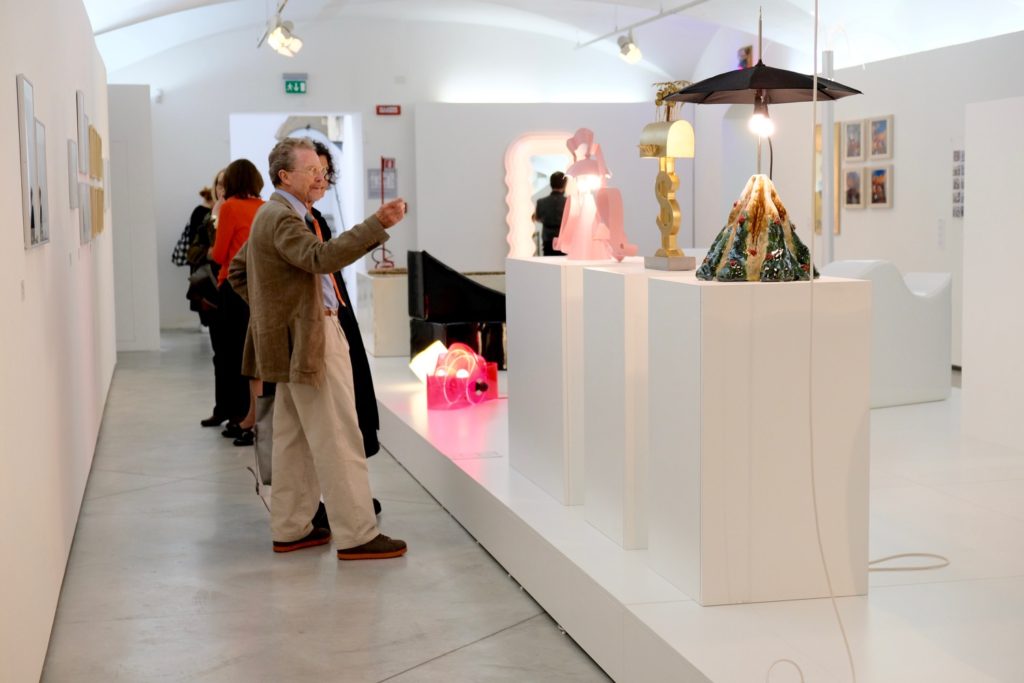 I have had the extreme fortune of getting to know the daughter of one of the men who helped form one of these groups featured at Radical Utopias, 9999.
Elettra Fiumi and I met at a birthday where I instantly loved this vibrant video-maker whose passion for her work is extremely evident. She offers big hugs and a bright smile that is entirely infectious. I also got to know a little more about a new project "A Florentine Man" celebrating her late father that you can read more about below. Without further ado, let's see what she has to say..
---
In honor of this exhibit, I thought what better person than Elettra to share in her own words more about Radical Utopias in an interview on the blog.
Thank you Elettra for this interview. Can you share with us who you are and your connection to the upcoming Radical Utopias exhibition opening?
I'm a New York-based filmmaker working on a documentary, A Florentine Man, that explores the projects of my Florentine father, Fabrizio Fiumi. I've uncovered an exciting archive that includes Super 8 footage he shot in Europe and the United States from the 1960s-80s. I've made a short film, an extract from my feature documentary, with this footage he shot in the 1960s-70s in the Space Electronic, the nightclub he co-founded, that will be screened at the Radical Utopias exhibition that opened Thursday at Palazzo Strozzi's Strozzina.
Can you tell us why we should visit Radical Utopias? Why is it important for you?
Radical Utopias will be the first time all the seven Florentine Radical Architecture groups will be exhibited at the same time and place. It's a historic exhibition. It's also thematically organized which wonderfully brings together the groups known often for their healthy competitive nature. There will also be another exciting monographic exhibition opening at the Museo del 900 on October 27th on just the 9999 group, where another short film of mine on who the 9999 group will be screened.
https://www.instagram.com/p/BabI1WBF8RL/?hl=en&taken-by=aflorentineman
Tell us a bit about your father – your relationship with him and how he was known in Florence.
My father, or as we say in Florence, "i'l mi'o Babbo," Fabrizio Fiumi, was an innovative and cultural figure in Florence. When my father passed away in 2013, the curator and writer Francesco Bonami published in the Corriere della Sera an article entitled "A Fiumi prize, for the ideas of tomorrow," where he said "Together with Archizoom, Superstudio, Magazzini Criminali, Westuff and others, Fiumi made Florence one of the most dynamic and interesting cultural centers in Italy and Europe."
After the 9999 group ended in 1972 (approximately), generally marked (in my opinion) by the printing of their Ricordi di Architettura (Architectural Memoirs) book, a collection of all their works (on view at the Strozzina), Fabrizio sold out of the Space Electronic; made a film, the Minotauro (not released-yet!); participated in the Venice Biennale of Architecture in 1978 with Sacred Spaces (a controversial exhibition on toilets); attended the American Film Institute; co-founded the Florence Film Festival, which he ran for 14 years (with help from my mom); and then invented the first digital subtitling system with their company, Softitler.
How did 9999 come about?

What really marked the 9999 presence on the International stage was when they became one of the winners of the Museum of Modern Art's seminal exhibition in 1972, Italy: the New Domestic Landscape. But one of the lesser known facts is that the 9999 group was born as the 1999 group in 1966 whose members were Carlo Caldini, Paolo Coggiola, Fabrizio Fiumi, Paolo Galli, Andrea Gigli and Mario Preti.
They all knew each other through the University of Florence, where they were influenced by professors such as Leonardo Savioli and Leonardo Ricci. Eventually the group transformed into the 9999 group, formed by the 1999 initial members Carlo Caldini, Fabrizio Fiumi and Paolo Galli joined by Giorgio Birelli, who became the photographer of the group.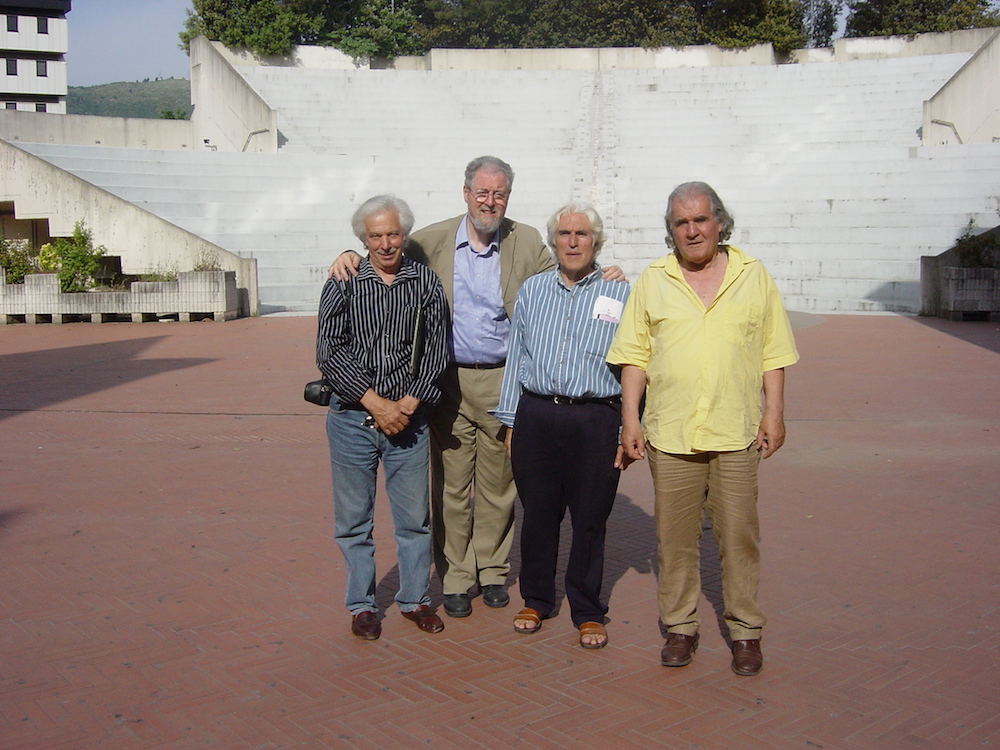 Tell us more about the 9999's connection between man and nature through design and its connection with that era in Italy at the time.
"Our project seeks to offer a solution based on new cyclical relations between man, nature and technology," was how they described their winning project at MoMA's 1972 Italy: the New Domestic Landscape exhibition. They called it an "eco-survival device…(that) makes use of very simple elements: a vegetable garden, water, and an air bed." It was a time when young people believed they could change the world.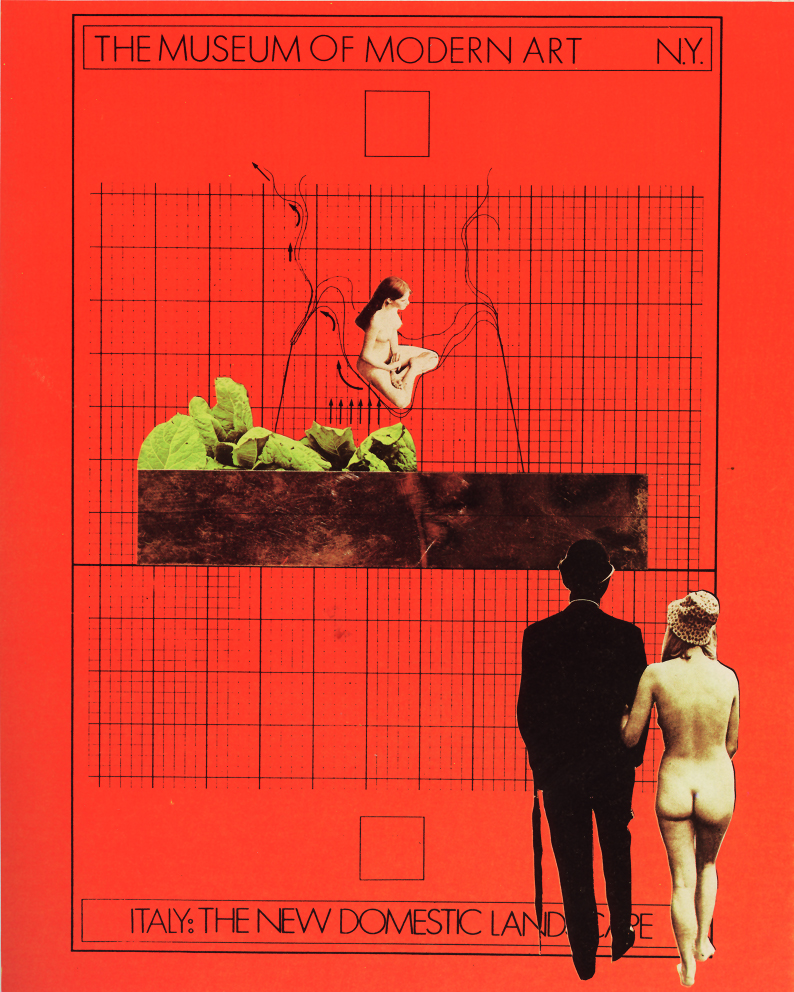 We have to remember the ideological framework of the 60s and 70s, flavored by the counterculture of the hippies and fundamentally political in light of the Vietnam War. This meant a general refusal of individualism. The origins of this movement are debatable but it seems that the first architecture groups with this collective sense of work and radical attitudes that challenged conventional architectural and design practices sprung up in Florence first with Superstudio and Archizoom, followed by the 9999 and Ufo, then many others that popped up mostly in Florence and Italy, but also throughout Europe.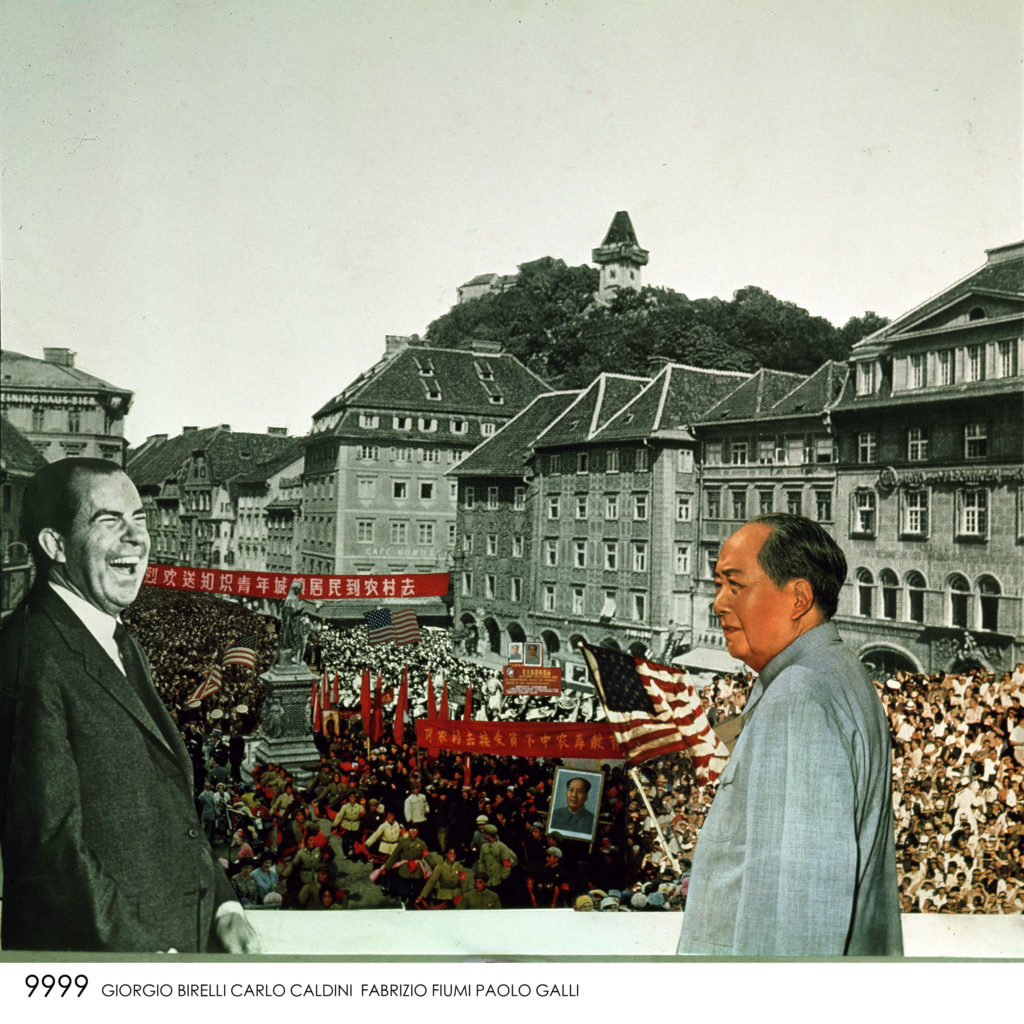 At first this movement was known as "anti-design" or "counter-design," until Germano Celant coined it "Radical Architecture" in a 1973 article. Every group had its own identity and the 9999 was particularly interested in man's relationship with his environment, the dynamics between technology and nature. We should also remember man first walked on the moon in 1969 so there was this sense of anticipation of how man was relating to the outside world, to our surrounding galaxy.
The 9999 played with these ideas using multimedia, for example placing closed circuit cameras inside and outside their Space Electronic nightclub, projecting light shows with geometric shapes and man on the moon visuals onto the Ponte Vecchio and in the nightclub. They even hosted an event where they flooded the basement of the nightclub, placing rocks throughout the water to allow people to walk from one side to the other. They also had a real vegetable garden in the middle of the nightclub at one point (for the S-Space event, a 3-day reunion of Radical groups memorialized with a white fur-covered book on view at the Strozzina). Not to mention that the Space Electronic decor was largely composed of recycled objects such as washing machine drums and empty refrigerator encasements. They were ahead of their time.   
Did your father share with you the feeling of living in Florence at that time? Do you have personal stories of his to share? 
The war ended shortly after my father was born. So as a little boy growing up on the outskirts of Florence, he dug up hand grenades that had been buried by the Germans. Those were his toys growing up. As an adult, though he worked in the cultural milieu in Florence, he loved the openness he found in America. He loved the quality of the sun in Los Angeles.
As my mom puts it, "he wanted to escape." Not that he didn't love Florence but getting funding for his projects was a real challenge. Let's say Florence was a little tight for him. He loved the freedom he found (or imagined) in the US. It was there, in fact, that he was finally recognized for his work. He was in love with America – while my American mom was in love with Italy. They made quite a couple!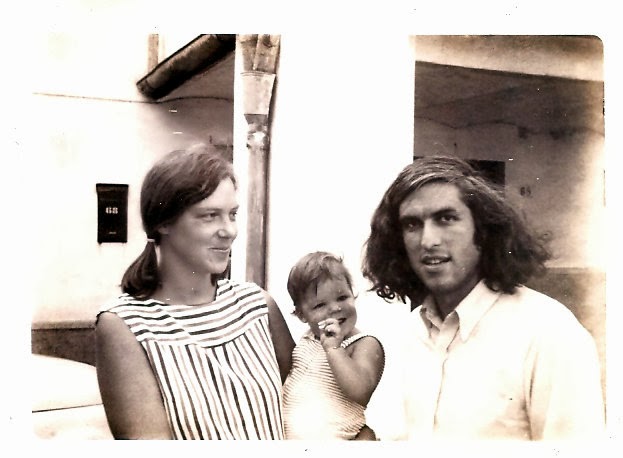 Can you tell us the 9999 connection with local disco Space Electronic?

The 9999 group's projects were mostly conceptual but one of their projects, and it was a stunning achievement, was the creation of the Space Electronic nightclub which was much more than that at the time – it was more so a multimedia cultural space with happenings, jam sessions, architectural shows and events, experimental theater and cutting edge concerts. They opened it in a former garage that had been ruined during the Florence flood of 1966. The nightclub inaugurated in February 27, 1969. It still exists today although it has changed significantly.
You've been back in Florence for a bit of time now, have you seen a difference in the city lately? I'd like to hear your personal thoughts.

I hadn't spent more than a few weeks here in quite some time. Being back here for a few months gave me the opportunity to observe the city with a more careful and thoughtful eye. I'm excited to see it burgeoning with culture on the micro and macro levels, although most Florentines don't really see this.
On one hand being from a city flooded with tourists can feel invasive and foreign to a fiorentina, but this influx of continuous foreign movement brings a cycle of energy to this town that can be small-minded. Also, it's a good thing if you can create work opportunities, even if they're geared towards tourism.
The clever thing is to tap into this external attention to our city but still preserve that integrity of place. I love to talk to everyone, old and new friends, and overall I've discovered there are plenty of both Florentines and foreigners doing exciting projects, with fresh ideas, entrepreneuring it. Running a business like I have in the US isn't easy here (totally not worth it) but the people I know or have met are making it happen, mostly as "liberi professionisti" (freelancers).
On the macro level, the city feels vibrant with interesting new restaurants like Bar e Cucina or il Locale, and events like during the Jazz Festival there were some surprising performances on the river ("zattera palcoscenico"), then the artist Giancarlo Cauteruccio had a digital video-based show in Piazza Santissima Annunziata, 'Muovere un cielo pieno di figure vive,' that reminded me of the light shows my dad's 9999 group did on the Ponte Vecchio and in their Space Electronic nightclub in the 60s because of how it provoked a dynamic interaction with our environment through "Urban Decoration," as the 9999 called it.
Then there's the upcoming opening of the Monet multimedia immersive experience at the Santo Stefano al Ponte former church. These aren't the traditional Vasarian corridor type of art experiences Florence has been known for – and it's precisely in this diversity that understanding of art, beauty and life can be explored in a deeper way and appreciation is fostered for both old and new.
The Florence you adore: let's hear it…

La Mia Firenze: Piazza Santo Spirito, where I grew up. My artist friend Cosimo de Vita, known for his wooden chairs whose backs are the silhouettes of Florentine churches, wrote me once, "La tua piazza, i tuoi amici, la tua famiglia ti hanno reso quello che sei: meravigliosa."
Long walks on the lungarni. I could walk back and forth forever, cross a bridge, walk on the other side, then back just to cross another bridge. Concerts in churches. The sound of church bells. Appreciating the presence and beauty of le mura di Firenze, whether it's when you eat at Fuori Porta, take a walk to Forte Belvedere or drive through Porta Romana.
Exploring the Tuscan countryside on a motorcycle or in a car that you'll inevitably dust up with the strade sterrate (where you might also stall uphill in your car!), heading for a bistecca alla Fiorentina at La Padellina or grabbing a schiacchiata at Giotto.
Countryhouse gatherings and driving on the Chiantigiana. Leather sandal stores and Florentine paper stores where you still see the artigiani at work. The hole-in-the-wall hang out aperitivo joints where there's not enough room for everybody but everybody's there, like il Santino, L'angolino and Caffe' degli Artigiani. 
Ok Elettra, I want to know more about this documentary you are making. Tell us what inspired you to start this project and how you will go about doing it. 

When my dad passed away four years ago, I came across his archives. There was no question of what to do with it. Since I had the tools of the trade, being a video journalist and having a production company, it was a natural fit. I had to tell the story of this time in history that this material showed.
I even have footage that my sister shot 10 years ago when she, too, wanted to do a film on our father. I spent much time gathering the archives which were spread out throughout various cities and then digitizing and sorting through the material.
Making sense of it was half the challenge. As my journey of discovery has evolved, I have uncovered more than I thought was there. Meanwhile, the academic interest from the part of scholars and curators, regarding particularly the 9999 works, has developed significantly worldwide which has added a sense of urgency and weight to the material that I've uncovered. As the discovering continues, so does the filming and the editing.
A film like this, that is personal and creative, historical and modern, Florentine and International, with never before seen footage from mostly the 60s and 70s but also through the 80s, has never been done so I have to do it, and I will do my best to give it justice.
I am currently fundraising so I can move faster with the project and do more. Leaving Florence for all these years always tore me up inside, but now all that I did while I was away is finally allowing me to give back to the city I love so much. I'm bringing some of New York to Florence. And some of Florence to the world.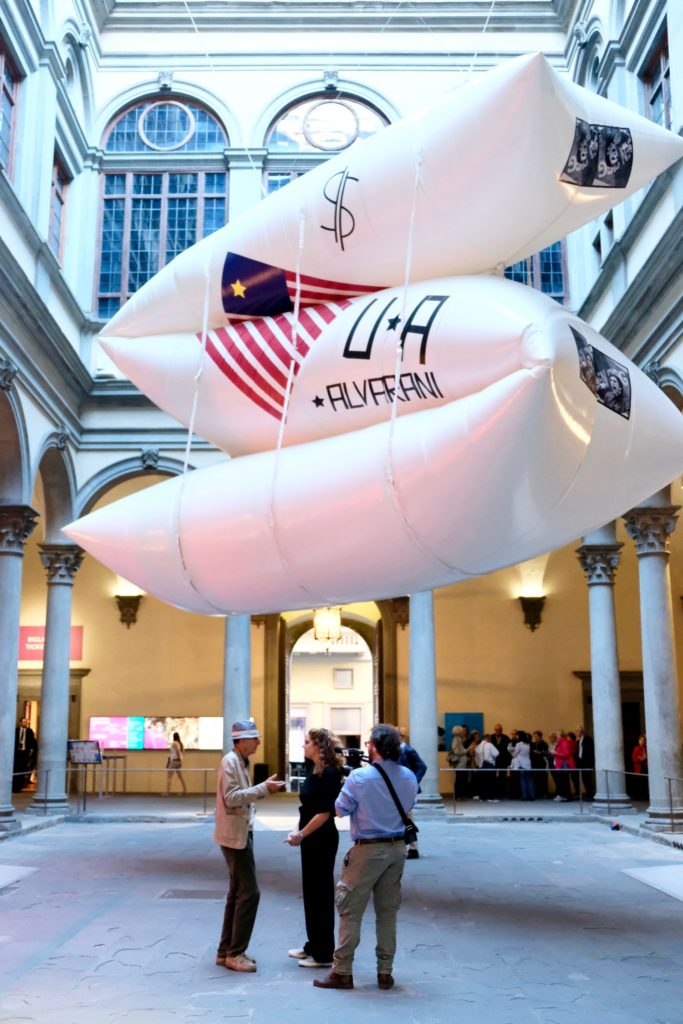 How can we help? 
I am currently raising funds to complete the documentary. You can donate here
Exhibit Details
"Utopias Radicali" will be open daily from 12.00-20.00, Thursdays 12.00-23.00. Last admission one hour before closing
Price: Full € 5,00; reduced € 4,00; schools € 3,00.
Combined ticket with the exhibition The Cinquecento in Firenze: full € 12,00; reduced € 10,50; schools € 5,00
SaveSaveSaveSave
SaveSave
SaveSave
SaveSave
SaveSave