Looking for unique gifts that represent Tuscany and all that we love about this region? I am too! Which is why I concocted a somewhat selfish plan of harassing my friends into letting me know their top gift ideas so that my own procrastination doesn't mean our families won't get cool presents. Since I was looking for quality not quantity, this year's lineup of favorites is astonishingly better than ever, quite frankly, these girls have great taste! Don't forget to have a look at my gift list from last year, which I can still whole-heartedly stand by (especially that wine club membership).
Before I forget, I'd like to hear from you in the comments section. What have we missed? I always need tips on what to get family and friends, we have lack of guy-friendly items so thank you in advance!
In Tuscany this weekend? Listen up!
In other news, this weekend is going to be fabulous for shoppers who happen to be in Florence. The annual charity Christmas bazaar at Palazzo Corsini "Nataleperfile" will kick off on Friday until Sunday (go even to see this beautiful building, it's stunning!).
Next up is the "block party" on via maggio this Saturday December 3rd (afternoon to evening – see flyer below), a street known for its antiquities but which has a more contemporary influence in the past five years. You'll get to see some of the city's best shops and the newest opening of my favorite place ever, Betty Soldi's new location of "& Company Shop" with cool shop Société Anonyme housed in their old location on via maggio 60r.
A bit further up is the Christmas pop-up market on December 3-4th at via san gaggio 26 (an easy bus ride from porta romana) hosted by Creative People in Florence together with Zetadistudio featuring some of my favorite local creatives and artisans who will be donating 10% of the proceeds to Norcia's earthquake victims. Other events and more details can be found in this handy post by La Repubblica Firenze.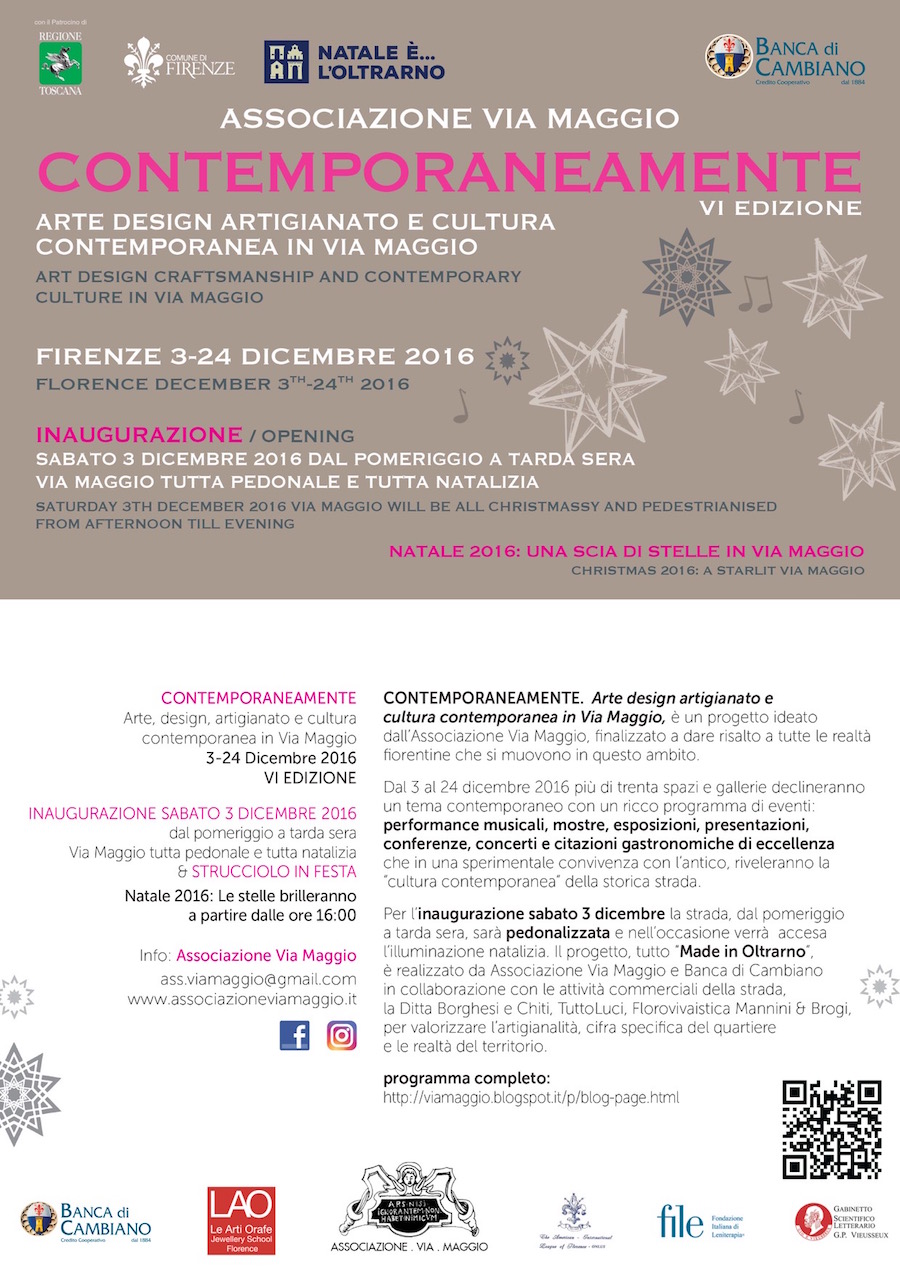 The "Best Of Tuscany" Gift Roundup!
My own personal shopping list of favorites can be found in this fun bullet list
A unique handmade piece of jewelry from Officine Nora. Margherita and her fellow craftsmen (and women) are true artisans in every sense of the word. You can visit their studio from December 1-24th (10am-8pm) and get an idea of each personality and style. address: via dei pretty 4/r (piazza santo spirito).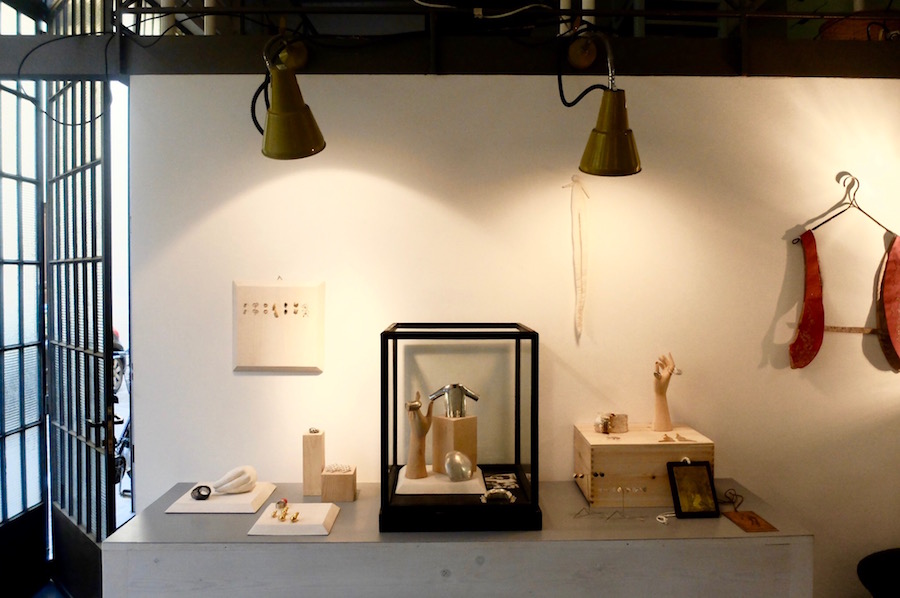 A leather belt, jacket or bag from Ben Heart in Florence. I don't need to tell you how much I love this shop, in fact both Nico and I have jackets from there and now my boss does too. This is leather craftsmanship at it's best. The belts make a great gift and you can choose the style of leather and buckle while finishing it off by emblazoning it with someone's initials. They have a wonderful weekend bag that is cool enough to take you from Istanbul to Los Angeles. Benheart. address: Via della Vigna Nuova 97 R, via dei cimatori 25.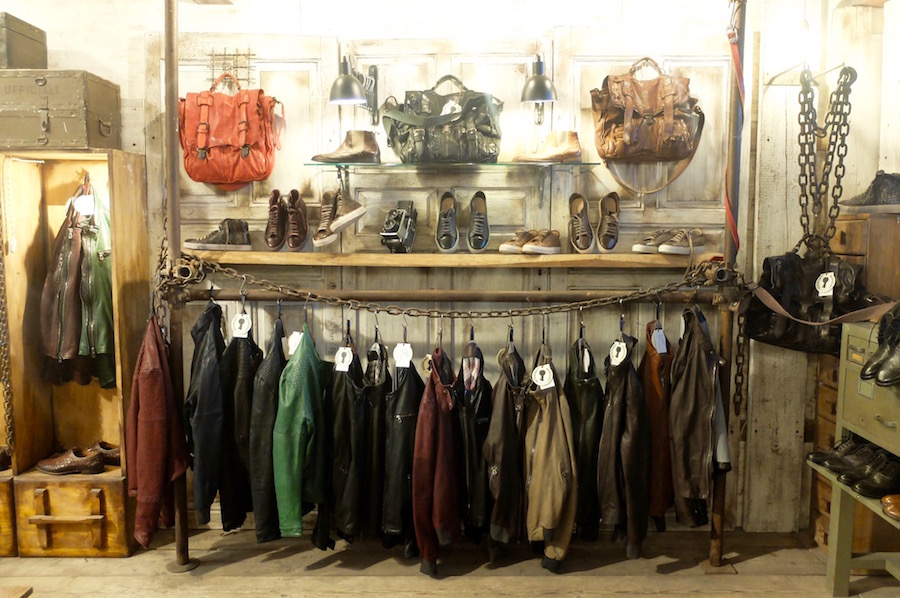 A handmade bag or ring from slow fashion brand Digerolamo. One of my personal favorite bag brands in Florence, anything artisan Clara Soto makes, I kind of want. Her "erin" cross body in black is my absolute bag. Keep in mind, her products are entirely made in Tuscany, with an emphasis on sustainable materials and you can peek at her workshop on via dello moro any given afternoon. Her jewelry is also spectacular, colorful rings at around 45€ a pop would make a wonderful gift. address: via dello moro 58.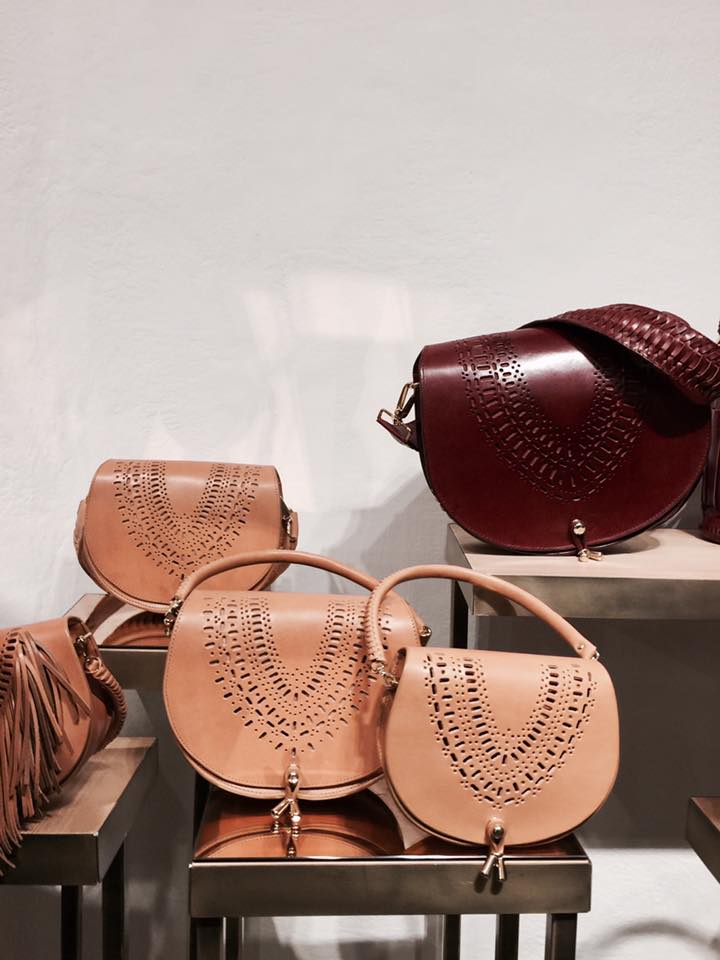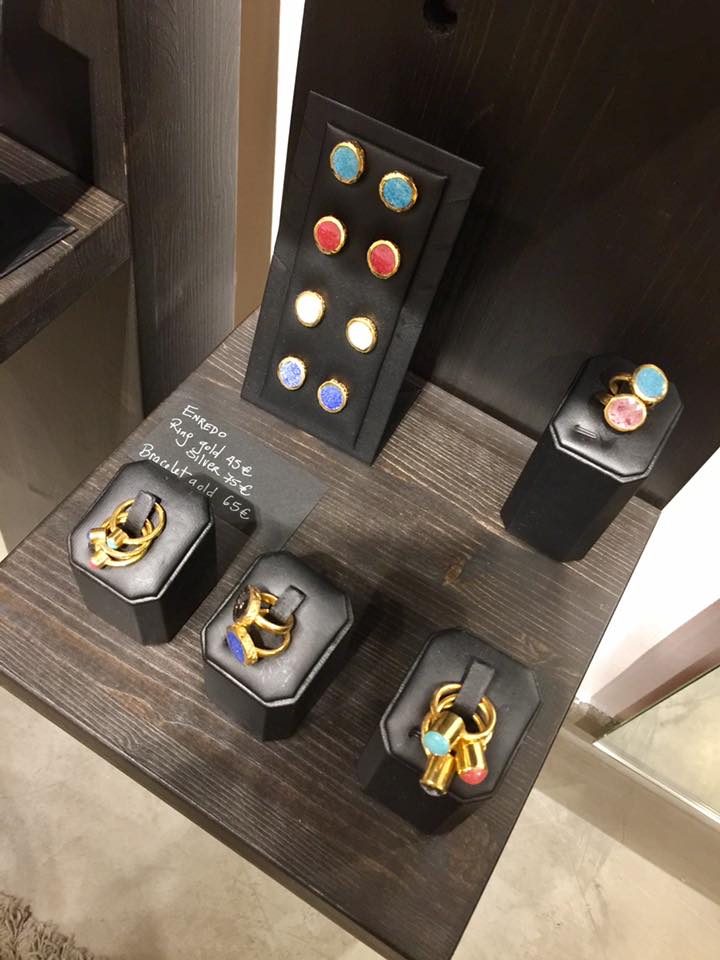 Scarves! Cashmere or painted silk. They are timeless and well, finding something truly special can be harder than it looks. So I have basically two that I wear all of the time which would make great presents this Christmas. I'm kind of minimalist so I don't really need more than two, or want to clutter up my already tiny closet. First up is a cashmere scarf from Nora of "Chianti Cashmere" basically the cream of the crop when it comes to cozy, quality and sustainable fashion (cost ranges around 250€ a scarf). Next up is a spring/summer scarf by Elizabeth Orchard, an English/Tuscany based artist who hand-paints on light silk scarves which are eye-catching and easy to pack. Elizabeth's work is unparalleled in its style, creativity. Both would make really excellent gifts.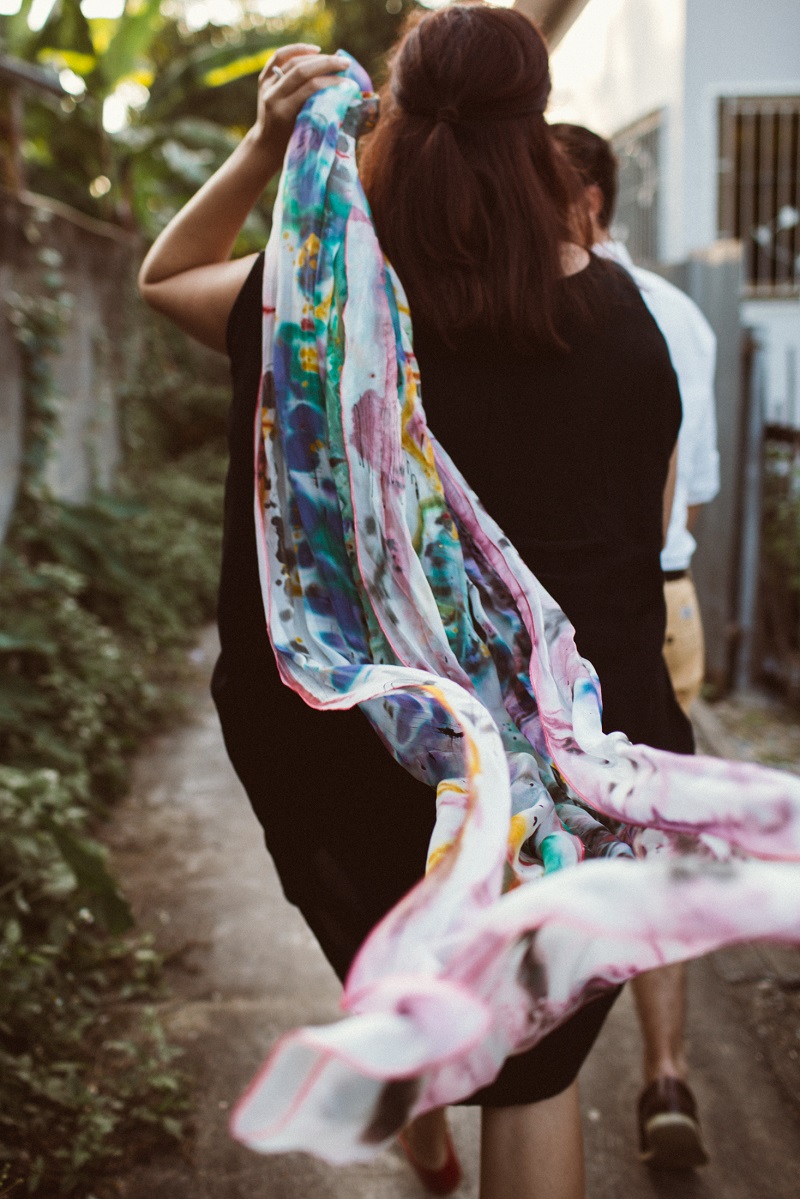 A "Watch" from Nullama, an entirely made in Italy brand you can find at the cool shop Mio Concept near piazza santa maria novella. This was actually a gift from my lovely husband of one year who has bought me two of these. One was lost in the Marrakesh airport and luckily my sadness had an effect as I now have a new version, which I promise not to lose sight of again (really Nico!). While this "watch" doesn't tell time, it's meant to make you reflect, it's basically the time to be. There are plenty of versions, each made of salvaged materials from woods such as Indian rosewood, walnut and olive. Mio Concept is on Via della Spada, 34r, 50123 Firenze.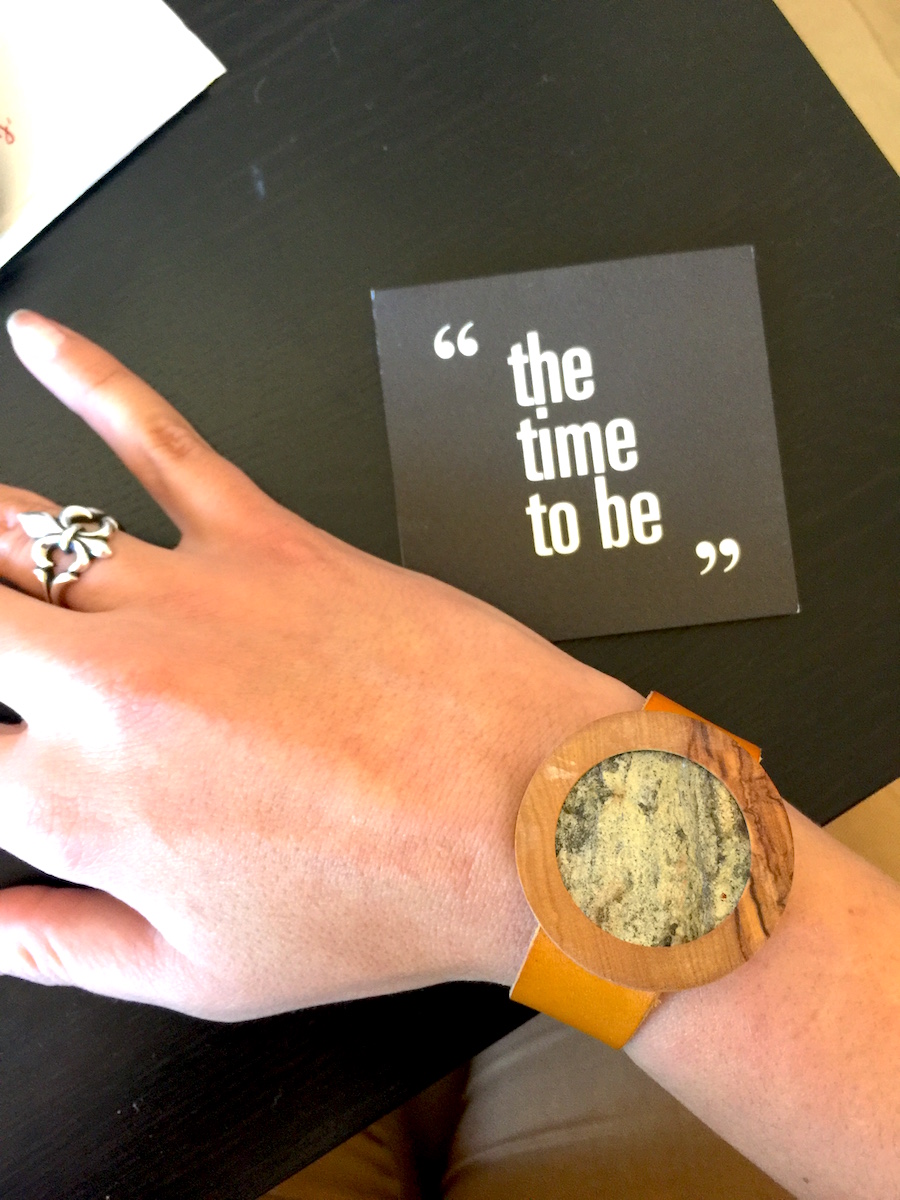 Anything from the new & Company Location! I'm just going to go ahead and thank my friend Alexandra Lawrence for taking a photo of my next favorite gift item. It is a grey piece of pietra serena marble with the word "Firenze" written in gold leaf (using Betty Soldi's calligraphy) inspired by none other than Donatello's "Annunciation" in Santa Croce. This is just one of the amazing items in the brand-spanking location and look for & Company Shop by friends Betty Soldi and Matteo Perduca. Stop by the new space on via maggio 51r.  Other favorite items include a selection of awesome English playing cards which can easily be framed for something more personal, the signature Santo Spirito motif coffee cups, and her black and white marbled notebooks, a collaboration with fellow artisan Erin Ciulla of Il Torchio. Which also is my go-to place on via dei bardi for notebooks, leather binding anything for book/paper lovers.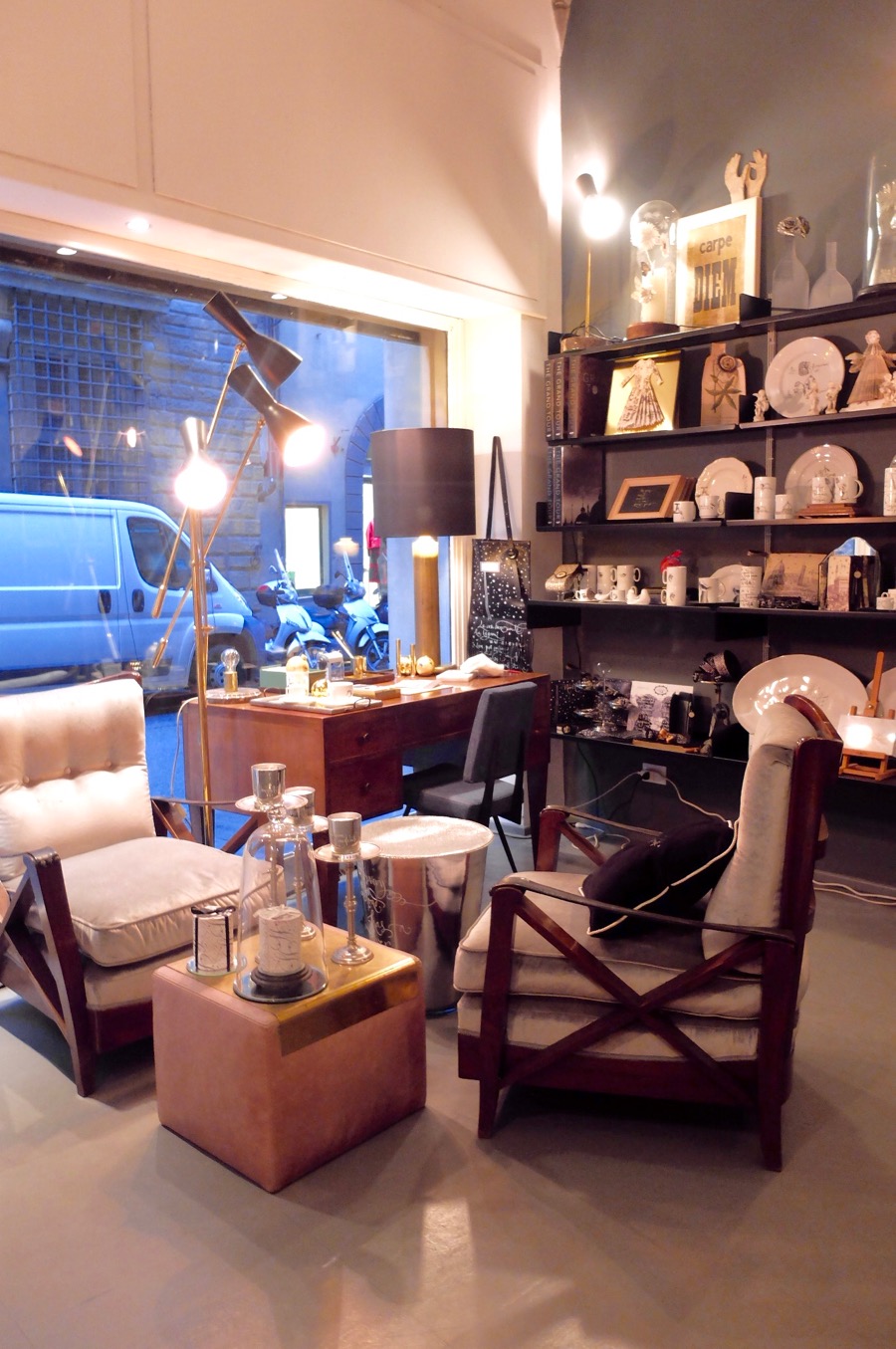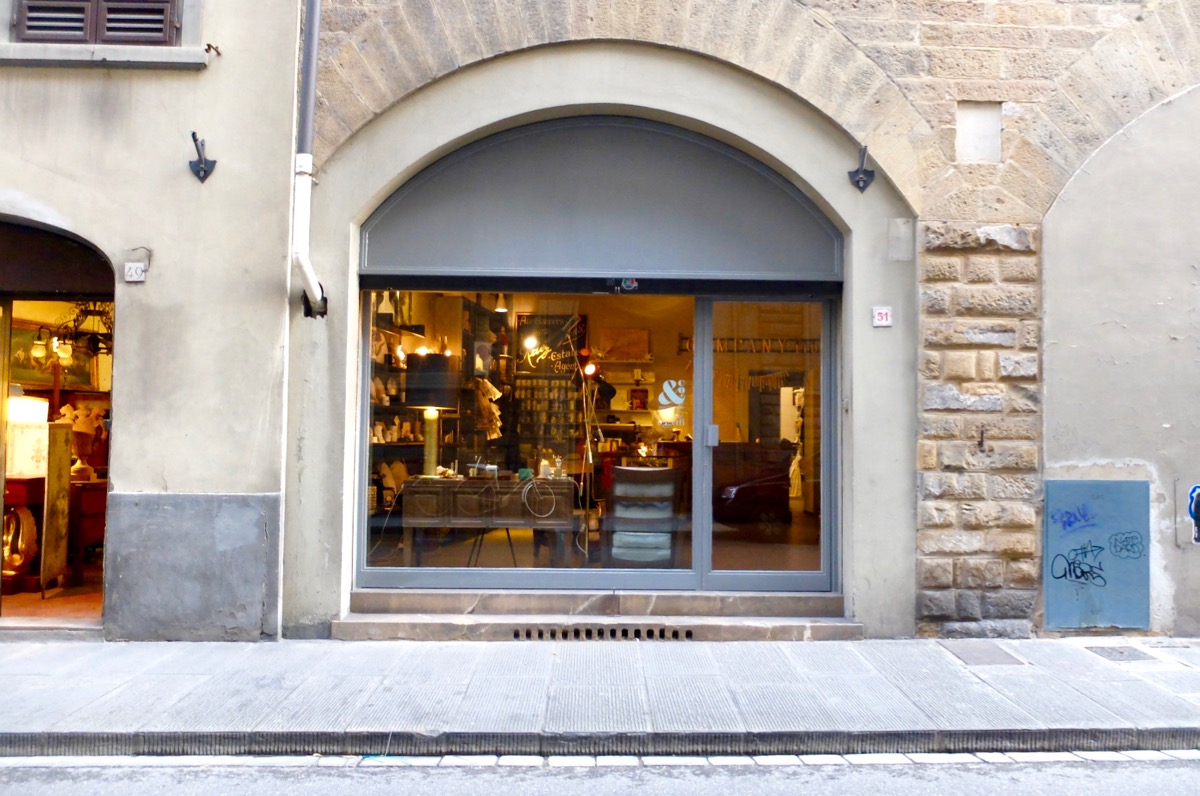 https://www.instagram.com/p/BNScE9MhSaq/?taken-by=italyalexandra055
From Cookbook Author and Writer Emiko Davies 
"Some things that come to mind are food related (of course). Panforte, for example (they're also great because you can get them in all different sizes, but even a small one is good, and nice ones come all wrapped up in pretty paper).
From Arianna Cini of Km Zero Tours 
BOX 1 (around 25€) Aqua di Rosa by Roberts + Santa Maria Novella violette soap and antic mint box + Marvis toothpath
From Creative People in Florence who sent me this badass list of artisan-made gift ideas!!! 
A necklace from Sara:
Anna says: Wearing Sara's necklaces is so much fun! People stop you on the street to get a closer look–they are true conversation starters!)

A headpiece from Ely B. 
Anna says: If you want to make a big entrance, this is how to do it. Her work has been featured in major fashion magazines and editorials around the world. She makes everything herself here in Florence. She currently has a collection on sale at Gerard in Via Sassetti 13
Sara says: I've been a huge fan of Ely B. since the very beginning, I remember seeing her work years ago in a small market and being incredibly inspired by her designs. It's so great to see her progression and progress over the years!

A headpiece from Dea Rose Millinery

Anna says: These headbands, bows, and hair pieces are so much fun to wear. Feminine and fun with a little bit vintage thrown in. She's in Rimini, but she's a frequent collaborator of Jen's, who we're sure you already have on the list!
A ceramic serving set or tea cup from Scicc'Art Firenze:
Sara says: These gorgeous pieces are handmade in Montelupo and exclusive to Tiziana Salvi's shop on Via dello Sprone. They are a bright and colorful way to start your day, all handmade and no two exactly alike! There's no website but you can stop into the shop on Via dello Sprone 11r.

"This may not be quite what you're looking for, but the new ArtePresente collection is out. It's a selection of artworks from artists in Italy on sale for very very special prices to encourage art collecting by people who might not otherwise think of buying art.
A somewhat shameless plug (I'm featured on page 13), but I'd jump at the chance to have any of these works on my walls–especially by Pietro Manzo (who we did a studio visit with last year) and RMOGRL8120 (who participated in our event in September at the Giardino dell'Orticultura)."
"Florence is full of places where you can get souvenirs. There are lots of ceramic shops, soap, handmade items. But if I could choose just on I'd picked Pasticceria Migone, such a beautiful candy shop with typical stuff from Tuscany that everyone would love to receive!  They offer tasty and divine gifts. Their packaging is amazing and they reproduce in paper some of the symbols of Florence, like the Duomo and the Giotto's Campanile. It's a bit pricey but with very authentic sweets and chocolates."
From Jen Mascali, Handbag designer in Florence
"My holiday pick is the "ChaCha" bag…For me this style is "bag jewelry".  The shimmery mix of fringe and chain will add an element of fun and sparkle to your holiday attire. It's the holiday season and we all need to ChaChaCha!"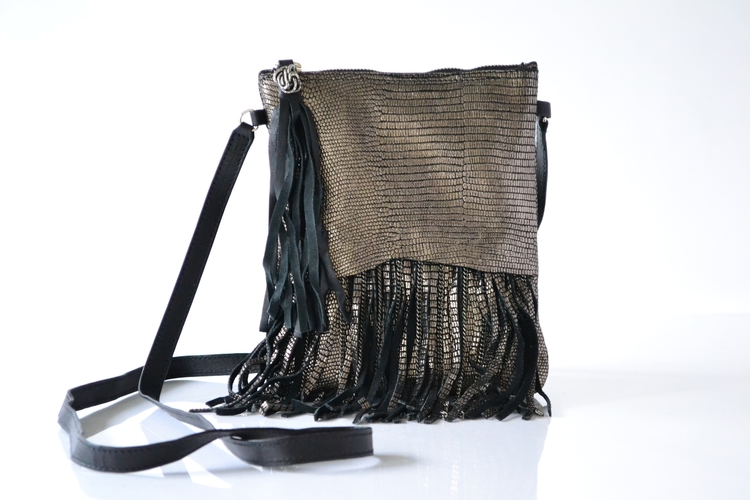 The first thing that comes to my mind is the unique contemporary jewellery at Angela Caputi. I love it; it's a "signature" buy as a gift which for me reflects the modern artisans of Florence.