It's not everyday that you mean a real-life goat whisperer. Meeting Nora was quite an interesting experience, surrounded by her 15 dogs and 200+ goats, who she reasons with us 'you either love or you don't'. If you don't, just check out this video of goats yelling like humans, you will be a lifelong convert, trust me.
What was more fascinating that in Tuscany, high-quality cashmere is available to the public, only 5 kilometers from Radda in Chianti, in what feels like an oasis from busy Florence in Figline Valdarno.  My knowledge of cashmere is quite limited, other than knowing that it is quite expensive and normally hails from exotic areas around the world (well, at least exotic to me).
When we first say hello to Nora, she asks us who wants to brush the goats, rummaging in a small shed, we were trying to gage whether or not we really were going to do a bit of goat-styling but instead went to check out the gals in action. Every goat has a name and she loves them all.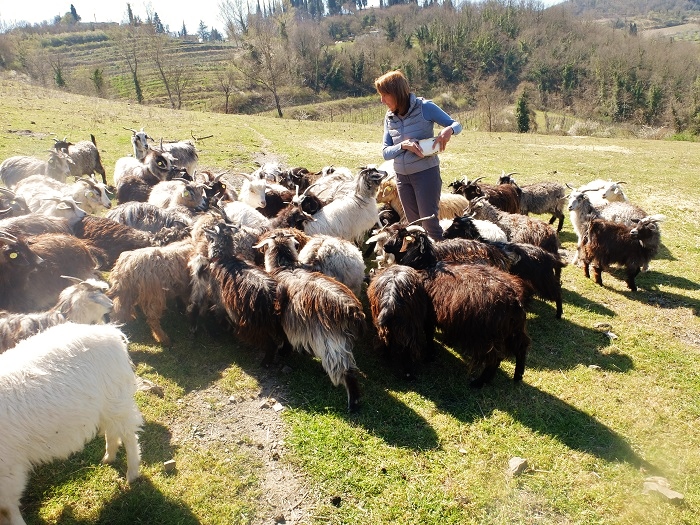 Recently I have been exploring more of Tuscany, the area that I live in, but  choosing to dig a little deeper closer to home. Thanks to Eric, the general manager of Villa La Palagina, I now know about this really interesting farm and had the pleasure of meeting Nora.
She has a no-nonsense attitude and wants us to focus on what she does in the cashmere arena, rather than the fact that she is a transplanted American who was the certified town vet for the local town. I can respect that, as much of a novelty it is being an American living abroad, there is so much more to many of these people's stories.
After getting two goats as pets, named 'Bella and Bestia' (beauty and the beast in Italian for all of you Disney fans) with the hopes that they would eat the blackberry bushes on her property. Consequentially she grew to love them, and couldn't bear to see them slaughtered and since they tend to procreate quite a bit. This led to the question, what was Nora going to do with all of these goats?
Hence a brilliant, but challenging idea came about, to open up a cashmere farm in Italy. No small feat in a place not exactly known for such an industry. Now her business is considered to be a small-scale sustainable farm and is growing exponentially.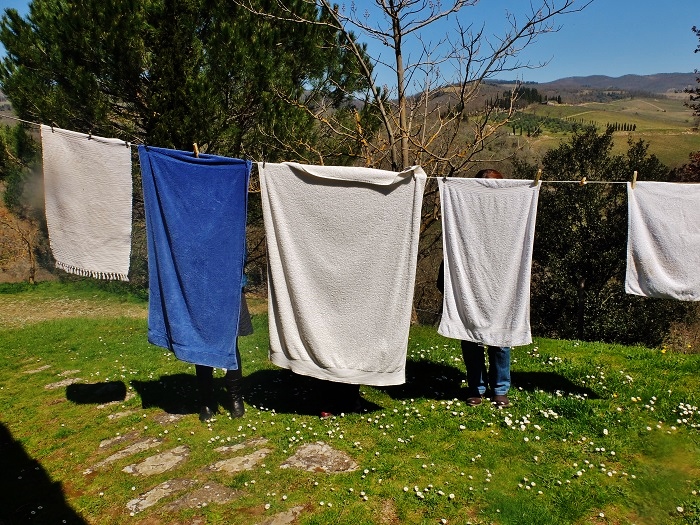 According to Nora, the secret to great cashmere sounds a lot more like you need a science degree than that of a farmer. It is true than in Asia and Afghanistan, cashmere production is much bigger with huge goat farms, but as she says on this beautiful day 'more is not better, better is better' alluding to quality over quantity.
It was thought that only in Asia could you get high-quality cashmere but Nora chalks that off to being false. According to Earthprotect "You can produce good quality fiber outside of Asia," Kravis said. "It's a fallacy that it cannot be done." The most important influence on quality of fiber is genetics, Kravis asserted: "Ninety per cent, followed by climate and environment," she told cashmere industry experts. She has been working hard with lab technicians for a number of years, she mentioned finding one in Iran that does lab tests for her in exchange for chocolate from Modica, Sicily and Perugia. Now that, I can appreciate.
It's all a little 'hairy' to me (bad joke) but essentially it is all about breeding the goats and analyzing their hairs to see up close and personal the quality of each fiber. She started by cross-breeding her goats with cashmere ones in Scotland. The 'cashmere goat' typically sheds their hair between March and May, and the fine fibers must be mechanically separated from the 'guard hair' to then be spun into all sorts of cashmere goodies, popular the world over. Cashmere is unique that it is lightweight and extremely fine, but also warm and of a strong composition.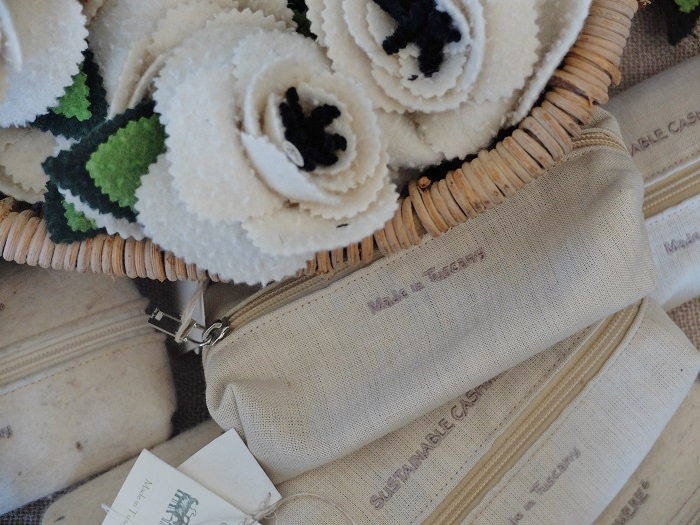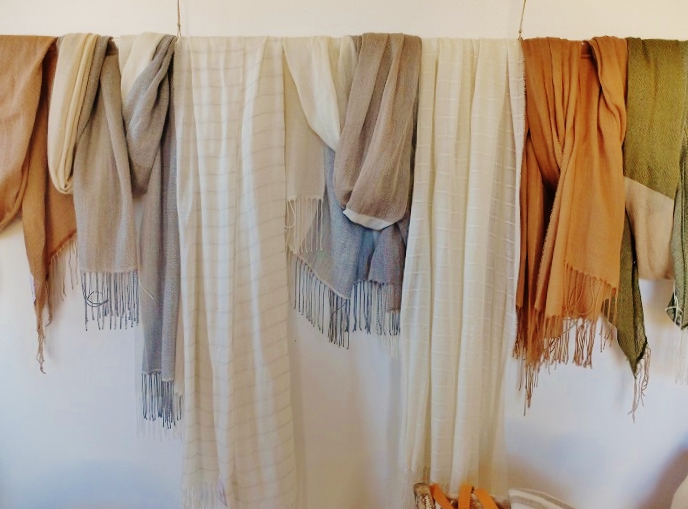 Her prize 'pony' is she has one, is most definitely the handsome guy referred to as 'Cappuccino' who breeds with over 60 females which means his stamina is one many men should be jealous of. The color and quality of his coat is Nora's most requested and this guys looks like he is used to posing for the camera. I could see the appeal firsthand.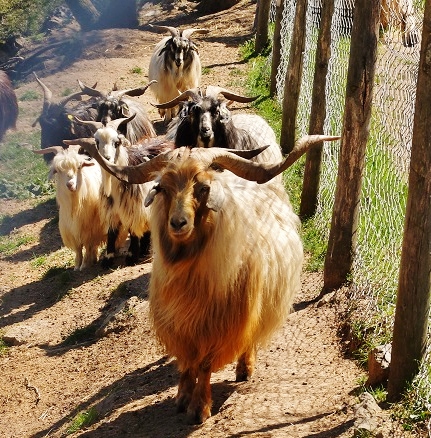 In addition to cashmere accessories made from the goat hair, she also uses their milk to make a range of high-quality soaps, which she sells online and all over the world. You can also find bedding, pillows, earrings, baby accessories and all sorts of beautiful products, which also sold in luxury hotels around the world. Everything in the shop is made from natural and renewable resources, which Nora strongly promotes. You can even purchase knitting kits and local sheep wool to make your own goods at home.
For those who are also passionate about animal welfare and just want to participate, Nora offers the chance to 'Adopt a Kid' for a contribution of €100,00. You can choose your favorite baby goat from her photo gallery and pick a name.  In exchange you will get a gift of Cashmere yarn, scarf, shawl, throw or any other product available in their shop of equal retail value, which will be shipped directly to your address.
Also during the year Nora will send you progress updates on the status of your 'kid.' I think this would be a fabulous project to do with children who can be involved in something that is helping them maintain these beautiful Cashmere goats ethically and sustainably. A wonderful lesson.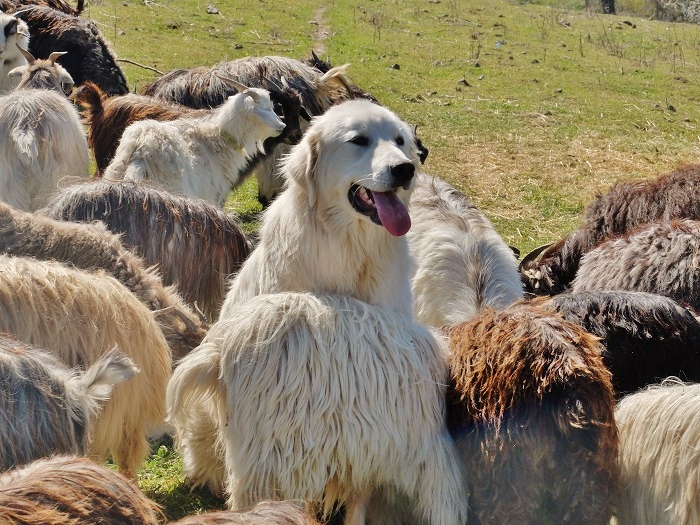 She also invites 'spinners' to come join her at the farm during the months of April, May and June to help comb the goats during this busy season. She also offers farm stays to those who are interested and has a pretty nice view overlooking the valley, with plenty of neighborhood gossip to boot.
As I discover more interesting and creative people around Tuscany, I really hope to share their stories, like Nora's, to give an idea of some real 'Made in Italy' options going on right now, every single day. They might not be the most active online or have the biggest advertising budgets, which makes me that much more passionate to tell their stories. I hope you agree and share as well. If you've met Nora and visited her goat farm, let me know!
---
Getting There
How to get there: Nora's farm is about an hour and five minutes from the center of Florence by car, I attached the google maps below so you can get the exact coordinates on how to arrive. The closest town is Radda in Chianti (3km away) and realistically without a car, arriving is unsure with public transportation.
Go past the entrance to the Autostrada and take the next right onto the Superstrada for Siena (blue signs with white lettering) as far as the SAN DONATO exit (15-20 minutes). After exiting go left over the bridge towards CASTELLINA, following the signs to Castellina (13 km).
At Castellina turn left towards RADDA IN CHIANTI, following the signs all the way to Radda (8 km). Go through the village of Radda and follow the hill down until you cross a narrow bridge (about 1 km from the town) and continue straight-on, downhill, and slightly to the left, ** following signs for Lucolena or Selvole and immediately afterwards for Montevertine.
**From this point you will go exactly 600 meters on this road to the beginning of their road – a dirt track on your left into the woods, mailbox, dumpster and sign with our goat on it. There is a house directly across the road on your right (the only one on this road). CHECK YOUR SPEDOMETER OR YOU WILL DRIVE RIGHT PAST IT!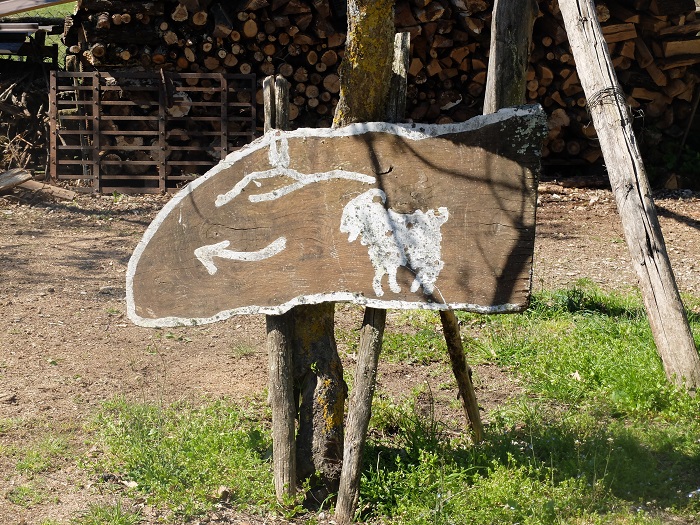 Chianti Cashmere Farm, Farm and Direct Sales – c/o CASHMERE GOAT FARM
Azienda Agricola La Penisola -53017- Radda in Chianti (Siena) ITALY
Skype: sustainablecashmere, Facebook.
E-mail: [email protected] , To visit, make a reservation first.