The holidays are upon us and if you are anything like me, you probably hate shopping. Today is Thanksgiving and I put off shopping for today's meal until the very last minute, as you do! The real reason I hate buying things (at least back in the USA) is the crowds, the pumpkincraptaskness of sugary lattes that I get and that make my stomach hurt when I'm back in Texas, and well spending my money on things that I am not 100% sure of. In Italy, they are also gearing up for this December and the holiday rush.
Christmas lights are starting to appear in city streets, folly has already wrapped around several doorways. In honor of this and knowing that shopping can be stressful, help is here. In Tuscany there are so many options for those who want to buy something but quality is important too, luckily there truly are some wonderful gift options here that are created by artisans, with a poignant story behind each piece.
Before leaving to Thailand and Texas for my holiday break, check out these options for made in Tuscany products that I believe anyone would love. All in addition to your usual wine, cookies from prato and rose water from the Santa Maria Novella pharmacy that has cropped in my lists of Christmases past. I also have additional shops that I adore listed here if you want to have a look. I also recommend heading to the 'mercato delle pulce' or flea market in piazza dei ciompi for interesting vintage items that would make awesome gifts for a certain kind  of person (think skeleton keys, comic books, crystal decanters).
Extra-Virgin Olive Oil – Pruneti Organic Producer in Chianti Classico area
I am currently writing an article about the Pruneti people who's olive oil is one of my favorite products close to Florence, several generations of a family business have made this a prime product. And since people seem to be eating a little healthier around the world, a gift package of high quality olive oil would make anyone happy, since you've filtered out the crap they typically sell at the grocery store. This is the real deal, and I was present during harvest and can vouch for the quality of the process and to meet the two brothers continuing four generations of oil makers. My preferred gift pick of theirs is the Cristina Oro Collection which includes three of their Pruneti monocultivars in a nice case. On the back of each bottle, it offers suggestions on what foods to pair it with. It comes in at a very affordable € 29,00. I also really like this stainless steel bottle (250 ml) which is a Pruneti blend, this is one of the best ways to store olive oil as translucent glass containers can expose the oil to sun which isn't a good thing – you have to think of previous EVOO as a sexy vampire that needs his dark, not too hot, not too cold space.
Pruneti, Address: Via Oliveto, San Polo In Chianti FI
Phone:055 855 5091. Open Mon-Fri 9:30-12:30, 2:30-6pm. Email to make an appointment.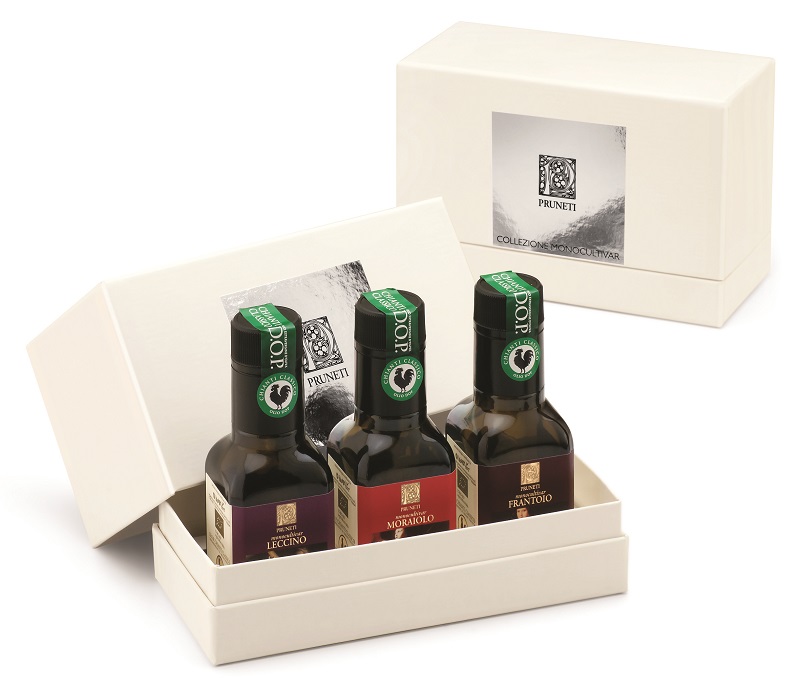 The Wine Club – Pitti Gola e Cantina In Florence – The Gift That Keeps On Giving
Not all wine bars in Florence are created equal and two of my favorites actually are within five minutes of my house in the 'oltrarno' area. Pitti Gola e Cantina faces Pitti Palace and is that perfect kind of cozy wine bar that I am pretty sure everyone dreams about, not just for the ambiance but more so for the quality of their products. More importantly, they stock high quality wines from around Tuscany and the Piedmont region and for a few years now have started a wine club that ships all over the world.  Think each spring and fall for reds and winter for bubbles, we went to them when we needed a bottle for the wedding ceremony and I couldn't be happier. I'm pretty sure any wine lover would adore such an incredible gift and perks of being part of the club include one complimentary tasting for two people per year at the enoteca and a 10% discount on additional customized shippings.
Email them to get more info here: [email protected]. Membership starts at 235 euros for the USA market.
Pitti Gola e Cantina, Address: Piazza de' Pitti, 16, 50125 Firenze FI
Phone:055 212704, Open Wednesday-Monday 1pm-11pm (closed Tuesdays).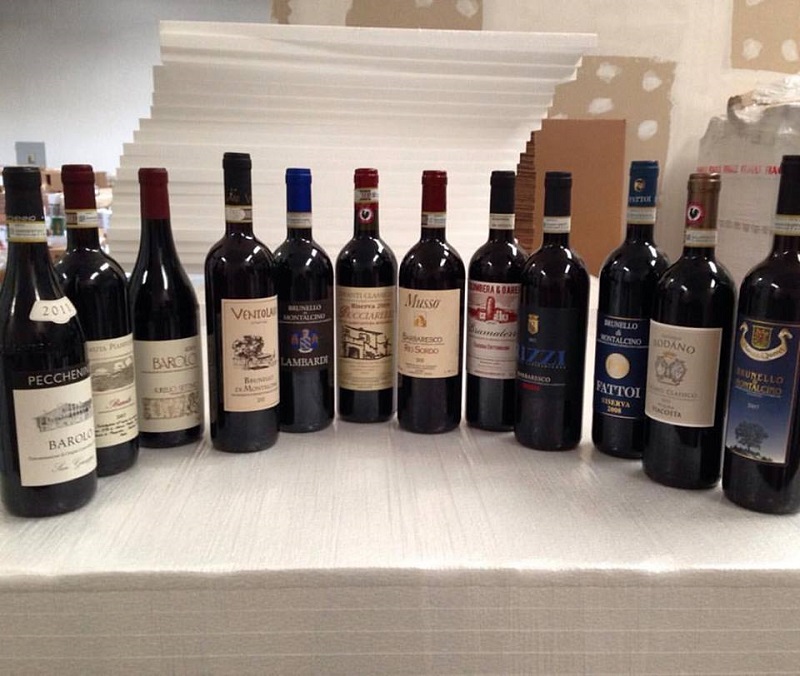 Beautifully Porcelain Cups From & Company (Via Maggio 60r)
There are some stores in Florence that are almost dangerous for me to visit and 'And Company' is one of those places that I truly couldn't adore more. Owned by Betty Soldi and her partner Matteo Perduca, walking inside is like entering a whimsical fairyland with Betty's calligraphy taking center stage. This is where I typically come to get nice gifts for family members including porcelain coffee cups with Florentine motifs written in calligraphy or as gifts for my friends coming to Florence for our wedding, beautifully made boutique guide books that includes shops and suggestions like this place. Prices are excellent considering the quality, prices range from 10 euros and above.
And Company,  Address: Via Maggio, 47, Firenze FI
Phone:055 219973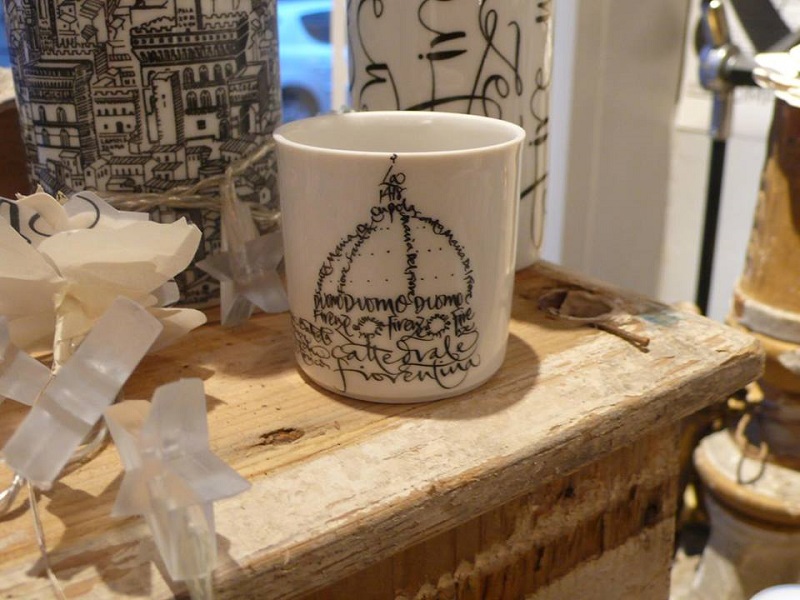 Aqua Flor in Florence – Home Scents, Candles and Artisan Perfumery  
Artisan perfumery Aqua Flor on a side street near piazza santa croce on Via Borgo Santa Croce, 6,  is a favorite among us bloggers in Florence, and well anyone who actually knows about it. They are an artisan perfumery, selling their own homemade products by the talented Sileno Cheloni who can also customize scents for discerning guests, including a recent visit by actress Helen Mirren. Entering the shop, you feel as if you have entered an alternative universe where the 'nose' is the most important tool a human can have.
I highly recommend a visit if you find yourself in Florence, and this is the perfect place to pick up a nice present, either a particular scent or if you want to play it safe, they make excellent home fragrances, candles and beauty products. They just came out with 'harem' a new ambient fragrance with notes of rose, jasmine, verbena, violet, and an exotic base of sweet vanilla. Prices range around 40€, and they also offer gift packages (which can be customized to your taste).
Aqua Flor, Address: Via Borgo Santa Croce, 6, 50122 Firenze
Phone:055 234 3471. Open daily 10am-7pm.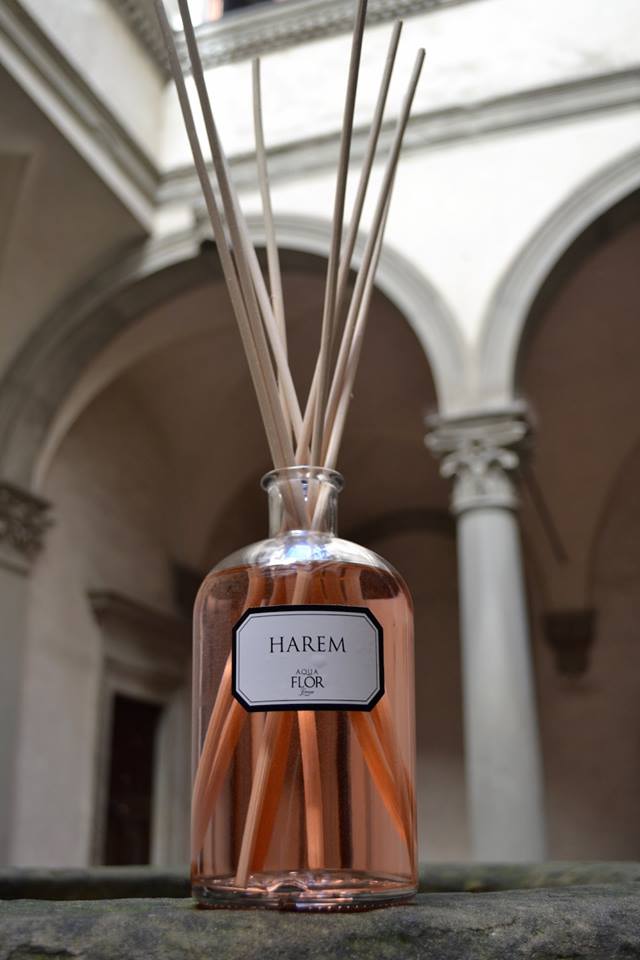 Leather bracelets from the Scuola del Cuoio (leather school). 
Recently I was looking for some unique, made in Tuscany items to gift to my friends and I popped into the 'Scuola del Cuioi' off the Basilica of Santa Croce for a browse and found these beautiful leather python bracelets that are brass or nickel framed and made with leftover leather from bags/purses etc. Very affordable at around 16-20 euros, they are elegant and make the perfect present. Finding good leather products in Florence isn't as easy as one might think but at least you can assured of origin and quality. Visiting is always an amazing experience and this is a great place to get leather belts, wallets, jackets, briefcases and more.
Scuola del Cuoio, Address: Via S. Giuseppe, 5r, 50122 Firenze
Phone:055 244533. Opening times: Workshop and Showroom: Monday – Friday 9:30 a.m. – 6:00 p.m.
Showroom only: Saturday 9:30 – 6:00 p.m. and Sunday* 10:00 – 6:00 p.m.
*Please note that Scuola del Cuoio is usually closed on Sundays from November to March.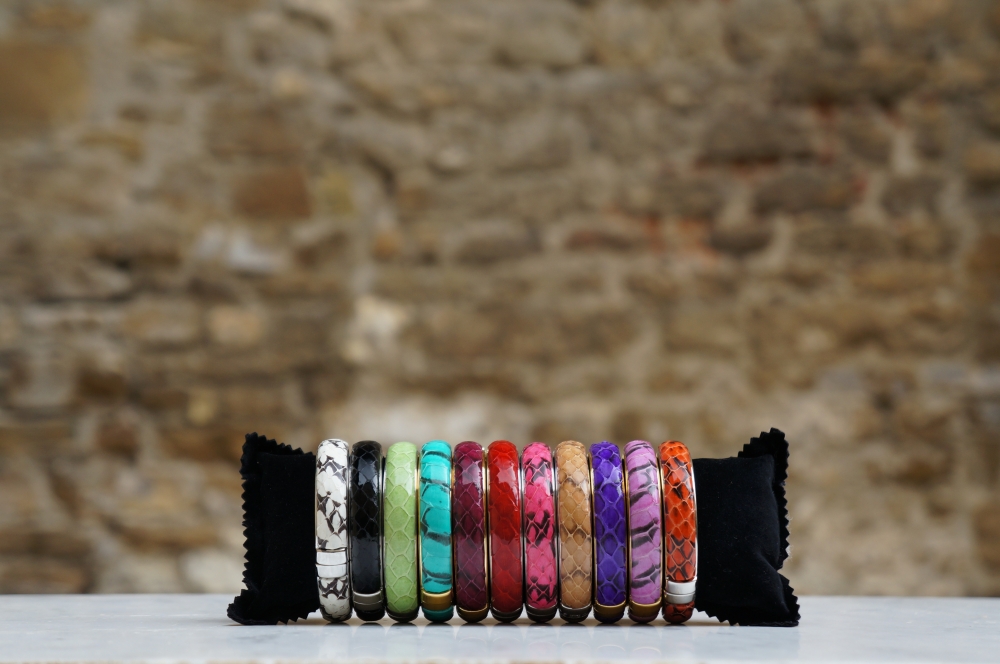 Hand-Sewn Leather-bound album or journal from Il Torchio bookshop
One of my favorite places in Florence is nestled in the oltrarno, Il Torchio on via dei bardi, a small shop owned by Canadian Erin Ciulla (who I Interviewed recently) selling a delightful array of leather bound gift items including photo albums, journals and more. She learned how to use the telaio (sewing loom) and the torchio (press), both manual machines commonly used by artisan bookbinders from her apprenticeship with the former owner. She then took over the shop blending her own modern ideas into truly quality products including hand-sewn books and marble-covered notebooks that I adore. Plus she is pretty cool too.
For Nico's Christmas present last year, I got a personalized leather journal for note-taking at work. Erin and I chose the leather and stitching together and she etched his initials in the front flap, I also included a quote on the first page. It was seriously a special item also because I was involved in the process and I know anyone who loves things like this will appreciate Erin's range of work. Prices range around 35-40 euros.
Il Torchio, Via dei Bardi 17, 50125 Firenze. tel & fax +39 055 2342862 – [email protected]. website.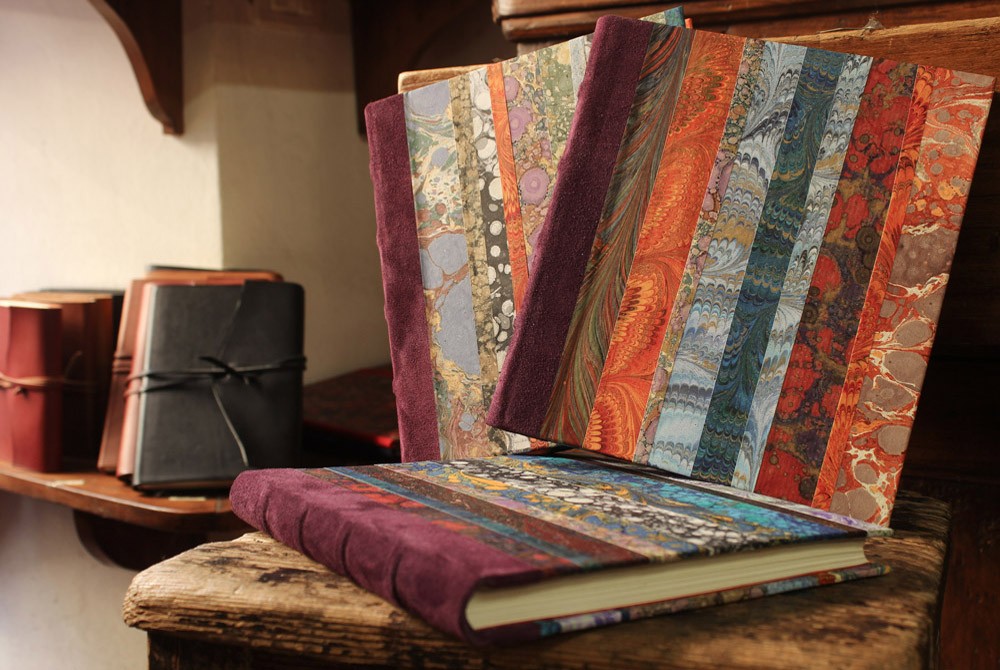 High-Quality Wool Blanket From Lanificio B from Prato, Tuscany 
Before you judge me for offering an expensive blanket as a gift idea, trust me on this one. I discovered Lanificio B earlier this year thanks to my friend Alexandra Korey who actually had them as clients at her place of business. I knew they were wool makers but when we were gifted one of their 'victory' blankets, seriously I saw the 'light' when it came to a quality-made throw.
Just to give you a bit of background, Lanificio B is a project by Lanificio Bisentino, Prato's historic textiles company, founded in 1944 and began as a passionate tradition of raw materials and attention to detail to arrive at its contemporary production with the same respect for these values. The blankets are warm and functional (great for really cold Florentine apartments) and are nicely designed with a wide range of colors. Ironically as I write this post, I am draped with my Lanificio B blanket to keep warm. The gift that keeps on giving ;-). Prices start at around 135€.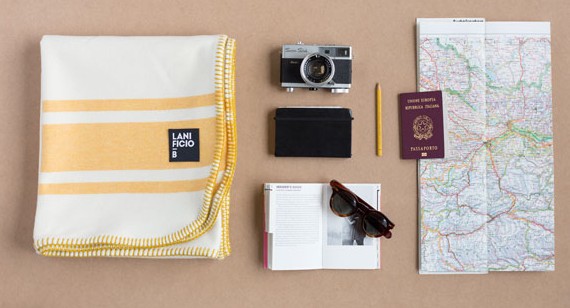 Jewelry from contemporary workshop Officina Nora in Florence's Oltrarno
The Ponte Vecchio might be known for gold but when people ask me where to find unique pieces, I typically send them to Angela Caputi or Officina Nora. The space is set in a former mechanic's workshop, which has been renovated and rearranged for the needs of contemporary jewelry artists that rent space there, the brainchild of Margherita de Martino Norante. It is located in the Santo Spirito neighborhood which is merging as a place of modern and traditional handcrafts. The work of the artists is incredible and they can customize rings, earrings or anything your heart might desire.
Officina Nora, Address: Via dei Preti, 4, 50125 Firenze
Phone:055 975 8930. Open everyday from 11am-2pm, 3pm-8pm, closed Sundays. Email or call before visiting.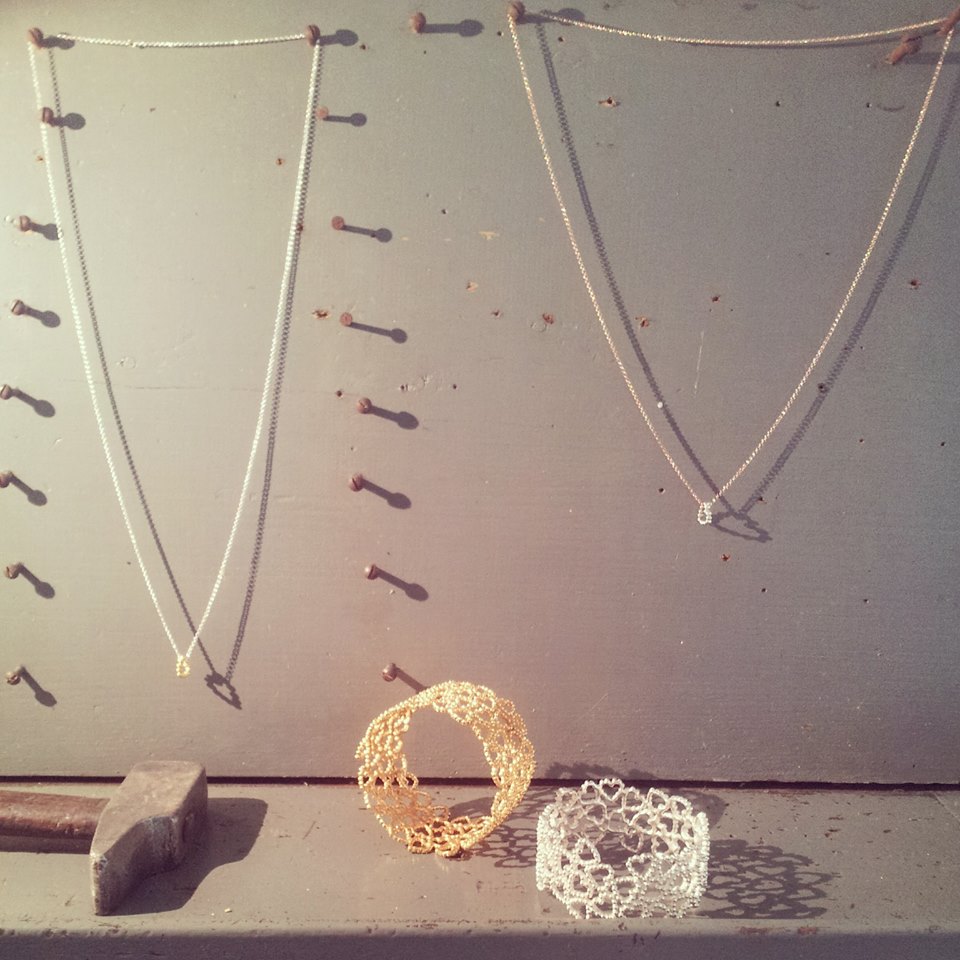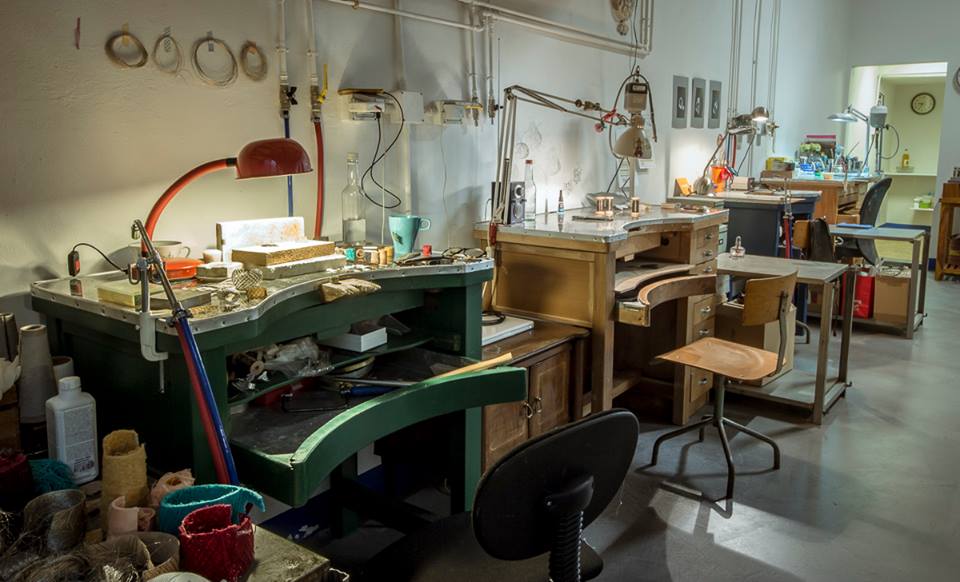 Chocolate, Jewelry, Eco-Friendly Items: Celebrate the modern with anything From Mio Concept Store
One of the coolest shops in Florence started by the kind Antje d'Almeida, this place close to piazza santa maria novella on a side street offers all sorts of kick-ass items made by designers and artisans that Antje personally hand-selects. think beautiful necklaces and hipster sunglasses. There is a wide range of eco-friendly items like sustainable handbags that can be put in the washing machine (for real – I was just there last week) and items featuring the work by local street artist Clet Abraham. I even picked up some awesome artisan-made chocolate with fun 'Amore' motifs. It was included in this great article by The Florentine about cool places along via della spada and in a write-up by my friend Nardia of Lost In Florence.
MIO CONCEPT STORE, Via della Spada, 34r, Florence 50123, Tel: (+39) 055 264 5543. Opening hours: Tuesday – Saturday 10:30am-1:30pm, 2:30pm – 7pm. Monday 3pm-7pm, Sundays closed, Email: [email protected].