For someone who hasn't owned a car for over 10 years, I sure as hell love a great road trip. It's part of my DNA as an American. Summers for us were spent piling into any dusty car my dad owned, cranking on the air-conditioning as we made our way to Florida or Arizona, stopping at bizarre roadside attractions such as "the world's biggest twine ball." In the absence of anything actually cool to see the middle of nowhere Texas was quite creative at creating a cult following for the bizarre and oversized. Craving kolaches? Never mind that this is a dish that truly hails from Eastern Europe, for the better part of my life I believed they came from crowded oversized shops on the road to Dallas.
Jalapeno cheese and a diet big red please, this was my youth and it certainly wasn't diet friendly.
Nowadays Nico and I continue the tradition, albeit with a more European attitude. What has remained the same is the ubiquitous stops at local autogrills, which carry the same roadside stop appeal that they did in Texas. As Nico fills up the tank and downs a quick espresso, I peruse the food and gifts, large packets of pasta, cans of olive oil at half price and most recently a penis-shaped bottle of cherry crème liquor.
Yep, the bizarre makes it happy home here too.
Regarding destinations, take your pick in Tuscany. I am truly up for anywhere in Europe in our little Fiat 500, which ironically has a bigger interior than it seems. Staying local, we embark on many Tuscan road trips as it is so nice to escape to the countryside when the city is crawling with people. From the tiny towns surrounding Siena to the pretty coastline of Maremma, there is much to get lost in here, and I hope to never stop discovering.
The secrets to a perfect Tuscany road trip are easier than you might think.
You might see many articles online claiming that you should never rent a car in Florence or attempt to drive in Tuscany. I'd ignore it all and go for it, because honestly, many of my favorite places are unreachable by train. The trick to being comfortable is getting up close and personal with the local rules and feeling comfortable driving manually (or you can reserve an automatic car in advance).
Enjoy these 7 top tips on driving in Tuscany 
To Drive Or Not To Drive, That Is The Question + Practical Advice
Italians have a sketchy reputation when it comes to driving. This probably comes at no surprise as sometimes rules are considered 'suggestions' by the average person. However, I do believe that most know how to drive well and navigate around difficult mountain curves, and parallel park backwards on a hill, it just doesn't mean that they follow the rules.
Just be aware of that when you're behind the wheel and you'll be less shocked. A car flashes at you? This could mean a few different things. Either the car behind you wants to pass, or he is warning you that there is a police check up ahead. Someone honks? It could mean the obvious or just Italy won the latest European football championship. It's anyones guess. You can't turn right on red here and stick to the right side of the road, especially if you are a more careful driver.
When it comes to getting gas, you'll want to look for a benzinai or petrol station — go for the 'self service' to avoid paying a service fee. Usually there will be a little machine for you to insert your bank notes and pump number, or even your card, which sometimes doesn't work. Occasionally you'll have to pay inside. Prices typically range around 1.45 Euro per liter (not gallon). Go for a smaller car if possible to save money, trust me on this, you'll thank me later.
Always carry your passport, drivers-license (and International driver's license if you need one), insurance papers and a reflective safety vest, which is mandatory. If you want a refresher on Italian road signs, check out this helpful guide on ReidsItaly. 
I also highly recommend bringing an actual map and not just relying on google maps or gps or what happened to us in Val d'Orcia when we found ourselves in pitch black darkness in the middle on nowhere with a few wild boars. Not so fun. Sometimes I am truly convinced that google maps is out to get us. Just.get.a.map. 
While I strongly believe that having access to a car means you can see so much more of the region, you don't need a car to go everywhere. For example, if you plan on being in Italy for just a week, with visits to Florence, Siena or Lucca, these are all reachable by train. I can totally admire that driving in the historical center of Florence is a true nightmare. Here's a list of car-free trips right here.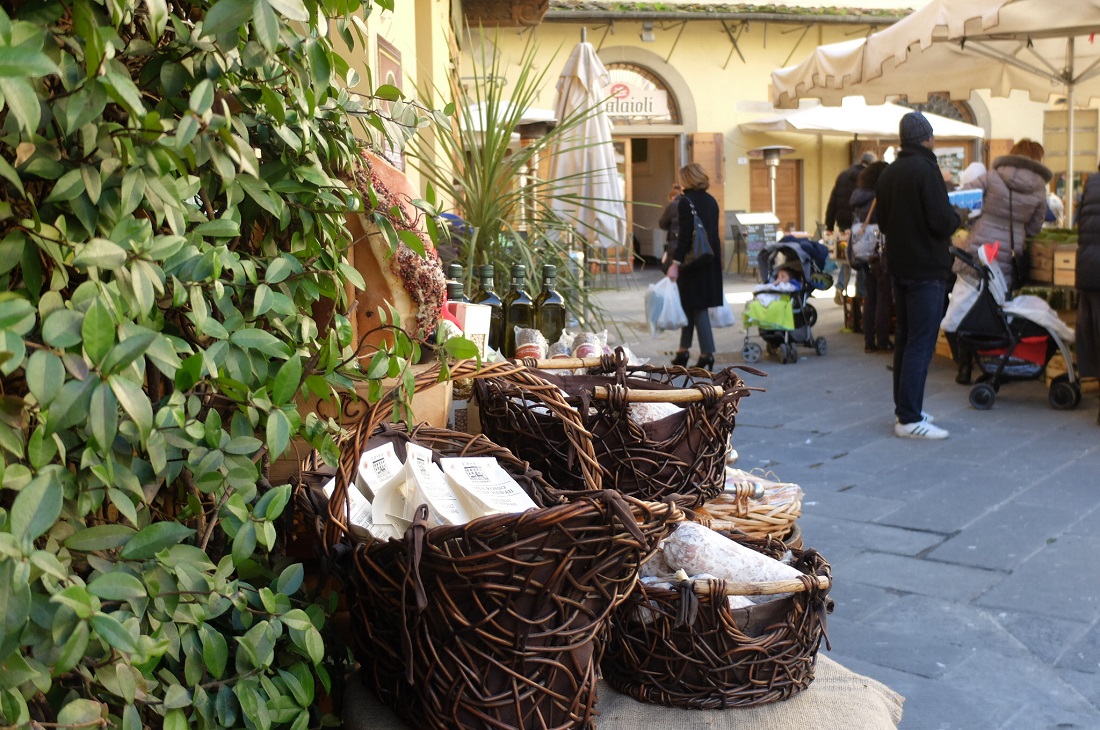 Another alternative is renting a car just for the day to visit an out-of-town restaurant or little town and hoofing it the rest of the way. When it comes to wine tours, well drinking and driving isn't recommended, anywhere, so give yourself liberty to down all the wine you want and arrange a tour with
Parking Can Be An Asshole, So Don't Take Risks
I couldn't think of a classier way to say how much parking can suck in Italian cities. I say this from great personal experience from living in the historical center of Florence and my husband having permission to park our car in the Oltrarno area. This is basically a joke as there are almost never any spots, so we park semi-illegally on the daily. For tourists however, there are parking garages in most every large Tuscan town, you'll se the blue sign with P stated at their locations and prices really vary.
For example, if you park in one of the private lots on via de'barbadori near the Ponte Vecchio you can pay a laughable 30€ a day plus or go for the garages near Porto Romana, Piazza della Liberta (Parterre), Piazza Ghiberti, Porta Al Prato (recommended, 20€ daily rate and around 1 € an hour), Piazza Beccaria or under the Firenze Santa Maria Novella Station where parking overnight can cost around 20€ a day, depending on the lot. Make sure to inquire if they have daily rates!
Regarding free parking well, I'd like to know the answer to that question myself. Previously it was at piazzale michelangelo but that has been drastically reduced recently.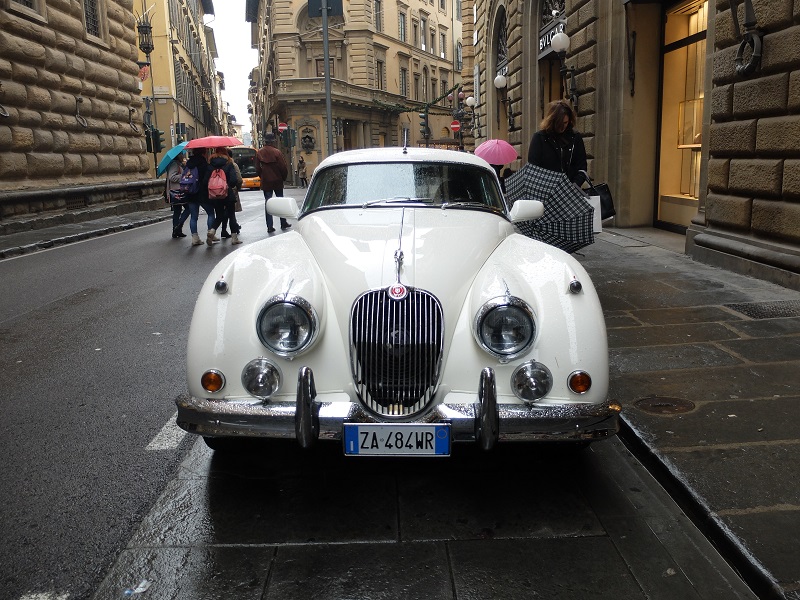 Street parking? Avoid parking in the yellow (handicapped) or white spots (residents) but you can park anywhere that is painted blue. Just make sure and pre-pay for a ticket to display on your dashboard or you could get a fine, the hours are typically between 8am-8pm, with after being free. Sundays are typically free. In city's like Florence or Siena, they love to give fines, in fact I would dare say that is the most efficient service of the city and they are definitely not lazy when it comes to this. It is said that the city of Florence gets up to 50 million euros a year in fines and I wouldn't be surprised if it was a hell of a lot more. Everyone I know has been fined or has come crazy story. In fact, the worst can be on the Tuscan coast.
In Florence, most people park in the blue spaces near Lungarno della Zecca Vecchio. Be aware to look for signs displaying when the street-cleaning takes place, which is always overnight and it means you can't park your car there anymore. If there are a lack of cars in what seems like plenty of free spots, this is probably the reason why. If you are looking to park in Siena, check out these rules first.
For Whom The Bell (Wallet) Tolls
Sorry for the cheesy Ernest Hemingway pun but tolls are always worth bringing up when referring to driving in Italy. These can be found on the local autostrade which thankfully aren't too many in Tuscany. The famous A1 goes from Bologna to Northern Tuscany and loops around Florence to head down towards Rome.
You'll also find the Autostrada Firenze Mare A11 that heads towards Lucca and Pisa, while the A12 goes from Genoa to Livorno. Most commonly for us, we try to take the Fi-Pi-Li which as you might have guessed, connects Firenze to Pisa & Livorno and happens to be free, which is a plus.
You'll have to drive up and take a ticket when you enter the autostrade and then pay when you leave (don't lost that ticket). Try to have cash on hand because sometimes my cards haven't worked. If you want to know how much to have on hand, enter your route on ViaMichelin, which is a helpful travel planner we often use to calculate toll costs.
You can find additional tips and smaller toll-free roads via this helpful article on Discover Tuscany. 
Road-Trip Itinerary Suggestions – My Top Picks
There are so many routes you could take which pretty much deserves a post of its own, however here is a short abbreviation of a few of my personal favorites.
Val D'Orcia.

Without a doubt, the stunning countryside complete with cypress trees that encompasses the UNESCO-recognized area of Val d-Orcia is my personal favorite. As it happens, it's hard to visit this area without a car and I wouldn't recommend coming for just one day. It's the kind of place you'd want to savor, and I especially love it in fall, as close to off season as you can get. Notable towns to visit during this trip would be Pienza, Montalcino and Montelpulciano, however one place I kept returning back to time and time again was the charming hamlet of Monticchiello, which has a few notable restaurants and during the summer months, a summer theater with the townspeople as actors.
Monte Amiata & Vallombrosa.

Sticking a bit closer to Florence is a place that always will have a special place in my heart, the lovely Monte Amiata and tiny town of Acone. Barely bigger than a postage stamp, you'll find Acone a 40 minute drive outside of Florence, up a windy mountain road just above Rufina. We typically drive up there around 11-11am on a Sunday and hike to the top of Monte Amiata and come back for lunch at the only trattoria in town, you must sample the "penne all aconese."

The recipe for the famous "penne alle aconese" is closely guarded by the restaurant. I may try to get them drunk one day to get the details.

Vallombrosa, another awesome place to visit around an hour from Florence in reggello, is an ancient Benedictine monastery nestled in the Apennine forest, a very calm and wonderful place to visit, especially for a 'cool' refuge in the height of summer. How to get there? For both places you can start on Arno-side SS67 outside of Florence (refer to google maps for exact directions).
Arezzo – Anghiari – Terranuova Berardegna.

Head an hour south on the A1 to the underrated city of Arezzo is always a favorite for Nico and I, especially the first Sunday of the month when the famous antiques fair takes place. It also happens to be close to one of my favorite restaurants of all time, only reachable by car, Il Canto del Maggio. Next, hop on the 

SS73, in about 30 minutes from Arezzo, you'll be at the

 charming medieval hamlet of Anghiari, famous for the 15th century battle of Florentine troops against the Milanese. On the opposite direction of SS73, closer to Siena, you'll find another wonderful restaurant where the locals go, La Taverna della Berardenga.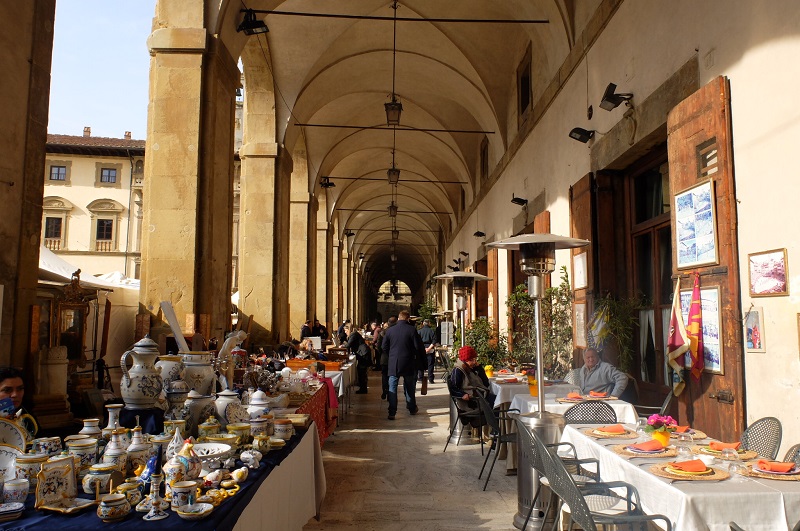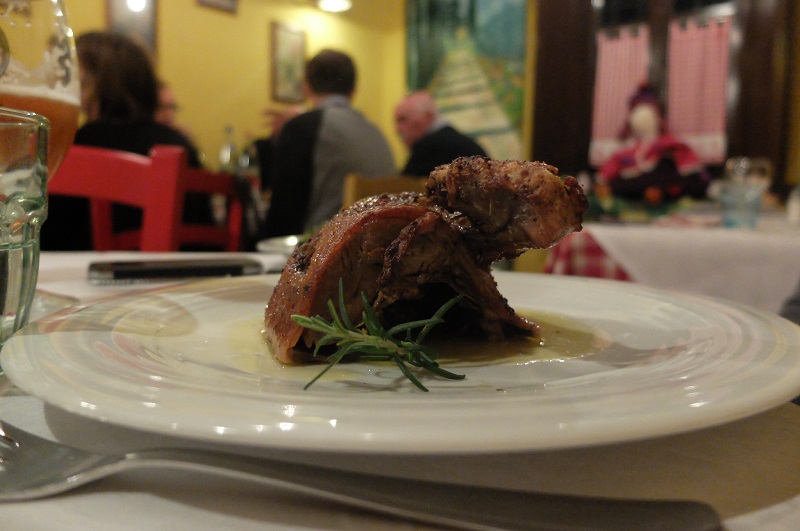 Gem of the Tuscan Coast, Monte Argentario & Capalbio

. There is plenty to the Tuscan coast and one favorite road-trip we did twice last year was to head south to Maremma, specifically the promontory of Monte Argentario and more inland to the lovely town of Capalbio. From Florence, it's about two hours and a half using the

Raccordo Autostradale Firenze – Siena

 in 

Impruneta, so I'd plan to stay overnight. You can reach Monte Argentario by train, however it is recommended to get there by car as it is an area not well-served by public transportation. There is plenty to see once you get there, from sipping a aperitif at the port town of Porto Ercole. climbing the Spanish Fortress at Porto Santo Stefano, or heading inland to Capalbio and the nearby Tarot garden. This is one fabulous area along the Tuscan coast, you can read more of my specific tips on this area here.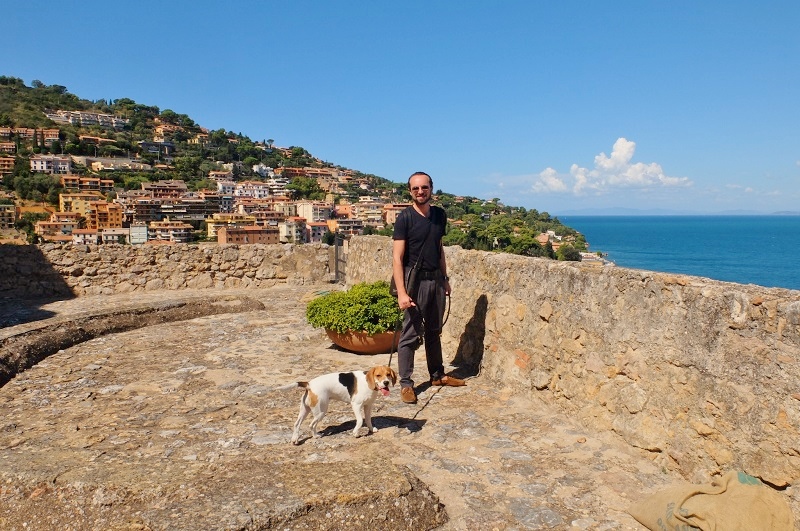 Avoid driving on popular days when you could be stuck on the highway for hours.
The thing about Italy, is that there are far too many cars. For every Italian family, you can expect each member to own a car, perhaps even a scooter which all compete for valuable driving and parking space with tourists during the high season. This is why I advocate traveling in the off season, for your own peace and sanity in addition to the lower prices and free roads. The trick is to be as smart as possible, because you have to plan for the unexpected.
An accident, road-work, there have been countless times we've been stuck on a 2 kilometer stretch for an hour because of some unexpected blockage (like the Arno's sidewalk collapsing). The obvious days to avoid traveling are August 1st, this year on a Sunday, which means that likely July 29th will be a nightmare to go anywhere as people head off for their August holidays at the seaside. If you can go in the middle of the week, you're better off. The same goes for the end of August when everyone returns.
Also look up popular holidays in whatever area you are traveling and avoid going during peak times. It seems like common sense but seriously I've sat in a car for over 9 hours on a 3 hour trip and it ain't pretty.
Headed to a pretty Tuscan hilltop town? Be very aware of the ZTL rules
If you've taken the time to rent a car, you probably have already heard about the ZTL (limited traffic zone) area that exist in most towns. This is a protected area where only people with special resident permits can park, depending on the time of day. If you drive in the center of these areas anyway, you risk a huge fine as they get your number plate by camera, and believe I know that personally (ouch!).
The key here is to just avoid that scenario, here's a list of the telecamera locations btw.
https://www.instagram.com/p/BEfmOQ-RTJa/?taken-by=girlinflorence
In Florence, the ZTL applies from 7:30am-8pm Monday through Friday, while on Saturdays from 7:30am-4pm, Sundays it's a free for all. HOWEVER it also applies on popular weekend nights, which is Thursday, Friday and Saturday from 11pm to 3am.
If you are staying in a hotel in the ZTL area, which is often the case, please notify them beforehand that you have a car. This way they will let you know where is best to park and if you can come by and drop off your luggage first.
Ps. Two adorable bed and breakfasts places that offer hassle-free parking just outside the historical center of Florence are Villa Landucci and Valdirose.
https://www.instagram.com/p/BERUE84TTSB/?taken-by=valdirose
Know Your Limits (Literally)
While it could seem that Italians hate following the rules, when it comes to the rule of the road, not abiding by speed limits could land you with the worst word in the Italian language "a multa" (seriously even saying it annoys me). The preferred way for Italian authorities to fine you is via speed trap called autovelox in Italian, and yes, they will get you even if you leave the country.
They are set up on the autostrada or city roads where people typically break the rules, there are signs notifying of their existence. If you don't see a sign with how many kilometers per hour you can go (look for a circle sign with a red border), assume it's never more than 130 kmph Locals typically slow down where they see the cameras, only to speed up as soon as they are out of sight but the average visitor should be aware that they are super common, and if you're not careful, you'll get hit with a nice bill to pay in the mail a few months later.
The article has been sponsored by AVIS but has been completely written by myself, and all thoughts are 100% my own. 
I want to hear from you! What advice would you give regarding driving in Tuscany or anywhere in Italy? Share your stories!