A place for the poor. The second in my series on places for book lovers in Florence continues with a look at a place I recently had the chance to visit thanks to a wonderful FAI intiative to open normally closed to the public places in Italy for a weekend a year, led by local young people involved in the organization. We visited the library together with Palazzo Marucelli-Fenzi, constructed in the 16th century for the Castelli family by Gherardo Silvani and bought by a banker in the 1800's.
Marucelliana library was founded on the behest of Francesco Marucelli who donated his own personal public library with the condition that everyone in society could access it, something quite revolutionary at the time. The official opening to the public was on September 18, 1752. in 1911, it became mandatory that all books published in Florence and the provinces be registered and deposited in this library, which led to its growth as a library. Plenty of people still come here to do specialized local research. It contains The nearly 40,000 volumes, 2,000 manuscripts and 10,000 letters and documents.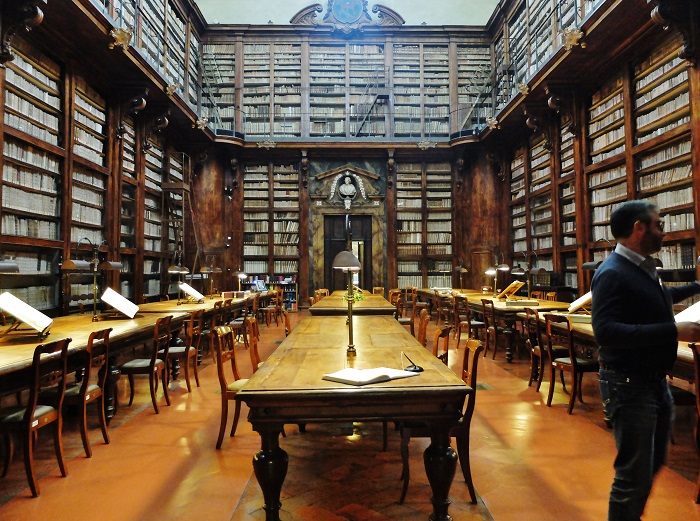 On the facade itself you can still see the inscription: "Marucellorum Bibliotheca publicae maxime pauperum utilitati " (Library of Marucelli for public use, especially the poor – see below). Inside feels a bit like another world, an 18th century one that catered to gents, writers and poets. The two-story reading room took my breath away (above).  Everything about this place holds a certain air. It is quite marvelous to see in person.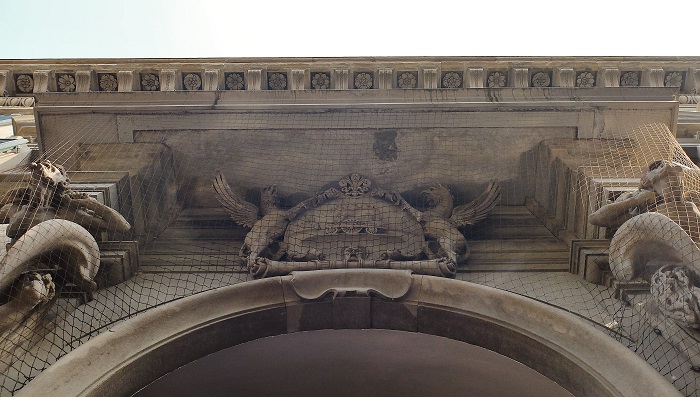 In the 18th and 19th centuries, there was a widespread suppression of religious institutes and large library collections arrived at the library (such as that of Badia Fiorentina) while other books were purchased. It is still a public library even today, currently operated by Ministry of Heritage and Cultural Activities.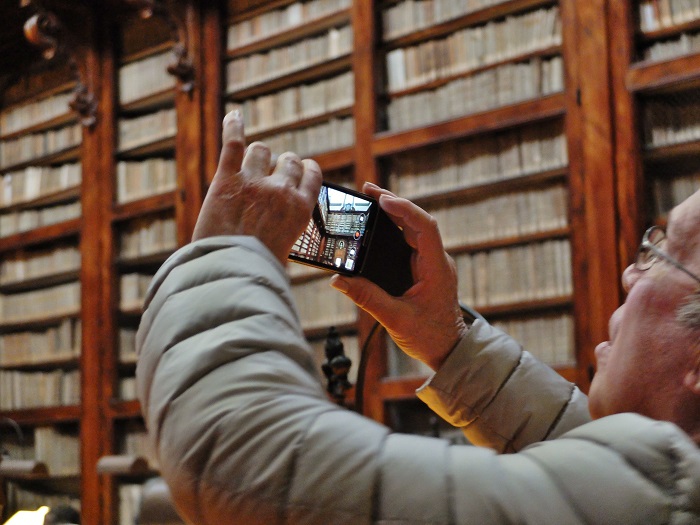 Filled with all sorts of fascinating literature and more, such as the five albums of Bristol-born poet and painter, Louisa Grace Bartolini, including two stunning self-portraits. In order to see this collection located in the Consultation room, you should ask for prior permission and register here.
You can read more about her and other incredible women in the book Invisible Women. Forgotten Artists of Florence by author and founder of Advancing Women Artists, Jane Fortune, I adore finding how interconnected everything is in Florence and it makes visiting places like this much more special.
You can also check out the letters of the sculptor, Adelaide Pandiani Maraini (fascinating story).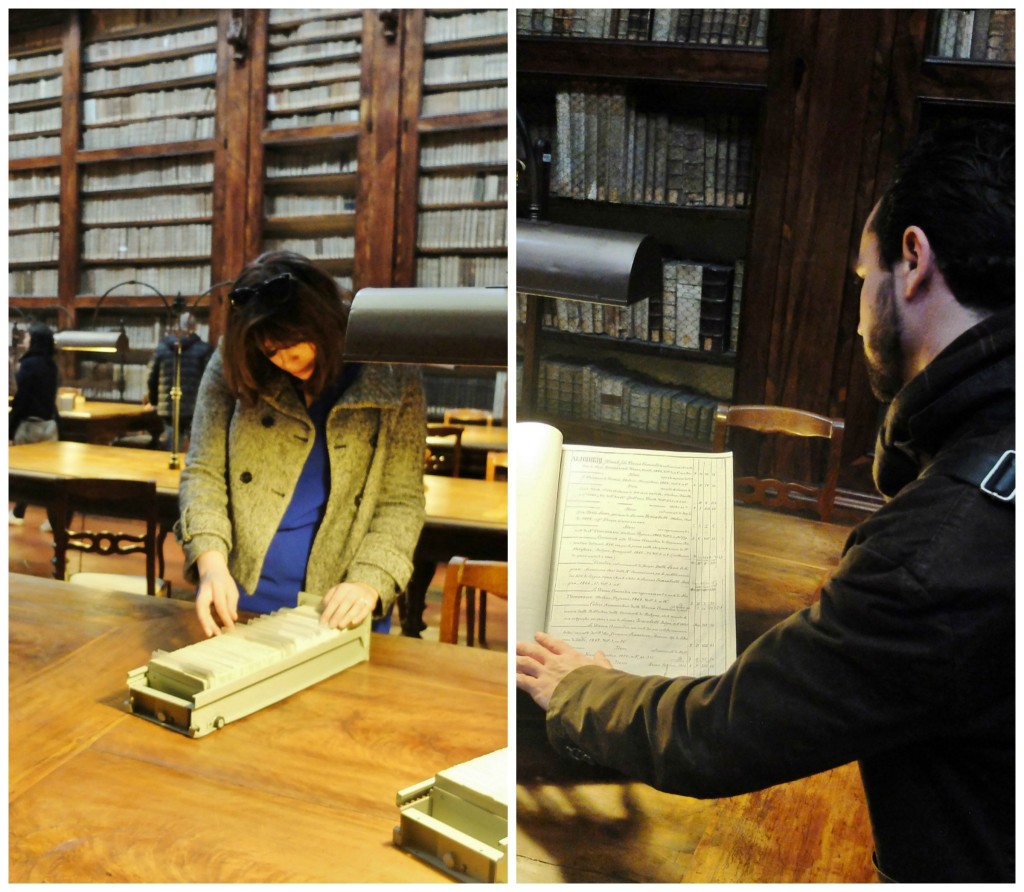 What's On For 2015
It seems that they are awakening to the fact that involving the public for which this library was founded is a good idea, especially through events. Since 2015 marks the 150th anniversary of Florence as capital of Italy (1865-2015) the library will host a series of cultural events that will lead to open its doors to a wider audience of his frequent visitors.
These cultural initiatives at the Marucelliana Library will last until October and will begin with a series of "Musical conversations", by the Friends of the Teatro del Maggio Musicale Fiorentino.
The "Musical conversations", will be held in the "Conference Room" (ground floor) of the Library, in Via Cavour 71/r, and will be part of the show, "Around the Festival", organized by the Servizio Promozione Culturale dell'Opera di Firenze with the aim of offering to the public a series of presentations, insights on the titles of the works and concerts in the Opera program in Florence.
On another note, the Library has received a special gift, the drawings by Anna Anni, a very well-known Florentine stage and costume designer who has worked alongside directors such as Orson Welles, Franco Zeffirelli, Beppe Menegatti, Raymond Rouleau, Mauro Bolognini. The donated works, relating to the representations by Luisa Miller and Mirandolina, are currently being cataloged.
Final Thoughts
The library is open to the public but be aware that you cannot bring anything to drink or eat inside and you must leave all personal belongings at the front desk. I cannot personally vouch for the WiFi connection but in theory it should be there in the Salone di Lettura, Sala Consultazione Manoscritti, and Rari, in any case I will try to check it out myself again at a later date and let you guys know. Since much is in Italian, I see this place more used by Italian students on research or looking for a quiet refuge.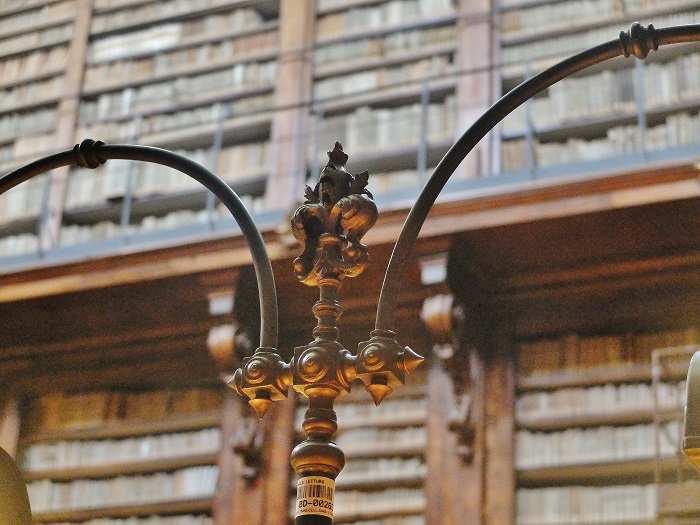 I respect Mr. Marucelli's wishes but I sometimes wonder if places like this aren't actually inviting to the public, least of all the poor. There is a sort of elite air about the place, or maybe it's just the dust. Personally I have always shied away from visiting places like this to actually concentrate and work in favor of a cozy cafe.
They sort of remain museums or perhaps research centers but this is one of the reasons I wanted to write this article, to show the public that this really does exist, and is actually open to the public. How open the people are who work there, are another story.
Keep in mind that most public libraries in Florence will require you to deposit a valid ID, sign in, and will check your backpack. Normally residents only can check books out but you can always ask, in any case they are great places to be inspired and the current events show that they are looking to represent more than just a library conservation center.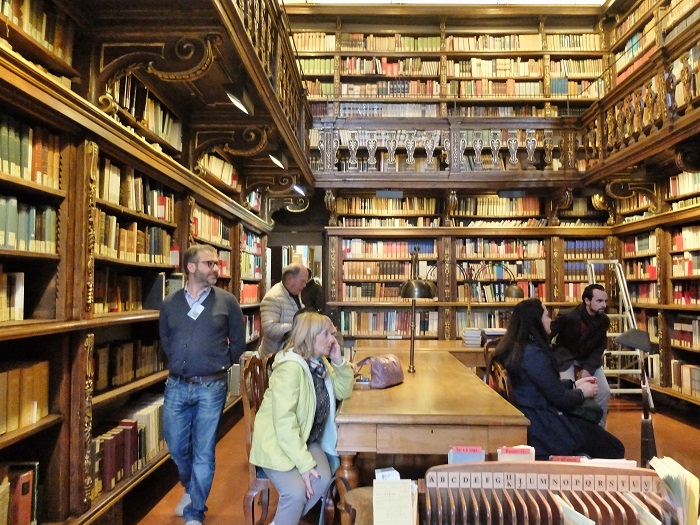 Marucelliana Library: Address: Via Cavour, 43
Phone: 055 210 602 – 055 216 243 – 055 294 393
Opening Times: from Monday to Thursday: from 8:30am to 6pm – Friday from 8:30 to 2pm
Website – More info: http://www.maru.firenze.sbn.it/, email: b-maru@beniculturali.it