Tasting wine in an authentic 12th century, Tuscan castle. It doesn't get much better than that, right? Well what if said castle was home to one of the biggest conspiracies in Florentine history, and a love story? It starting to sound a bit more like a plot to a Hollywood thriller, but luckily for us living in Italy, this all just comes with the territory. Trebbio Castle is the perfect day-trip from Florence, the location being strategically only about 25 minutes from the center of town, near Pontassieve, this trip arranged by the fine folks at L&B Italian Tours. We were there to learn about its history, taste some wines, and take a cooking class — all in the span of three hours, which was ideal for a Saturday morning activity for both locals or visitors alike.
Regarding the back history of Trebbio, as you know, everything has a story here. It was built in 1184 by the Pazzi Family, which for those who don't speak Italian, 'pazzi' means crazy. In fact, the family was pretty crazy to even attempt such a thing, but these were different times. In the cold rooms of this castle, Francesco and Salviati Pazzi concocted an plan against their rivals, the Medicis in the cold, living room, with the help of the Pope Sixtus IV and his nephew Girolamo Riario. The Pope was upset that the Medici's were attempting to thwart his Papal power over the North-central Romagna region. And if you're wondering whether it was successful or not, just check to see who's balls are all over Florence. a little hint, they're not the Pazzis.
This pivotal event in local history was one of the first stories I heard when I learned about the Medici family. I imagined the day the attempted coup d'etat happened, it was a morning of April 26th, 1478 during Easter high mass in the Duomo cathedral. A more sacred time, they couldn't have picked. They managed to fatally stab one of the Medici brothers, Giuliano, but Lorenzo 'The Magnificent' managed to escape. Naturally the Florentine people sided with the Medici's and killed the present Pazzi's on the spot.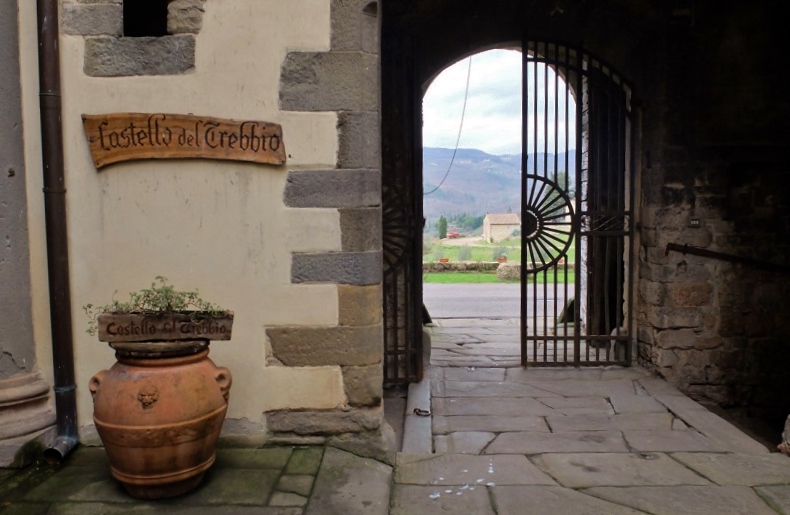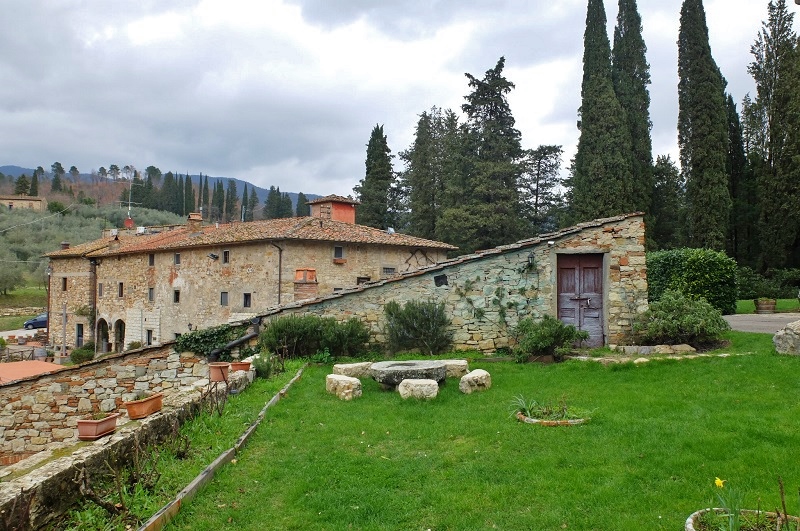 You might be wondering what happened to the castle in the meantime, well, it eventually fell to disrepair. A caretaker live here alone with no heating — his only light was candles. What I found particularly interesting was that he couldn't get married for over 15 years (a clause in his work contract). Although that certainly didn't stop him from exploring the local territory, Alberto explained that during an interview with the Italian tv station 'Rai,' he actually said on live TV "he took what he could" exiting out of the back door of the castle nightly. As soon as that clause was dropped, he married a local woman two weeks later and took his new bride to the coastal town of Rimini in his full outfit (see below), which apparently were the only clothes he had.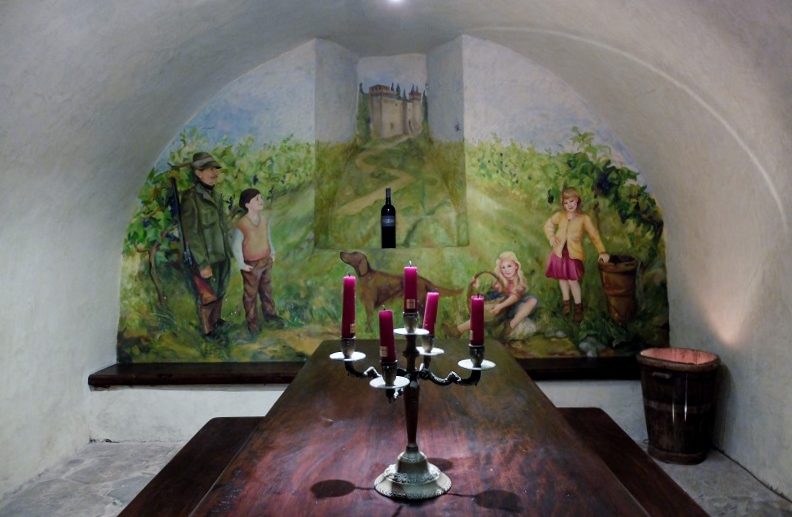 As we piled into the very cold 'conspiracy' room where hangs an important panting "La Bella Giardiniera" by Raffaello Sanzio, Alberto, our guide who was as good at cracking jokes as he was opening a wine bottle, told us the story of how Trebbio came back to life. Until the 20th century when a love story came into question, in the days before apps like Tinder existed. It all happened in a train in the 50's-60's when an Austrian girl came to Italy to learn Italian and met her future husband and married, settling into life in Milan. She was 19, he was 59 — and after six years, they had five children together.
One day he came to Anne and said "A few year's ago, I was a lonely man, so to thank you for all that you have given me, I bought a castle in Tuscany with over 800's acres.' You see everyone, romance isn't dead, you just need to meet the man on the train.
His thought was too only live there in the summer months, because the castle didn't have heating. But he didn't imagine that his Austrian wife would jump at the chance to live their full time, and they eventually came over with all children in tow in 1968, which is the restorations began. They started the wine and olive oil production, improving with every year. Ps. I should say that, he lived 27 years after they got married.  Proof indeed that life can start at any age, when you least expect it.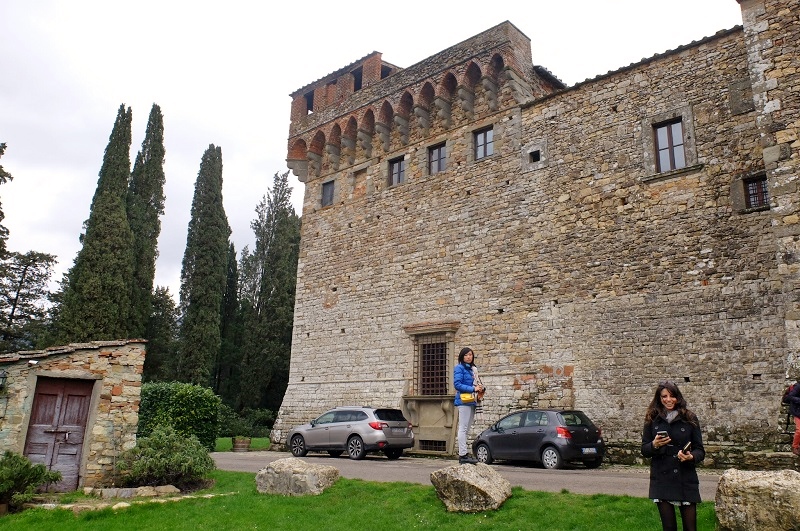 The castle is now in the hands of their daughter,  Anna Baj Macario, who took over the estate with her husband Stefano Casadei who is the winemaker. They live full time in the castle, which still doesn't have heating, and is really quite cold, especially the February day we were there. Like most nobles in similar situations, they tend to congregate in the same few rooms using traditional means of staying warm, such as floor to ceiling fireplaces. Being that it takes over 100,000 euros a year to maintain this place, in addition to making wine and olive oil, they give tours, offer cooking classes, have apartments for rent and host events like weddings, at the castle. Stefano's cousin Alberto is the man who showed us around this wonderful day and was a delight to be around — always ready to crack a joke or share an anecdote. He's the kind of guy you'd want to spend three hours listening too.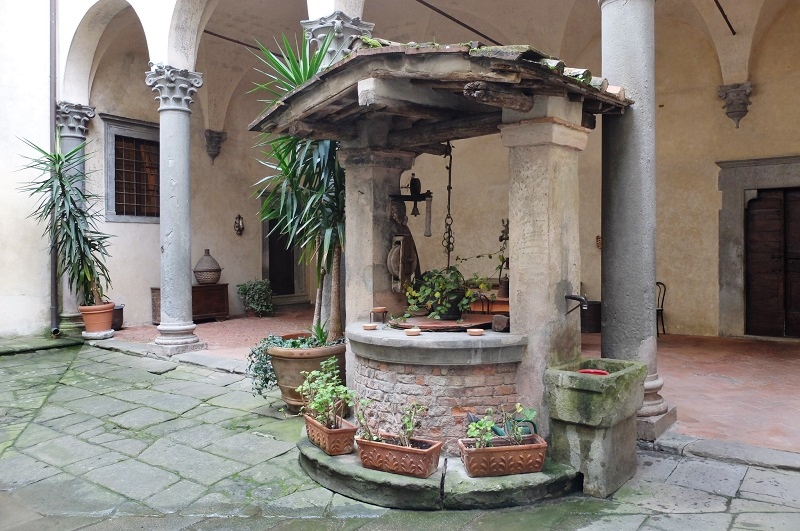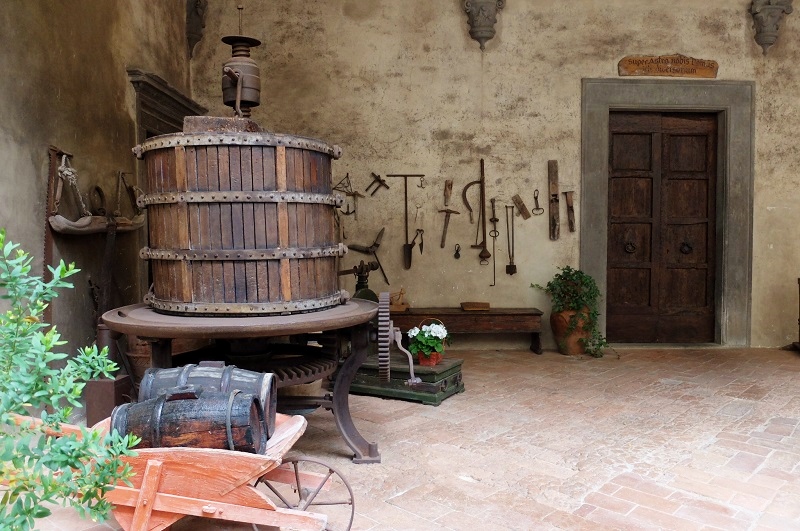 We took a tour of the wine cellars, which holds wine made in the 350 hectares of land which contain over 50 hectares of vineyards -they export over 500,000 bottles of wine annually.
There was also a number of bottles with the straw casing that tourists love so much in Florence. We asked why they no longer keep them in these types of bottles, called 'fiasco' by Italians which coincidentally also means 'a disaster'.  Apparently Chianti wine really sucked back in the day and was mostly for local consumption, in fact, Florentines used to throw empty fiasco bottles at bad theater performances to show their – ehm, opinion about the acting. In order to improve the taste, and the reputation, they started keeping them in Bordeaux bottles we are used to seeing today and Chianti has truly made a name for themselves around the world.
They make a variety of wines here, and even bubbles! Their Chianti riserva is made with 100% Sangiovese Grapes which are left to mature in barrels of oak wood while their popular Pazzesco is an igt Supertuscan with Merlot and Syrah. We later tasted the riserva which helf hints of red cherry and the oak wood where it was left to mature, it was recently awarded by Gambero Rosso with "3 bicchieri" in 2016, an extremely high honor.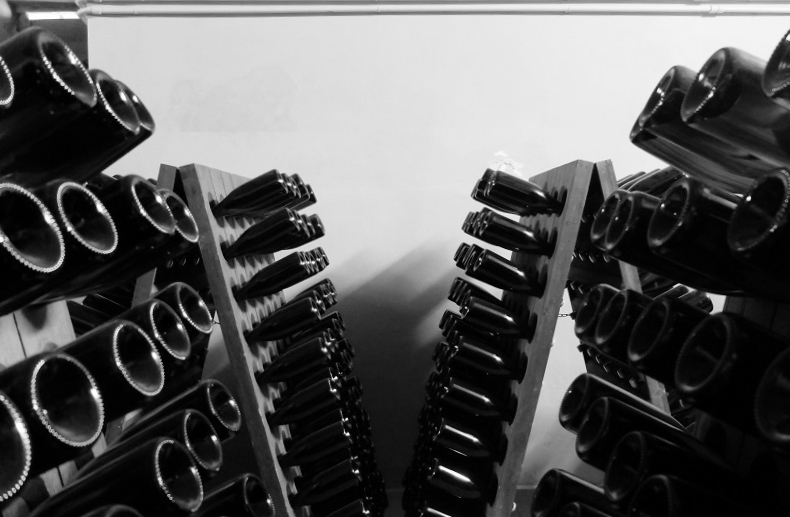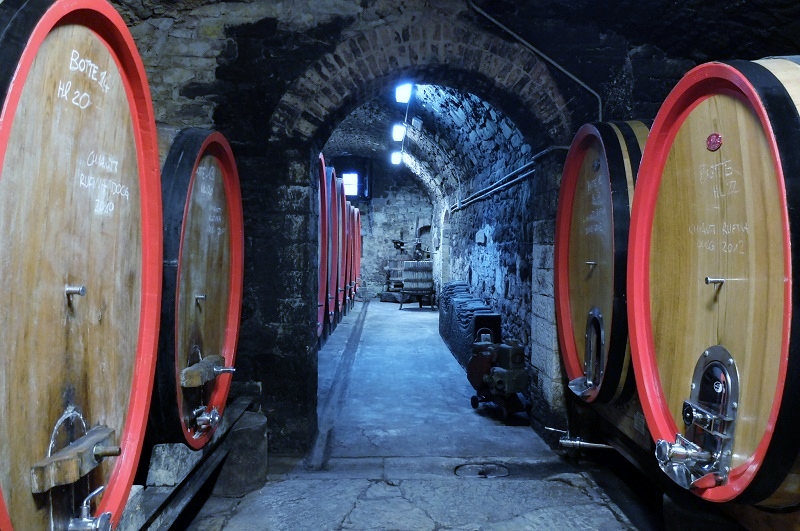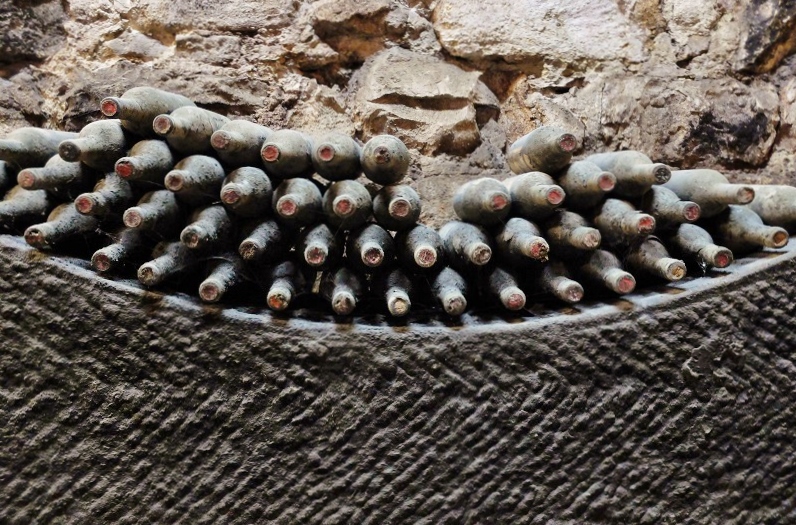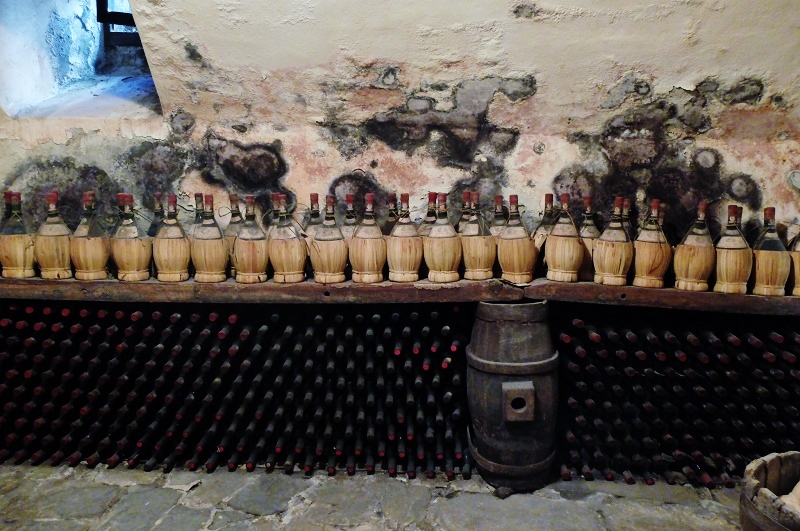 One of my favorite Alberto quips happened in the olive oil rooms. After declaring his love for British older ladies, he told us about a time when he brought a group of older ladies around 85 year's old here and asked "What does Virgin Mean" in reference to the oil, one of them to replied "Nobody here knows."
The olive oil was previously kept in large terra cotta pots called conca in order to keep them away from light and heat. However, this has now been outlawed by the European government and now it has to be kept in stainless steel vats, to be honest I'm not too sure why this is the case — maybe you guys know? After being on more than a few olive oil tours in my lifetime, I fully expected Alberto go into the problems of the olive oil industry, which he did and I'm thankful for that. "Larger companies have a strong lobby in Italy and have a vested interest to put as little information on the bottles as possible", especially not wanting to note the amount of acidity, which actually can be dangerous.
Obviously the price matters a lot, considering that olives can be pressed only in November, one tree equals to roughly 1 liter. So it makes you wonder when you see those cheap prices at any Coop or Esselunga advertising 'extra virgin.' The likelihood is that some of these companies actually mix 'virgin' oil with flaws with extra virgin or with olives in Africa or Spain and shamelessly sell it to the masses. In fact, I highly recommend you read this article which goes more into detail about it on the Olive Oil Times.
A few tips on picking olive oil at the store if you can't get it directly from a farm, check out the five most expensive bottles and pick according to the type of container the oil is in. Look for dark and thick bottles as opposed to transparent ones, which means the oil will likely get rancid faster due to exposure to light and heat. Also check the date and make sure it is recent, for example, right now we should be consuming oil from the November 2015 production cycle.
Last but not least during this three hour tour was our pasta-making class in the family kitchen with Adriana. We made fresh tagliatelle pasta by hand, no pasta machine needed. Adriana whipped us into shape, letting us mold and pound the dough to her strict requirements. Up next was the sauce, a vegetarian version and a meat ragu. She quickly prepared the soffrito, which is the holy trinity and base of many Italian recipes consisting of a combination of vegetables, herbs or spices (take your pick), sauteed in butter or olive oil, before adding the rest of the ingredients.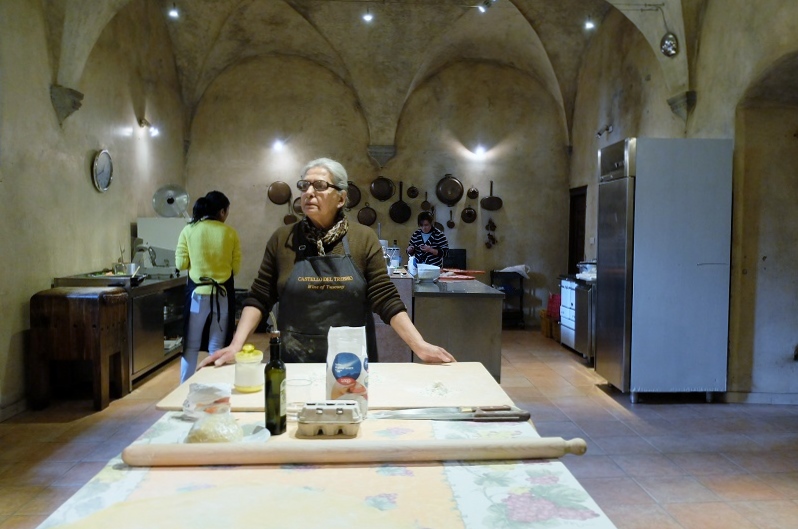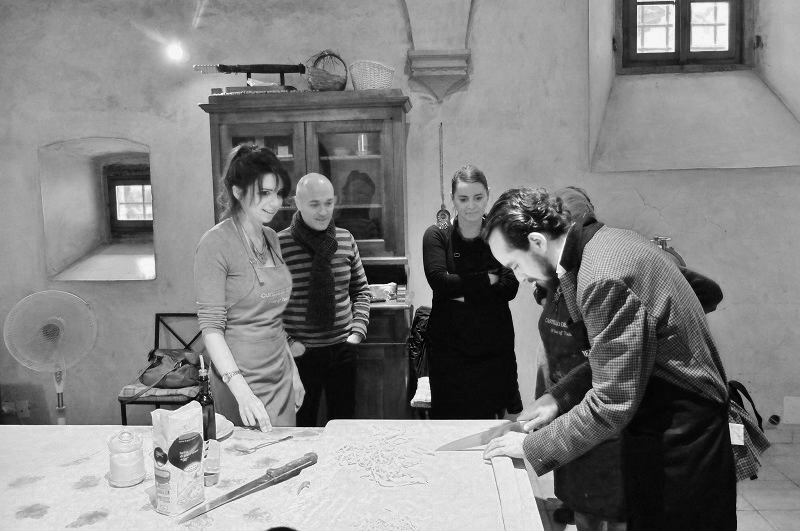 After this, we piled into the family dining room next to a roaring fireplace, where Alberto gave a quick wine tasting lesson. Having us hold our wine next to a white or light background to check the color and swirl to see the alcohol content. We tried three wines, their freshest Chianti DOCG Castello del Trebbio (which was only 7 euros in the shop), a deeper Chianti Rufina Riserva 'Lastricato' DOCG (100% Sangiovese Grapes) and their Vin Santo del Chianti Doc served with the traditional Tuscan almond biscotti. I love anything I can dip.
Everything was great, the company, the wine, the location — we started with delicious crostini topped with their fresh olive oil, a black olive paste and one with tomatoes.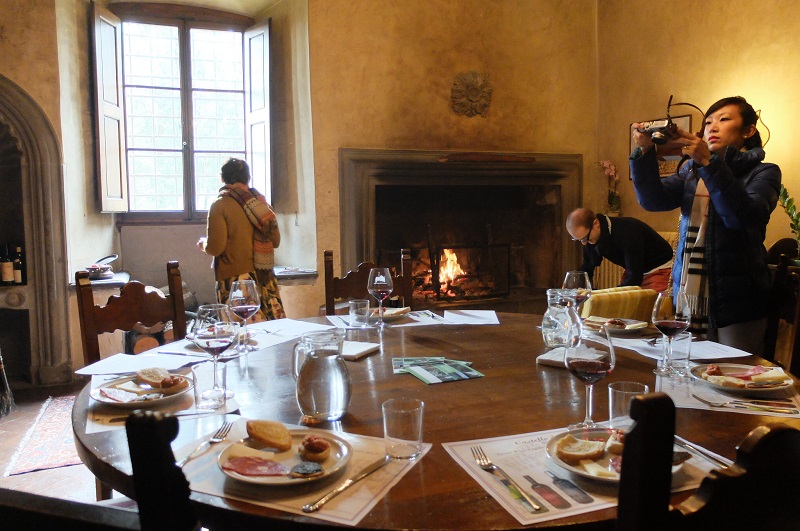 We dived into the fresh pasta we made only half an hour before and poured wine generously as we cozied up next to the fireplace, our warmth radiating as much from the wine as the heat. Indeed I couldn't have imagined a better way to spend a Saturday morning and afternoon. A bit of history mingled with an ongoing family story, what more could you want? I definitely would recommend this tour or visit to anyone looking for an easy winery day trip from Florence.
---
Details
Castello del Trebbio, address: Via Santa Brigida, 9 – 50060 Santa Brigida (Florence) – Tuscany – Italy.  You can try a variety of tours at Trebbio, from a one hour tasting to a half-day including cooking class or more (saffron is their latest addition). Keep in mind they also offer agriturismo accommodation, and are available for weddings or events. We did actual;ly consider Trebbio for our wedding but went ahead with Montalto instead. More info here.  Or check out their facebook page. 
*Also try their restaurant La Sosta del Gusto, which I was assured by friends is fantastic. Another reason for me to come back and embrace a little more love and conspiracy, in the same bite. 
How To Get There? 
We were hosted by the fine folks at L&B Italian Tours which arranged for our transportation from Florence to the castle. Which is a 25 minute drive from the center of town.