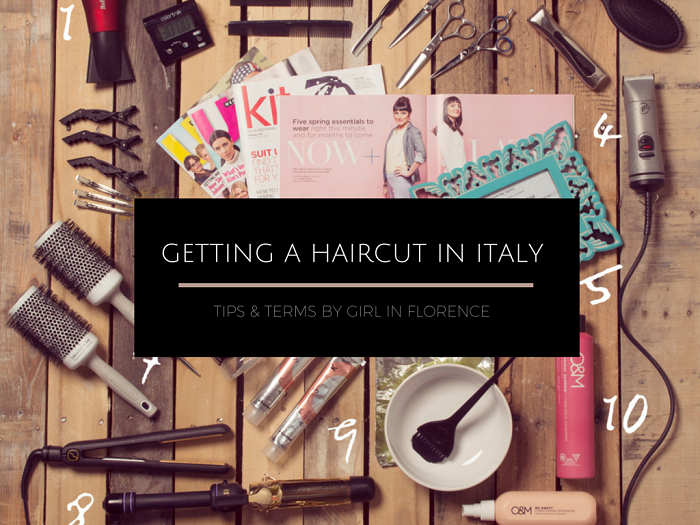 I love getting emails from you guys, every time I see a message from someone who reads the blog and finds my tips useful to them in some way, I'm thrilled. When I can, I try and help which is why I encourage you to email me or send me a message on Facebook. The latest question came from a friend, Cara (who is a talented musician), who told me she was having issues finding extensive tips online for vocabulary regarding getting a haircut in Italy and that I should cover this on the blog.
Why didn't I think of this before?
Getting a haircut, color, style in a foreign country is always a bit of a challenge. Even if you consider yourself an 'Italian stallion' with the local language, it's pretty likely that you may not know the word for 'trim.' I have almost been at risk of getting a 1980's mullet style haircut from stylists that insisted that 'I have the face for it' but luckily I was saved by the former hair gods of lionel richie.
First phrase to learn " Per favore, non mi faccia un taglio da McGyver". I think you can figure this one out ;-).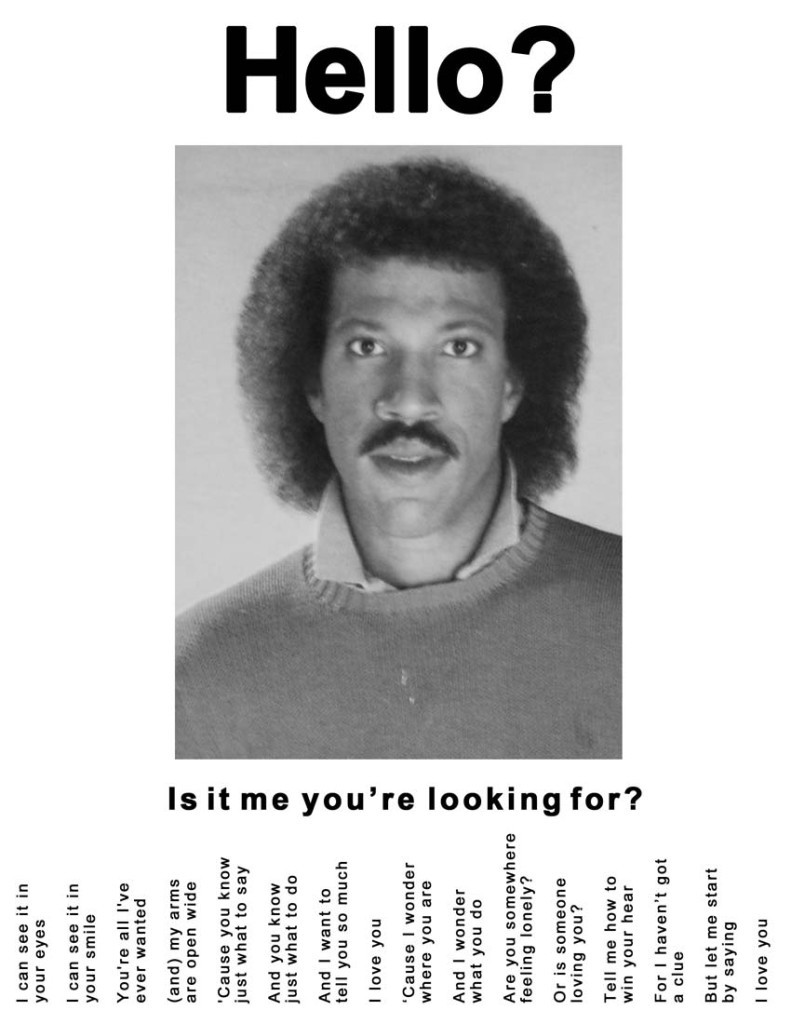 I never really understood why some friends felt the need to wait until their next trip home to get their hair done out of fear of getting 'shear-shocked' because I generally find hairstylists to be quite good. While girls generally don't get their nails done (god I miss that), going to the salon is pretty important to most.
Actually the last time I got my hair done in Texas, I looked like a 1990's beauty queen. I have thick hair and I suppose they decided to follow the rule.
'The higher the hair, the closer to God' 
Coupled with the reality that I had the pleasure of paying almost 200$, don't forget that in the USA you need to add a 20% tip (we love our tips). Here to me, getting your 'hair did' is cheaper, I generally spend about 50-100 euros for cut, color and style. Also, call me a cheapo but I also almost never tip, however I do round the price up. For example if my cut costs 38 euros, I give them 40 euros and tell them to keep the change, everyone is happy.
Plus getting your hair done here is normally a fun experience. I remember when I was dying my hair from blond (bad phase) back to brunette the hair-stylist made me feel like a princess in the Aveda salon on via della mosca. 
He winked at me and stood by like I was his 'creation' and exclaimed 'Ma guarda come ti sta bene, ora ti faccio anche il trucco. Spero che stasera il tuo ragazzo ti porti fuori'.
"Look how great you look, now I'm going to do your makeup, I hope tonight your boyfriend takes you out." oh snap, I just remembered reason #1344332 I adore Italy.
I promise you I didn't pay him to say that but I did walk out of the salon feeling like 'who's that girl' from my Madonna play list.
In order to save you the pain of going to the hairdresser when you're not entirely comfortable in Italian, here is a list of valuable vocabulary to note (bookmark this in your phone). Just show the person taking care of you what you need if you can't express yourself verbally.
Most of all, there is no need for tears of hairy frustration.
Lesson #1: Salone da parrucchiere = Hair salon
I should also mention that for men, you want to head to a barbiere which is a barber shop. You will immediately recognize the place because likely there will plenty of chatting old men, dirty espresso cups and all of the magazines are car-related.
First regarding appointments, yes you probably need one. Being that I rarely leave before three hours in the salon (sometimes even four, it can be a little nuts depending on where you go), be safe and and make an appointment ahead.
Remember that often salons are closed on Mondays. A simple "Buongiorno, vorrei prendere un appuntamento per un taglio di capelli, stile, colore". By all means, you can ask them if they speak English but if you can, ask them in Italian so it looks like you at least tried to make an effort. "Buongiorno, parlate inglese?' 
Getting A Cut? Read This First
Have no fear, 'hair help' is hear.
I know that feeling when your 'parrucchiere' (hair-stylist for women) has that 'light' in their eyes and is looking a little too 'snap-happy', this could easily turn into tears for the person in the chair. While yes, you can go online and actually look for the metric conversion on exactly how much you want cut off, just don't. I will forever never understand why in the USA we use a different metric system than the rest of the world. Instead, I would just gesture using your hands or pointing to pictures, it's just easier.
Back to basics: What do you need to know before?
First, a haircut is called il taglio di capelli while a hairdo is referred to as a pettinatura. If you want to ask how much anything costs? Just say Quant'è? Quanto costa il taglio? How much is a haircut?
Consolation is important so if you want to let the magic happen more naturally, if you're feeling brave, just ask Che cosa mi consiglia? which means "What do you recommend?" If you're waiting and you hear the hairstylist calling out 'a chi tocca' he/she is asking 'whose turn is it?'
To describe the length of your hair, how long you want it to be, and what you want them to do
Long | lungo
Short | corto
Hair Part | la riga. Often they will ask you how you part your hair. Great! If you part it in the middle say 'faccia la riga in mezzo'.
Trim | una spuntatina. This is a great one to really know, for just a small trim, say 'vorrei solo una spuntatina grazie'.  Or you can say 'tagli solo un po' – only cut a little.
Layers | scalati 'fare un taglio scalato' (layered style).
Asymmetrical haircut | Caschetto asimmetrico. Looking for something that is longer in front and short in back, like the Victoria Beckham bob? Make sure to say something like 'Strutturato in modo da essere molto più lungo sul davanti'
More of a streamlined bob haircut that forms to your face | Caschetto di pari lunghezza 'Liscio, ordinato, pulito: è un caschetto lungo semplice ma di grande glamour.'
haircut with two sides a different length | Caschetto con lunghezze diverse
Thin out | Sfoltire
Split Ends | tagliere le doppie punte
Bangs or Fringe | la frangia. This word is funny because it also can mean 'embellishing a story' which I found out here.
Simple Phrases: 
I want a haircut 'Io vorrei un taglio di capelli'  (voglio un taglio is just fine)
I would like layers and highlights 'io vorrei un taglio scalato e delle 'meche o colpi di sole". 
Can you straighten my hair? 'Potrebbe lisciare i miei capelli?'
Can you cut my bangs/fringe? 'Mi potrebbe tagliere la frangia'
For men: 
Beard | La barba
Mustache | I baffi
Sideburns | basette
Back of the neck | collo
Clippers | tagliacapelli or rasoio elettrico
Shaving creme | schiuma da barba
Soap or creme to make your beard softer | "recipiente" o "tazza"
Simple phrases:
Can you not cut off too much in the back 'Potrebbe non tagliare troppo dietro?' 
Just a little off the top. 'Taglia solo un pochino sopra'
Can you clean up the area around my ears? 'Potrebbe tagliare dietro le orecchie?' or 'Potrebbe farmi pulito?'
Hand gestures make all of the difference here ;-).
To describe your type of hair
Hair Type
Curls | I Riccioli
Dandruff | la forfora
Oily Hair | capelli grassi
Dry Hair | capelli secchi
Frizzy Hair | capelli crespi
What about color? 
Streak | Mèche
Hair dye | Tintura
Highlights | colpi di sole
Bleach | decolorare, schiarire
I often say that my hair is capelli indomabili or untameable since sometimes it feels that way. It always makes them smile because obviously they get to be the ones that 'tame' the wild beast. Roar! 
Wash & Style
Conditioner | Balsamo
Shampoo | Shampoo (yay that doesn't change!)
Hair Gel | Gel (another translating 'win' – same sound too).
Lotion to 'set' your hair | Fissatore
Hairspray | Lacca
Wax | Cera
Comb | Pettine
Hair dryer | Phon, asciugacapelli
Blow-dry | piega
Perm | Permanente
Tease |  cotonare
Wash | Lavare
Straighten | Lisci or 'fare lisci'
Scissors/shears | i forbici
Happy with how you look? Tell them!
Everyone loves knowing they did a good job so to make a 'bella figura' (after they've given you physical one) say 'mi sta bene' which means "It suits me or I look good".
Obviously you can ask just for the cut, color and style without getting a 'piega' (blow-dry) but it always feels a little awkward to leave without it in my opinion. I just go for everything since who doesn't love a little pampering once in a while.
If you are wondering how much it costs to get your haircut, that is a lot harder to answer because it tends to really vary. Case in point, I probably went to three different salons last year in Florence and I always get the same thing, cut, color and style which at two out of three places was over 100 euros total. That price is not uncommon.
A few years ago my friend Megan introduced me to a place in piazza beccaria that charges only around 50 euros for all of those services and does a great job, although English is not really spoken there. Ok you're not going to get a relaxing scalp massage or truly technical experience like at Renato or Wave but they do a decent job.
Consenso: Address: Via del Ghirlandaio, 8, Florence 50121. Tel: +39 055 660540
If you are looking for a place that speaks English in Florence: here are a few options
Renato Coiffeur, 

 

Via S. Gallo, Florence. This is the cream of the hair crop (pun intended) when it comes to salons in the city. Big and always bustling, this is where the "per bene" (well to do) Florentines get their hair done and it's easy to see why. Claudio and his expert team use the most innovative techniques to color, cut, tease, trim and then some. Recently I got my hair done (using henna color!) and was over the moon with my results. You can't get better (my opinion) though be prepared to pay a little more than usual.
Wave Firenze, 

Via di Santo Spirito, 27, Florence. This is my go-to in the city, also because they are located so close to my house and Fabio is essentially a magician when it comes to hair. The salon itself is beautiful, with high-ceilings, a huge lamp centerpiece and a comforting ambiance with spot on music playlists. Nadia and Fabio ate my go-to magicians here, they know how to cut my hair the way I like it but all of the staff are friendly and skilled. They also offer other treatments, eyebrow shaping, manicures, makeup for weddings and have working WiFi. 
Aveda 'salone contrasto', Via de' Neri 49R, 50122 Florence. Phone number +39 055 282841. Nieghborhood: center (near piazza santa croce and piazza signoria). I've been there many times and I liked my experience though some of my friends weren't happy with their haircuts. They do offer student discounts. I used to pay 80 euros for cut, color and style. Plus I loved the relaxing tea and scalp massage. There is also an adjacent location on via della mosca which I actually liked better.
HairForce: Address: Via Ghibellina, 74, 50122 Florence. Phone:055 241736. Very popular with the student crowd, people are really nice, they have free WIFI and aperitivo on certain nights. I thought it was a little pricy if I'm honest. I paid around cut, color and style (2014). It's really nice inside and very posh, even the Barber Capes are beautiful! Neighborhood: Santa Croce.
Arthur Hair: address: Piazza Pitti 4R, 50125 Florence Phone number +39 0445 5285510. Neighborhood: Palazzo Pitti. I was there recently and he did a wonderful job and it's close to my house. The only 'cons' were that it took almost four hours which is a little crazy (free WIFI though) and it was expensive, around 110-120 euros for a trim, color, style.
Barber: Tellini Giancarlo, Piazza della Calza 2/r, Florence. Phone + 39 055 222345. Barber speaks some English and the price is good, around 14 euros for a dry cut. Neighborhood: Porta Romana.
Contesta Rock Hair (salons in Florence and NY). I wanted to add a place that I heard was good for women of color to get their hair done. I've heard great things about this place and seems like a trendy fun place but I haven't personally been myself. Locations here. Also Black Beauty,via dei ginori 44/r, Florence, Italy. Phone: + 39 055 289408.
What About Nails? Oh Yeah, I know a Place
Just a year ago, I couldn't have told you where to get your nails done. This service seems to have been lacking in Italy for sometime now, or I just didn't know about it but, thanks be to the gods, we have a place. Maniboo has just opened on borgo ognissanti, yes ladies, a true nail bar offering up everything a girl could want, including pedicure chairs and the show 'Sex and The City' on repeat. You can arrange a special girly day with your friends there and I can personally attest that they do a fantastic job! They take walk-ins but appointments recommended.
Maniboo Nail Spa, Borgo Ognissanti, 4, 50123 Firenze
055 265 7456, http://www.maniboo.it/en/
Added by You Guys: THANKS
BH Salon, address: Via Borgo Ognissanti 12R, Florence, Italy (neighborhood: Santa Maria Novella). Phone number +39 055 2645561. This recommendation I got from Helen of The Florentine, who says they are 'amazing at taming her crazy locks.' Nicoletta is well-known among Italians as being a 'hair master' and while the prices are cheap, I am very impressed with these rave reviews.
Genny Estetica, address: Via dei Pucci, 4, Florence, Italy (neighborhood: Duomo). Recommended by my friend Trine. This is a wonderful option for waxes including eyebrows – which I paid only 5 euros for – score!, facials, manicure, pedicure etc. Plus last time I checked, they speak English.
Antonio e Marcello, address: Piazza Dè Salterelli, 6, Firenze, Phone: +39 055 238 1766. Neighborhood: Ponte Vecchio/Signoria). I got this recommendation from FB, Stephen Cordova said "I was pleased with a cut and beard trim from Marcello. Plus, he brought me a fine espresso from the cafe around the corner!". That sounds like a fine deal to me.
Eva Parrucchieri, address: Via Milanesi 61, Florence, Italy. Neighborhood: Fortezza Basso. Phone number +39 055 474885. This was recommended (below) by Alexandra Korey. The price seems to be quite on par with services offered, sounds like I need to try it!
SaveSave