It's been awhile since I've written specifically about any one foodie hot spot, but after yesterday's sugar high, I thought why not talk about a place that everyone should visit at least once, or in my dreams, once a week. This weekend was absolutely my idea of perfection for staying in Florence. The perfect blend of social activities, puppy cuddles, movie watching and a fun breakfast at Pasticceria Giorgio, open since 1972 and a local favorite.
Obviously after hearing about this place over and over again, I needed to naturally 'taking one for the team' and hop on an ATAF bus to finally try Giorgio's out. Even better that this outing coincided with my friend's breakfast birthday so we could find a few excuses to open a bottle of prosecco before noon on a Sunday. I had such a good experience that I had to whip up a quick post about this to share with you all, to join in on the magical miracle of Italy's carnivale sweet delights.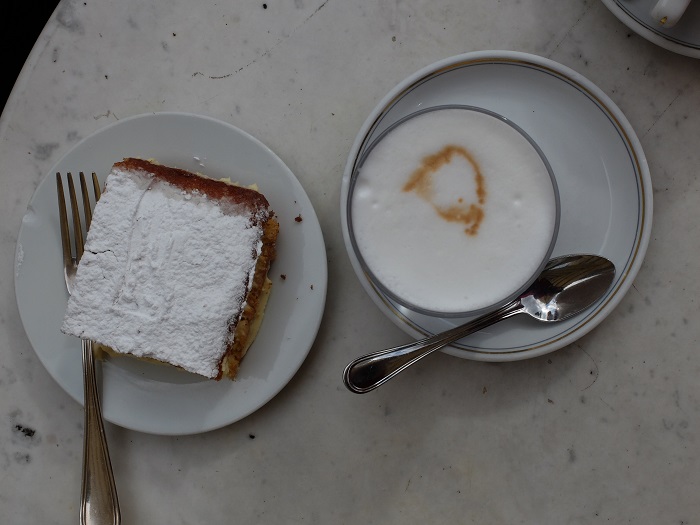 So where is Giorgio hiding? It's Located in the suburbs, Soffiano to be exact, departing from the oltrarno, I hopped on the number six bus in front of Ponte Carraia and easily arrived in about 15/20 minutes, and yes it was worth it. Gasp, shock, horror, I am not usually a huge fans of sweets but Nico certainly is which makes our relationship awesome, we're not fighting over same foods. But like everyone, sometimes that craving hits, and when it does, one must search for schiacciata.
Italians know Giorgios well, a lot of my friend's eyes light up when you talk about this pasticceria, especially during carnivale season when the traditional sweet treats start rolling out. Favorites like 'schiacciata alla fiorentina' a Florentine sweet flatbread, served with or without creme inside.
The only way I can describe it is that I can completely see this as an acceptable belated wedding cake of the late Maria Antoinette. A fluffy, simple cake with hints of vanilla and though decadent, doesn't sit heavy, which are always the hardest to perfect. I also tried a sandwich made with ham and artichoke which was absolutely delicious.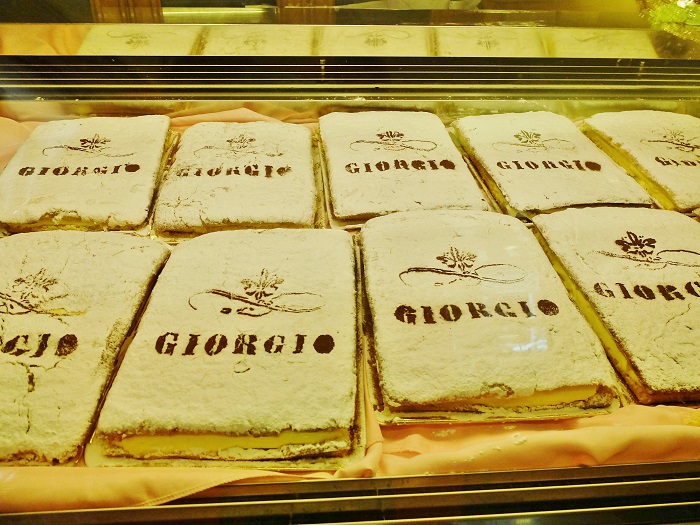 Another reason to love this place is the very Italian ambiance, the wood shelves and long glass display case, with everyone clamoring to make their order. There is plenty of energy streaming in and out of these doors and they move with a sort of military precision so that everyone gets their slice of sciacciata or 'millefoglie da applauso'  (a 'thousand' layered cake).
I thought it deserved a bit of applause because it's one of the best I've tried, made with fresh cream.  You can find all sorts of other traditional desserts here like fruit crostata, sacher, bigne and truffles. I also really think there coffee is top-notch, I might have had a 'fatty' moment of ordering two cappuccini, but that was because my first one was made to perfection. Come on, they can't be perfect at everything, can they?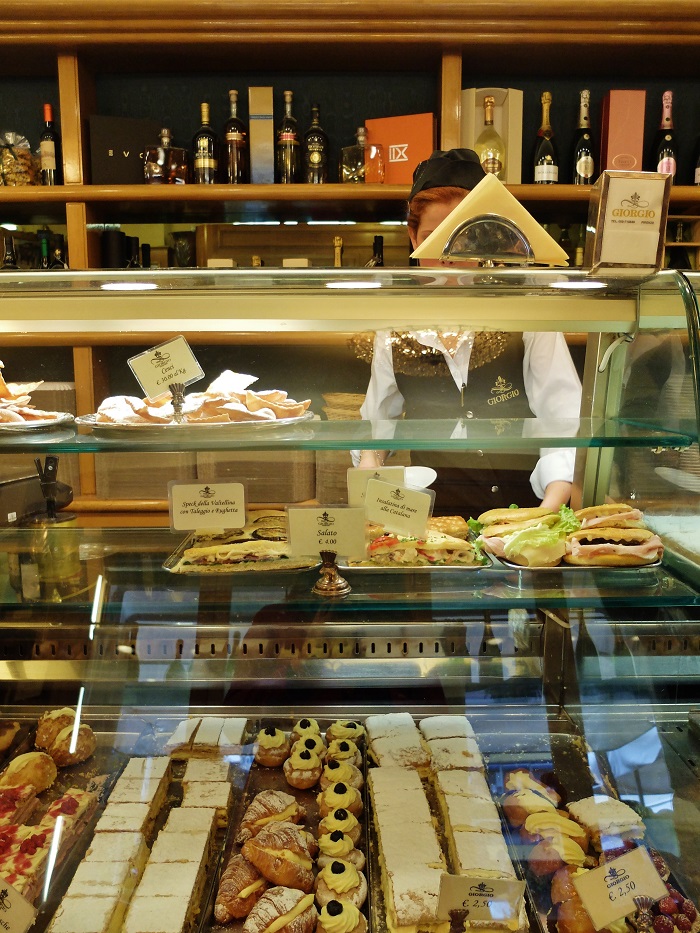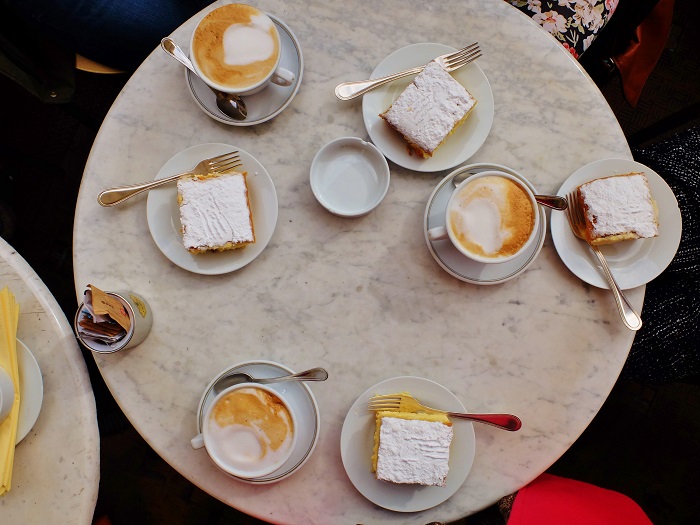 You know this place is special because people will actually go out of there way to visit and eat there. They may never go the 20 minutes to the other side of the city to visit their friends, but they will visit Giorgio's pasticceria.
I should mention that they serve lunch and an impressive aperitivo, also on the weekends you should definitely stop by for fish which I have been assured by friends is excellent, and not always easy to find in Florence. Reservations for dinner are a must and if you want to invite me too, thanks in advance ;-).
Pasticceria Giorgio is one to remember folks.
Pasticceria Giorgio, Via Duccio Di Buoninsegna, 36 – 50143
Florence. Website.