You would think that living in Florence for 8+ years means you pretty much know what is and isn't open on a Monday. No excuses right?
To be fair, normally I stay home on Mondays, the first day back to work after the weekend is always a little overwhelming and Nico and I are in the 'let's save money and eat a home' phase which means a cozy night at home is what normally happens. Well, recently when my friend Annie came to visit from Rome and asked to go out on Monday night, I started calling places.
Dim sum on via dei neri, closed, Le Vespe on via ghibellina, yep, not open on Mondays. This is when I started to get a little frustrated. I get that traditionally businesses close on Mondays in Italy but in Florence the rules always seem to be a little flexible on that note because we have so many people in our city in any given time. You'd think, well everything else is closed, let's make some money. Nah. Eventually we ended up going to the amazing Libreria Brac which is always a wonderful experience but that's what lit the fire for me to originally write this post.
My failed attempts at life are your reward.
What's open on Monday? In true Girl in Florence style, I'll try to give you a few ideas so you don't end up wandering around aimlessly.
*Hot Tip: Tickets can quickly add up which means you might consider purchasing the Firenzecard (the cost is 72€ and it allows for entrance to 72 museums with a duration of 72 hours). I think it's worth it for the fact that is allows for priority entrance to many of the most popular hotspots in Florence like the Uffizi, and it includes public transport. Alternatively you might want to keep in mind that the Duomo Complex (this includes the Baptistery, Giotto's Bell Tower, and Brunelleschi's Dome; the Museo dell'Opera del Duomo) raised the price of its cumulative ticket (2018 update) from 15€ to 18€ this year, but will extend the visiting time to 72 hours.
Attractions
While some of the biggest museums are closed on Monday, the Uffizi Gallery, Palazzo Pitti and Accademia Gallery, that's just fine because there are plenty of other options open to the public. Alternatively, you can also take a gourmet food tour with the Curious Appetite team who is my go-to group for eating my way through the city. They are always open on Mondays.
Take advantage! For example, the Orsanmichele museum is actually only open on Mondays and is absolutely worth a visit. Nearby there is even a tiny little urban garden where you can get a coffee/drink/light lunch during this summer, just look out for piazza dei tre re. Lean more about this special place with tour guide and good friend Alexandra Lawrence as we take a walk around this iconic place in Florence.
https://www.facebook.com/GirlinFlorence/videos/1824408030976301/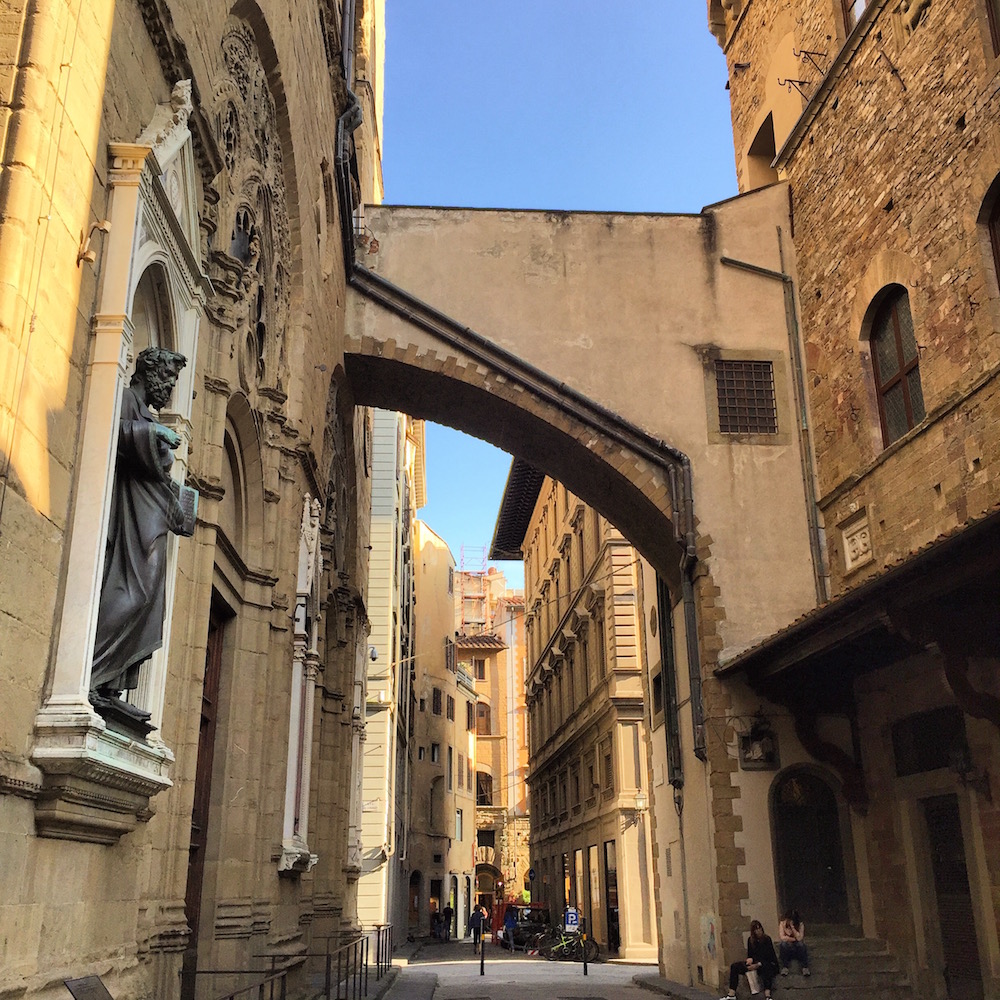 https://www.instagram.com/p/BUWOPsrDTym/?taken-by=girlinflorence
Visit The Duomo Museum featuring many important sculptures that were once housed in and around the cathedral, with an ideal introduction to Brunelleschi's first-of-its-time cupola. It is open Monday 9am-7pm from October 29th. My advice is to climb up Giotto's bell tower or visit the Duomo's cupola, there is no cardio or elliptical machine that is as good as this, plus the view is spectacular!
Take a cocktail-making class with the fab team of Curious Appetite who together with one of the best bartenders in the city will teach you how to concoct popular Italian cocktails such as the iconic negroni and martini. The class is only available on Mondays and Thursdays with a max group size of 5 people. Plus, you get to bring back that liquid knowledge back home as you make cocktails and serve Italian snacks to your friends!
Climb up the Arnolfo tower at Palazzo Vecchio, the city's seat of power and enjoy one of the best views in town. The Palazzo Vecchio is one of those places that anyone who wants to understand the city's history should visit. I do believe going with a tour guide would make this experience truly special.
Visit one of Florence's most important churches, Santa Croce Church which was built for 

the Franciscan order in 

1294

 by 

Arnolfo di Cambi. Inside you will discover a wealth of history and art in incredible frescoes by Gaddi (have a peek in the 

Cappella Maggiore)

and Giotto

 in the Bardi and Peruzzi Chapels. 
Explore more of 'hidden Florence' like the Spedale degli Innocenti Museum (built by Filippo Brunelleschi and provided care for infants and children for over five centuries.) It actually just opened on June 2016 and features over 5000 square meters of space. Piazza 

SS.Marie

 Annunziata. Open Monday 10-7pm. Read more about it here. Keep in mind the terrace at Innocenti offers one of the most interesting views in the city as is rarely full.
https://www.facebook.com/GirlinFlorence/videos/1780091028741335/
Finally visit the Medici Chapels (go early) next to the Basilica di San Lorenzo, which means you can eat at the Mercato Centrale new 'first floor' after or my favorite local trattoria, Sergio Gozzi!
Go early to check out the Palazzo Davanzati (a house museum that let's you see what real Medieval life was like). It opens at 8:15 and closes at 1pm so you'll want to go on the earlier side.
Visit the Brancacci chapel in piazza del carmine and frescoes by Masaccio, open 10am-5pm.
Go off-the-beaten-path to see one man's impressive private collection of armory, weapons and beautiful tapestries at Stibbert museum.
Try and make a reservation at one of the most beautiful 'hidden' areas of Florence, the stunning Torrigiani gardens, the biggest private gardens in Europe. For more tips on gardens, check out this guide. 
It's summer, and you are too hot to move. What is a girl to do? Head to Il Pavoniere pool located in the middle of Cascine park where you can hang out for the day and enjoy lunch too. address: via della Catena 2 open from 10am-7pm daily.  At night they offer aperitivo from 10€ poolside which is a nice way to keep the coolness going. Just check out their weekly events via their FB page
 Don't leave Florence without visiting the Bargello and San Marco Museums. All a little 'less-known' compared to the big ones but so worth it. I do recommend hiring a guide, Alexandra Lawrence [email protected]. You can see a full list of what attractions and list of churches which are open on Mondays, plus opening hours and prices on Visit Florence.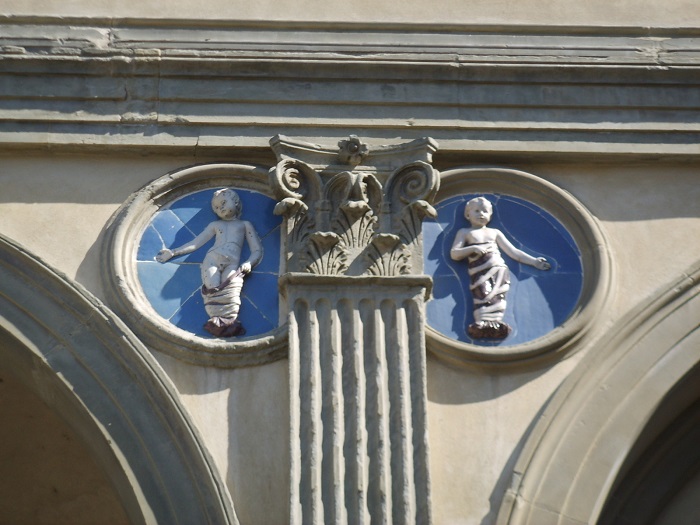 Go On a (Scenic) Walk
One of my favorite things to do in Florence when it's a Monday is just walk, normally after lunch or before dinner with our dog Ginger, since this day is so much less crowded than the weekend, it's a good way to start off your week since this city is so darn beautiful. You can find one of my favorite paths on 'this side of the river' here, which I think offers some of the best views in town. Heading to San Miniato al Monte (open daily) is always top on my list due to the ethereal feeling you get so high above Florence in a place over a 1,000 years old.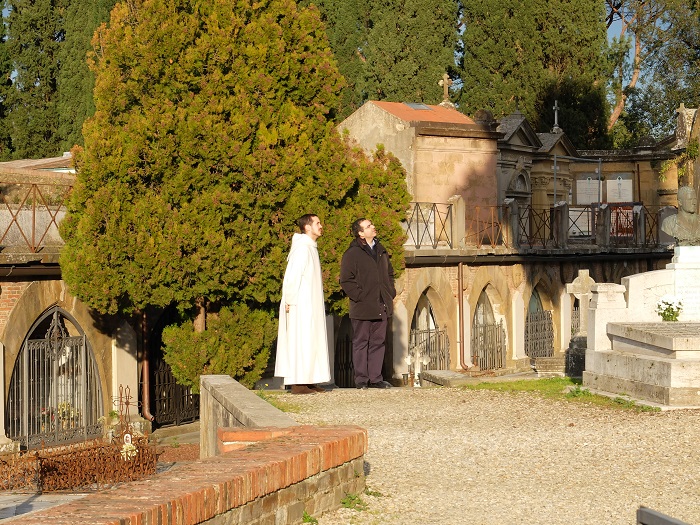 Also walking along viale michelangelo offers a nice walking path with leafy trees and a feeling like you are truly lost in Tuscany. Plus if you get tired the bus 12 and 13 (same route) can take you back into town.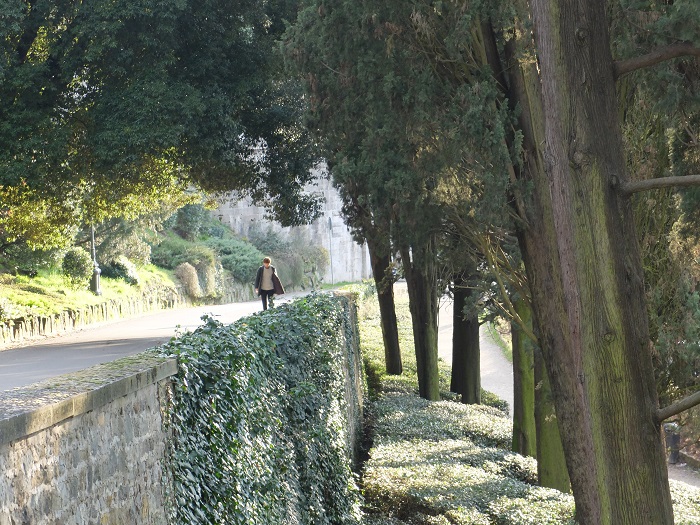 One of my favorite walks is along the Costa di San Giorgio, close to my house near the Ponte Vecchio and near to Forte del Belvedere (open during the warmer months and currently hosting a cool, free exhibit). Just a few steps from the historical center in these streets and you feel like you are inside a tiny town, far away in Tuscany, where a quietness prevails, people actually keep flowers on their windowsills and you can actually hear birds chirp. In that same general area, Via del belvedere is a nice street to walk down because you can stroll along together with some of Florence's ancient walls.
Another favorite area to wander which is a little more hidden is the hill of Bellosguardo, you want to head to Via di Bellosguardo and the piazza of the same name, walk along the streets of Via di San Vito, Via Piana, or Via di San Carlo for stunning views and cypress trees. Some of the buildings in this area are The Villa dell'Ombrellino which was built in 16th Century (and where Galileo Galilei once lived) and The Church of the Saints Vito and Modesto a Bellosguardo which origins date back to the 11th century.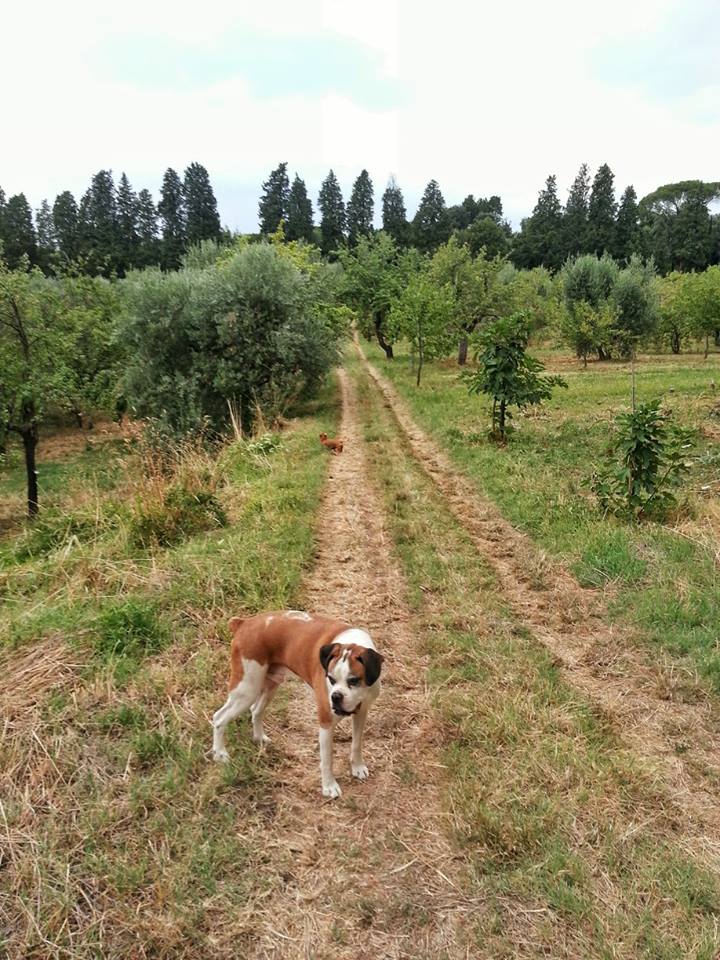 I first got to know this area when I did some August house-sitting for a family with a house there, probably one of the best summer's I ever spent in Florence mainly because I got to 'get lost' in this previously unknown to me area. It is also from this view-point that painter and cartographer Francesco di Lorenzo Rosselli created his 'Pianta della catena', one of the first representations of the city following perspective and cartography rules.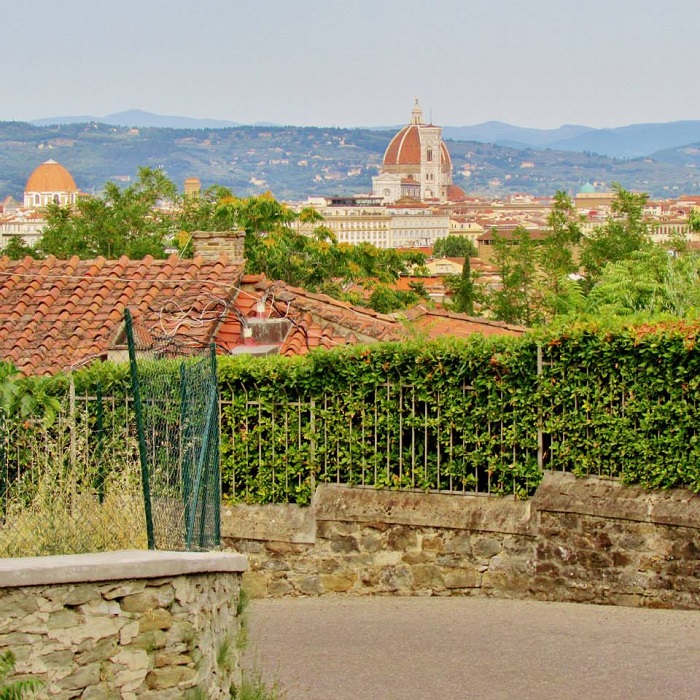 During the summer, when it's too hot to think, you'd be surprised that the city actually has it's very own artificial "beach" next to the river where you can wile away Monday's sunny glare and catch some rays. Called "Easy Living," you can visit anytime this summer between 10:00am-1:30am and they do have sun beds/a shower. There is a kiosk selling food and drinks at night it attracts plenty of local color and some interesting DJ sets. Need tips for local pools? This list by VisitFlorence has you covered.
https://www.instagram.com/p/BUhgEQFDvkv/?taken-by=easylivingfirenze
Or if you really want to 'get away' but not stray too far from home, head to Fiesole, the once-Etruscan village above Florence, a 25 minute bus ride from Piazza San Marco (bus 7). There they have a wonderful walking path surrounding the town, plus on a clear day you can see the Duomo's cupola from the monastery of San Francesco. It also is a prime spot for picnic, as a student I went there often and it still takes my breath away today. Visit the Etruscan-Roman archaeological ruins, which includes a Roman theater, the civic museum holds a number of artifacts found in this area.
If you are feeling brave, you can actually walk to Fiesole along Via Vecchia Fiesolana from San Domenico. I've done it before but it's not for the faint of heart. The upside is you get to spot plenty of Renaissance villas along the way, and earn that glass of wine when you finally do reach the top. And maybe a burger.
It's Monday: Where Can I Eat?
Naturally you need to know where to eat on a Monday which can be fairly tricky. From what I understand, some places just close in winter on Mondays whereas for others it's all year-round. I know I get annoyed when I can't find a place to eat so I'm here to help you avoid that problem. Many places are closed but some of the my favorite places that remain open on Mondays including the first floor of the Mercato Centrale in san lorenzo which is open every single day until midnight, booyah! Ps. If you need a list of vegetarian/vegan/gluten free options – I have a list for you here. 
Libreria Brac – libreria d'arte contemporanea caffè e cucina. Neighborhood: Piazza Signoria + Santa Croce | I am in love with this place for lunch and dinner because they serve yummy, healthy stuff. Like avocado salad with sesame, all sorts of interesting veggie lasagne and great wine. For dinner, you almost always need a reservation because everyone loves this place. Get the 'piatto unico' which allows you to choose three options on their yummy, seasonal menu, it make take a while to make but it is worth it. address: Via dei Vagellai, 18, 50122 Firenze (close to via dei benci and piazza della signoria). Phone: +39 055 094 4877.
Da Rocco in Sant'Ambrogio Market. In Piazza Ghiberti. Open during the same time as the fresh food market, you'll find "Da Rocco" inside the complex in Piazza Ghiberti and full of people from 1pm onwards (closes at 3:30). My advice is to go around 12:30. The menu is typical Tuscan dishes, think lampredotto,

fagioli all'uccelletto, lasagne, melanzane alla parmigiana, all

 for very good prices.
Trattoria Sergio Gozzi is located in 

Piazza di San Lorenzo, 8R, just off the main square, the entrance is tiny and easy to miss. This is old school Tuscan food, at its very best. Marble-topped tables, the only decent house wine in town, fried polpette that make me want to sing and delicious pasta. This is a must and yes, it is open on Monday. 

Floret is a contemporary cool bistro located Inside the Luisa Via Roma store on the first floor terrace. address: Via Roma, 19/21/r, 50123. A great spot for a healthy lunch (they serve notable salads, fresh juices, and one of the best club sandwiches with kale chips that I've had in Florence. Open 10:30-7:30pm with continuous hours.
Irene Firenze – neighborhood: historical center/piazza della repubblica. a cool contemporary bistro with a feminine touch in the heart of the historical center. It's not often that a five star hotel in the center of one of the most loved cities in the world actually has a an affordable and fun place to eat. Irene is a true gem, named after a Roccoforte legend and keeping true to its pretty name with a colorful, elegant decor to match. They offer a fabulous lunch menu during the week from 15€ to 25€ depending on the number of courses and all of the food is amazing, the menu changes seasonally and my now favorites are the fried fishes and vegetables, amberjack raw tuna with a lime sorbet and their simple grilled fish. More details can be found here. address:

https://www.instagram.com/p/BHSJIyajFYl/?taken-by=irene_firenze
Club Culinario Toscano da Osvaldo. Neighborhood Santa Croce | This place is a real gem of Italian food in Santa Croce, in fact I really believe you can't get better than this place in the neighborhood. I highly recommend the Frittelline di baccalà e cici and Manfregole fabresi con ciuffi di burrata e asparagus. Everything I've had here, I've loved. Open 12-3, 6pm-11pm. address: Piazza dei Peruzzi, 3R, 50122 Firenze. Phone: 055 217919. They even let you reserve a spot online.
Zeb is a family-owned restaurant in the San Niccolo neighborhood and means "soup and bollito (boiled meats)" which are very representative of Tuscan cuisine; while the location itself is rather small it has a contemporary flair that I really appreciate and the food is absolutely excellent, try the homemade pasta and excellent selection of seasonal sides and main dishes. I usually get a huge plate of veggies here when I'm in the neighborhood. address: 

Via San Miniato, 2

, 

Florence, 

Italy. Open for lunch and dinner, also great for a solo diner. 
Osteria della Enoteca is, as you probably already know, one of my favorite places for Tuscan steak in the city of Florence. Closed on Tuesdays, it makes for a worth trek to Via Romana, opposite from the Boboli gardens, for a dinner you won't soon forget. Indulge in their impressive steak menu and traditional wines (that's what they are known for) but don't miss out on the seasonal pasta dishes too, I am dying for that artichoke dish.. Via Romana, 70/r. Reservations recommended. +39 055 228 6018. 
Ristorante del Fagioli. Neighborhood: Santa Croce. I | Also a 'typical Tuscan' joint located in the historical center of town, it's open on Mondays and is always pretty crowded. Ironically they are closed Saturday and Sunday which is actually sort of genius when you think about it because everyone else is open! I loved the polpette (meatballs) I got their last year and they do make some pretty awesome beans (sort of a 'must' since it's in their name). Reservations are a must, and prices are medium 25-30 euros a head with wine, cash only. Address:  Corso dei Tintori, 47-r. Phone: +39 055 244285.
Da Gherardo. Neighborhood: San Frediano | A Neapolitan pizzeria on the 'other side' of the river. The space is tiny and cave-like but I actually love it. The pizza is fantastic, ask for the daily specials — and you can get cheap house wine or beer. The kind of place you probably should book ahead and go in intimate (no bigger than 4 ) groups. address: Borgo S. Frediano, 57/R, 50124 Firenze,  +39 055 282 921, open daily 7:30pm-1pm.
Culinaria de gustibus bistro – Neighborhood: Piazza Tasso | A slow-food recognized eatery in one of my favorite neighborhoods in town, the lovely piazza tasso. The space is tiny, but the food is memorable, you can try a variety of local specialties and Mediterranean flavors (including delicious tajines) along with a nice variety of organic and interesting wines. Open 12-3pm, 7-11pm. address: Piazza Torquato Tasso, 13 R, 50124 Firenze . Phone: 055 229494
Pizzeria Torcicoda. Neighborhood: Santa Croce | Part of a larger trattoria and restaurant, Torcicoda is one of my favorite spots for pizza, while I think the restaurant is overpriced. They use quality dough and great tomatoes, I really like the ambiance too — go for the craft beer but be aware it's around 15 euros a bottle (large). address: Via Torta, 5, Firenze. Open 12pm-12am (daily).
Osteria Antica Mescita San Niccolò. Neighborhood: San Niccolo | For typical Tuscan dishes like ribollita and pappa al pomodoro (a must-try for any out-of-towner) this is a great option plus it's in one of the cutest areas in town. Prices are medium and while I will admit it is not my favorite for traditional food (Brindellone in Piazza Piattellina is my local favorite), I still enjoyed my meals there. Loveable San Niccolo, a place where time almost feels like it stops. Address: Via San Niccolò 60r
50125 Firenze. Phone. +39 055-2342836
La Bussola. Neighborhood: Near piazza strozzi | I love this place yet I don't seem to go enough. They are not only open on Monday, but also make great pizza, fish and Tuscan specialties. Their prices are on the higher side which can be a deter to some but it does offer a nice ambiance. I also can recommend their fillet which is cooked to perfection. Address: Via Porta Rossa, 58/R, Phone: +39 055 293376.
Osteria De L' Ortolano. Neighborhood: Duomo/Accademia Gallery.  Open only for lunch on Mondays, this place which looks like it only is a deli-counter also had a small, intimate backroom for diners. I like this place a lot also because Marta and Massimo are so passionate about their food, and they serve the amazingly delectable Variazione di Martarè ( a vegan chocolate dream). Address: Via degli Alfani, 91r, 50121 Firenze
Phone: +39 055 239 6466. Prices are average.
Light Lunch: Try a Panino at Ino. Neighborhood: Ponte Vecchio/Signoria. This place is a hidden gem among locals because they know it is 'the place' to get a focacce filled with all sorts of yummy ingredients, including pecorino cheese enhanced with saffron, have a glass of wine too and you'll spend around 8-10 euros max. It's open on Mondays and well every day until 5pm. Go there, now! Address: Via Georgofili 3. *NOTE it's currently closed until the 26th of February, perhaps their off for the annual 'settimana bianca'. 😉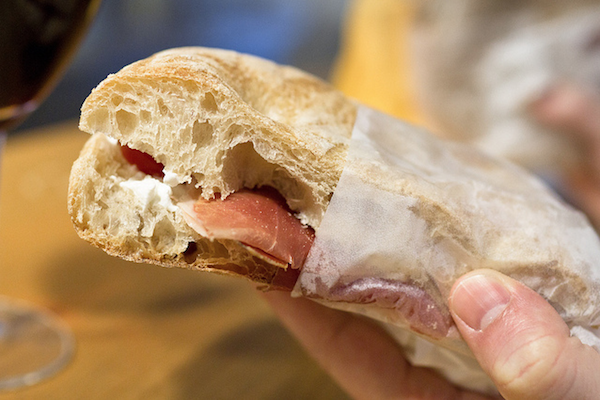 Light Lunch or Aperitivo: Everyone loves Casa del Vino. Neighborhood: San Lorenzo. | This tiny spot is a local favorite for those looking for a quick bite to eat. One of the reasons I fell in love with the place was for its simple decor, wood and marble and the same people whipping up sandwiches day in and day out. Address: Via dell'Ariento, 16/R, 50123 Firenze. Open till 8pm.
Wine & Snacks: Le Volpi e l'Uva. Neighborhood Ponte Vecchio, Palazzo Pitti | My local wine bar (I also like Pitti Gola) continues to impress with their casual ambiance, great snacks and hey, it's open on Monday. Part of the appeal for me is that you are situated in a tiny little piazza off of the main route from Ponte Vecchio to Palazzo Pitti which in the summer, can feel like a river of people. It's quite frankly, wine fueled refuge! Make reservations for tables outside as they fill up quick. Address: Piazza dei Rossi, 1, 50125 Firenze
Phone + 39 055 239 8132. Open till 9pm.
Healthy In The Oltrarno: Il Carduccio is my go-to spot for a nice salad, organic wines or whatever Miranda and her partner have concocted that week. All of their vegetables and fruits come from a local organic farm. address: 

Sdrucciolo de' Pitti, 10/R, 50125 Firenze. Open until 8pm. 
On that note, I'm sure I missed out on plenty of places, restaurants or ideas so feel free to share your own, since this info is valuable for everyone. Even Texan Tuscan bloggers that occasionally forget what day it is ;-). 
SaveSave
SaveSave
SaveSave