If you share a love affair for Florence like so many of us, you probably have heard of the devastating flood in 1966 in Florence, Italy. After 18 hours of steady rain, the arno river burst its bank at 5am in the morning on November 4th. While this wasn't the first time the Renaissance city flooded it's banks, this was the worst one in the last century, with countless works of art, books and livelihoods of people washed away in the mud & debris that terrible day.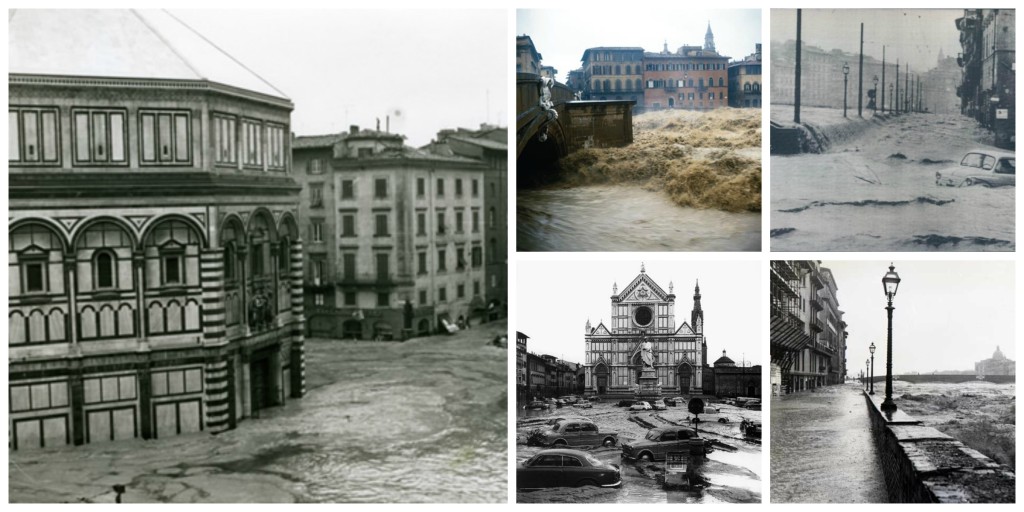 Many Florentines remember this terrible time, and around the city you can spot countless markers where the floods water's reached. At it's highest point, 22 feet, with 225,000 gallons of water per second rushing into our beloved Florence.Twenty-thousand families lost their homes, fifteen thousand cars were destroyed, and six thousand shops went out of business – and most poignantly of all, an estimated 34 people lost their lives. One light at the end of the tunnel, was that being a holiday weekend – many were not on their way to work or home when the arno river burst its banks.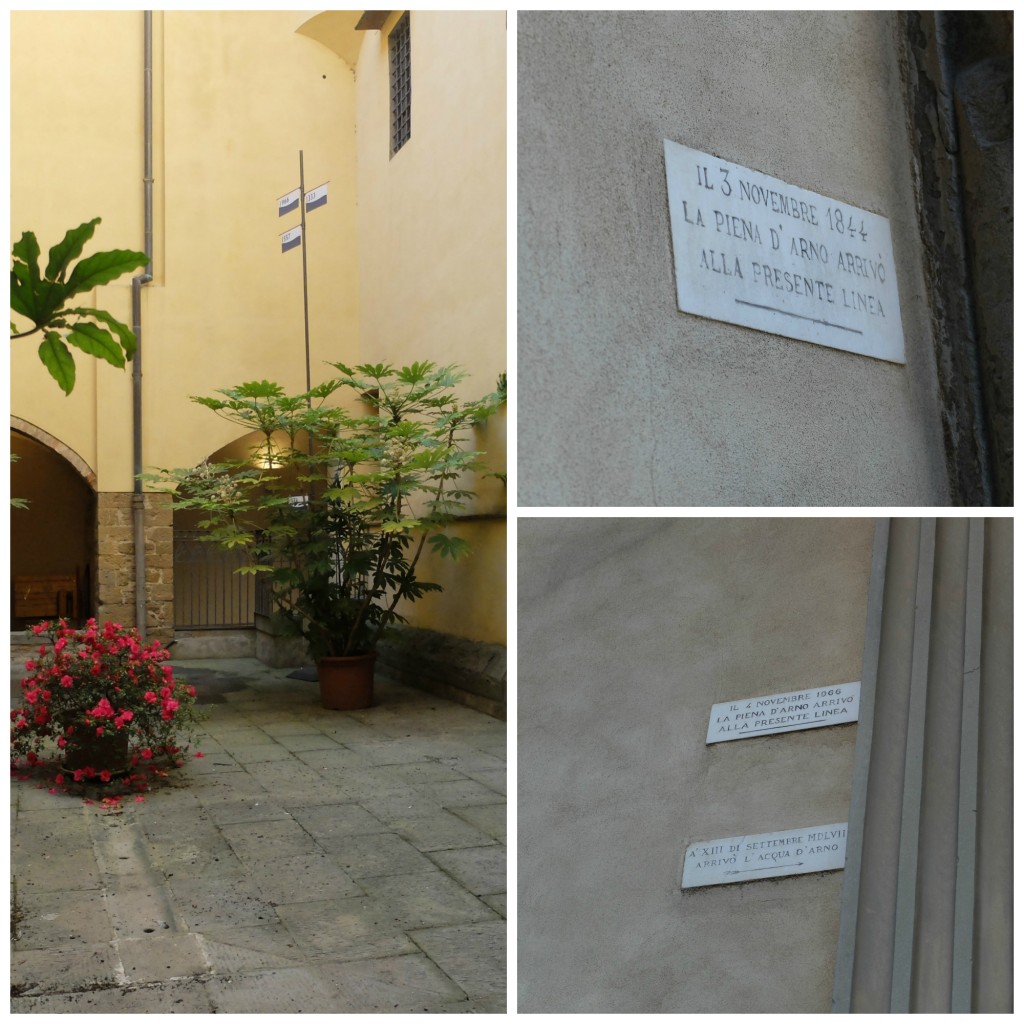 Food markers around Florence, you can spot many all around the city
Like many, I have seen the photos (like above) and read a bit about this event though my knowledge was pretty limited. Hence why I jumped at the opportunity to learn a little more on a tour with Alexandra Lawrence who took a group of us on a special #floodwalk this past Saturday to see some of the most important places in town affected by the flood and hear some more personal stories of those involved in the tragedy. I took Nico with me because he also is fascinated by this horrific event and we both appreciate a more in-depth tour that makes us both feel a lot close to the city that we live and love.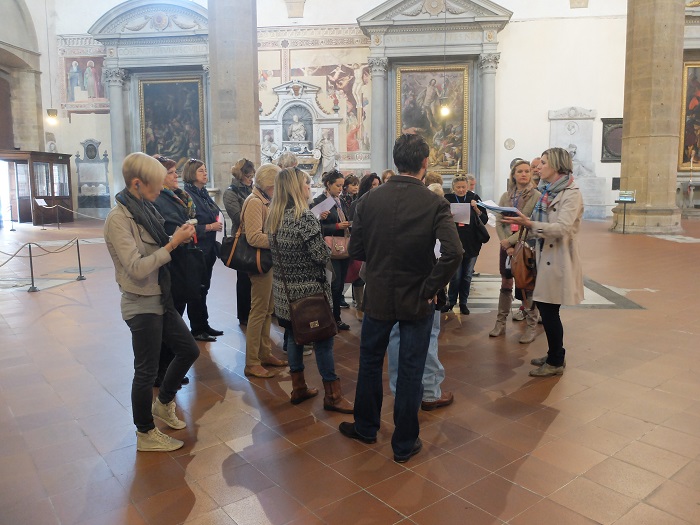 The #floodwalk group inside Sante Croce Basilica 
We met in front of Dante in piazza santa croce, his hook nose peering across the piazza makes for the perfect place of reference. Alexandra began by recounting how the power church of Santa Croce or as she say's 'universe'came to be. You can thank the Franciscans, you know the ones who believed 'Dignity in poverty', whom traveled to this area of the city which was merely marshland in the 1200's to talk to the very powerful guilds and create a church.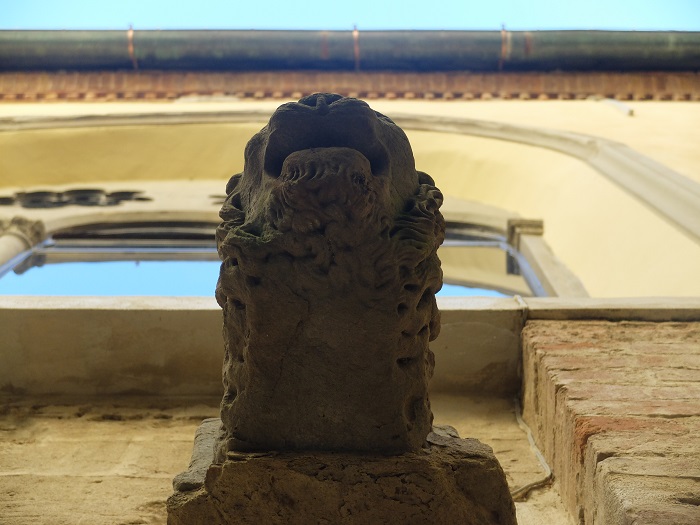 While at Santa Croce, don't forget to look up!
Around the mid-1200's Florence was going through a building boom with the Duomo cathedral in full swing. Santa Croce began construction in 1294. When the flood hit, centuries later in 1966, there was an astonishing 8 feet of water in the basilica and 16ft from the cloisters below.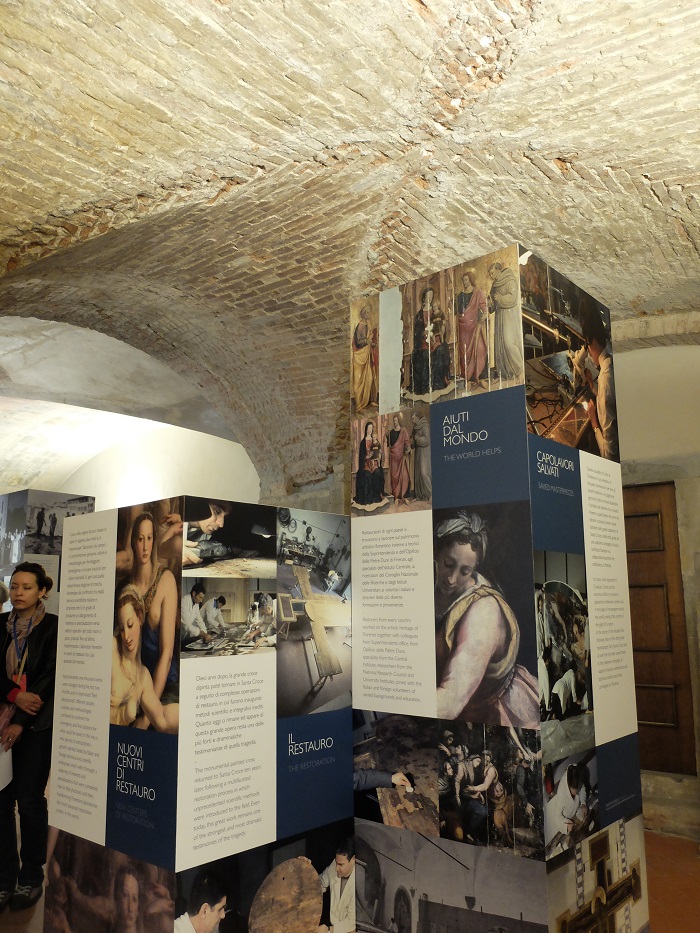 Read personal stories about the 1966 flood  in the cloisters of Santa Croce church in Florence 
One of the strongest symbols of damaged art from the flood was by Cimabue, the " Christ Crucified" built in the 1200's specifically for Santa Croce church. Some people say the  1,000 pound crucifix was floating on the flood water when found but instead it was likely upright, once they discovered it, over 70% of the color was gone. When I laid eyes upon it on Saturday, I was utterly amazed at how good it looked after restoration. One thing to note is that all of the restoration is 100% reversible, which allows for future generations with better techniques to preserve the art even better, now that is amazing.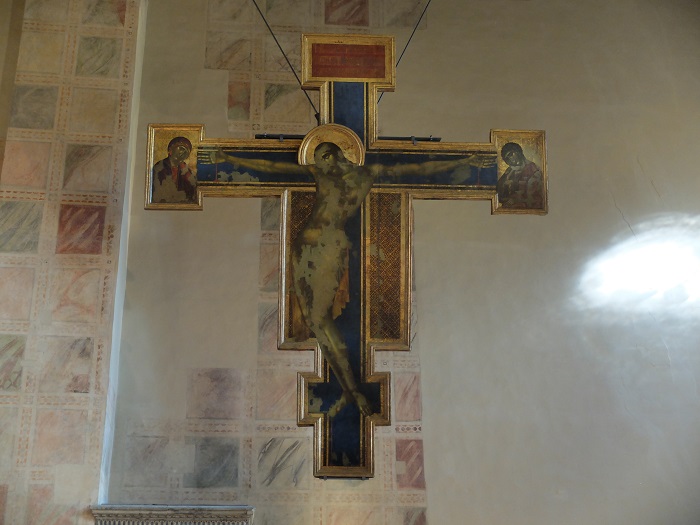 The " Christ Crucified" by Giovanni  Cimabue hanging in Santa Croce today
'Fixing' Cimabue's masterpiece was a 10 year restoration process, they used poplar wood to restore as best they could and utilized the 'hatching' method, where they can create an understanding of color where none before exists. It was during this time that Florence became known, along with Rome, as the place to learn the art of restoration. Another artwork heavily damaged in the flood was Vasari's 'Last supper' which was submerged underwater for 12 hours, and now 40+ years later, it is still being restored, funded by the Getty Museum in Los Angeles and Prada. One thing to note in that 2016, it will be the 50th anniversary of the flood  50 years after the flood where Vasari's hopefully completed restoration will be then completed, read more about it via The Guardian. 
We shouldn't forget that 1966 wasn't the first time Florence suffered a major flood, it's happened eight times since 1333, a time when "Florence was not at all a fun place to be" remarked Alexandra considering it coincided with the great plague. It will comfort many to know that in 2006, during the 40th anniversary, Santa Croce enacted an emergency 12-step plan which lasted 18 hours to save all of Santa Croce's most famous works.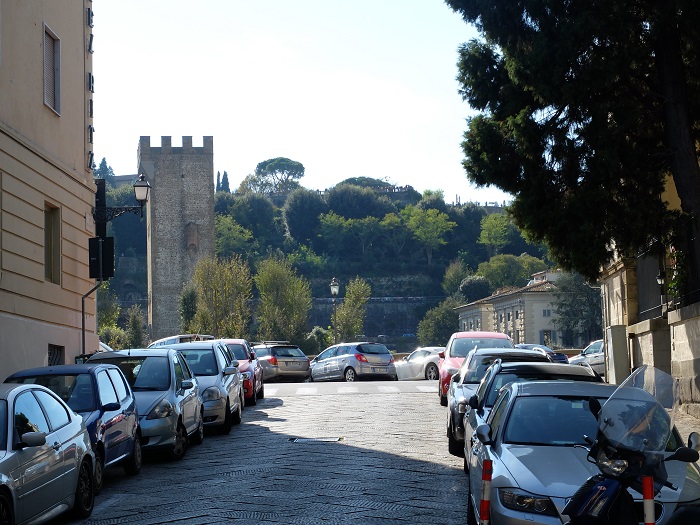 Peering at the arno river, seemingly so calm yet we all know any day that can change. 
Our next stop was the National Central Library or Biblioteca Nazionale as we know it next to the river, one of places the hardest hit during the flood. According to wikipedia "The library was founded in 1714 when scholar Antonio Magliabechi bequeathed his entire collection of books, encompassing approximately 30,000 volumes, to the city of Florence." Every book published in Tuscany must be registered and submitted to this library. November 4th, 1966 was a dark day for this library, next to the Arno river, 1.3 million works were damaged including the famous Palatine collection, which was in the basement at the time. I sort of wonder whose bright idea was that?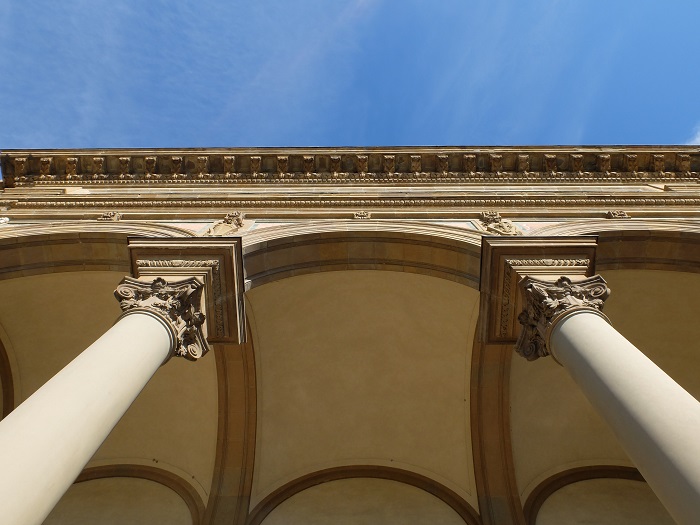 The National Central Library: The real question is who puts a library next to a river that floods every 100 years? 
You might have heard of the famous 'mud angels', which were people who flocked from all over the world to help save Florence's art. As Alexandra stated "These were the Kennedy' years which prompted people who heard about the devastation in Italy to unite in international cultural solidarity." Look for a large plaque in front the National Central Library commemorating these brave, enthusiastic young people who came not to party it up on via dei benci in santa croce but instead save a city, and the world from losing so much valuable art & literature that we all enjoy today."
http://instagram.com/p/uklKogRTMa/?modal=true
As we left the marble floor (pictured) above, we headed to via casini towards La Murate. We stopped at a nondescript house at the corner of casini and via s/giuseppe where a famous marker was placed, the windows barred shut which is very typical of ground floor houses in Italy. Since we often hear about what was damaged during the flood, we hear less about those who lost their lives. In this house, an elderly women passed away because of the inability to remove those metal bars. The police and even a priest arrived there by boat and helped as best they could, in the end nothing could have been done as they didn't have the tools in time to save her. One of those estimated 34 who lost their lives on November 4th, 1966.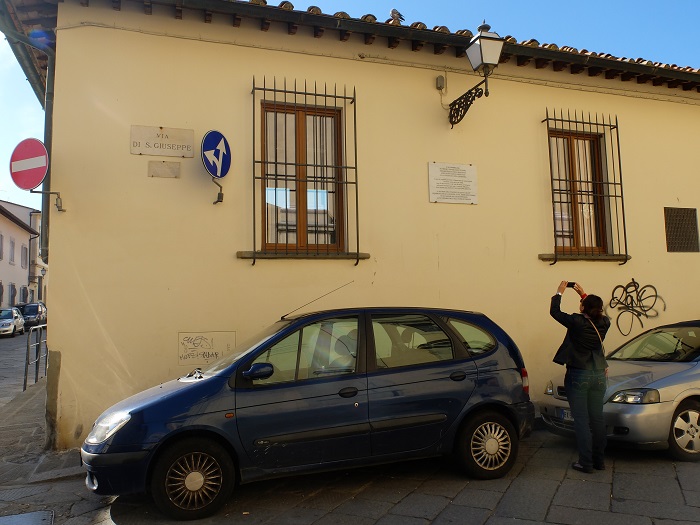 The house in question, now part of (I think) a scuola materna
Our last stop during this fascinating flood walk was ex-monastery and prison, Le Murate. A fascinating place if you have never been, now turned into quite the success story with low-income housing, a pizzeria and cool cafe where they often hold events during the summer. In 1966, Murate was still a prison, of course the prisoners were inside their cells as the river overflowed. Luckily a prison officer unlocked the doors and let them leave, but surprisingly many ended up staying to help save people in the flood. One touching story involved the local magistrate who just the day before convicted one of these prisoners, the next day when he asked for help from those who stayed, the man he just sentenced to prison stood before him ready to lend a hand. A moment I am certain, he would never forget and one I won't either.
Will It happen Again?
Historically Florence has suffered a major flood once a century. According to The Independent "The situation has actually got much worse than in 1966," warned Raffaello Nardi, who heads a special commission responsible for safeguarding the Arno river basin. The farmland that once formed a natural outlet for excess water has all but disappeared, he said, replaced by a veritable plague of speculative building along the river. A fifth of the forests in the Arno basin have disappeared, and another two-fifths have been damaged."
Want to see more about this subject? Alexandra recommended the film 'La meglio gioventù' (The Best of Youth) which featured the 1966 flood as part of its story. I also recommend asking Florentines' where they were the day of the flood and there feelings about it. I have talked to so many people who have recounted the most incredible tales from that day, remember history lives on through us talking about it.
---
 In Other News
As part of a project to safeguard and promote a hidden part of Florence's heritage: the Advancing Women Artists Foundation has also published a new book about the female artists whose art forms part of the Florentine Civic Collections. The book by Linda Falcone and Jane Fortune, "When the World Answered: Florence, Women Artists and the 1966 Flood", published in October 2014 by The Florentine Press. These 'flood ladies' felt compelled after the devastating event to donate art to the city of Florence. The price of this book in the third edition has raised from 20 to 25 euros. This is because the proceeds of the book go to charity – towards the restoration of paintings by female artists through the Advancing Women Artists Foundation.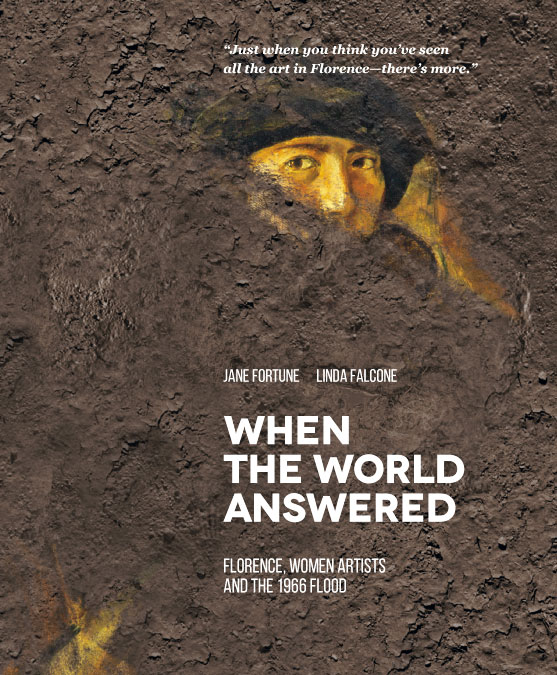 You may have heard of Jane and Linda from their previous book " Invisible Women: Forgotten Artists of Florence" which also happens to have been made into an Emmy-award winning PBS documentary.
Need a good tour guide? I highly recommend emailing the smart, talented and always talented Alexandra Lawrence. She probably could give a sewer tour of the city and make it interesting, that's just how good she is ;-). Check out her interview as a 'local I love' with me here, a podcast on The Iceberg Project on what it's like to be a tour guide in Florence, or see what she's up to on twitter here.