No better way to kick off a month than when it falls on a public holiday, albeit one that is dedicated to such a noble cause — commemorating the Haymarket affair, which occurred in Chicago on 4 May 1886 and the legal establishment of the 8-hour day (more info here). As you would expect, May 1st always feels quite festive as Italians are treated to two holidays in the span of a week and warm weather prevails bringing people out and about for plenty of passeggiata and garden visits around the boot.
In Florence, it is the ideal time to check out the city's best green spaces such as the Giardino delle Rose (rose garden), Iris Garden by Piazzale Michelangelo, the wisteria at Villa Bardini, the new tulip garden (Castello dell'Acciaiolo park) in Scandicci and of course Pratolino Park, an relatively easy bus ride away. Cascine, once a hunting ground for the illustrious Medici family of Florence gets less love but remains the steadfast public park for the city and is a great place to plan a picnic.
Nico and I have been quite busy, we just returned from a trip to Piedmont (my first time discovering the region) to visit vineyards with my friend Valeria of GirlsGottaDrink (seriously, she is the best trip planner along with her tour guide husband Evan) and I am already, at this moment, on a train heading down south to the island of Capri for a work trip. My plan this month is to just enjoy the city before it gets too hot to leave the house between the hours of 11-5pm so Ginger (my beagle) and I will be going in a number of walks; her eating any substance that peppers the ground, me trying to prevent that from happening ;-).
https://www.instagram.com/p/Bh58ZuFnhdz/?taken-by=girlinflorence
This month's link love from Italy and beyond 
Today is the last day to check out the 'Mostra dei Fiori' at the Giardino dell'Orticoltura, 10-7:30pm. This is always an institution for the May first 'Ponte' weekend and is essentially a beautiful flower show with a dazzling array of flowers held annually at the horticulture garden close to piazza della liberta. They always have a wide range of plant species (over 60 sellers will be present) to gawk at and buy, such as giant basil or carnivorous plants (seriously). address: Via Vittorio Emanuele II, 17, 50139 Firenze.
Also keep an eye out for the opening of the Iris Garden at Piazzale Michelangelo. This botanical garden is famous for its wide variety of Irish flowers (also the symbol of Florence) open from 10 a.m. to 12:30 p.m, 3 p.m. to 7 p.m.
Have you ever heard of "yogalates"? Yoga and Pilates share common principals which make both compliment each other in raising awareness of body and mind to elevate the quality of life. To name a few; developing core strength and good posture, breathe and much more. My friends at Relax Firenze are offering classes by Piazza della Repubblica from 6-7pm and here's how to join. 
The Florence cocktail week is BACK for a week dedicated to cocktails, coffee and other gourmet specialists until May 6th organized by Paola Mencarelli and Lorenzo Nigro from Mon-Friday featuring hotspots around town with notable bartenders such as Ditta Artigianale, Mad: Souls & Spirits and Gurdulu (classic bars too..) with custom cocktails including one that I am dying to try (hint, it includes mexcal. This brilliant event is now in its 3rd edition. Get the scoop via their Facebook page or here (in Italian) and check out tonight's amazing event mentioned below
May 1st: Mixology with chef Luisanna Messeri for Florence cocktail week as she talks how to mix great cocktails at home, 6pm-7:30pm at Palazzo San Niccolo. Free to attend with reservation: email [email protected].
While not exactly in the historical center, Pratolino park is one of the best green spaces in the vicinity of Florence and is well-worth a bus trip. The season opens on April 1st and will be open Friday, Saturday and Sunday until October 28th (10am-8pm).  address: Strada Provinciale della Casa Al Vento · Vaglia.  Take ATAF bus #25A from Piazza San Marco.
Looking to meet some interesting new people in Florence? I always personally enjoy the open-mic night at Tasso Hostel (via villiani 15)  held the first Wednesday at every month. The May edition (the 33rd!) will take place on May 2nd co-hosted by founders Marisa Garreffa and Lee Foist.It is a fun event open to anyone who wants to share a song, a story or basically anything they'd like to present! Check out the info here.
For those who want to improve their Italian or simply just meet new people in Florence, I highly recommend attending the "Speakeasy multilingual happy hour" on May 2nd at Italian Tapas (Via Sant'Agostino 11/r). The linguistic libations take place from 7:30pm-10:30pm, aperitivo costs 5€ (a steal!).
Holland in Florence? Apparently so! The city of Scandicci has unveiled a garden of close to 200,000 tulips (around 70 different species) in the Castello dell'Acciaiolo park (via Pantin 63, Scandicci, Florence) which anyone can visit for the month of April. Visitors can wander the park and pic the tulips and it is dog-friendly. I cannot wait to see this in person myself. Open 10am to 7pm, minimum contribution of 3 euro.  
Storytellers in Florence is back with this month's theme "courage" on May 5th a great follow up after last month's escape (was an absolutely splendid night, I didn't want it to end). As per usual it will take place at independent bookshop cafe Todo Modo (Via dei Fossi) starting at 7pm and ending at 9pm. You are more than welcome to just come and watch people share their stories. If you have a story to share based on this theme, be sure to contact Linda on Facebook or by email at [email protected]. 
Every Tuesday in Florence, Patti deRosa hosts a special musical showcase open-mic at Il Toscanaccio in Piazza San Firenze at 9pm. It's an open mike but also includes a special guest Artist every week. Follow their FB page to see more details. On May 8th the guest artist will be Giampiero Erre.
For residents of Florence, the first "free" Sunday of the month offering free openings to civic museums is on the 6th of May. Of course people will want to visit the Giardino Bardini (address: Costa S. Giorgio, 2 – open until 6:30pm) with its full bloom of wisteria offering a purple filter of the panorama of Florence.
Don't miss "Open Art code" exhibition at the Salone di Donatello at the Basilica of San Lorenzo a free-intro exhibit featuring contemporary works by a number of International artists until May 8th.
Market lovers should head to Piazza SS. Annunziata for the fierucola delle arte, dei mestieri e delle api (open market dedicated to art and bees) open until sundown (May 5th and 6th).
On May 6th, Via Romana will be closed to traffic for "via Romana in fiore" a fun, Spring-related block party on one of my favorite streets in the Oltrarno. The fun takes place from 10-7pm and is a very family-friendly event (music, theater, workshops etc) taking on a floral theme. Don't miss a visit to the Corsi Garden from 3-7pm on Via Romana 3.
I never thought I would see the day when there was an actual slide in the courtyard of Palazzo Strozzi but indeed that day has come. Science meets nature in one cool project called The Florence Experiment, a new site-specific project devised by celebrated German artist Carsten Holler and plant neurobiologist Stefano Mancuso, that has already kicked off. More info on how you can hurl yourself down a terrifying slide while holding a plant can be found here.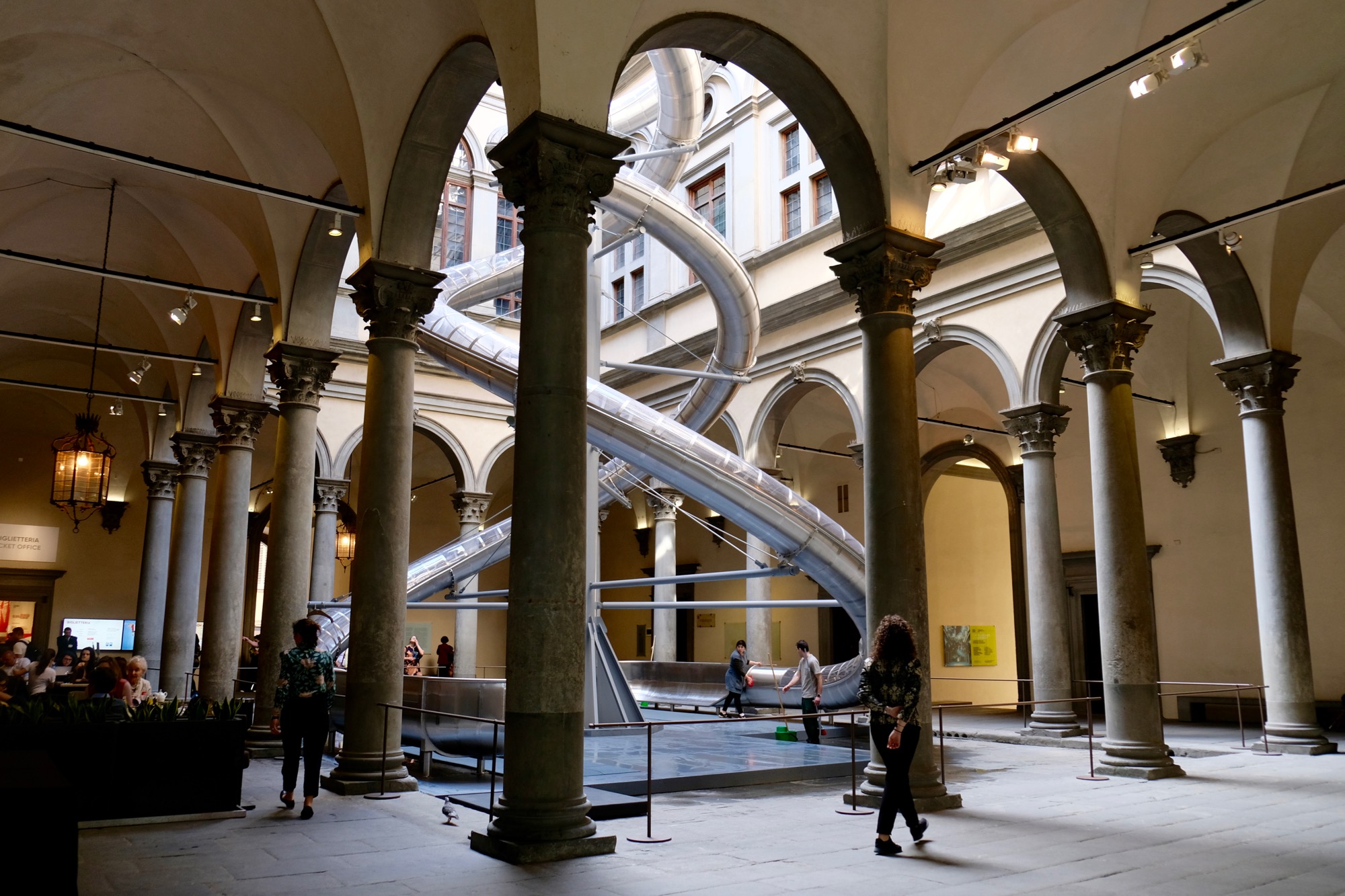 Don't forget that "Festa della Mamma" or Mother's day falls on May 13th (the second Sunday of the month). Show mamma you care by giving her a much-needed day off or a trip to the geletaria. I'd opt for both!
The Deejay Ten Marathon is back in Florence on Sunday, May 13th and this particular 10 kilometer race starts the the Zecca tower alongside the Arno river.
The Corsini Garden's Artigianato e Palazzo from May 17th-20th is one of the foremost Spring fairs in Florence (this year they will host a special collaboration with Museo di Doccia/porcelain-makers Manifattura #RichardGinori) and I highly recommend a visit not just to see the quality artisans on show, but also to soak in one of the most beautiful (private) 16th century gardens in the city. Also new this year, the arrival of food trucks including favorites "Pescepane" and Panino Tondo, 8€ entry fee, address: via della scala 115.
"Walking by night" On May 19th you can join a fun group of folks walking through the city at night for a 5km noncompetitive stroll with renowned athlete Milena Megli. The walk starts at 9pm at Le Murate (an ex-prison turned public housing/cultural space) and heads toward Piazza Madonna della Neve.
Think you can hit a hole in one? Try your hand on May 20th at the Fratelli Piccini Golf Challenge held at the historic Circolo Golf Ugolini along the Arno river. A portion of the proceed will be donated to the Fondazione Italiana di Leniterapia. More info can be found via The Florentine. 
A fascinating local tradition in Florence that many people have no idea about is the "Fiorita Commemoration" on May 23rd in Piazza della Signoria (around 9:30-10am) where a floral display is left on the circular spot where fiery preacher Savonarola who ruled Florence from 1494-1498 was put to death.
Join a quirky festival dedicated to the crickets "festa del grillo" in Cascine Park on May 25th where you can expect live music and food to ring in a now-forgotten tradition.
Museo Novecento, the museum in Piazza di Santa Maria Novella dedicated to 20th century art is going through a bit of a revolution of its own with a number of exciting exhibitions and plans in the works thanks to the new director Sergio Risaliti. Worth checking out is "Il Disegno dello Sculture" an exhibit dedicated to drawing as the mother of the arts.
Palazzo Strozzi, Florence's foremost temporary gallery space in the center of the city, is launching its next exhibit "Dawn of a Nation: From Guttuso to Fontana and Schifano" from March 16th until July. From the Strozzi website: "a truly mesmerising exploration of art, politics and society in Italy from the 1950s to the protest years in the late '60s, with eighty works of art by such masters as Renato Guttuso, Lucio Fontana, Alberto Burri, Emilio Vedova, Piero Manzoni, Mario Schifano, Mario Merz and Michelangelo Pistoletto. The exhibition, curated by Luca Massimo Barbero, is bringing emblematic works of art together for the first time to form a display illustrating the effervescence of Italian culture after World War II, the years of the so-called "economic miracle" that marked a major transformation in Italian society, up until the fateful year of 1968." Open 10.8pm, late opening until 11pm on Thursdays. 
Piazza Santo Spirito will have their open market "feirucolina di Maggio" on Sunday, May 20th from 9-7pm.
Block party in the Oltrarno! On Saturday, May 26th returns "La Maggiolata" in its third edition, a block party celebrating Spring with music, flowers and a pedestrian-only street (Via Maggio). Also the adjacent Sdrucciolo dei Pitti will be celebrating as well. The fun kicks off around 3:30pm.
On May 27th (Sunday) you will get the chance to visit some of Tuscany's hidden places (palaces, courtyards and gardens) thanks to ADSI day (Associazione Dimore Storiche Italiane), this year it coincides with the European Private Heritage Week. More info and participating locations can be found here. Some of them include
Giardino Corsi Annalena, via Romana 38
Palazzo Guicciardini, via Guicciardini 15
Palazzo Michelozzi, via Maggio 11
Palazzo Ridolfi, via Maggio 13
Palazzo Frescobaldi, via Santo Spirito 11
Palazzo Rinuccini e Teatro Ottavio Rinuccini via Santo Spirito
The perfect bad weather (or good weather, let's be honest) activity is a trip to the trusty cinema, in my case our beloved original-language theater Odeon which is back on track with a superb list of options including the Avengers (May 1st and 2nd), a screening of "Annie Hall" by Woody Allen on the 4th and 5th of May al Cinema Odeon Firenze in its original language with Italian subtitles, Isle of Dogs and Deadpool 2.  Price: 8 euros for a normal ticket.
…
Outside of Florence, here's what to do
Pizza & Champagne at Pizzeria Lo Spela. May 10th from 8pm-11pm. A reason to visit Chianti and stay for dinner. Lo Spela is one of the best places for gourmet pizza and this special event combines the prowess of Andrea Formigli of Vinoteca al Chianti and Rose Champagne and the best pizzas ever by chef Paolo Pannacci which will have a seafood theme. 38€ for the food & champagne pairing. address. Via di Poneta (loc Ferrone) Greve in Chianti.
Head to San Casino val di Pesa for the "Spring Festival" or Festa della Primavera on May 20th from 11-7pm, a fun day for the whole family in a spectacular location that will feature artisans, natural skin products and games for children (including pony rides!) at Villa Casavecchia, Via Scopeti, 41. More info can be discovered here. 
Antiques in the Square. May 6th. Scarperia is a charming small town located in Tuscany's Mugello area and on the first Sunday of the month antique dealers set up shop in the town center making it a great day for a countryside day out. Browse and book a local restaurant nearby, and get the local speciality — potato-filled tortelli! Alternatively, Scarperia is also hosting its own "Infiorata" where floral designs take over local streets and squares on May 27th.
Organic & Artisan market, May 27th. I adore Piazza Matteotti in the lovely Greve in Chianti and a great time to visit is during this lovely market in the towns center every 4th Sunday.
Wild Boar in Certaldo. Bocaccio's hometown is also home to a lovely sagra (food festival) featuring wild boar on May 1 & 4th, the 6th and 11.13th.
Cantine Aperte falls on May 27-28th this year and marks a time when Tuscan wine cellars open to the public for tastings and events. It makes for quite the day in the countryside but make sure to have a designated driver!
Ps. Enjoyed this post? As always, I appreciate your support and comments so please share this article with anyone you think could benefit from a friendly-Florence roundup and I'll be forever thankful! I also included a Pinterest-friendly pin here.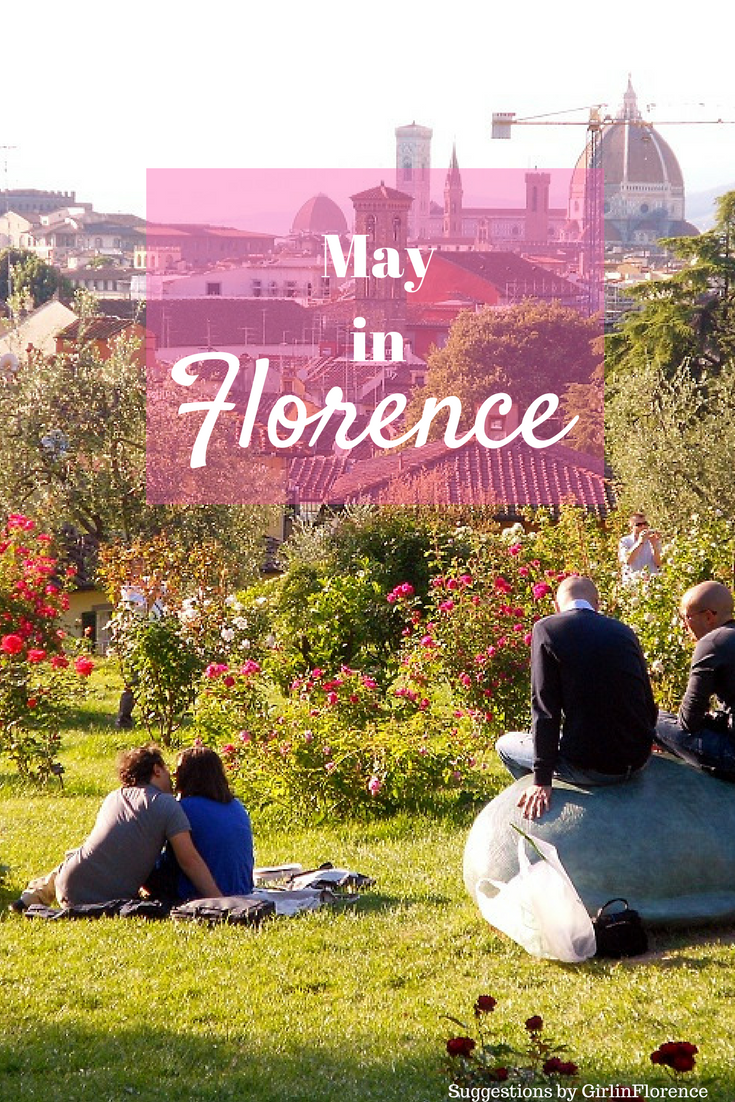 SaveSaveSaveSaveSaveSave
SaveSave
SaveSave
SaveSave