March has started with a bang, or rather more accurately, a brief and beautiful snowfall. Of course, that quickly turned to rain but I am still swooning in the memory of walking under snowflakes in Piazza di Santo Spirito. No matter what the weather in March in Florence, Italy, you can be assured that there will be many reasons to leave the house with a jam-packed array of exciting events around the city. I am most excited for this edition of Taste at the Stazione Leopolda on the 10th, but possibly more for the Fuori di Taste events surrounding the biggest food fair of the year. Also on tap is the inauguration of Palazzo Strozzi's latest exhibit.
Keep in mind that this list of events is entirely personal according to what I adore and plan to do this month and is by no means an "official" city list :).
Also if you haven't yet, consider subscribing to the blog to get posts directly to your inbox, if you like what you read. I promise to send no spam or ask you to do anything else, but I do appreciate the support! In other news, my friends over at Casa Mia: Food & Wine Blog also recently interviewed me,  also I recently did this article for HostelWorld on backpacking in Florence on a budget should anyone want any practical city tips and here are the latest videos in a new series I've started on Facebook Live with local experts visiting beloved areas around the city such as the Orsanmichele facade and Sant'Ambrogio market. 
Link Love for The Month of March 
I am in love with this month's long read by Mary Gray of The Florentine "Breakfast in Tuscany: 

Reflections on the first square" who ponders the significance of the "first square." 

I have always been in love with candied citrus peels and Jul's Kitchen has just the recipe in "the second life of an orange peel" to preserve these deliciously sweet addictions at home.
You guys know how much I love pizza but what I love even more are those people who work hard to help others which is why I am thankful that Coral Sisk wrote this article "Meet the Italian women using pizza to fight inequality and abuse" showcasing a special

 series of charity pizza dinners, donating proceeds to a Verona-based anti-violence center

P.E.T.R.A

, which provides resources and shelter to abused women and their children, welcoming all nationalities and ages.

The headline is scandalous, however I found some very interesting points in this Guardian opinion piece titled "Instagrammers are sucking the life and soul out of travel" on how people see travel and what you shouldn't do (

i.e.: plan a trip on the basis of instagrammable photos, ugh). 

I really enjoyed this read by Emiko Davies for CNTraveler on a tasty Road Trip Through Tuscany. It's a good reminder to visit her in Settignano for one of those huge spritz cocktails in the piazza.
---
This Saturday, Storytellers in Florence is back with this month's theme "bad advice" and I think it is absolutely brilliant. As per usual it will take place at independent bookshop cafe Todo Modo (Via dei Fossi) starting at 7pm and ending at 9pm. You are more than welcome to just come and watch people share their stories. If you have a story to share based on this theme, be sure to contact Linda on Facebook or by email at [email protected]. 
Holy heck there is a "fiera del cioccolato" chocolate fair currently on until the 11th of March in Piazza S.S.Annunziata. There will be of course plenty addictive sweets to buy and taste and you can enjoy enjoy several live cooking shows each day of the fair. This makes the currenqtrainy, grey situation outside suddenly a lot more bearable.
Don't miss free first Sundays or "Domenica al Museo" as state museums open to the public for the first Sunday of every month, this time it lands on the 4th of March. Keep in mind that popular spots like the Uffizi gallery tend to get super packed which is why I normally try to stick to visiting the Boboli Gardens and Pitti Palace, the Bargello museum among others. Check out more info on Discover Tuscany.
Don't miss a visit to Villa Bardini for their latest exhibit showcasing "From Pinocchio to Harry Potter, 155 years of Italian illustration from the Salani Archives since 1862″ until June 3rd. The exhibition collects 300 documents of various kinds (1964-2012) of  the historic Florentine publishing house whose popularity exploded after releasing Harry Potter e la Pietra Filosofale, the Italian edition of J.K. Rowling's first book in the Harry Potter series. 
The British Institute of Florence is back with its history of art programs exploring famous artistic figures such as that on March 7th. you can join in for a one-off lecture (24 hour membership) or join the whole program. You won't regret it. In their words: "Although Artemisia spent only six years in Florence, arriving in the city at age 19, arguably her creative and technical powers as a painter reached their peak during these years and the works she left behind at the Medici court are among her greatest. But how did she manage to achieve so much so quickly, and just following a rape trial in Rome? New archival evidence about her marriage, her finances, her friends, and her patrons will put the painter in a new light, dispel some entrenched myths, and reveal the clever conceptual play behind her striking imagery for the Florentine court. Dr Barker is part of the Medici Archive Project." 
"Cheat and Draw", join this drawing class at Palazzo San Niccolo hosted by Tom J. Byrne on May 6th where you will paying attention to various methods of cheating to compose beautiful drawings & paintings using traditional & now digital tools. From the plumb line to the Camera Lucida to Augmented Reality, for portraiture and still life.
Women's day is on March 8th, a poignant day for the general celebration of respect, appreciation and love towards women for their economic, political and social achievements. In Italy, it has also been an excuse for local women to band together, have a true "girl's night" on the town without their significant others, and is home to a bevy of women-based events.  State museums are open to women for free on this day (woohoo) and Innocenti museum is offering special guided visits at certain hours (no need to reserve in advance). The Cultural Salon is back and the lovely ladies who organize such interesting events around town have a lot going on this March including an event on the 8th  "From Antiquity to the "Selfie" by Elaine Ruffolo" Slide illustrated presentation followed by hands-on project. Alternatively on the 8th, Impact Hub (a co-working space in Rifredi) will be hosting another edition of its popular "Fuckup night" where business-minded people share their failures and how it made them grow (the event is in Italian but stay tuned for an English-version coming soon, I LOVE this concept) and there will be a special evening dedicated to the women of Iran's revolution at Le Murate from 8-11pm. Close to the Ponte Vecchio at Chiesa di Santo Stefano al Ponte there will a special evening starting at 9pm showcasing "Cinque danze contro la violenza" (five dances against violence), organized by the Lyric Dance Company in collaboration with Crossmedia (20€, you can pick up your tickets at the ticket office from 10-7pm at Ponte Santo Stefano). 
Also on March 8th is a rally organized by the women's group Non Una Di Meno Firenze for the International Women's Strike along with Indivisible TUScany and Women's March Florence for International Women's Day starting at 3:30pm in Piazza S.S. Annunziata with music, poster-making, and open-mic speakers. All are welcome! The march will begin at 6:00pm through the city from Piazza San Marco and ending in Piazza Santo Spirito around 9pm. WHEN: Thursday, March 8, 2018 – Rally 3:30-6:00pm; March  6:00-9:00pm WHERE: Piazza Santissima Annunziata – Florence, Italy #WeToogether #WomeninOffice #ChangePower
One event I am truly excited about is the annual Taste food Fair by Pitti Immagine which takes place from March 10-13th taking place at the Stazione Leopolda (viale Fratelli Rosselli 5). I have been to all of the previous editions and it's always a fun experience for the tastebuds for amateurs and experts alike, I am loving the events this edition and the website has plenty of info in English (bravi). This year will be the 13th edition with a theme of "foraging" for those who like to imagine themselves handy in the woods.  
I always love the "Fuori di Taste" or outlying events at local eateries around town as much as the fair itself which is why I recommend events like this, a food-photography workshop on the 11th at Momio or a cress & beer pairing at Il Locale. Additional events worth checking out are: 
Gin & Fish. Special tasting menu at Ditta Artigianale Oltrarno will combine dish-based dishes with a pairing on Gin by local brand Peter's Gin. Saturday, March 10th at 8:30pm. 35€ a person. To reserve: 

+39 055/0457163, 

[email protected]. Alternatively there will be a gin & tonic tasting (15€) on Sunday, March 11th at 7:30pm. 

Enjoy Jewellery, paintings, and installation art in exhibition, grappas and chocolate all in order to whet your appetite for this awesome fuori di taste event. Artwork by 

Marina Calamai

 in Via Santo Spirito: n.36r near 

Ristorante Angiolino

 with chocolates and gianduiotti by 

A. Giordano

, grappa from the 

Distilleria Erboristica Alpina

, and artisanal ice cream (the famous "bocconcini") by 

Gelateria Artigiana Dai Dai

, n.27 at 

Wave Display

 will showcase a profusion of jewellery, and n.14, among the artist's works in her study in Palazzo Guicciardini, will boast a spectacular panorama of the roofs of Florence. Free visits to all from 5pm on Friday on March 9th. 

On March 11th there will be a special screening of the Japanese film  "What's for dinner mom?" by Mutsuhito Shiraha At La Compagnia theater on Via Cavour 50/r, 50129 Florence, Italy. What makes this even more awesome is that you can enjoy a special Japanese food tasting hosted by (my favorite Japanese spot) Il Cuore, for extremely affordable prices. More details here.
If you are keen to celebrate St. Patty's day there will be a special concert celebration (this looks more fun than in year's pasts) at the fun live music venue Flog (an easy bus or taxi trip away) on March 17th.
Palazzo Strozzi, Florence's foremost temporary gallery space in the center of the city, is launching its next exhibit "Dawn of a Nation: From Guttuso to Fontana and Schifano" from March 16th until July. From the Strozzi website: "a truly mesmerising exploration of art, politics and society in Italy from the 1950s to the protest years in the late '60s, with eighty works of art by such masters as Renato Guttuso, Lucio Fontana, Alberto Burri, Emilio Vedova, Piero Manzoni, Mario Schifano, Mario Merz and Michelangelo Pistoletto. The exhibition, curated by Luca Massimo Barbero, is bringing emblematic works of art together for the first time to form a display illustrating the effervescence of Italian culture after World War II, the years of the so-called "economic miracle" that marked a major transformation in Italian society, up until the fateful year of 1968." Open 10.8pm, late opening until 11pm on Thursdays.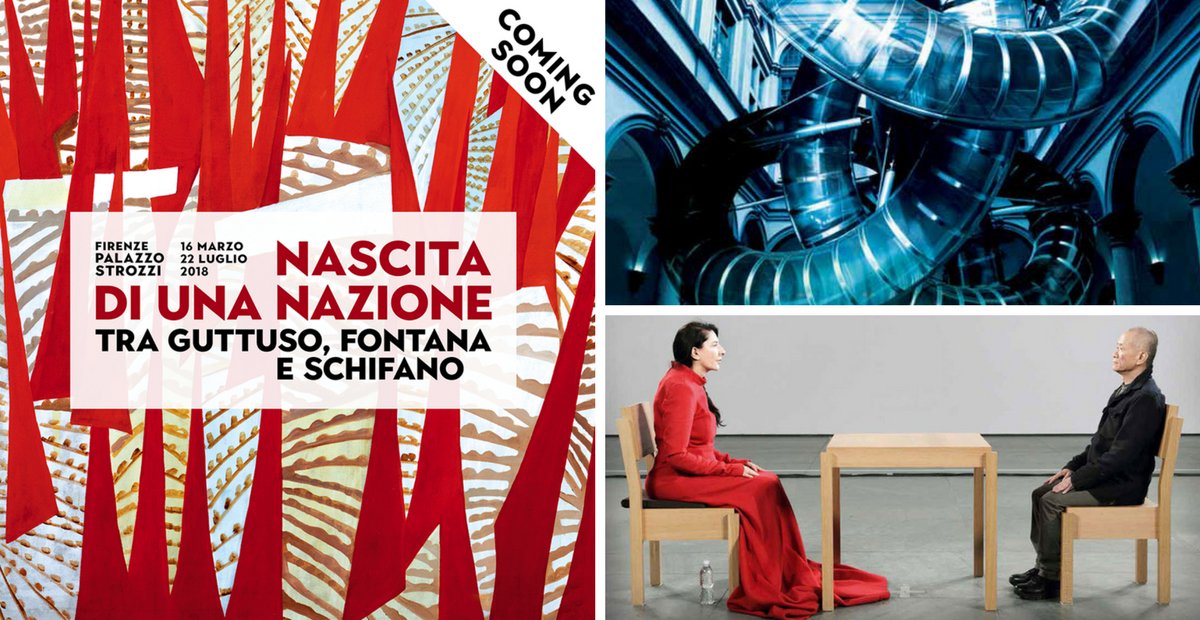 Father's day in Italy falls on Monday, March 19th together with the celebration of San Giuseppe (St. Joseph). Traditionally on this day you buy frittelle, fried sweet dough balls at a local pasticceria as a show of thanks (or let's get real, because they're good) to bring home to babbo. Actually you can probably pick some up at the organic market taking place the day before on March 18th (Sunday) at Piazza Santo Sprito (all day) during a specially-dedicated San Giuseppe market (9am-7pm). 
You all know how much I love foreign films which is why I am uber-excited for the Korea Film festival launching on the 22nd (so many cool things to do this month!) at La Compagnia theater. All films will be feature Italian and English subtitles.
Lucky for us the Fondo Ambiente Italiano, dedicated to preserving cultural heritage, has decided to host another spring initiative opening up typically closed to the public spaces for FREE visits at various locations all over Italy on March 24th and 25th. I really appreciate what they are about since because of them, I discovered this library  two years ago during the same sort of weekend. 
One fun event many non-Florentine natives would appreciate is the celebration of a Florentine new year on the 25th of March! According to the old calendar of Florence (celebrated up to 1582 before it switched to the Gregorian version), this is New Year's Day in our city in the center of the Renaissance. Typically there is a historical parade in the afternoon, starting around 3:30pm at piazza davanzati up to via dei servi, ending in piazza ss. annunziata where there will be an all-day market.
Those of you natural wine enthusiasts would certainly enjoy this blind tasting at new hip spot Vineria Sonora on March 27th near Sant'Ambrogio. More details on how to book here.
The perfect bad weather (or good weather, let's be honest) activity is a trip to the trusty cinema, in my case our beloved original-language theater Odeon which is back on track with a superb list of options including a special Oscar Week from March 6th to the 12th (check out their Fb page for the latest news on that). Notable movies this month include Phantom Thread check out the program until March here  Price: 8 euros for a normal ticket.
Ps. Enjoyed this post? As always, I appreciate your support and comments so please share this article with anyone you think could benefit from a friendly-Florence roundup and I'll be forever thankful! I also included a Pinterest-friendly pin here.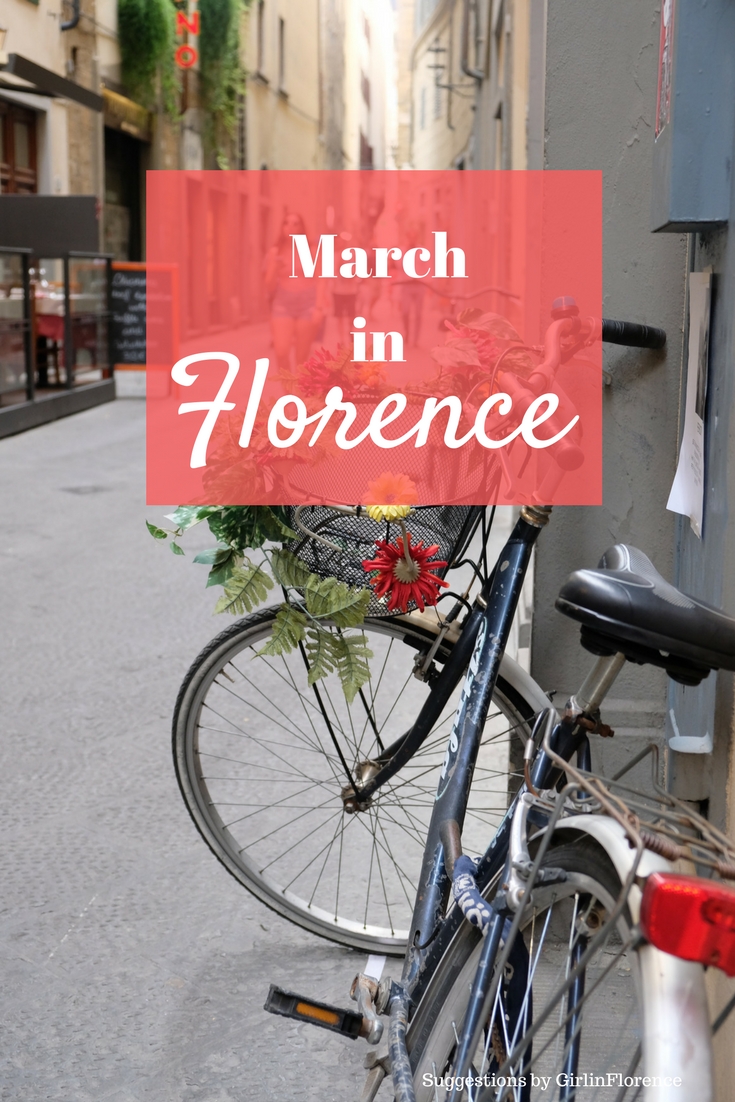 SaveSaveSaveSaveSaveSaveSaveSaveSaveSaveSaveSaveSaveSaveSaveSave
SaveSave
SaveSave