I absolutely love September. 
The humidity of August has a tendency to linger, sure. But what lies in waiting is the promise of cooler evenings and an abundance of everything, events, food festivals, wine, work. Traditionally in Italy, September marks the start of wine harvest season when farmers start collecting grapes from their vineyards. Truth be told, this summer has been a hard one for farmers. Friends who live and work in the countryside have told me that many people have started harvesting early because of the high temperatures and sustaining drought.
On another note my thoughts lately are of those affected by tropical storm Hurricane Harvey in Texas, which is currently wreaking havoc in my home state. Luckily my own family is safe in San Antonio, but it is important to stress that Texas isn't the only place in the world affected by flooding. On a positive note, I've seen image after image of people coming together and helping those affected by the flooding, and animals too. It's incredibly inspiring to see people coming together for the common good in spite of such political and social divide lately in America.
https://www.instagram.com/p/BYXqSdqDqnI/?taken-by=girlinflorence
Link love for the month of September
Thanks to Visit Florence and Discover Tuscany is this list of fun events and festivals all around the Tuscany region.
 I loved this roundup of great pasta moments in film history by Saveur Magazine. 2017 Saveur blog awards Jul's KitchenPs. Make sure to vote for for the , her category is "best weeknight dinners" and I can't think of someone who deserves this more.
Never in a million years did I expect one writing contribution I did for Lonely Planet's roundup of cool neighborhoods around the world to go so viral in local news. While some people might not agree with me on the choice of place, or rather me highlighting a historical area very much appreciated in Florence

—

I stand by my choice 100% and will be coming out with a more comprehensive guide on the area to be published on the blog this month.
I am so so excited about Humans of New York's new video series on Facebook. I avidly read each post on instagram and seeing people's stories on video is icing on the cake. It serves as a reminder of just how similar we as humans really are, especially important in a time when it is so easy to "categorize" others by stereotypes based on fear.
For those heading to Rome anytime soon, my friend Natalie of An American in Rome has a great list of 50 free things to do in the Eternal City. Who wouldn't want to bask in the gold gilt mosaics of Santa Maria di Trastevere?
Food writer, blogger and friend Emiko Davies has been killing it on the video arena and I love this video recipe for ricotta and spinach gnudi and you will too.
I thoroughly enjoyed reading this compilation of embarrassing travel stories by Jodi from Legal Nomads. She admitted to a hilarious verbal faux pas in Argentina that I can entirely relate to in my 10 years in Florence with the Italian language.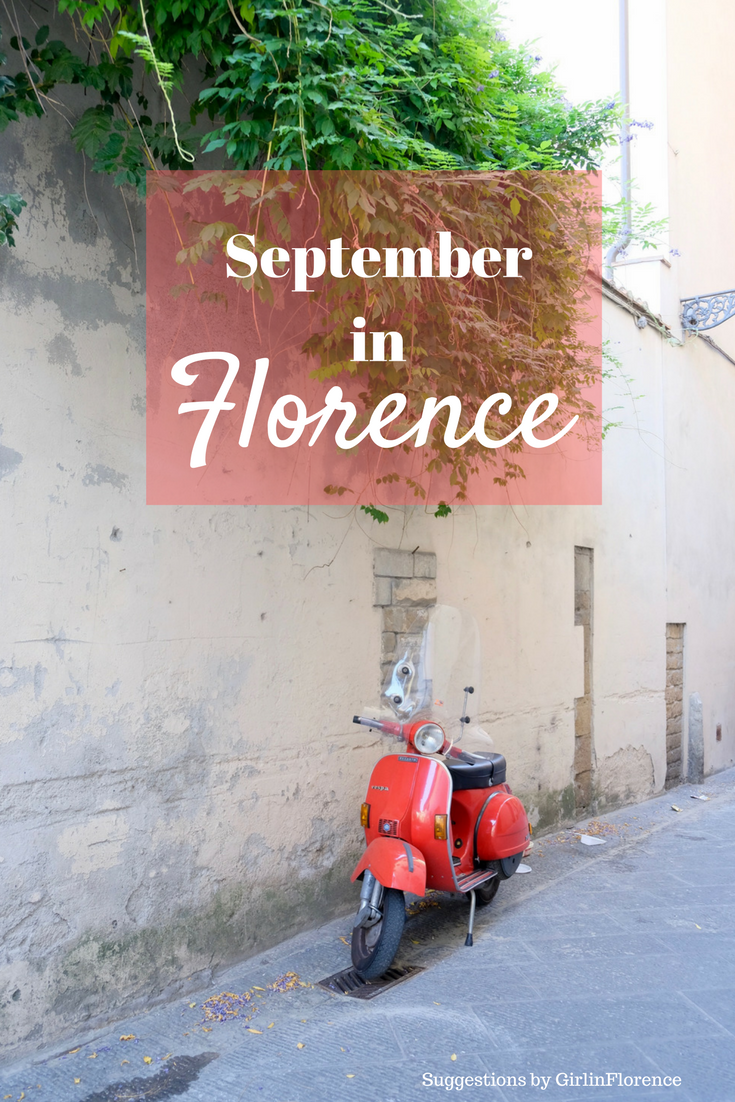 This weekend, September 2nd and 3rd, marks 'La Fierucola del Pane,' the city's oldest fierucola (market selling biological products and promoting the use of organic and biodynamic farming on a small scale.) both today and tomorrow in Piazza Santa Maria Annunziata. In its 34th edition, the first weekend of September will feature an open-air food market in piazza santa maria annunziata, all-day long (9am to sundown). Here you can find not only bread, but organic honey, other foods and artisan-made goods. More info can be found here (In Italian).
Also this weekend (what a way to kick off the month, seriously) is the annual "Open studios" run by and at German cultural institute and artist residency Villa Romana. Expect live exhibitions, guided tours, video installations, a dj set and plenty of other artistic offerings that are free and open to the public. More details can be found here. 
September 3rd (Sunday) marks the last day of a weekend of opera, cuisine and music in one of the most stupendous gardens in the city of Florence.  The "New generation festival" is set to bring the best, young music talent to a world stage.   What's even cooler is that you can order a luxury hamper to enjoy during the show (comes with Florentine specialities & a bottle of wine). Tickets range from 35€ and upwards, more details and where to book here.
First free Sundays is something I have been including in every monthly lineup because how amazing is it that in a city with so many museums, they offer at least one day where you can visit some of the most important places in town, for free. This time the day lands on September 3rd. I recommend visiting lesser-known but incredible places like the Bargello Museum, Palazzo Vecchio and the Brancacci Chapel near piazza della carmine. More info can be found here on which museums are free and open.
I also spotted online "Made in Taiwan", a solo-exhibition of photography student Matt Che-I Liao which will be running from September 1-6th at Caffè Letterario Le Murate, Free entrance! The exhibition presents Matt's pictures captured during travellings, in which he focuses on people, culture and issues they deal with. 
Don't miss the singer/songwriter showcase at The Goose Pub on September 5th (9pm-12am). Along with the open-mic, they will also have feature singer-songwriter Giulia Millanta, a native-born Fiorentina who now calls Austin, Texas home. In their words "A creative and prolific artist, she has released four albums and tours regionally, nationally throughout the USA, and internationally." 
I highly recommend joining a charitable evening on the terrace of Forte Belvedere on September 7th (a Thursday), to raise funds for the people affected by a terrible earthquake that devastated the town of Amatrice in Italy on August 26th, 2016 in central Italy. Along with enjoying pasta all'amatriciana, participants will also be able to taste the signature "dishes" of a dozen important chefs from the Florentine and Tuscan landscape including Paolo and Andrea Gori, Maria Probst, StefanoPellegrino Frassineti to name a few. The evening program includes a buffet dinner open to the public, with a participation fee of 25 euros that will be entirely donated to the Italian Red Cross to continue helping those affected by last year's disaster. The event starts at 8pm at Forte Belvedere. If you can't be there but want to donate, send your donation to this Iban IT37O0832773470000000005400, which is headed by Amatrice City Council and write "Adotta un'opera" for reconstruction. For more information email [email protected].
September 7th is The Festa della Rificolona, or annual Festival of the Paper Lanterns in honor of a Christian holiday celebrating the birth of the Virgin Mary (which is on September 8th). In Florence this festival also marked a time when farmers living outside of the center would parade into Santissima Annunziata carrying paper lanterns on the evening of September 7th to then sell their goods in a market in the same square on September 8th. On the 7th around 8pm in Piazza Santissima Annunziata expect to see a large number of local Italian families carrying fun paper lanterns that local kids try to set on fire by launching spit wads (I kid you not). Honestly it's pretty cool to see in person, especially if this is your first time in Florence.
Also on tap for extended hours for visits is the Uffizi gallery. This summer's prolonged hours run through September 26 every Tuesday. On these Tuesdays, concerts and other exhibitons are offered as brief "intermissions" while visitors navigate the museum's halls. There are an excited array of events this month worth attending and you can get the fill update on each Tuesday's performance here.  My preferred pick this September in their series is on September 19: The protagonist of this evening will be the hiphop dance company Mystes with a choreography titled Lucida follia inspired by the painting "Judith who decapitates Holofernes" by Artemisia Gentileschi. Various styles of urban dance will be accompanied with electronic music.
Don't forget to check out the  Ytalia exhibit which features over 100 contemporary artworks themed on "energy, thoughts, beauty" by major Italian artists in key locations around Florence until October 2nd, this includes Forte Belvedere, Palazzo Vecchio, Museo Marino Marini, Palazzo Pitti, The Boboli Gardens, the Uffizi Galleries, Santa Croce Church. We visited the 16th century Forte Belvedere which hosts many of the works including a giant skeleton lying down in front of the panorama of the city and so much more. It isn't free this year but residents can buy a card for 2€ for the whole season (bring your residency document) while visitors will may a 3€ entrance fee. There is also a special bus taking visitors from Pitti to Forte Belvedere every thirty minutes so make sure to take advantage of the ride.
Enjoy live music on select evenings at Flower at Piazzale Michelangelo, a great little spot overlooking the city and I'd dare say bring a light jacket or sweater as it is starting to get chilly in the evenings. Here is the musical program for September.
Tired of your used clothes cluttering your house (story of my life) well lucky you because this September there will be "Only Usato" a "mercato dell'usato" used clothes fair and everyone is invited. On September 9th from 12pm-9pm people will be selling their clothes (email them in advance to nab a spot), listening to music, having a drink. It sounds like a pretty fun affair. address: frigo* via della chiesa 27/21r, Firenze
My favorite local food festival "sagra del tartufo" is BACK from September 2nd to September 24th and I am gearing up my stomach for what will hopefully be return trips to the neighborhood of Girone (in the suburbs of Florence) to try everything truffle. In its 33rd year of existence, volunteers from the Italian blue cross organization come together to serve truffle pizza, truffle bruschette, pasta with truffle, truffle sausage – I sound a bit like Bubba Gump but you get my drift.
It's cheap, fun and easy to get to via the bus line 14 (towards Girone) which you can catch at the station, it takes about 25 minutes to get there and it is the last stop. More info is here (in Italian).  You sit at communal tables, the light is way too fluorescent, and there are plenty of Italians. They have a new structure this year which elevates  the "sagra" feel this tear. I love it! address: head to Piazza Sandro Pertini, Fiesole then take a left to find the new structure. 
https://www.instagram.com/p/BIz46UqBtS6/?taken-at=137967937
September 6th marks this month's open-mic night at Tasso Hostel where anyone can perform their original content to a fun group of locals. Everyone is welcome and in any language. This month's theme is "back to school" and this session's host is MC Lee Foust, a longtime Florentine resident and founding member of the Florence Writers and the Open Mic. Anyone who wants to perform a song, read a poem, an excerpt from their book or writings is welcome to join the fun. 
Not in Florence part one is in the adorable town of Pontassieve, a very easy train ride from Santa Maria Novella and trust me, I'll give you a good reason to visit. I'm talking about Cookstock, an annual festival revolved around food, music and wine (naturally) taking place from September 8th to the 10th. 
Not in Florence part two but this is an event close to my heart and would be such a wonderful experience for anyone visiting Florence on September 9th. A wonderful organic winery Querceto di Castellina (in Castelina in Chianti, a hour from Florence) is hosting their final vineyard dinner of the season showcasing the culinary delights of La Tenda Rossa and Querceto's fabulous organic wines. Reserve your spot by emailing [email protected], +39 0577733590 or [email protected], +39 055826132.
https://www.instagram.com/p/BXswoPNjDXd/?taken-by=girlinflorence
Get out of town! For fellow instagram lovers or anyone who wants to meet Tuscans, you'll want to go to the Mugello (in the Tuscan countryside) on September 10th. The event is in honor of the 750th anniversary of Giotto's birth organized by Mugello and Lo Studio Visionary Agency, and is dedicated to discovering Giotto, the "green Mugello", enjoying good food and of course, Instagram.The event will take place in Crespino sul Lamone, a small and quaint village surrounded by the forests of Alto Mugello. Lunch costs 10 € per person and includes a fixed menu (Polenta with meat sauce or alternatively beefsteak and pork sausage with french fries + homemade desserts at will + red wine and water ).
Crespino on Lamone can be reached by car or by train from Florence. The event is also open to families with children of all ages. More info and how to reserve your spot can be found here (in Italian).
PROGRAM:
– 12.43 pm Arrival in Crespino by train (departure from Florence SMN 11.40)
– 13.00 Lunch at the Circus of Crespino
– 15.00 guided tour to the Madonna of Jacopo del Casentino and Crespino
– 17.00 hours return by train to Florence (or 19.12)
My friends over at Relax Firenze, a center dedicated to wellness in the center of Florence, are hosting an open week September 11-16th offering free classes to anyone interested in trying out yoga, nia and pilates. This is a great chance to see if this could be the place for you regarding fitness or just to get to know the variety in their services.
https://www.instagram.com/p/BYbd6HxA_wY/?taken-by=relaxfirenze
On September 12th check out the opening of exhibition Party of One, a selection of recent video, photography and sculpture works by artist Anna Rose, suggesting a sense of both solitude and playfulness, in which the roles of quotidian objects and familiar symbols are scrambled, entering into a game of shape-shifting mythologies. The opening starts at 6pm at the SACI Madoff Gallery, address: Via Sant'Egidio, 14. The exhibition can be seen until October. 
A friend let me know that September 12th there will be an informal discussion about Baret Magarian's novel The Fabrications which has been hailed as "a brilliant achievement" by Jonathan Coe, as "sparkling and resplendent" by Kirkus, and as "dazzling" by the Albion Beatnik Press. The discussion will take place at St. Mark's English Church on Via Maggio from 7-8pm. This would be a great chance to meet the wonderful group from "Florence writers." 
My friends over at The Florentine are hosting a 12 hour open day (10am-10pm) in San Niccolo on September 14th at Palazzo San Niccolo offering the public a chance to join the team behind-the-scenes and sit in on interviews, seminars, workshops that you can pre-book and more. I love that Mary Gray will be leading a chat on rented-related tales that surely would be hilarious to witness. I've been there oh weird apartments in Florence. Also don't miss Emiko Davies photography workshop! It should be a fun day.
I'm really about a jazz fringe music festival leaving the city of Turin and coming to the Oltrarno this September from the 13th to the 17th. Expect over 200 artists and 50 FREE performances in various locations on the "other side of the river." I haven't yet found a full program on their FB page or online but I would keep checking here for updates in that arena.
A festival that brings together man, woman, children and precocious beagles, the gelato festival from September 14th to the 17th will take place in piazzale michelangelo featuring the creative flavors of up to 16 gelato artisans!  Time 12pm-10pm nightly. Get your gelato card online and find out more information here.
You might have spotted a ferris wheel peeking out from the trees in Parco Cascine, the city's largest green space. Its part of the annual la Festa dell'Unità, an annual festival hosted by the PD political party, essentially a community festival with plenty of street food, games for kids and of course the giant ferris wheel. Open until the 17th of September, check out the full program here.

Almost 300 years later, the last two heirs of the Medici Dynasty are brought back to life in a multimedia masterpiece of "infotainment," that combines digital reproductions of the family's extraordinary and invaluable artistic patrimony with live theatrical performances. The Show honors the memory of this legendary family and its artistic, scientific, cultural, and spiritual contributions both to the society of its time, and to society today, as it has served as a source of inspiration across the world. facebook.
There are five shows every day except Monday , all lasting a duration 1 hour. All shows will be held in English and the first show to kick off the season is on September 5th. where? at the former Convent of Sant'Onofrio delle Monache di Foligno (via faenza 48). More info: email [email protected]. full 30 €, students (to age 25) 20 €, children under 12 free, family options are also available. official event website.
I love browsing antiques and every third weekend of the month (this month September 16th and 17th) is a large outdoor antique market at Fortezza di Basso. Alternatively, you can enjoy the expansive flea market every last weekend of the month in Piazza Ciompi.
https://www.instagram.com/p/BYVIfR_DNUb/?taken-by=girlinflorence
Join a nice group of folks for a discussion with local experts on animal rights and what is right for animals on September 21st at 7-9pm at the St. Mark's English Church in Florence. Topics include spaying and neutering your cats and dogs, how to be a responsible pet parent, volunteerism, and the problems surrounding animals in tourism/entertainment.
Art lovers will be seriously excited about the new exhibit opening at Palazzo Strozzi this month. "From 21 September 2017 to 21 January 2018 Palazzo Strozzi will be hosting The Cinquecento in Florence. From Michelangelo and Pontormo to Giambologna, a spectacular exhibition devoted to the art of the 16th century in Florence showcasing over seventy works of art by such artists as Michelangelo, Bronzino, Giorgio Vasari, Rosso Fiorentino, Pontormo, Santi di Tito, Giambologna and Bartolomeo Ammannati." 
On September 24th returns the annual charity run "Corri la Vita" which is always a pretty big deal around Florence. For 10 euros you can donate to charity supporting the fight against breast cancer and join a pretty famous marathon in the city. It starts in piazza duomo and ends in piazza della signoria. Plus you can get a cool t-shirt and have an excuse to eat lasagna for breakfast  Sign up here. 
On the last Saturday of September is something truly unique in Florence, the arrival of the Carro Matto (crazy wagon). Through the streets of Florence will be a parade featuring traditional white oxen pull a wine laden "carro" (wagon) filled with wine flasks from Chianti Rufina to celebrate Tuscany's wine harvest. Usually the fun takes place around 3-3:30pm. 
September 30th, cookbook author, blogger, general badass and friend Emiko Davies will talking about her latest cookbook "Acquacotta" (offering recipes and stories from Tuscany's silver coastline) at Todo Modo Bookshop (in the center of Florence). It will be a great chance to meet the author and pick up one of her books which I use religiously on a daily basis. Time: 18:30. See this and her other events this September here.
While not exactly a specific event, don't miss the chance to visit one of the city's rooftop terraces before they close for the season. Most of which are on top of hotels where anyone can go for an aperitif drink, or sometimes even stay for dinner but if you want a budget-friendly suggestion, head to the Cafeteria at Oblate Library for a birds-eye view of the Cupola. Otherwise the hotel terraces offer a beautiful, panoramic view of the city – just be aware that drinks will often be a little pricer and often are just average in quality (with the exception of Excelsior).
B-Roof is the newly inaugurated rooftop bar on Hotel Baglioni. It is the ideal place for a sundowner aperitivo with a large, expansive terrace at your beck and call with a bird's eye view of the Duomo cathedral (and not only). Dig into curated snacks and fun cocktails, keep in mind that it's best to make a reservation. Added bonus, you are very close to the train station should you need to jet off quickly. +39 055 23588865 www.hotelbaglioni.it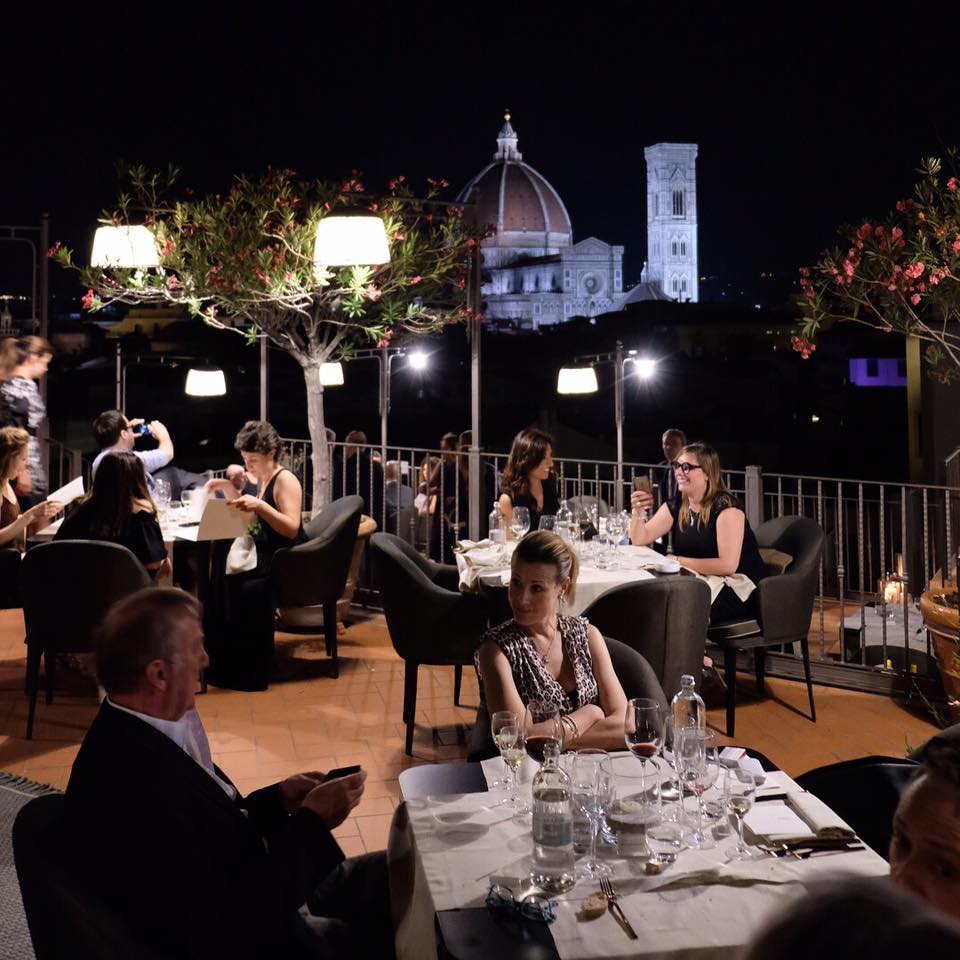 "La Terrazza" on top of Hotel Continental is open to the public and is a sexy, sophisticated spot to sip a moscow mule with a birds-eye view of the Ponte Vecchio. Pricey, cocktails cost around 16 (if not more) euros, open daily from 3:30pm-10pm. address: Vicolo dell'Oro, 6r – 50123 Florence, Phone. +39 055 2726 5806 , E-mail. [email protected].
S.esto at Hotel Excelsior is a prime spot for fashionistas to grab a drink on one of the best terraces in town. I would skip dinner here and just get the drink. Piazza Ognissanti, 3. Open 7:30pm-10:30pm.
Say hello to the Duomo! Grand Hotel Cavour is my usual choice to take people for a drink with an awesome view. I like its intimate feel, not outrageous prices and niceness of the bar staff. Drinks aren't as great as Continental but I assure you, this place is worth visiting without giving your wallet a heart attack. address: Via del Proconsolo, 3.
Oblate stays cool. On top of the Oblate library lies a cafe that is quite popular with the Italian student population. The great thing is you can also get a drink here and prices are cheap so this is a wonderful option for those who are on a budget, but still want the Duomo smack in their face. address: via dell'Oriuolo, 26. Cool place to organize a private aperitivo as well. Info here.
Hotel Plaza Hotel Lucchesi's stunning rooftop terrace by the National Library has stepped up their game this year by hosting a special aperitivo night each Sunday with food by popular chef Simone of Essenziale. Also on tap are two special dinners on Thursday the 22nd of June and Thursday the 13th of July

 with a themed "sac dinner" by gourmet restaurant La Tende Rosso. 

reservations recommended Prenotazioni ed Informazioni allo 0552623500 [email protected]. address: 

Lungarno della Zecca Vecchia, 38.
Grande Hotel Minerva, '360 Three Sixty' Rooftop Bar: has a new menu for 2016. Next to the pool in piazza santa maria novella, this place is too cool for words which is perfectly in line with the hotel's recent renovations. Open daily from 7pm-midnight.. Drinks range from 6 euros for a glass of prosecco and 12 euros for a cocktail. Email [email protected] for a reservation.
Hotel Torre Guelfa has a tiny bar on Borgo Apostoli on top of an ancient tower (you have to ask at reception if they have space, hotel guests get first priority). The view from here is one of the best in town and drinks are as affordable as 9€ for a spritz (a steal on a Florentine rooftop). The cover photo of this post was taken there.
SaveSaveSaveSave
SaveSaveSaveSave
SaveSave
SaveSaveSaveSaveSaveSave
SaveSave
SaveSaveSaveSaveSaveSaveSaveSave