I have to admit, I didn't know much about Rome's districts until much more recently, at least in any real depth and I probably still don't. It's a big city, a place where most people stay in their preferred quarters and with big cities, come big opinions. The last time I visited I stayed for a week, a lot longer than normal (Florence is just an easy hour and forty-five minute train hop to Termini- hence short trips are totally doable) all in order to change neighborhoods a few times. It was a lot of fun and quite exciting since I was mostly on my own. I know I am going to do this again, because my sheer curiosity for the place ensured that I still feel like I am barely scratching the surface. That being said, I write a blog purely so that I can share these experiences with you all. We can together be tourists attempting in our own way to discover this vast and complicated city.
During my last trip, first stop was pretty Monti, next up, I went "beyond the Tiber" to Trastevere, the 13th rione (district) on the western side of the river, which I admit, heard was a bit like the city's souvenir shop. However, it carries a long history. During the Roman times, it was a violent place, home to former slaves who became freed. A true village in its own right. This opened it up to being a favorite place for Jewish traders (whom later moved across the river) and plenty of foreigners and artists, and that hasn't changed since. According to Foders.com "Raphael's model and mistress, the dark-eyed Fornarina (literally, "the baker's daughter"), is believed to have been a Trasteverina. The artist reportedly took time off from painting the Galatea in the nearby Villa Farnesina to woo the winsome girl at the tavern now occupied by the district's most toothsome restaurant, Romolo's."
For additional history, my friend John Henderson wrote this great piece on a tour he took of the area for The Local Italy.
However, I was game to find out more for myself, it certainly was pretty enough with leaves draped over arches, its small streets express a breath-taking labyrinthian type of experience. I certainly got lost on more than a few occasions and was more than happy to do so. Even just lingering in Santa Maria in Trastevere made me appreciate a neighborhood I never really thought about discovering in year's past.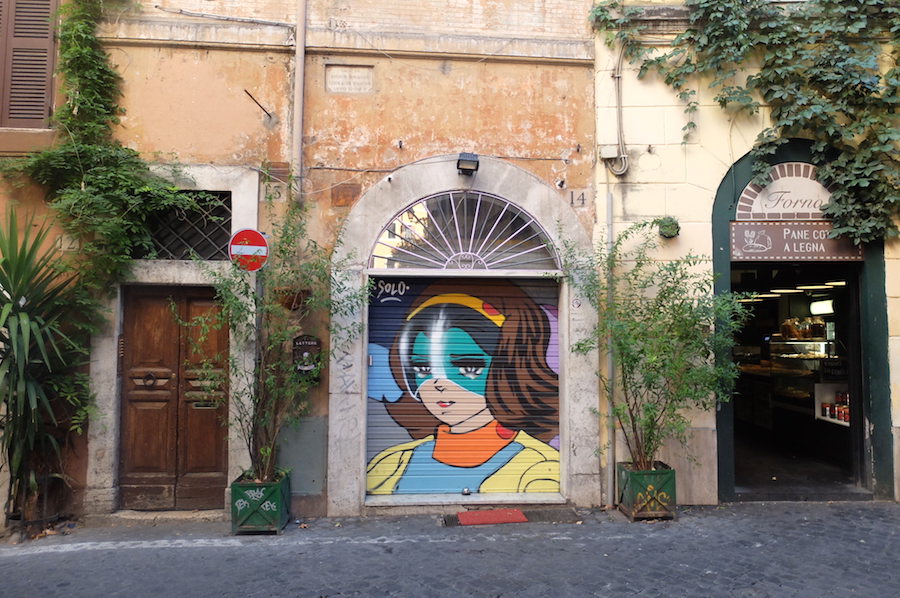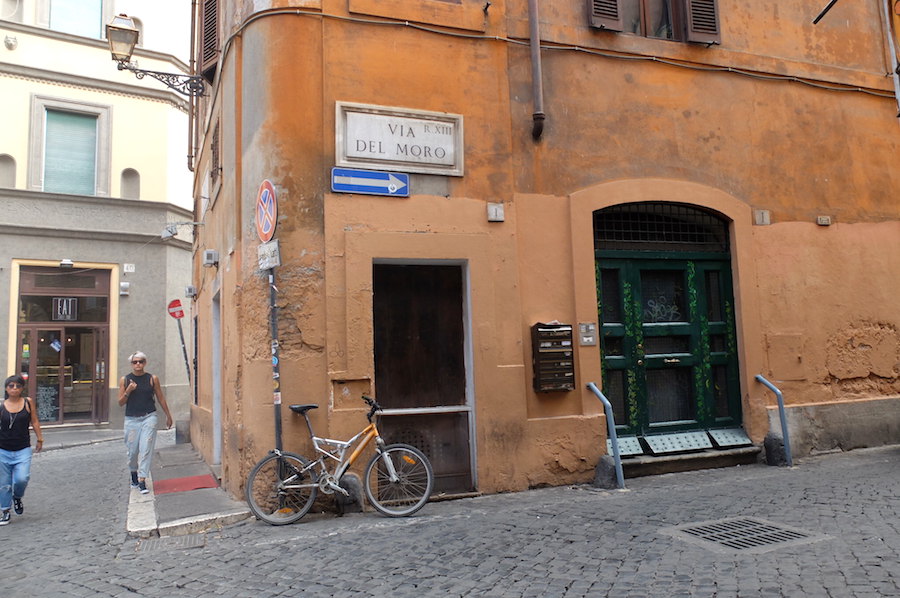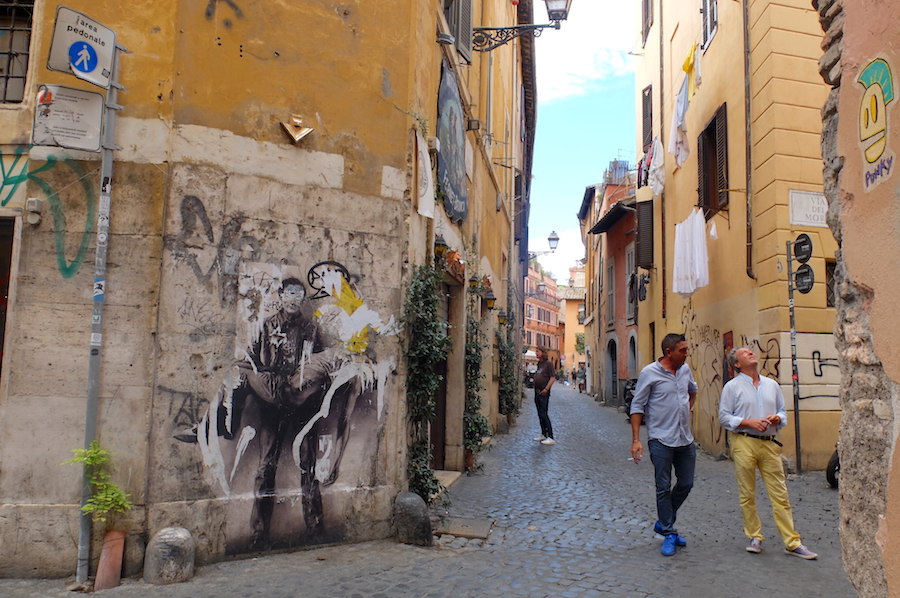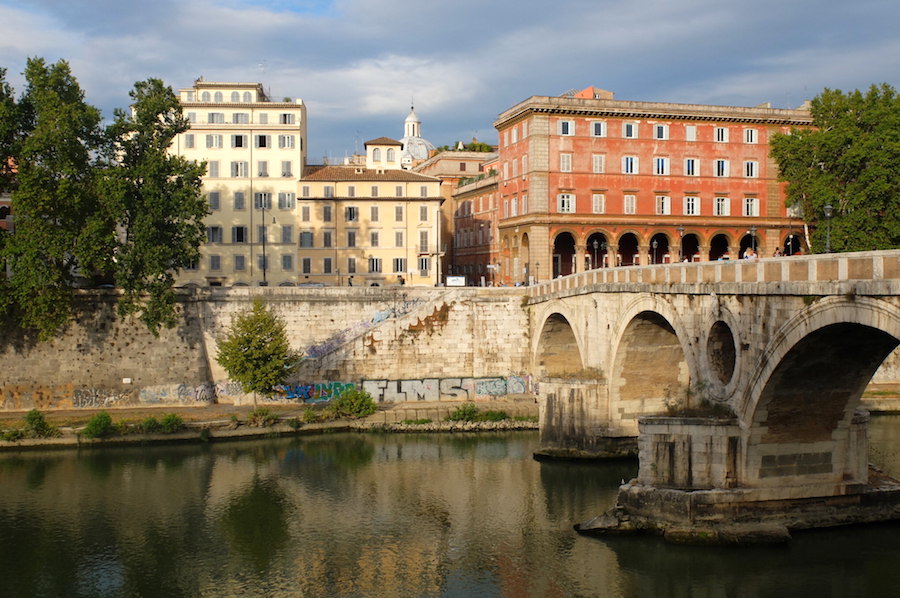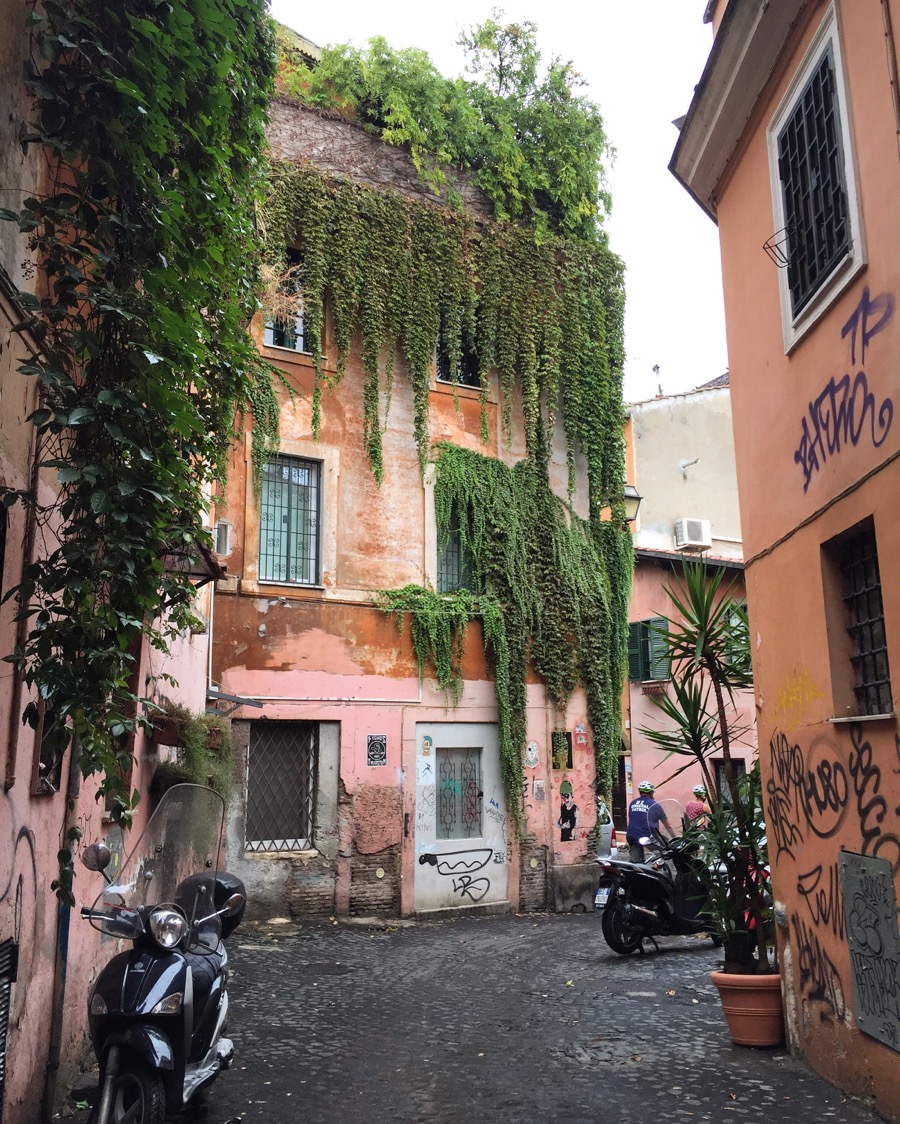 When it came to accommodations, my friend Linda and Steve helped me out with an apartment in Trastevere through their Cross Pollinate network of vacation rentals which they have been running for over ten years. First as a personal recommendation system for those they had to turn away from The Beehive, then as an alternative to the mainstream accommodations of the period. What's refreshing for me about them is that they have cultivated relationships with apartment owners all over Rome (and Europe for that matter) and have personally visited/stayed in each one so you know you'll get an honest assessment (you don't see that from Airbnb).
A quote from my friend Steve about CrossPollinate: I think what makes us different is that we don't want to be peer to peer – we want to act as a screen and a filter between travellers and accommodation providers, so that our site only has options that we feel are worthwhile for the price. We also want the experience to not be overwhelming – I find having too much choice is crippling to me. I want someone to just tell me the best area, the best place, etc. for what I have to spend, and that's what we try to do.
The studio I was in is perfect for budget travelers, prices range around 65€ (low season) and upwards. Booking the place was seamless and easy, confirmation was sent in a timely manner and I was easily able to arrange a check-in time with the owner close to my arrival date. My tiny 16th century apartment was perfect, formerly the stables of noble Roman families — it had a small living room with wooden beams, a small but neat corner kitchen, double bed and bathroom with shower. What it lacks in natural light it makes up in serene silence, which changed immediately once I left the main door of the building.
Since I work remotely, I was utterly grateful that the WiFi worked perfectly (never a guarantee in Italy). It was charmingly quirky in all of the right ways and I think the landlady and I really hit it off as I stumbled through the doorway, totally ok with a very intricate locking system. There was an inner door leading out to the inner courtyard which allowed you to see outside but allowed no-one to see you, a mainstay from when the owner's mother liked to spy on her neighbors. You gotta love intel like that.
[easy-image-collage id=14293]
Favorite Coffee Bar – Go Old School With 
Bar San Calisto
On day one after checking into trastevere, I needed coffee, and I needed it ASAP. I started wandering around Trastevere, avoiding places with red-checkered tableclothes and beckinomg me in like I needed convincing (seriously?)  and eventually found an old school coffee bar, San Calisto, in a square of the same name serving up cappuccino and espresso at the prices they should be. It was packed to the brim with people, to my right, a man screaming in his cell phone, to my left, a older woman joining her friend at an outside table chain-smoking while downing express and glaring at people. It was gritty, it was perfect.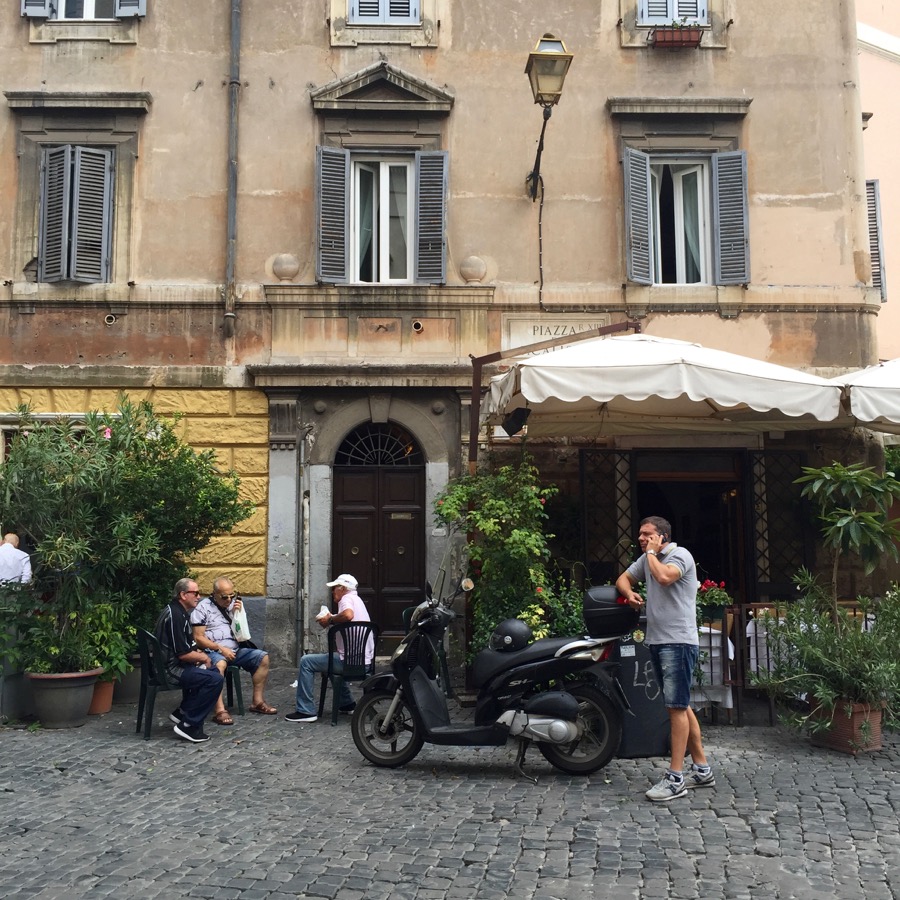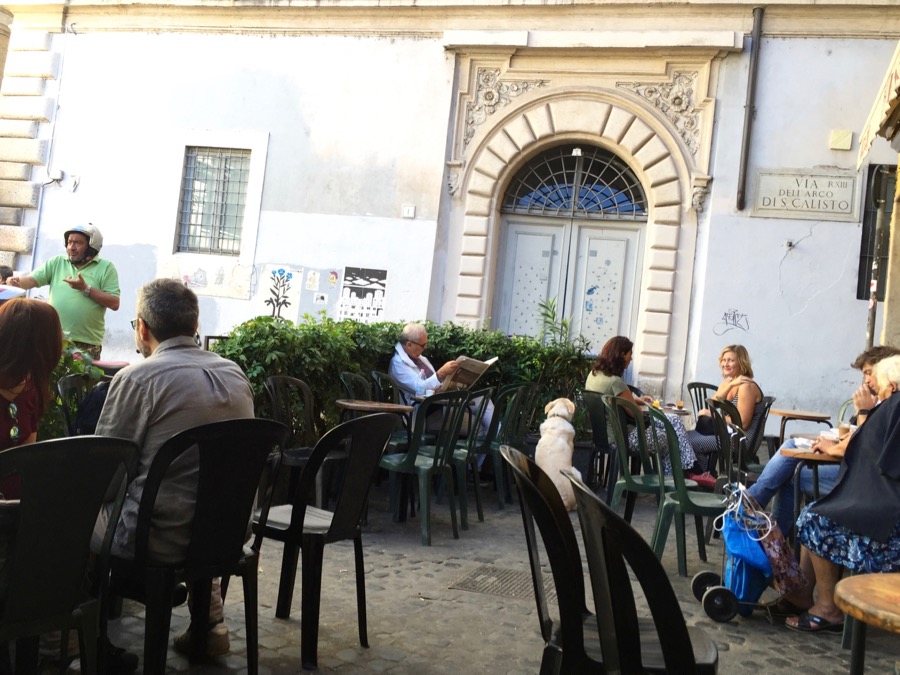 Slow Travel Trastevere – Favorite Sites
While I'd argue that Trastevere itself is a "site" worth breathing in slowly (and before nightfall when local foreign students come here to party), there are some places around this neighborhood that I loved. For one, you can't miss Piazza di Santa Maria, the obvious stop after a coffee at Bar San Calisto.
Located in the square is 12th century church Santa Maria in Trastevere complete with a Romanesque bell tower. I popped in one morning and was genuinely wowed by it's golden opulence and six Cavallini mosaics, the first church in Rome completely dedicated to the Virgin Mary. The beautiful portico is a later edition, added in the 1700's by Carlo Fontana, there are a few latin inscriptions that interested me but at the time I was being yelled at by an older woman asking for money so I'll have to get back to you on those inscriptions another visit.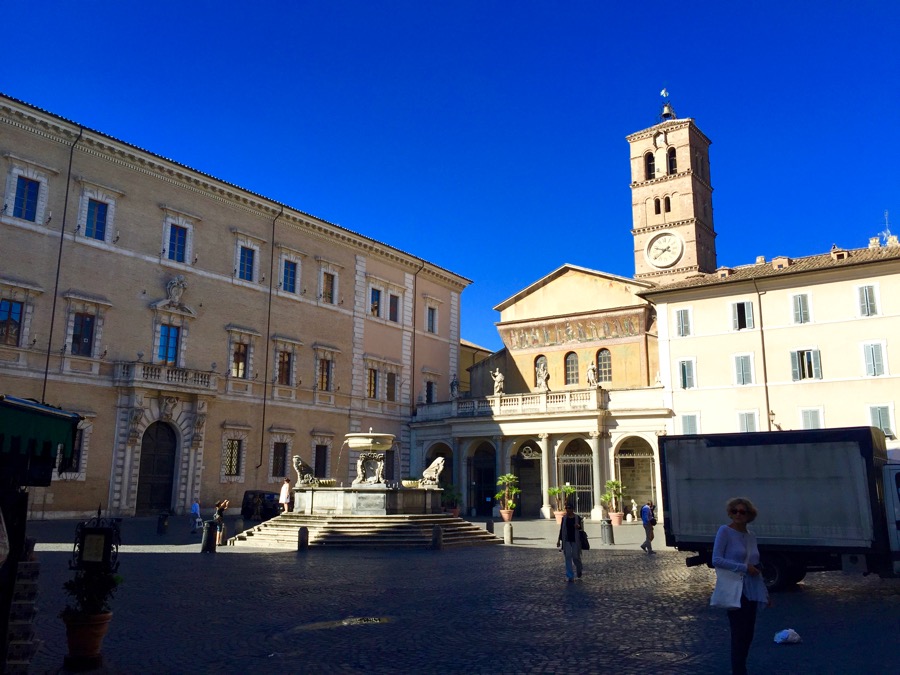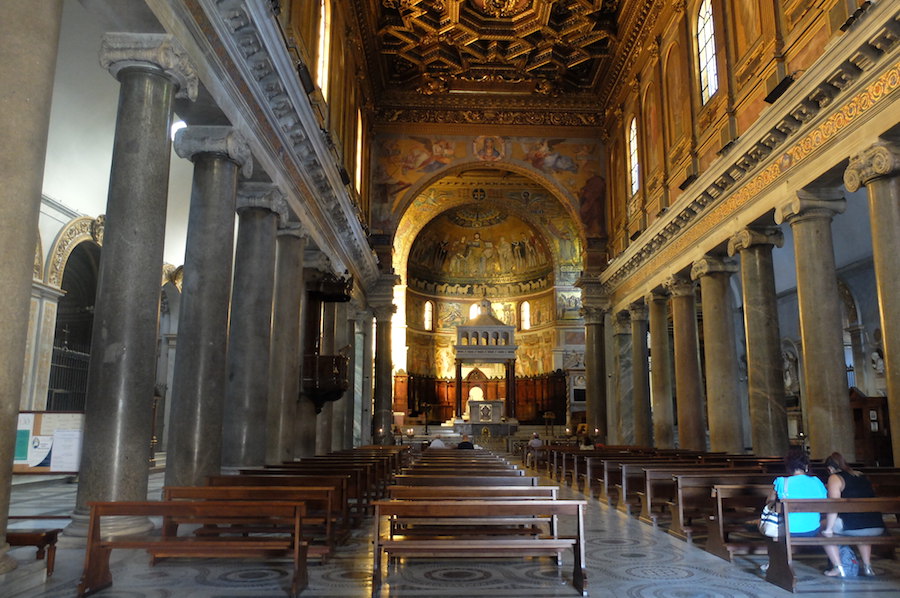 Your Neighborhood Market
I knew things were moving in the right direction when I came across the morning market in Piazza San Cosimato, a mainstay since the early 1900's though it got a refresh in 2006. Word is that the locals weren't too happy about the new renovations and the feeling was that people come here more to socialize than actually buy food (though there was a decent variety). I definitely noticed a marked change when venturing to this area as it seemed to attract less visitors and more locals, reason enough to walk a little further while in Trastevere.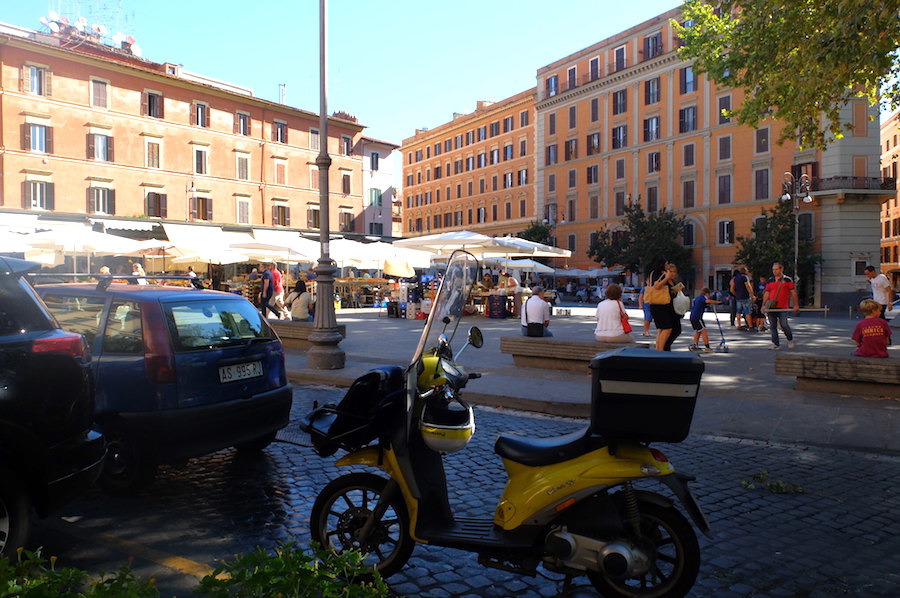 Near the market is a small French bakery Le Levain which is worth pairing together with a visit to the market. You'd just about miss it but the buttery aromas are enough to entrap the wariest of skeptics. It's a bit of France of Rome, the brainchild of Puglia-born pastry chef Giuseppe Solfrizzi who like me, loves butter and is dedicated to quality ingredients, think organic stone-ground flour from Molino Grassi e Montebello, and whole wheat bread with flax seed. Unlike so many crappy frozen pastries you'll find at typical Italian coffee bars, their pain au chocolat and flaky croissants are baked on site, you can spot the laboratory in the back.
It was a great morning routine after Bar Calisto to enjoy breakfast and check my emails in the cute environment. I even had a peek at their FB page today and saw they baked a Galette des Rois, traditionally eaten during New Years in France and I felt a deep pain of envy as that was one cake I forgot to get during this Christmas's trip. I guess all I had to do is go to Rome.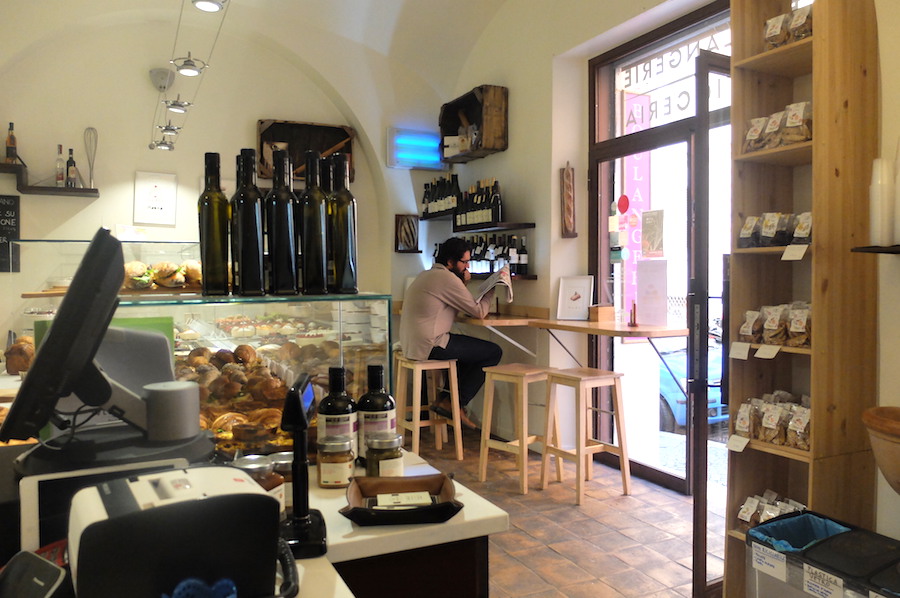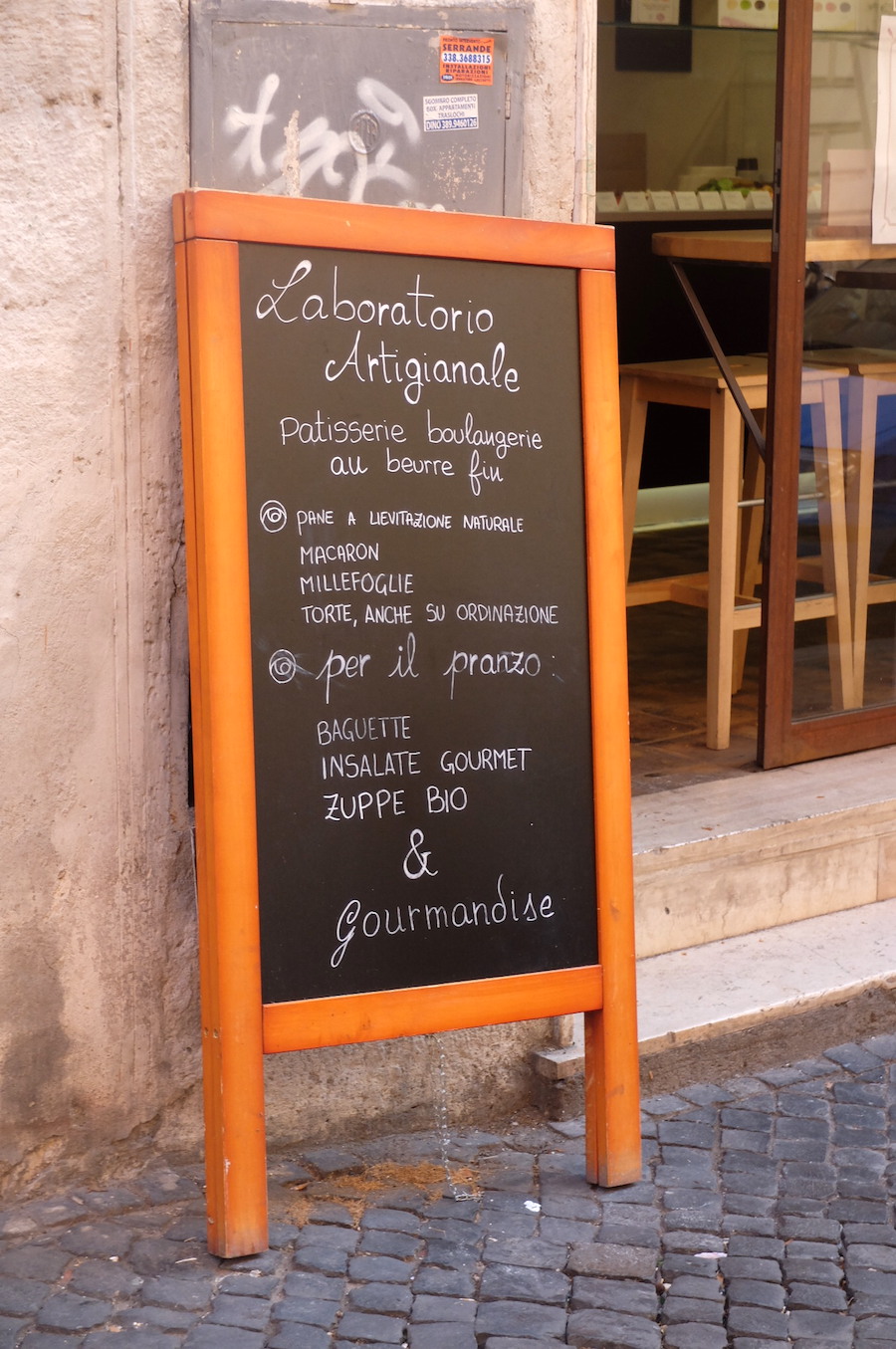 Food For Thought – Notable Lunch Spot in Trastevere
While I admit that I didn't exactly search extensively for eateries in Trastevere as I felt like so many of them fell into that tourist-trap mentality that I abhor. You know the checkered table-cloths and waiters loitering outside calling to you as you pass, that's just not my scene. Also, I had plenty of plans to meet up with friends at various places around town (more on that later). However, I did get the chance to find a truly awesome lunch spot courtesy of my friend Annie.
A woman-run bistro and casual eatery, Pianostrada Laboratorio di Cucina is where it's at and I'm hardly  the first person to discover it, it seems to have clamored a fair amount of attention in Rome for the four women who dedicate themselves to providing a quality restaurant in one of the city's most touristy areas. When I visited , the ladies told me they were moving locations from vicolo del Cedro across ponte sisto to a bigger space (and technically out of Trastevere) to Via delle Zoccolette, 22, which is really close to their old location.
Spots were hard to come by (always a good sign), however we nabbed two places at the bar and I quickly ordered a homemade fig focaccia with thinly-sliced cuts of prosciutto. A salt and sweet combination that Jesus himself would have fawned over. I paired this with a glass of Sicilian white wine from Mt. Etna, the volcanic soil and altitude makes for very interesting mineral wines. Annie opted for the burger, a moment of food envy almost passed between us as I drooled in her direction, until my own sumptuous order appeared instantly. The menu changes seasonally and you'll see plenty of drool-worthy primi on the menu as well.
Needless to say, this place should definitely be on your radar, and you can always pair it with a visit to popular spot Gelateria alla Scala after. See? I'm always thinking ahead.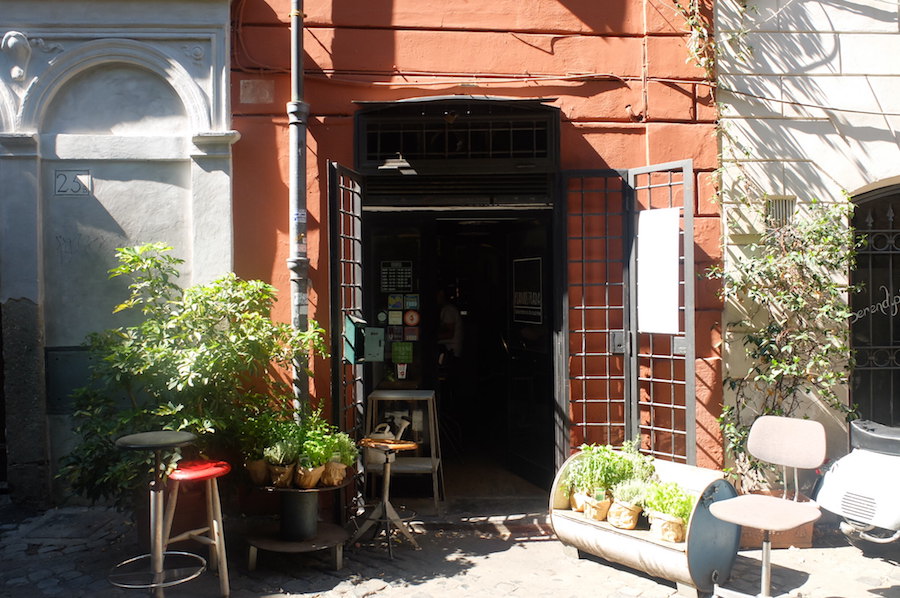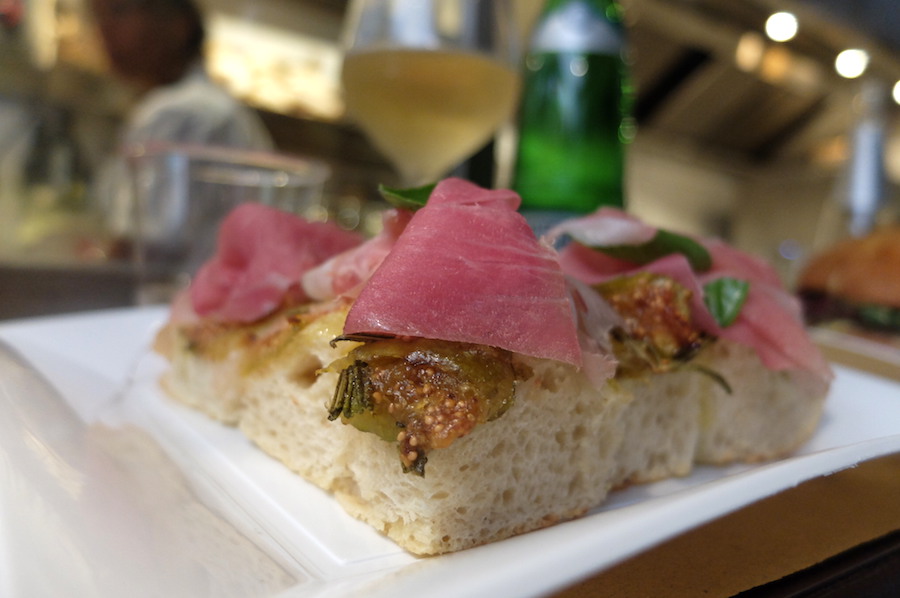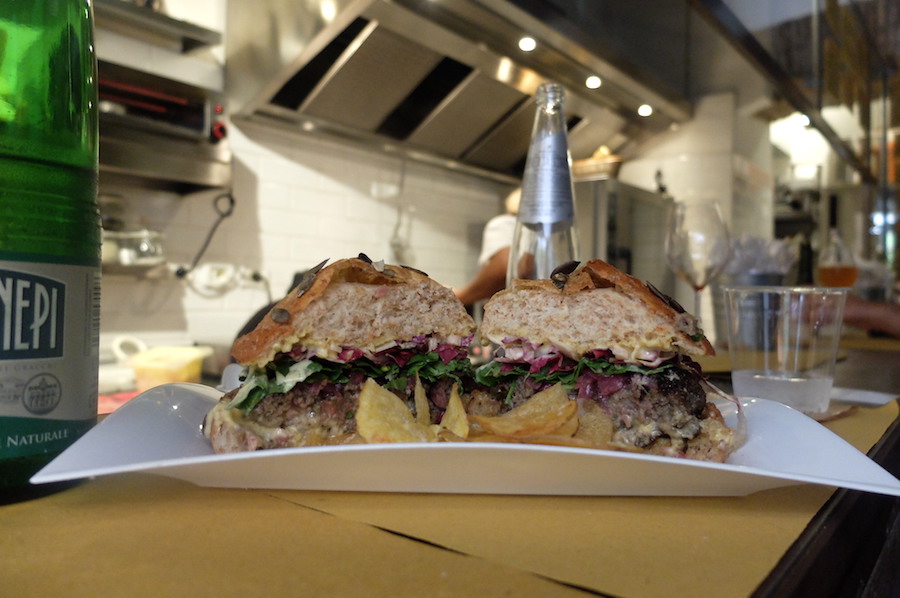 Apertivo? That's still up for grabs
When it comes to my before-dinner drink, Trastevere didn't wow me in that regard as I feel they really cater to the students that come to party around piazza trilussa come nightfall. Please if you know of a good spot here, share in the comments. However, I didn't hate my drink at Meccanismo, a sleek spot on the corner of the square where I met a few friends for an early drink one afternoon.
I imagine that huge spread that came with our 9€ drinks is a godsend to hungry cash-poor students studying abroad at John Cabot (they had their own snapchat filter here), though I personally found most of it flavorless. Drinks wise, go for the 1888, a combination of four roses, liquore alla ciliegia (cherry liquor), red vermouth rosso, and "Meccanismo" bitter #1.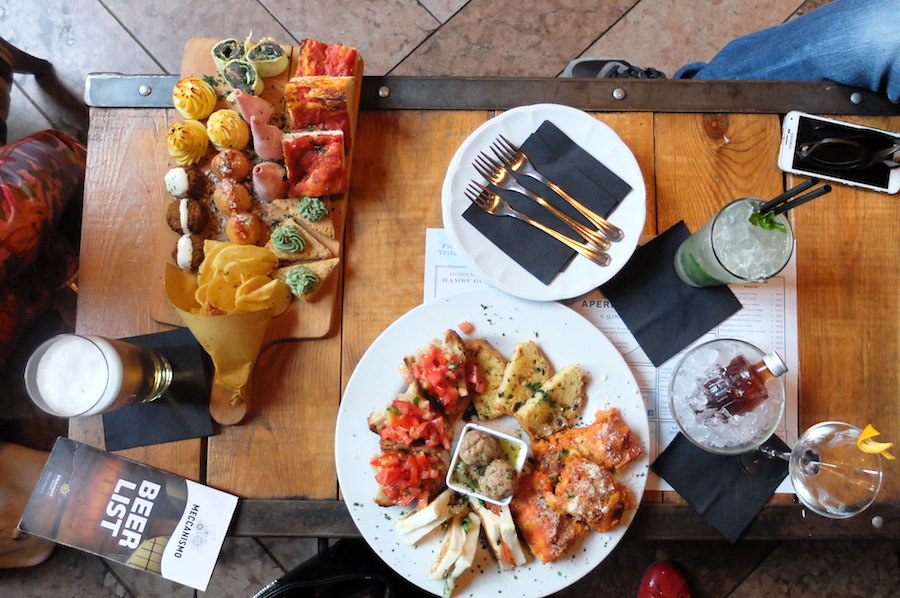 Trastevere at the end of the day surprised me. I didn't find it soulless as I sort of expected. The further away you get from ponte sisto and the kitschy places in that area, the better off you are. If you don't mind walking to the end of Trastevere towards Monteverde, you will also find the acclaimed Litro bar and restaurant which is where Nico and I had our favorite lunch thanks to  the recommendation from Katie Parla's blog.
However don't completely shun this side of Trastevere, the sunsets on the bridge are some of the best I've seen in Italy.
Next time, I plan on climbing the Gianicolo hill for those views everyone's told me about and visit the Villa Farnesina and Palazzo Corsini, followed by a browse through the local flea market at Porta Portese Market. 
Until next time Trastevere, you've definitely left a lasting impression. 
Where I ate
Pianostrada, via delle Zoccolette 22, Roma. Tel. 06 8957 2296 Pagina Facebook (Open 10am-11:30pm, closed Mondays). 
Bar San Calisto, Piazza di S. Calisto, 4, 00153 Roma (Open 6am-2am weekdays and Saturday, closed Sunday) 
Le Levain Bakery, Via Luigi Santini, 22, 00153 Roma (Open 8am-8:30pm M-Sat, 9am-6:30pm on Sunday). 
For more tips on Trastevere, I suggest you consult the blog of my friend Maria, HeartRome, which is her former neighborhood.
Where I stayed
Truly Trastevere Studio booked on Cross-Pollinate.com, central Trastevere, 65€ a night and up. 
Disclaimer *While I was offered a stay free of charge by the kindness of my friends Steve & Linda, all opinions and thoughts about this studio are 100% my own. I am beyond impressed by the Cross-Pollinate concept and philosophy! 
How to get there
Tram

 number 8 From Piazza Argentina or 

Bus number H

 from Station Termini.