Despite allergies taking a toll on my health since we've been back from Mexico, I have been more excited than ever about what's to come in Florence. April is set to be a busy month for those in love with the arts, film festival enthusiasts and those seeking about a pleasant Spring atmosphere (one can only hope) with only the occasional rain shower, which of course won't damper our spirits. Since I've been back, I have been overwhelmed with all of the new eatery openings in Florence (check out my "New and Noteworthy" section here) and of course exploring work opportunities and planning our trips for the month: Levanto, Capri and Orvieto, in that order!
Ps. this beautiful sister photo taken on Via Toscanella was taken by my friend and awesome photographer Christine Juette.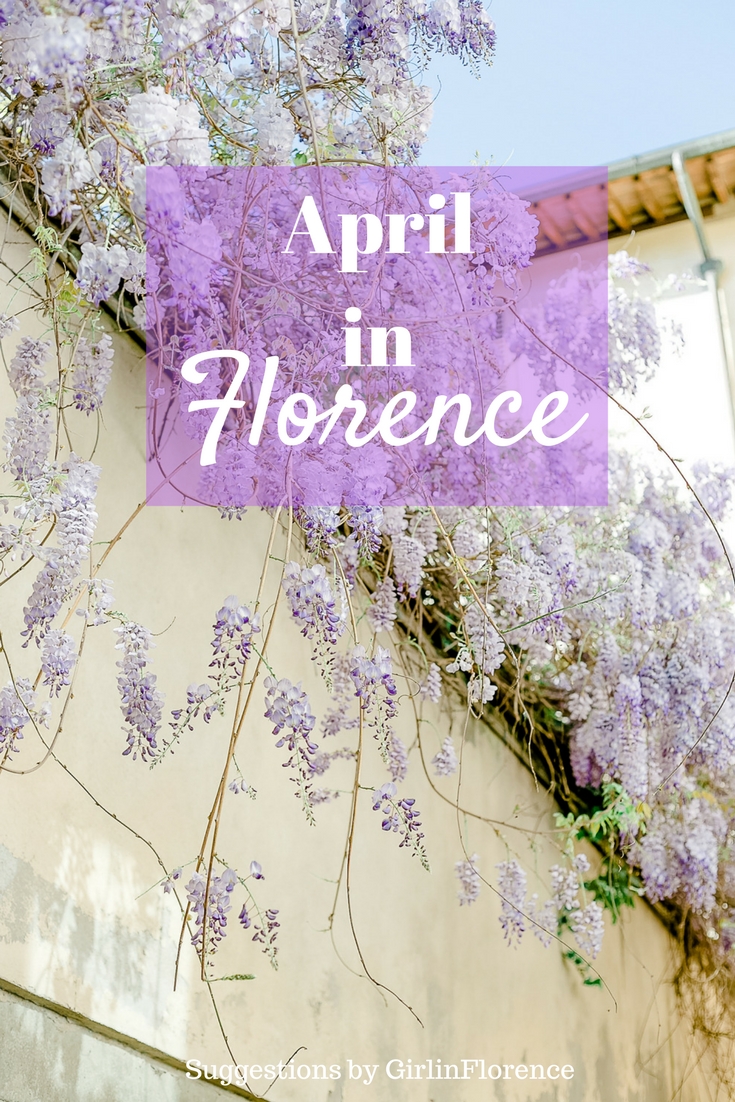 Suggested posts to check out for this month include
I'm always thrilled to kick off the month with the first Sunday (this month that means April 2nd) offering free openings to state museums around the country. Of course people will want to visit the Giardino Bardini (address: Costa S. Giorgio, 2 – open until 6:30pm) with its full bloom of wisteria offering a purple filter of the panorama of Florence.
https://www.instagram.com/p/BSJkiKZBugq/?taken-by=gabdetails
Additionally this first weekend there is an open market an easy bus ride from Florence at Fattoria Maiano featuring local artisans and offering a walk in their extensive park (there are food trucks and gelato – this is a very family friendly event) open until 6:30pm.
For those who want to stay in the center instead head to Piazza SS. Annunziata for the fierucola dei legnaioli (wood market) open until sundown (April 1-2nd).
Pottery and art, this looks really fun! This Monday, April 3rd, the Offic Lab will be showcasing pottery produced during the "Roaring Twenties" with particular reference to the life and works of Gio 'Ponti. The cost of the evening including a handmade ceramic piece and open buffet will be a total of 30 €. Reservations required.
My friend Katja is showcasing her book "Across the Big Blue Sea" at a special book representation on April 4th at Todo Modo Bookshop on Via dei Fossi. It's a beautiful read about her own personal experience working in an Italian refugee home. Come join the fun, I'll be there.
Looking to meet some interesting new people in Florence? I always personally enjoy the open-mic night at Tasso Hostel (villa villain 15)  held the first Wednesday at every month. The April edition will take place on the 5th and is open to anyone who wants to share a song, a story or basically anything they'd like to present! Check out the info here.
I'm exciting for Shakespeare week held at the British Institute from April 4-7th, where they will celebrate William Shakespeare (this year's theme is Richard III) with a week of cultural events open to all members of the Harold Acton Library, existing and new. You can join for a 24 hour membership (6€) or sign up for a longer membership, the full details can be found here.
For my musical friends: every first and third Tuesday of the month there will be a special "Song/Writer Showcase" presenting the original works of musicians and writers (as well as original interpretations of classic tunes). On April 4th local singer-songwriter-guitarist Patti DeRosa will host the first edition at 8:30pm at the Goose Pub on Via delle Oche. More details on how to join the fun here!
Lovers of jazz music, my friends "Jazz and Eggs" will be playing at the Birreria on Borgo La Croce on April 7th from 7-9pm.
Back this month is the exciting Middle East Now film Festival (running from April 4-7th) and it always remains one of my personal favorite film festivals of the year. The festival this year focuses on "Urban middle East" with a special focus on Egypt, the extensive lineup will be shown at Cinema La Compagnia (on via cavour), you can download the full program here. Don't miss the special events that coincide with the festival, including a photographic exhibit 2Saudi Tales of Love" at Fondazione Studio Marangoni – Via San Zanobi, 32r or a pop-up cooking lesson/dinners with an acclaimed young Iraqi chef with a mission at the Cordnn Bleu cooking school in Florence and elsewhere (more details here). My friend Coral aka the Curious Appetite just wrote this fabulous post with all you need to know about the Middle Eastern cuisine options during the festival.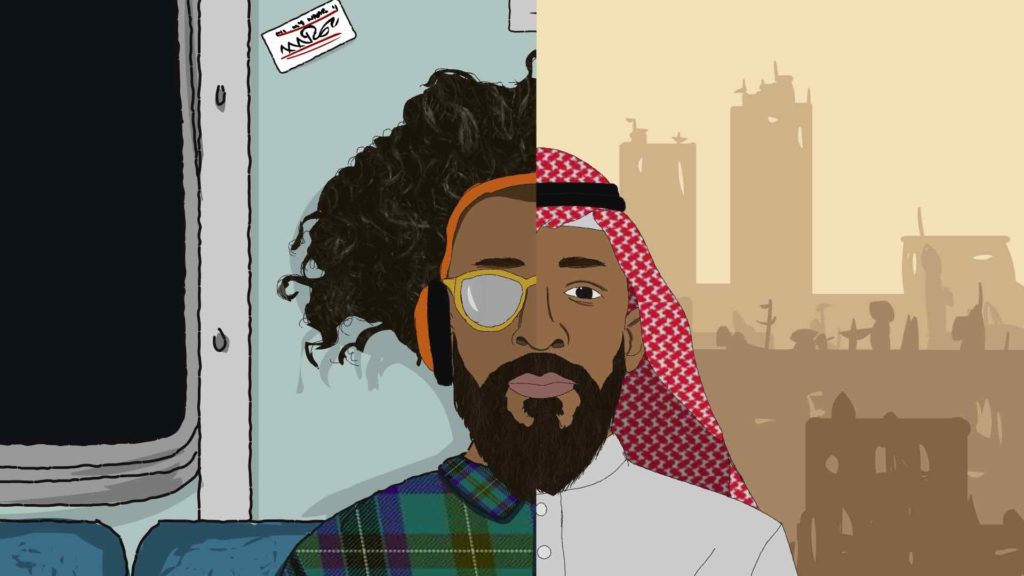 The 34th edition of an International half marathon is set for April 7th this year (this includes a 'mere' 21 kilometers (and some change). The good news is that there is something for everyone. Participants can also choose to do a 5km walk or 10 km non-competitive race (which is still open for registration). My favorite part about this is the kids race "Tommasino Run" which lasts 1,5 km (which is the one that I would be most appropriate for). The race will take place mainly in the historical center, sign up for one of the races here.
Visit a rare gem in Florence (and very underrated) the Stibbert Park where on April 8th there will be a guided visit looking at the symbolism and art throughout the green space. It costs 10€ to join the fun and places sell out quick!
On April 8th/9th at Villa Romana (via sense 68) you can visit a pop-up event "Les Fleurs du Mid" featuring an expose of fashion, vintage clothing for sale, and art in a beautiful space close to Florence. It is organized by Mid which sustains Oxfam Italy, the Italian humanitarian association founded in Tuscany more than 30 years ago and that which today is part of a large international coalition, made up of 15 organizations working in 98 countries to fight the injustice of global poverty. The association will organize a workshop for children on issues of food sustainability and will be there with their own booth. More details can be found here.
I'm psyched for a special exhibit "Woman power" held at the Palazzo Pitti (Andito degli Angiolini room) from now until June 25th featuring 25 works by one of the most important artists of the second half of the 20th century,  the formidable Maria Lassnig. Check out this cool slideshow by The Florentine to get pumped up for the event.
Of course if you've visited the city lately, you've probably seen the adverts for the latest Palazzo Strozzi exhibit featuring the "electronic Renaissance" work of video artist Bill Viola, which will be running until July. I actually tried to pop into the other day and decided to come back on a non-weekend day when it was hopefully going to be less crowded. One tip, the Palazzo Strozzi has extended opening hours on Thursdays which means you can check out the exhibit until 11pm at night!
I just happened to see on FB this April 9th "Glicine in fiore al Giardino Bardini" offering a special guided visit at 11am of Villa Bardini's beautiful collection of wisteria plants. I'm sure this is going to sell out fast so make your reservation here. The cost is 7€.
In honor of Easter (let's be honest, it's a good a reason as any for another market) the Fierucolina in Piazza Santo Spirito will have a Pasqua theme at its April 16th market. Open until 6:30pm, I always highly recommend this one as it's the perfect place for people-watching after you've gotten a coffee at Volume. Typically this weekend is when the antique market in Cascine would also be on, but I am wondering if Easter means they will move it to another day, in any case, I will keep you posted!
Easter in Florence, Italy will be on April 16th this year, and obviously the biggest celebration happens in the center of Piazza Duomo, an event that dates back 350 years and includes a pretty awesome explosion. These Florentines know how to have fun! Keep in mind that you need to get there early for a nice spot, the procession starts at 10am, explosion at 11am. You can read more about the history about this event on Discover Tuscany.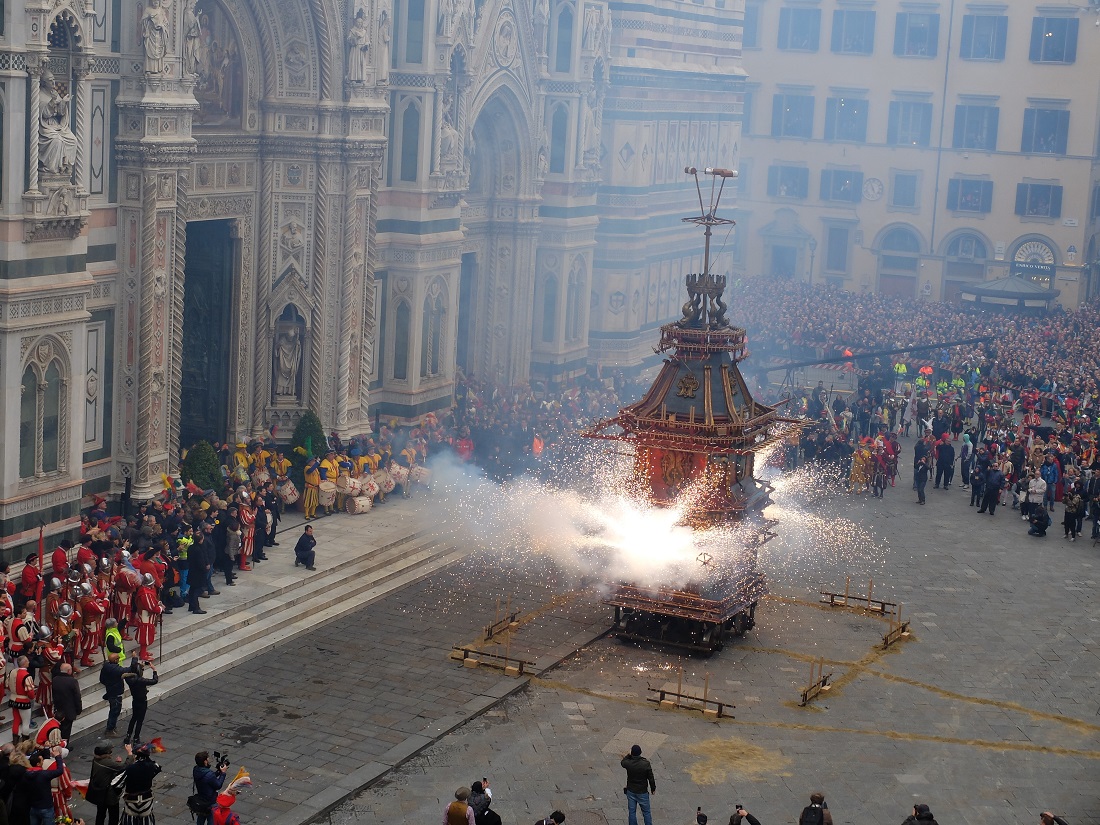 Be aware that many shops will likely be closed on Easter Sunday and Monday yet the city will surely be crowded with holiday markers. For Easter brunch in the city, I really think the one offered this year by Irene Firenze in Piazza della Repubblica looks amazing (this year they even have a fresh juice nourish corner) and if you have a car, I highly recommend reserving Easter Lunch at Fattoria LaVacchio in Pontassieve, about a 40 minute drive. Everything there is organic, including their wine. I had a wonderful experience there a few year's ago with Nico and his family.
Yep, the gelato festival is coming back to town the week of the 21-25th and I am as excited as ever to dig into the latest artisanal favorites from some of the top gelaterie in the city. Plus the walk up to the piazzale means that you can deserve a second, third or fourth cup, right?
On April 22nd starts the one of Europe's biggest arts & crafts fair, the annual Mostra dell'artgianato, this fair has been running since 1931 and is such fun, I really look forward to it every year. My advice is to avoid the weekend crowds and go during the weekdays so you can browse goods from all over the world to yourself. Where? Fortezza da Basso (Viale Strozzi, near station). Official website. It runs this year until May 1st.
How cool is this? On April 22nd you can join a special sunrise bike tour in Florence as part of a special bike festival locally!  The cost for inscription is  10 euros for adults and two euros for kids up to 12 years old, the cost includes the 'sunrise' t-shirt. Sign up here. address: Parco Delle Cascine Firenze: Via Jacopo Nardi 13, 50144 Florence, Italy. Meet up time is 5:30am!
Pretty much an institution for the May first 'Ponte' weekend is the beautiful flower show "mostra mercato internazionale" held annually at the horticulture garden close to Piazza della Liberta, this year from April 23-May 1st. They always have a wide range of plant species to gawk at and buy, such as giant basil or carnivorous plants (seriously). address: Via Vittorio Emanuele II, 17, 50139 Firenze. event info. 
An important day in Italy is April 25th (also a national holiday), it marks the fall of Mussolini's Italian Social Republic and the end of the Nazi occupation in Italy in 1945. During WWII there were plenty of resistance factions around the country that sacrificed their lives to give Italy liberty which is why my thoughts are with them during this special day. Typically there are marching bands and parades on this holiday so businesses to be closed (not related to tourism). In Florence, around 5pm, there will an orchestra and ceremony in Piazza della Signoria. Around 3pm, you can head to Piazza Santo Spirito where they will have a series of events and live concerts marking the occasion.
Before I leave this, I will let you all know that I am searching to see what's on this year for Notte Bianca 2017, otherwise known as "White Night" which is an all-night party the city traditionally hosts on April 30th. When I get some verified info, it will be here on the blog (do let me know if you hear of anything regarding the event!). This is all of the info I see online for now.. Oh how people love to make FB events with no actual info inside of them.. anyway, enjoy April!