It almost doesn't feel cold enough to write about winter in a blog post since this November in Florence has been a sort of freakishly warm. And despite this weekend's horrific tragedy in Paris and Beirut (and I thank many of you blog supporters who asked about Nico's family – they are all safe thank you), I really hope that people aren't scared to travel to Europe. The colder months are actually a fantastic period to visit Italy, while you can't do much in 90-100 degree heat, even when it's cold, you can throw on a coat, sling back a cup of espresso, and do plenty before noon. And in places like Florence, there is typically a jovial, excitement in the city before the holidays. Christmas lights come out and panettone in colorful boxes dot any and every store, providing light even when the sun sets quite early. The weekends still fill up in the city, but it tends to be more Italians than foreigners, grabbing hot chocolate with friends and getting a bit of last minute shopping done.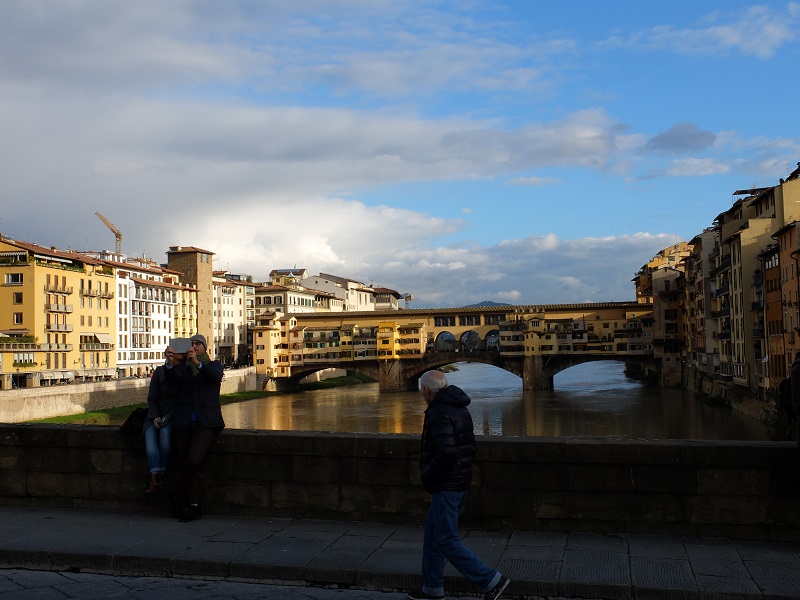 In honor of traveling in 'off season' though I am not sure that actually exists anymore here, our COSI blogger roundtable group has banded together yet again (and hopefully with more consistent posting patterns) with this month's theme of winter. Naturally any time I could offer some tips locally is a worthy reason to write. Especially before Nico and I get married this month on the 28th (yay!) and leave for Thailand & Texas for the month of December. My full events list will be out later this month, but here are just a few 'before you come' winter suggestions for Florence, and well traveling abroad itself. Enjoy. 
Save Yourself From Any Last-Minute Headaches & Get Yourself In Order
Considering how high I imagine airport security to be this winter, a few tips that will avoid you getting a headache while traveling include, check your documents before coming. I've heard stories of people not being able to travel because they forget that their passports expired in six months which is typically a no-no for entering a country. Save yourself a headache and renew anything you need to renew, double-check it all. The rules for Italy is that your passport must be valid for at least three months beyond your planned date of departure from the Schengen area. (Six months recommended.) If you travel a lot, check how many blank pages you have in your passport, two pages are required for the entry stamp. You can check out what you need in order to travel to any country in the world (as a US citizen) on this website. I also recommend making a few photocopies of your passport, just in case.
Make sure everything is up-to-date and ready, and if you plan on driving, get an International driver's permit. I've noticed that car rental companies won't always require that, but if you get stopped by police, you could risk a fine by not having it.
Also when it comes to using your bank card, yes Italy is a lot better than it used to be regarding accepting debit and credit cards at stores and restaurants, you always want to carry cash at the same time. To avoid hiccups, let your bank know you'll be traveling abroad and check your daily cash withdrawal limit. Also ask if they have any sister banks in Italy where you can avoid ATM (which is called bancomat here) charges when pulling money out.
Not that you need any to come to Italy, I always recommend checking to make sure your vaccinations are up-to-date, something I recently have had to do before going on our upcoming honeymoon in Thailand. Also I would stock up on some medicines such as Ibuprofen, which can be quite pricey in Europe or Imodium. These can all be found in Italy, but it might be nice to have it with you as well.
Italian Houses Are Cold, So Pack Well
A comment I have often gotten from friends visiting is just how cold Italian apartments can be, or well the inside of any building. In North America and even other area of Europe, people living in cold climates often have cozy, warm homes — enough to curl on the couch in a t-shirt. Well you can pretty much forget that here. Gas for heating is expensive, and most people don't have their heat running on all day unless they live in a condominium where its included. Not a big deal really, just be prepared with longer pajamas, fuzzy socks and a sweater or two to wear in the house. I actually walk around with a small blanket to throw over my lap while working, no joke! Or for an organic heater, get a dog, our beagle ginger loves to be my lap-warmer November through March ;-).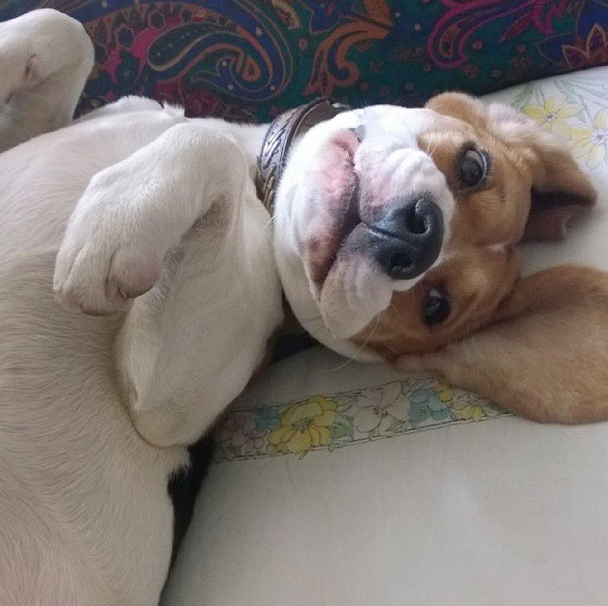 When it comes to packing tips, the trick here is layers. November is unseasonably warm but that's typically limited to sunlight hours, which means until around 5pm (check out a list of average temperatures here). You'll want to bring a nice jacket, various pants, jeggings or tights and comfortable flat boots (I have more tips here). Also tank tops or shirts under sweaters are always a good idea. This city literally eats shoes, so unless you want to lose a stiletto, I'd stick to flats.
Don't forget an umbrella, waterproof coat and a few scarves, but you can also get that in the city. I also highly recommend bring a small purse that zips for everyday use. I have a tendency to overload my purses with stuff I don't really need during the day — it's best to have a bag that fits money, passport, phone, phone charger and camera that you can strap in front of you and that has a zip.
I typically also bring some hair products, conditioner, makeup remover — which you often don't find in hotels (not straighteners or anything you will plug in which will ruin here), chap-stick, moisturizer. If you find yourself in need of bobby pins or random things like that, just pop in any H&M which typically sells these items for a low price.
Weather Sucks? Visit A Museum
While there are still lines at the Uffizi and Academia gallery, winter is prime-time for visiting museums for a variety of reasons. One, it's something culturally-badass to do, it's also an indoor activity that can be enjoyed rain or shine. I don't need to tout visiting the major museums but I also recommend people visit places like the Palazzo Vecchio, home to the city's government, and some pretty spectacular spaces such as the 'salone dei cinquecento' featuring Michelangelo's 'Statue of Victory.' Here you can also visit the tower which offers some of the best views overlooking the city. Other top choices include the just-opened The Grande Museo del Duomo Museum, which houses the Duomo cathedral's works and the real doors of the Baptistery.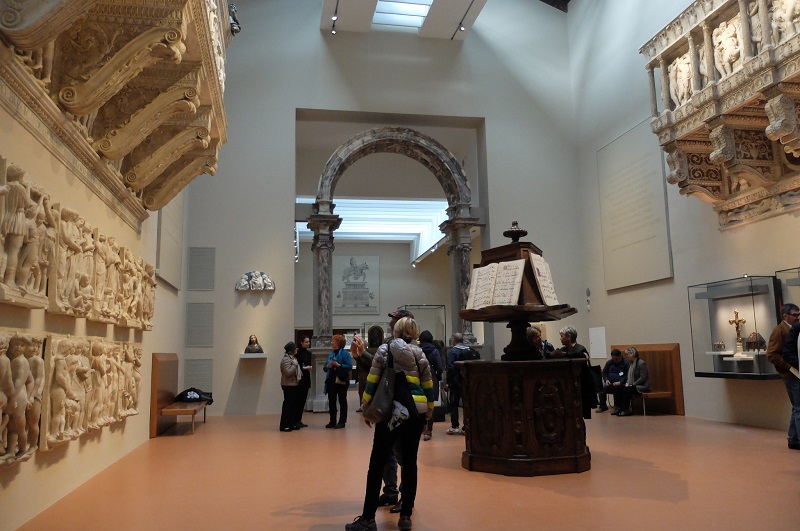 Additionally visiting Florence's amazing churches is also quite recommendable during any visit, you don't need me to tell you that. Some personal lesser-known favorites of mine include Santa Trinita on via tornabuoni, the Brancacci chapel in Carmine church ( Open daily 10am- 5pm, Entrance fee €6) and Chiesa di Santo Spirito (only open in the morning). This stunning space with a wooden Christ done by a 'young' Michelangelo.
Recently I also had the pleasure of attending one of Alexandra Lawrence's local walks to visit Michelangelo's Laurentian Library in San Lorenzo church. A magnificent place for a variety of reasons, Pope Clement VII commissioned this space to house all of the Medici family's great historical texts. Part of the fun of this place is imagining the lively discourse between the Pope and Michelangelo who abandoned many Renaissance techniques in favor of Mannerism and eventually moved to Rome before finishing the job. You can visit  Mon-Sat: 9,30 am -1,30 pm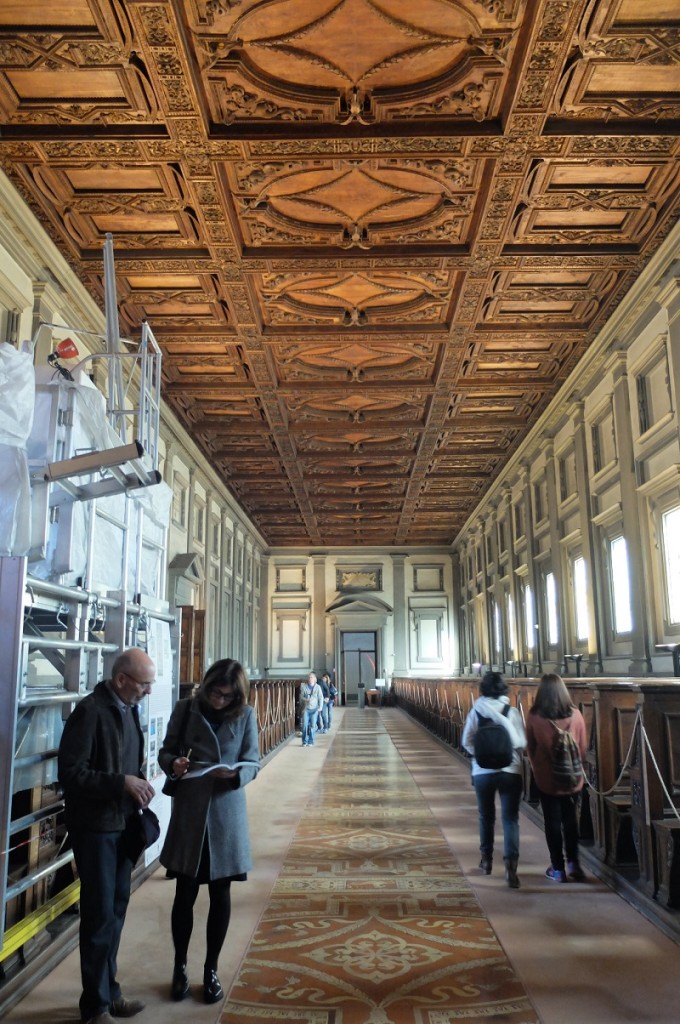 Other exhibits currently on include Divine Beauty from Van Gogh to Chagall and Fontana at the Palazzo Strozzi, an exhibit space in the center of town that knows how to do it right and keep attentions piqued. You can check out over one hundred works by well-known Italian and international artists including Vincent Van Gogh, and it sets out to explore the relationship between art and religion from the mid-19th to the mid-20th century. Open daily including holidays 10.00-20.00. My tip is to go Thursdays when you an visit at night! : 10.00-23.00
Want To Experience Something Special? See A Show
Naturally the winter months are prime time to go to the theater, opera and the various shows that light up Florentine evenings. My best recommendations include visiting the Medici Dynasty Show, showcasing 300 years of history in the city, before they close for the season on November 29th. It starts at 7pm and lasts for about an hour and gives you a great idea of the town's most famous and powerful noble family. The timing makes it ideal to watch before dinner. San Giovannino dei Padri Scolopi Library, Piazza San Lorenzo 6. 
For lovers of the opera, you can head to one of the city's churches to see a performance which is a pretty special experience, the full list of what's on this winter can be seen here. The Opera house of Maggio Musicale is also a beautiful experience for anyone visiting (or who am I kidding — living here too), and this December there will be numerous performances of Rigoletto by Giuseppe Verdi said to be "Perhaps the greatest drama of modern times" . This is how Giuseppe Verdi described Le roi s'amuse, the scandalous play by Victor Hugo which inspired Rigoletto, composed with the collaboration of the librettist Francesco Maria Piave. Tickets start from 10 euros, the opera is in three acts (English subtitles).
On the 13th of December at 4:30pm, there is a special Children's chorus showcasing two precious masterpieces suspended between music and faith: Messe à deux voix égales written in 1877 by Charles Gounod, a deeply devout composer and author of the famous Ave Maria on a prelude of Johann Sebastian Bach, and a Little Jazz Mass. Tickets are a steal at only 15€.
Fans of The Nutcracker by Stanislav Kochanovsky can check out my personal favorite show on Wednesday, December 23rd at 8pm.  Inspired by the story by Ernst Theodor Amadeus Hoffmann and transformed by the music of Pëtr Il'ič Čajkovskij into one of the world's most famous and beloved ballets, it tells the tender story of Clara and her adored Nutcracker, the little wooden soldier presented to her by the mysterious Mr. Drosselmeyer. I grew up going to see this show and I have no doubt that this would be a great opportunity for anyone visiting Florence to partake in a little holiday happiness.
Opera di Firenze, Piazzale Vittorio Gui, 1, 50144 Firenze. 
Revel In Off-Season Prices
The best part about not traveling in summer are absolutely off-season prices, excluding New Year's Eve, you can find some absolutely great deals here. In fact, this past weekend I had the pleasure of staying the night at a brand-new boutique hotel that just opened in oltrarno, or 'other side' of the river opened by the passionate Betty Soldi, her partner Matteo and the bright team who are also the minds behind SoprArno suites on via maggio (where I'm staying on my wedding night!).
Ad Astra is quite possibly the coolest place I've seen lately, and if you go on booking.com, I have seen rates as low as 99 euros per night, which is a steal for this design-friendly spot with yes, a claw-foot tub in your room and Europe's biggest private garden just outside your window. On the site, prices start at around € 118.16 per night in mid-December for two adults + breakfast.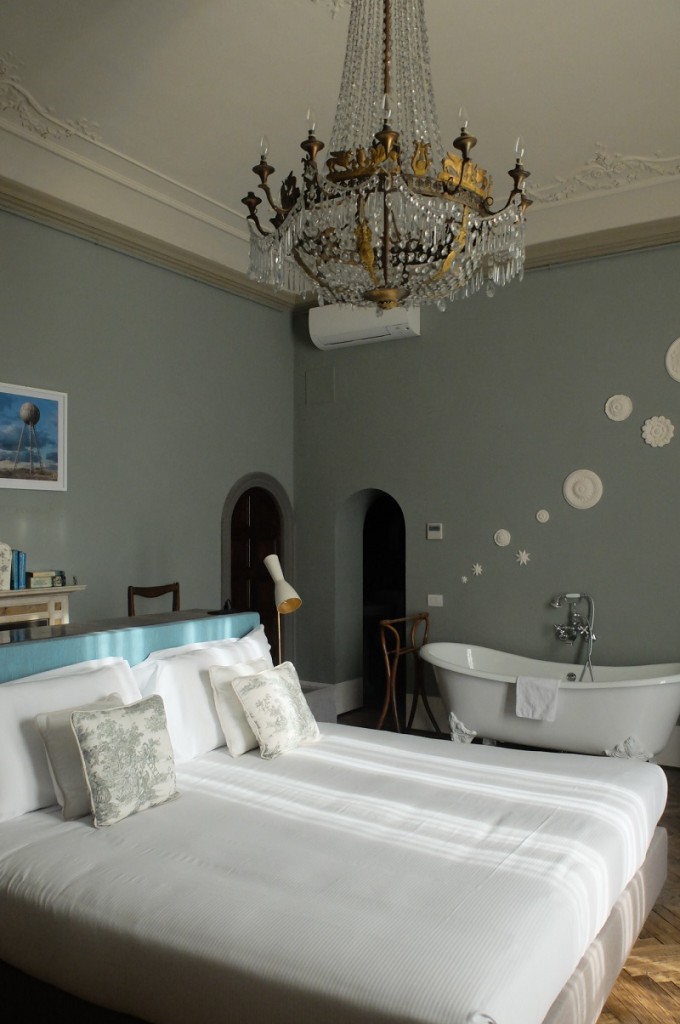 Shopping In Fun, Anytime – Anywhere. Support Local Artisans
I am working on my annual list of holiday gift suggestions from in and around Tuscany, but in the meantime I have compiled a list of shops that I adore, and think you would too here. While heading to the open-air markets in Porcellino and San Lorenzo are decent for getting cheap scarves, I highly recommend looking into the city's contemporary artisans, and visit their tiny shops in the center of town. Place like Aqua Flor, Mio Concept Store, Il Torchio and Societè Anonyme are places you can't just find anywhere and certainly deserve a visit.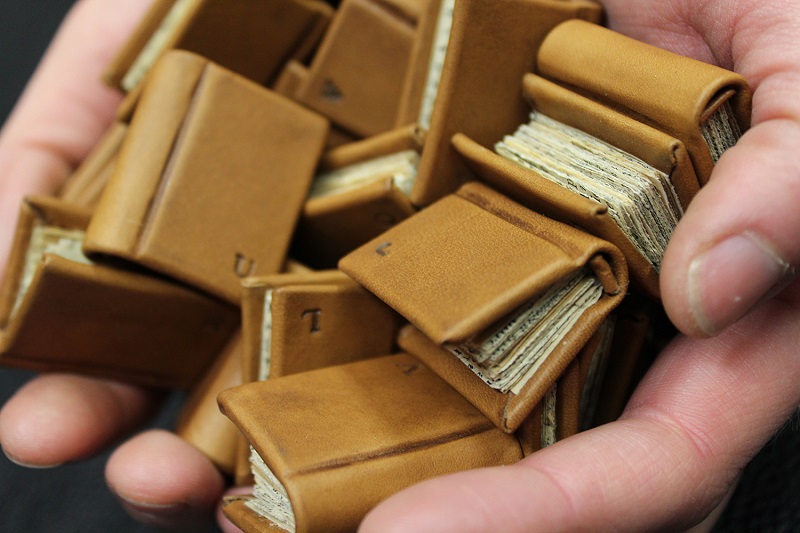 Santa Clause aka (Uber) Is Coming To Town
Rumors had it that Uber, a smart phone taxi app which I have coined the 'airbnb' of taxis, has arrived in Florence, but in a limited capacity and only in fancy 'black' rides. Taxi's have had their panties in a twist for some time now because of the local government's measures to increase the number of licenses (which was needed), but I was hoping this would make it's way to the Italian market and I am proud to say that I have had my first experience this past weekend taking an Uber journey with a friend. It was painless, easy and comfortable and I was impressed! To get a free ride and see for yourself, I invite you to use my promo code here. 
Hot Chocolate, Coffee, & A Trip To The Movies
While let's get real, people will eat gelato whether it's boiling or freezing, when we get cold, we go for thick hot chocolate. This is a lifetime away from the crappy 'swiss miss' I used to make out of a packet in Texas, complete with tiny fake marshmallows. This is like drinking something solid, a thick creamy chocolate that only requires a small amount, and will change your life, it is that good. Favorite spots include Hemingways, which coincidentally serves wonderful cocktails and aperitivo in one cozy, attractive space. In the San Lorenzo neighborhood stop by My Sugar gelateria, Via de'Ginori, 49, to get a hot cup of chocolate to go.
For coffee lovers who want a serene place to sip, read, catch up on emails — top picks this winter with WiFi include Ditta Artiginale (which are consistently the best) on Via dei Neri, 32/R, the brand-new Andersen Cafe which is family-friendly Scandinavian spot close to piazza santa croce on Via Borgo Santa Croce, 21. Mama's Bakery, a long-time favorite that serves bagles and American coffee on via della Chiesa 34/r. Volume is my go-to in hipster coffee car turned aperitivo hotspot at night in piazza Santo Spirito 5/r along with La Cite on borgo San Frediano 20. Le Vespe on via Ghibellina 76 is known for a kick-ass brunch with breakfast burritos, flat whites and freshly-squeezed juices, you can also bring your laptop and work alone here. Todo Modo on Via dei Fossi, 15 R is close to the train station and is an independent bookshop cafe with working WiFi.
If you haven't yet seen the Odeon cinema in Florence, you're missing out. This beautiful old theater is one of the coolest places I have had the pleasure to watch films. Right now there is the 50 days of International cinema, but there will also be popular movies like the Hunger Games: Mockingjay Part 2 playing some of the days. Check out the full program here.
ps. my entire eats list is here.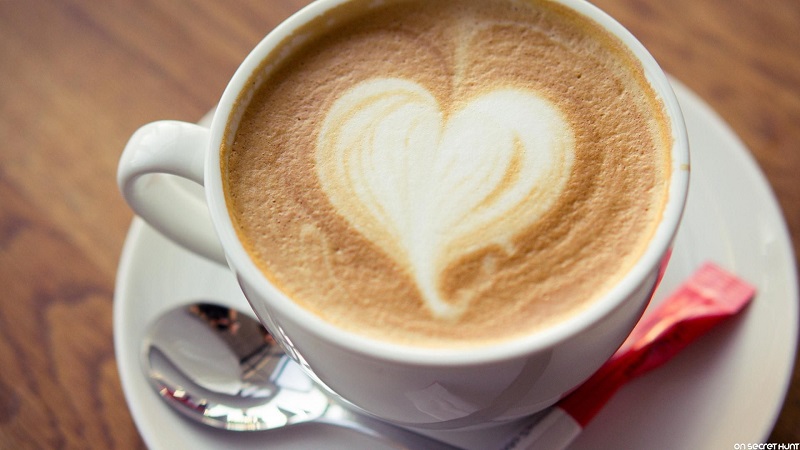 Markets, Markets, We All Love (Mulled Wine) Markets
This year the German Christmas market will start on December 2nd and last until December 20th, in piazza santa croce from 10am This is the prime spot to do a little pre-xmas perusing, drink mulled wine and pay way too much money for a huge hot dog in a short bun.
Additional markets include the Fierucola dell'Immacolata on Tuesday December 8, from 9 am to 8 pm in piazza SS.Annunziata  and the Christmas Fierucola: Sunday, December 20 from 9 am to 7 pm, in piazza santo spirito. Also on the 8th of December is the lighting of the Christmas tree in piazza del duomo in Florence, typically starts around 5pm and attended by the major of the city.
The annual charity benefit, A.I.L.O Christmas Bazaar will be on December 8th, 10am – 5pm at Le Pagliere (ex scuderie reali) viale machiavelli, 24.
 In late December, the weekend of 18-20th, will be the 13th edition of Nataleperfile at Palazzo Corsini by FILE, a charity organization helping the seriously ill. This is one of my favorites because it also lets revelers peek at this beautiful palazzo in the center of town, it's a bit like entering another world. Typically the products sold here are of high-quality.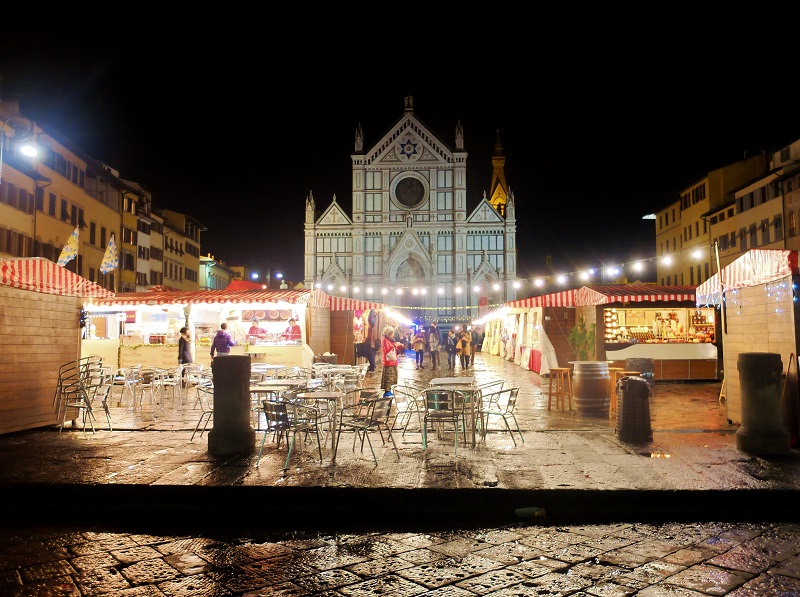 Ice-Skating – Snow Tubing, Yep It Exists
For those who like to strap on some blades and skate around an ice rink, you have two options in the city. One is located in the Parterre area (near Piazza della Libertà) and the other is by the Obihall structure along the river. Called the Tuscany Winter Park they have ice-skating, snow tubing and it's pretty cute, albeit small. Just take number 14 bus in the direction of 'girone'. Equipment can be rented at both sites.
---
This post is part of our COSI Italy-blogger round-table 'Winter' theme for November, please follow our facebook page for more details and check out the posts of my fellow bloggers below.
Rochelle, Unwilling Expat – Without Winter There Wouldn't Be A Summer
Rick Zullo – How To Enjoy Winter In Italy
Andrea, Sex, Lies And Nutella  – Surviving the Italian Winter
Pete, EnglishMan In Italy – Bagna Cauda and Wine
Misty, Surviving in Italy – Italy In The Winter: Baby, It's Cold Outside
Gina, The Florence Diaries – A Foreigner's Guide to Surviving Winter in Italy
Maria – Married to Italy