The term's 'Man best friend' with regards to your dog, exists for a reason, the only bit I'd change, is the 'man' part because the same exists for us gals too. I never thought I would be that girl. You know the one that takes selfies with her dog or creates an instagram account just for her, but it happened — and oh well. Oh yeah, I read Mashable posts like this (and actually tear up).
Truth be told, I feel like life got real the second we took Ginger home, a tiny three-month old beagle whose occupation was 'sniffing' the crap out of everything — well, when she wasn't trying to tear something apart. Mainly, our home. I can admit that I googled things like "why does my dog eat her own poop" and "why are beagles so crazy", like one does when in extreme circumstances. But after that initial tough period, we really became a family. She cozies up to me as I work my 10+ hours from home, and put on a one-dog party every time Nico stepped in the door. Like seriously, how can you be that happy to see someone who comes home at the same time, every single day. Sure, life is a little more expensive, chaotic, the occasional vomiting in the car isn't that fun, but is also tremendously rewarding. I feel like I put on my big girl pants the second I took on responsibility for any living thing other than myself in another country.
https://instagram.com/p/sYJBDtpQwa/?taken-by=ginger_artdog
Florence is extremely dog-friendly, especially after a law was passed in 2008 allowing dogs to enter many public places (restaurants/art galleries etc). If Lorenzo the Magnificent took a liking to his furry-friends, you can only imagine that the tradition stuck around. I find that ever since having Ginger, we have met plenty of Italians stopping to pet her while going on our nightly walks and she seems to unite locals and tourists alike.  Be aware that here people might always ask 'maschio o femmina' (male or female) since many believe that the sex of the dog determines whether or not they will get along.
I started a new series here on the blog, describing 'one perfect day' just to give interesting itinerary ideas based on different themes around the city. My first one was based on a luxury spa approach, and today's is obviously a perfect day with your dog. 
10:30am Panoramic Walk – Oltrarno to Fort Belvedere
Now that Florence has become less scorching and going outside on a walk is actually a pleasant thing to do, we try to take Ginger on long walks (also because beagles have a crazy amount of energy). One of my favorites is about an hour in total, to and from more or less where we started. We live in the oltrarno, or 'other side' of the river, and start off in the direction of Porta Romana, one of the best-preserved ancient gates of the city, dating back to the 14th century.
Then we turn left on viale michelangelo to start our upwards trek on a pretty, tree-line boulevard with wide sidewalks — ideal for those who want to jog on a slight incline and for pups to sniff in peace. Our destination is Fort Belvedere, the second and largest fortress,  built by Bernardo Buontalenti on order of Grand Duke Ferdinando I de' Medici in 1595, in order to protect the city (or let's get real – the Medici family) from attack.  Currently it is open annually during the summer months, until late September at the moment, from 10am – 8pm.
Here you can bring your dog, have a cappuccino, and take in one of the best views in town. Did I mention, visiting is free? Whether or not you go inside, the path leading here is really quite nice, and you can have your coffee in the San Niccolo area. There is an outside terrace at Rufrullo bar that I like to take Ginger. This area is very appealing because it feels like another world, one far from tourist crowds – with pretty streets and more green than you find in Florence's cobble-stoned center. Plus, it is a bit of a workout. I mapped the route on google maps below if you want to save it directly on your phone.
1pm – Lunch at Ristorante Quinoa
When lunchtime rolls around, you can either stick to Santo Spirito which has plenty of food options –ranging from your average panino to nice sit-down restaurants. Otherwise you can head to a place that I actually quite enjoy with friends (dog-friendly naturally) close to the Duomo cathedral in an almost secret location, essentially you dine in the inner courtyard, which means you can stay outside. Quinoa is on my list of vegetarian, gluten-free, vegan joints that have become more popular around town, in a space called ZAP, Zona Aromatica Protetta (protected aromatic zone) .
While I am an 'everythingtarian' I do acknowledge that people with allergies need good options too, but I enjoy eating a little healthier from time to time. My favorite dish here is the Rice tagliatelle made with tofu, fresh vegetables and peanuts. Ask for a bowl of water for the dog and they will be more than happy to oblige, most dog-owners will be quite impressed how cool shops and restaurants are about having dogs come in.
Ristorante Quinoa, Piazza Santa Maria Maggiorie, 1.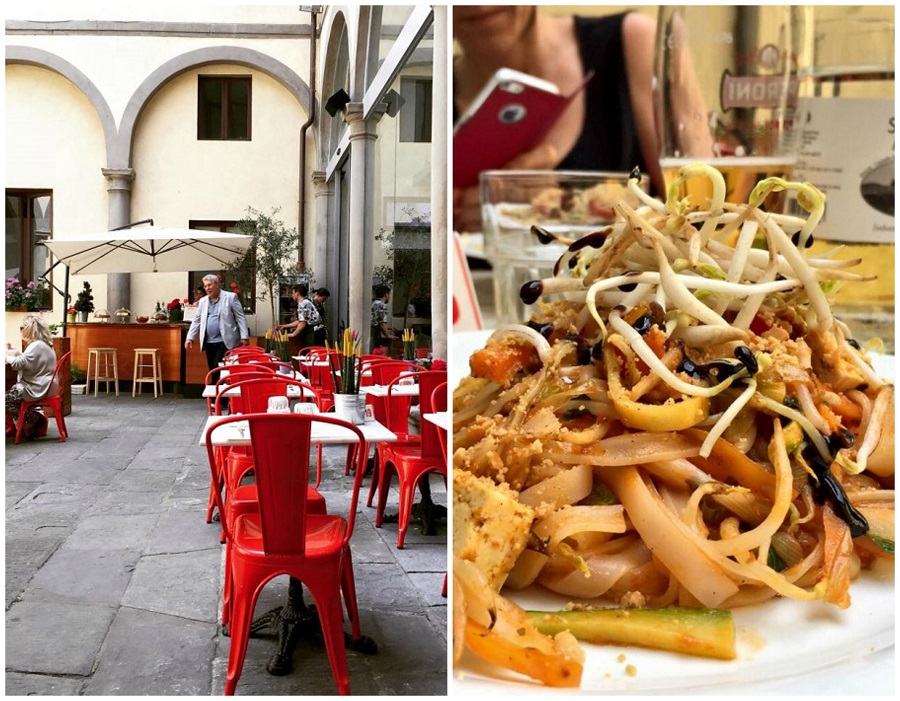 4pm – People-Watching in Piazza Santo Spirito
After a nice lunch, I'd opt for a rest at this point on one of the benches or cafes in piazza santo spirito. A local favorite that is extremely dog-friendly, heck it would be weird NOT to have a dog here. The square attracts a cast of colorful characters and I enjoy hanging out at Volume to read a book, or newspaper with Ginger and my third coffee of the day.
Also twice a month this square is home to open-markets which is plenty of fun. Come browse antiques and flea market goodies (the second Sunday) otherwise the third Sunday  is the fierucola, organic food market where you can pick up honey, cheese, wood cutting boards and the like.
I'd also take the time to stroll around the surrounding neighborhood as well, this is the heart of the artisan neighborhood, where you will spot plenty of tiny doorways with people working on their crafts around piazza della passera/Via dei Velluti. Plenty of times the gruff guys sanding a chair will come out to give Ginger a belly rub. On nearby Via dei Serragli 36R, there is a tiny little Pet Shop where you can pick up a few toys and have a chat with the friendly owner.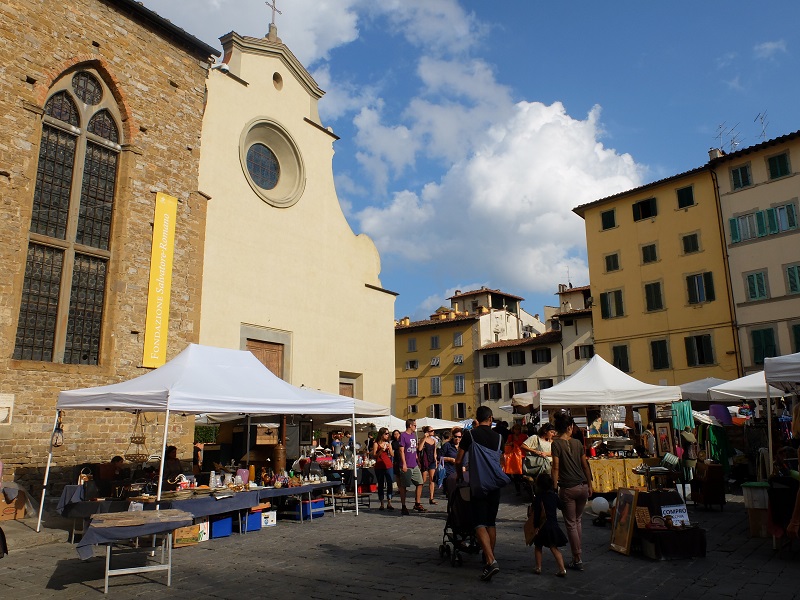 6pm – Head To Limonaia Villa Strozzi: Dog Park & Spritz O'Clock
At this point, if I was looking for an enclosed dog-park, which I sort of need to have with a beagle whose nose dictates where she goes and when, I typically head to Limonaia di Villa Strozzi or locally known as Il Boschetto. The park itself dates back to the 16th century, one of the city's historical green areas and is definitely off-the-beaten-path. While you could walk there, I would actually hop on the bus (take the c3 in the direction of Leopolda, then get off at Santa Maria al Pignone and walk). Depending on the city you're in, there are different rules and regulations for dogs riding with you. I checked with ATAF, the local bus company in Florence, and as you might imagine happens in Italy, there was a contradiction on the rules on dogs on board, between the city and the bus company.
On one hand, ATAF itself states on the website that only small dogs are allowed, held by the owners and muzzled. Other small animals in cages, baskets are at the discretion of the driver. But the municipal regulations of 1999, amended in 2002, Article 14 reads: "All animals are allowed on public transport operating in the City of Florence." I have seen dogs on buses, they do tend to have short leashes and muzzles for safety reasons but I really want to look into this a bit more to see why there are two totally different regulations.
At Villa Strozzi, the park here is sort of godsend for people and animals alike. There are plenty of trees, the dog park is enclosed, with a working fountain. The Limonaia area (in the summer months – until the end of September) serves cheap pizza and aperitifs which makes me happy. Other parks I recommend locally include Cascine park, Giardino dell'Orticoltura, Parco di Villa Fabbricott (think Stibbery Museum), Porta Romana – Scuderia. More parks and gardens can be found here.
Limonaia di Villa Strozzi, Via Pisana, 77, you can also arrive on via di Soffiano or Via Monte Uliveto.
https://instagram.com/p/5myPOgRTMv/?taken-by=girlinflorence
---
Obviously this is just a sample itinerary based on activities that we normally do with our pup, but for those who need additional doogie resources, I recommend reading this article on pet shops in Florence and this one on dog parks/adoptionn in the city. For dog beaches and holiday ideas, click here. Also share your best advice for dog owners if you live in Florence, I want to hear them. 
https://instagram.com/p/5wDohcRTAZ/?taken-by=girlinflorence