Ever since first coming to Italy 10 year's ago, I have been dreaming about visiting the mysterious Aeolian Islands—aptly named after the 'god of the winds' Aeolus who blew Odysseus back to the shores of the islands. Known for the volcanic activity, here can be found bubbled hot mud baths and black-sand beaches. The only thing is, getting there is not always that easy. There are around ten inter-island and islets in this volcanic archipelago in the Tyrrhenian Sea, but only seven are inhabited: Lipari, Salina, Vulcano, Alicudi, Filicudi, Panarea, Stromboli.
Since we were in Calabria for a week this July, a wonderful trip that opened my eyes to Italy's diversity in the interesting mezzogiorno region. We also visited Matera for a few days and made our way to Tropea afterwards to embrace a bit of lazy beach life, as one does in the summer months (hopefully). Nico the best guy in the world (I'm biased, obviously) wanted to take me to visit the islands for a day, which typically is a two hour or so boat ride from Calabria's coast. The difficult of getting there makes this area of Italy even more fun.
His idea was to go with a smaller boat, one with a max- twenty people or so but the company we wanted to go with kept changing their mind and claimed choppy seas the day we were supposed to go out. Big bummer because we wanted to avoid the mini-cruises that you can see plastered on every street-corner in Tropea. Bright adverts for Aeolian islands promising 'any-way-you-want-them' with plenty of bad pictures just didn't seem all that appealing, but we bit the bullet because who knows when we would have been back again. Sometimes you just have to say yes or miss the plot.
The next morning, on my birthday, woohoo! We got up early and made our way to Tropea's port, the day worked out to be departure around 10:30, arrival in Panarea at 13:00 and stop on the island for approx 3 hours, departure for Stromboli at 16:00 approx and stop on the island for approx 3 hours, departure for "Sciara del Fuoco" at 20:00 with a stop to view the spectacular explosion of the volcano – return to Tropea at approx 23:00.
Since people were clamoring on fast, we got on early too and nabbed some spots up top and the sun was heating up fast already. I started to sweat pretty much immediately but thankfully brought a hat, since we sat in the sun at the port as more and more people got on. I kinda knew that this was going to be a 'interesting experience' from the onset. And naturally because of the hot weather, shirts came off and so did the almost uncomfortable closeness of our fellow passengers. I have seen back hair in all shapes, sizes and forms.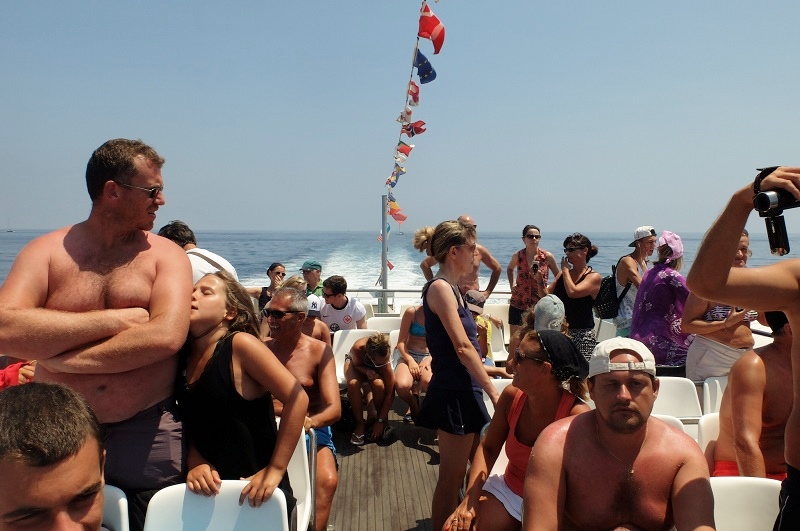 The 2 1/2 boat ride went fairly easy, sweatyness was ripe, we bought water and I read my book. In front of us sat a family from what sounded like Northern Italy, the typical overbearing mom barking orders at her kids of various ages while everyone sweated away. She took a liking to Nico, he always wins over the ladies, and they talked about weather and lunch options — as you do, this is boat bonding time after all. The best part was when she started to talk about what they were going to go when we arrived at Panarea, an island also known for its population of well-heeled jet-setters. I'll give you gist of the not-so-glamorous conversation.
Mom "You know there are famous people on Panarea right? This is so exciting!
Kids "yeah, ok" (no emotion) 
Mom "Well, get your cameras ready because we should get good shots of them to post on facebook, that way we can ask them for 40,000 euros to take them off!" 
Kids "I'm hungry"
I was in the midst of my book's plot "Christ Stopped at Eboli", in another world where 'boat sweat and complaints were a world away' when Nico recounted me the conversation. I guess I should be surprised but actually nothing surprises me anymore, only that she actually thought she could get that kind of money. Lady, it's 2015, celebrities are clamoring to put their own photos on Instagram and break the internet. I am guessing she was a faithful fan of slumbag Italian Paparazzi 'king' Fabrizio Corona. He was jailed for asking celebrities to pay around $20,000 in return for promising not to sell compromising photographs to the media. Quite the classy aspiration symbol.
The boat got even more interesting when the guys working on it came up to the top deck to chat with us, they knew a little German, hates the French, we heard it all. Apparently you could opt for lunch on the boat (with healthy, local options) and a swim in a nearby grotto area close to Panarea for only 10 euros a person. Since Panarea is so small and Zammarà beach was a 40 minute walk under the blazy sun away, that swim convinced us to say yes. We landed and everyone rushed off inferno 2015 to check out the town.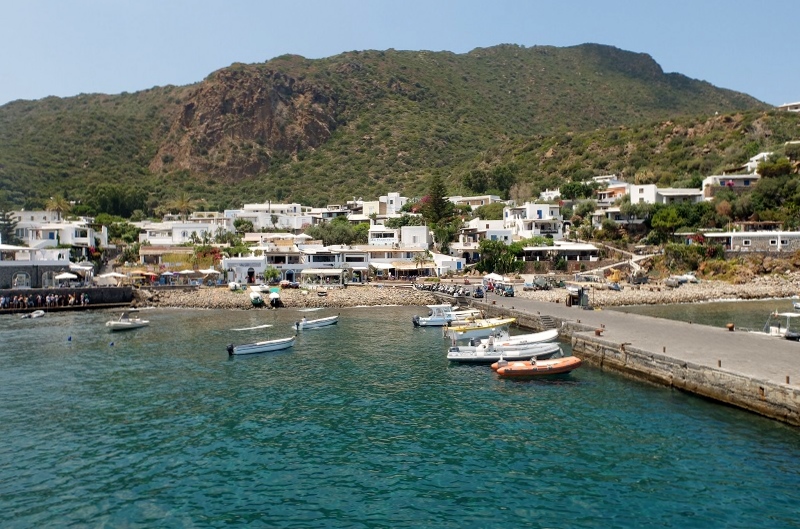 Panarea is also the smallest of the islands and known for being very pretty and quiet. Apparently the rich and famous have been holing up in Hotel Raya and drinking martinis at Bridge Sushi Bar for far longer than we've ever imagined, the year-round population runs around 300 in total. Also it happens to be home to the Princess Alessandra Borghese who apparently has attested to the difficult of obtaining a home, she said in Wmagazine " "It's all word of mouth," Borghese says, "so the wrong people are simply not allowed."
People a little wealthier than most (everyone) looking to live a more discreet life and found a haven in this place. Since we had limited time, I really needed to get my 'birthday granita' happening so we wandered around the tiny inward streets until we found a place called L'Elica ,a pretty little bar serving homemade granita, gelato and my 31st birthday-cake-to-be, a huge brioche filled with coconut granita. Never have I had granita as beautiful as here.
Best birthday cake, ever.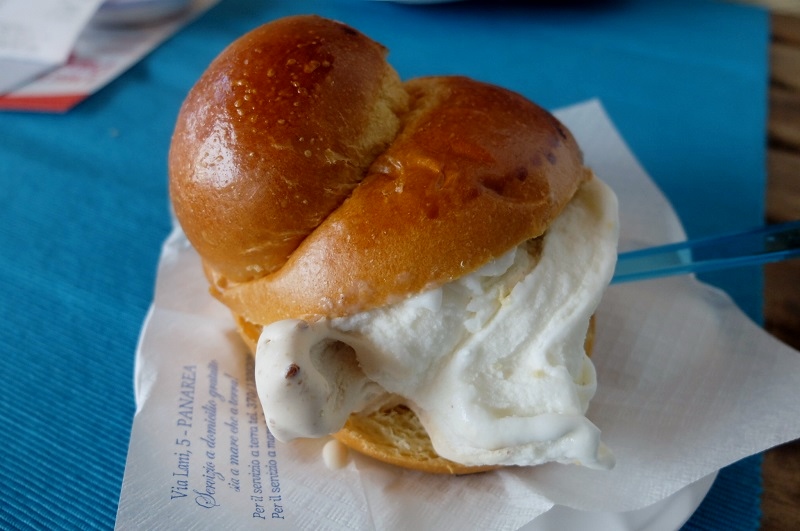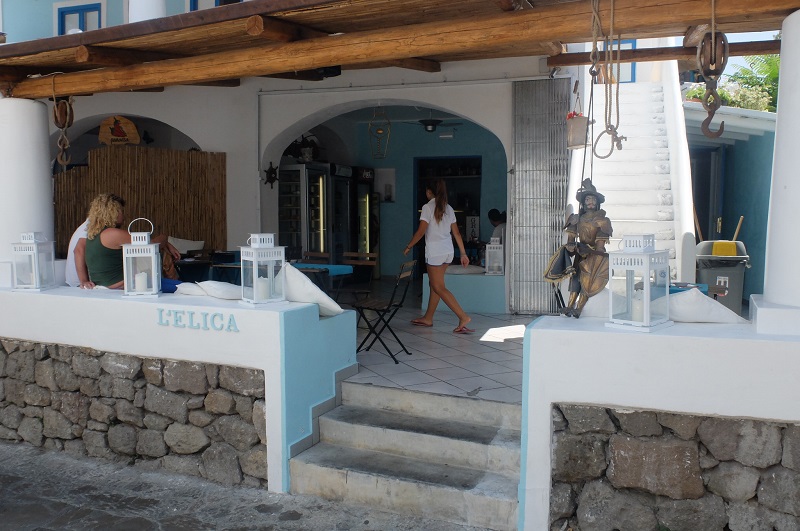 My suggestion if you visit this little jewel off the Italian coast is to purposely get lost (with sunscreen and proper provisions of course). White-washing walls at every corner and sea views, this place is just breathtaking. I was pretty bummed we couldn't stay longer but it was kind of love at first sight (or bite of that delicious brioche). Next time, I plan on hiking a bit more to visit the Bronze Age ruins that I've read about. The white-washed walls made me feel like we were in Greece, we found a tiny church and views of Dattilo (a jagged island islet, located close by). What I loved about it here, was that this is the kind of place where it is ok to do nothing, it's almost a must. And the views inspire. The kind of place where you can nap all day and get high-quality sushi made from fresh fish at the little village of San Pietro.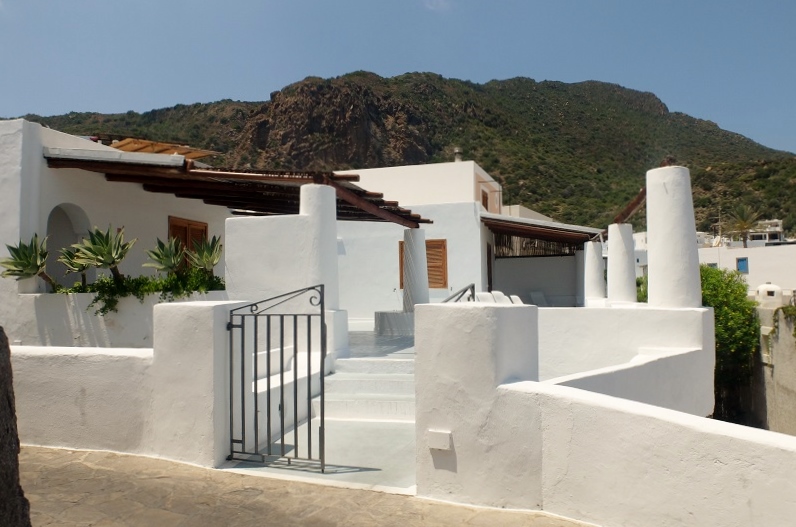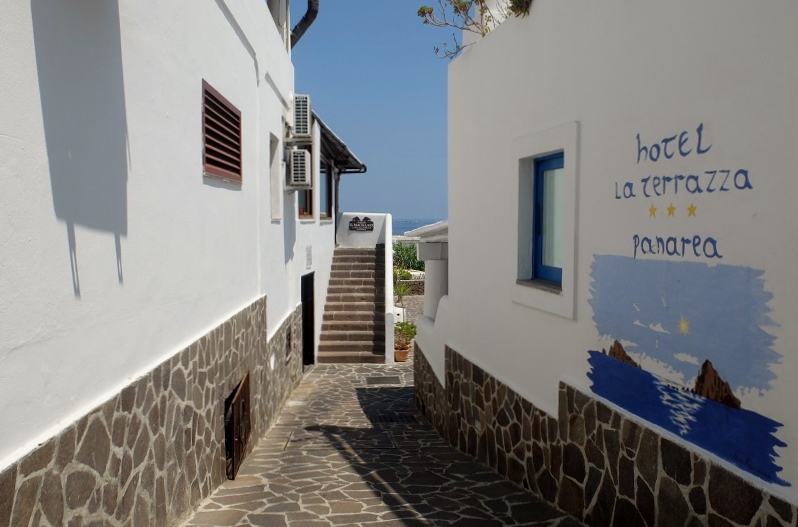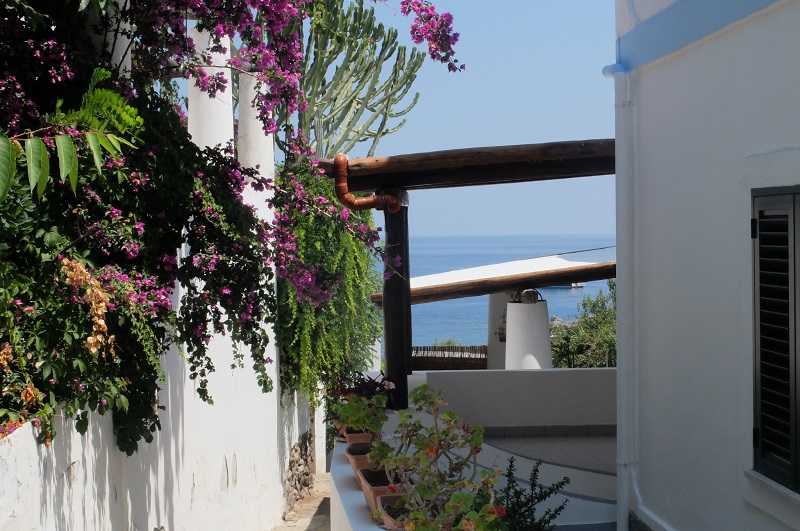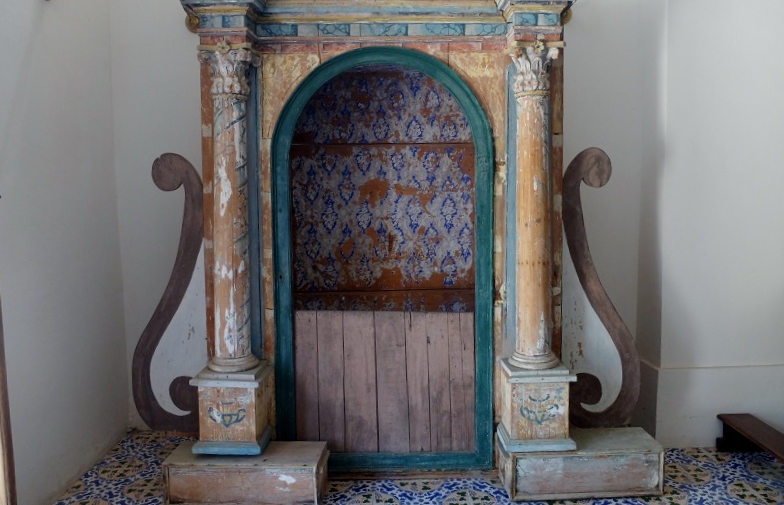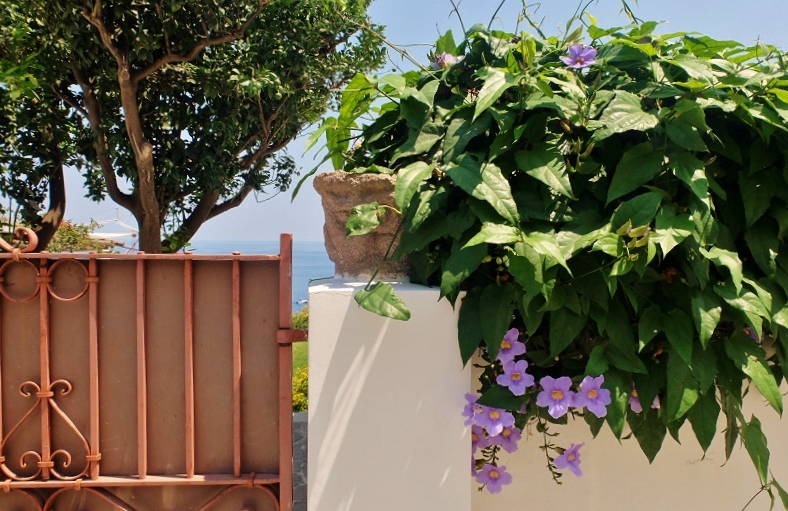 It was hard to return to the boat, but it was time to swim and this area is also a divers paradise. Humans have been here for so long, that they find all sorts of interesting archaeological finds in the sea, apparently the area around Basiluzzo is quite notable. I also recommend Cala Junco, a beautiful bay at Panarea, the ideal swimming spot.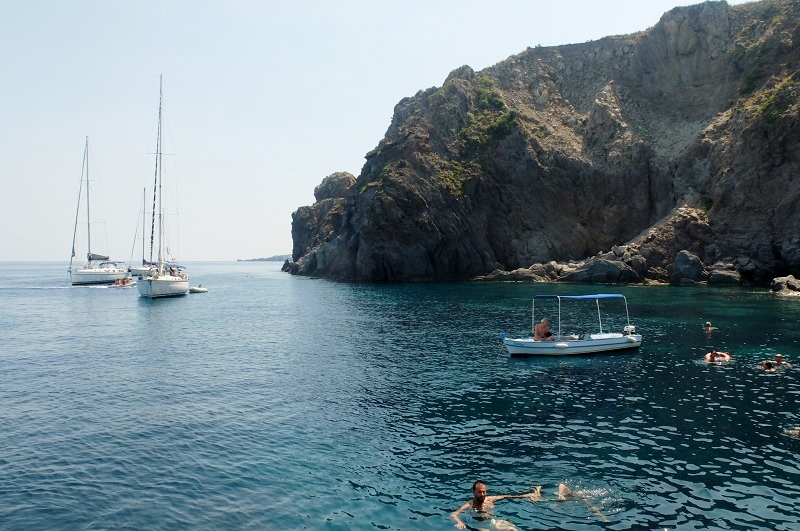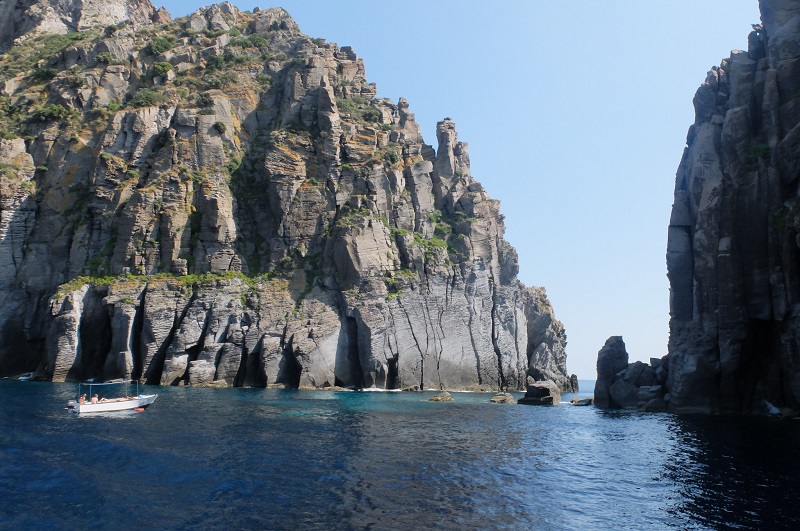 Getting out of the boat into the water was actually slightly hilarious. The people on the boat basically made it into a military like operation, almost shoving people into the water. Nearby sleek yacht and boats looked at us in disgust and honestly I couldn't blame them, it wasn't a pretty scene. We swam away from the crowd and enjoyed being in this beautiful place, I wondered what lied below us and wished that diving wasn't so scary to me. It ended all too quick as we had to get back on the boat for a light lunch and as we swam in line, one woman pushed past Nico sighing 'sorry, I am going to move over here, I really gotta pee.' 
Lunch was an interesting affair, a sort of farro salad with pesto served out of huge plastic bowls. We sat next to a brooding couple that wouldn't even look at each other. Maybe that was the girl who had to pee before. I wanted to reach over and whisper 'you can do so much better' as he furiously ignored her feeble questions and played on his phone. I tried a little wine which was a bad idea, I think they switched it for acid that they use to sterilize the boat (ok that was an exaggeration).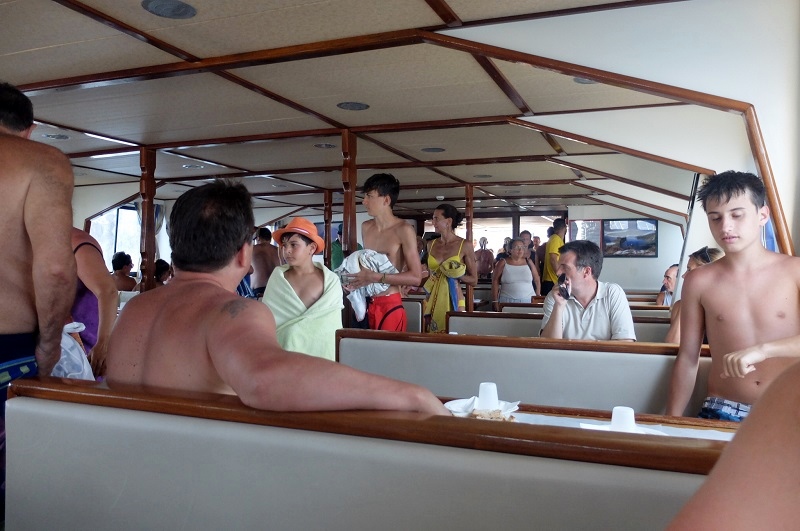 After picking up the rest of the passengers who stayed at Panarea, off we went to Stromboli, also known as the 'lighthouse of the Mediterranean' for its, well active existence. I was actually really excited because this would be the first time I'd see an active volcano up close and personal, and one that has been erupting for over 2,000 years.  3,034ft above sea level. It was mentioned in Jules Verne's novel Journey to the Center of the Earth. It is also said that author J.R.R. Tolkien identified his fictional volcano Mount Doom on Mordor with the volcano of Strombol.
Arriving here, everyone clamored to again, escape the boat. We decided to go for another swim on a black sand beach, but actually really really black. It was amazing, the water was almost bath water warm and we had a grand old-time. I couldn't believe that yet another birthday was spent in such an incredible place, yet always in Italy, which is where I most feel at home.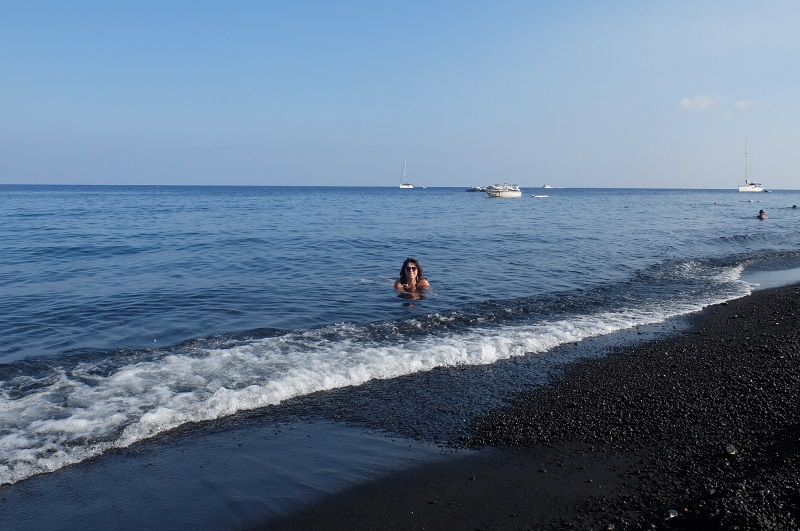 While it was hard to get out, we really needed a proper meal, and lets face it, a bottle of wine — so we headed up to piazza dell'isola, the best panoramic point on the island (see my cover photo). Here there are two villages, the larger Stromboli and the much smaller Ginostra, which really deserves me visiting another time. On the islands, you tend to see a lot of ape cars because it is pretty much the only way to get around but being that I love them, they are seriously pretty cute on the eyes as well.
https://instagram.com/p/5HAVsoRTNg/?taken-by=girlinflorence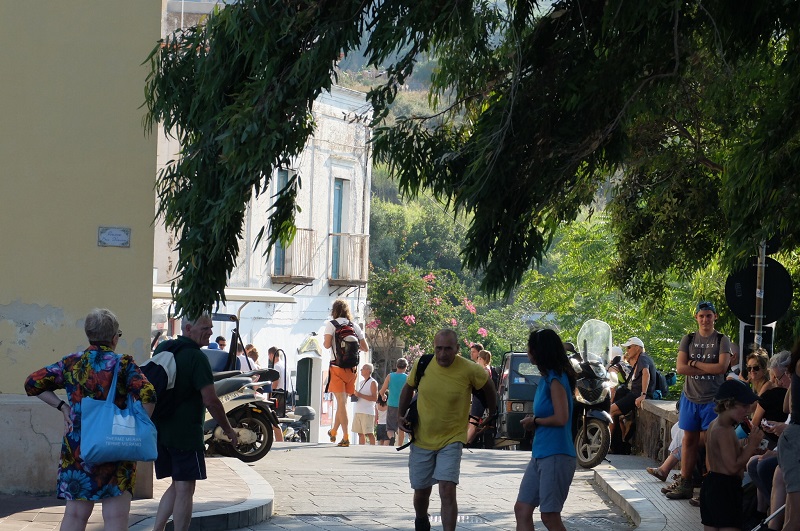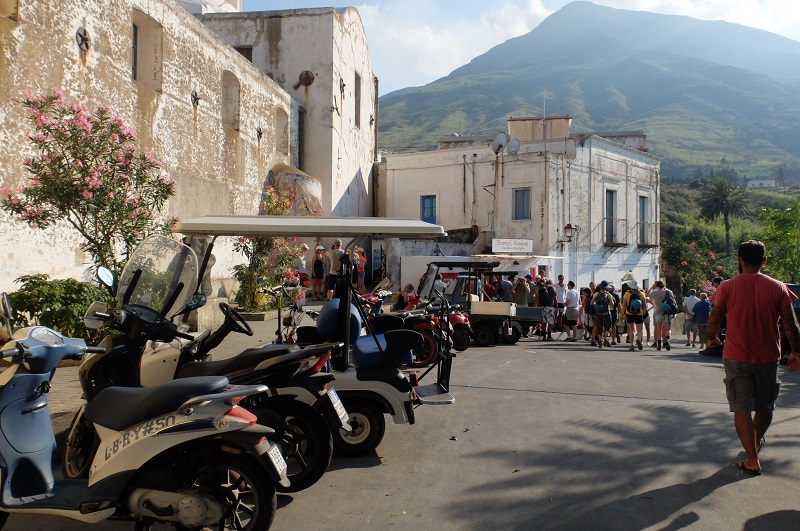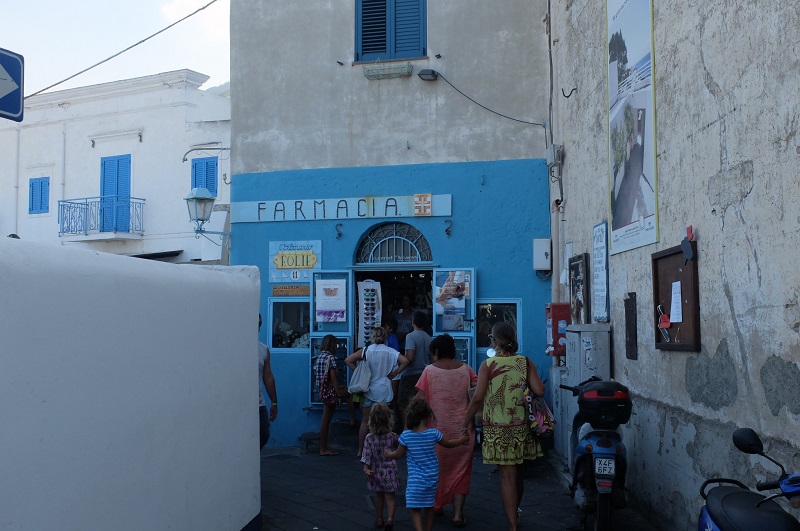 Next time we come, I would love to hike the volcano, I know it isn't easy but this would definitely be a wonderful experience. Friends have told me they went with Magmatrek (Via Vittorio Emanuele) and liked their experience. We grabbed a pizza at Ristorante da Luciano, which was actually pretty good, more so for the view than the pizza, but we had a wonderful time soaking in our last bit of time on this majestic island before hopping back to the mainland. I am now inspired to watch the old movie  "Stromboli",  made on the island by Roberto Rosselini, and starring actress Ingrid Bergman. We managed another evening swim before hopping onto the boat.
https://instagram.com/p/5FYZl_xTFg/?taken-by=girlinflorence
On the way back to Tropea, we were to see the Sciara del Fuoco natural fireworks' from the same distance of our boat, the appeal of spurting lava in the air was just too much fun for us all. Apparently this happens night for about an hour and a half and I was very glad that we retained our prime position on the top deck for the occasion. Witnessing the sunset as we passed various rock formations was amazing. Honestly it was better than the volcanic activity itself because god decided to take a break and all we got were a few sparks.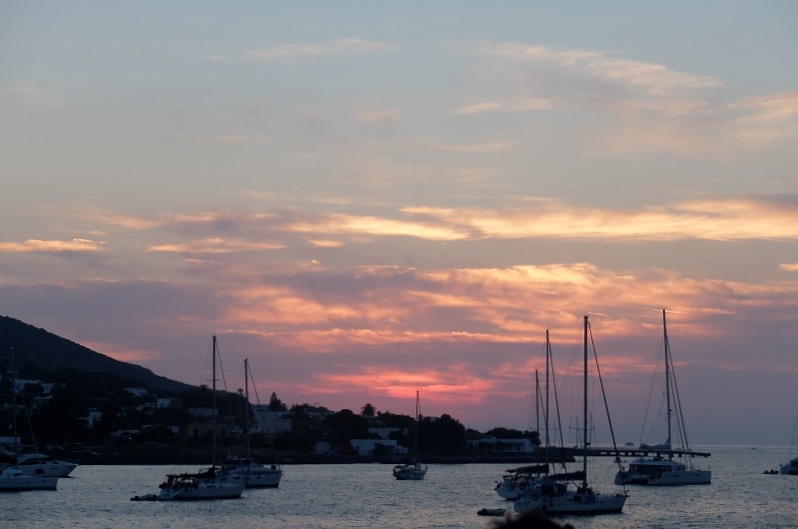 It was a beautiful way to end the trip and I happily immersed myself into my book and onto Nico's shoulder the rest of the way. We were so tired upon arriving and ready to never see the term 'mini-cruise' again but I was so happy we went. For less than 50 euros a person, we saw something new and very special. I am already plotting a way to come back and explore con calma (with calm) so that I can write more in-depth guides for the blog and ITALY Magazine. This article by The Times has also inspired me to visit the more artistic sides to both Salina and Stromboli.
My advice, go in September or October, which are quickly becoming 'high season' in many Italian cities but I have a feeling you would still be ok here. You could take one of the many mini-cruises, like we did, from Tropea but honestly it was way too much time on the boat and not enough time exploring. The main departure points are from Sicily (Milazzo, or Messina) and in Calabria (Reggio Calabria) which seems like a more viable and painless option than Tropea (Crossings take between 45mins to 3 hours depending on the island). Ustica Lines and Siremar are your best bets. You can also look for sailboats or other options to charter for a visit. Or helicopter if you are fancy and have more money  than me. Is it worth it to go? My answer is absolutely yes, I think there is a lot to be said about such a wonderfully isolated place.