For year's I have been heading to the same stretch of beach along the Tuscan coast, the one where my ex-boyfriend's family had a house. The town was tiny, a nothing special place that was a homage to the 80's. You know, the kind of place where  garish cartoon character's covered sleepy cafes, the newspapers in Italian and German, the same guy was forever outside the same restaurant where everyone got their fish.
It was comfortable, sure, the beaches rarely crowded and there was an even a bowling alley. The apartment was family-owned, by both my ex's parents and his uncle and aunt. It too, was a homage of the 80's (70's), floor to ceiling bunk beds and old photos in plastic covers — the fridge could barely close but because the mantra was 'we must use it until the fridge self-implodes' we dealt with it. My ex and his brother's old lego masterpieces were mantled above various ancient furniture, doilies were everywhere. Apparently the ninja turtles were famous here too.
I was pretty much the only Americana in the whole seaside village, I got second glances the second they detected my accent. We would rent our bicycles from an angry old man who worked in a tiny garage by the fish guy, he did however, have a soft spot for kittens. I have many good memories there, but also some bad ones too. I spent my birthday there many years ago with a group of friends, it was generally a nice time but I painfully remember getting into an awkward fight after my ex's uncle showed up randomly during a weekend we thought we had the place to ourselves. At this point, I was accustomed to an uncomfortable annual tradition of shedding tears on my birthday and this was no different. My ex in a stony silence, it was always my fault, I should have doubled as a mind reader.
I blinked back tears, knowing that my friends wouldn't understand his sudden change in demeanor. I just couldn't understand why everything was a 'big deal',  including inviting my friends for a seaside weekend. Or hosting a thanksgiving dinner, or asking for a little privacy. But of course no one ever said anything, the awkwardness just hung in the air like an annoying mosquito, my experience was that you are expected to 'know better'. But how can you when you brought up in an entirely different culture? Luckily, these kinds of situations are non-existent in my current life. Also because I grew a pair of balls and learned that sometimes it's not the culture, it's the person.
Referring back to the area, people typically preferred to go to nearby Cecina or bigger towns along the Etruscan coast. There was the famous 'white beach', chemically altered from a nearby soap factory. This pretty much shaped by Tuscan beach education for 5+ years until we broke up and I discovered a whole new world. It was like a baby bird coming out of the shell, what… there are other beaches in Tuscany?
When I started dating Nico, one of the first places he took me to was the gulf of baratti, a beautiful place not far from the ancient Etruscan settlement of Populonia. It was awesome. Not only were there actual waves, but the beach bars inside of the 'bosco' (woods) were vibrant, full of young people drinking mojitos while lounging against trees. Nature, history, a beach and a nice cocktail is all this girl ever needed. From then on, we visited Castiglione delle Pescaia, the most eco-friendly beach in Italy. Great places but pretty far from Florence and difficult to get to without a car, plus in the summer getting a spot on the beach is akin to jumping into a tight box of sardines, not fun.
This summer, we opted for a different kind of summer vacation. Since we are saving up for our wedding this November, we need to keep costs low, so we decided to head down south to Italy's jagged toe, Calabria, a mountainous and sometimes hard to navigate (or find information on) but fascinating region. When Nico originally suggested this, I admit, I wasn't that excited. While I am slowly getting acquainted with Puglia, Sicily and other marvelous places in the south, Calabria just didn't sound all that appealing, for a variety of reasons, not to mention being the hub of organized crime. However, one of my favorite bloggers of all time lives here, the wonderful Michelle Fabio of Bleeding Espresso, which is reason enough to give this place a chance, she knows it best and there is no one better than a long-term local to truly get wonderful tips. She wrote this article on about.com on the best beaches in the region. I also utilized the blog and advice of Cherrye Moore, a fellow Texan married to a Calabrese.
Arriving Along The Ionian Sea
He convinced me to give it a chance, and we booked our ryanair tickets to the Crotone airport, on the Ionian coast. Our idea was to make this an epic week-long road trip, staying for a night in Crotone and head up north to another region, Basilicata. Home to the ancient city of Matera, a place I have been dying to visit ever since a few friends of mine visited earlier this year and raved about it. We would stay there two nights and then head back to Calabria and stick around the more touristic area of Tropea, also known for some of the best beaches in Italy.
Arriving in Crotone was a bit of a surprise, the airport looked newly built, as in like yesterday. A bit like someone's freshly sanded backyard shed. No big deal, I was used to small airports. Getting our rental car was a breeze, it was almost record-efficient since everyone else had their ride. Nico doing the dirty work while I peeked outside only to see the Crotone airport sign jumbled up in one corner of the outside terrace, no hurry guys, at least the runway works. As we neared the coast I made Nico stop a few times to check out the incredible view, after a blistering hot summer in Florence, this is exactly what I needed to see. If you plan on sticking to the area around Tropea, you can find flights to the more popular airport Lamezia Terme.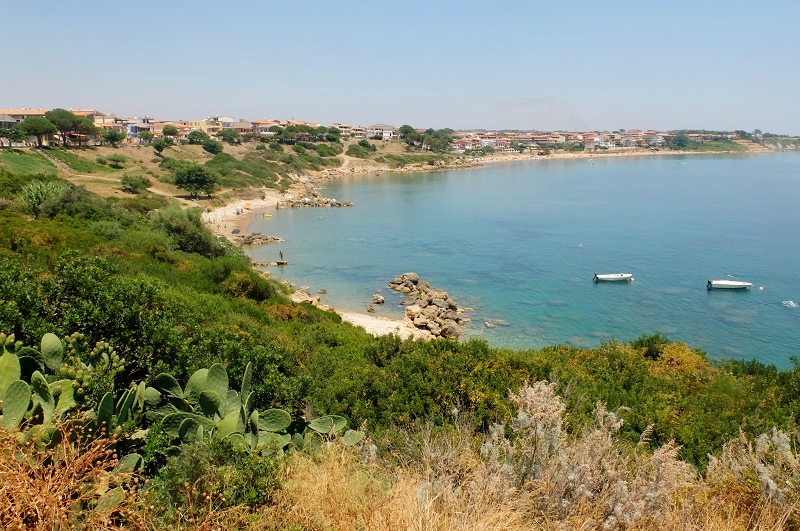 We set off to visit Capo Rizzuto, or rather an ancient fortification in the district of Le Castella that dates back to the Angevin period, restored in 2001. The site where Turkish soldiers once faced off against the Aragonese, in order to raid the coast in peace. Apparently this is also where we all got the superstition of black cats, according to legend pirates brought a hungry black cat to help them find a secret tunnel leading them here, which they did by following the scent of food. Read more about this interesting place in history via Delicious Italy. We did regretfully miss seeing a remnant of Magna Graecia history, the impressive Doric column, a remnant of the temple of goddess Hera Lacinia.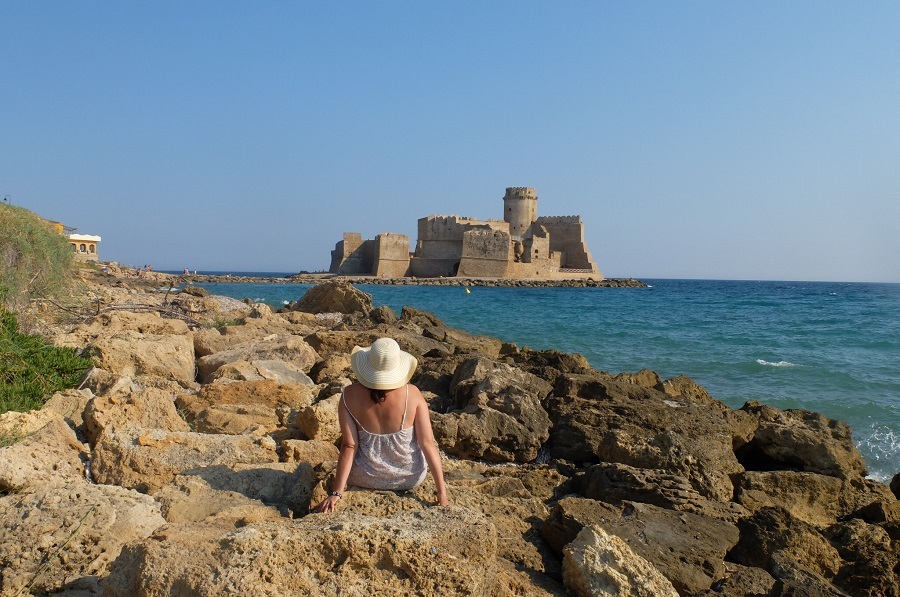 We had a lazy, long lunch at a place that looked super touristy, complete with pictures-on-the-menu but it was pretty much the only thing open, and we were among the three only customers. Luckily the food was decent and we spent the entire afternoon playing in the sea, renting an umbrella and two chairs for the very low price of 10 euros (the general average for a day's use in Calabria, we found). The only unfortunate moment, or shall I say lesson, is when I chose to order a spritz. Normally a pretty common cocktail in Italy, they seemed a bit bemused at the beach bar and what I got was a very, flat, too-much-aperol kind of concoction. Dear god please, never order a spritz here, go for a beer or glass of wine instead.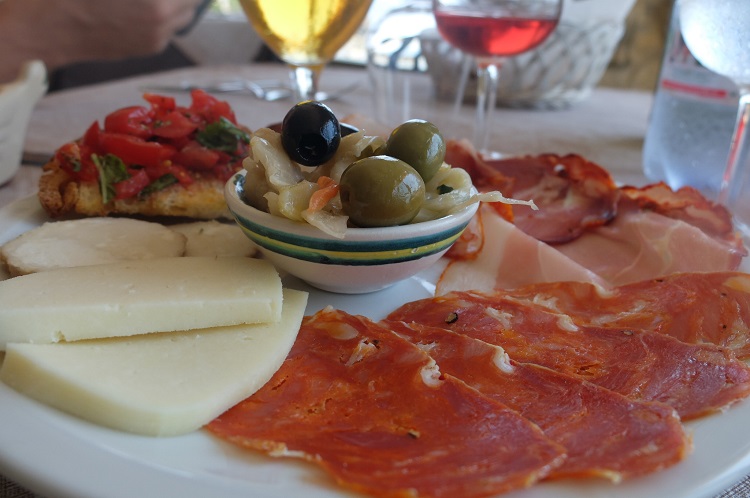 The fun part was checking into our bed and breakfast, B&B Aprile Dolce Dormire, in the center of Crotone. The owner Giuseppe called us no less than five times to ask or arrange when we would be arriving, a little much, but no big deal. We finally find him to get the keys to our place for a night and were pleasantly surprised by the very colorful, simple accommodations. A bit of an 'art' budget hotel, the walls were covered in various homages to jazz. Giuseppe showed us the charming common/breakfast room decorated with plenty of contemporary art by local artists. Our room was modern, functional and had working WiFi which made me a happy girl. The outside piazza looked like something out of a movie with laundry lines slung in every direction, like the crossroads of an Italian housewife universe, it was pretty cool.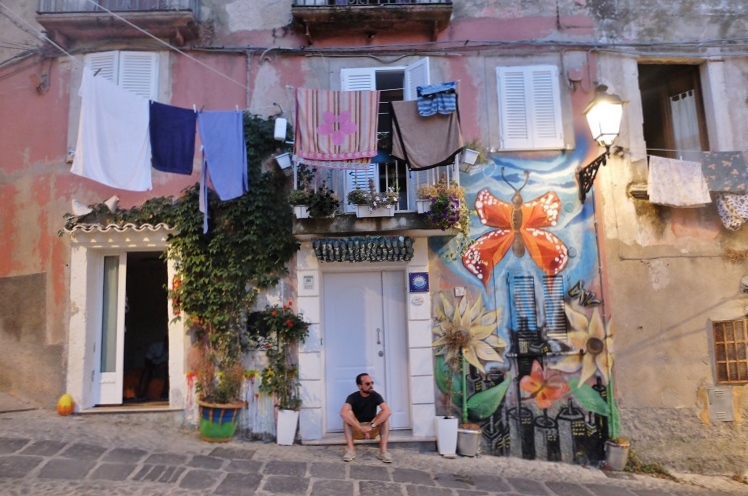 Crotone town, well, we didn't really get to explore much. We made our way to a place in the middle of nowhere for dinner, actually it was in a camping site, Campeggio Hera Lacinia Mare. Making dinner reservations in Calabria was an interesting adventure in itself, every time Nico would call, they often acted surprised that we'd bothered. In fact, in this case, as soon as we showed up the wife immediately went to her husband and said 'look, they arrived!' In fact, the at this particular place, we were again one of the only people there and they completely catered to us. It was a little bit like the twilight zone and I couldn't quite figure it out, since the food was excellent! Dinners typically cost us no more than 50 euros for us both, and in this region, normally much less.
The next morning we took a walk in town before driving to Basilicata (which I will be covering in a separate post) for a few nights in the majestic town of Matera. It was very hot at this point and as we made our way down to the center of town, we heard a fighting couple, a few cats and… not much else. There were plenty of discount supermarket-type shops and it seemed like every three feet there was a bomboniere store (wedding favors). I don't want to prematurely judge Crotone but let's just say it wasn't my favorite place in Italy, I need to come back with a local. I do know there is a pretty big outdoor market the first weekend of every month in piazza duomo. As far as things to do, there wasn't much. The Castello di Carlo V is quite impressive, worth a visit if you come to this town. I also recommend trying a 'home restaurant', a cool concept I discovered on only later on twitter that exists in Crotone as well, basically you make a reservation to eat at someone's personal home, choosing from a menu of either meat or fish (20-25 euros p/p with wine).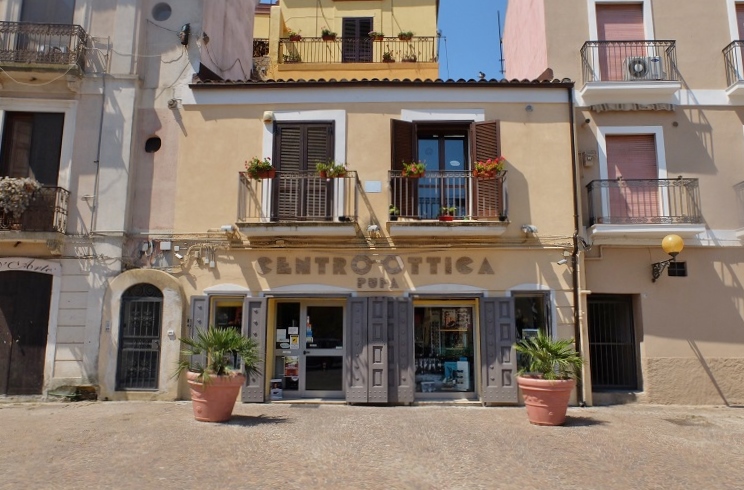 Lunch Paradise Than Beats Any Autogrill
On our way to Matera, we stopped for lunch at Agriturismo Aurea, a beautiful little spot further inland serving up typical Calabrian dishes such as mixed meat and cheese platters, fried zucchini, the famous 'sardella calabrese' made with fish eggs, fennel seeds, and red pepper  and the most delicious homemade pastas and desserts. Nico and I looked at one another wondering if we could finish it all. The entire family was involved, from nonna to the youngest boy (around 4 year's old). It was a very happy and long lunch and I highly recommend it.
https://instagram.com/p/46b6_axTN5/?taken-by=girlinflorence
'Coast Of The Gods'. Driving To The Tyrrhenian Coast
After Matera, we hopped back in our rented Fiat 500 (our preferred car of choice) and headed toward the Tyrrhenian coast. While we didn't stop at Praia a Mare, which is close to the coast of Basilicata, that is definitely going to be stop on any return trip to the region. Instead we were inroute to Tropea, land of beautiful beaches and the sweetest red onion in Italy. We were quite excited because the first night we were to stay at a place I had read about, Villa Paola, a luxury hotel high up in the hills surrounding Tropea, and we were not disappointed after several hours of driving, as you can see by Nico's sacrificial lamb photo below.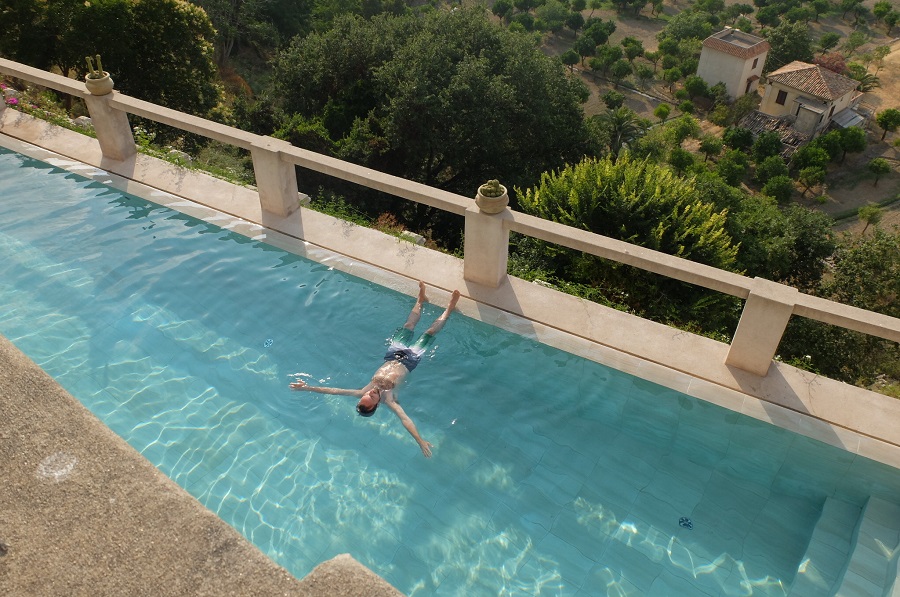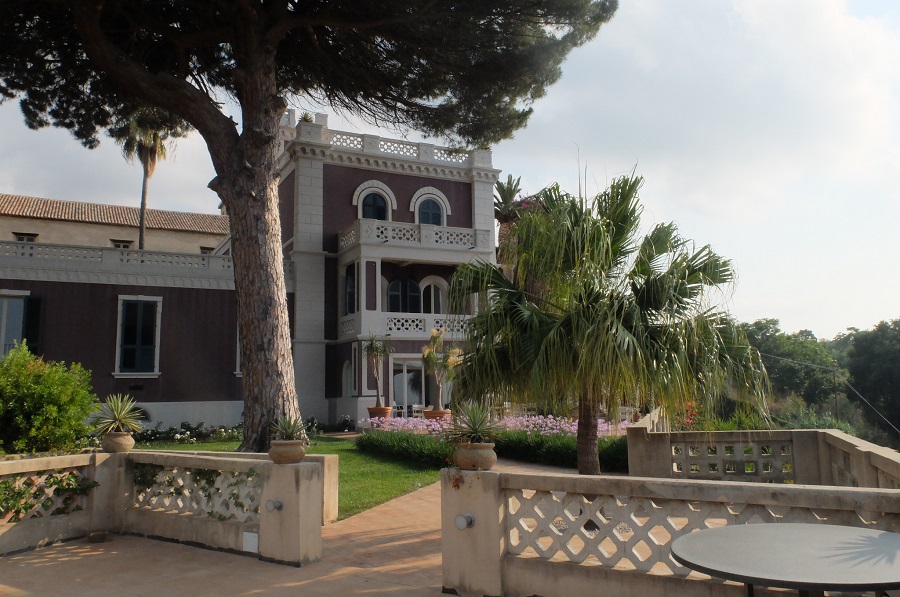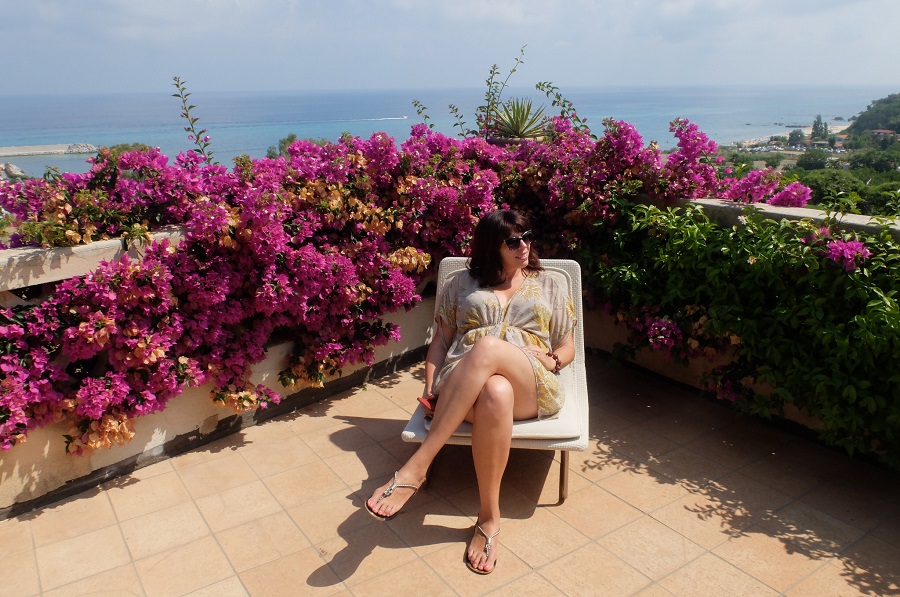 This place was from another planet. Situated in a 16th century ex-convent, legend has it that St. Francesco of Paola, in route to Sicily, and predicted this convent to be built for his monks. They had a pretty damn good idea because the view is quite pretty, a lush paradise a few kilometers from Tropea. Nico said the interior reminded him of Morocco, calm and peaceful from the outside chaos. To me, it felt like someones very nice, luxurious and curated home, with plenty of greenery and panoramic points peppered with antique pieces from their extensive travels. Keep in mind, there is no reception, they intuitively know everything upon revival and you have the feeling of being there quite alone, which we actually liked. With only six rooms here, this is the kind of place you come to embrace the total concept of relax, and that's exactly what we did, whiling away the afternoon at the pool with only two other guests.
Tropea itself felt like NYC after Crotone, albeit a faded one. A sort of crumbling gem on a towering cliff surrounded by beautiful blue sea.  People filled up the streets for their before dinner passeggiata, arm-in-arm to walk down the main boulevard Corso Vittorio Emanuele to see one of the best views a human could ask for (see lead photo). We went down tiny streets opening up into little restaurants, took a look at the daily market — a medley of random items including the coolest 'onion truck' (the most famous local item) I've ever seen. Between that and the numerous signs advertising trips to the Aeolian Islands (especially in Piazza Ercole)  by mini-cruise you pretty much have the town in a nutshell. We ended up eating at a pizzeria called 'Vecchio Forno' next to a man and his very annoyed teenage daughter. Our onion appetizer was fantastic, and while the pizza was nothing to write home about, to be quite honest, I was happy to be under the air-conditioner drinking glass after glass of cheap, cold beer.
The next day we changed hotels, from the hushed luxury of Villa Paola to the simple panoramic B&B Valentino, located in the area of Capo Vaticano, a little further inland. Our excited host was happy to ask us all sort of questions about where we were from and what we thought of his treasures region. If you have a car, this place is absolutely amazing. For the price (under 80 euros a night, in high season) you can get a nice, air-conditioned room with a view that is spectacular. It took my breath away. While getting ready for dinner, we caught the most amazing sunsets here.  Our host Francesco was very concerned that we were having a good time and made sure we ate our breakfast ;-).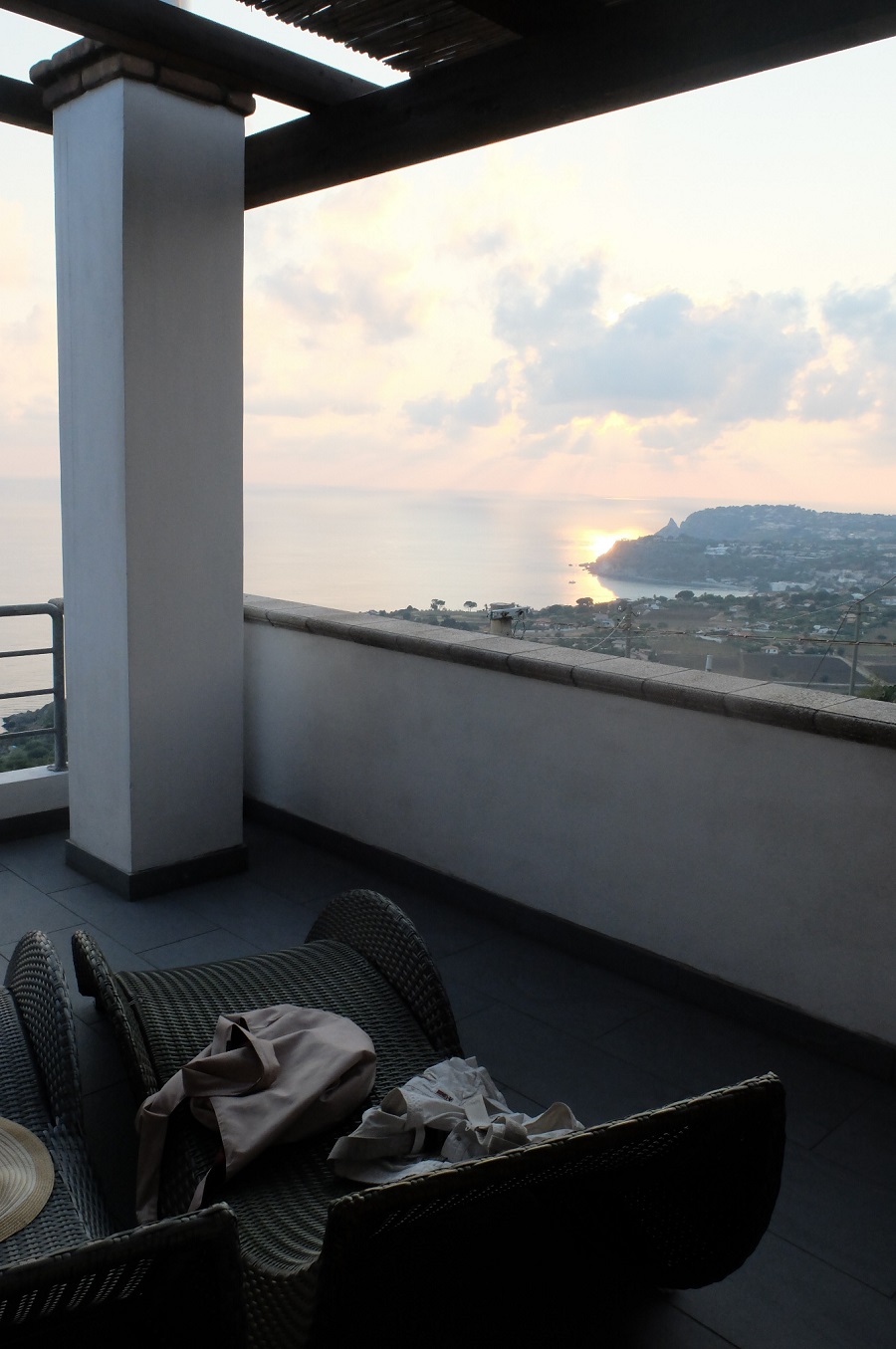 The rest of the time, it was all about beaches. For my birthday, Nico was planning on taking me on a boat ride to the Eolian islands (which I plan on touching in another post) so our second day in Tropea/Capo Vaticano was spent at some of the most amazing beaches I have ever seen in Italy. The first was in Tropea itself, if you park in the pretty cliff town, there are 200 steps to take you to beach.  The rock face of Santa Maria dell'Isola church (pictured below) is incredible, a medieval church that was renovated during the Renaissance. Once again you pay a grand total of 10 euros for two chairs and an umbrella, for the entire day, plus the 'free' area of the beach is bigger than the paid. Tuscany take note.
The Gelato Genius, Meet 'Toni'
One of the highlights was meeting Antonio, the 'gelato genius' that my friends at Espressino Travel told me about. His crazy gelato concoctions were covered in the Toronto Star so we took a break from playing in the water to visit his little shop on the main boulevard. When we got there, we recognized Antonio right away, he shuffled from the outside table he was sitting at, to his throne behind the extensive gelato bar. 'I heard you make great gelato' I said in Italian, 'Toni' was also smiles as he laughed and replied 'of course, now what are you having?' While also correcting my Italian, naturally I do not speak local dialect. Of course we needed  to try the Tropea onion flavor and other local favorite, nduja, a spreadable, spicy local sausage that is also in gelato form in his shop. Even if the first bite was shocking it was quite good, a little spicy, very sweet and all in all, quite interesting. He has plenty of more 'normal' flavors for those who don't want sausage in their dessert.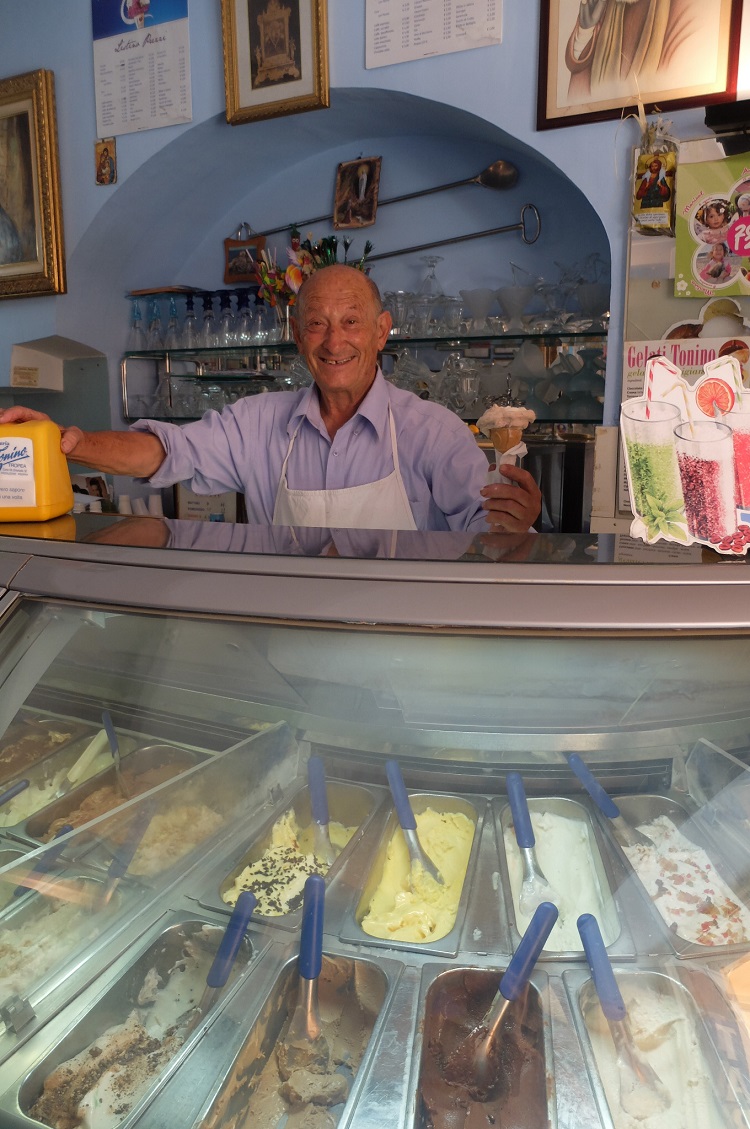 Afterward we wanted to head to Capo Vaticano, also on the list of most beautiful Italian beaches. about twenty minutes driving in the municipality of Ricadi. Known for its grey white granite cape (considered once to be a sacred place using the flight of birds to predict the future), the beach here is fantastic, you'll want to head to the bay of Groticelle, paradise for swimmers and lovers of prickly pear. We actually initially got lost and went to a panoramic point of the coastline and was rewarded with this view for our google maps fumbling.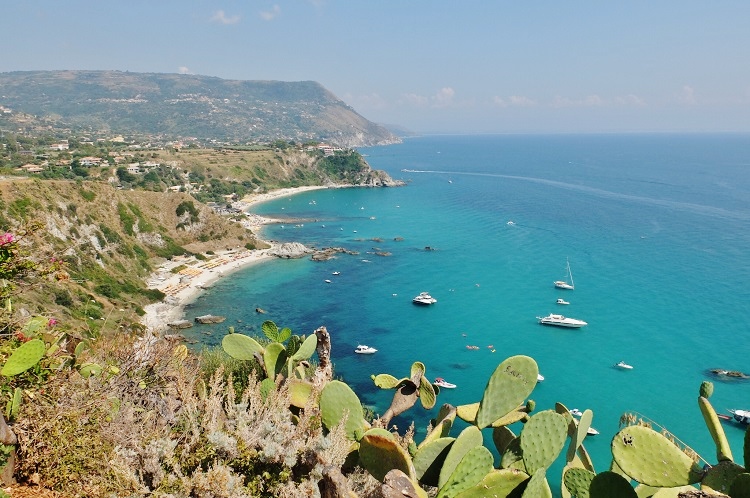 Besides the usual towel and chair combo, you can also rent paddle boats (we saw some cool modern ones) or a boat hire for a day to discover some of the more hidden beaches only reachable by sea. I definitely think it would be worth it. As you can see boats here ate plentiful, with people taking advantage of the hot, but not too hot weather, to spend a day at the sea.
https://instagram.com/p/5Jd0jKRTPv/?taken-by=girlinflorence
My Favorite Restaurant in Calabria: Donna Orsola
That night we ate at one of the best restaurants I have ever been to Italy, not far from our B&B. Getting there was a little tricky with the car, Calabria's countryside is often dotted with pot-holed filled roads, trash, burning trash, unfinished buildings and the like. However, Nico hit one out of the ballpark with Donna Orsola, I forgot about the scary roads and felt on top of the world with this hidden garden.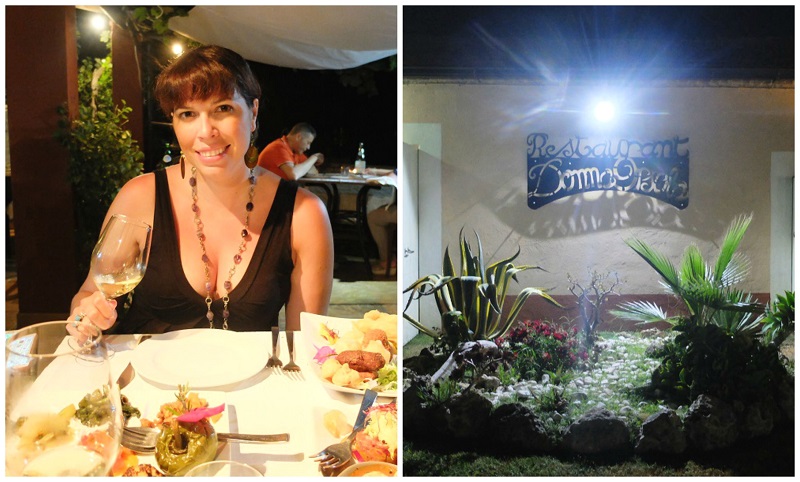 A discreet restaurant next to a very dubious looking parking lot, we spent the next three hours eating delicious, local Calabrian food, the antipasto (appetizer) itself could feed a family of four, swordfish, shrimp, fried vegetables, marinated veggies, caciocavallo cheese, all washed down with the very good local wine (Donnici and Ciro). We ate inside the local garden, delicately lit up with candles. This place was romantic as it gets, a world-class dinner for 80 euros in two.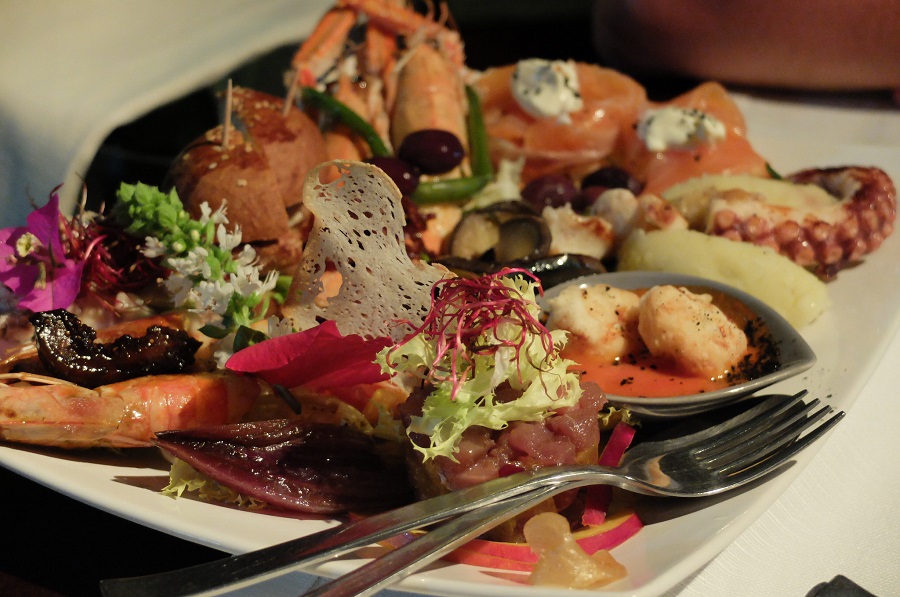 My last find in Calabria was a small, local beach, Coccorino, that not many wander to, we discovered it on the recommendation of our Francesco, from our B&B. It was the perfect place for swimming and exploring the rocky edges in peace, with plenty of room to stretch, so unlike the crowded Tuscan coast. Lunch here included our favorite nduja (all hail spreadable spicy sausage) and we even saw a homage to Madonna placed in the side of a cliff by the water's edge, naturally. A perfect last memory.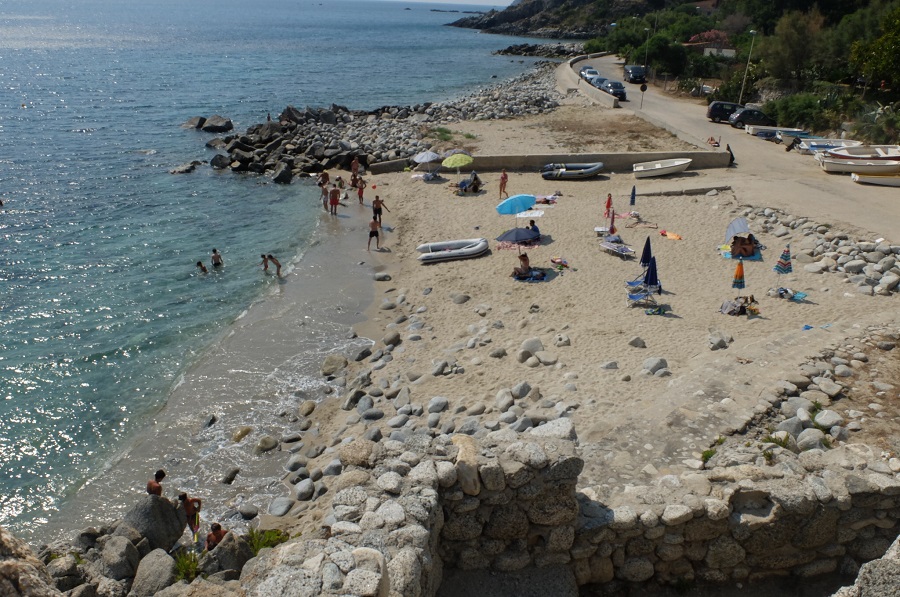 ---
I wanted to add this google maps showing out driving route and also notable stops and stays. Next trip down south, we'd like to visit Pizzo, Scilla ( home to the six-headed sea monster Scylla in Homer's Odyssey), and Diamante, which has a notable peperoncino (hot pepper) festival every September, this year from the 9th-13th. We were only there for one week, and two of those days were in Matera (in Basilicata), considering this is no small region, 15,000 square feet of space, it warrants a return trip or three.
A few things to note, in Calabria, you are best advised to rent a car. Public transportation does exist, it just doesn't work very well and you won't be able to do much without one. Interesting take-home items for my fellow shopping lovers include locals wines (which are absolutely fantastic, both red and white, as well as the local nduja and anything involving peperoncino (hot peppers). I also highly recommend hiring a boat to take you down the coast of Tropea, bring your snorkeling gear as the water is incredibly clear, even in July.
I think it is also important to note that this might not be the place for everyone, I adore Calabria but I know the trash, crazy streets and lack of activities can be off-putting to those looking for a bit more structure, or service for that matter. This area has so much stinkin' potential but it needs more development, our B&B host Francesco explained that even their area was full of trash, with roads covered in wild bush that hadn't been trimmed in months. This all due to the fact that there was no longer services or representation fro the comune for months at that time, that they were still waiting for a representative from Bari. August, as in many beach towns, gets very crowded so off-season is the best time to come (after mid-September).
Calabria is beautiful, but you wince as much as you smile.