The sunset slowly starts to come earlier, first it was nearly 8:30pm then it becomes more like 7:45. The 'chiuso per ferie' signs disappear and business owners open up shop after a month's break (at least in the oltrarno). The streets begin to fill with people in the mornings and early evening before dinner, and dogs — so many dogs. Students can be seen everywhere, starting their study abroad experience, waiting for gelato, in line for groceries at Conad, I smile as I think about how that was me just 10 year's ago. This is what September feels like in Florence, and I for one am pretty happy to welcome a sense of 'real life' back. The energy, the excitement, the new projects and events that already seem to be pouring in. It feels good to be in the city right now, even if that comes with more work than ever before.
Better to be busy then bored, right? 
There is always plenty of things to do in Florence, and the events lineup this September look better than ever. Vogue's Fashion Night Out is returning, there is a new creative space in town and did I mention tons of wine festivals? Remember it is also the start of wine harvest season which means there are plenty of cool festivals will be on in the surrounding countryside. If you want to see a line-up of monthly markets in the city (antiques/food, flea), read this post first.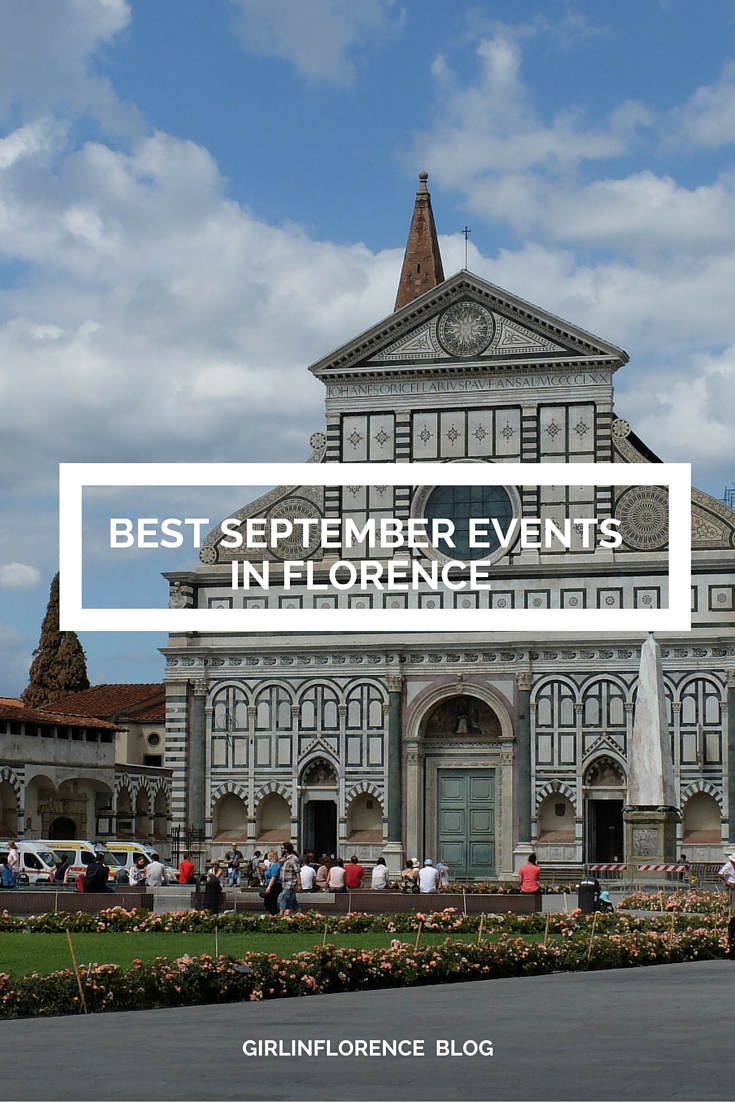 PUBLIC EVENT | SPECIAL OPEN MIC NIGHT AT TASSO HOSTEL, September 2nd, Wednesday, 8PM.
There is nothing I love more than when the local community gets together, for no better reason than to share a bit of #wineandwords. This month's Open Mic will be led by wordsmith, Lee Foust, an experienced writer and open-mic'er from San Francisco. He has a gift for rolling rhythms and words, and a great love of emerging writers! He loves to play, come and keep him company. Bring your words – we want to hear them! Free to attend, these events will take place every first Wednesday of the month. Email marisa@mondodicorpo.com.au for more info and to participate. address: via Villani 15, Florence. Official event on Facebook can be seen here.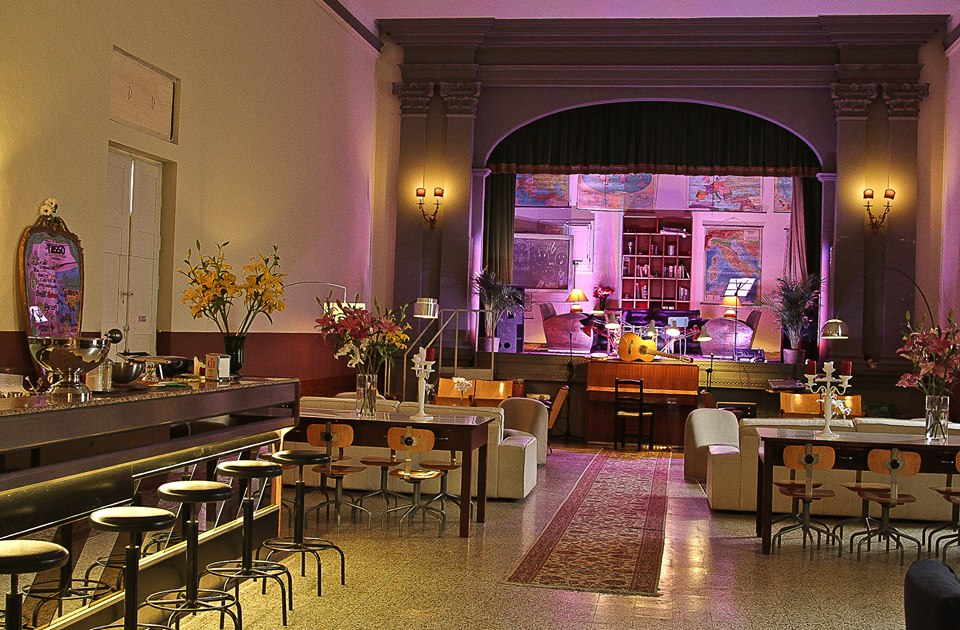 Sport | Italian Soccer, Italy vs. Malta, September 3rd – European Cup, 8:45pm
One of the most fun experiences I had with Nico lately was going to a soccer match at the stadium in Campo di Marte. We drank beer, we cheered when we were supposed too, and it was all good fun. This week, the Italian national team aka the Azzurri, will be going up against Malta in a qualifying match for the European Cup competition. address: Artemio Franchi stadium, viale Manfredo Fanti, 4 (bus 17). Get your tickets here.
Additionally you can see the local team, ACF Fiorentina face off against Genoa on September 13th, and Bologna on Sepetmber 23rd.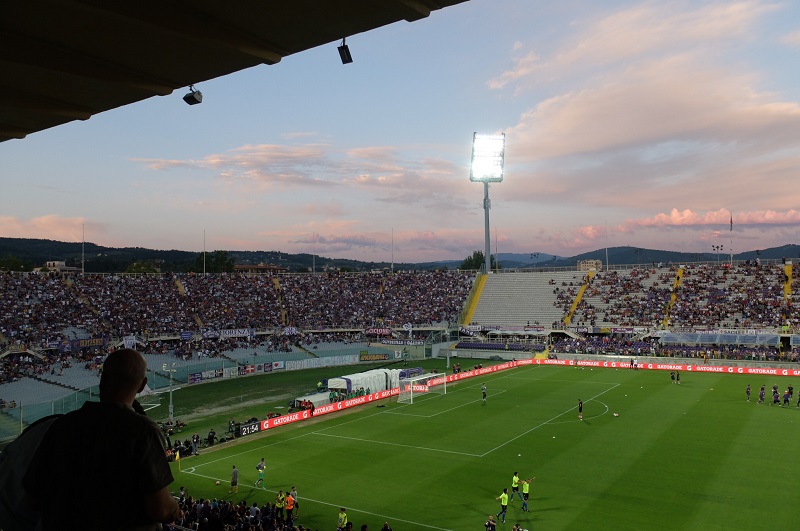 THEATER | MEDICI DYNASTY SHOW, FIVE SHOWS A WEEK, 7PM, CENTRAL FLORENCE
The coolest Medici Dynasty Show on Planet Earth! Almost 300 years later, the last two heirs of the Medici Dynasty are brought back to life in a multimedia masterpiece of "infotainment," that combines digital reproductions of the family's extraordinary and invaluable artistic patrimony with live theatrical performances. The Show honors the memory of this legendary family and its artistic, scientific, cultural, and spiritual contributions both to the society of its time, and to society today, as it has served as a source of inspiration across the world. facebook. There are five shows every week from Wednesday to Sunday at 7:00pm , duration 1 hour. All shows will be held in English. where? San Giovannino dei Padri Scolopi Library (piazza San Lorenzo, n. 6). More info: email info@medicidynasty.com. full 29 €, students (to age 25) 20 €, children under 12 free, family options are also available. official event website.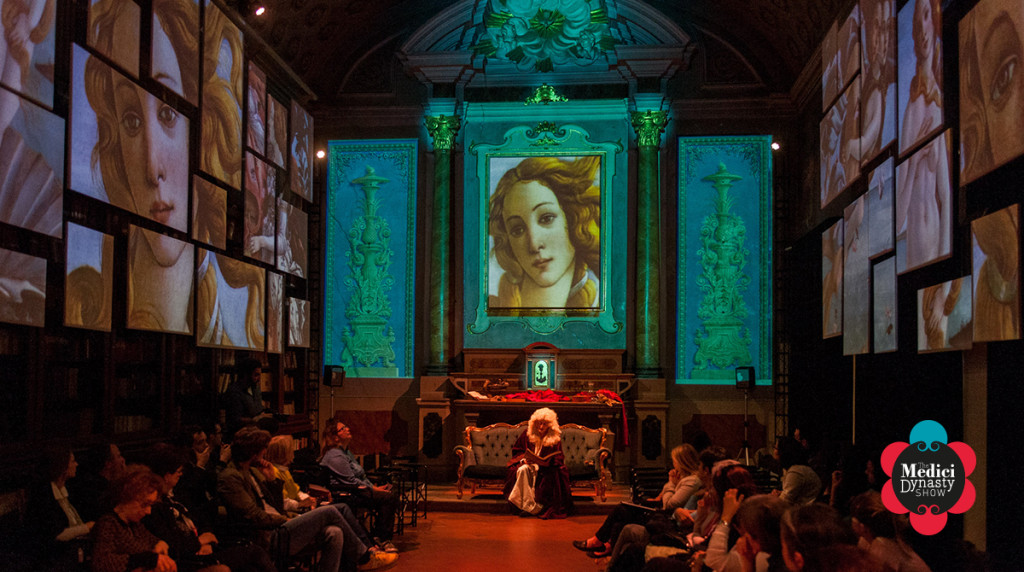 Food | Sagra del Tartufo 'Truffle Sagra" From September 3-27th, Girone (Florence)
My favorite local food festival is BACK and I am gearing up my stomach for what will hopefully be return trips to the neighborhood of Girone, in the suburbs of Florence, to try everything truffle. In its 31st year of existence, volunteers from the blue cross organization come together to serve truffle pizza, truffle bruschette, pasta with truffle, truffle sausage – I sound a bit like Bubba Gump but you get my drift. It's cheap, fun and easy to get to via the bus line 14 (towards Girone) which you can catch at the station, it takes about 25 minutes to get there and it is the last stop. More info is here (in Italian).  You sit at communal tables, the light is way too fluorescent, and there are plenty of Italians. I love it! address: Piazza Sandro Pertini, Fiesole
Food Festival | 'Cookstock' Food & Wine Festival in Pontassieve, September 4-5-6
If there ever was a time to hop on the train and go to Pontassieve, this weekend would be it. A food and wine festival will take over the town from the 4th until the 6th, open to the public with a rich program of tastings, winery visits and cooking shows (small fee).  There will be beer, and there will be live music (hence the name 'cookstock' and I plan to go on Sunday to see what all the fuss is about. The full program can be spotted here.
The Ruffino cantina winery will be open to the public for tasting Saturday, the 5th 11-7pm, Sunday, the 6th, 10am-6pm.
Getting there, take the train from the Santa Maria Novella train station and get off at Pontassieve (only 27 minutes).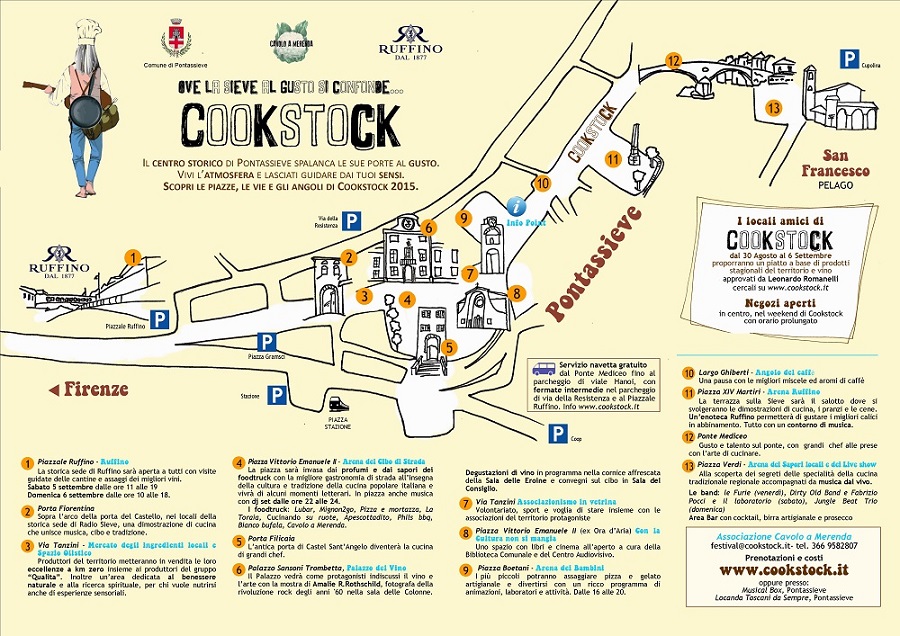 ART/CULTURE | FIRST FREE SUNDAYS, September 5th, STATE AND CITY MUSEUMS ALL AROUND FLORENCE,
This weekend art lovers can enjoy the return of 'first free Sundays' a new initiative granting the public free entry to state museums (Palazzo Pitti, Academia Gallery & Uffizi Gallery) and residents of Florence free access to city museums in Italy, the first Sunday of every month. I am a little confused by the change from city to state museums but you can see the full list of updates (in Italian) here! In any case, my top pick is the seasonal opening of the San Niccolo tower, one of the few remaining doors or the walls that previously surrounded Florence. The view is spectacular, you can call for more info here, Visits are from 5-8pm. Tel. +39 055 2768224 – +39 055 2768558. info.museoragazzi@comune.fi.it
Animal Fun | Wine & Cashmere, September 9th, 4pm- 7pm, Chianti Cashmere Farm (Radda in Chianti)
As you guys may or may not know, I visited a cashmere goat farm not long ago in Radda in Chianti, eco-sustainable and owned by the lovely Nora. This is such a cool place in Tuscany. She sent me this flyer about a new kid playground on her estate and is offering an event on September 9th, 15 euro per person (excluding kids) including an aperitivo. official site here.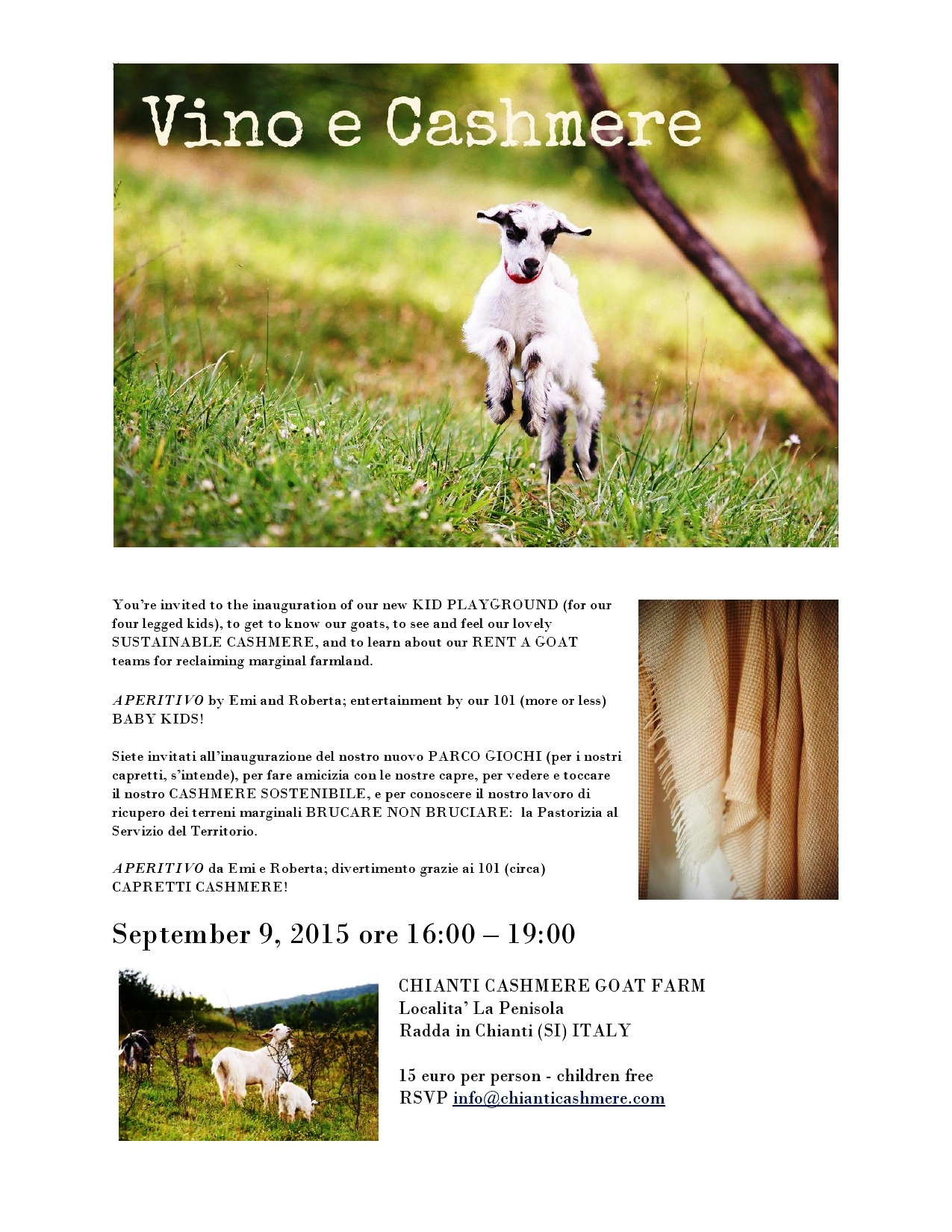 Memorial | 'Vigil For Peace' 14th Anniversary of September 11th Hosted by NYU and Florence, 6pm, Piazza della Signora
It is hard to believe that is has been 14 year since the world changed forever. The loss of the twin towers was a moment that we can all remember, myself included as a young student in my Texas high school. This year, NYU Florence and the local comune are inviting the public to come together to affirm the value and dignity of human life, and showcase the city's longstanding commitment to humanism. People will be invited to read selected texts at this public 'vigil for peace' and can bring any readings for peace (in any language) followed by candle lightings. Starts at 6pm in piazza della signoria.
Food & Fun | Open-air Festival in Cascine Park, Until September 13th.
Every year the Italian democratic party 'festa democratica' hosts a festival with plenty of food stands and activities (think carnival-like atmosphere) in the Cascine park. It's always a good time, and you can get a bit of some local cuisine, Cascine Park is within walking distance to the center, otherwise you can take the number 17 bus or tramvia. address: Piazza Vittorio Veneto (at the start of the Cascine park).
Food | Bread Fair 'La Fierucola del Pane', September 5-6th, Piazza Santa Maria Annunziata
I love Italians, they make a festival out of anything and everything. And this one is about bread. In its 32nd edition, the first weekend of September will feature an open-air food market in piazza santa maria annunziata, all-day long (9am to sundown). More info can be found here (In Italian).
Culture | European Day of Jewish Culture, September 6th, Florence Synagogue & Surrounding
An exciting month in Florence to say the least, also because it has been awarded the honor of hosting the European Day of Jewish Culture which celebrates the historic and artistic contributions of the Jewish community across Italy. On Sunday they will be offering guided tours of Florence's wonderful synagogue from 10am – 7pm, plus plenty more. Check out the list of events here. 
Festival | 'festa della rificolona' – Festival of the Paper Lanterns, September 7th, Piazza. SS. Annunziata
An annual festival that for me, marks the start of a new season in Florence, once hundreds of farmers made their way into the city on this day to celebrate and bring goods to then sell on September 8th. From 8pm onwards, enjoy the procession from Piazza Santa Felicita to Piazza SS. Annunziata passing through Piazza della Signoria. The action normally ends up at Piazza. SS. Annunziata. It's a site to see, I love watching the kids with their paper lanterns, just be aware it is also tradition for them to spit wads in order to destroy the lanterns. And yes, they sometimes get your butt instead.
Festival | Celebrate The Duomo's Birthday, September 8th, Piazza del Duomo
In 1296, work began on what would be the most important monument in Florence, the Duomo cathedral. This day is naturally marked each year, a tribute was paid to 'Saint Mary of the Flower'. The public will be able to visit the special Duomo workshop (on via dello studio), typically only open for private tours, it is the place where the art work of the cathedral, bell tower and baptistery is kept. Also, entrance to the baptistery will be free for residents of Florence. More info here.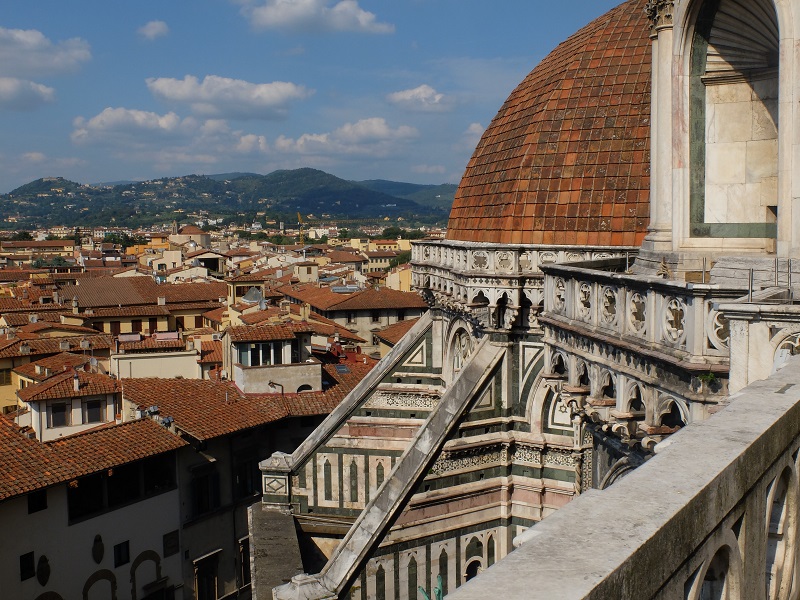 Creatives | Official Reception For New Creative Space, September 10th, via di mezzo 6.
"Creative People in Florence is extremely excited to announce The Creative Collective, a new initiative designed in collaboration with CPiF's co-founder *Sara Amrhein. The objective of The Creative Collective is to showcase the work of our talented members by giving them a space to show their work to the public. This new project will be organized in the newly redesigned studio of Sara Amrhein where we will be dedicating a portion of the space to a featured member each month. There will be an opening reception on September 10th (7:30pm)  where the public will be invited to view the work and meet the artist or designer in person. The Creative Collective will host a series of events aimed to promote the best of contemporary art, design, and fashion featuring Florence's finest independent artists and designers by choosing the very best the city has to offer." Find out more details on who is eligible to enter (and how) here.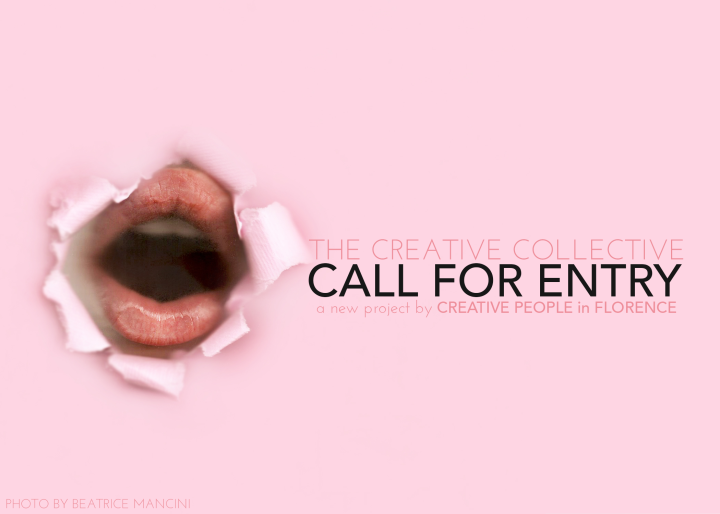 Perfume | An international fair event, featuring the best in artistic perfumery. September 12th, Stazione Leopolda, 10am-6pm.
Fair all about perfume, so plan on getting a little nosy (ok that was bad). An observatory with its sights pointed on olfactory culture. This year the theme is the kaleidoscope of the senses. There is a rich tradition of perfume making in Italy which is why I just might make a stop there. More info here.
Cultural Program | Talk: Quest for the Holy Grail by Dr Paul Kennedy, September 17th, St. Mark's Church, 6:30pm
From their newsletter. 'There are images and myths which have fascinated mankind for centuries and which offer us a deep inner wisdom. One such story is that of the Quest for the Holy Grail. In this talk we will follow the tradition from its earliest traces in Christianity through to the legends of King Arthur and the Knights of the Round Table, and see its meaning for our spirituality today. Free entrance and all welcome.' More info here. address: Via Maggio 16, 50125 Firenze, Italy.
Fashion | Vogue's Fashion Night Out, September 17th, Where? Via Tornabuoni.
A global celebration of Fashion is back on Florence's most expensive street, via tornabuoni. The #VFNO15 are bound to attract a trendy crowd, and uh me too ;-). In year's past, this has always been a really fun event so I am very intrigued to see what they have in store even if I am surprised at how vague the official facebook event by Vogue Italia is. From what I gather from the (rather boring) press information, is that restaurants/stores will be open in the historical center until 11pm. More info on what to do here.
Food | French Market 'Il Mercatino Francese Belle Epoque' in Piazza SS. Maria Annunziata, Sept 18-27th
Imagine Paris in the 1800's, liberty style, with cheese and food stands, along with flirty soaps and lacy bath towels. Now it is all coming to Florence and I am so excited, you have no idea. I adore French everything and Nico and I will surely be down here for a sniff or three (ok well, that's Ginger). More info can be found here.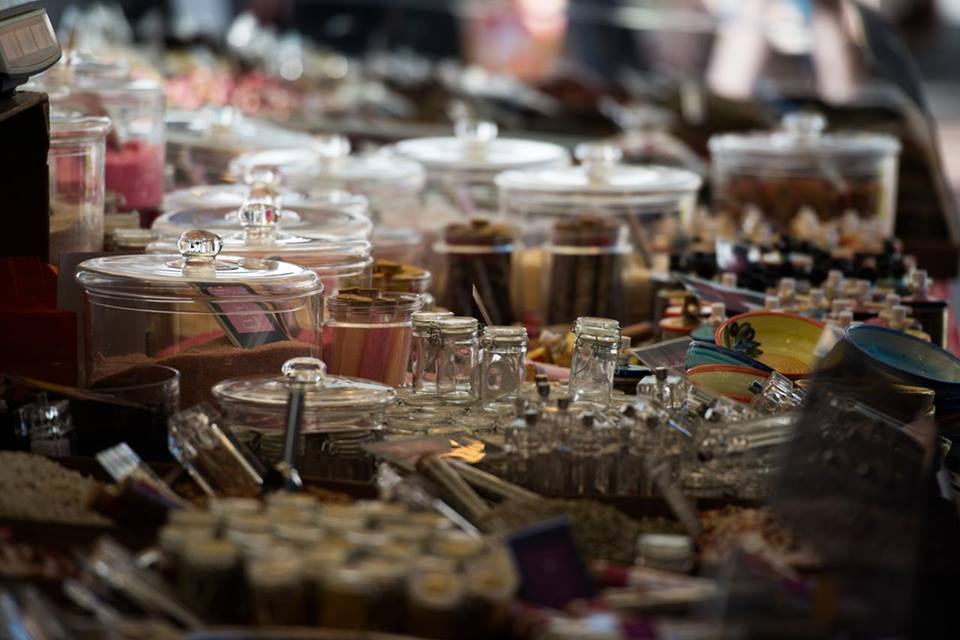 Art | Qualcosa in Libertà, a participatory art piece by Meri Iacchi and Gioia Bernalotti, Sunday Sept. 20th, 3pm, piazza liberta
From the CPIF or Creative People in Florence "This Sunday at 3pm, the fountain in Piazza della Libertà will be filled with thousands of boats made from paper clay as the culmination of Qualcosa in Libertà, a participatory art work by Meri Iacchi and Gioia Bernalotti.
The boats, made by more than 400 community members of all ages in a series of open workshops, will be installed in Piazza della Libertà, an often-empty and overlooked square drowning in the sounds of traffic racing by. The aim, as described by the artists on the project website, is to draw attention to such under-used or forgotten urban spaces and to restore their function as places of social interaction."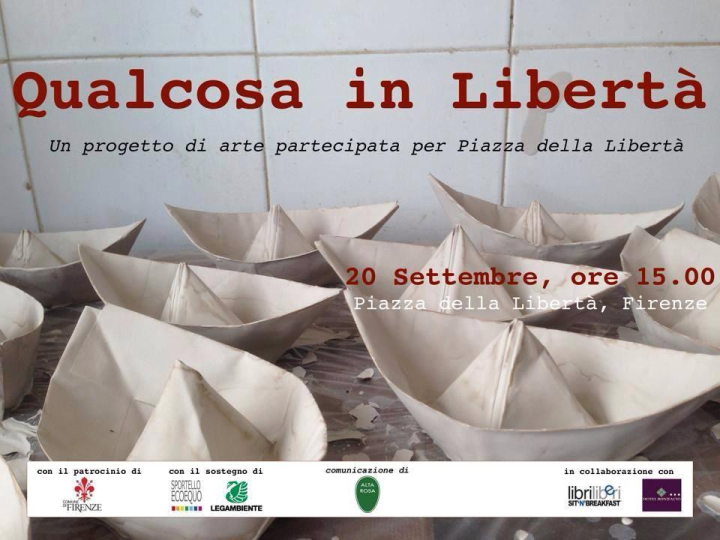 Fair | Biennale Internazionale dell'Antiquariato di Firenze, Sept 26-October 4th, Palazzo Corsini, Via Maggio
An antique fair that will be showcasing 74 Italian and international exhibitors, currently in its 29th year. You can see what all the fuss is about via the official program, but I also highly recommend heading to via maggio this Saturday, the 26th, for a special open day on one of my favorite streets. More info can be seen below!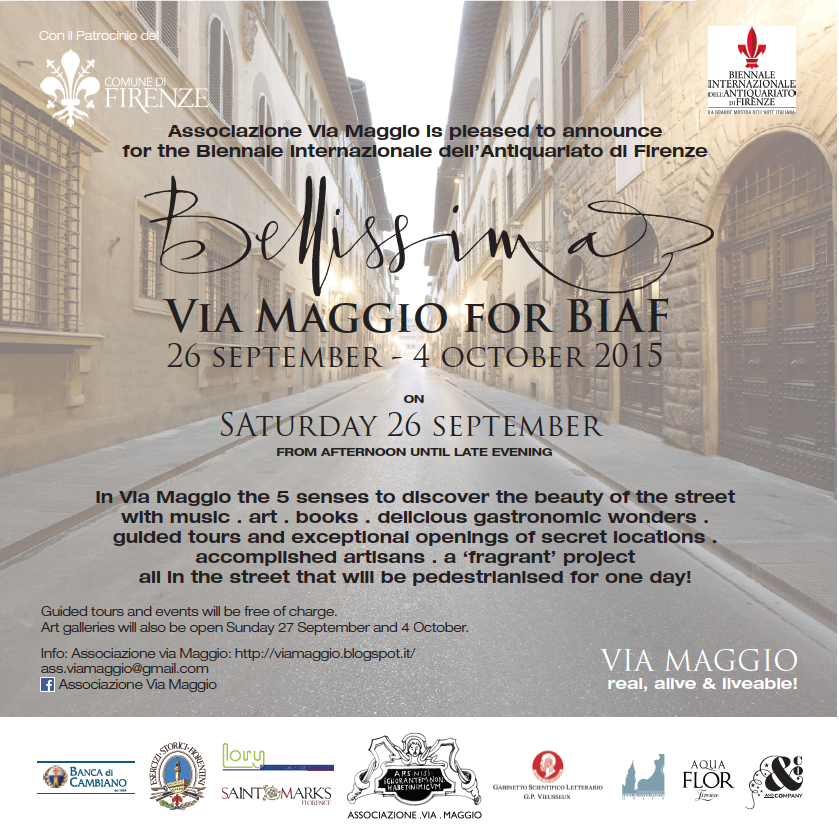 ART | 'HUMAN' AT FORTE DI BELVEDERE IN FLORENCE, LASTS UNTIL SEPTEMBER 27TH.
The forte del belvedere, one of the best panoramic points of the city, has now reopened. This summer's exhibit is titled' Human' by British sculptor Anthony Gormley, who chose this spot in Florence to display his wonderful works. He explores the intertwined world of anatomy, space and art. Sculptures are positioned throughout the interior and courtyards to occupy every part of the Forte, positioned to resonate with the building's scale and mass. Meant to make you think, visiting the exhibit is free until 8pm. Read more about Anthony and his vision via this wonderful blog post by Alexandra aka Arttrav. address: via di San Leonardo 1, call  +39 055/2768558 for more info.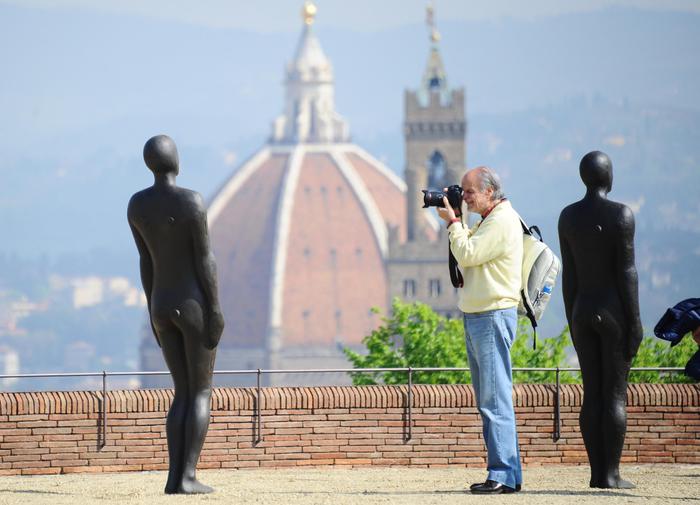 Explore Florence | Walks + Talks with Alexandra Lawrence, Saturday, September 19 at 6pm, Galleria dell'Accademia
"Have message, will travel–a look at Franciscan art during the Middle Ages and Renaissance" €15 + museum entrance fee.
St. Francis was a man who understood the importance of travel. Not content to confine his message of love and praise for all God's creatures to central Italy, Francis sent his brothers to preach all over Europe and the Middle East. Francis himself visited the sultan of Egypt in 1219 with the intention of converting him to Christianity. After his death and almost immediate canonization, his brothers continued to take Francis' message–and his image–on the road. The exhibition looks at the art that was created during the origins of the Franciscan movement, including some of the oldest devotional images of St. Francis in existence. Though Francis' global message is 800 years old, it is one that resonates today thanks in large part to our current pope, whose encyclical on climate change has even spawned a hashtag straight from the mouth of St. Francis: #laudatosi. Reservations for the tour are required (maximum 15 people) and can be made by emailing Alexandra at exploreflorence@gmail.com. Get on her Walks + Talks mailing list to learn more about future visits to unique spots in Florence. Watch this video here to get you in the mood!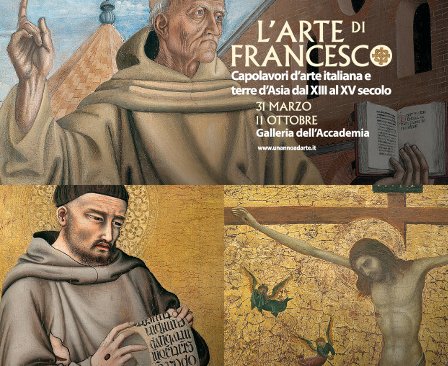 Marathon for Charity | Corri La Vita. September 27th. piazza duomo.
For 10 euros you can donate to charity supporting the fight against breast cancer and join a pretty famous marathon in the city. It starts in piazza duomo and ends in piazza della signoria. Plus you can get a cool fuscia t-shirt from Salvatore Ferragamo (see below).  Sign up here. 
Art | Divine Beauty from Van Gogh to Chagall and Fontana from 24 September 2015, Palazzo Strozzi
The Strozzi Exhibition space is coming out with its latest exhibition and this one looks quite interesting! Featured will be over one hundred works by well-known Italian and international artists, sets out to explore the relationship between art and religion from the mid-19th to the mid-20th century. The exhibition will be hosting work by such major Italian artists as Domenico Morelli, Gaetano Previati, Felice Casorati, Gino Severini, Renato Guttuso, Lucio Fontana and Emilio Vedova, together with works by such international masters as Vincent van Gogh, Jean-François Millet, Edvard Munch, Pablo Picasso, Max Ernst, Stanley Spencer, Georges Rouault and Henri Matisse. More info here.   Palazzo Strozzi,  Piazza degli Strozzi, 50123 Firenze, 055 264 5155.

Movies in Original Language | Fall Lineup at the Odeon Firenze.
Movies at the Odeon are back after a short summer break and it also happens to my favorite cinema in town. When life gets stressful and you don't want to be judged for choosing a movie and a bottle of wine (yep you can get that there) instead of partying at YAB, this is your spot. The Odeon Bistro also serves a badass moscow mule. You can see the entire program (till October) for yourself here. Movies out this September include Mission Impossible: Rogue Nation, Partisan, The Rewrite, Far From The Maddening Crowd, special films — Amarcord, Amy. 
---
Let me know if I missed any cool events by commenting here or by sending me an email, I am always up for sharing anything where the community can be involved!
*As always I highly recommend checking out the events at Yelp ( a cool community obsessed with discovering more of Florence), they always have a lot of new, hip things to do and you will probably see me at a number of the events.
Festivals in Tuscany : As I mentioned in the intro, September means wine harvest time and there is plenty to celebrate all over the region. Thankfully Tuscanycious has written this great article compiling all of the best ones that you should visit, I am partial to the one in September on 27th in Impruneta, it's not too far and it really is cool to see in person. Also Discover Tuscany has an impressive lineup as well.