Yep, the fashionistas are back in Florence. The curiously named Vogue's Fashion Night Out is now apparently in its third edition, a sort of 'white night' for the trendier set, with stores set to open until 11pm in the city's historical center. Think cocktails, plenty of people milling about and the apparent opportunity to meet designers and buy gadgets. The concept of Fashion's Night Out was created in 2009 to restore consumer confidence and to boost the industry's economy. The fun starts around 7:30pm.
Part of me thinks it is a brilliant way to pick up the Pitti Uomo leftovers, and keep their audience vaguely informed.  Case in point, the official facebook page was void of any useful, real information until today. On purpose? Who knows but decidedly irritating for those of us who would like to share initiatives like this a little sooner than the day of, so my apologies guys. My advice for real-time updates, is to hop on twitter and search #VFNO2015, which for certain, will be much more updated than anything you see online, including this article ;-).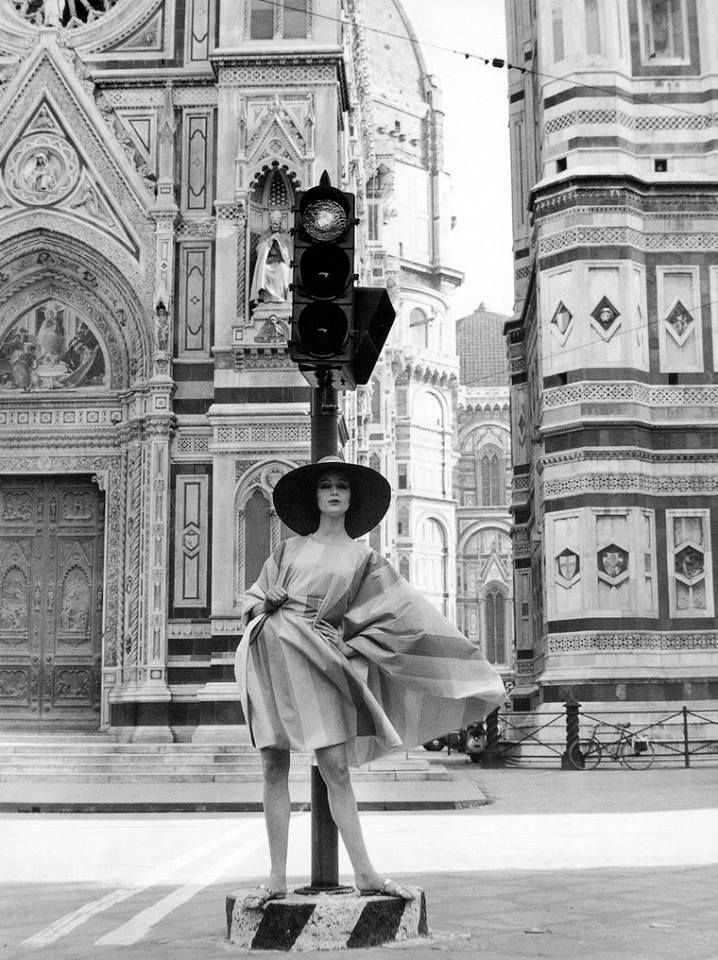 The events will concentrate around Piazza della Signoria, Piazza Duomo, and from Ponte Vecchio to Via del Corso, from Piazza della Repubblica to Via della Condotta, from Via Brunelleschi to Via delle Terme, from Via Dei Medici to Via Tosinghi. This will a chance for stores to debut their fall and winter collections, and sell cool #VFNO2015 related gadgets. Everything will be kicked off at a cocktail party in Palazzo Vecchio with Franca Sozzani, editor of Vogue Italy, and the mayor Dario Nardella.
Like every year, thanks to the sale of items limited edition signed VFNO, this great event will be an opportunity to help charity projects: the proceeds of this issue will be donated to the Foundation of the European Institute of Oncology (IEO) and the Meyer's Children Hospital. Last year, this event attracted over 300,000 participants in Italy's Rome and Milan and I almost frightened by how crowded it will be tonight, but I still plan on strapping on a dress, low wedges and seeing the action up close and personal with a few girlfriends. Follow me on instagram, twitter & snapchat (ggnitaly84).
Fast Facts
#VFNO2015 is the official hashtag
There will be a special photo contest with Illy caffe & Vogue Italia, Add the hashtag #DREAMFrancaSozzani1 to any 'dream' inspiration on instagram and get the chance to be featured in September on Vogue Italia. Info here.
We all hope the douchiness level will be kept to a a minimum, which will be difficult on any event that prides itself on fashion
This year's event will benefit the charities of Fondazione dell'Istituto Europeo di Oncologia-IEO, and Meyer's Children Hospital.
The official cocktails are based with Martini bianco and rosato, participating stores where you can sip one include                                           Liu Jo – Via Calimala 12 R
Pinko – Via Roma 26
Stefanel – Via dei Calzaiuoli 44
Elisabetta Franchi – Via de' Tosinghi 18 R
Sisley – Via Roma 11R
Malloni – Via de' Tosinghi 14R
So, What's On?
Today, my friend Annie was kind enough to send me the official pdf listing on what events were on around town tonight. And from what I understood, it is best to break it down street by street, palace by palace (just some highlights). I recommend having a few ideas, or starting with a cocktail at many of the supporting locations and just going for a wander along the streets below.
Palazzo Vecchio
The gates of one of my favorite palaces in town, and the municipal of government, will remain open from 20:00 until 23:00 to allow you to visit the two current exhibitions.  Reduced entrance prices. Two for the price of one.
'The Gold Route' (Ponte Vecchio)
This will start from the historic jewelers of Ponte Vecchio and continue up to la piazzetta of Vicolo dell'Oro. Along the way there will be original installations and revelers can partake in various food & wine events organized by the  Lungarno Hotels Collection, the "collection" of hotels, retreats and villas owned by the family Ferragamo (they basically own everything on this side of the city), and with the cooperation of Leica boutique, Marie Antoinette and Nadine.
At Nadine, you can check out 'All that glitter and all that gold', a capsule collection of unique hats signed by Eleonora Bruno, while Marie Antoinette will be hosting an event organized by Eduardo Wongvalle that, for VFNO, has made a special gold leather clutch. After shopping, stop by the Leica Store Florence: where you can take a picture to keep as a memento (or to share on Instagram! No pressure, but really post that picture on instagram ;-).
Continuing on to Gallery Hotel Art, you can visit the installation Gold by Simone D'Auria, and treat yourself to a 'gold cocktail' at Fusion Bar & Restaurant – or hope on over to the panoramic terrace of ' Hotel Continental. Drinks are pricey, but the view is worth it.
For Foodies, the Lungarno's Caffè dell'Oro Italian bistro on Lungarno Acciaiuoli, will offer a special 'gold experience'  a charity dinner with tasting menu of two courses for 25€. 30 'gold' labels of wine per glass will also be available.
Via delle Terme.
At Hostaria Il Desco there will be "I Fantasmi del cuore"" an aperitif and presentation of the collection by fashion cartoonist
designer Massimo Canzoneri. T-shirt exclusively by Massimo Canzoneri.
Ferragamo Museum
The doors of the famous building will remain open until 23.00, allowing everyone to visit the exhibit 'A Palace and the City' – curated by Stefania Ricci, Director of the Museum, and Riccardo Spinelli – which tells the complex story of the building: from the role it played during the middle Ages until the second half of the nineteenth century, when it became the focal point of the intellectual and political life of the city.
Salvatore Ferragamo Museum
Palazzo Spini Feroni, 5 Piazza Santa Trinita, Florence
Entrance fee 6 euro
Free entrance for people under 10 and over 65
Borgo Ss Apostoli
I recommend stopping by awesome shoe store Viajiyu, which specializes in flat shoes that are very stylish. I am dying for a pair, they are a bit pricey, but this might be my chance to check out a place where you normally need an appointment. They will be inaugurating their newly-remodeled store with a cocktail part.  address: : Borgo Ss Apostoli, 45R, 50123 Firenze
Via de' Tornabuoni – Via della Vigna Nuova – Via del Sole – Via degli Strozzi
Ah yes, how could I possibly forget via tornabuoni. The street where I stare and wish, because I certainly couldn't afford anything here. But Ginger enjoys the people-watching as much as I do around these parts. Naturally there will be plenty going on over here, since its been very trendy since the Renaissance.
Gherardini will be selling a Magnetic Bag,  in 5 colors, while Benheart presents leather bracelets personalized with initials marked when hot.
Ladurée is is creating a special scent for VFNO 2015, which will be available in 2 colors and different scents.
Nearby I highly recommend heading over for some Mixology Cocktails At An Open House Aperitivo At Loretta Caponi's Boutique. Read more about this via my girl Curious Appetite who has the inside scoop. Open to the public, cost per drink varies. Address: Piazza degli Antinori, 4-red, 50123 Florence, Italy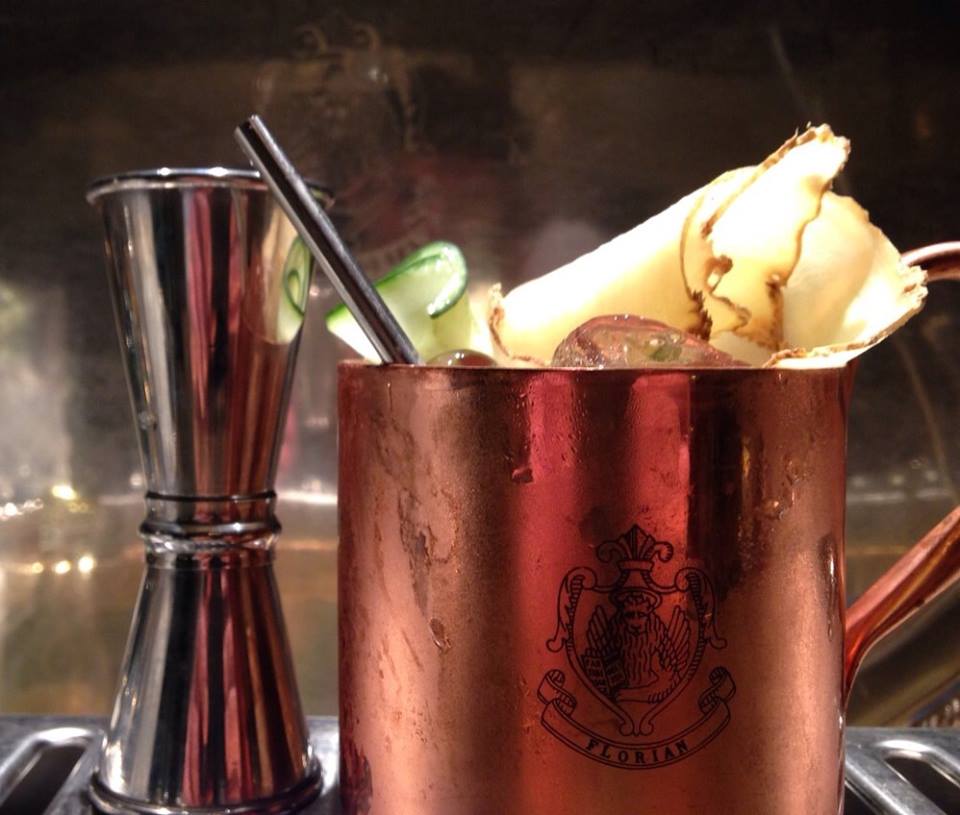 Via Porta Rossa
A special bracelet, made of velvet multicolored glitter, topped with a romantic heart with pink shades of gold, engraved with the logo and the date of VFNO, will be sold at the Nomination store in Florence on #VFNO2015. The proceeds from the sale of the bracelet will be donated to support research Monzino Institute, a center of excellence in the Italian and European in the cardiovascular field. They were chosen to raise awareness against cardiovascular disease, the second cause of death in women after breast cancer.
The jewelry will be on sale at the special price of 15 euro only during this evening's event, Nomination will be open until 23.30.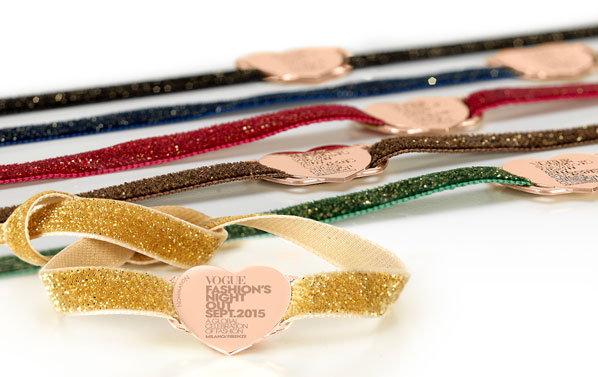 Piazza Antinori
Palazzo Antinori, the family home in Florence, is located in Piazza Antinori, a short walk from the Arno. The building is an architectural jewel of the Renaissance, with about 50 rooms and was the residence and offices of the Marchesi Antinori since 1506.
Tonight, there is a special exhibition created in collaboration with the Museum Stibbert which will be open with free admission until 23.00.
The exhibition is an immersive experience into the world of Marchesi Antinori, a journey through time marked by three stages that tells the story of a family of wine producers throughout the centuries, from 1385.
Visitors can also check out three historical bicycles used by Florentine artisans and farmers since the early 1900s.
Palazzo Antinori
Piazza Antinori 3, Florence
Free admission
Via Dei Vecchietti
Black & White Party at Marciano Guess: they are offering free black and white masks and will have a photobooth. If you take a photo and share with friends, they will offer a free, exclusive gift. Coctails and music will be had!
Via Ghibellina
We also recommend stopping at the Robert F. Kennedy Human Rights Center, where original creations will be made on vintage T-shirts. After 8:00 p.m. visitors will be able to see the photo exhibit Diritti in Congo: scatti di vita che raccontano negazioni e dignità promoted by Amka Onlus, in collaboration with Inmood – fabbrica creativa. Florentine artists will perform live using recycled clothing items, you too can be part to the performance, just bring old clothes or fabrics! address: Via Ghibellina 12/A. More info here.  and here.
Piazza Degli Strozzi
Naturally Inniu coudnt be left out. They will be selling a special edition clutch fabric purse, also presenting their newest collection of scarfs and foulards from this year's fashion week. And of course, Cocktails for all!
Via del Calzaiuoli
Rebecca: Free bag with logo Rebecca until suppliesrun our, they will also be selling a special pendant in the shape of playing cards with
VFNO letters, made with gold-plated bronze as an addition of their leather or bronze bracelets. At Presence stylist, there will be a light catering of macarons with custom cocktails and a dj set.
Chanel presents Infiniment, a limited edition on sale exclusively at the new Chanel Fragrance & Beauty Boutique, where, tonight a team of make-up artist and beauty consultants will be on hand to discover all new beauty of Maison and create flash make-overs (lips). Via Calzaiuoli 47 / 49R. From 19.00 to 23.00.
Via Martelli
Restaurant DaVinci, Tonight at 19.30, they will offer a special event/dinner for only € 25.00m, participants will  experience a journey through food, art, body painting, and drinks from the Campari open bar and plenty of music. Only a few spots remain. Email: Tel: 055 0153603, Mail: [email protected] or [email protected]. See more info here. 
Piazza San Giovanni
Swatch, a watch created exclusively for VFNO15 will be on sale at the store in Florence, where there will also be an exhibition of the artist Hiroki Kataoka, awarded by Swatch with the 2015 Award at ITS Artwork Talent Support 2015 in Trieste. address: piazza San Giovanni, 22R. From 19.00 to 23.00.