It's funny, I had never eaten dinner alone at a restaurant before coming to Europe. My first experience was in an airport hotel in London, because of a delay I was set up for a night at a Hiltonesque kind of place. It was pretty fancy and for a girl in her early twenties, this was quite exciting. I felt so mature with the white tablecloth, cold-as-on-an-airplane bread and a glass of wine (which wasn't included – what a splurge!). After about 10 minutes, the servers felt a little sorry for me and started to bring me extra snacks which I certainly wasn't going to turn down. Needless to say, it wasn't that bad.
I definitely have seen a rise on solo travelers in Europe and beyond, which I personally find very cool. Booking.com did a study that found women are now 51% more likely to be the master of their own itinerary than they were 5 years ago, while 23% of men think real adventure only comes from traveling alone. In fact, I think this trend is only going to grow, with travel companies, hotels and services wising up and offering better, more enticing deals for those who are solo. One restaurant in Amsterdam has already done so, it remains the first one-person restaurant in the world, cool right?
Again, being along and embracing it is not weird, strange or mean that you have no friends. If anything, you are the bravest person out there, and in utter control of what you want to do without having to consider anyone else – booyah!. The older the get, the more I value my 'alone time', especially during train travel as I hungrily read books or check my instagram account in peace ;-).
In fact, if this is you, take this time to pat yourself on the back. And read this girl's story traveling to Paris for a weekend after her boyfriend dumped her right before the trip.
In Florence eating out alone isn't awkward or abnormal.  I do it all of the time. Many people work in the center but live outside, so they fill up corner cafes for lunch or an early dinner before heading home. While I wouldn't exactly go somewhere super romantic, with candlelit mood lighting and kissing (or arguing) couples on my own, I generally feel very comfortable dining on my own in Italy in general and many friends feel the same. Dining in an enoteca, wine bar or at the bar might be the more ideal option.
Heck sometimes you want to be able to slobber over a pizza in peace and who could blame you?
This does seem to be quite a topic of interest since more and more people have been sending me emails for tips on where to go for a solo dining experience that is stress-free. I figured I needed to tackle this first hand on the blog so that everyone can benefit from the info, plus I am sure that some of your comments will come up with some great suggestions that I can add to this list.
And if anyone makes you uncomfortable, just start scribbling furiously into a notebook and claim you work for the BBC, you probably will get VIP treatment and awe from then on-wards (kidding). If you get that weird table near the bathroom, then ask to move while perfecting your 'stink-eye,' it typically works for me.
A few additional tips, even if you are in Florence for a short-time, try to be as 'local' as possible. Pick the same cafe and after the third or fourth time, likely the barista will remember your order and you will have made a friend.
FYI I have a pretty extensive list of eatery picks, which include vegetarian, big groups, traditional Tuscan, lunches, gelato, street food and more that I send to anyone and everyone visiting. I update it quite frequently as I hear about place and can personally vouch for, it's a good first point of reference.
Remember: "The man who goes alone can start today, but he who travels with another must wait till that other is ready." – Henry David Thoreau
Breakfast + WiFi Top Picks
Ditta Artigianale: address: Via dei Neri, 32/R.  The coffee rocks (an award-winning Italian barista is the owner), as does brunch, plus the free WiFi is decent. They also get top marks for ambiance.
Tamarindo Juicery is the new kid on the block on Via de' Neri 46r. Here you'll find a great selection of cold-pressed juices, salads, avocado or fig toast and light lunch/breaky options. Opens at 8:30am
Le Murate Caffè Letterario Firenze is always a go-to for me when I just want a cappuccino or ice coffee and a place to sit and meet with a friend or grab a quick breakfast in the Sant'Ambrogio area. This place comes alive at night but the morning is where to find peace and quiet within the confines of a former prison. address: 

Piazza delle Murate, 50122 Firenze FI. Opens at 10:30am. 
Caffè Cibrèo, address: Via Andrea del Verrocchio, 5r. Quintessential Florentine spot for free or a light aperitif, I it's all class but comfortable at the same time. Take a book and sit on the outside patio to see the morning rush at Sant'Ambrogio market.
https://instagram.com/p/1fGxPrRTKD/?taken-by=girlinflorence
Cafe degli Artigiani: address: piazza della passera. You can sit outside, people-watch and sip your cappuccino(s) in piece. This is my fundamental neighborhood go-to spot.
Le Vespe, address: Via Ghibellina, 76. North-American food in a quirky, nice ambiance. Grab a table for brunch, lunch or dinner.
La Cite, address: Borgo S. Frediano, 20. The croissants are nothing to scream about but there is plenty of space to sit and work alone with actual functioning WiFi. My friends and I have often co-worked from this spot.
Lunch Top Picks
'Primo Piano' Mercato Centrale. Why? It's a fancy food court above the fresh food market that quite simply has every kind of dish your heart could desire, you can quite literally pig out in peace. There is seating and (ideally) WiFi (though if its works, you're lucky. They have something for everyone, meat lovers, vegetarians, a wine corner, you name it.
Carduccio: Every once in awhile I have to put my pizza down and eat healthy and when I do, Carduccio on Sdrucciolo de Pitti 10/R is where I go. Spiraled zucchini with goat cheese and homemade dressing? This place is the perfect dining solo spot for anyone who finds themselves near Piazza Pitti. Also open for breakfast. 
Floret is a fashionable lunch spot located on the first floor of Luisa Via Roma in the center of town. You'll be delighted by the leafy open courtyard and healthy options (pricey but nice) along with fresh juices, poke and much more. address: 

Via Roma, 19/21/r. Open 10:30-7:30pm. 
Nerbone in Mercato Centrale, address: Piazza del Mercato Centrale, 12-red. get a porchetta (pork) sandwich or lampredotto (which you should) on the ground floor of the central market. Famous, good and simple. Seating can be tough but come early!
The doorway is alluring enough but walk inside family-run delicatessen Mariano and you'll find just as many Italians as foreigners clamoring for sandwiches, salads and coffee at this pretty spot off of Via Tornabuoni. address: 

Via del Parione, 19R, 50123 Firenze
Casa del Vino. address: Via dell'Ariento, 16/R. one of my favorite little wine bars/lunch spots though be aware that there are few seats. They serve wonderful crostini and wine by the glass, plus it is very Florentine.
Santo Forno, address: Via S. Monaca 3r. Il the 'Santo Bevitore' family in the oltrarno neighborhood, this bakery is one of my favorite places in town. They make beautiful breads on site, using all sorts of high-quality flour, seeds and tender love & care (ok that was cheesy). They make desserts to and lunch (think panini). The Perfect lunch spot if you ask me! All hail the daily bread.. 
Take a flavor trip to Tehran at this pretty restaurant serving up Persian comfort food in the heart of the historical center. address: 

Via dei Cerchi, 25r, 50122 Firenze
Semel in Sant'Ambrogio. address: Piazza Lorenzo Ghiberti, 44. They are quite simply what I would refer to as 'sandwhich masters' who use seasonal high-quality ingredients for these little bites of happiness. Space is limited but you can eat standing up.
Lo Sprone Vinaino, address: via dello sprone 17r. A good choice for both lunch or dinner and they also happen to be neighbors with me ;-). This little hole-in-the-wall is something special, great food, live music wafting into the night and the small menu is actually a good thing. Say hi to Peter for me when you visit!
Quelo Bar, address: Via Borgo Santa Croce, 15r, Small and cool little spot near piazza santa croce. They make great salads for lunch and I like their freshly-squeezed juices as well. Also their moscow mules make me come back for more. Perfect for solo dining.
Zeb is a family-run restaurant serving curated Tuscan cuisine in the San Niccolo neighborhood and has totally earned a spot in the hearts of locals. Space is limited, but pull a seat at the bar for a great wine by the glass and seasonal favorites. address: 

 

Via S. Miniato, 2/r, 50125 Firenze. Open lunch and dinner, closed Wednesdays. 
Il Santino, address: Via di Santo Spirito, 60. The owners of il Santo Bevitore can do no wrong, especially when it comes to this cute little wine bar that not a lot of people know is also open for lunch. Grab a few crostini and a glass of red or white to pair and settle into a happy mid-afternoon buzz.
Santarosa Bistro. Dine all'aperto (outside) in what is one of my absolute favorite lunch, dinner and coffee spots near Borgo San Frediano. They offer a selection of interesting toast options and always ask for the soup or pasta of the day. Great wine list which you can enjoy by the glass (curated by Pitti Gola) Open 8am-12am, daily. address: 

Lungarno di Santa Rosa, 50142 Firenze. 
Dinner Top Picks
Libreria Brac. address: Via dei Vagellai, 18. This vegetarian place is a little find. Service is slow but you can sit at the bar and order a 'piatto unico' with some truly delicious options such as avocado sesame salad, seasonal lasagna and interesting crostini. Always, I mean always make a reservation, they get full.
Teatro Del Sale, address: Via dè Macci, 118. It's a dinner, no it's a show, what the hell, it is actually all-in-one. This mainstay with local Florentines, in my opinion, is a great option for those looking for a bit of fun while dining alone since the whole concept is quite communal. They shout out new dishes and everyone gets up to try them (delicious food). You have to buy a membership card but it costs only 5 euros for the whole year. Open Tuesday through Saturday, breakfast is 7 Euros, lunch 15ish and dinner is 30.
Il Gesto, address: borgo san frediano 27r. this new spot on borgo san frediano is super cute and friendly to those who eat alone. You order everything by scribbling on a mini-chalkboard and you can eat, drink as much as you please, in this place that seems straight out of Brooklyn or Berlin. It could be because of the vertical vegetable & herb garden or the fact that Gandhi's face is on one of the walls. Notable items include something called a 'sushi taco', mini burgers and mini-cheesecake. The added bonus is that items are generally pretty cheap.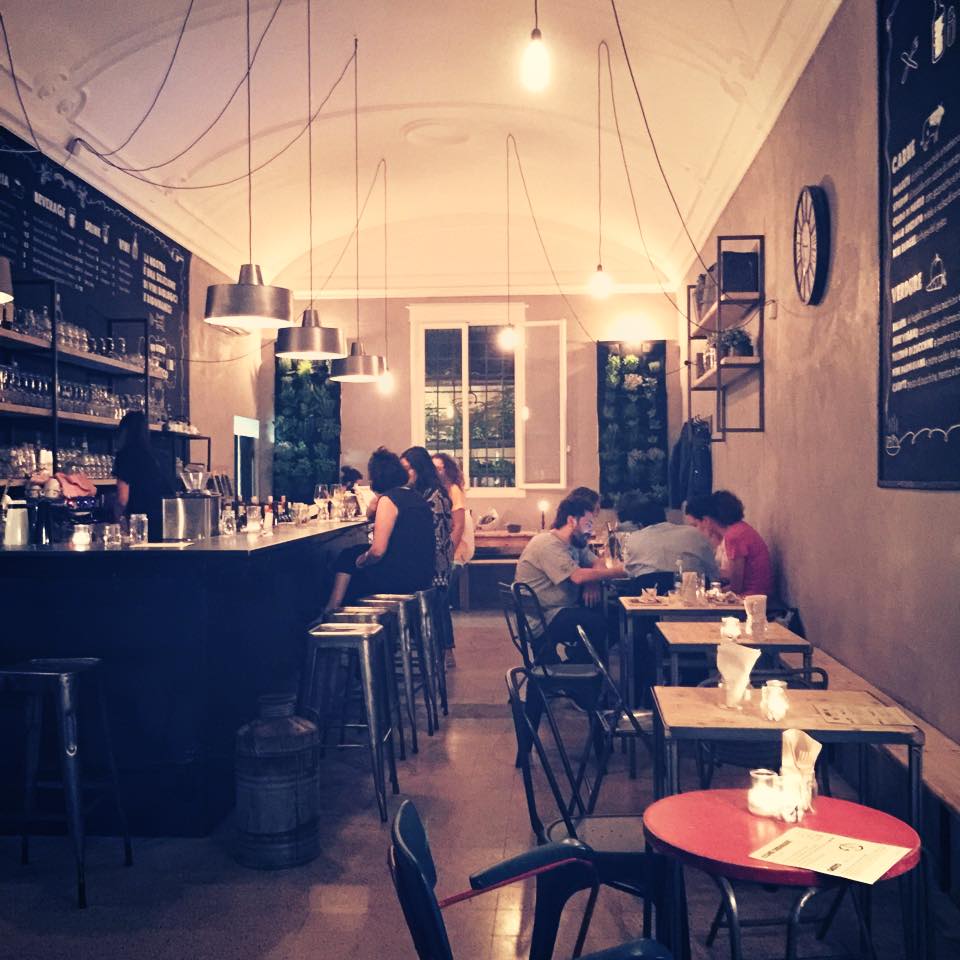 Vini e Vecchi Sapori, address: Via dei Magazzini, 3. Small trattoria serving up local cuisine off a tiny street in piazza della signoria, I often take friends out of town here. But I also noticed every single time I have been, people were dining alone and pretty happily doing so. The service is quite casual and the food is great, I love the bread with butter and anchovies.
Enoteca Pitti Gola & Cantina, the best wine bar in town (I'm biased) with wood-paneled walls and marble table-tops in a cozy space in the Oltrarno side of town. Perfect for curated charcuterie platters, delicious pasta dishes and an excellent selection of traditional Italian wines by the glass. address: 

Piazza de' Pitti, 16, 50125 Firenze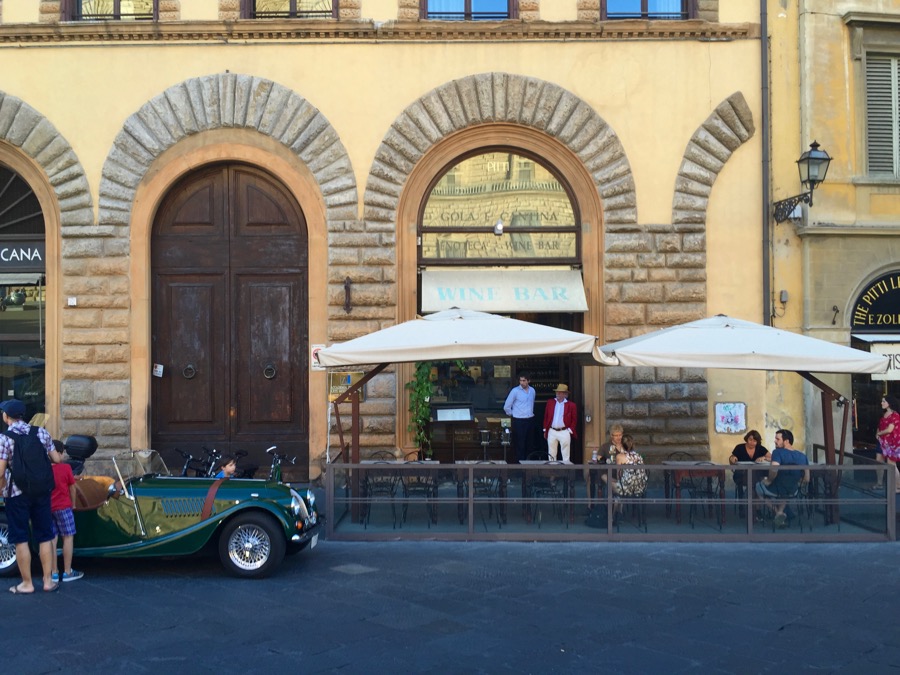 Have a Drink: Fun Places in Town
Manifattura is probably my favorite bar in Florence. The people are nice, the music is vintage Italian, it's classy and the prices are right. Oh yeah, and the drinks? With Fabio at the helm, you are guaranteed to love them. This is where you should go, alone or with friends. address: 

Piazza di S. Pancrazio, 1 6pm-1am

Mayday, a stones throw from some of the most famous squares in Florence, this place is much beloved, not only for their seriously creative cocktails but also for the vintage ambiance and friendly owners. address: 

Via Dante Alighieri, 16, 50122 Firenze
Uva Nera, address: Borgo Ognissanti 25R. Wine bar + Food in a vintage ambiance. This place is highly ranked by my Yelp friends and serves fabulous meat & cheese platters and wine to go with it. I definitely appreciate this style quite a bit.
The Brewdog, via faenza 1. Besides the fact that this place has pretty damn good craft beer, the casual vibe and friendly bar-staff equals to fun for solo travelers craving a cold brew after a long day in town. I also like the fact that it is located on via faenza, a street that is growing in potential as a cool destination.
Mad Soul & Spirits is a newbie in the craft cocktail scene in the Oltrarno but is the place to go if you plan to match your cocktail drinking with that of the bartenders whipping them up. Everything I've ever had there is awesome (plus the drink descriptions ring hilarious). Think dive bar with quality drinks! address: 

Borgo S. Frediano, 36-38r,
Rex is a popular local spot with young Florentines (and otherwise) and they have recently stepped up their cocktail game. Nice ambiance but it gets crowded at night. address: Via Fiesolana, 25r
Irene Firenze. A bar channelling mad-men with a 1950's retro twist, you can never have a bad day if you sidle up to the contemporary bar at Irene andare privy to one of Dario's cult creations. address: 

Piazza della Repubblica, 7, 50123 Firenze
Slowly Bar. address: Via Porta Rossa, 63. I am a little biased but I think this bar is pretty fun. I have actually been to this bar by myself (my good friend was roommates with one of the barmen and I always end up staying longer than I should. It could be because of those chocolate martinis. Besides pretty good drinks, it is a little nicer than other popular central locations. Very mixed crowd, from students to older Italians and beyond.
Sabor Cubano, address: Via Sant'Antonino 64/rosso. Fun Cuban bar in the San Lorenzo neighborhood (close to mercato centrale) that has great margaritas rimmed with black salt (which can be dangerously addictive), and friendly servers. I certainly don't think going there alone would be a problem since half the time I have visited, I met random new people along the way.
Il Locale, a sexy bar/restaurant which is just as beautiful as it is good (at least for cocktails). This is THE place for a fancy pants aperitivo on your own and ask the bartender to make you a drink using one of their homemade bitters. I love everything with mezcal. address: 

Via delle Seggiole, 12/red, 50122 Firenze
Alternative Options & How To Meet People 
Traveling alone is cool, but it can get lonely spending every evening by yourself. I suggest mixing it up by joining a cooking class or food experience which would be a wonderful way to meet people. Check out the Creative People in Florence website and attend their latest aperitivo, join storytellers each month at Todo Modo (see my monthly events list).
Otherwise contact someone like Coral, who can put you in with a group for a special aperitivo tour in some local spots around town, I always have a fun time when I get to play 'tour guest' while she seeks out new places. Another suggestion is to include a yoga retreat somewhere fabulous with the lovely Shari of Sole Yoga Holidays.
---
As always the suggestions above are 100% my opinion but I know that I am missing out on some prime spots. Let me know where you go when you are dining alone in Florence. I am planning on updating my 'Best of Florence Eats' list with this new category of 'solo suggestions' and I will credit you! 
SaveSave
SaveSave
SaveSave
SaveSave