"Love is like a friendship caught on fire." – Jeremy Taylor
"French women don't have bridesmaids; they have witnesses. And they would never post their engagement rings on Facebook." – NY Mag, The Cut.
Say what you want about quotes about love, but sometimes they just fit. As I entered my thirtieth year of age, I thankfully have dropped the sarcastic, immature attitude I used to have about weddings and embraced the celebration for the love that they represent. I used to be overwhelmed about the way weddings are done back home, the endless pre-engagement photos, actual engagement photos, save the dates, the 'real' invitations, the wedding shower, the bachelorette party, handling the bridesmaids, something called 'first look' which I still have no idea what this actually means, aka just punch me in the face. I've been a bridesmaid three times, one time at a beautiful Woodland Wedding Venue, which is more fun than it sounds though I feel like I need to endlessly apologize for being half a world away during all of the essential planning elements.
It just all seemed like too much for me, plus very expensive for what in reality is just one day. Now, I abide by the 'live and let live' mentality, if someone wants 10,000 dollar flowers at their wedding, well there you go. I should have been a florist. Or if like one close friend of mine, you invite a few of your closest friends to help make the table decorations and have a blast while doing so (and saves a few thousand bucks), that is pretty damn cool too. And I can honestly understand why (in Europe especially) people never get married, to each their own, we certainly don't need to judge anyone else's personal decision based on our own ideals. Sounds so simple, but yet. is it?
After the 5th wedding you attend in one year, it seems quite normal to develop a soft spot. The wedding's I've attended this year have been all over the world, from my own brother's lavish affair in Texas, to a quaint cobblestone piazza in Corfu Town Greece, to someone's hometown in the middle of nowhere North of France and later in beautiful Bordeaux, to also being the celebrant at countless ones in Tuscan villas, I've seen my fair share of "I Do's" in 2014.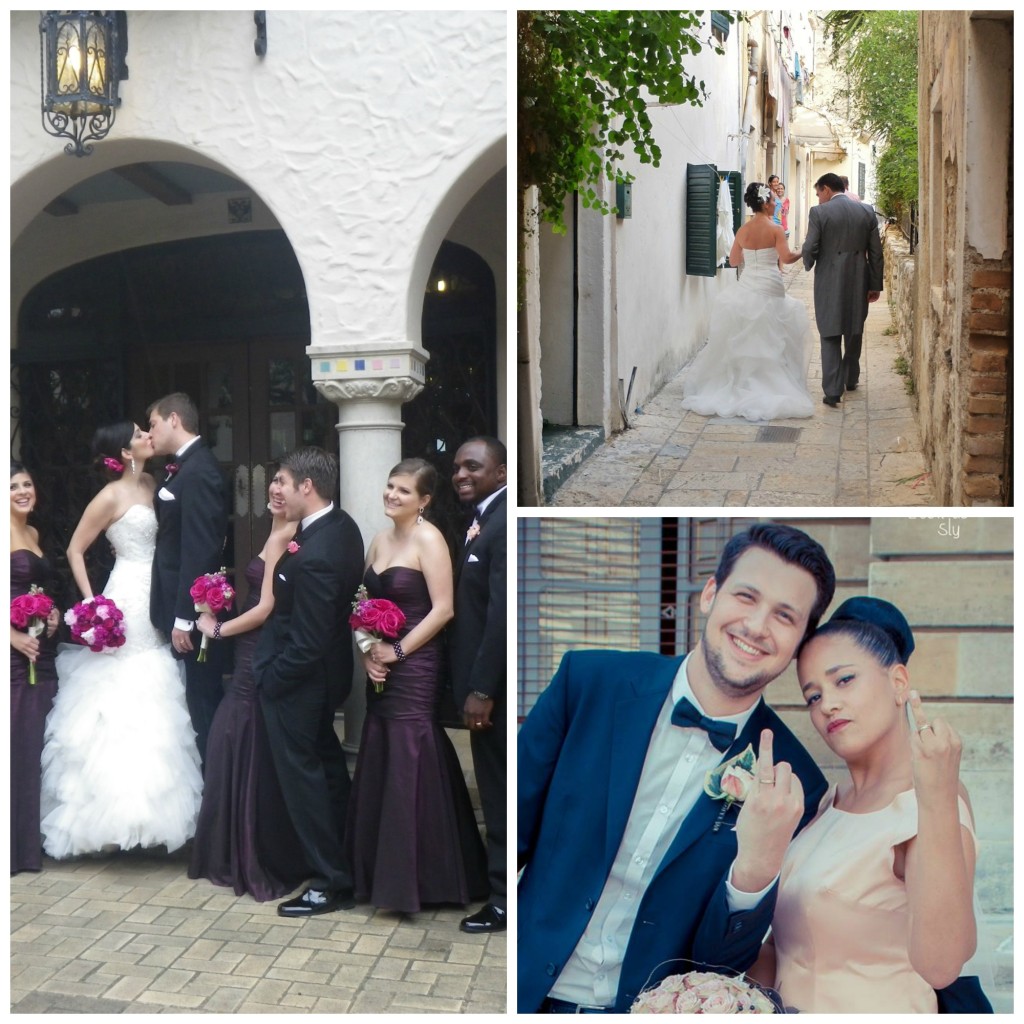 My own brother's beautiful wedding in San Antonio, Texas, a friend's wedding walking the streets of Corfu Town, Greece, and my funny friend's showing 'off' their ring in Bordeaux. 
What is most fascinating to me is how people celebrate this very special day in different parts of the world, while I haven't yet attended one in the wilds of New Guinea (there's still time!) I have seen what the shebang is all about in The USA, Italy & now France. Culture says a lot about a wedding. Namely what elements are most important to them, the rituals, what food is served,  the music played and even the way gifts are planned. In Italy & France, giving money as a gift (for their honeymoon fund) is what I have seen most often, and most people are quite generous, around 60-100 euros a head, while in the USA you definitely still see more of a wedding registry sort of system. Soon enough I can get my own personal PhD in wedding guest etiquette ;-). Of course, all of the weddings I have been to have been amazing in their own way, I revel in seeing two people so in love share this moment with their closest family & friends.
Why Are French Weddings So Cool
I love those little touches, like a tradition in France for the bride and groom to make their guests gifts, we were gifted fancy salt in glass jars in Lille, the groom proudly telling me how and where to use it. And it may sound silly, but I was overjoyed to finally have some classy salt to take home. Also 'lavish' is not how I would describe weddings in this country (at least in my humble experience), this is not a country where people like to flash how much money they have or drive fancy luxury cars (that lose value the second you drive off the lot) – I can respect that, they could teach Berlusconi a lesson ;-).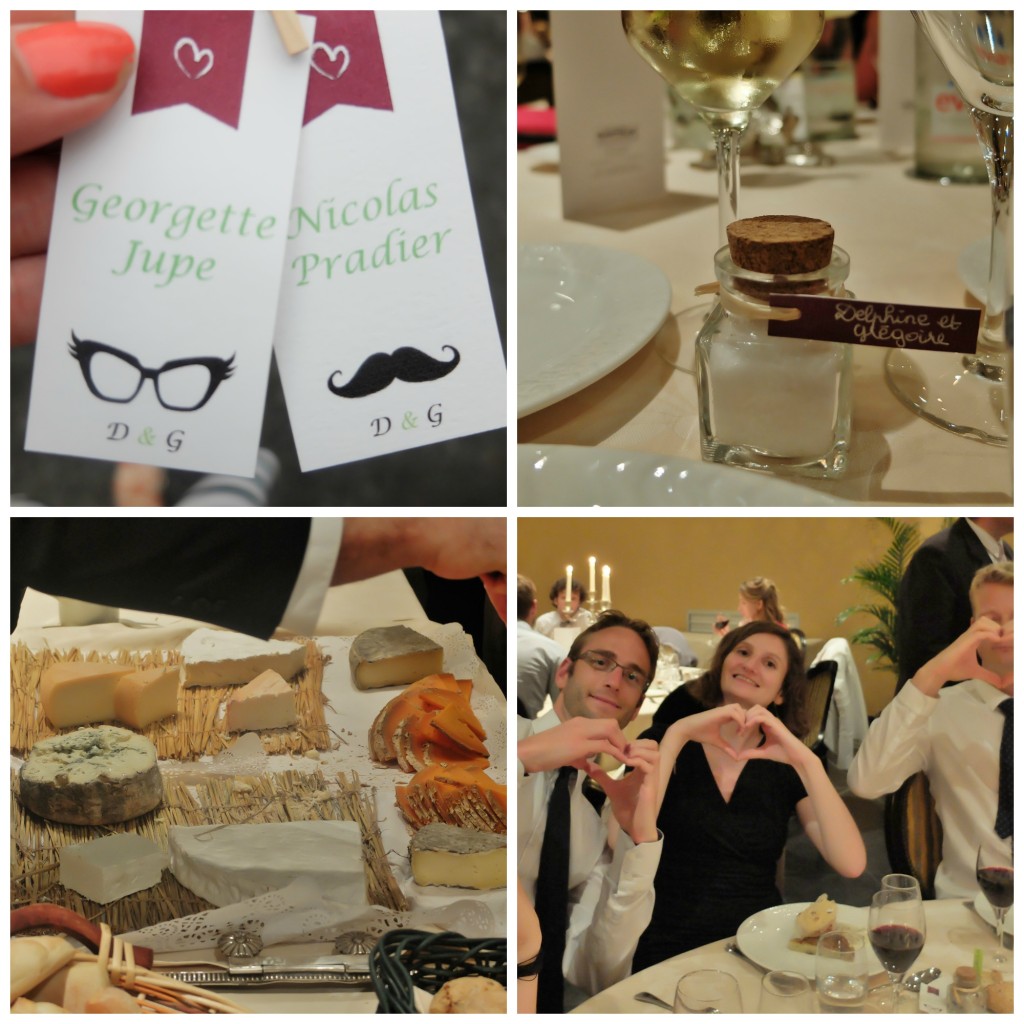 The recent wedding we attended this September in Bordeaux was my chance to see the hometown of two good friends of mine, Yasmine Hassani and Svebor Karaman. French expats living in Florence, for Svebors work (he is some sort of genius 😉 while she teaches English and French and is just well, fabulous. After a super-fun wedding in Lille with Nico's old school friends, I was so delighted to see yet another one go down in a country that I am falling in love with. Yasmine & Svebor had a lot of help from their friends who really pitched in to make their day amazing, from beginning to end they were there, replacing food, helping Yasmine, all with a smile on their faces and looking good while doing so. Nice teamwork!
A Town Hall or a Movie Set
All I knew was to be at the town hall at a certain time where we would then witness their civil union before heading to a château in the countryside for the celebrations. Now being a historical city in France, this wasn't your average town hall, it looked like something out of a movie with my friend in her made-to-order pink gown (love that she didn't go for white) strutting her stuff like some sort of Hollywood celebrity.
When out group was ready to go into the town hall for the ceremony, we piled in ready to see it all made official. The room was far too hot, this September day was already shaping up to be high summer but we only had them in our sites. The official made us laugh and the vibe was casual, but the room was anything but, it was so elegant I was scared I would break something.
Forget Rice Embrace Wands
As we stepped outside, instead of traditional rice, we had wands (made by one of Yasmine's 'bridesmen' with ribbons attached, so typical of my friend and so so cool. Everyone's chance to partake in what is actually an Olympic sport as my friends came newly married out of the town hall.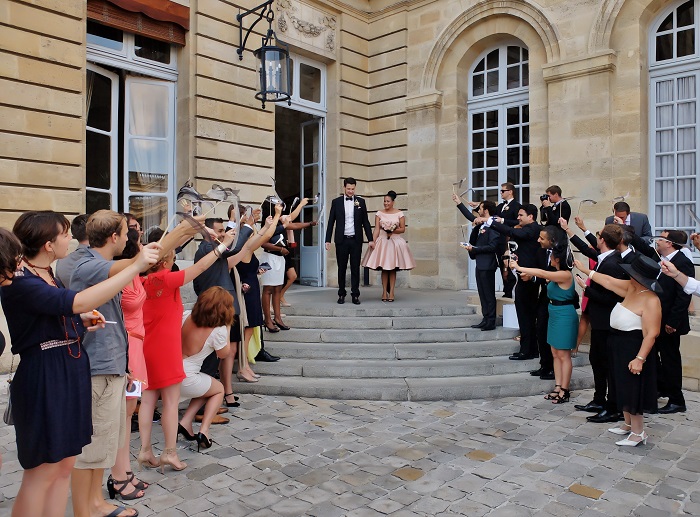 Poised and ready to… twirl!
One of my favorite group photos was one that wouldn't have looked out-of-place in the 1800's. Black & white with everyone sporting a very serious look, remember in the olden days people didn't smile when they took photos. Although I think it is safe to say that we've been making up for lost time in these past 100 years.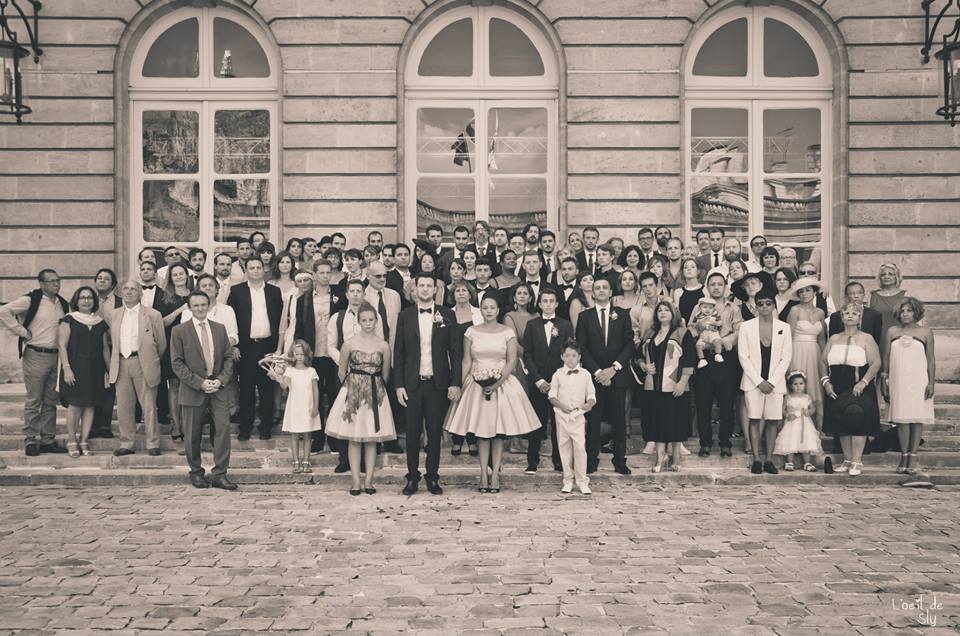 Some Seriously Cool Chateaus
Of course this being France, one must get married in a Chateau and this was one amazing place in the middle of nowhere, a beautiful whimsical sort of fairy-tale mind you. about an hour and some change from Bordeaux. I could picture this being home to a Disney character like Snow White or Sleeping Beauty. We were lucky with perfect weather, everyone dressed to the nines which made taking photos feel like some sort of Dolce & Gabbana photo shoot.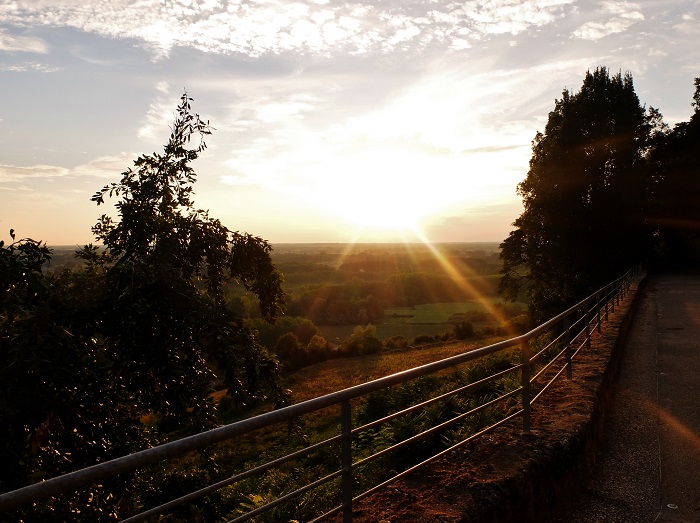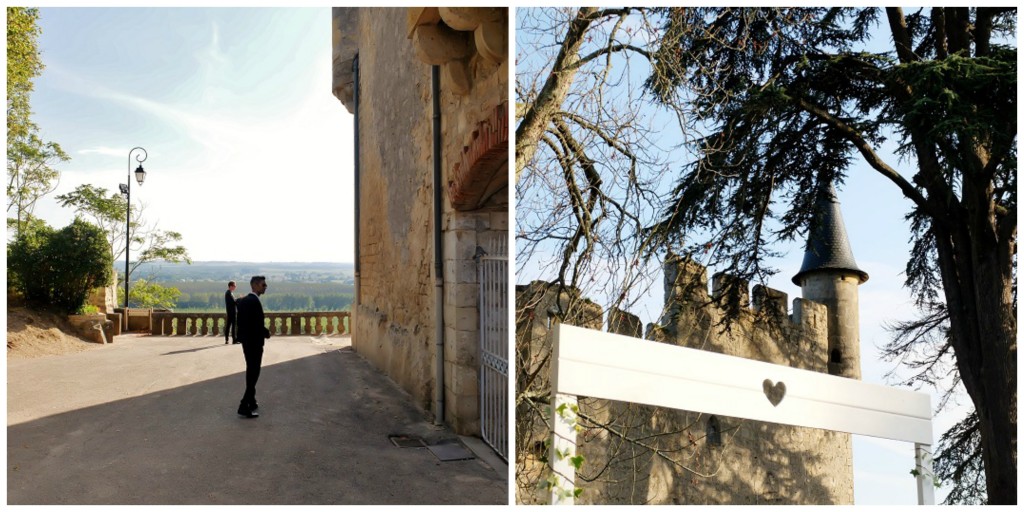 I was responsible for the second ceremony, as a celebrant this was such an honor for me to undertake, someone of course translated my English into French (noone wants to hear my awkward French phrasing) , all taking place on a grassy hill just outside the stunning Château de Tastes.
Snow White, be jealous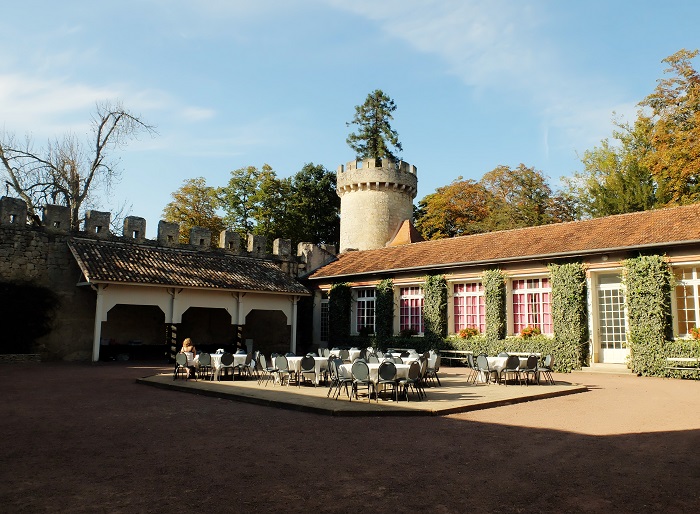 I of course wanted to set up camp here, call it a day and move into what would be my 'fancy' new home but alas it was just for one, amazing, afternoon. But France gets yet another 500 points (not that I'm counting or anything) for location, location, location.
Foodie Fun
While in the USA most food is quite simple but good at wedding, you have your salad, your chicken and fish, your cake and sometimes even a 'bacon' or 'cookie' bar and copious amounts of alcohol, in Italy every wedding I have ever been to has 100% been around the food.  Don't get me wrong, who would dare complain about that? Even the 'before dinner' aperitivo is a spread fit for kinds, all the cured meat, honey, cheese, fried stuffed artichokes a girl could ask for. The problem is that by the time the first course arrives, I'm already too full to really enjoy it. The food never stops, thing multiple pastas, risotto, meat, cake. By the end you need to roll yourself out of the venue and dancing is only done at some weddings (my experience).
The two weddings I attended in France were very different when it came to food, in Lille, we had the traditional foie gras, loads of lovely, salty butter and a main fish dish that was absolutely delicious. Instead it was all about dessert, so much so  that an entire room was dedicated to it. A cheese corner, macaroon stand, chocolate fondue, cakes, simply amazing!
In Bordeaux we guests had a special food truck making gourmet burgers and fries which was beyond cool. My friend is obsessed and decided to make this a part of her wedding, plus a special 'make-it-yourself' spritz bar which everyone found delightful. Possibly my favorite was the candy bar where she even had plastic take-away bags for guests who wanted to bring home some sweet reminders of their wedding.  One thing I appreciated about both was the fact that I wasn't 'too full' at the end of either, everything was superb and I had space for well, more wine ;-).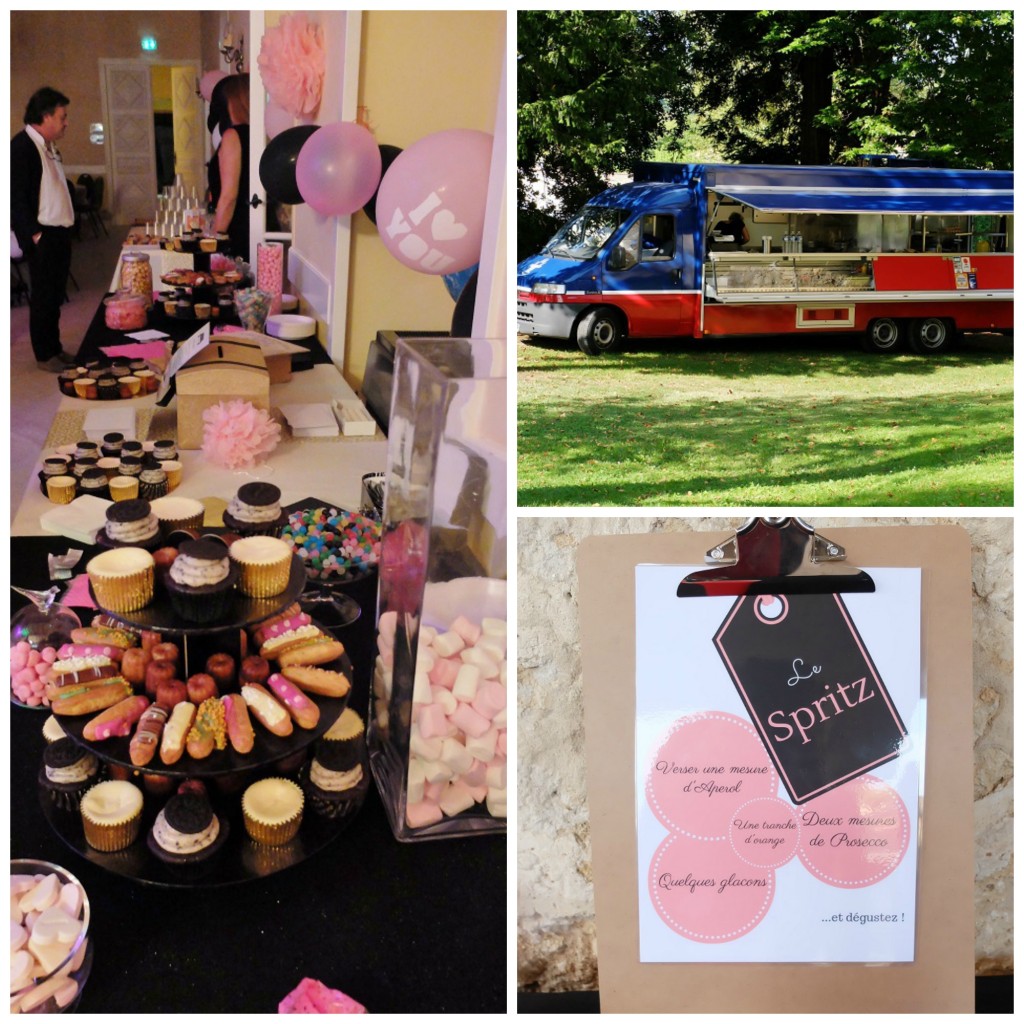 We're fools whether we dance or not, so we might as well dance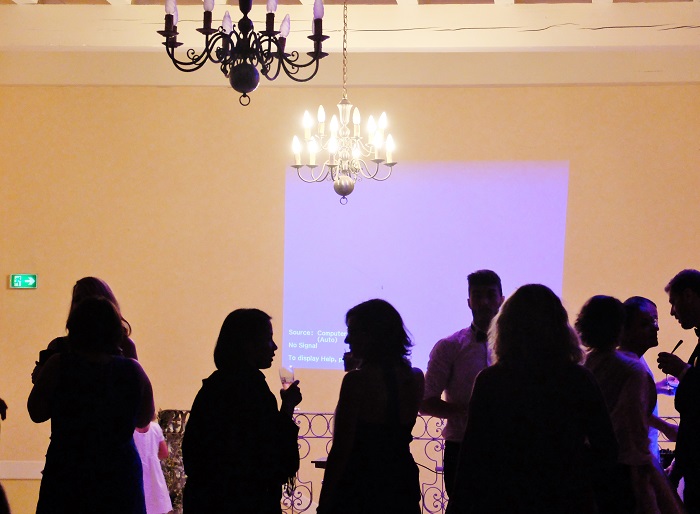 Something that surprised me a tad about the Italy weddings that I attended in my eight years were the lack of dancing involved. Sure I've been to a few that has you shake your tail a bit (here in Tuscany) but now that I think about it, that was once. In the USA we love to get our dance on but unfortunately the fun ends quite early, around 12 or 1am max, luckily in my family we normally take the opportunity to go out to an after club or bar, dolled up to the nines and ending at whatever local 'whataburger' happens to be nearby, and open.
In Bordeaux (and Lille) they party like it's 1999, but really. Everyone is on the dance floor, every man, woman and child and basically stays there until around 5am. My friend Yasmine even did a 'Thriller' rendition with her new husband and guests that was beyond impressive. As you can imagine, photo booths and all sorts of fun accessories are pretty worldwide, and they are a lot more fun after about five glasses of champagne. 😉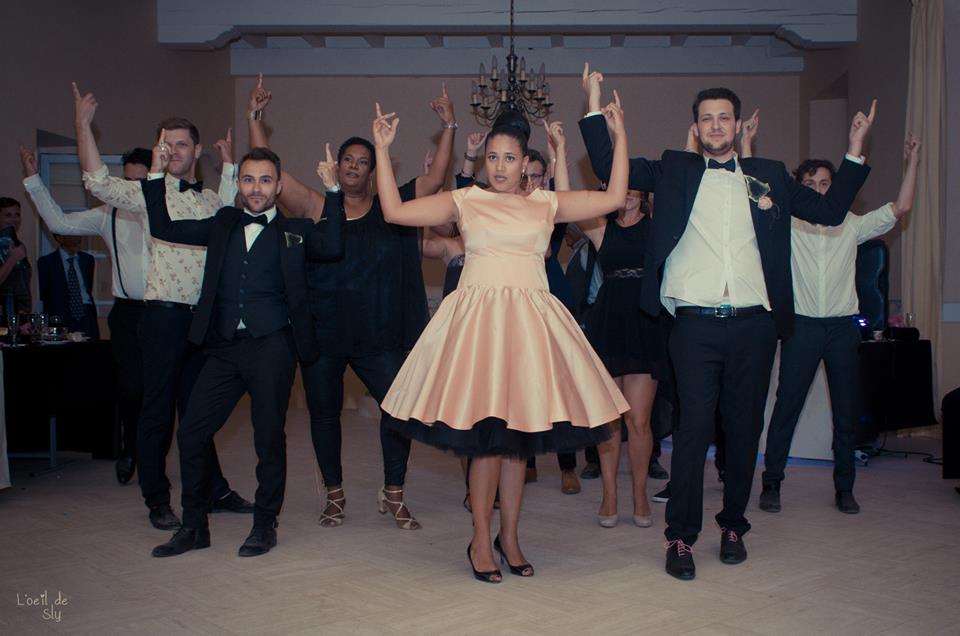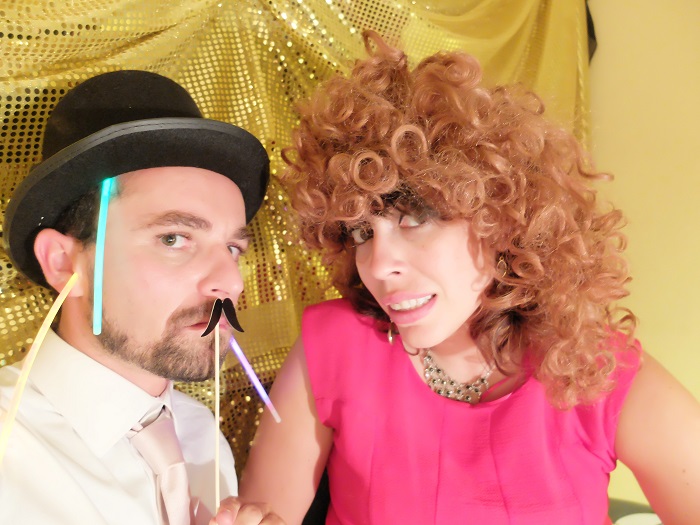 That's all folks, so now it's your turn, how many weddings have you attended worldwide? Which ones were most memorable to you and why?
And Guess What I'm not Alone, As I was writing this post, I saw that the NY Mag 'The Cut' wrote 'French Weddings Are More Fun'. Spot on!