You know you are creeping up the age scale when it feels like all of your vacations are revolved around attending weddings of friends. Far from being a bad thing, if anything, it just makes deciding where to go for summer break a lot easier. This past August, we headed to the beautiful island of Corfu, Greece [more about the trip to come on the blog] for the wedding of my friend Madeleine, whom I met in Florence many years ago. I wanted to write this post as a dedication to their wedding since as a blogger, I love sharing personal experiences and I declare 2014 the year of wedding madness. We have been to 4 + this year alone and that doesn't even count the ones I do as a celebrant.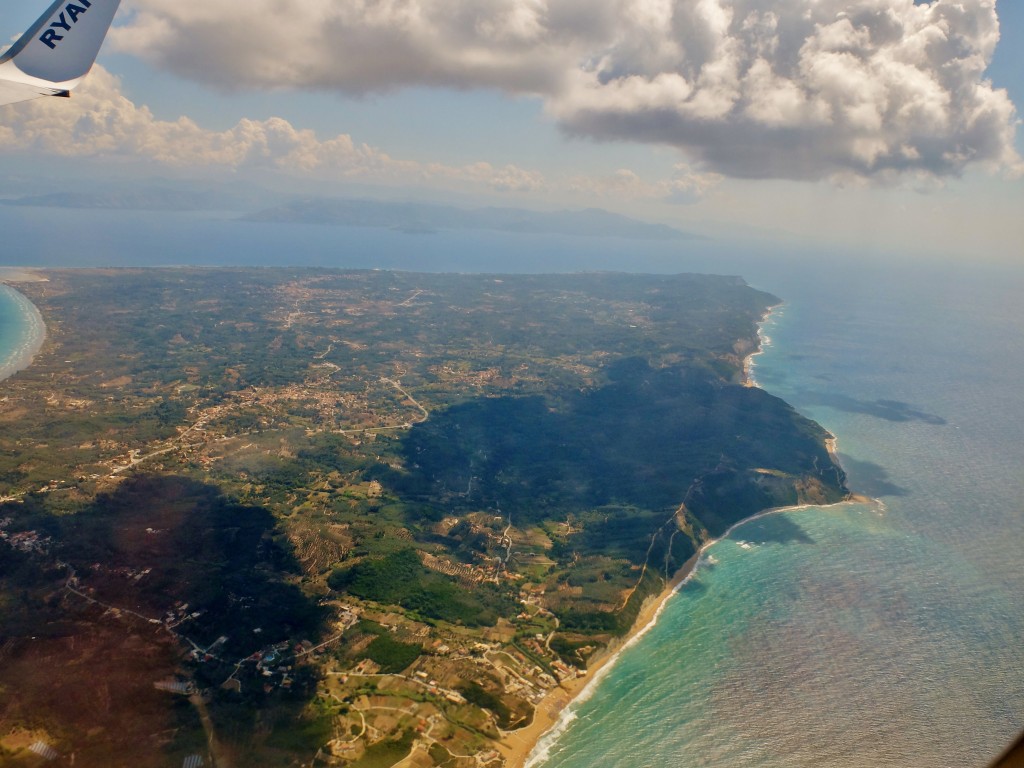 Corfu from the Plane, Photo provided by Madeleine Trindade Vieira
My friend Madeleine Trindade Vieira is one of those well-spoken people who seems like she could be from just about anywhere. Classical good looks and poised to the t,  she speaks at least 3 languages perfectly and I'm probably missing one or two. I don't know what it is but I have met so many Europeans living in Florence that make speaking multiple languages seem as easy as a part-time hobby. We Americans could use a few tips on that front. The man soon to be her husband, Christophe Reech happens to be a very successful French business man who made a name for himself in the London investment management circles.
The last time I had seen my friend, we had a rich calender of events that mostly revolved around fun nights out with the girls and making the best of being young in Florence. Since at the time I was teaching English and nannying, waking up at noon wasn't that big of a deal or abnormal. Now that so many years have passed, and both of ours lives are very different, I always hoped that we would run into each other at some point. When she shared with me that she was getting married and that the wedding would be in Corfu, I didn't think we would actually make it happen. Low and behold and lucky for me, Nico was game for a Greek break and off we were to celebrate my friend's special day in  the second largest island of the Ionian sea after Kefalonia.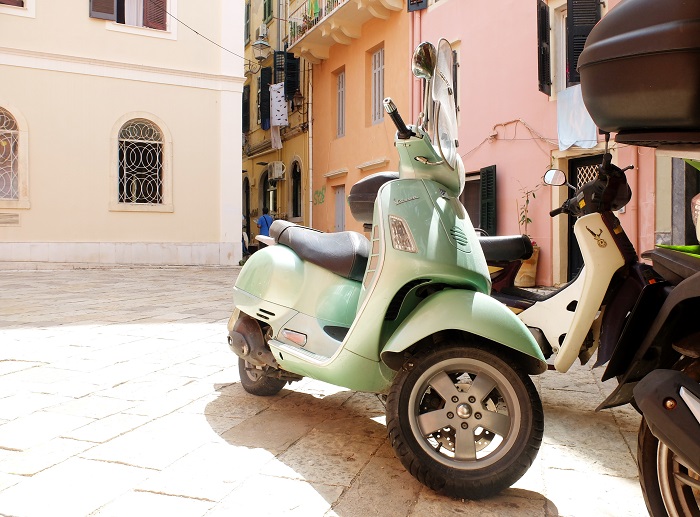 We got the chance to catch up with Madeleine and Christophe a few days before the wedding for drinks & dinner in a beautiful area of the island. A highlight of the trip was discovering a unique bar, Madison Garden, serving up delicious cocktails like my mango ginger margarita before heading to a local taverna, Steven's On The Hill, for stuffed vine leaves, moussaka and veggie pizza. What I love about some friends, is when everything just naturally falls back into place and it felt like I had seen her just yesterday.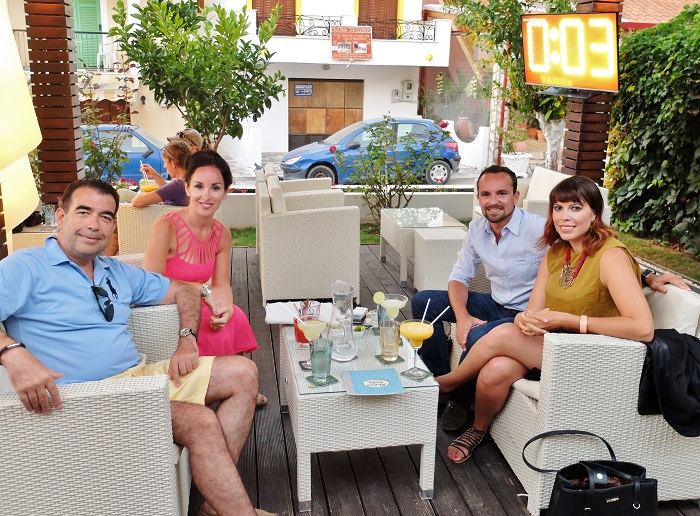 The day before the wedding, some of us girls met up at the Asian Spa & Ayurvedic Retreat for a mini-facial, massage and hamman, the perfect way to pamper ourselves before Madeleine's big day.  I was extremely impressed with the massage since it can be hard for me to find anything in Florence that I like, aka a massage with pressure. Plus they didn't go to 'second base' which we all know can happen in Italy ;-).
We all met for drinks afterwards at the Kontokali bay resort and spa, our waiter not even offering a menu but instead guessing what drinks we might like. You can definitely say that in Corfu, waiters have a interesting sense of humor. The mix of people attending the wedding of  Christophe & Madeleine hailed from all over the world, a reflection of their own intercultural background and social set.
The big day was on August 21, we guests had vague instructions to meet at the old courthouse by the port in Corfu town. All very exciting to have no idea of the festivities beforehand. Being that wedding was slated for 6pm, we took advantage of the beautiful day by touring the city by daytime and checking into our hotel in the North-west coast before getting dolled up for what was sure to be an unforgettable night.
I will touch on Corfu town on a later post but safe to say, this city is one of the most charming I have ever seen in Europe. It feels a bit like Italy (naturally with Veneto holding power for so many years), with tiny winding streets, vendors open quite late, people eating & drinking in the squares. So small of a place yet easy to get lost, it was a tad like a dream world of vacation nirvana for us both.
When we met the guests at the appointed meeting place, everyone looked pristine despite the hot, humid weather. As a reflection of both Christophe & Madeleine, their mix of friends and family were quite the amazing bunch, from the most famous streets of Paris to the London jet set, and oh us normal folk living in our Renaissance haven of Florence.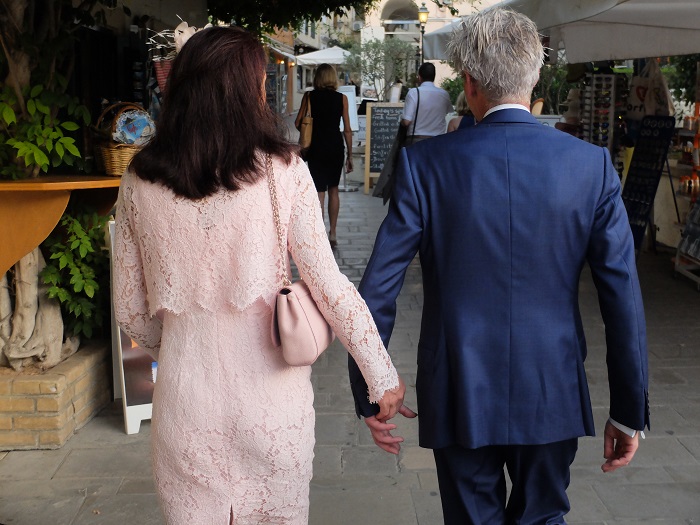 I swooned at this lovely pink lace ensemble
Everyone was friendly and easy to chat with, luck for me Nico can pull a language out of a hat in any setting. We made our way to the tiny Kremasti Square, home to the historical Venetian well and an amazing restaurant. Old Town has a heavy Venetian influence and was under the Veneto rule from 1401 until 1797. If I had to describe this place, all I could think of is how perfect of a movie set this twinkling square would make. I am sure Audrey Hepburn or Sophia Loren would have comfortably kissed a man or two perched upon the marble well centerpiece.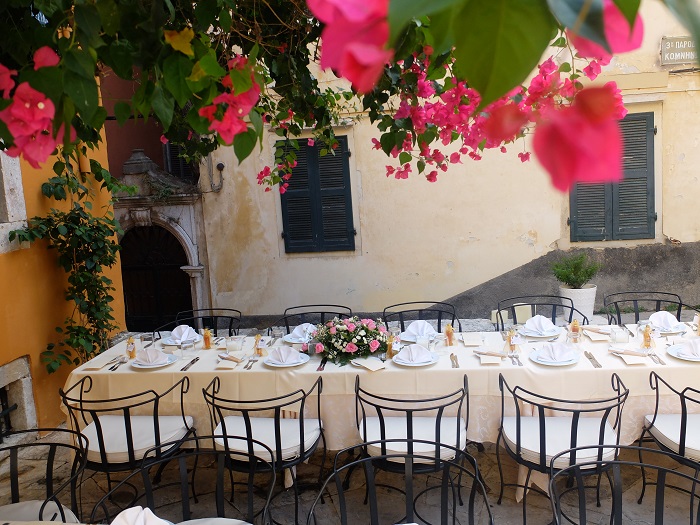 We guests waited in anticipation for the bride to arrive as the wedding was to take place directly  in this romantic square. When I first saw my friend walk up in her beautiful white gown and elegant bunch of flowers, I couldn't stop smiling, you would have had to wire my mouth shut.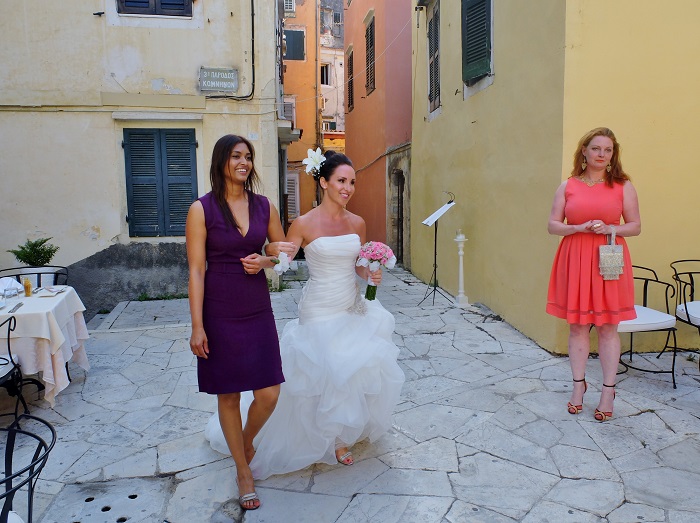 Here comes the bride!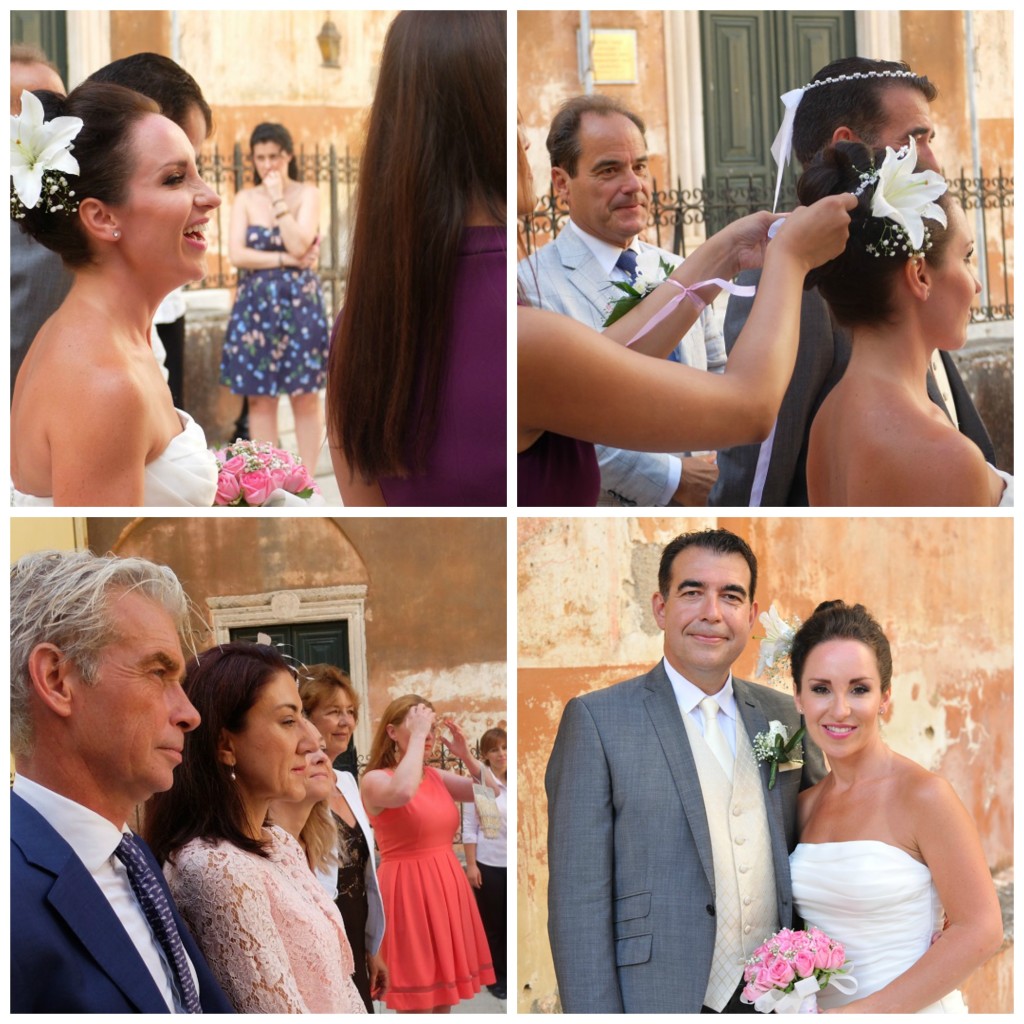 A stunning ceremony
As the wedding celebrant recited their ceremony, I loved the special touches such as the delicate flower wreaths that Madeleine's made of honor Ashna placed on them both. After the vows were made and they shared their first married kiss, it was time for champagne , hugs and photos! Some of my favorite elements in life. In this case, photos truly do speak more than words and I am super thrilled to share her special day with you all.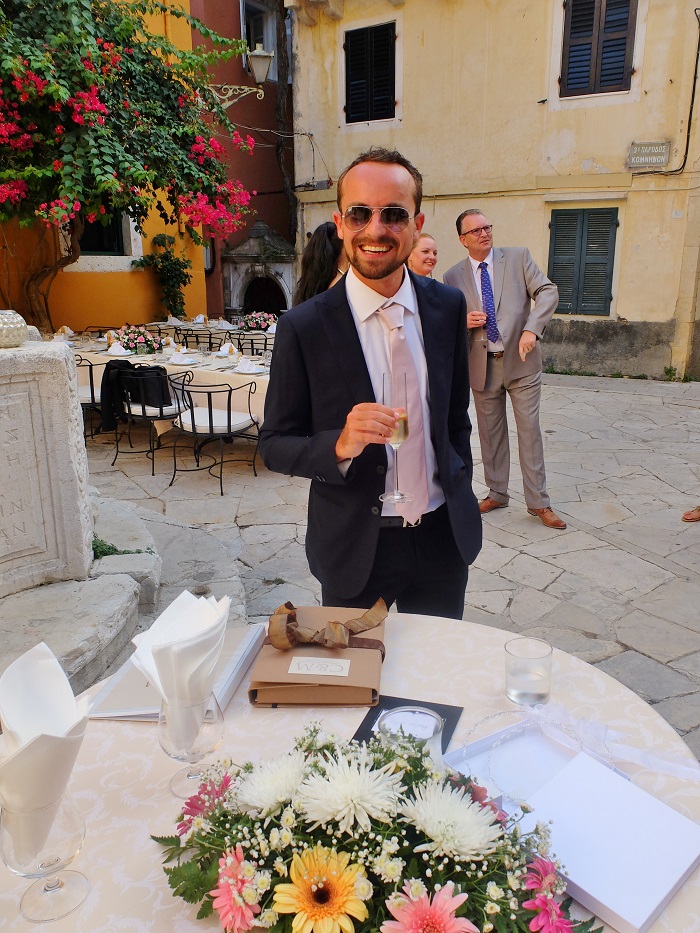 Nico aka 'Frenchy' looking decidedly Italiano as he sips some champagne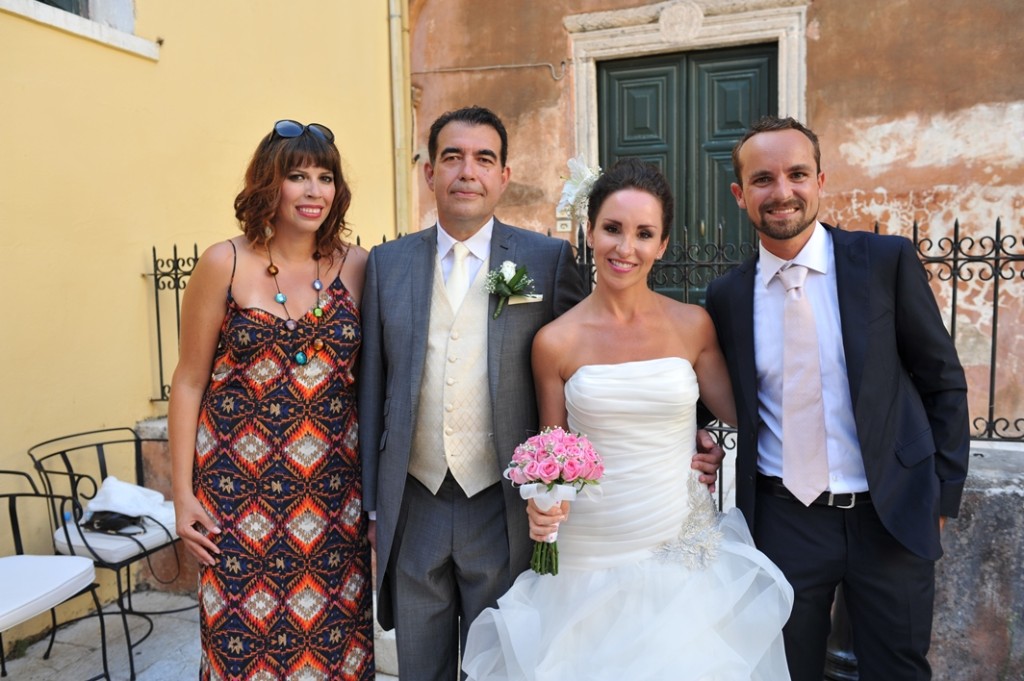 Group shot with the newlyweds and us, photo provided by Madeleine 
One of the coolest things about this wedding is that everything was a surprise to us guests. After we had a glass of bubbly, we headed to the Palace of St. Michael and St. George for a few group shots in a very pretty part of town. You would be hard pressed to find an unattractive part of Corfu town, it all sort of feels like a fantasyland.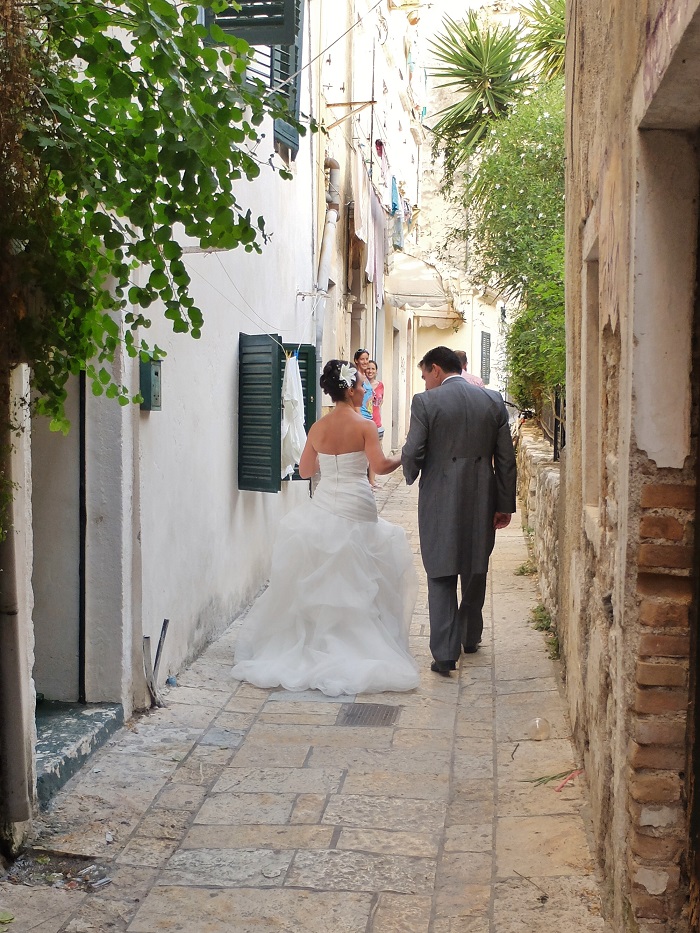 Happy couple making their way down Corfu Town's tiny streets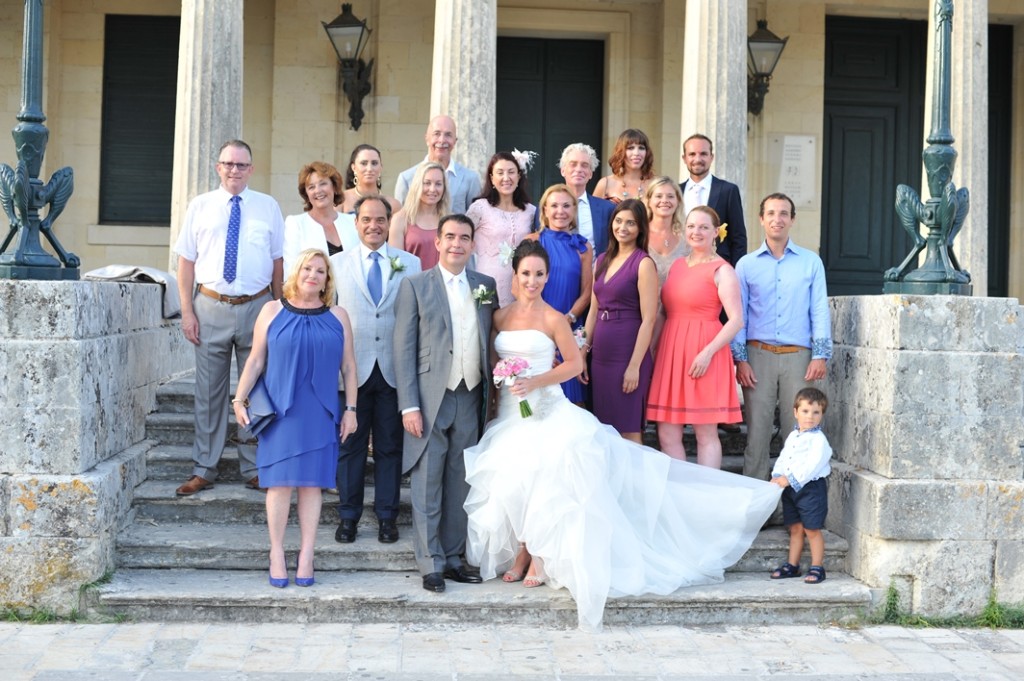 The entire wedding party, photo provided by Madeleine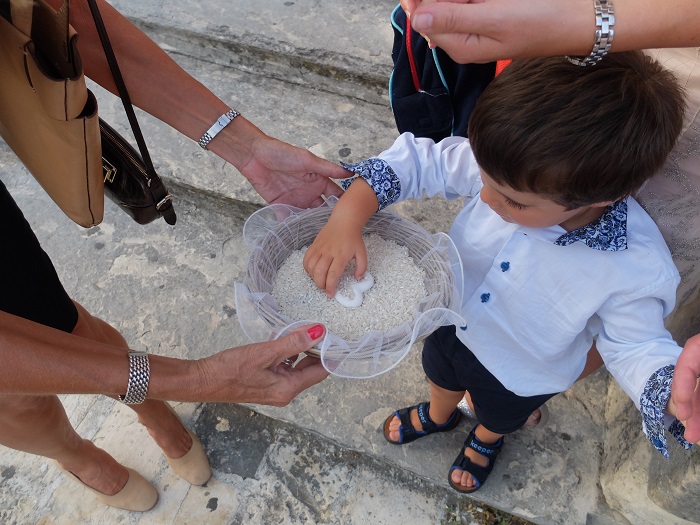 One of the guests charming son, grabbing some wedding rice and looking absolutely adorable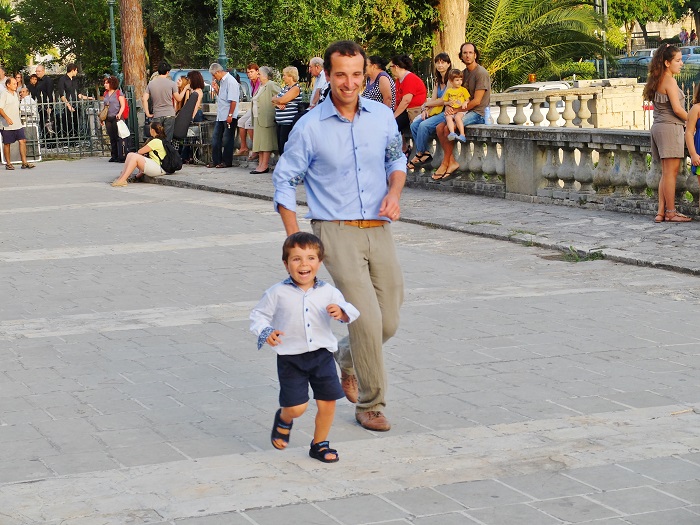 Italians make the cutest babies, an unfactual fact 
Stop number three was a champagne bar for an aperitif and bubbles, the perfect chance to chat with the new Mr. and Mrs. Reech. We dined on cured meats, olives, cheeses and somehow after about five glasses, made our way back to the original wedding location, the Venetian well. As we all sat down for what would be an incredible meal, a Mediterranean dream with risotto truffle and roasted herb-infused rack of lamp, quite suddenly a figure stepped out of one of the balconies high above the square. Unbeknownst to us, they had hired a singer to belt out opera tunes for us all. When I mentioned 'scene of a movie' I certainly wasn't expecting it that very night.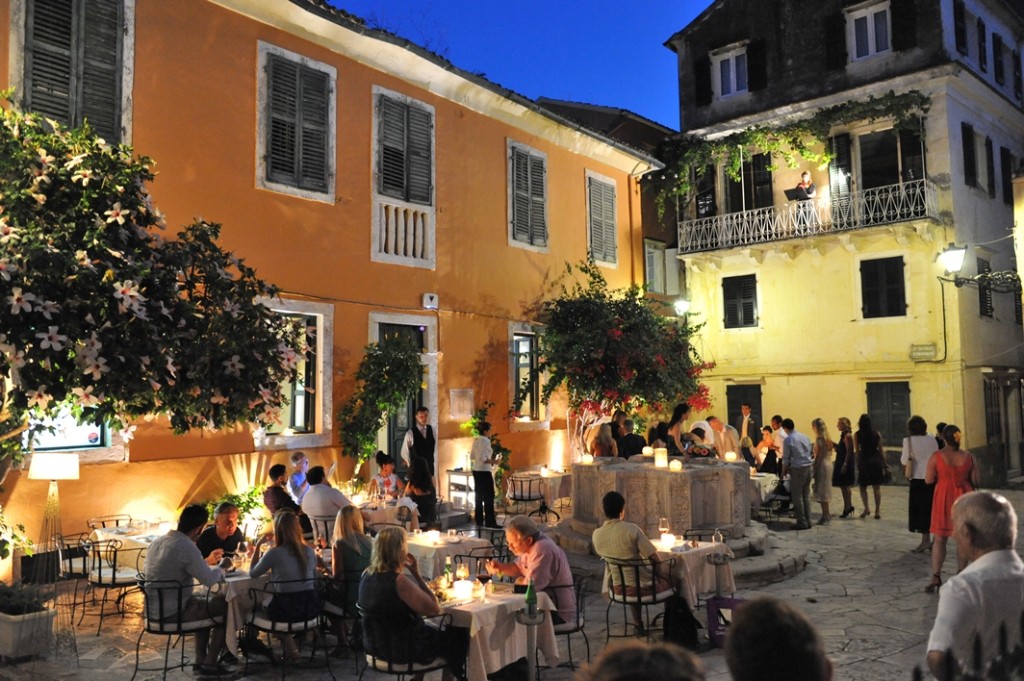 Stunning nighttime scene with 'Romeo & Juliet'  like live music
The night ended on a high note [not a pun for the opera singer 😉 ] when the last of us guests had a last drink in one of Corfu's many charming squares. It may have been three in the morning and my makeup long gone, but on nights like this – you really never want it to end. I wish Christophe and Madeleine the best of luck in their marriage and thank them both for giving Nico and I a reason to visit a new country for such a beautiful reason. Ahh Love.. 
---
Have you ever been to a wedding in Greece or Corfu? If so, what was it like, I'd love to hear your experiences. This is definitely a country (and island) I wish to visit again.