I can't believe it has taken me this long to write about the beautiful city of Bordeaux in the Southwest of France, but alas that's what happens when life gets in the way. My reasons for visiting was to attend (and be the celebrant of) my really good friends Yasmine & Svebor's wedding, both are from the city but currently based in Florence.
I had so much fun at their wedding that I am planning a post about it but in the meantime let's talk about the 9th largest city in France called 'little Paris', and one that produces around 960 million bottles of wine a year (my kind of town). Basically this means I could quite easily call this place home one day. There are many reasons to have a love affair with Bordeaux, it has history, it has the atmosphere, it has cute men in tight pants, and it has attractive trams that work.
I like you Bordeaux, I like you a lot.
Instead of hitting the city 'hard' like I normally do, we took a very rare chance to truly rest. We rented a cheap airbnb apartment in a nice area in the city and concentrated on a bit of 'slow travel' which is fancytalk for being lazy and walking around the city with no real plan.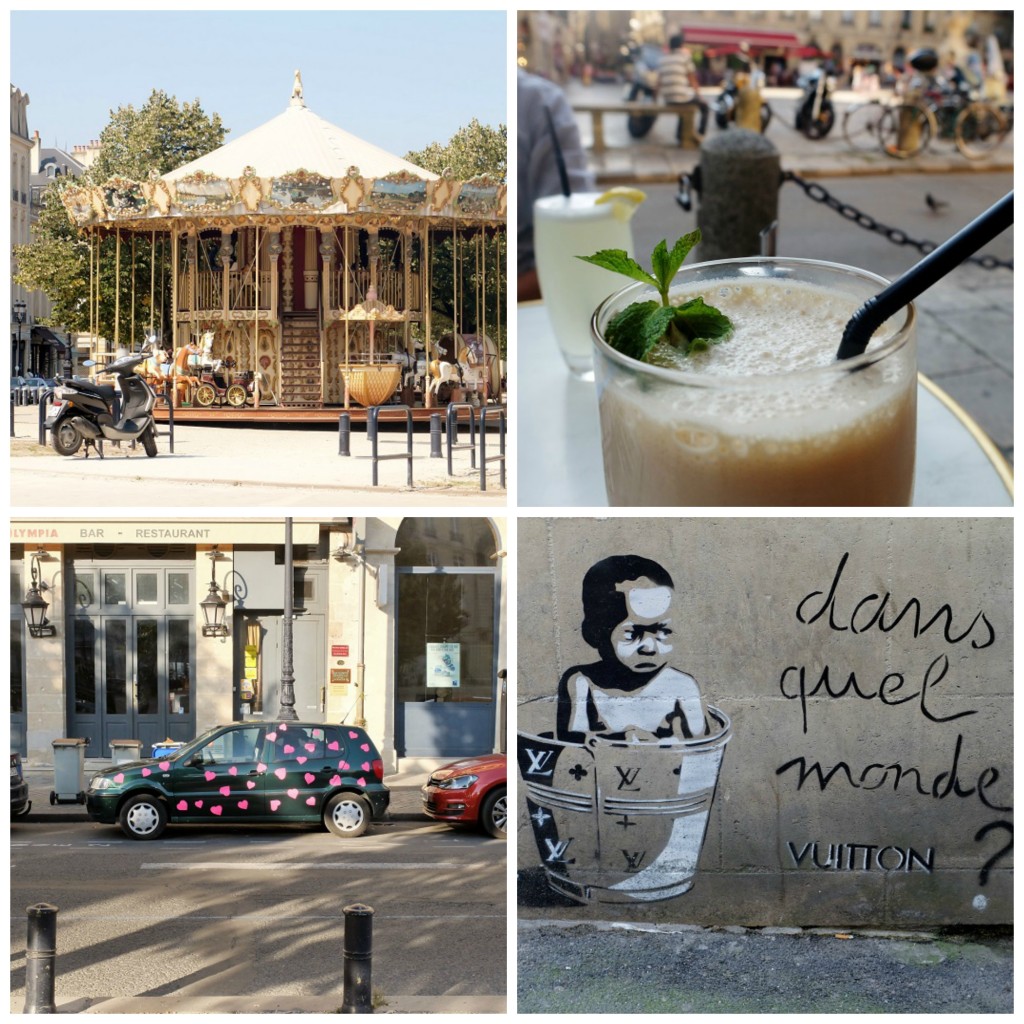 This is not something I often do, my anxiety to discover new places almost always prevails, but something I probably should learn to embrace more often.For a fun roundup of what stood out for the short 'taste' I had of the city, I compiled five reasons that made me fall in a Romeo & Juliet like love affair with Bordeaux, one thing I should note is that I definitely will be back, hopefully sooner rather than later.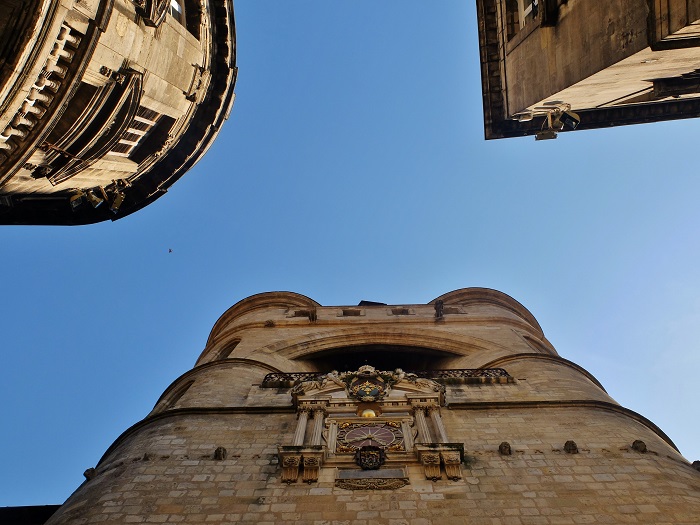 In Bordeaux, just look up!
1. Bordeaux is Fun: Namely for the People
Atmosphere is everything to me, I love stepping out of the door, fresh with perfume and ready to walk down a new city's boulevard – ready for anything and everything. The first day we arrived for pre-wedding fun, within an hour we were drinking spritz's in the garden of Alex & Mathieu's house, two fun guys that we just met, cracking jokes and saluting our mutual friends who were soon to be married.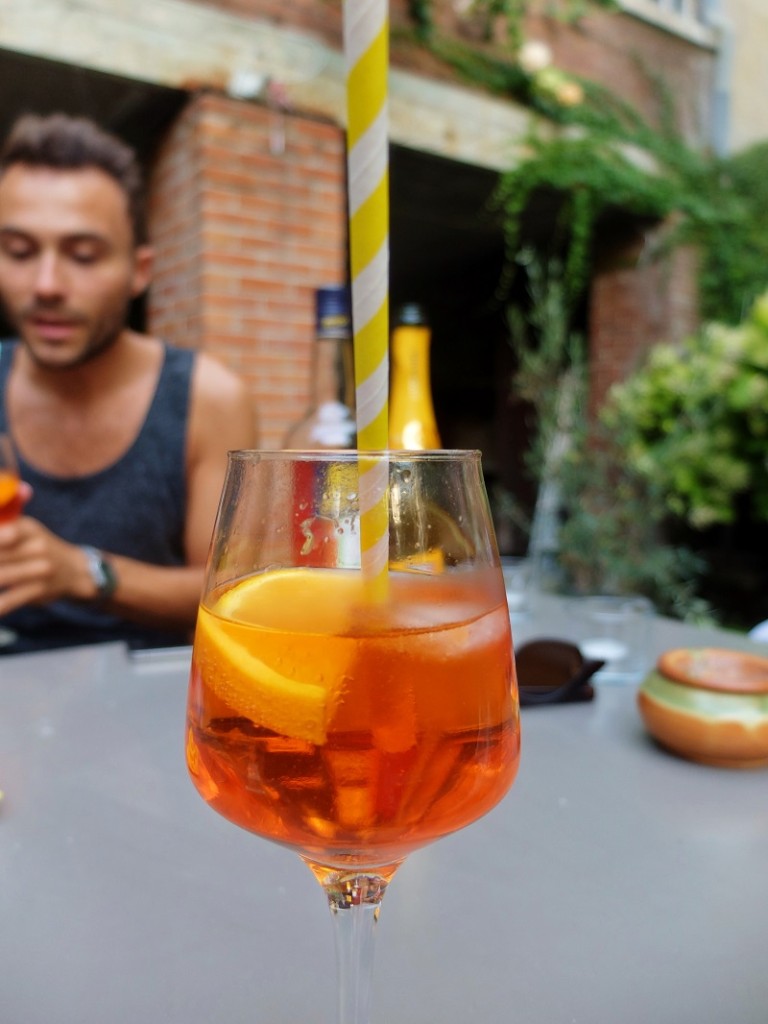 We were staying in their spare room for a night until our Airbnb rental was available and no-one even batted an eye. While it is true that French people don't have the warmest reputation in the world, but honestly, I have to say that is utter bullshit. The more I go (and I am not yet even sort of close to being fluent) the people I have met have been some of the kindest, warmest,  generous and fun. Just start with a drink and some broken French and anything is possible. I felt the same way about our recent trip to Lille, northern France. This trip, we  were in Bordeaux in September and on the first day, after our welcome drink, we discovered an outdoor garden outside the grand theater where live music colored the night air and we sipped champagne on lawn chairs. It was awesome.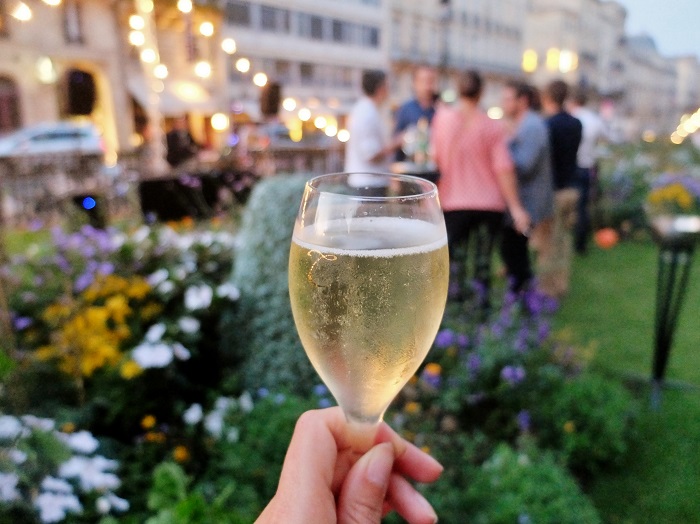 that perfect crisp glass of champagne in an urban garden, live music & dancing next to the grand theater
I also had almost too much fun in the lovable Miroir D'Eau 'Mirror of water' in front of the Place de la Bourse covering a space of 3450 m2. Residents and visitors have the chance to splash around in this attractive spot that couldn't be more beautifully built if they tried. Literally everyone we saw there had a smile on their face as they walked along the shallow water.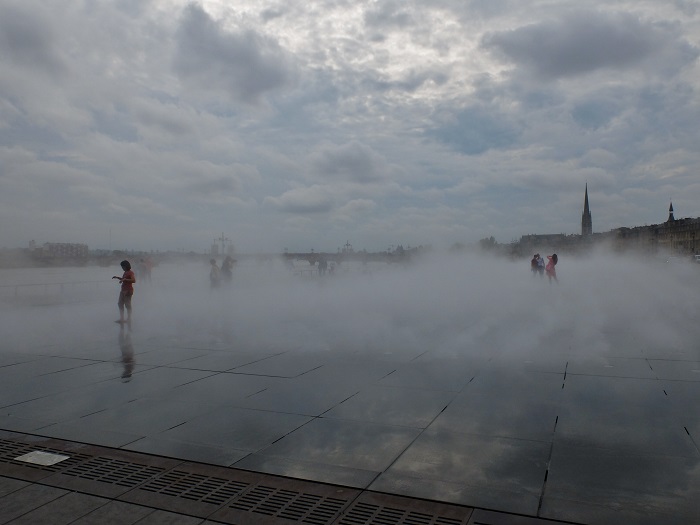 Misty Miroir D'Eau, meeting point for many who live in the city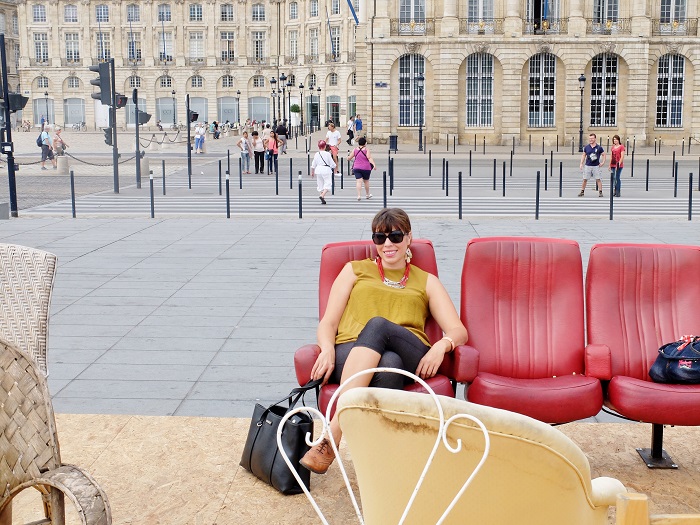 Relaxing in one of the vintage chairs next to the Miroir D'Eau, Bordeaux keeping it hipster cool!
 2. It has Made Me an Architecture Lover
Most of the buildings that make Bordeaux the charming place it is today were built in the 18th century. During this time in France's history, Bordeaux was its largest trading port and was remodeled with larger leafy streets and more attractive architecture. This continued in the 19th century and the city now successfully combines 'old with new'.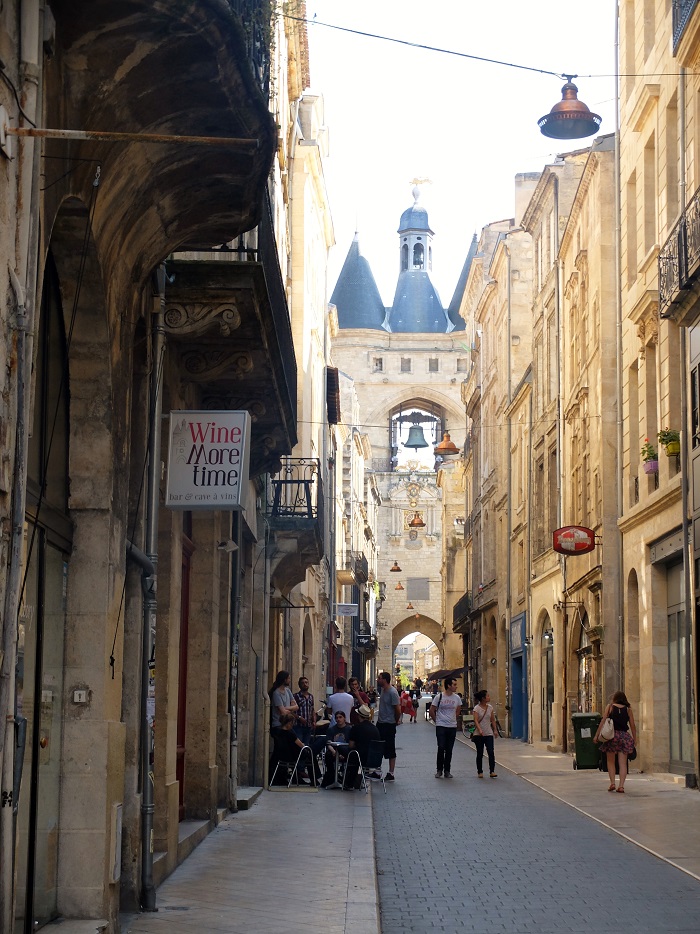 La Grosse Cloche, old bell of the Bordeaux town hall, preserved from the 15th century
 Some notable monuments include the Palais Rohan (city hall), Monument aux Girondins, Place de la Bourse, Pont de Pierre, Porte Cailhau, Grand Theatre de Bordeaux designed by Victor Louis who also completed the famous Theatre Francais in Paris. I suggest wandering the town slowly, you can find a yellow line to walk on which essentially takes you around the most important monuments in town.
3. The Mayor and I Share The Same Last Name
Well this isn't entirely true, my last name is Jupe and Bordeaux's major is Alain Juppe but that didn't stop me trying to name drop (jokes). People used to call this city La Belle Endormie (Sleeping Beauty) choking in pollution and not the kind of place you really wanted to call home. Instead now, the city has undergone quite the revival because of my fake 'relative' Mr. Juppe who in 1995 put forth a massive regeneration effort, cleaning up the city and installing a hi-tech tram system uniting the city both physically and mentally. Now the historical center is a UNESCO-heritage site and the French are clamoring to call this city along the garonne, home. More about Bordeaux-reborn here via the Guardian with some food & visit tips.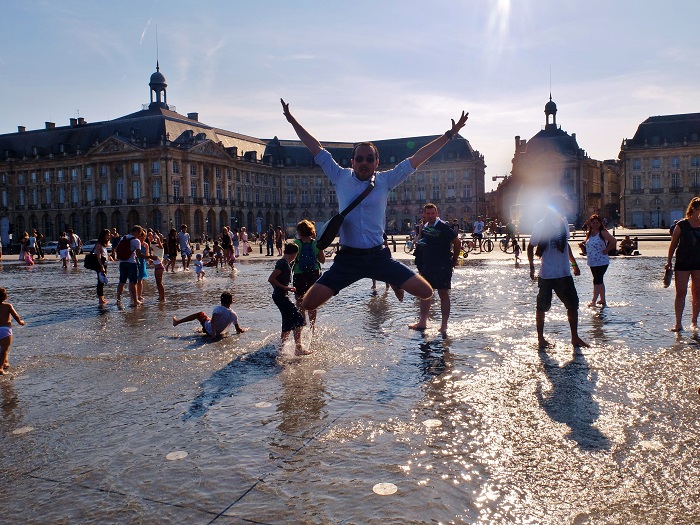 Nico jumping for joy in the majestic Miroir d'Eau, a refreshing haven on humid days
4. The Food is magnifique!
In France, you know the food is going to be good. I mean trust me, it would be a crime to have a crap meal in this country though I know it happens. Being that Bordeaux is close to the ocean (and a famous dune that I didn't get to see this trip) seafood is a must-have here. We decided to stop by La Petit Commerce, a lively place with loads of seafood platters to choose from, the style very much like 'tapas.' Shoved on an outside table so close to the next tables that I could have quite easily rested my elbow on them, I have to say I love the busy, frenetic atmosphere. Believe it or not, we actually like snails so we indulged in some herb-butter escargot and a sweet large crab, using tools that could be at home in an anatomy class. We washed the goodness with a local white wine, you just can't go wrong here.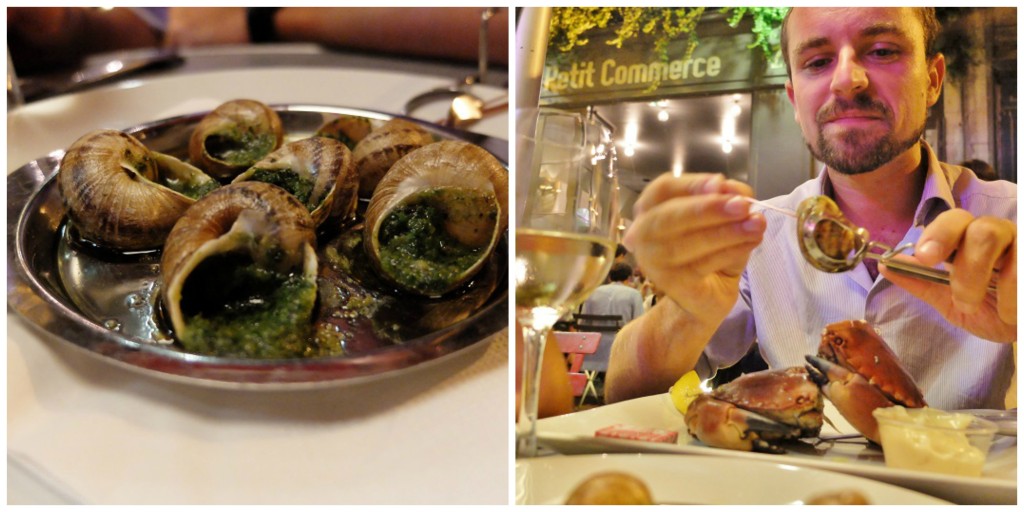 If that wasn't enough, they do a pretty good brunch as well. The 'morning after' the wedding, we needed something hearty after dancing till 4am so we headed to The Breakfast Club (love that name!) for eggs, cheddar, scones and happiness. It also happens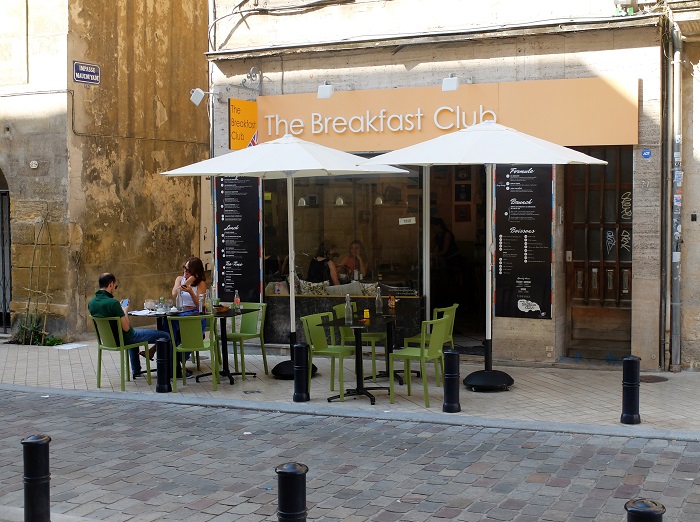 Also we had possibly one of the best burger experiences I have ever had, I wish Florence could match something like this. Just one visit to the West Coast Gourmet burger chain and I was in heaven. Here's why: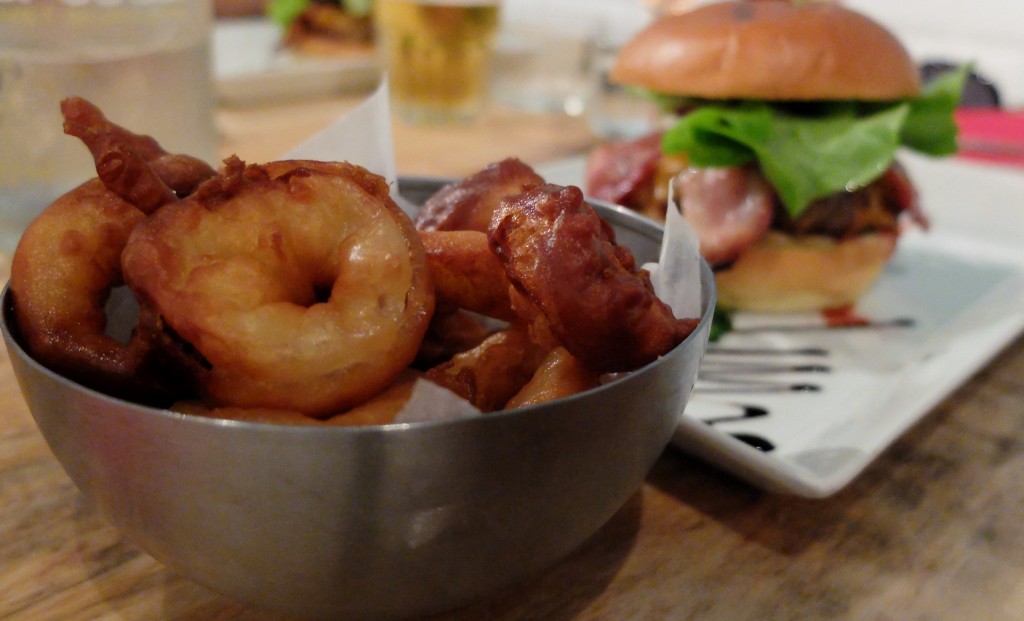 A trip to Bordeaux would be actually unthinkable without trying the famous canelé, this local pastry from the 18th century has a soft, custard center with a thick, browned crust and can be spotted all over the city.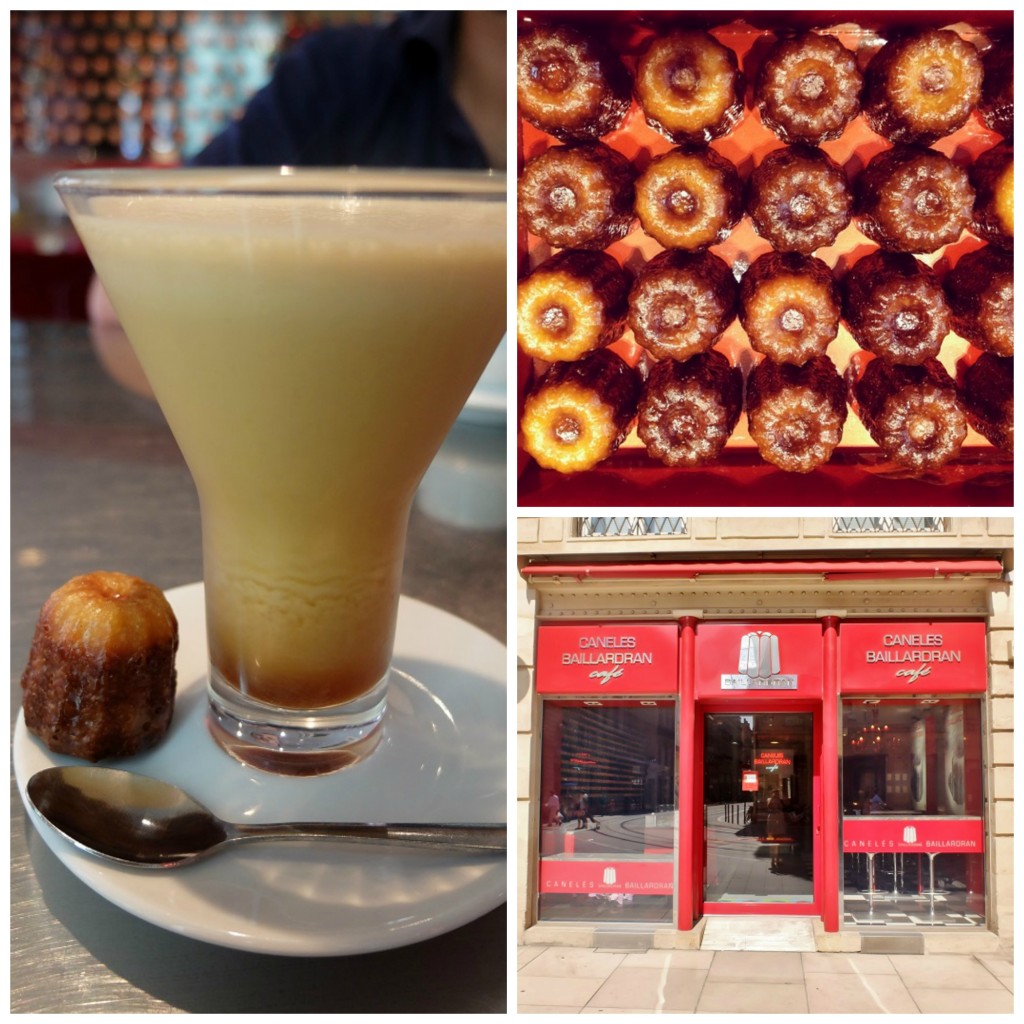 We skipped going on a wine tour this trip and headed over to a local wine bar to try a few samples. It was a Monday late-morning and within ten minutes we had at least seven wine glasses in front of showcasing the wonderful wines from around Bordeaux's famous vineyards. I think we paid around 7 or maybe, max 10 euros for the generous tasting. Drinking before noon is absolutely ok when you're in vacation and it's a wine school, or at least that is what I told myself 😉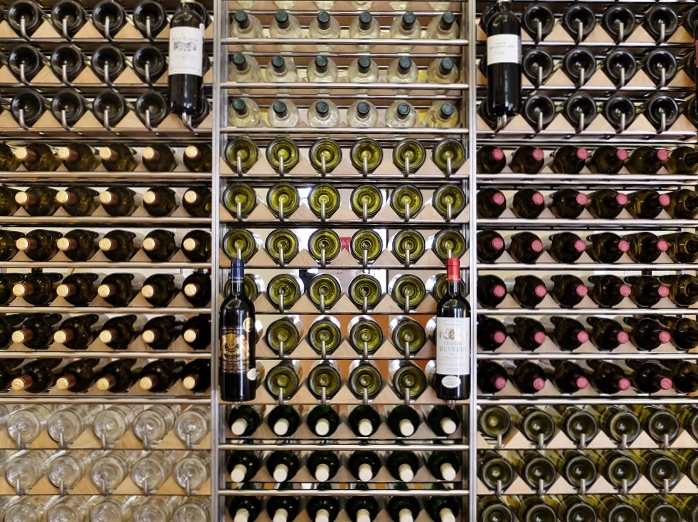 5. The Public Parks Will Make Anyone Love Nature
What really impressed me about this city were 100% the public gardens. One afternoon we wandering to the massive Jardin Public which was built in the 18th century, destroyed in the French Revolution (those naughty frenchies!), and eventually re-landscaped in the English style. You can make this your place to picnic, people watch, bike ride, go on a boat ride. We even spotted some ballroom dancing in a hidden corner, in my opinion my own city of Florence has a lot to learn when it comes to public gardens, and they should go to Bordeaux for their education ;-).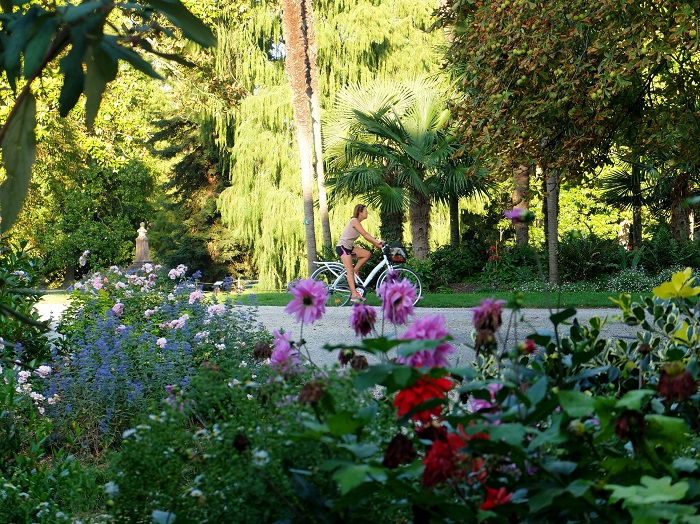 ---
 Places Mentioned
Where to Eat
Le Petit Commerce, 22 Rue Parlement Saint-Pierre, 33000 Bordeaux, France. Seafood and great wine, highly recommend for the fresh fish and crabs, portions are very small.
The Breakfast Club, 27 Rue des Ayres, 33000 Bordeaux, France. Facebook Page. Brunch place near the popular shopping street, Rue Sainte Catherine, we loved it!
West Coast Gourmet Burgers, 31 Rue du Cancera, 33000 Bordeaux, France. Hip burger restaurant with American-style gourmet options, I liked the Venice beach burger. Skip the fries and go for the onion rings. website
To try Bordeaux's most famous pastry: Canelé Baillardran Café (all over the city). Website.
Where to Drink
Les Jardins de L'Opera, Place de la Comédie website. Cool outside garden bar (and restaurant) with live music and drinks in the summer months. Highly recommend.
Le Bar à Vin, Conseil Interprofessionnel du vin de Bordeaux . 3, cours du XXX juillet. Besides the fact that it is a wine school, this is the perfect spot to try some local specialities before embarking on a wine tour. Great price and knowledgeable staff.
Where to Go
Jardin Public, Cours de Verdun, Bordeaux, France, FR. Beautiful public gardens, perfect picnic spot or to just wonder the botanical area.
Additional resources
Next time I'm in town, I will definitely be heeding the advice of Bruno Loubet who shares his love for the city along with foodie hideaways that make me drool on my computer keyboard. Article via The Guardian. 
'Bordeaux on a Budget: A guide for Foodie' via ShermansTravel Blog, loved this article, lots to bookmark on this list. Once again you can see I'm obsessed with food!
An awesome Cannelés recipe from a French foodie in Dublin. I am so happy I found her blog.