Enjoying this October hasn't been difficult, with a ton of exciting events that make Florence ever more exciting, I constantly find myself having to choose. Not a bad problem to have, yet like everyone else, I still have a job to do at the end of the day. Weekends are sacred and while I tend to overextend myself, I am lucky to have a boyfriend that often says, 'wait there hold on a second, why can't we just sleep in?'
The man has a point and even if I am always itching to get out of the house off on some new adventure, I am trying to remember to slow down and focus. Plus our dog Ginger always manages to keep us on our toes. Aperitivo with friends is always a way I like to wind down from work, even places like the Gucci Cafe in piazza signoria are affordable if you stick to wine, six euros and you get a beautiful view of the piazza and some tasty snacks.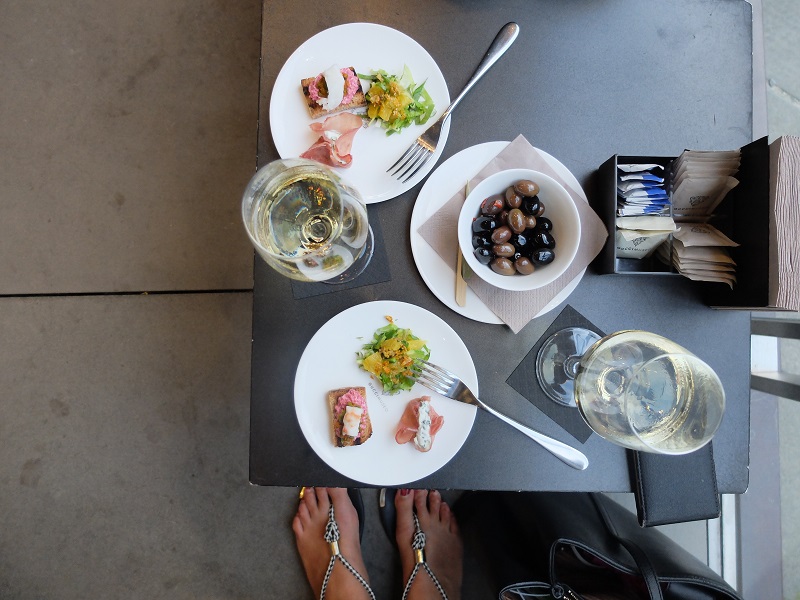 My friend Yasmine and I need to indulge in 'fancy pants' aperitivos during busy work weeks
These past few weekends, besides this fun adventure trying new restaurants and being gifted plantains, we have also done a fair amount of pre-christmas browsing. I told myself that this year, why wait last-minute to get everything. I'm actually laughing as I write that because it always ends up being my reality. However, I would like to try the mature route this year and pick up cool items every weekend that could make perfect presents for family & friends. Obviously this is easier said than done. We managed to explore the antique market in Piazza Santo Spirito last Sunday and while I could have bought everything, I naturally bought nothing. But I had fun watching other people haggle over old maps and antique furniture and wandering the oltrarno streets with Nico.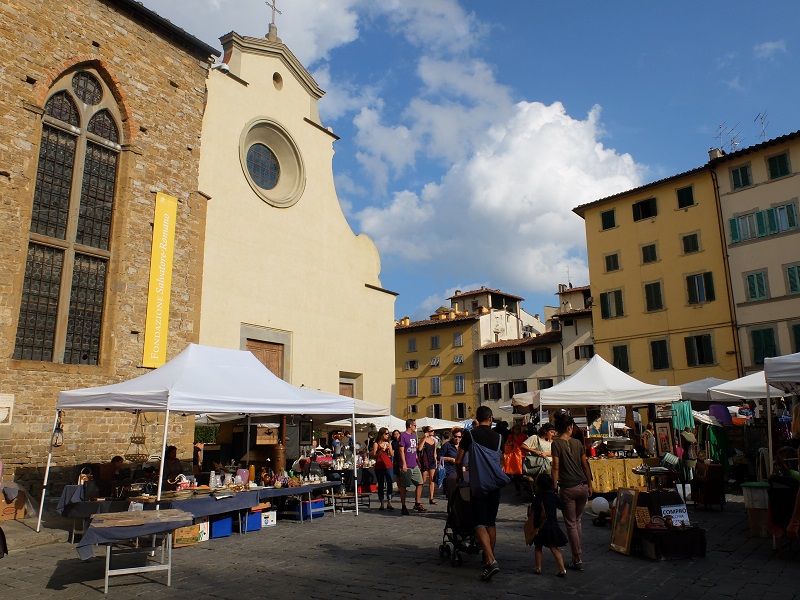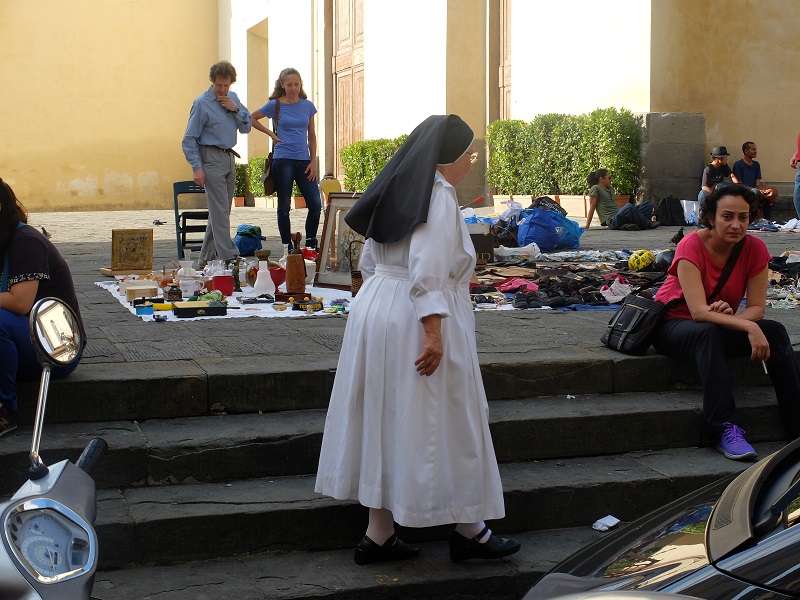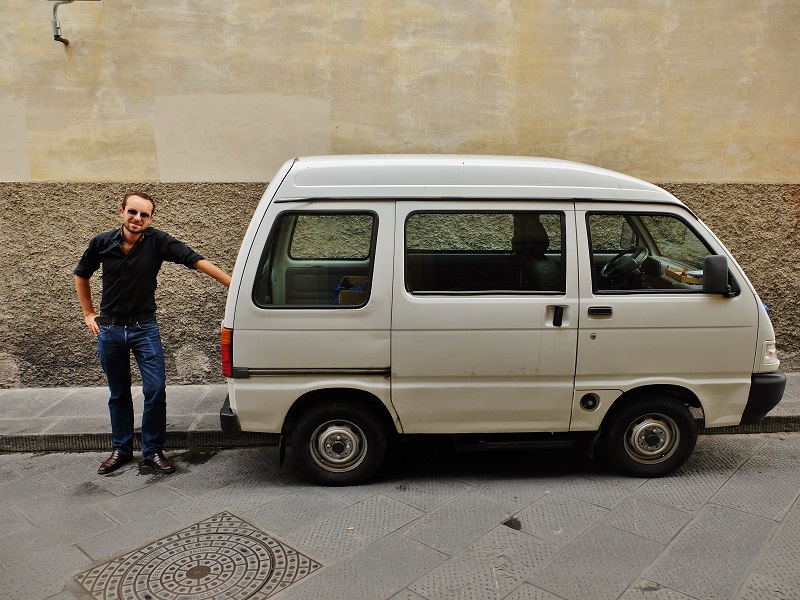 yelp Alternatively, this past weekend we took part in a very cool event (open studio weekend) organized by Nardia, the awesome creator of website, Lost in Florence, who has become a pretty good friend. She is such a positive and fun person to be around, any opportunity to hang out with her is almost re-energizing. The studio weekend was a chance to showcase some cool local artisans around town by creating an easy to follow map with some cool 'pit stops' wine, coffee, and eateries suggested along the way. I had planned to go to a trade fair, Fiera di Firenze on Saturday afternoon to take part of a special cooking show with Yelp Firenze, but we decided to visit some of these artisans before I got my hands (literally) dirty.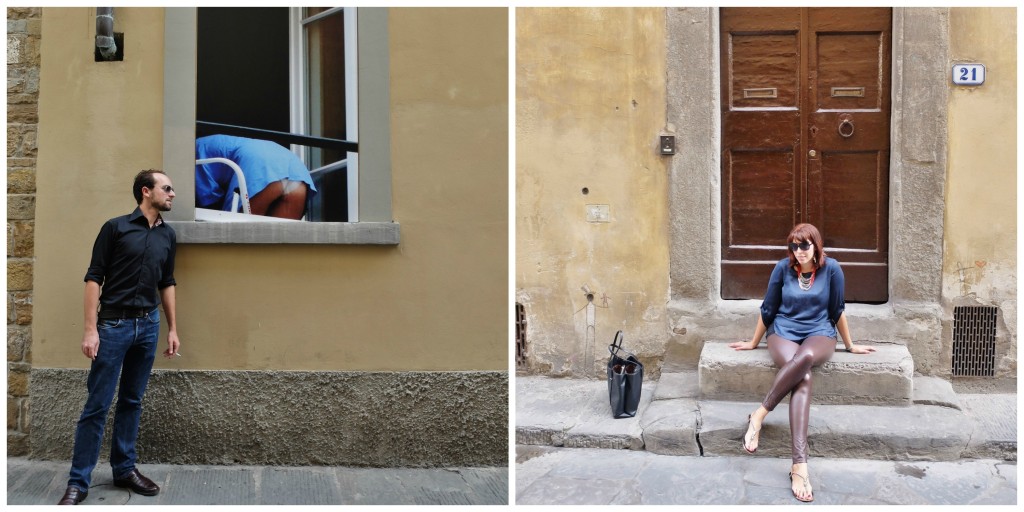 You never know WHAT you might spot on Florence side streets
We were only able to stop at a few places, but I managed to discover three artisans that I previously never knew about. Our first visit was to the ceramic studio of artisan, Anita Russo, on via romana. Her pretty store has so many nice items that would make wonderful presents, and who am I kidding, also pick up some even for yourself. Think colorful vases, lamps, candle holders, soap dishes, dinner plates that she makes in the studio in the back of the store, her skills crafted at the Accademia di Belli Arti di Firenze. You can also arrange a class with her and make your own plates and cups, I am actually planning to do this soon with a group of friends try my luck at pottery-making.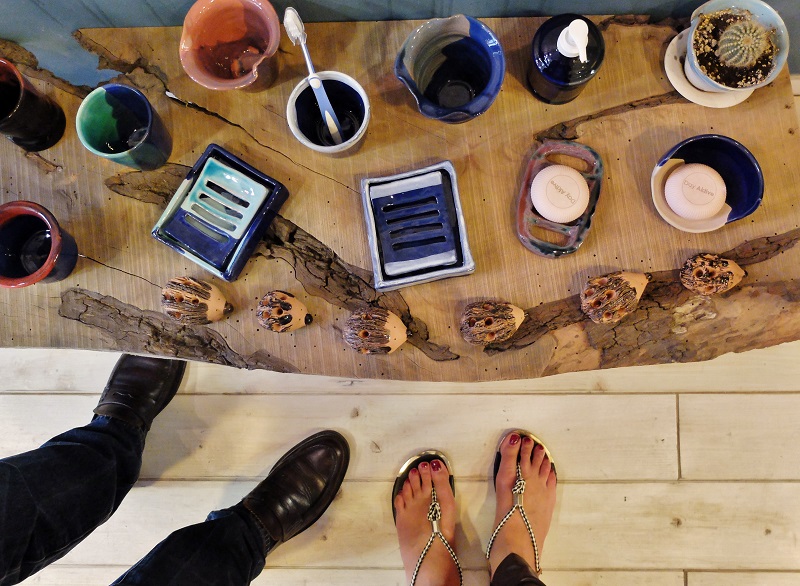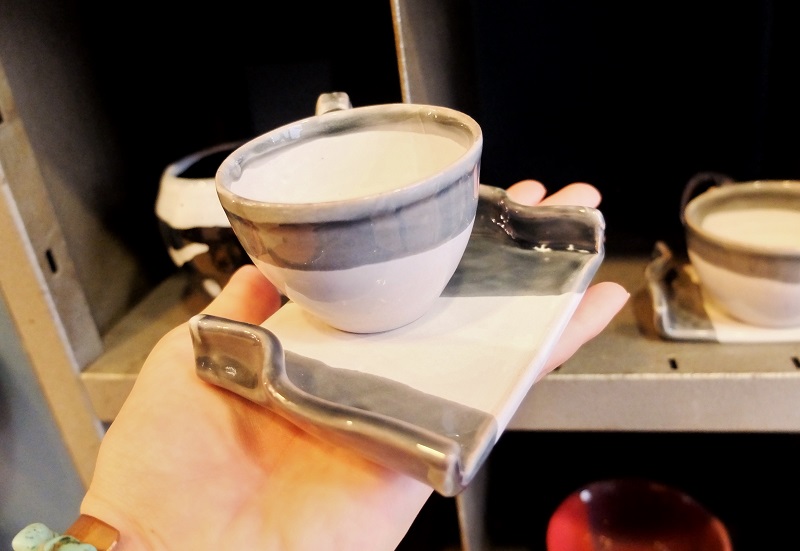 Second on our list was Nora Studio on via dei preti, a co-working contemporary jewelry space close to piazza santo spirito. Formally a mechanics workshop, contemporary jewelry makers can rent a space and make their work directly from here. How cool is that? Small and bright, I would have never been down this road if not for those event. Anyone can visit and buy personalized jewelery, even made-to order, they also use interesting materials – each with their own style, I loved it! After speaking to few of the people working there, I found out they are planning an event the first weekend of december to showcase some of their works, I will keep you posted.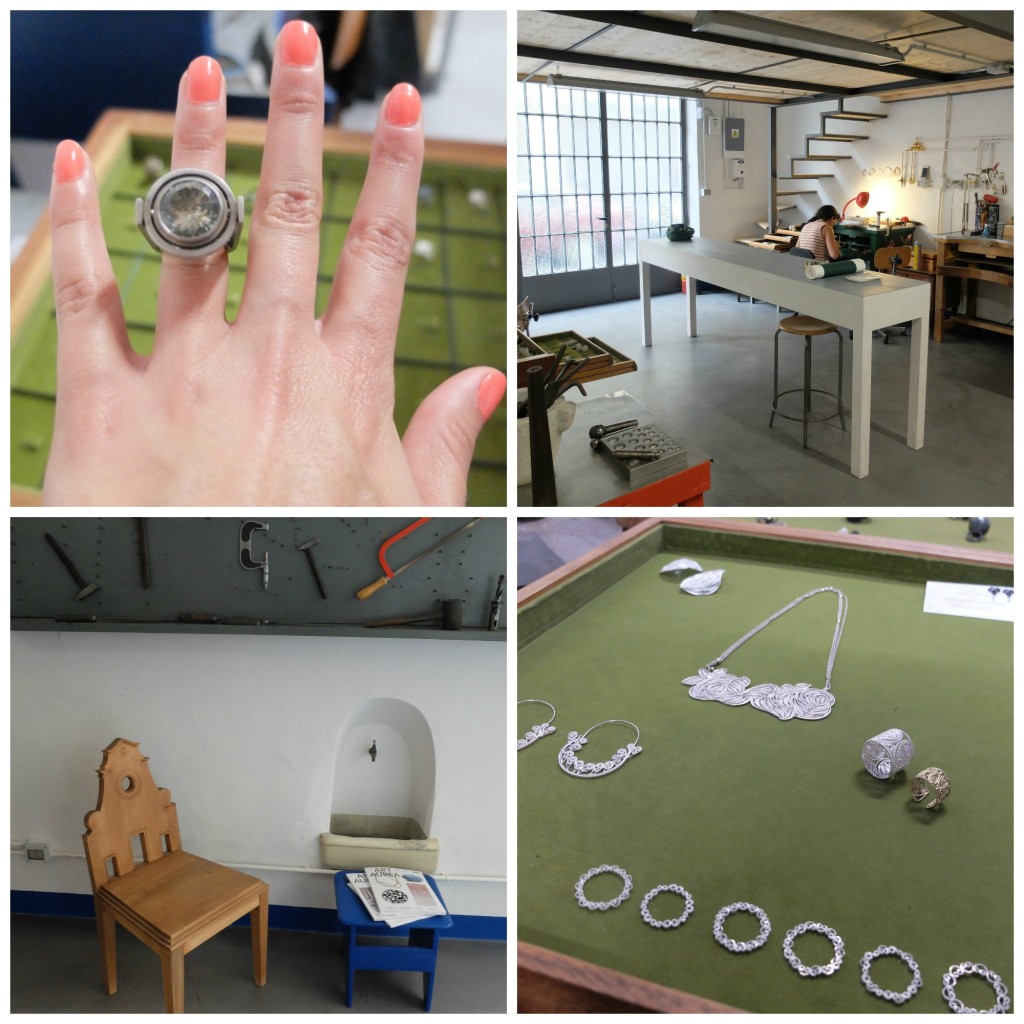 Last but not least on my list was Il Torchio: Books & Paper on via dei bardi. I am so surprised that I haven't been inside because it is so closed to my house! Il Torchio is own and operated by Erin Ciulla who is an expert at hand-binding books. "Sometimes people come in and ask to just sit and hang out, I never turn them away even I think it might be a little boring for them" Erin told me. I asked if I could do the same one day and she responded with "of course, you wouldn't be the first and I am pretty certain you won't be the last".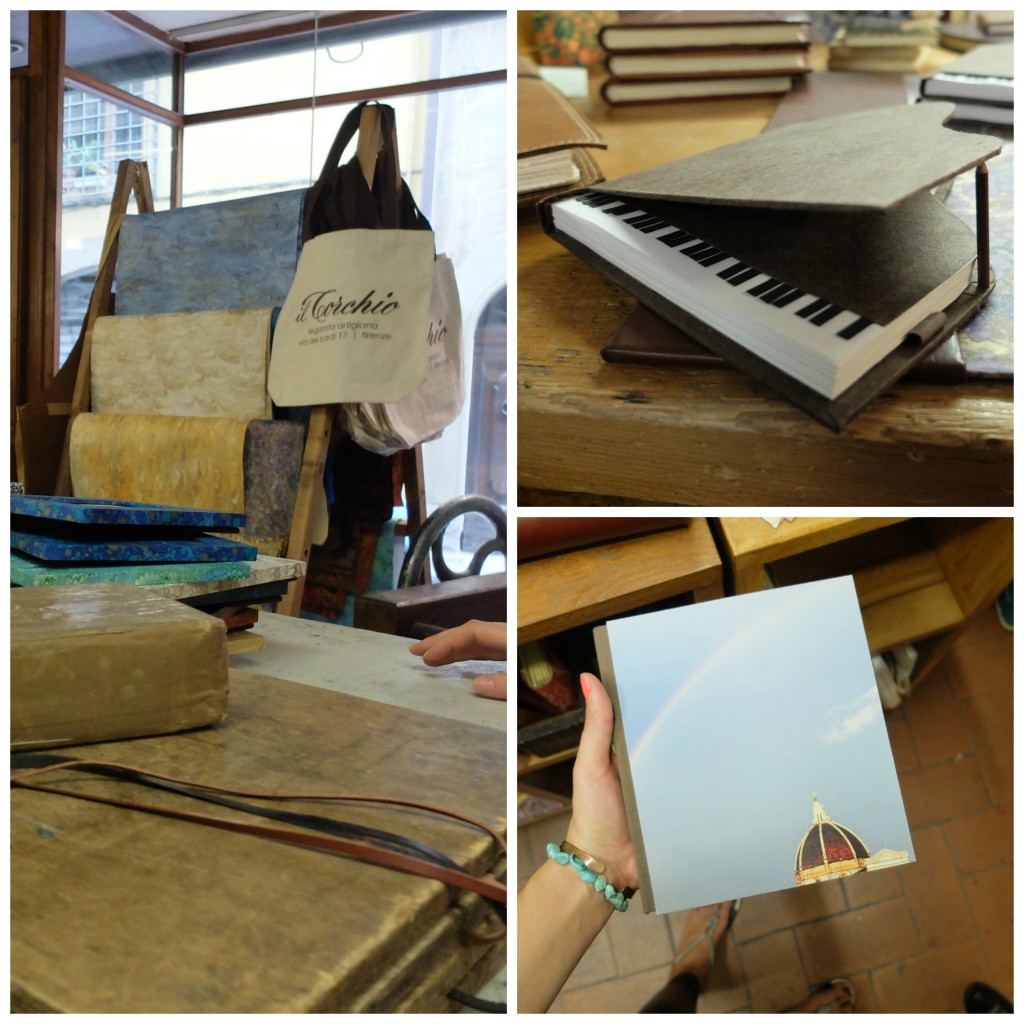 She is funny, creative and uses traditional techniques but makes them into her own new, creative versions with materials like orange peel or a notebook that resembles a grand piano. Despite that I make my living in the digital sphere, I truly can appreciate and admire the art of paper, especially the beautiful notebooks she creates on this tiny, charming street in Florence.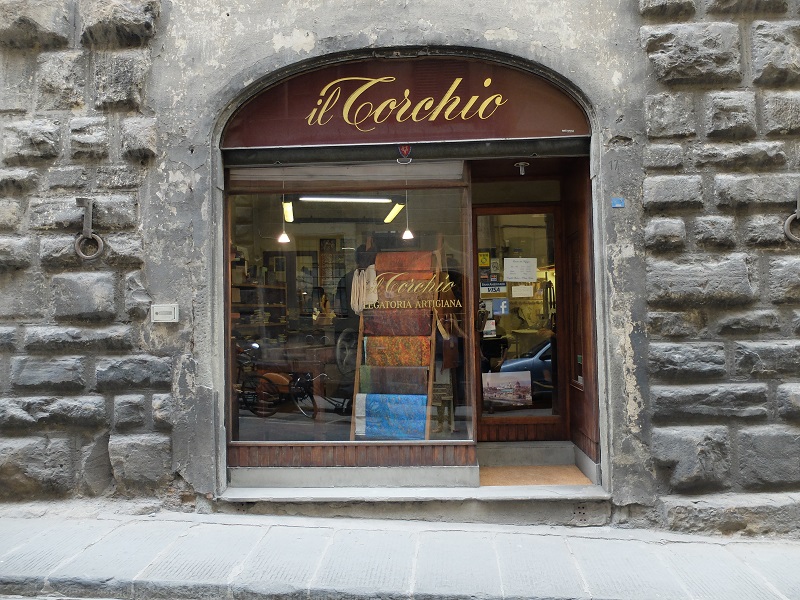 You can read more about this weekend here, and check out the list of artisans in the PDF map to visit on your own time, I highly recommend it. I plan on getting 'lost' more often in my city, together with Nico since you can't possibly know about everything, can you?
Did you go on Nardia's adventure? If so, which studios did you visit? I would love to hear about other people's #lostinflorence experiences!
---
Places Mentioned
Piazza Santo Spirito Antique & Flea Market:  Second Sunday of the month.
Gucci Museo Cafe, Piazza della Signoria 10, Florence, Italy. The perfect spot for aperitivo, stick to wine and you will only spend around 6 euros a glass ;-).
Anita Russo Ceramics, via romana, 11r. (past palazzo pitti).
Nora Studio Jewelry, via dei preti, 4r (behind santo spirito)
Il Torchio – Books & Paper, via dei bardi, 17. (close to the ponte vecchio)
Other artisans worth check out in Florence in the oltrarno neighborhood, article here.