October is an awesome month to be in Italy. Cooler weather, soft sun and less tourists makes it the perfect to explore the best of Italy, and especially Tuscany. Also food festivals are still going strong all over the region, so you can be sure to grab a plate of handmade tortelli or the famous Florentine steak at many of the local sagre. Or what about an interesting seminar at NYU's stunning campus, Villa Pietra? Or what about a fair all about shopping. An artisan walk? Or why not join a brand-new expat rotary club. Needless to say, I am very excited about this month and all it has to offer and you should be too. Check back throughout the month as I add events to this list. Happy October! 
Festival | Festival delle Generazioni | October 2nd to the 4th, All over the Historical Center. Italy attempts to bridge the gap between generations (something which I think is a very good idea, considering.. all the issues between the two). Workshops, seminars and events will be taking place all over the city. Some reservations may be required, check out the program here.
Free Visit | Santa Reparata and the ancient Florentia. When? October 8th. 9:30am. Meeting Point: Via dei Benci/angolo piazza Peruzzi, free guided tours in search of traces of the Roman Florentia, on the same day as we celebrate the co-patron saint of Florence. Must RSVP: Call 055 2616056. Via The Florentine: Santa Reparata's miraculous intercession in 406 CE helped Florence defeat an insurgence of the Ostrogoths, led by King Radagaiso, who had besieged the city. Because of her role in maintaining ancient Florence's independence and the triumph of Christianity over the barbarians, Santa Reparata was named patron of the city and the city's then main cathedral was dedicated to her.
The Tour includes a trip to the Tower of Pagliazza, with the St. Elizabeth Roman baths and Byzantine artefacts, and the Roman theatre in the Palazzo Vecchio. Another tour will visit the remains of early Christian cathedral of Santa Reparata, excavations below the Florence Cathedral, and the Museum of the Opera del Duomo.
Events with The Florentine | Several exciting events this month organized by my friends over at The Florentine English magazine. I have very intrigued by them all, especially the guided 'flood tour' walk which looks to be an unmissable one for locals who have been hearing about this devastating flood for years.
Wednesday October 15, 2014, 6:30pm


Museo di Antropologia
Via del Proconsolo 12 (Palazzo Non Finito) Florence. Victor Coonin, "The Sexuality of Michelangelo's David" Prof. Victor Coonin, author of The Florentine Press's book "From Marble to Flesh. The Biography of Michelangelo's David" will give a talk entitled "The Sexuality of Michelangelo's David". Find out why the famous statue has often worn a fig leaf and how his body has become on one hand a symbol of Italy – including in the logo of Expo 2015 – and on the other, a symbol of the LGBTQ community. Before the talk, we're all invited at 6pm to visit a newly designed room at the Anthropology Museum dedicated to South America, which will be opened specially for our group. Please sign up to attend: http://sexydavid.eventbrite.it
Wednesday October 22, 2014, 6:30pm


Accademia delle Arti del Disegno
Via Orsanmichele 4. Linda Falcone and Jane Fortune present the book "When the World Answered" "When the World Answered: Florence, Women Artists and the 1966 Flood" is the latest book that furthers the quest of the Advancing Women Artists Foundation to reveal hidden works by women in the city. In this case we'll meet works by numerous women whose stories and interviews offer a personal look at twentieth-century creativity in Italy. The exclusive Accademia delle Arti del Disegno hosts this book presentation in their historic meeting room, overseen by a large detached fresco by Pontormo and amongst other works of art donated by academicians. Attendees will have the opportunity to explore the building and its art. Please sign up to attend: http://floodladies-talk.eventbrite.it
GUIDED TOURS: Saturday October 25. 10am.

Meeting point: Santa Croce church Email [email protected] to reserve Flood: 1966. The 1966 flood was one of Florence's most transformative experiences of all time. On this walk, we will visit some of the important spaces and art works affected by the flood water, including the Cimabue crucifix at Santa Croce. We will also hear some of the human stories of those involved in the tragedy and in the incredible collective moment of solidarity that followed.
Upcoming:
November 8, 2014
10am. Meeting point: Museo 900, piazza Santa Maria Novella
Email [email protected] to reserve


Museo del 900


This walk will explore Florence's newest museum, which features over 300 pieces of 20th century art and in particular works by the very artists featured in the book, 'When the World Answered.' The innovative space provides the perfect opportunity for discussing the often overlooked period in the city's artistic history.
Movies | Picasso Exhibition @Palazzo Strozzi & The Odeon cinehall. 'Tuesdays at the movies' has the Palazzo Strozzi gallery & Odeon Cinehall teamed up to provide the public free movies every Tuesday. The selection of films for this eighth edition of "Tuesday at the Movies with Palazzo Strozzi" looks at the different artistic pathways that marked Iberian (and European) culture in the 20th century. If you have yet to visit the Picasso Exhibit, here are 10 reasons to Get you Excited!
30 September, 20.30: The Tree of Guernica, directed by Fernando Arrabal (FR, IT, 1974, 98 min.) Movie in Italian
7 October, 20.30: Land and Freedom, directed by Ken Loach (GB, ES, DE, IT, 1995, 109 min.)
14 October, 20.30: Women on the Verge of a Nervous Breakdown, directed by Pedro Almodóvar (ES, 1988, 90 min.)
21 October, 20.30: The Discreet Charm of the Bourgeoisie, directed by Luis Buñuel (FR, IT, ES, 1972, 105 min.)
28 October, 20.30: Open Your Eyes, directed by Alejandro Amenábar (ES, FR, IT, 1997, 117 min.).
Cinema Odeon, Piazza Strozzi.
Admission free while places last. More info here.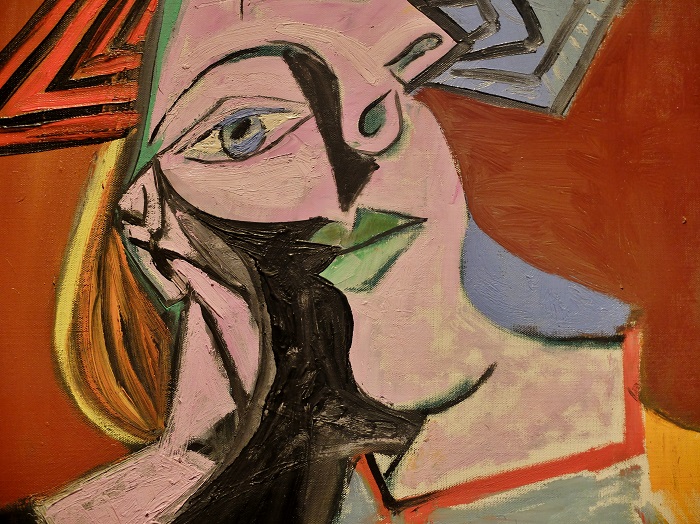 Seminars Open To The Public | NYU Villa Pietra, When? all October, Where? address: Via Bolognese, 120 (take bus 25 from Piazza San Marco, stop La pira –  get off at Bolognese La Pietra_V). The graduate studies seminar are a rich program of highly interesting talks taking place in a truly stunning location in the historical Villa La Pietra. To RSVP (a must) for one of the seminars email: lapiet[email protected] or call 055 500 7202. You can sign up to their mailing list here, or check out their full FALL 2014 program here.
Tuesday, October 7, at 6:00pm

"From Page to Street and Back: Visual Poetry, Photography, and Italian Urban Spaces in the
Early Works of Franco Vaccari, 1965-1975. Nicoletta Leonardi, Co-founder and Curator of Photography, a.titolo-contemporary art projects, Turin; Adjunct Professor of  Art History and Cultural Studies, University of California EAP, Florence
Tuesday, October 14, at 9:00am.

 The Contemporary Museum in Italy Since 1990 (Organized with La Pietra Dialogues) Cristina Acidini, Soprintendente, Polo Museale Fiorentino Bruce Altshuler, Professor and Director, Museum Studies, NYU Lorenzo Bini Smaghi, President, Fondazione Palazzo Strozzi Claire Brandon, Organizer, Institute of Fine Arts, NYU Francesco Garofalo, Architect and Professor, Università degli Studi  "G.D'Annunzio" Chieti-Pescara Stefano Chiodi, Professor, Università degli Studi, Roma Tre, and  Co-Director, Doppiozero Romy Golan, Professor, Graduate Center, CUNY Maria Grazia Messina, Professor, Università degli Studi Firenze Renato Miracco, Cultural Attachè, Embassy of Italy, Washington DCBeatrice Trussardi, President, Fondazione Nicola Trussardi
Tuesday, October 21, at 6:00pm.

How Things Got Out of Hand? Images of Memory and Learning as a Mirror of Musical Learning in Early Modern Europe Susan Weiss, Chair, Musicology, Peabody Institute, Johns Hopkins University and Professor of German and Romance Languages
Free Art Event | Painters & Writers "Interpret" the Garden at Museo Stibbert, When? October 11 Where? The Park at Museo Stibbert. As always the Stibbert seeks to show a little bit more of itself to the public. From 2:30pm- 6pm anyone is welcome to paint (bring your own supplies) in the lovely garden outside of the Stibbert. A reading will commence at 5pm. Email [email protected] for more info & to make a reservation (recommended).
Art Event | Make Your Own Mosaic. When? October 11, 10am – 12:30pm. Where? Scuola d'arte San Giovanni (oltrarno). One of my absolute favorite tour guides and art expert, Molly McIlwrath is hosting a mosaic-making workshop with children ages 5+ (and parents too), an absolute steal at 25 euros p/p, I have tried this myself and it is a ton of fun! Highly recommend. To reserve your spot or ask for more info [email protected]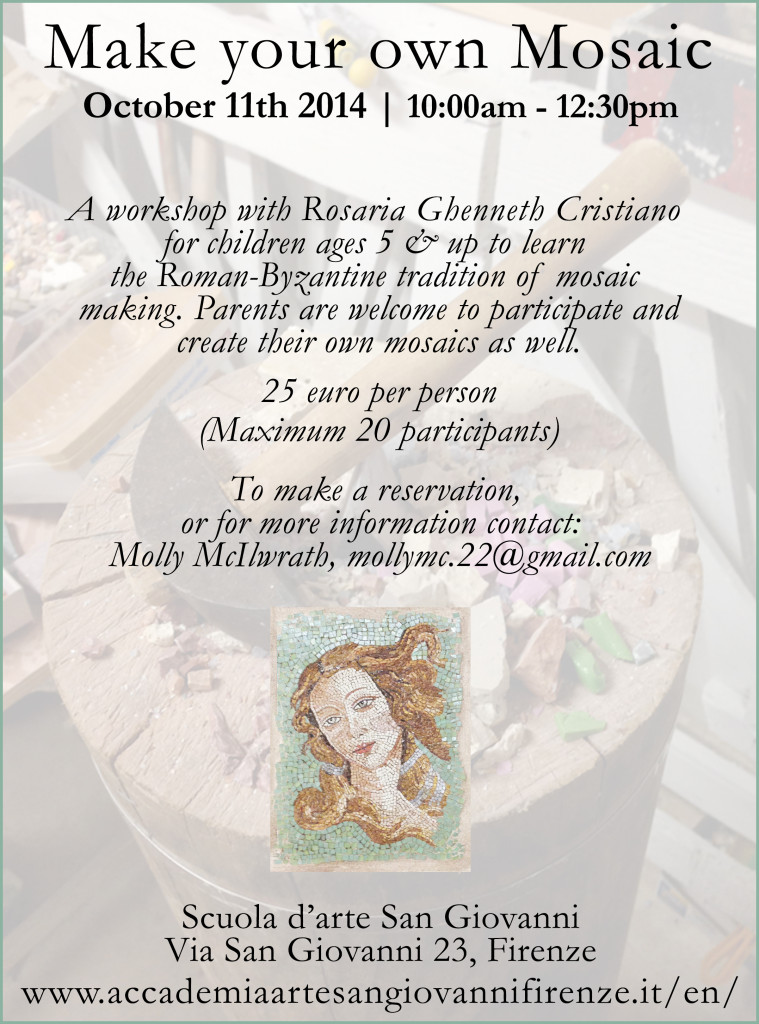 Free Walk | FAIMARATHON, when? October 12, 10am – 4:30pm. where? All Over the city. This super cool event is all about seeing your city with new eyes via the cool 3.5 kilometer itinerary they have mapped out for you. It starts on via michele at the Botanical Gardens and ends in the Biblioteca Riccardiana in the majestic (and one of my favorite places)  Palazzo Medici-Riccardi. Plus those who finish everything will be treated to a special lecture and see a place normally no-one gets to see in Florence at the Biblioteca Riccardiana ;-). More details here. You can also email [email protected].  #FAIMARATHON
Shopping Fair | "Shop & The City" Fair. When? October 16-19th. Where? Fortezza da Basso. A fair all about shopping with vendors and artisans (items for the house, design, books, gastronomy and more!) taking over the grand Fortress. Cooking shows including one of my favorite foodie bloggers, Giulia from 'Jul's Kitchen' (awesome!), concerts with cocktails and buffets (plus a special 'swing' music night on the 16th, markets & photography exhibitions. This year sounds pretty great if you ask me! Oh the best part? It's FREE to go. We love free, actually, we adore free. Grab a group of girlfriends and do a little window shopping at the Fortezza.. Official site. 
Artisan Meet & Greet | Lost In Florence Open Studio Weekend. when? Saturday 18/ Sunday 19 October 2014, 12pm – 6pm both days. Free Entry. Rounding off a successful September with Lost In Studio Series events, website Lost In Florence is hosting Open Studio Weekend: 12 studios over 2 days are open to the public with suggested pit stops for café and wine along the way. Positioned around Florence's historic center these studios are the working spaces of modern artisans, many also shop or showroom. Come meet the artisan (many offering a glass of wine) and experience this unique side of Florence life. For more information, and to download your free map, read Nardia's article on the event here.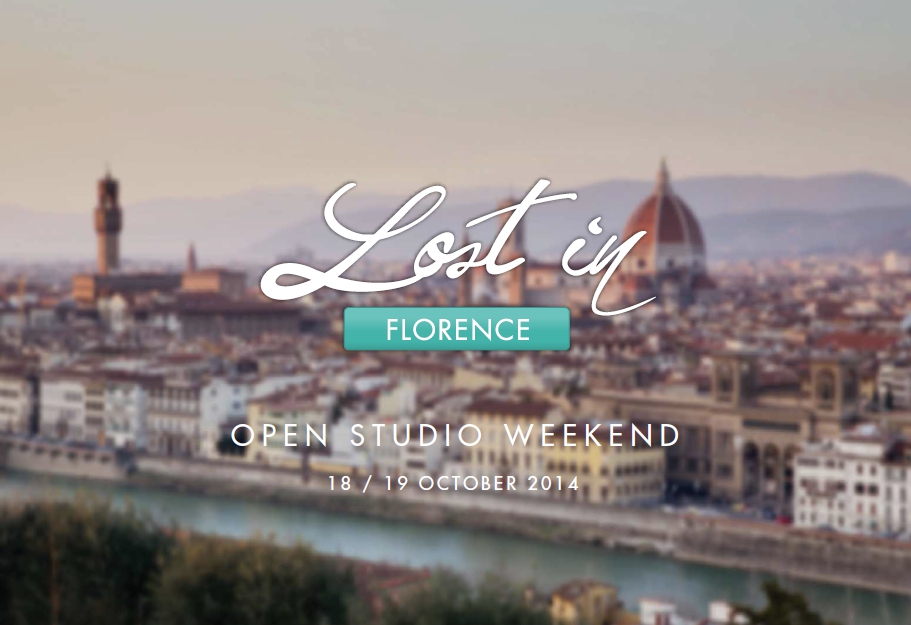 Festival | Festival della Creatività. Where? Florence historical center. When? October 21-24th. This festival is an international appointment to discover what creative people are doing in and outside Tuscany. The festival is a mix of art, design, urbanism, science, architecture, education, new technologies, cinema, music and literature. This year's guest of honor is France. Twitter: @FestCreativita, Hashtag: #ftd10, Website. Read more about this festival via Intoscana here.
Bike Ride | October 25th. Be a moving art form with Aeolian Ride! Free bike event going on this Saturday, October 25th in Florence (thanks for sharing http://www.ioamofirenze.com) http://www.ioamofirenze.it/aeolian-ride/ "Aeolian Ride, is an international art event where the public becomes inflated sculpture on bicycles, transforming the landscape of each city"
---
Out of Town Events
Food Festival | Annual Marradi Chestnut Sagre. When? October 5, 12, 19, 26th. Where: Marradi, Tuscany. The 'festival of festivals' for the chestnut lover in a land where chestnuts are more famous than George Clooney. You can take a special steamed-train to arrive from various train stations and taste all that this very cute town has to offer. I highly recommend! More info here.
Truffles & More | VolterraGusto. Where? Tuscan town of Volterra. When? Oct 26, 26 and the 31. (plus Nov 1,2). One of those really awesome food festivals that I have to just adore. White truffles are the featured queen (who doesn't love that!), and plenty of other food and wine to go around, plus you don't want to miss the palio dei caci (cheese-rolling competition) . Official website
Food Festivals All Over Tuscany | Tuscanycious: As always the region of Tuscany does a pretty damn good job of listing up the best food festivals around the region. Here are their fall list of what foodie favorites you can't miss. 
For additional Tuscan Events, I highly recommend checking out this post by my friend Sophie on the awesome blog TooMuchTuscany. that fair in Panzano looks like my kind of event!
As always, keep checking back for more information on this month's events as I tend to add more as the month moves on..