September is a fabulous month to be in Florence for so many reasons. The weather is nicer (even if I could hardly call this year's summer a true one) and everyone is back, refreshed and more tan than you could ever wish them to be and ready for action. While you still might experience a #dontwantowork delay at the post office, there is no shortage of really cool events that make me excited to write about them. From live music in a number of different locations, a new crop of movies at the Odeon plus a plethora of wine and food festivals — it's harvest season yall! As usual, I will be adding to this as I hear about new events, till then pour yourself a glass of wine and enjoy what September has to offer.
Panoramic Terraces Open to the Public | 'Terrazza con Vista' until October 4th. A really cool intaitive in Florence that allows tourists and well, just about anyone, the chance to check out some of the best panoramic terraces in the city. You can walk in and ask with full confidence to see the view from that hotel/residence roof. Make sure to use this hashtag when posting your pictures #tcv2014. Participating locations: Antica Torre di via Tornabuoni 1 (one of my favorites), Grand Hotel Baglioni, Hotel Boscolo Astoria, Grand Hotel Minerva, Hotel La Scaletta, Hotel Laurus al Duomo, Hotel Pitti Palace al Ponte Vecchio, Hotel Silla, Hotel Medici, The Westin Excelsior – Se.sto on Arno, Grand Hotel Cavour, Best Western Hotel River, Plaza Hotel Lucchesi – Empireo Rooftop Bar & Pool, Hotel Kraft, Villa La Vedetta Hotel, Hotel Continentale, Hotel Duomo, Il Salviatino, Pensione Bencistà. Website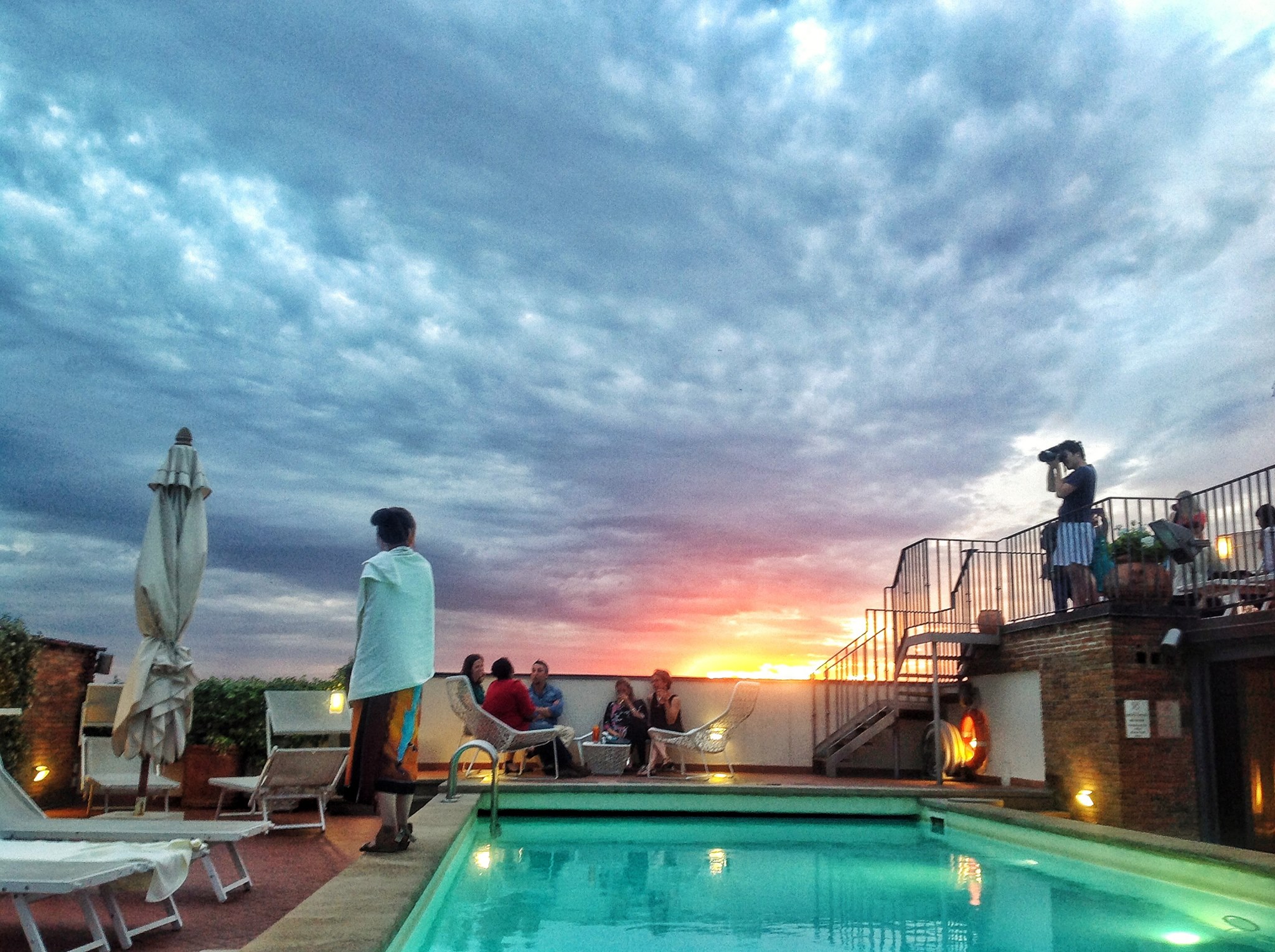 Events in the Piazza | September in Piazza (piazza della passera), September 4-7th. Every night at 9pm in my local square in Florence there will be a series of events this September. Think a poetry slam, and live music. Yet another reason to love where I live even more. Official Facebook Page
Outdoor Fair & Food | 'Festa de l'Unita Firenze' until September 14th. Cascine Park. An annual outdoor fair hosted by the Democratic party of Florence and pretty much just an excuse to eat outside and take a peek at the stands. I went this past weekend and had some pretty good fresh pasta, and it was fun to take the dog. I saw plenty of different food stands, from Neapolitan classics, a Brazilian buffet to a new edition of Vegan & Vegetarian food. Perfect summer night activity to really mix with Italian locals. website.
Live Music | 'Blues alle Murate', September 4th & 5th at Caffè letterario Le Murate, 9pm. Free entrance  More info here. address: Piazza delle Murate, 50122 Florence, Italy
Food Festival | 'Sagra del Tartufo' – Truffle Fair in Girone, Fiesole from Sept 4 – 28th.  (a short bus ride from Florence). This annual truffle food festival in one of my favorites since I used to live really close to this neighborhood. Every night from 7:30 pm on-wards you can enjoy a very affordable menu of truffle delights all made and served by volunteers. Think bruchette with truffles, truffle pasta, truffle pizza and the list goes on.. One of the best parts is that you don't need a car to get there, just hop on bus 14A, direction Girone, and get off at the last stop where you can 'smell' your way to the fair (in a good way). Exact address: piazza Pertini
50061 Fiesole, Italy. Facebook Page
Live Music |'Mercati in Musica', A Series of Musical Events in various Florentine Piazza's from September 6 – 27th. In an effort to make area of the city, like the famous markets alive even at night, the comune has organized a series of concerts that are open to the public. How cool is that? Program Can be found here. Concert at the Mercato della Loggia del Porcellino, 9:30pm on Saturday, September 6th. Concert at the Sant'Ambrogio market at 9:30pm on September 13th. Concert at the Loggia del Mercato dei Ciompi in Florence on Thursday, September 18th at 9:30pm. The rest you can see on the program link above. Official event website
Bike Walk | Florence, September 6th in Florence, Italy 4pm-8pm. An instagram tour on bikes (I Bike Italy can hook up with a ride) that ends with a complimentary aperitivo. Who wouldn't love that?  Join Bike Blogger _divanoletto and Tiana Kai and you might even win some sunglasses to boot. RSVP here
Medieval fair | Signa, September 7th, 3pm onwards, Address: Giardino Dell'edera. An annual event which is great for kids and worth taking the bus from the center of florence, food, fun and some local flair. Around 8:30 begins the festival of the rificolana with a procession of lanterns.
[Out of Town] Urban Trekking | #SienaFrancigena, September 7th,  'Learn while you hike', every Sunday of the month until November, there is the chance to discover the old pilgrim's route in Tuscany for a healthy almost 4 hour 'hike'. Around 20 euros a person (10 for kids) and an expert guide will lead you on a different route depending on the Sunday. More info & reservations here.+39 0577 280551, email: [email protected]
Festival | 'festa della rificolona' – Festival of the Paper Lanterns, September 7th, annual festival that for me, marks the start of a new season in Florence. From 8pm onwards, enjoy the procession from Piazza Santa Felicita to Piazza SS. Annunziata passing through Piazza della Signoria. The action normally ends up at Piazza. SS. Annunziata. It's a site to see, I love watching the kids with their paper lanterns, just be aware it is also tradition for them to spit wads in order to destroy the lanterns. And yes, they sometimes get your butt instead.
Wine & food Fest | [Out of Town] – "Foodstock" in Pontassieve, September 13 and 14th. Two days of food and wine in the suburbs of Florence in the charming town of Pontassieve (which yes, you can reach via bus or train quite easily). I think this sounds pretty damn cool, and if I was in town this weekend, I would probably go there too! Website and more info.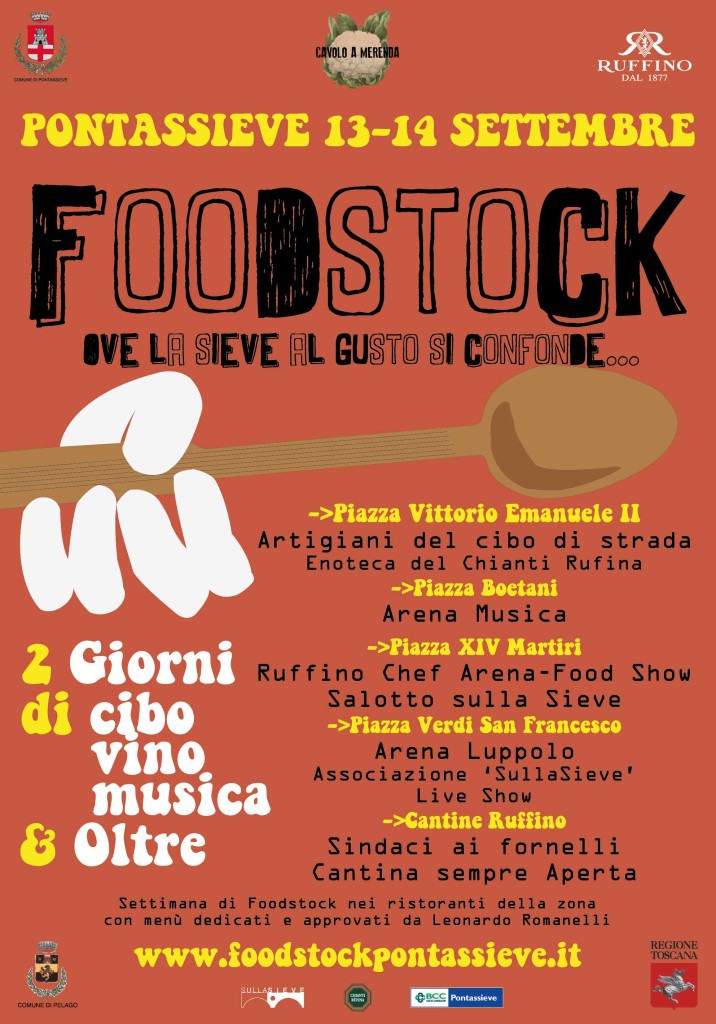 Art Exhibit | September 11th -24th, Atelier & Showroom, Via Cavour, 166A, 50129 Florence, Italy.  Free entrance. WorkHouse Gallery is a contemporary modern art gallery based in Harrogate, North Yorkshire. Owned by artist and curator Daniel Syrett. Daniel has a background in the fashion industry, where he has worked for Jean Paul Gaultier, Yves Saint Laurent plus others as a textile designer. During the 1990's Daniel was also well known fashion stylist, working for many record companies around the world, designing the outfits for several international pop stars. Daniel started painting in 2008 when he was asked to show in a group show with Banksy, Blek le Rat and others. Daniel as an artist is represented by several galleries around the UK and Europe. Sara Pope also comes from the fashion industry as well as working on magazines, working primarily as a shoe designer. Past clients include Paul Smith, Lacoste and Felder and Felder who she designed shoes for London fashion Week catwalk shows. Sara has no formal art training and started painting in 2009. She is represented by several galleries in the UK, and has work in several major collections. Plus she is about to have her portrait of the Pope accepted by the Vatican.
Visit State Museums for Free | First Sunday of Each Month, in this case September 7th. I think this is especially cool because it means that they are seeing the bigger picture, like major cities around Europe and the Globe, they are promoting art by providing an affordable (did we mention FREE) way to visit museums. You can discover more about the initiative via Discover Italy (along with some special 'art nights' extending opening hours until 9pm on Fridays for some of the major museums, like Uffizi Gallery and the Accademia)
Cool events hosted by blogger Nardia all month-long | Lost In Florence celebrates the best venues in Florence and not the obvious. This September we are hosting a series of events giving you access into the artisans studios. From jewellery making to pottery painting, wine tasting to calligraphy creation, go behind the doors of unique spaces to explore and meet the artist too.
LOST IN JEWELLERY with Sara Amrhein Firenze, Lost In Florence has proudly teamed with designer Sara Amrhein to host a night of jewellery making over wine. Come inside her Sant Ambrogio studio to see a live demonstration before creating your own bracelet creation to wear home. Wednesday 3 September 2014 at 19:30, 15 euro include materials and wine.
LOST IN POTTERY PAINTING with Office Lab. Florence is a city of art that constantly inspires. We've teamed with pottery master Enzo Formisano to host a night of pottery painting. The event kicks off with a brief tutorial before you get creative with your own personal plate. All plates will be fired and for you to keep. Wednesday 10 September 2014 at 19:30, 25 euros for all materials and wine.
LOST IN WINE with Il Santo Vino. Lost In Florence loves wine, so do the gang at Il Santo Vino. Come inside their Santo Spirito sfuso for a night of wine tasting to discover the Tuscan classics. Learn how wines are made, how best to taste and also read the labels. Five blends will be served alongside crostini. Wednesday 17 September 2014 at 19:30, 15 euros for wine and snacks.
LOST IN CALLIGRAPHY with & Company. If you love design and handcrafted products, you must visit & Company. The design studio and shop run by Betty Soldi is a magical mix of housewares, up- cycled furniture and paper products to own. We've teamed up to host a night of calligraphy design, beginning with a demonstration on the techniques before you customise your own canvas bag.Wednesday 24 September 2014 at 19:30, 15 euro including materials and wine
For more information go to www.lostinflorence.it To register for an event, email [email protected]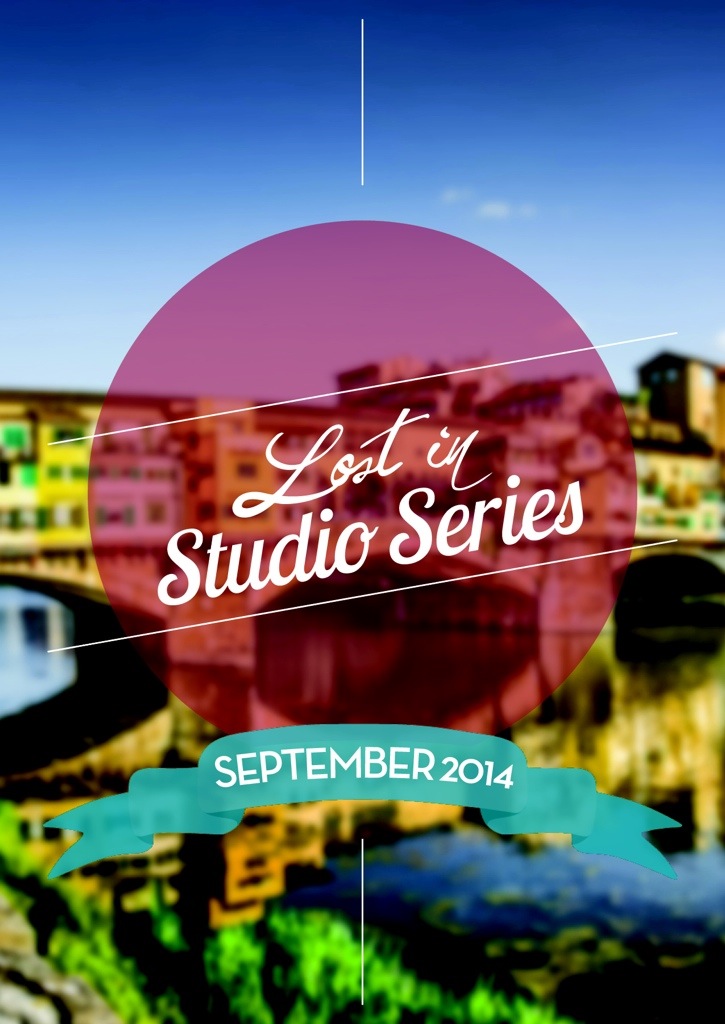 Creative Workshops | Sara Amrhein (September and throughout fall). After attending one of the Lost in Florence studio series at the nice studio of Sara located near Sant'Ambrogio (via di mezzo), I had to add her classes and workshops (jewelry-basics, leather basics, sewing basics, making polymer clay and more!). She makes you feel like your five-year-old efforts are the best thing she's ever seen and she is such a wonderful teacher, patient and kind. Her class was fun and it inspired me to really learn how to use my hands for more than typing on a keyboard. More details here (prices range from around 40 a person per class to 75 euros) 
[out-of-town] Wine fair | Greve in chianti, September 11-14th, The exposition of Chianti Classico wines is this second week-end of September, for 4 days, in Matteotti Square at Greve in Chianti. Try wines and enjoy the festive atmosphere. More info here
Beer Festival | 'Festa della Birra' Until September 21 along the arno river at the obihall on Lungarno Aldo Moro. Every evening at 7pm you can grab a few friends, have some food and drink beer with live music. This way summer feels like it never ends. Read more about it here 
Electronic Music Festival | Nextech, September 11-13th. Lovers of Electronic music will be lining up to attend this annual festival with a rich program of electronic-music powerhouses. Locations seem to be varied between the Viper Theatre in Florence and the fortezza di basso. Tickets range from 15 euros – 35. More info here.
[out-of-town] Wine & Jazz | 'Gallo Nero Jazz', September 4,5,25 & 26th. Jazz concerts in a Convent's lovely cloister with the chance to sample local food products via a buffet and Chianti Classico wines from a tasting booth. address: via del Convento, 1
Radda in Chianti – Siena. More info here.
[Out of Town] Food Festival | Sagra del Fico, Bacchereto, Prato. September 6 – 14th, 2014. I am obsessed with figs so I think fellow fig lovers would appreciate an entire food festival dedicated to them in prato. More info here.
New Art Exhibit | 'Picasso and Spanish Modernity', September 20th – January 15th, 2015. It's always exciting when there is a new exhibit at one of my favorite places to view art in Florence and this time Pablo Picasso will be featured, so exciting! Via Palazzo Strozzi : As of 20 September 2014 Palazzo Strozzi in Florence will be focusing on modern art once again with a major new event devoted to one of the greatest masters of 20th century painting, Pablo Picasso. The exhibition will present a broad selection of works by this great master of modern art in an effort to stimulate a reflection on his influence and interaction with such leading Spanish artists as Joan Miró, Salvador Dalí, Juan Gris, Maria Blanchard and Julio González. Opening Hours
Daily holidays included 10.00–8pm, Thursday 10.00–11pm, Only with reservation 9.00–10.00. 10 euros – full price ticket.
*Families should definitely look into the 'I am Picasso' experimental tour (free with price of the museum ticket) offered by Strozzi
Marathon for Charity | Corri La Vita. September 28th. For 10 euros you can donate to charity supporting the fight against breast cancer and join a pretty famous marathon in the city. Sign up here. 
Movies in Original Language | Fall Lineup at the Odeon Firenze. Movies at the Odeon are back after a short summer break and it also happens to my favorite cinema in town. The movies available this September include 'How to Train your Dragon', 'Under the Skin', 'The Railway Man', 'Lucy' among many more. You can see the entire program (till October) for yourself here.
White Event | 'Cena in Bianca' September 19th, Piazzale Michelangelo, 7:30pm. Don yourself in white, bring your own dinner and glass for wine – special events and live music awaits. Sounds kinda crazy but I am just intrigued enough to go! Reserve your spo by emailing [email protected] or call 348-4591562. site & info here.
Events at Stibbert Park | September 27th. "DAGLI STEMMI AGLI STAMI" – Stibbert Museum, together with the Angeli del Bello and the City of Florence, are pleased to announce three free art-related events for all ages in the Stibbert Garden. Events will be held in Italian and in English.  In case of rain, events will be postponed to the same times one week later (Sept 27 & Oct 18). To make reservations and for information in English or Italian: [email protected] Stibbert Museum & Garden • Via Federigo Stibbert, 26 • 50134 Firenze • 055-486-049, 055-475-520.
Make Your Own Coat of Arms, September 27, 10am-1pm, For children 7 & up, maximum 15 children, Reservations and the presence of one parent required. With the help of volunteers from the Angeli del Bello who, together with the City of Florence, have been maintaining the garden since 2011, participants will make natural and manmade discoveries—coats of arms, statues, plants and animals. Children will then invent a personalized coat of arms and motto with Artist-Teacher Lyall Harris.
Participate in The Birth of Music, September 27, 3:30-6pm, Performance at 5pm, For families and adults, reservations recommended
During guided walks in the garden, participants will gather inspiration from natural and manmade elements. We will transform our experiences into spontaneous texts for the improvisational singers, Francesco Ronchetti and Julian Spizz.
Spa Open Day | The Open Day Spa "The Garden of Wellness". September 21, Four Seasons Florence, Italy. If you haven't yet visited the Four Season's Garden of Gherardesca, this special 'Spa open day' is the perfect time to do so. From 10 to 18, you can see what their spa & fitness center have to offer, with various areas in the garden showcasing each treatment, including their hair-styling service. It sounds pretty awesome which is why I might go myself, who wouldn't want to be pampered for a day? The Four Seasons is located at Borgo Pinti 97, and the cost of the day is Euro 15 per person. For reservations and information: 055 2626 630, [email protected]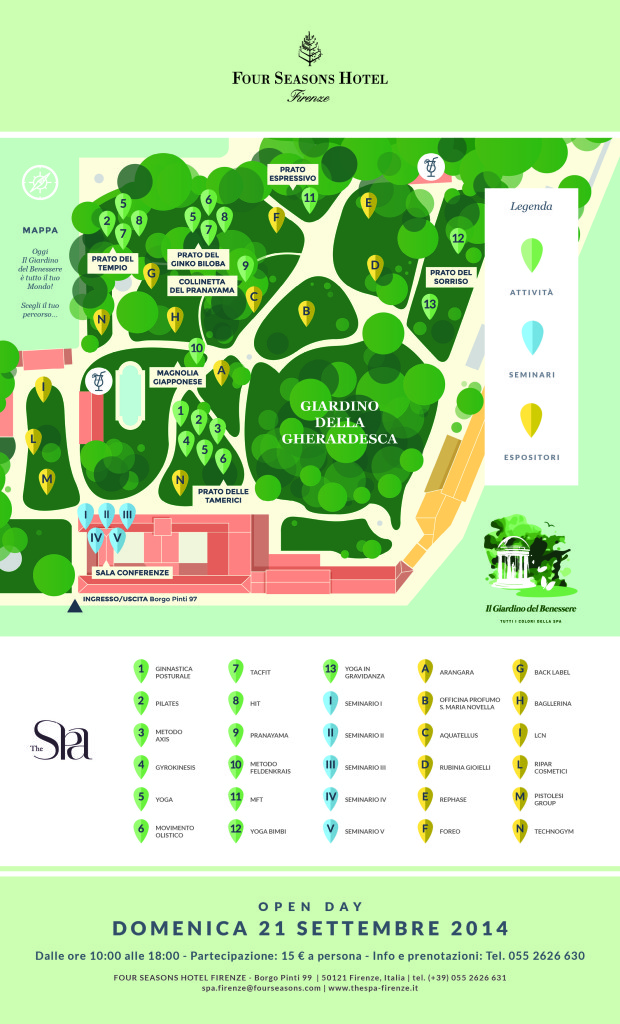 Wine Tastings | Daily at the San Lorenzo Market, Enoscuola (first floor). From Monday to Sunday (20 €), 1 p.m.: bubble bubble: play and taste with italian bubbles, 5,30 p.m.: journey through the Italian grape varieties, 6,30 p.m.: bubble bubble: play and taste with Italian bubbles, 7,30 p.m.: tasting of italian red wines 9 p.m.: journey through the Italian grape varieties. Reserve your spot via [email protected] or call + 39 335-256480. Each session lasts around 40 minutes. I tried it myself (twice) and I loved it, the perfect (and affordable) way to get acquainted with Italian wines, plus you have food surrounding you after you drink yourself hungry! website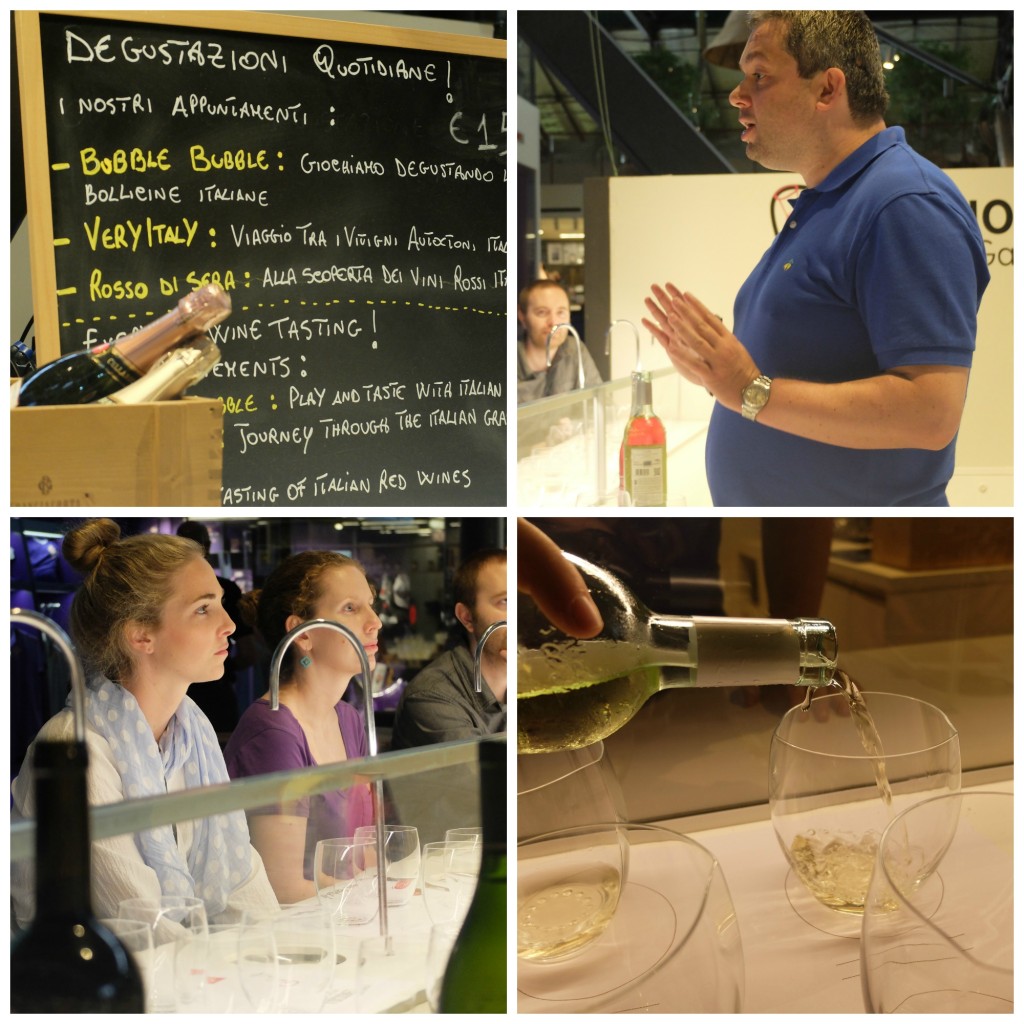 Farm Fair | Expo Rurale, September 18-21, Cascine Park, 10am – 8pm.  A huge fair covering Florence's largest outdoor park which will make any future farmer really happy. I like going because, well I am from texas, and you can usually pick up a lot of fresh veggies, honey and local products while gazing at some cool farm animals. Great for families. More info here. 
---
For more food festivals that I highly recommend checking out, here is a wonderful article by Tuscanycious regarding where to 'eat' this Autumn in Tuscany. I'm hoping to finally make it to San Miniato for the white truffle fair this year so here's hoping!
*There is a cool photography exhibit at a town I really love, Cortona (visited for the first time this year!) called 'Cortona on the Move' and it lasts until September 28th. You can get all of the info regarding the festival here.
*As always I highly recommend checking out the events at Yelp ( a cool community obsessed with discovering more of Florence), they always have a lot of new, hip things to do and you will probably see me at a number of the events.