I apologize for the lack of posts this week which is 100% due to lots of work and having relatives in town visiting us. I always like to think that I can do everything and anything including work,socialize, create amazing meals, blog, sleep but the reality is I am human and burn out like everyone else – damn! I have been better about taking breaks and even bought a painting set to get back into a hobby that I once loved (besides reading and ranting).
We decided to postpone our Volterragusto fun until next week (if it isn't raining) to allow us more time to wander. On Sunday my cousin Valeria and her husband Theron arrived, they are on their honeymoon and touring Europe via eurail. They decided to visit me for a few days so lucky for them, the sun was out in full force. We started our journey to being an inner tourist by giving them a preliminary 'get to know Florence' walk around the city and I loved seeing their faces change when they saw the Duomo cathedral for the first time. It really does knock the wind out of you when you consider construction for this impressive monument began in 1296 but reached completion in 1436, over a 100 years later. Just some of the famous figures to walk along Florence's cobblestone streets include Leonardo da Vinci, Niccolo Machievelli, Galileo Galilei, Amerigo Vespucci, Donatello, Raffaele, Roberto Cavalli, and Guccio Gucci.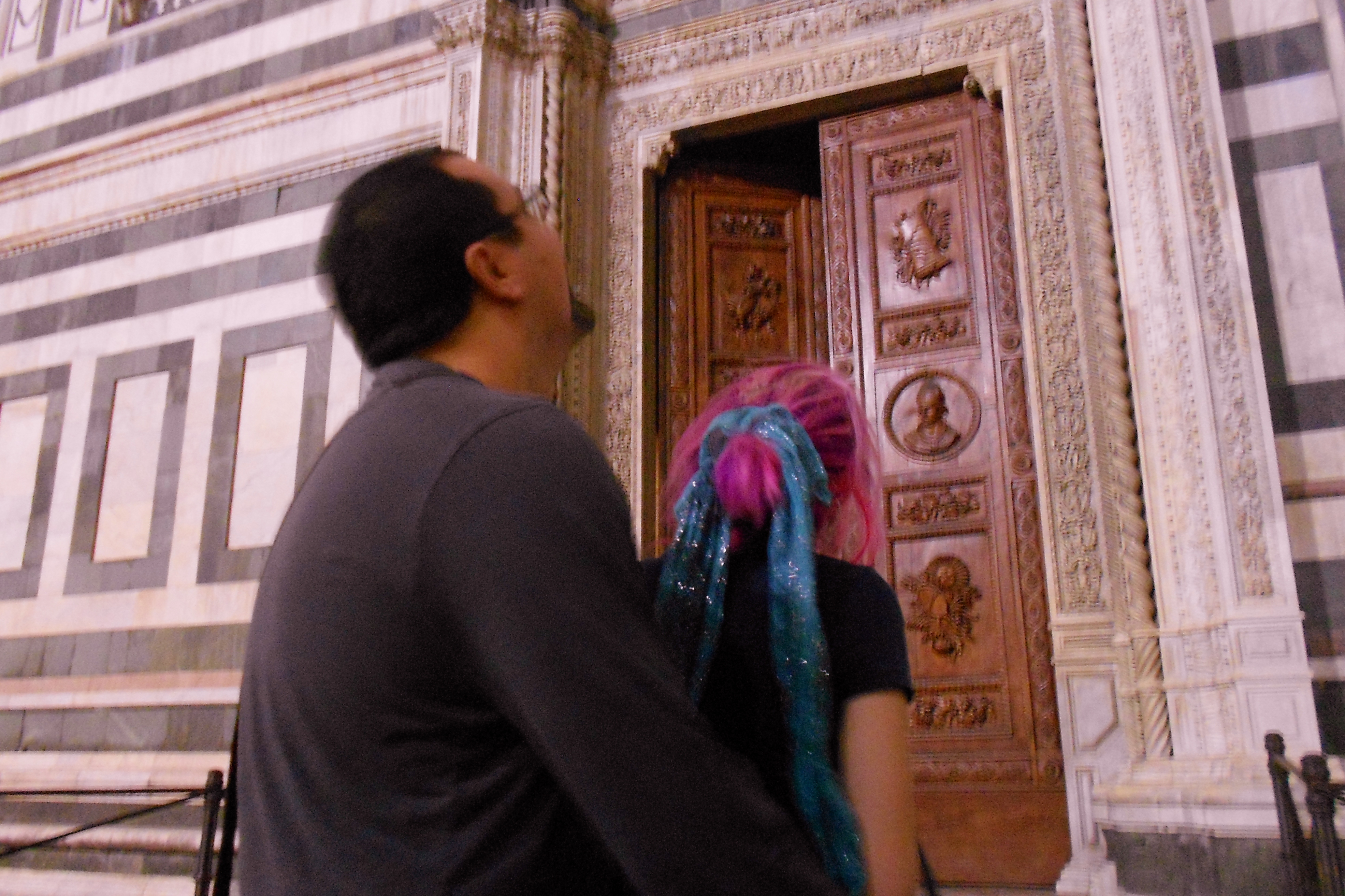 Filippo Brunelleschi engineered the dome covering the cathedral which in that time period was most certainly no small feat, honestly can you imagine them doing anything like that now? The colors of the marble are a beautiful green, pink and white and the design itself is gothic. Besides the Duomo, the nearby bapestry and giotto's campanile all make up a UNESCO World heritage site and rightfully so since almost every landmark photo including Florence includes these monuments. We may live in this city for generations to come but I can only dream this remains here forever, it really is the center of all things – Firenze.
Back to my weekend, they really enjoyed walking around Florence despite the crazy crowds that Sundays tend to attract. Piazza Signoria was their favorite (and mine too!) piazza since you don't know where to focus your eyes on first – there is so much to see. Piazza signoria (which has also been called Palazzo del Popolo, Palazzo dei Priori, and Palazzo Ducalehas in the past) has been the political center of Florence for centuries and still remains so today – from the Medici family to the current power player – Matteo Renzi. The piazza also happens to be the gateway to the famous Uffizi gallery which houses some of the most famous art in the world. Of course you can't help but glance at the 'fake david' statue in front of the Palazzo Vecchio and giggle at the people who actually think it is the real one (which is actually housed in the Accademia gallery).
Probably the most focal point besides the buildings themselves is the Loggia dei Lanzi, an open-air sculpture gallery that was built around 1382. My favorite statue was made by Benvenuto Cellini, who depicted the mythical greek hero Perseus holding up Medusa's decapitated head. Not perhaps the most pleasant scene but who doesn't love greek mythology, I ate up the stories of the various greek gods in high school and which I still find interesting today. You can often see art students sitting in the loggia drawing the sculptures or the piazza itself which is really neat, I myself played a mean game of tic-tac-toe here once.
We also happened to notice an abundance of Clet – inspired signs around town (a famous pop artist who regularly changes street signs and adds a special 'touch'). This guy is just brilliant, he makes you notice street signs even if you don't want to.
I took them up to Piazzale Michelangelo (after an espresso of course) to see one of my favorite churches in town – San Miniato al Monte, which I previously wrote about here. They soaked up the view of my beautiful city, and watched an orange sunset settle down slowly over the hills. To complete our Florentine fantasy we went for a drink at the cafeteria Oblate with its stunning view of the Duomo. I can't think of a better place to have a spritz and pay only 5 euros for it – eat that Westin Excelsior ;-).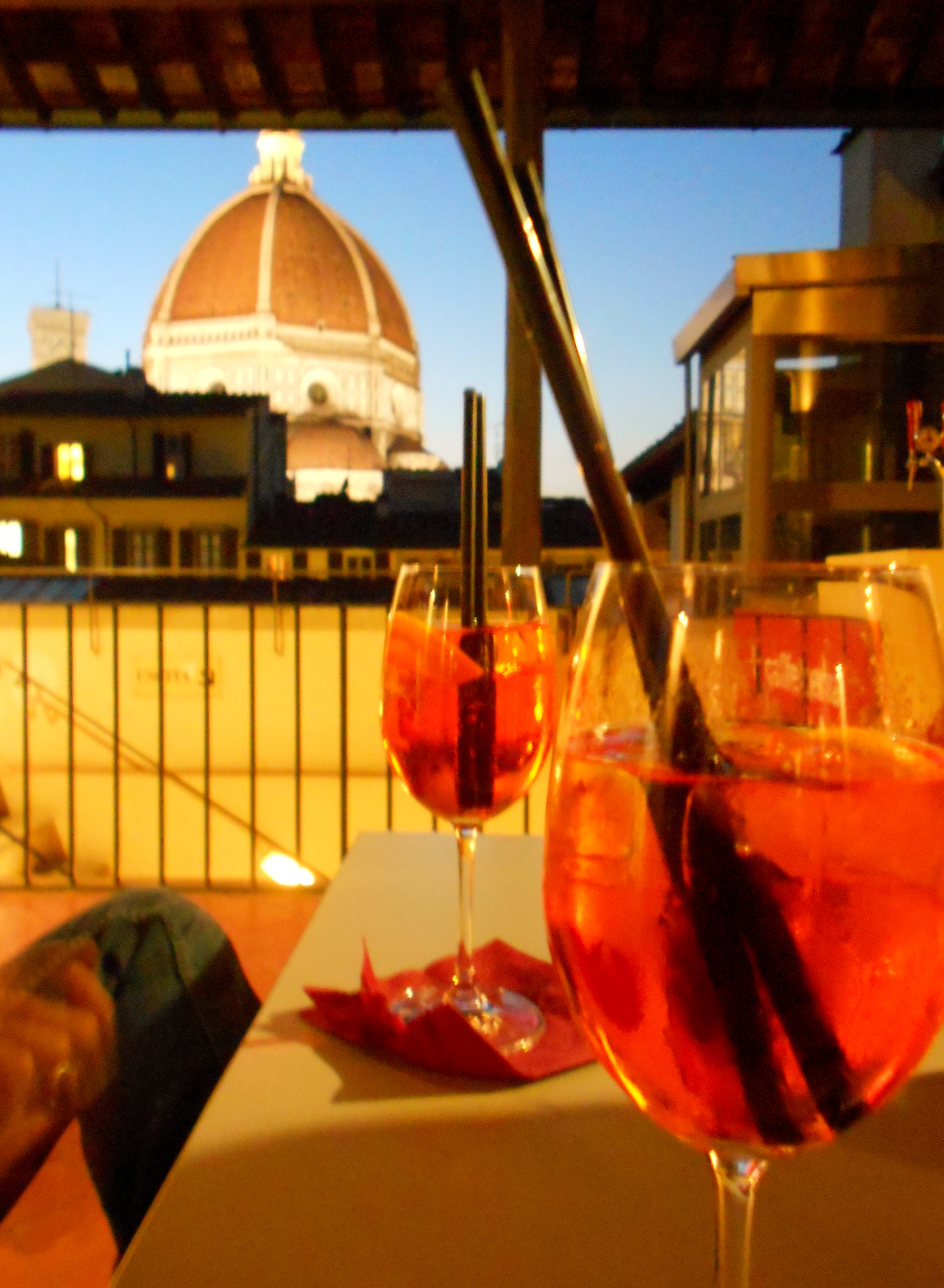 We then took the opportunity to dive into some delicious food girl in florence style, the first night of their stay we took them to Touch Florence, where we enjoyed great wine, delicious fresh spaghetti and pork accompanied with marmalade. We finished off with a really nice chesnut crespelle (similar to a crepe) with a creme sauce inside and chocolate sauce to pour over, heaven.
The next day they treated us to dinner at Acqua al due which I have been a few times. Located in the historical center, this place is most known for their strawberry risotto and blueberry steak. It was open on a Monday night, huge bonus for a city that tends to close down on Mondays and wow, everything we ate was amazing. I highly recommended ordering the fusilli shaped pasta with marscapone and mushrooms, and of course the steak sampler. We also ordered a salad sampler and dessert one which came with chocolate cake, cheesecake, tiramisu and a delectable fruit tart.
At home, T-man whipped them up some pumpkin, sage and pancetta soup for lunch which they loved just as much as we do. It has become out autumn staple for us which is great because  pumpkin-squash is extremely affordable. We also took the opportunity to induct them into a weird family tradition of taking a photo while hysterically laughing – of course I have some proof for your viewing pleasure. You should try it sometime, they say laughing makes you live longer which means I should be ok until at least 2090.
We also tried to do a fair amount of walking, especially after so much food! One night we just happened to walk by this stunning scene below at the Ponte Vecchio. It made me consider that being an tourist in your own city is actually kind of awesome. Nothing compares to the feeling of showing someone why you love living where you do, and I can only hope to do it again and again. grazie alla mia bella citta.
Related articles