Yesterday, aka my birthday, started off like every other. I woke up, took the bus to work #3, ate some awesome brownies made by a nice coworker and had no idea what I was doing that night. I didn't want to over plan anything especially not for myself but then I thought, what about this new place I heard about on via fiesolana "Touch florence" where every table comes with their personal IPAD. I heard about it sometime back, don't remember how, but I signed up to their website.
I received an email offer to go with a group of friends and have my dinner covered (probably for them to drum up some publicity as it is a new restaurant in the city-great idea!) and figured I would email them to see if it was ok to utilize this offer even if it was just me and t-man. We are saving up money for our trip in August and I can't easily blow 40 euros on a dinner.
They responded immediately inviting me to come which I thought, was very nice of them. In Italy it's not often I get an email response in the same day, sometimes by the time I hear from someone I completely forget about why I wrote them in the first place. We ended up going around 8-8:30 pm and immediately liked the warm decor of the restaurant. It reminded me of a NYC bistro with a cool map covering
one wall. We sat down and the waiter explained how the Ipad worked and handed us glasses of prosecco. As for how the Ipad service works  –  you can browse the menu, wine list, and even check out photos of the food before you order.
I liked the fact that even though you use Ipad as an interactive menu, you still have a rapport going with the waiters. It's not autonomous like I thought it might have been. We ended up going with the "chefs menu" which is a sample of different dishes with wine that they especially design for you. For wine, we got a bottle of Chardonnay which was absolutely perfect for these hot summer days and a small crostino with fegatini (basically traditional Tuscan liver crostini) which to my surprise, I actually enjoyed.
Even the bread basket was impressive-  soft bread with fennel seeds and sesame. For our antipasto we had this beautifully presented plate of fiore di zucca-pumpkin flowers filled with ricotta on a bed of fresh tomatoes and basil. It was lovely and I probably could have eaten 10-plates of that alone.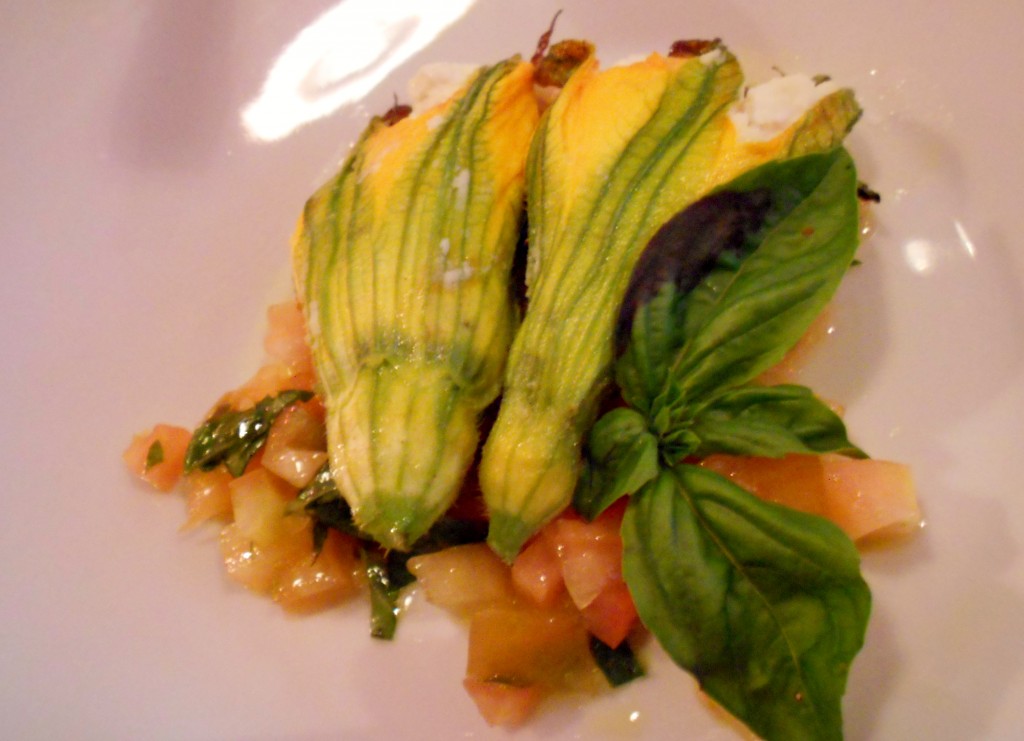 For our primo, we had a really nice risotto dish with scamorza-smoked cheese and eggplant, it was delicious. I don't usually go for risotto but this was special.
I almost wanted to stop there since we were already full – well almost, let's be honest with ourselves here, both me and t-man are gluttons. Our main course was a tuna steak which tasted like real steak, accompanied a puree of peas and roasted potatoes.
We both enjoyed it,especially t-man, and I would like to try to make it at home sometime. For dessert (yes we had to have dessert) we tried a gelato-cake with seasonal fruit (plums) over chocolate with basil (and maybe mint?). I am a huge fan of combining spice with chocolate whether it be peperoncino, mint, lavender and this was the perfect fresh way to end a meal.
After coffee we were ready to take a walk to avoid bursting, and meet some friends at our favorite local bar, Lochness Lounge on via dei benci. There was a little confusion over the bill, apparently even though I spoke with someone about using the deal they sent me, it didn't completely cover my meal since I got the chef's choice. It was a little awkward, and I do wish that was clarified in the beginning but we still had a nice time. I would love to go back and enjoy some more of their delicious food but I think I will need to save some money first.
I would recommend this restaurant for special occasions, price-wise appetizers & first-courses are around 10 euros and main courses around 19 euros. The chef's menu (appetizer-first-second) was 30 euros a person without wine, 40 euros with wine.
TouchFlorence | Ristorante / Bar / Caffè | Via Fiesolana, 18r – Firenze
+39 331 9104444, +39 055 2466150, +39 334 5070750. touchflorence@gmail.com