It all started with a birthday surprise.
Nico and I were nestled in a restaurant overlooking the island of Sveti Stefan in the country that a certain US president called "aggressive".
It must have been a few off days, but the country of Montenegro remained as chill and pleasant as a summer could. An array of strictly stunning panoramas, sleepy towns and stunning coastline stretching out for miles on end. Paradise in the Balkans and this was last summer's trip along the coastline of Montenegro and Albania's capital Tirana. I was in full bliss mode at just how non-aggressive a place it really was, especially since it was my birthday and we were hungrily awaiting a huge plate of steaming shell fish and still had 3/4ths of a bottle of local rosé to wash it all down with.
I popped down to the bathroom at a certain point and see a tiny slip of paper from beneath my still-empty lunch plate. Nico is trying to play it cool but I suspected something is up. Sure, enough underneath is a plane ticket to Los Angeles, dated for December of 2018, the precise times and dates that one of my dearest friends would be having her wedding, one that I had already presumed to be missing.
Knowing how much it meant to me to not miss out on such a joyous occasion, he and my father conspired for this special gift one they knew that I would really appreciate, just being with her on her wedding day, despite being thousands of miles and a continent away.  You can always buy things but you can't buy back memories you've missed.
Los Angeles by the way tends to get a bad rap and well some people straight up declare their hate for the city in an angry Reddit rant. 
Those who arrive with stars in their eyes (literally) often leave dejected after a trip to the grimy Hollywood boulevard and overly bright expensive and theme parks and lack of easy-to-understand neighborhoods. The city is crowded and overwhelming to many and there are those that just simply hate the place (see above).Because of the famous traffic, the perceived superficiality of the people who choose to live there, and its annoying large size that make crossing the city a feat akin to the moon landing. I've learned through the years to enjoy what it does offer; great art, sunshine most of the year, quirky neighborhoods, a creative community, unexpected food finds, great career opportunities for the non actors and non models, superb hiking paths, fun cocktail bars and duh, the ocean.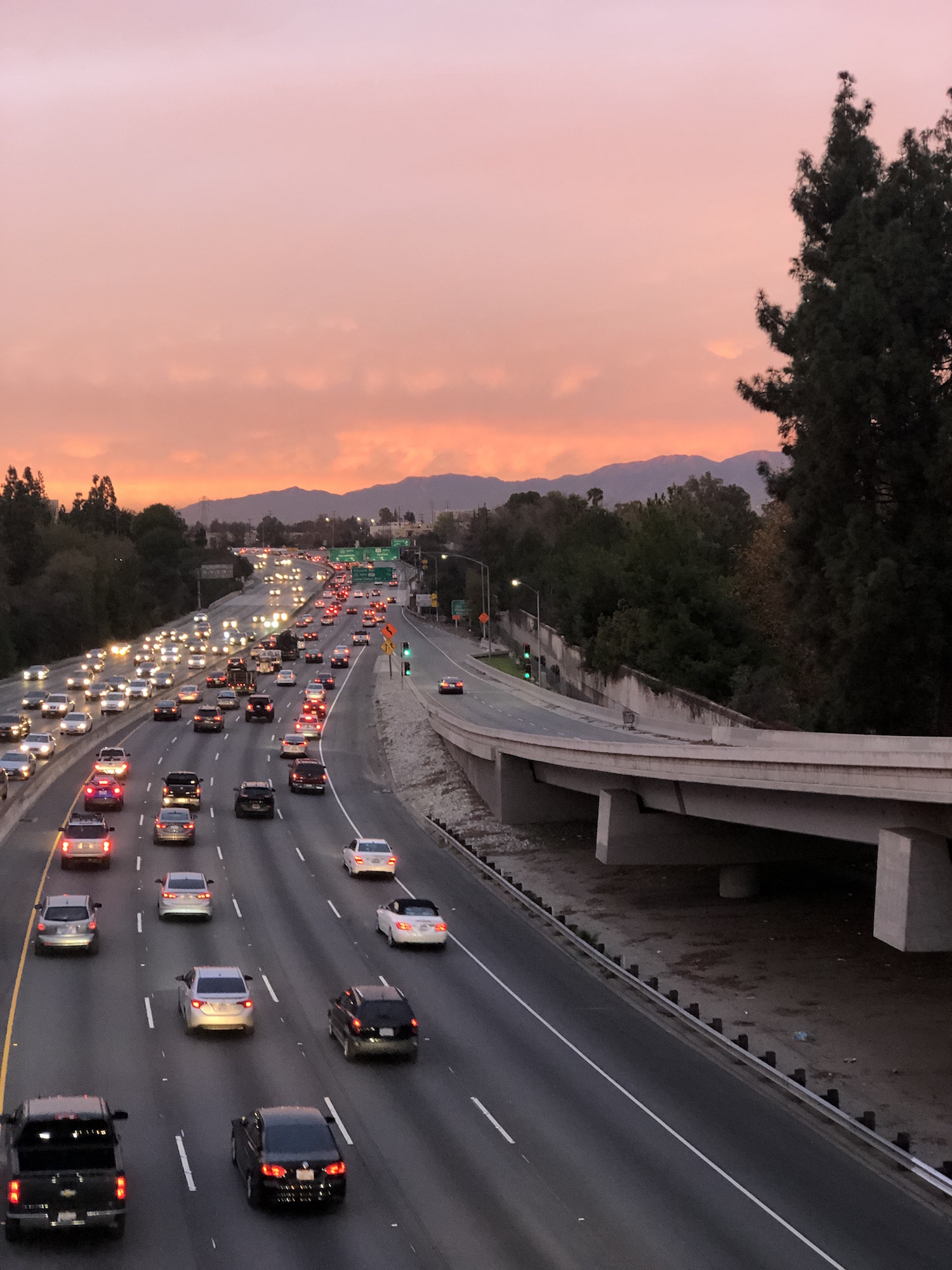 …
A few months later we boarded our Lufthansa plane to L.A. for a quick five days, a pretty crazy short amount of time considering the time it takes to get there. Our plan was to spend a few days at a hotel, The Garland in Studio City before spending the last two nights at my friend's house. The perfect blend of alone time with Nico and catching up with a friend whom I met on the plane to Italy during that first study abroad trip to Florence in August of 2015.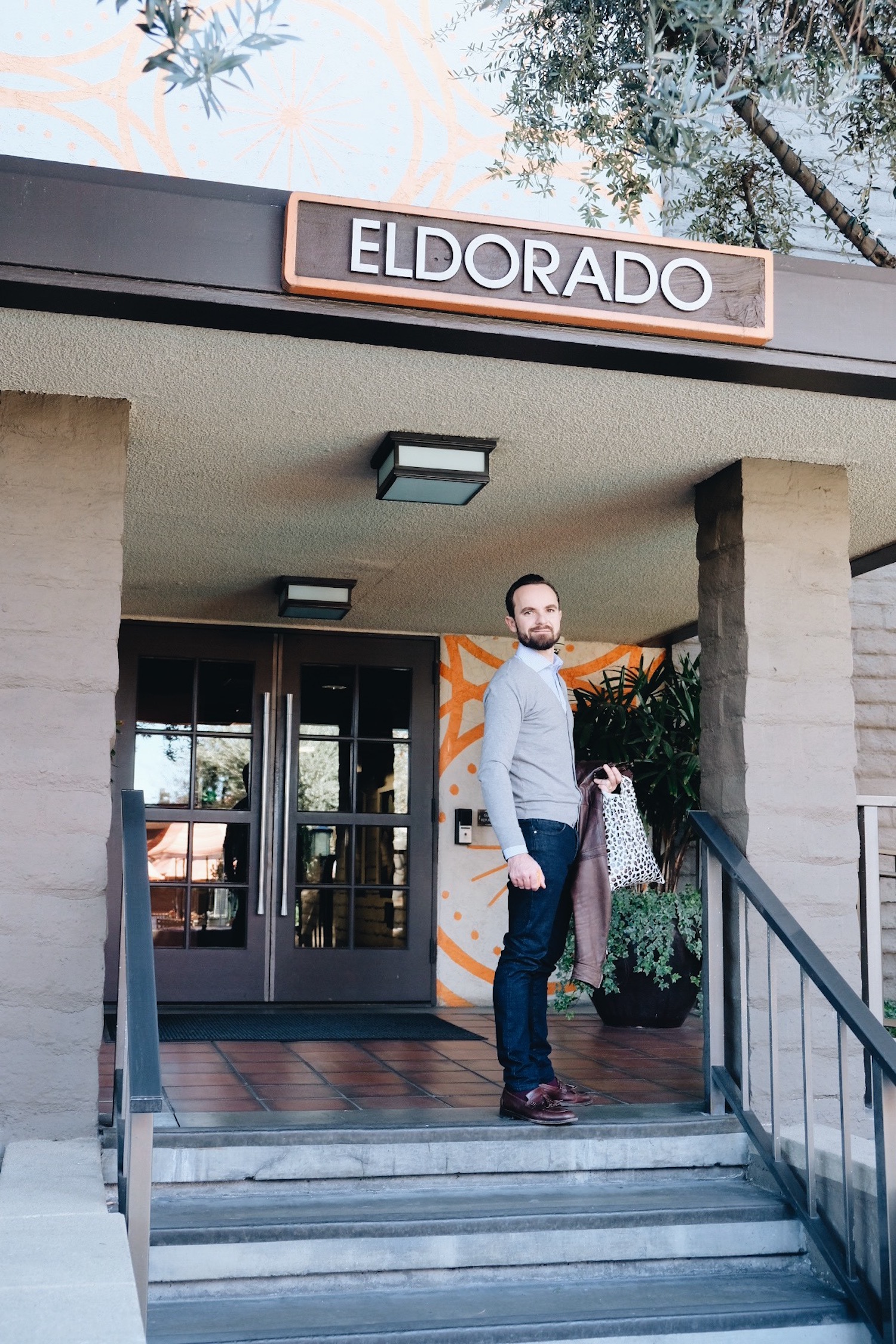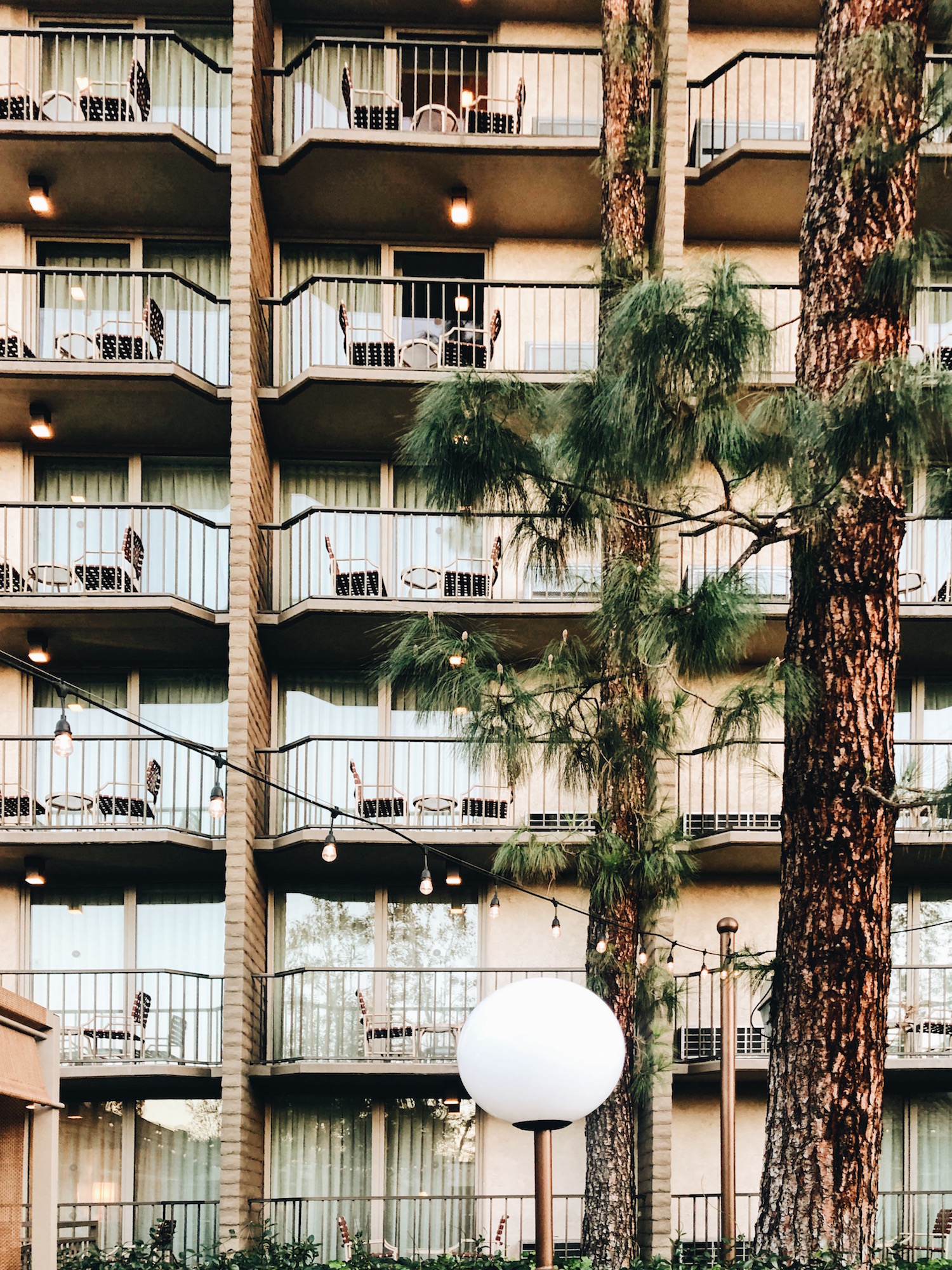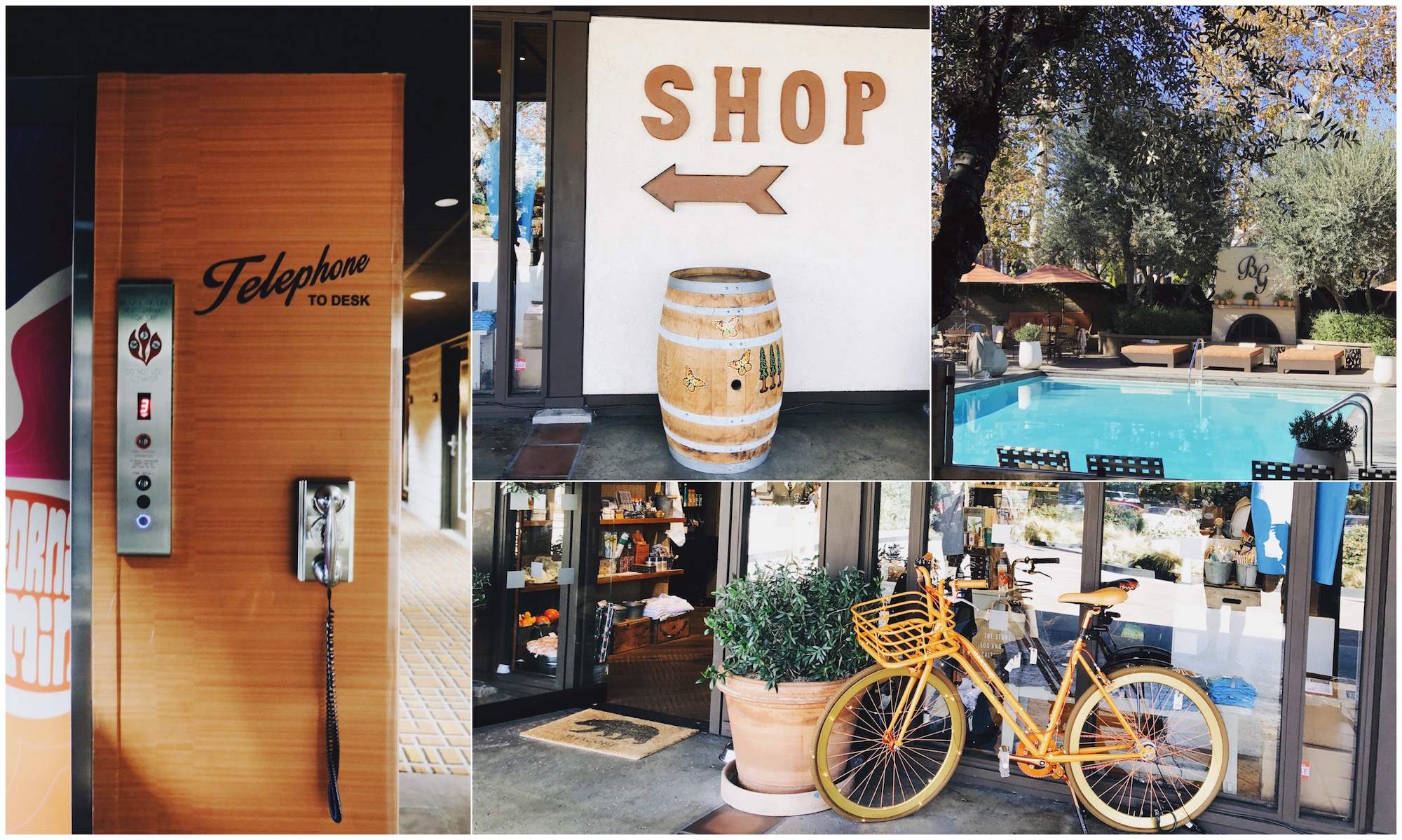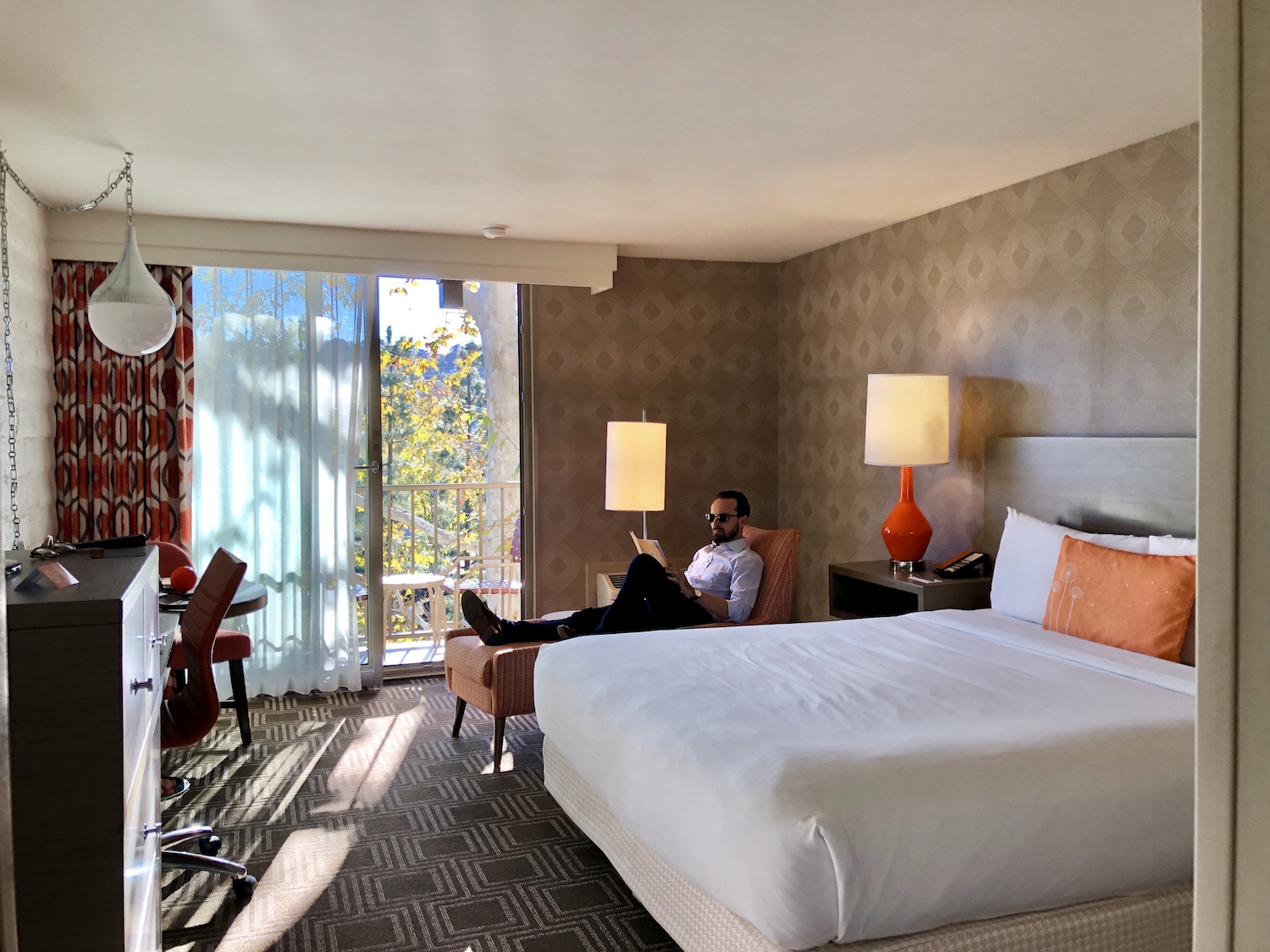 I normally never stay at hotels when I come back to Los Angeles thanks to great friends who host me but this was quite a new experience.
The Garland was once owned by celebrity Beverly Garland, a Universal Studios actress in films and TV shows, who built this resort in the 1970s with a more recent refurbishment offering a fun retro vibe and is now run by her son James. I can see how perfect it is for both couples and families with a nice outdoor heated pool, state-of-the-art gym and for dinner or brunch on the weekends, it is essentially very Los Angeles and we would absolutely stay here again. Also for fellow freelancers, their WIFi is superb as is their customer service. Within a 15 minute walk you can find coffee shops, great brunch spots and the Universal City Walk.
We checked in to our large, bright and beautiful room as the December sun shone through and begged us to try out
that heated pool. I was simply trying to stay awake, jet-lag is a demon that will hit you at the most unsuspecting time so a hop on the free hotel shuttle to Universal City walk brought me back to life among the fluorescent lights, huge sign, kitsch shops that were actually pretty fun to gawk at and free doughnuts at one stop that we then proceeded to accidently drop on the floor immediately after. As I said before, jet-lag is a demon.
We opted that night for dinner at The Front Yard, the trendy restaurant on the hotel's property that serves a notable brunch but even more so, great American-Californian options for dinner: crispy brussels sprouts with chili, crushed peanuts, lime, fish sauce and yuzu, a truly super brined, smokes and fried chicken and chorizo deviled eggs. One thing to keep in mind when you dine here is that they add a 15% service charge for the staff (aka the tip) on your meal so  (tipping confuses me in the USA, I've been in Europe far too long) you don't need to add more, it's already part of the bill. This is actually easier for me to be honest.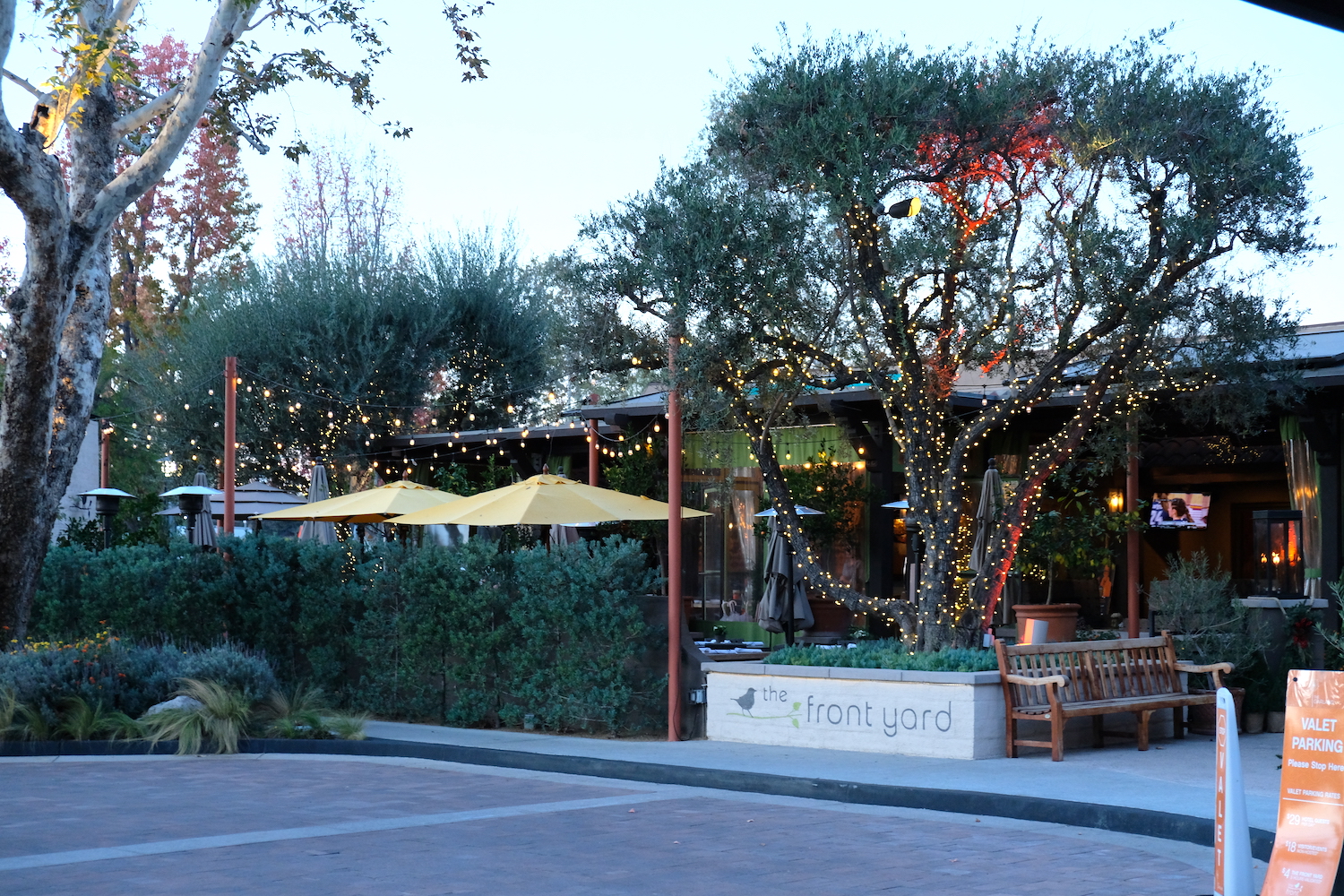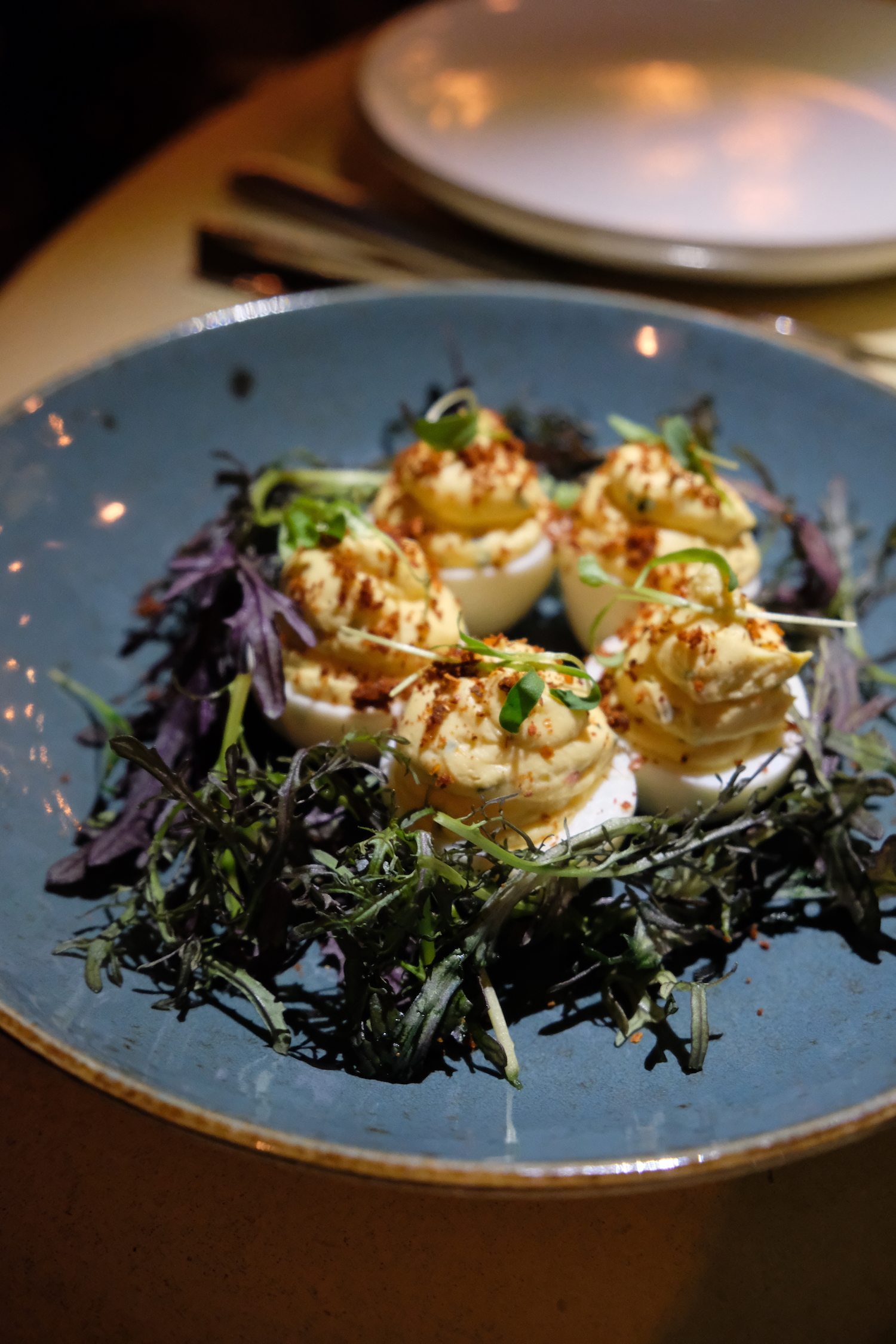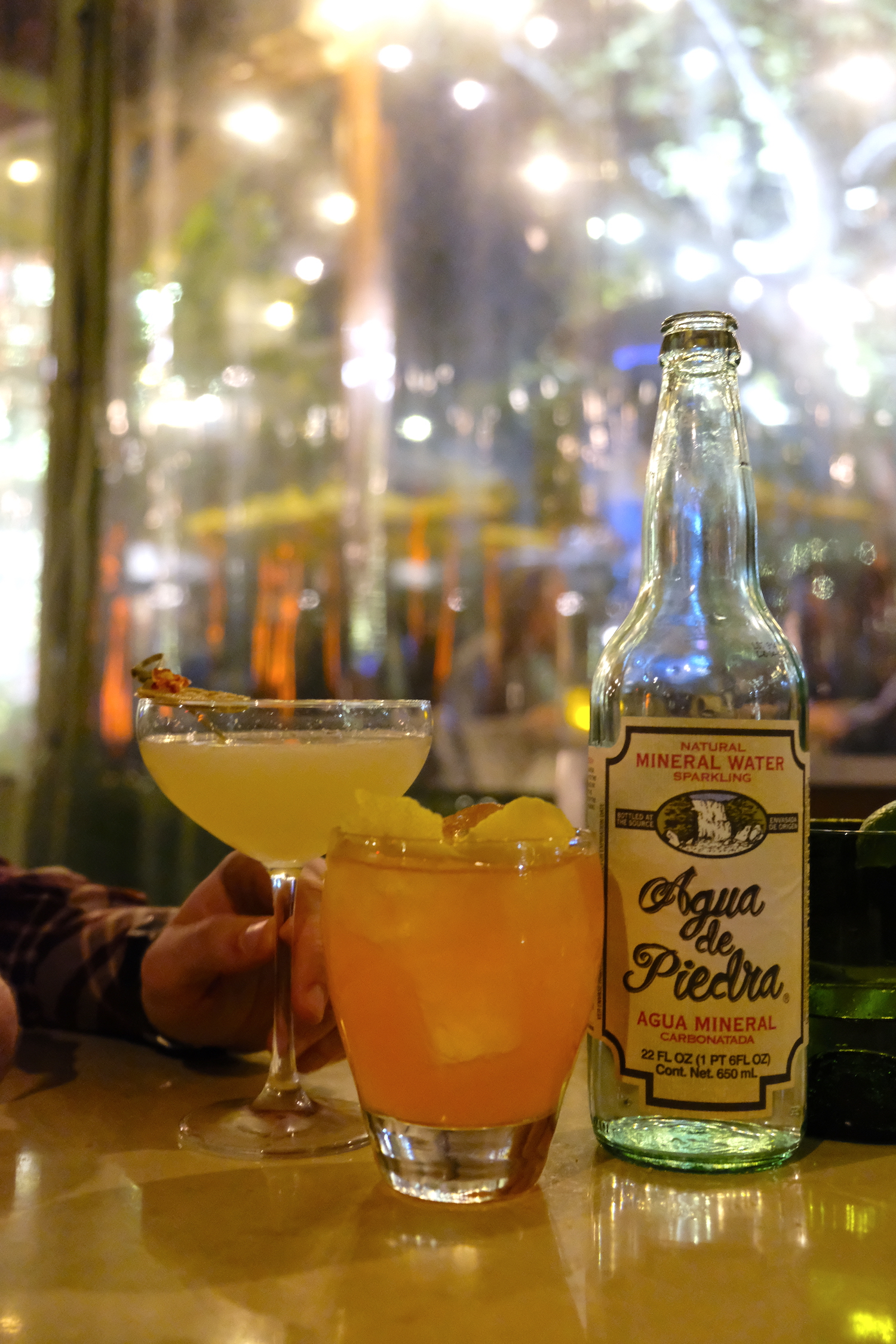 The next few days were a whirlwind of catching up with some of my pals from my university days and wedding fun with Kat and her new husband Isaac as they declared their love for one another. My beautiful friend looked nothing short of a princess, her curled red locks resembled Aerial from the Little Mermaid and her bright smile radiated throughout the evening. This is the friend I thought might never get married, so content and independent, I was bursting with joy to see her so happy on that day.
https://www.instagram.com/p/Brer9erAt74/
Their reception was inside a cool loft in the art's district complete with karaoke and taco food trucks, getting married in your thirties offering the chance to celebrate the way you see fit. It was beautiful to enter into their lives, much of what I've missed being a decade away in another country, through their friends, colleagues and families. I stuffed myself with nachos and got to see a married father of three in a white button down and tie – aka the brother of the bride –  scream out expletives in a fab "I'm on a Boat" rendition by T-Pain. This combined with Disney movie song reenactments completed a very eclectic affair.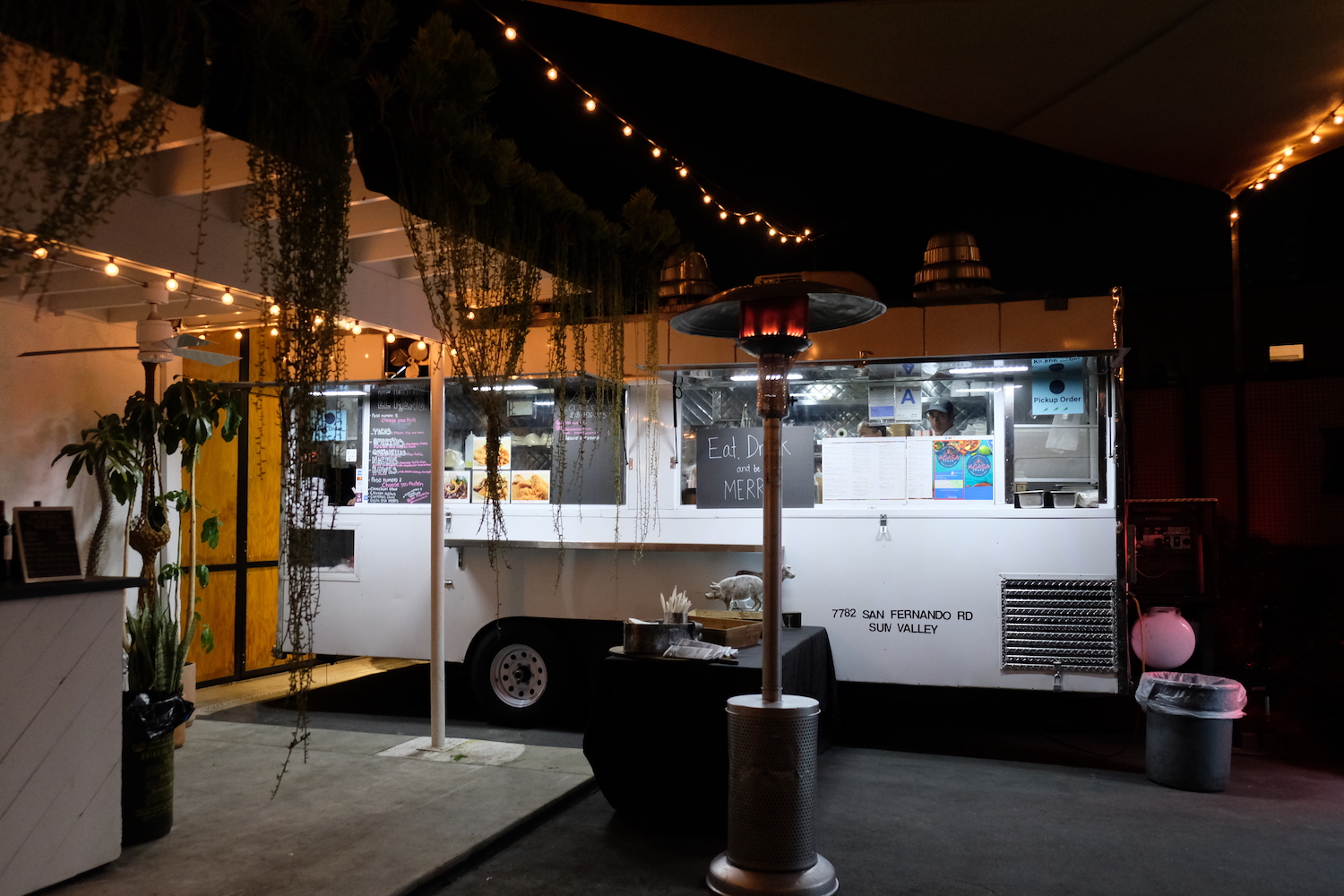 Yes, I missed you Los Angeles.
A day later we found an old scrapbook my friend Kat made of her year abroad, in it I had written "Felice Compleanno because "your (spelled wrong at the time of course) my main man mayonnaise" for her 20thbirthday. There were references to fun times and our road trip in Spain, a naughty sailor comment about ass chaps were perhaps mention but this girl pleads the 5th.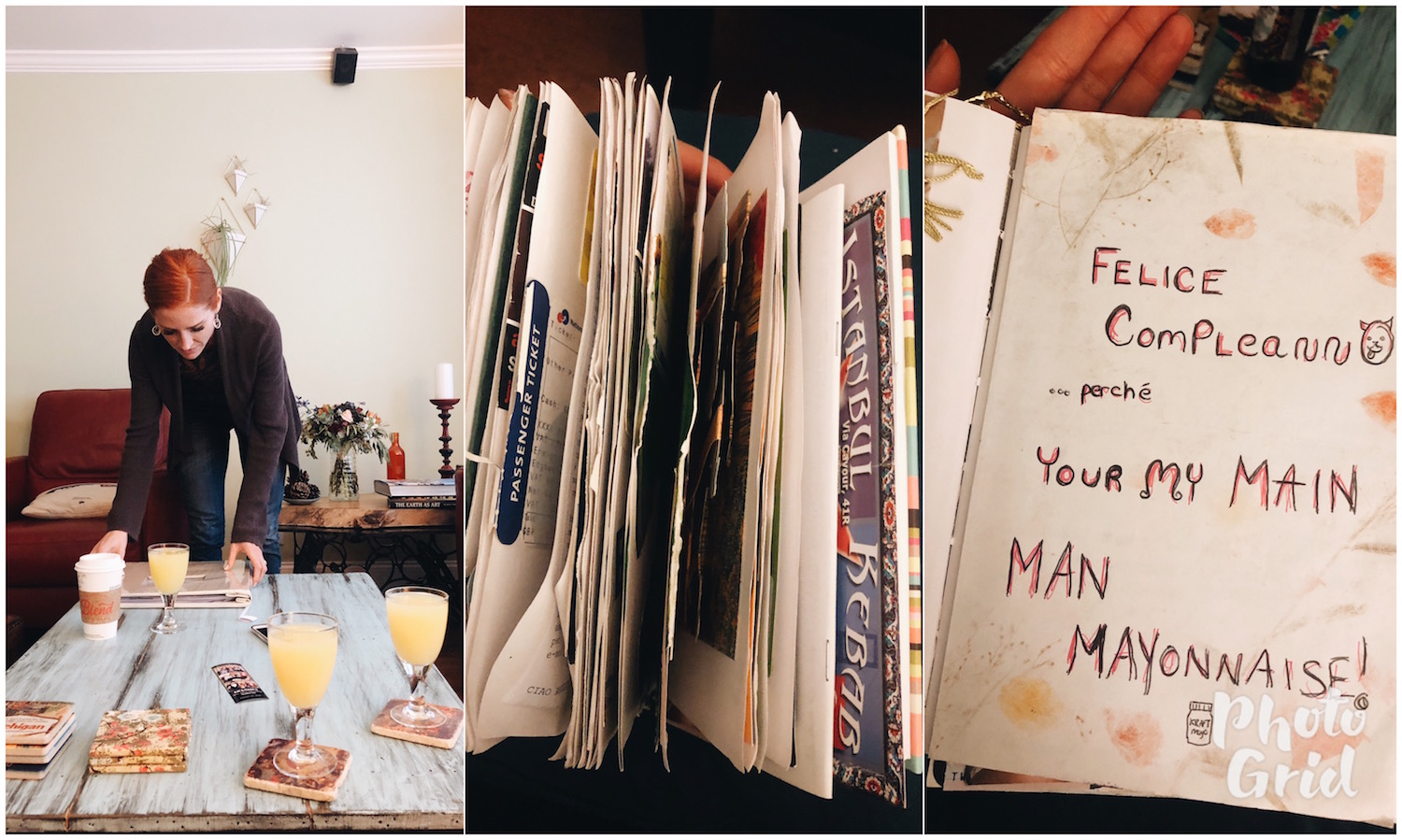 Some of favorite memories on this short and sweet trip were of walking down from Griffith Observatory where visitors can check out the sky through telescopes, explore exhibits, and see live shows in the Samuel Oschin Planetarium. You can get there via the Dash Observatory bus (schedule here) or take a lyft or uber. There is also a scenic, well-maintained walking path offering stunning views of Los Angeles's massive skyline. It was a stunning, sunny December day and for a moment staring down at the massive city before me, I almost couldn't believe that this was once my home, so many series of firsts happened here.
This is the place where I went to university, listened to every Dr. Drew radio show hour as I waited in traffic nightly from an internship in Santa Monaca back to the valley. Where I acted as an extra on various tv shows for extra money getting to know people for 12-14 long hours whom I never would see again: Gilmore Girls, 24, it is also the place where I ended my first serious relationship and got news that I would not only work in China for a summer, but also study abroad in Florence, Italy. It's the place I eventually returned to and ended my love affair with the city to return to a who-know-what-will-happen life in Italy and never really looked back since.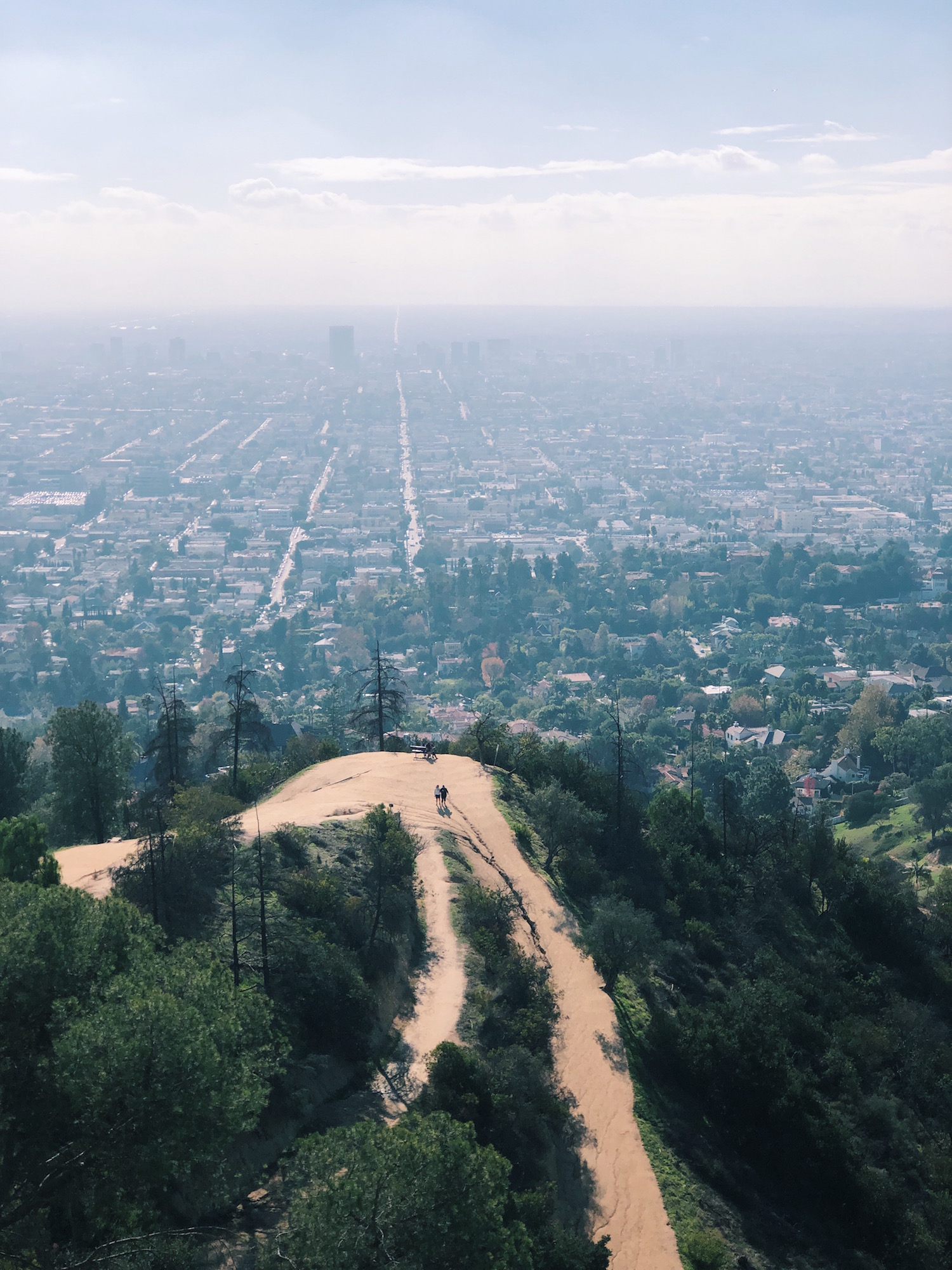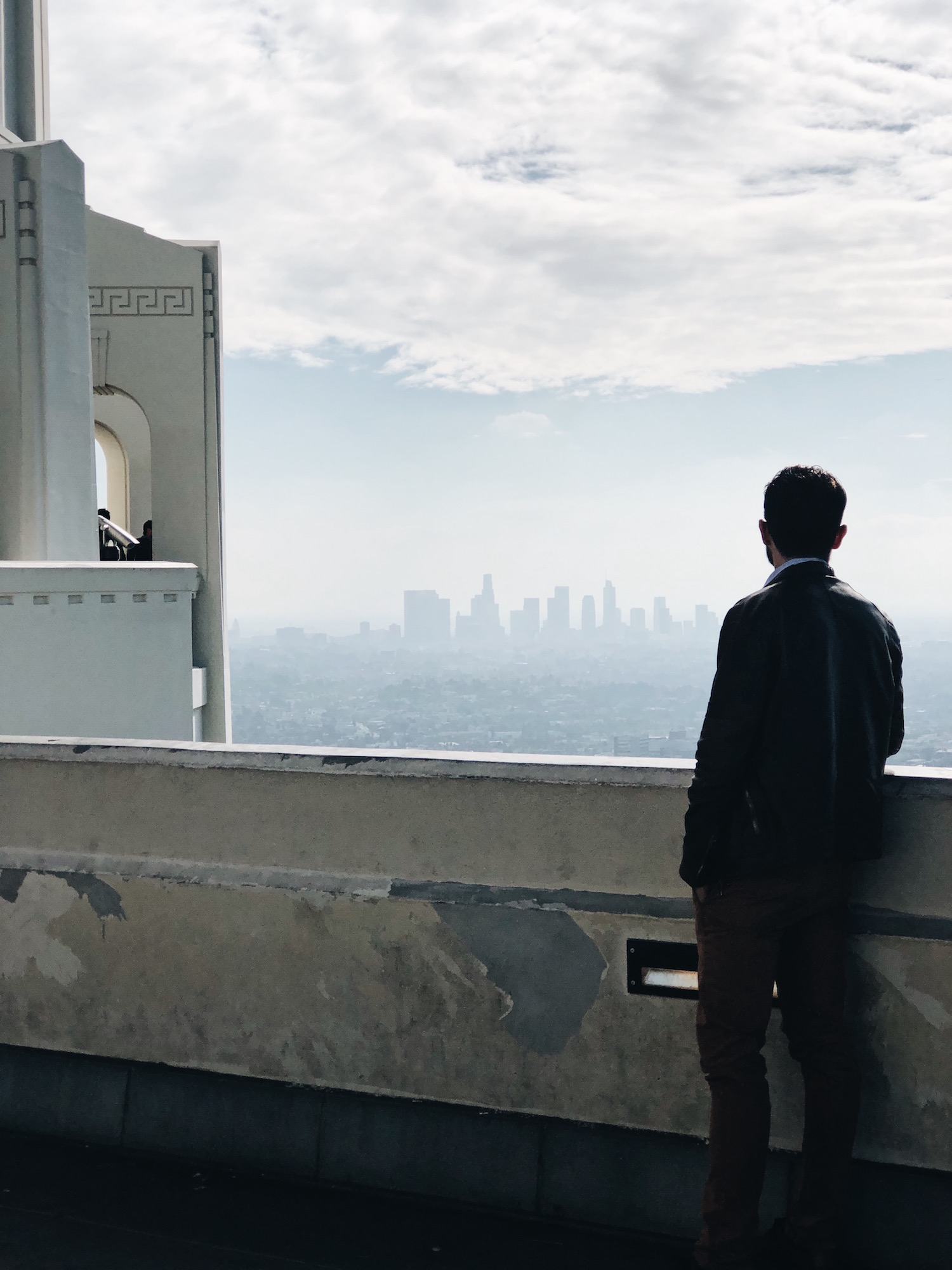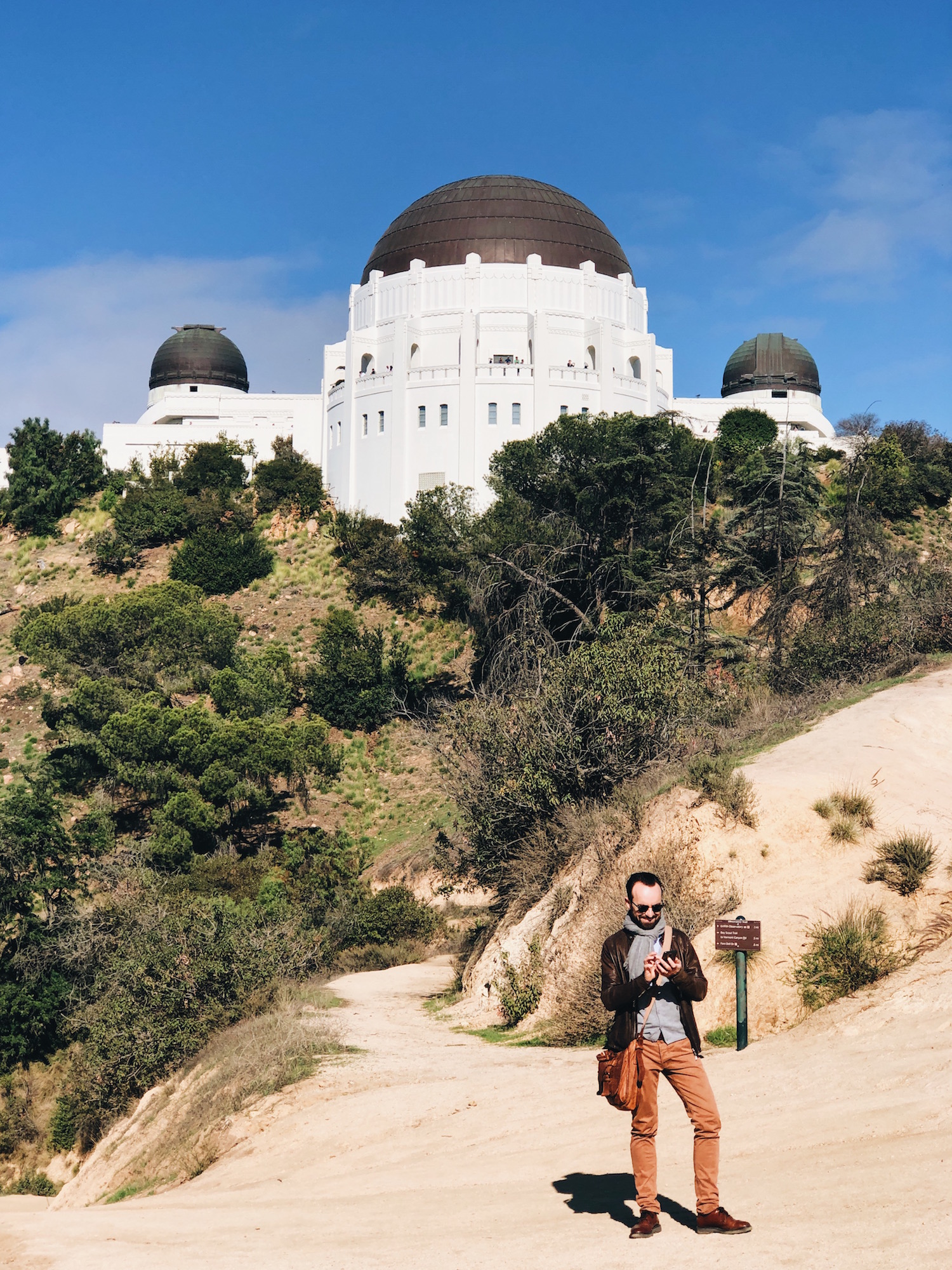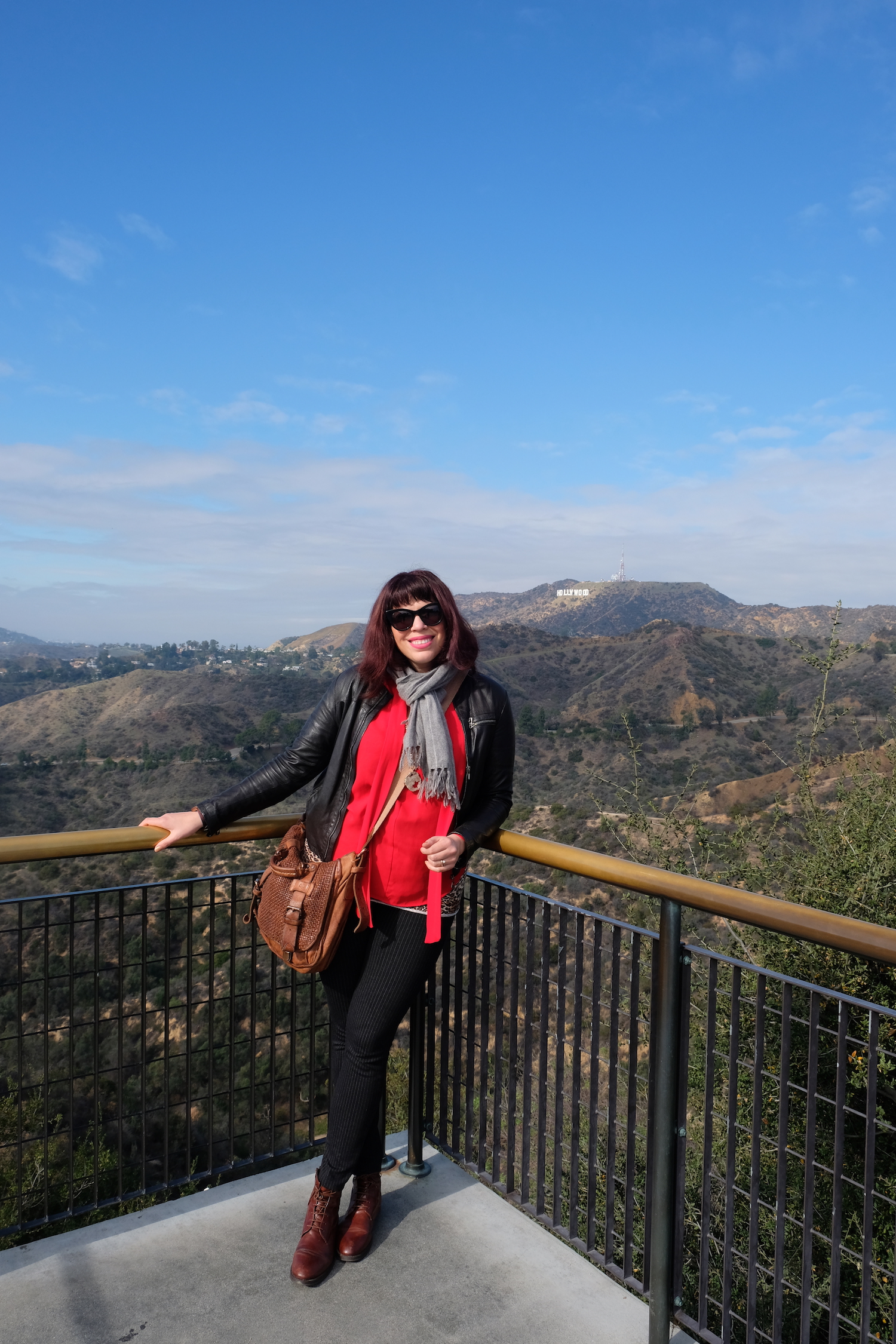 After Griffith, we headed to Grand Central Market, a cavernous space of hip food stalls that serves eggs a million ways juxtaposed with old school joints that have been vying to feed local workers and visitors for decades. I loved the Mexican stand with cashews by the pound and my favorite marzipan/peanut La Rosa candies and almost cried after trying the spicy tacos al pastor and craft beer.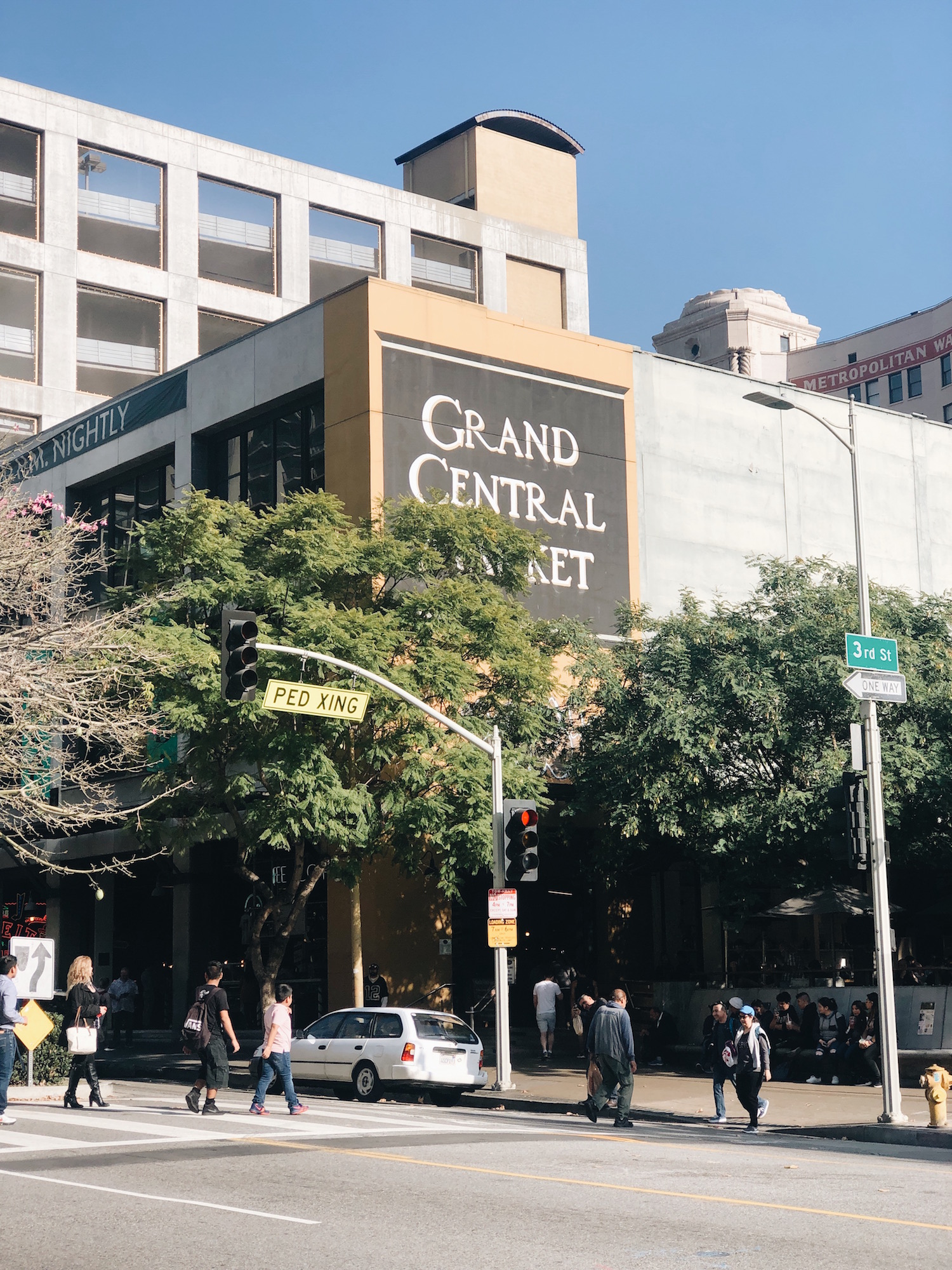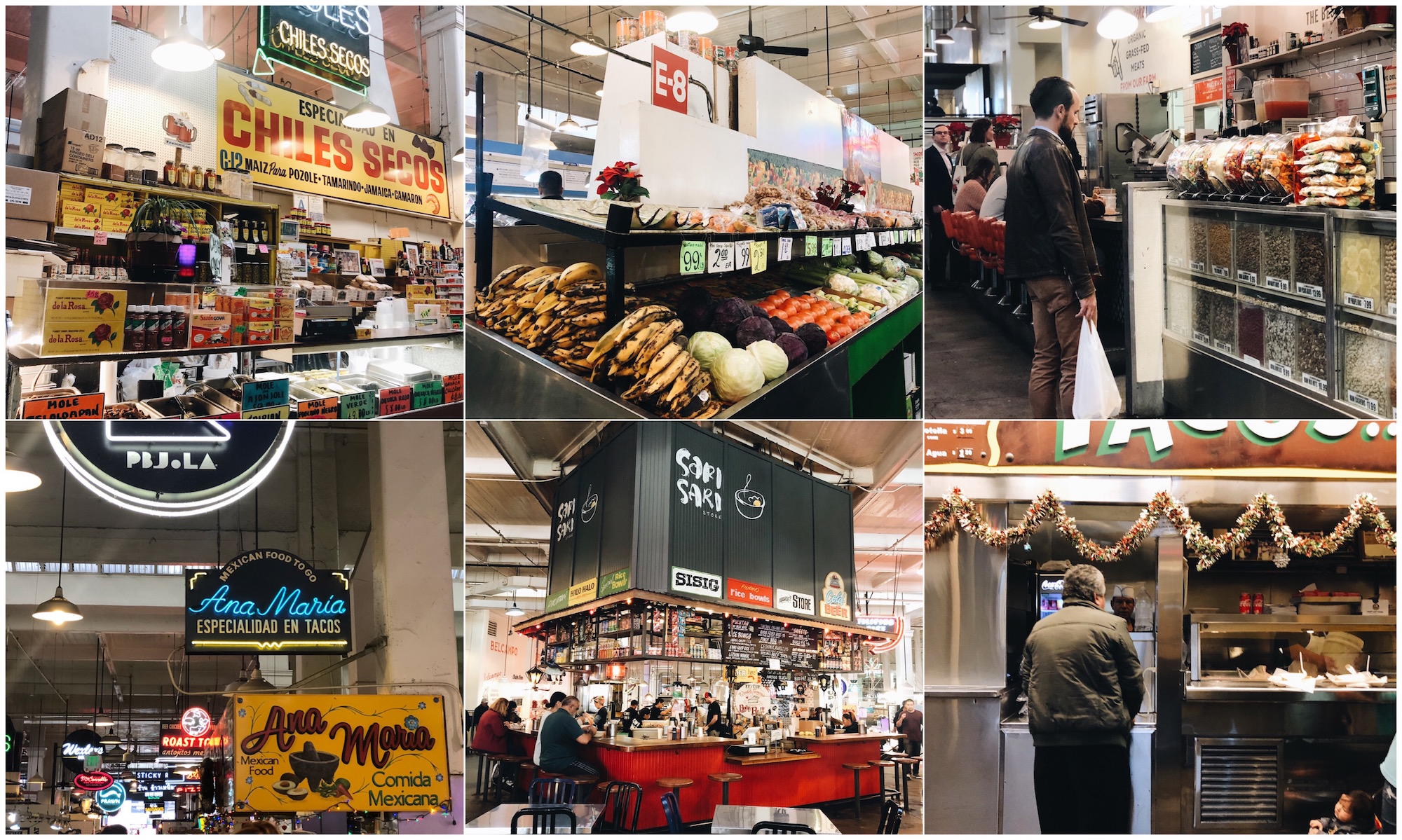 We wandered through Little Tokyo, marveling over all of the face masks one could ever want or use, pigs with nun chucks, a fascinating grocery store and a tree full of wishes. Some of them almost brought me to tears, one from a guy called Bill who hopes his ex can find who she truly loves despite the fact that it's not with him. Or a more lighthearted one from a child, wishing for a mermaid tale "that sparkles" and a rainbow.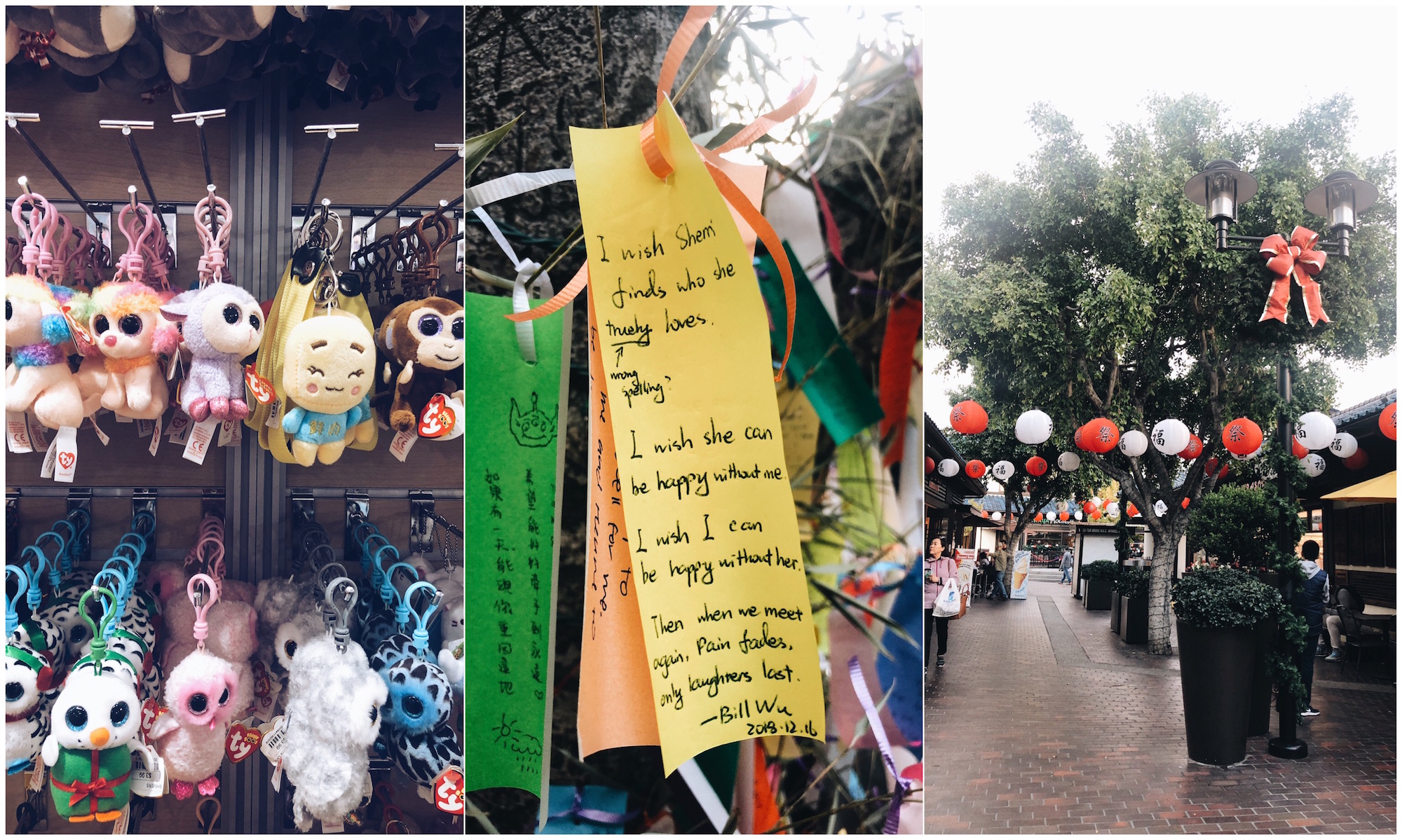 After over 12 years of no longer living in the city of angels, I took for the very first time, the Los Angeles Metro. Admittedly this was never an option before for a variety of reasons, mostly my own ignorance on the benefits of using the metro among what I perceived as the many negatives. If you have a relatively simple trip along the metro lines, I highly recommend going for a ride. Not least for the history lessons you'll find, especially downstairs in the City walk station, detailing the story of nearby Campo de Cahuenga where the Treaty of Cahuenga was signed in 1847, helping to bring about the end of the Mexican-American War.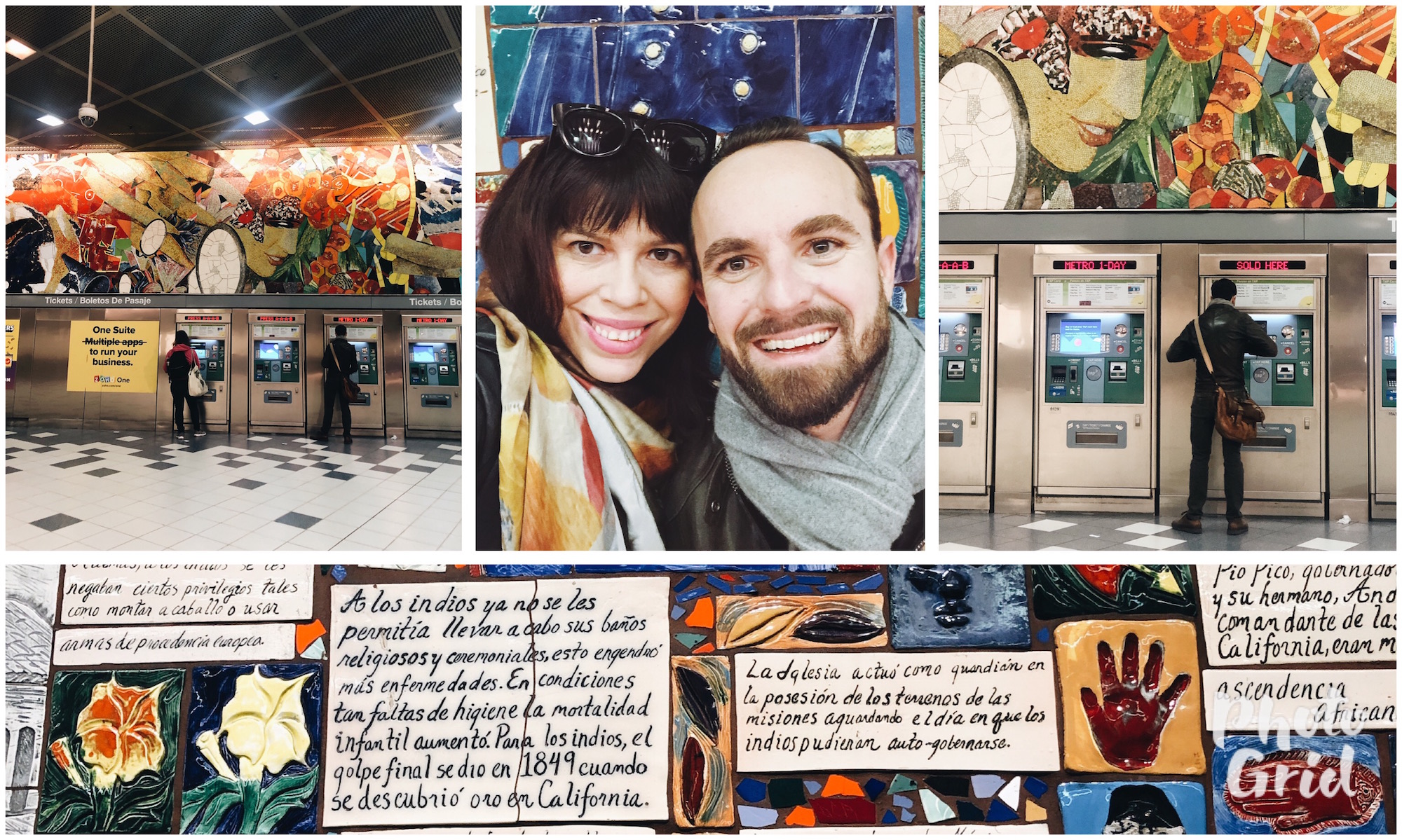 We also stopped by the Union Station to switch lines and what a joy to see this beautiful place, considered one of the last great stations built in 1939 and one the largest railroad passenger terminal in the Western United States. The architectural style is described as "Mission Moderne" a combination of Spanish Colonial, Mission Revival and Art Deco and is still busy today though as you can imagine Los Angelenos do prefer their cars.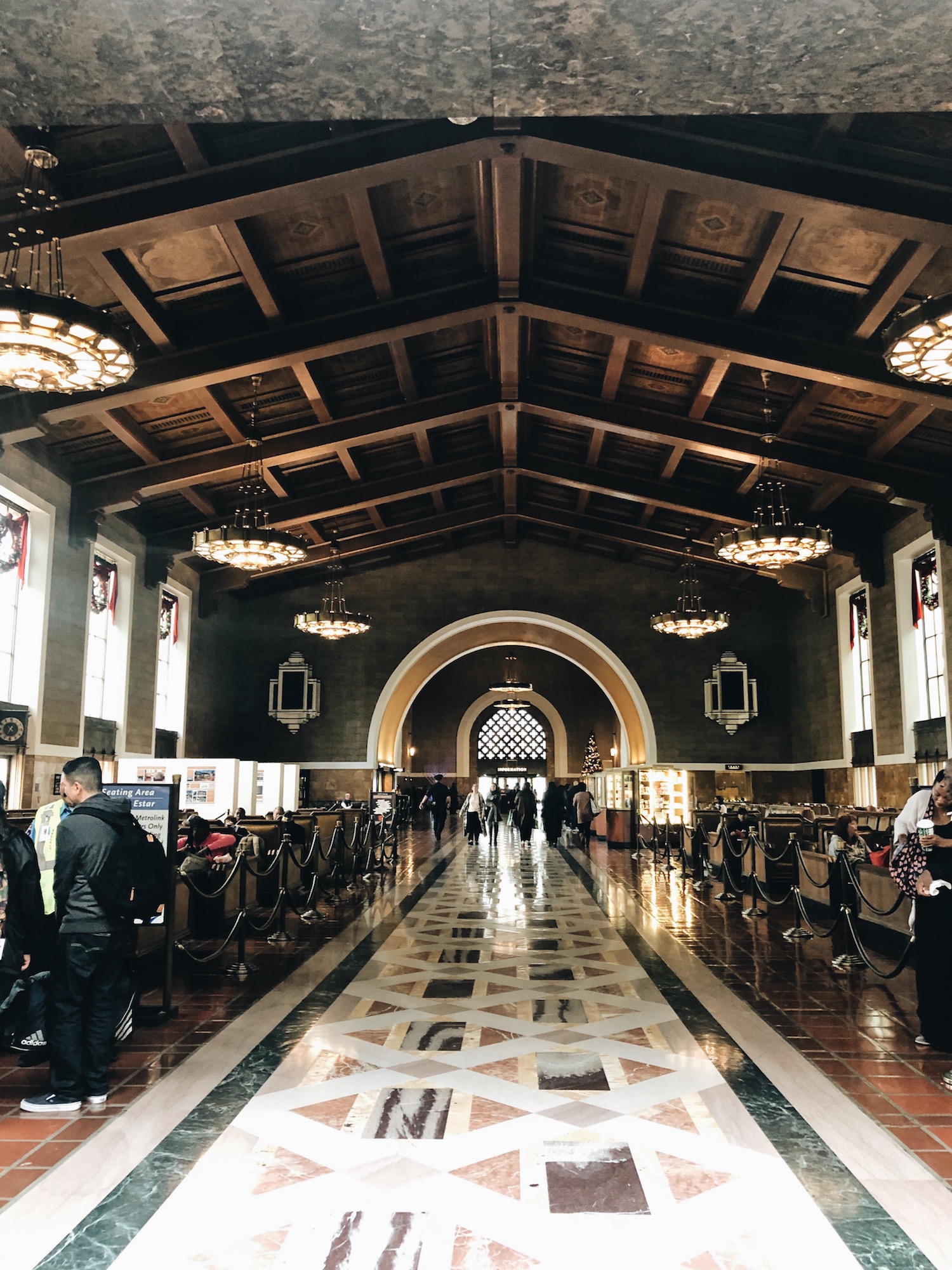 The above ground light rail offers the chance to sit back, relax and watch the city whizz by along the gold line to Pasadena where I highly recommend stopping for coffee at Copa Vida on South Raymond.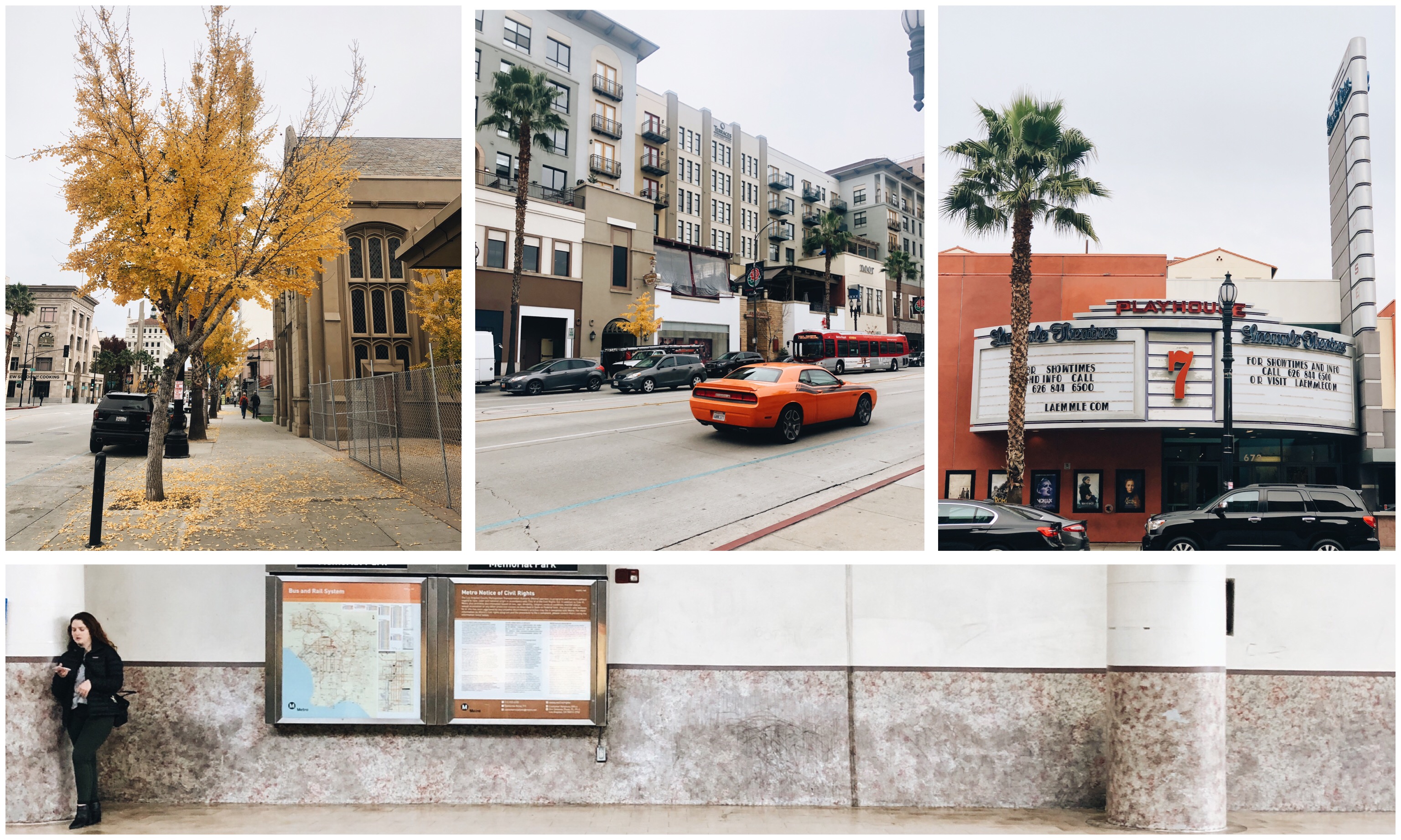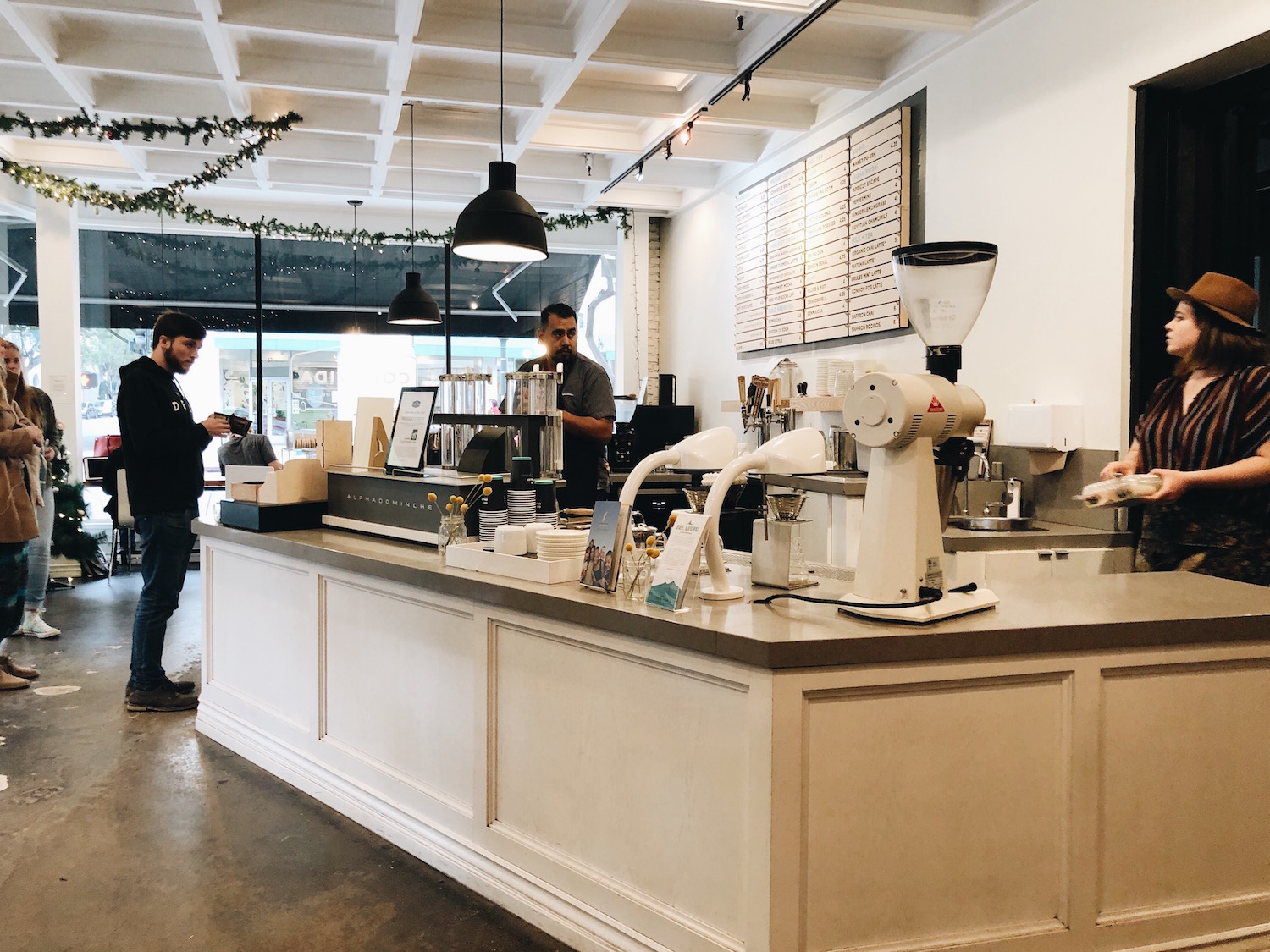 Nico and I embraced really chill breakfast spots in the valley, Aroma and Coffee and Tea on Tahunga is a well-known spot for brunch and a panettone-like bread pudding. Vivian's Millennial Café on Ventura Blvd features a sticky, laminated menu showcasing (delicious) breakfast burritos next to stacks of pancakes.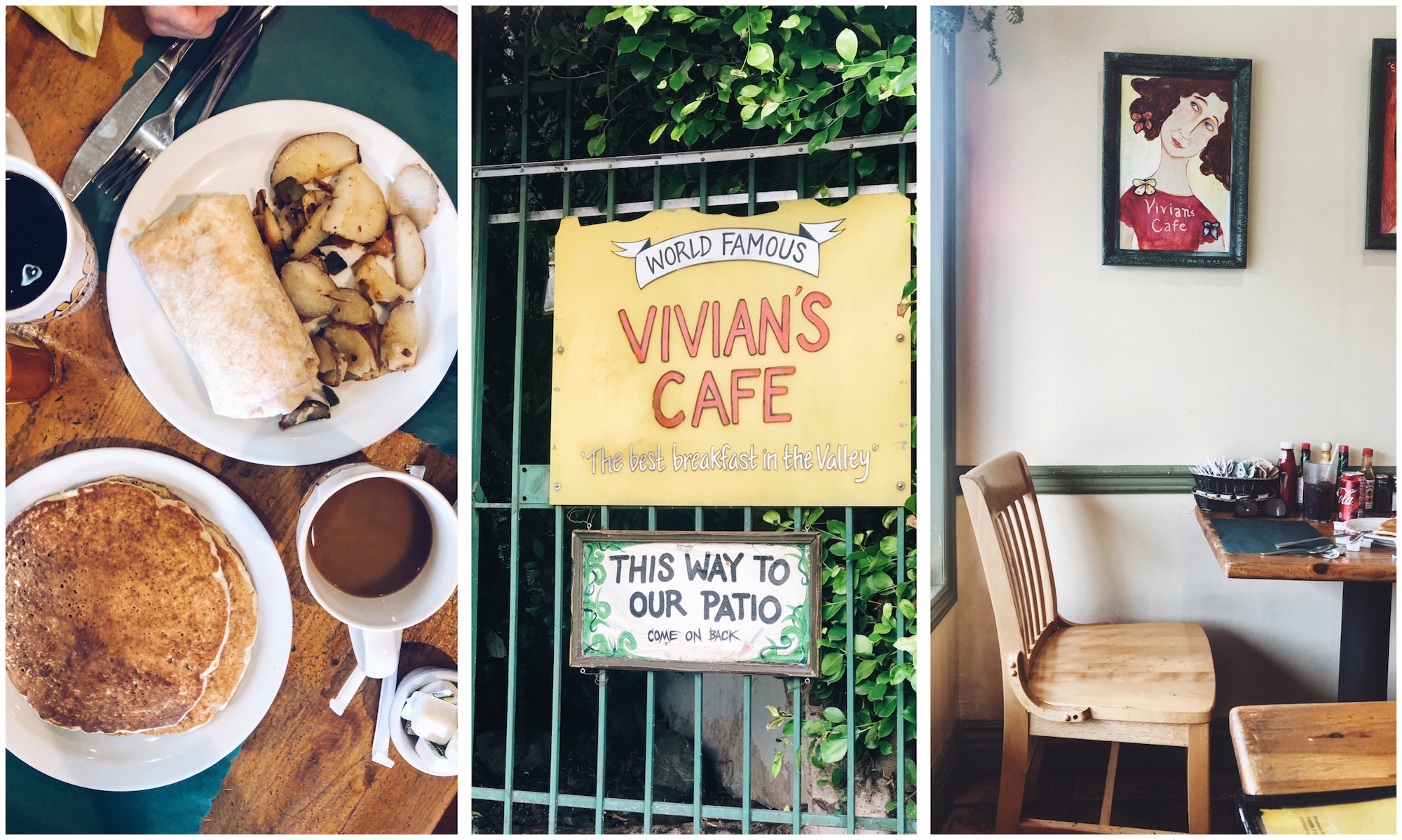 The back of the menu featuring the stories of the owners: Angelo an actor who thinks he can dance and George Marshell—just an old dude trying to act sane (his words, not mine). Or Nat's Early Bite on Burbank boulevard. in Sherman Oaks, a no frills joint in a strip mall with vinyl booths and the perfect plate of chilaquiles (green or red). You can drink as much coffee as you want and their muffins are made in house, a nice reminder that in Los Angeles, you can find it all.
For a fun brunch with friends on the weekend in the valley, head to Idle Hour, a totally vintage throwback inside a giant whiskey barrel that you can't help but be curious by upon first sight. In fact, this is no coincidence, this unique architecture hails back to a time in the 20's and 30's when roadside locals would try to entice passing motorists to come inside, you could say the original shock-value marketing. The outside garden is where you want to be, complete with a fire pit and live music on the weekends as you dine on your burger without a bun (LOS ANGELES) and sweet potato fries.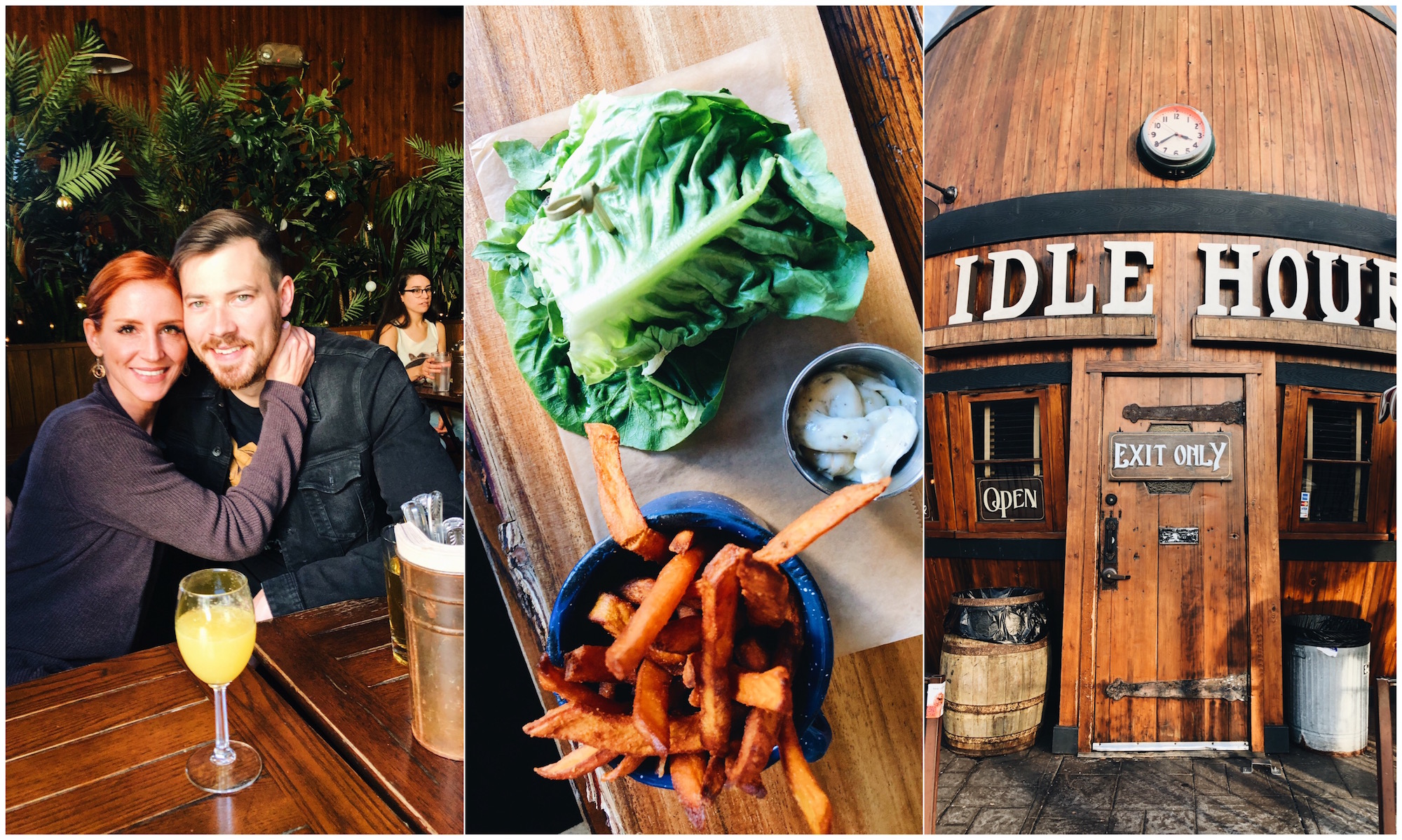 One of the best meals we had was in the art's district at the beautiful "Simone" a large cavernous industrial restaurant with an open kitchen and a blend of private and public dining spaces and run by James Beard Award-winning chef Jessica Largey. On offer is produce-driven California fare that is nothing short of divine, seriously this needs to be the one place you make sure you eat at if you love food in Los Angeles. My favorite dish was one of their starters, a burrata, persimmon confit with pomegranate with nigella and purslane. 
https://www.instagram.com/p/Bouo_kwBN4U/
Sure, the glitz and glamour is there in Los Angeles if you want it, probably somewhere I wasn't but this kind of trip is what we really needed after a very intense 2018. One that embraced a laid-back pace and allowed for impromptu adventures in quirky places like the Idle Hour. This is what I wanted to show Nico, a place that seems a million miles away from what you might imagine "Hollywood" to be and quite frankly this trip remained one of the best birthday gifts that I'll probably ever receive in my lifetime.
With that being said, I'd love to hear from you, especially if you live in Los Angeles. What should we see during our next visit and what do you most appreciate about this often misunderstood place? I'm sure whomever reads this post would appreciate comments from true locals. 
Disclaimer: The Garland Studio City was kind enough to host us for a few days in Los Angeles but all opinions on this post are my own. I would absolutely stay there on my own dime in a hot second and probably will go back for our next visit. 
Tips for any proverbial Los Angeles Return 
Give the metro a chance and activate your TAP card for $1.75 to see the city from its underutilized metro. This guide by Timeout has you covered also for where to check out the best secret street art. **Also according to Wired.com for January 2019 "riders who live near three Metro stations will be able to download an app, tap a few times, and have a car show up at their door—or at least within a few blocks—and take them to that station. The service, provided by ride-hail company Via, will cost riders with the system's TAP cards $1.75, though it will be free for those who already use Metro's low-income subsidy programs."
And if you are really clever, you can plan stops along the metro lines to discover some really interesting places such as quirky bookshops and a Mexican marketplace (Olvera street) in Los Angeles like this suggested itinerary here.
It always pays to book a popular restaurant ahead of time and make sure to call and give them a head's up even if you show up 5 minutes late.
For those who love their coffee (I'm obsessed) Eater has this great list of spots around the city, this is how I found Copa Vida. Also save this indie coffee shop roundup by Discover Los Angeles.
We relied primarily on the car-sharing app Lyft (where you can split fares!) and the metro during our time in Los Angeles, you might think you need a car but if you time to spare, this was actually really convenient and didn't have to pay for parking anywhere we went. Last visit we spent way more on the rental car/parking etc. so cost-wise it was the better option.
I hate the word "bucket list" but I appreciate blogs that take the time to shine positive light on what I think is a very misunderstood place. Love and Loathing in Los Angeles provides a pretty substantial list of what to do in the city. ***Also if you know of any blogs that you think I need to follow in L.A. (I don't really read fashion blogs or just follow influencers posting their OOTD on Instagram, doesn't need to be strictly food, I want to hear about them, I even went on page 9?! on google to find interesting websites that weren't strictly "instagrammable places" and "hipster vibes".
Google Map Tips You Can Save Directly For Your Phone