Fear not November's challenge bold—
We've books and friends,
And hearths that never can grow cold:
These make amends!
~Alexander L. Fraser (1870–1954), "November," c.1918
What would a year be without a November? Typically reviled and scorned as one of Italy's more depressing months due to its short, dark days and plenty of rain, I see it a little different. It's a month where I typically dive into cooking warm, comforting meals, catching up on work and half-read novels and the yearly attempt to rearrange my wardrobe (boring but necessary) before winter really kicks in.
It also happens to be the month of our wedding anniversary, this year is our third anniversary on November 28th and as per usual, I still can't believe how fast 2018 has flown by, a flurry of activities, good months and ones that I'd rather forget. Essentially, a fair amount of adulating was had and that's ok. November also marks the month of Thanksgiving, one American holiday I will always embrace as it involves two elements worth cherishing: good food laden across a large table and even better company. We are flying out to Los Angeles this December for a close friend's wedding (only five days – yes we are crazy) and then back here to drive 11 hours to France for the holidays.
If you plan on visiting Florence, Italy this November my recommendation is to be prepared for grey, overcast days, weather that is completely unpredictable temperature-wise and the occasional rainstorm. Pack layers as per usual, umbrella, a scarf, waterproof shoes and plan on trying Tuscany's wonderful autumnal cuisine: cavolo nero and chickpea soup, drizzled new extra-virgin olive oil with its spicy and addictive kick, succulent slow-cooked wild boar, and of course anything with porcini mushrooms or truffles.
***If you want to get out of town, don't miss my tips on Visit Tuscany's website on the charming and underrated town of Carmignano, the "other" Tuscany. Also, I wrote this tongue-in-cheek article for Dievole covering misconceptions people often have about moving to Italy, did I miss anything?
https://www.instagram.com/p/BppX6DkAZfj/
Link Love For The Month of November
What else am I excited about for this month? Have a look at the list below. Keep in mind that this is not at all an "official" list but the city but instead my own personal favorites on what to do and where to go around town. This is a personal blog after all ? 
Don't miss a line up of 12 French films until November 2nd as part of the France Odeon 2018 at cinema La Compagnia on Via Cavour 50/r. This will be the 10th edition of the festival so expect plenty of surprises, I can't wait! I'm waiting for the full program but you can check out more via their FB page.
On Saturday November 3rd and Sunday the 4th there will be a wool fair dedicated to San Martino in Florence's Piazza di Santissima Annunziata. This is always a favorite!
First free Sundays is something I have been including in every monthly lineup because how amazing is it that in a city with so many museums, they offer at least one day where you can visit some of the most important places in town, for free. This month's free museum Sunday falls on November 5th. I recommend visiting lesser-known but incredible places like the Bargello Museum, Palazzo Vecchio and the Brancacci Chapel near piazza della carmine. FYI the Palazzo Vecchio is open today from 9am-11pm, Santa Maria Novella: 1pm-5:30pm, Archealogical area at Palazzo Vecchio: 9am-11pm, Museo Novecento 1pm – 5pm, Cappella Brancacci in Santa Maria del Carmine: 1pm to 17. More info can be found here on which museums are free and open.
https://www.instagram.com/p/BL-qEWdhirt/?utm_source=ig_embed
November 7th marks this month's open-mic night at Tasso Hostel where anyone can perform their original content to a fun group of locals. Everyone is welcome and in any language. Robert firestone and Robert A. Magni will be the dual hosts for the 39th edition of the Open Mic. Anyone who wants to perform a song, read a poem, an excerpt from their book or writings is welcome (there is a 7 minute limit) to join the fun. The fun starts at 8:30pm!
Eataly Firenze has a series of events this month that will tantalize your autumnal tastebuds! 
***Keep an eye out on the 26th of November in the Eataly square for all of their Christmas items that can be entirely customizable .. 
Aperitivo with the producers
Wine prodigy Saturday 3 and Sunday 4 November,  From 12pm, € 10
– Vinocchio, Rosso Toscana IGT
– Uvagina, Tuscany white IGT
and La Rasina on Saturday the 17th and 18th from 12pm,  also 10€.
Weekend of the "Gnocco" on November 10-11th at the Osteria inside of Eataly. Here's what you can order: Potato gnocchi "Pastificio Serafino"with a chianina ragu and "Il Fiorino" pecorino cheese €10.50 Paired with Vino Nobile di Montepulciano ( 6), next up is their "Pastificio Michelis" gnochetti with "La Granda" sausage, Porcini mushrooms and chestnuts €13.00. Paired with Terre San Leonardo, Tenuta San Leonardo (€ 6)
"Pastificio Michelis" gnochetti with octopus, "Antica Enotria" yellow cherry tomatoes and "Antica Bronte" pistachio €16.00, Paired with Chardonnay Les Cretes (€5).
November 19: FAC 'N Friends: There will be a special lunch (From 12.00 to 15.00) featuring the dishes of Chef Daniele Bendanti of the "Oltre" restaurant (Bologna) which is an incredible place to eat, I've been there! Luckily for us, the dishes will then remain for a month within the FAC menu!
– Tortellini in a (24 month aged) Parmigiano Reggiano cream or capon broth € 15
– Cotoletta alla bolognese – Bolognese cutlet € 18
November 24th and 25th is the Festival Tartufo & Bollicine in collaboration with Savini Tartufi, Keep an eye out for many themed dishes at the restaurant, including the direct sale of fresh black and white truffles and free tastings of Savini products. The special items on the menu to keep an eye out for include uovo poche cooked at 68 with black truffle (12€) or white truffles (25€), La Cruda "la grande" with black truffle (18€ or white truffles 28€), a white fiordilatte "Bosco Gerolo" pizza with potatoes and white truffles (28€) and tiramisu with truffle honey (8€).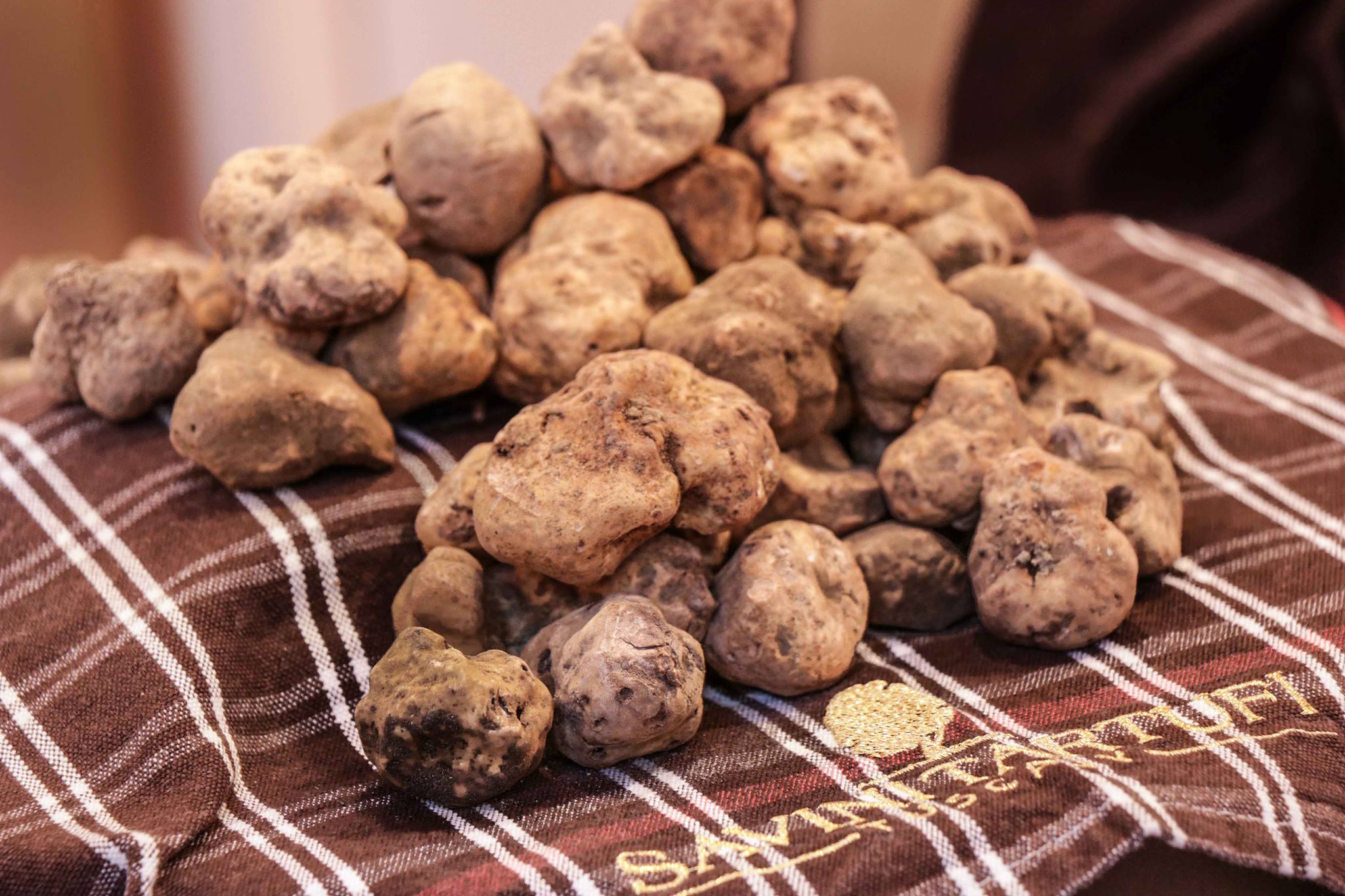 Regular truffled menu items include
– Grilled Tomino with truffle honey
tomino Beppino Occelli, acacia honey with truffle Appennino Food, walnuts and bruscato bread € 7.50
– Tagliolino with black truffle
Tagliolini from the Serafino Pasta Factory, Trentingrana butter
with seasonal black truffle selection Savini Tartufi € 18
with white truffle Savini Tartufi € 28
– LA CRUDA with egg and pecorino cheese with truffle
Piedmontese beef tartare from La Granda (Slow Food Presidia), poached egg and pecorino with truffles Busti € 14.50
– RED PIZZA WITH TRUFFLEs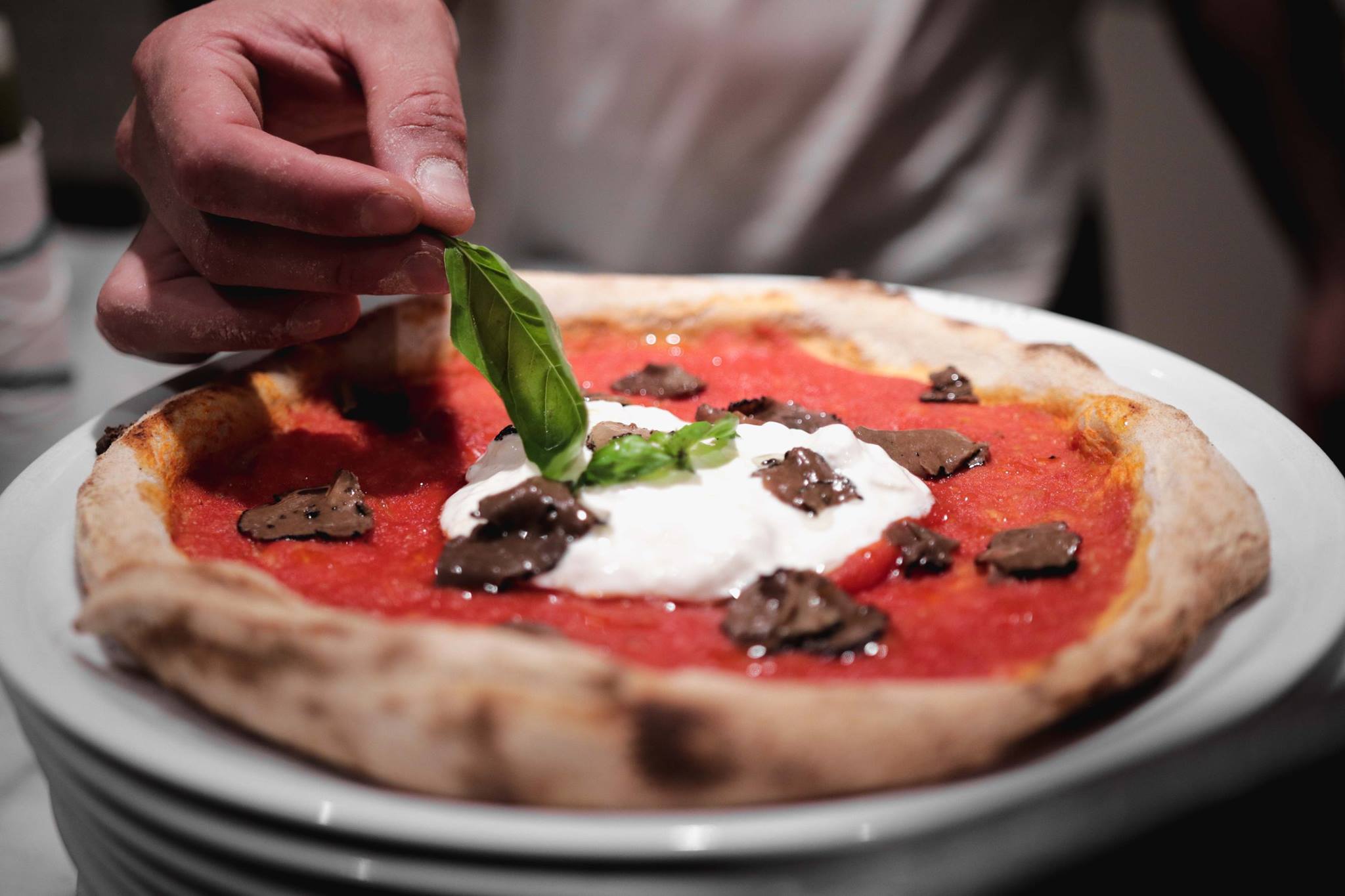 The Firenze Winter Park is back in action along the Lungarno (you can take the number 14 bus) and offers a chance to ice-skate and "snow tube" down a man-made ramp. Great for kids and masochistic adults.
Looking to relax during the gloomy short days of November? Luckily there is a studio in Florence dedicated to 360 degrees of wellness and offers a variety of spa treatments, relaxations techniques, yoga and more. I love these people and absolutely recommend a pampering session or mind-body experience at Relax Firenze.
The FLR (Florence bilingual Literary Magazine) is have a party on November 8th at the IBS bookshop (via de' Cerretani 16r,) from 6-8pm to celebrate its 4th edition dedicated to landscape. More details can be found here.
Storytellers in Florence is back Saturday, November 10th and the theme is still currently being decided (I'm leaning towards Family!).  As per usual it will take place at independent bookshop cafe Todo Modo (Via dei Fossi) starting at 7pm and ending at 9pm. You are more than welcome to just come and watch people share their stories, it is quite frankly one of my favorite evenings of the month and as linda says a great way to meet people, share some personal stories and get off the damn computer for a bit. If you have a story to share based on this theme, be sure to contact Linda on Facebook or by email at linda@the-beehive.com. 
Firenze canapa aka A weed fair (not kidding and yes, it's all legal) is coming to Florence Nov 10-11th at the Fortezza da Basso with stands from the sector taking over in this revolutionary fair that is the first of its kind.
My friends over at The Florentine will be celebrating their 250th issue (since 2005!) with a special party at Il Borro Tuscan Bistro on November 13th. Meet the faces behind the magazine and save your spot by emailing redazione@theflorentine.net.
Food-lovers should keep the dates of November 16-19th free for the Biennale Enogastronomica at the Fortezza da Basso where there will be plenty of food & wine roundtable talks, tastings, discussions and more. You can check out their program online now.
A new exhibition featuring art by women from storage to spotlight is a must for this girl.  'Women Artists. Florence 1900-50', on show from September 22 to November 18, at the Spazio Mostre Fondazione CR Firenze, showcases two artists Leonetta Cecchi Pieraccini and Fillide Levasti Giorgi. Thanks to project sponsors CR Firenze Advancing Women Artists. Opening hours: From Thursday to Sunday, all day from 10am to 6pm
Free guided visits until maximum number is reached: Every Saturday at 3pm, For groups and schools every day with reservations only. Tel. +39 055 5384 997/001, artistefirenze.mostra@fcrf.it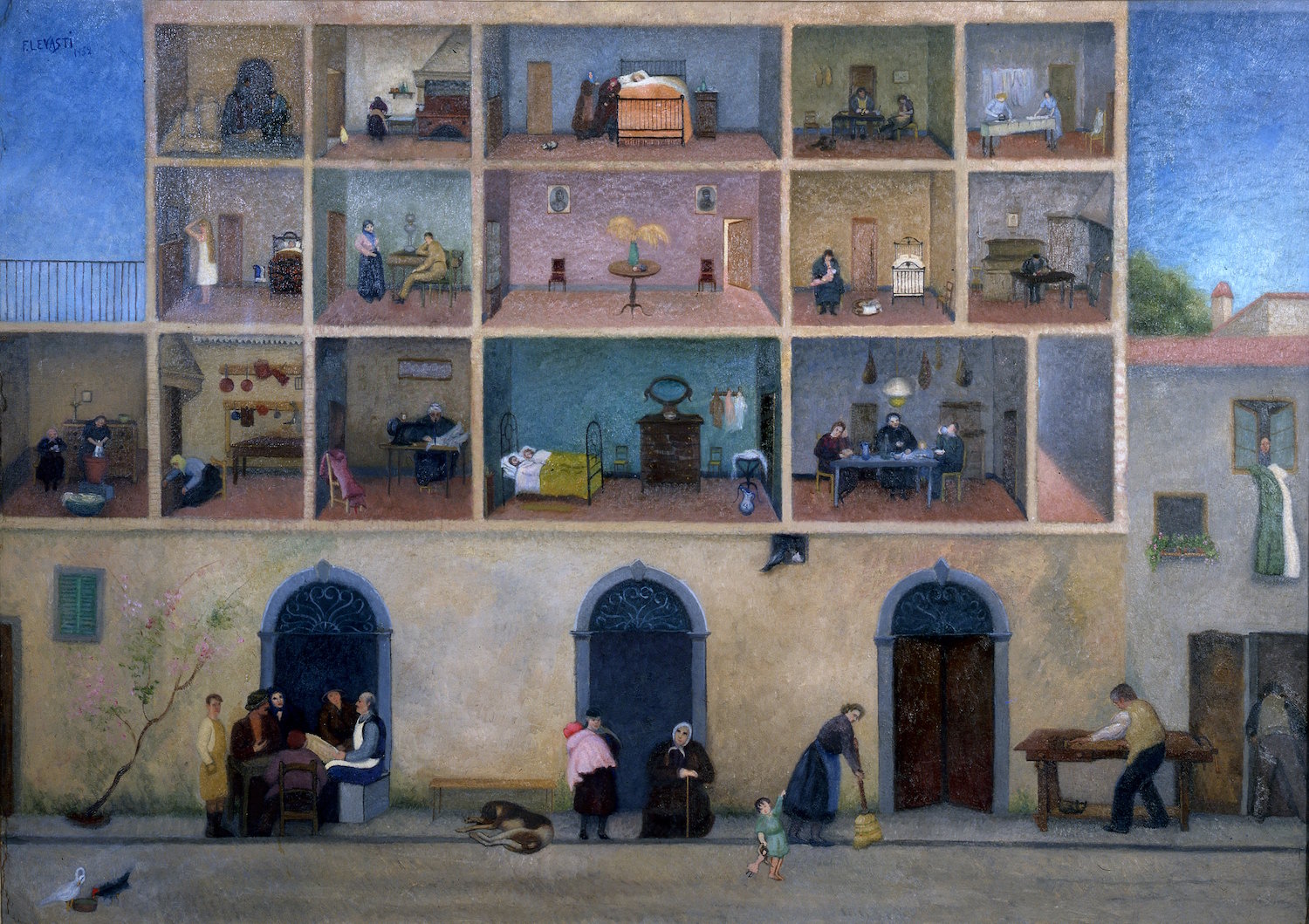 My friends of Creative People in Florence are hosting a variety of open-studio sessions with artisans around the city, Below in the graphic you will find the dates of upcoming November events and with who!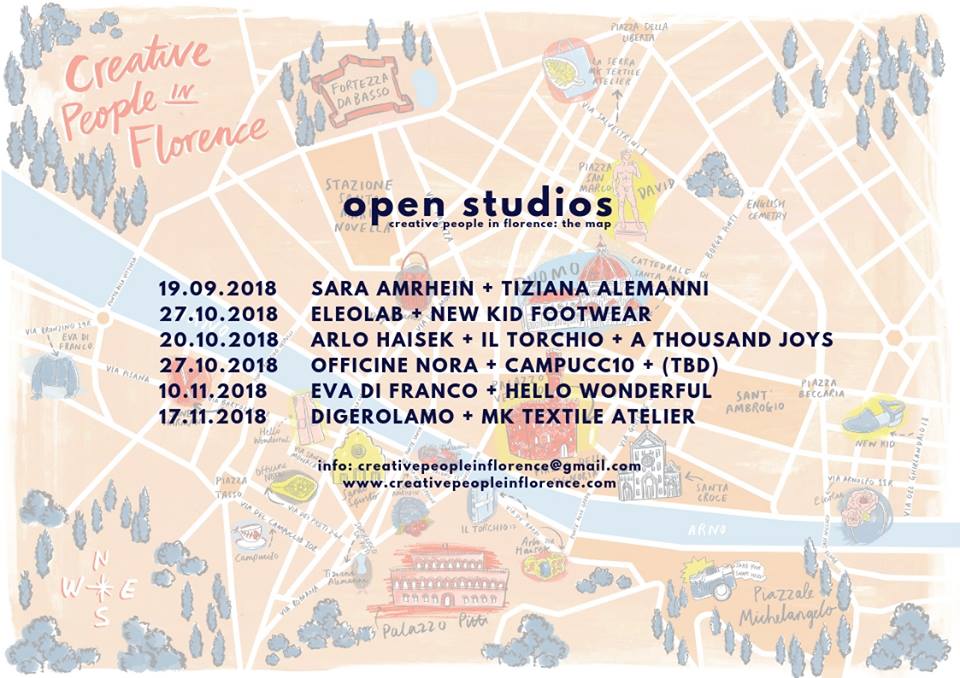 This month's organic market in piazza di santo spirito is on Sunday, November 18th and will feature new olive oil as their prized star fresh from this seasons harvest which always takes place this season. For those who don't have a car to buy great oil direct, this is the time to pick up some truly quality extra-virgin oil, plus other foodstuffs from trusted local producers.
Since the expat community is so large here, you better believe they also celebrate the Thanksgiving holiday in Florence at many restaurants around town on November 22nd. Also you can do your own thing at home too and order treats such as pumpkin pie or turkey from places like Mama's Bakery, your turkey from Sant'Ambrogio market or a local rosticceria. Here are some Turkey-day dinners you can enjoy in the city 
Palazzo Strozzi, the city's foremost exhibition space, has opened its show Marina Abramović The Cleaner to great fanfare. This major exhibition features Marina Abramović, one of the most famous and controversial figures in contemporary art, whose works have revolutionized the idea of performance, testing her body and expressive potential to the limit.  Expect over a hundred works from her most famous creations, from a career ranging from the 1970s to the 2000s, including videos, photographs, paintings, objects, installations, and live recreations of her most famous performances by a group of performers specially chosen and trained for this show.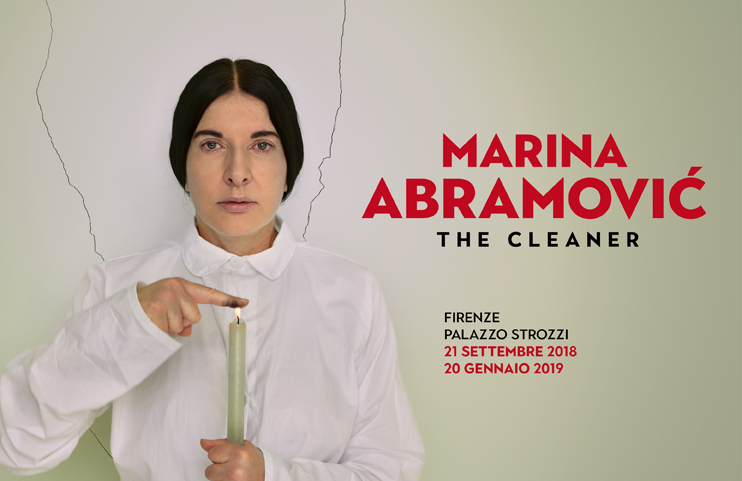 The Florence marathon is happening this year on November 25th and participants will "enjoy" a 42 kilometer run through the center of Renaissance's Italy art and history capital. More info on the 37th edition of the race can be found here.
"Banksy. This is not a photo opportunity" is a new exhibit will be at Palazzo Medici Riccardi until February 24th. Banksy is probably the most famous artist of the 21st century and the father of contemporary street art, this exhibit hosts a selection of the best 20 images produced by the original writer from Bristol, all the works that have the myth, becoming icons recognized all over the world.
Don't miss a lovely concert inside the halls of the Museum of the Duomo this November 22nd where a cello concert will be playing. It is part of a monthly "notte al museo" concert series and entry is free. You must reserve your spot ahead of time and reservations open up the Thursday before the concert. Stop by the Centro Arte e Cultura (piazza San Giovanni 7 and you can get more info at www.operaduomo. renze.it/eventi
The 20th edition of the Japanese Festival in Florenceis coming this November 23-25th at the Ippodromo of Visarno Firenze (Cascine Park) 11-8pm. There will be Manjtushaka dancers, artisanal Japanese products, Japanese food, sake tasting, book presentations and a heck of a lot more.
The perfect November activity is a trip to the trusty cinema, in my case our beloved original-language theater Odeon which is back on track with a superb list of options. And there is plenty to see this month including the Nutcracker and the Four Realms, France Odeon(3rd and 4th), Fantastic Beasts and the Crimes of Grindelwald, Bohemian Rhapsody. check out the program here  Price: 8 euros for a normal ticket.
Weihnachtsmarkt the annual Christmas Market is back in Piazza Santa Croce on November 28th – December 20th. As per usual you can expect to find wooden stands selling a variety of Christmas-themed gifts along with overpriced sausage, huge pretzels and spiced mulled wine. My advice is to avoid going on a Sunday :).
---
Outside of Florence 
Tuscan wine resort Dievole is hosting a special "olio day" on November 18th outside of Siena with a special menu curated by Monika Filipinska with a special wine-bubbles tasting headed by top sommelier Adua Villa. I'll be there and I am SO excited. More info on this event and how to book here. 
The San Miniato Truffle Fair is BACK in action this month for three weekends from November 10-25th in this picturesque hill-top Tuscan town an easy train or car ride away from Florence. This is a great chance to get acquainted with the famous tuber among the market stalls and my recommendation is to book a spot at Terrazza Miravalle (in Piazza Duomo) for a sumptuous lunch where you can also buy a white truffle to eat with your email or take home.