"Are we in Val d'Orcia or Crete Senesi?" I asked.
"Nether" Fabio replied. "Instead we are located in an area between the two." A place without a name but of one that dubbed "the bermuda triangle paradise" within Tuscany's most suggestive landscapes. And paradise it was.
Imagine an ancient stone farmhouse nestled in a plot of well-curated land next to a pond brimming with frogs with sweeping views of at least two hilltop Tuscan towns. The only sounds the crowing of the frogs or occasional "hello"bray from the local donkey. This place was a world away from the busy street where we call home in Florence where I am regularly awakened by angry honks or the sound/smell of the fog (sewer) truck doing its due diligence.
Instead, we were close to an area known for fine wines, glittery green landscapes, thermal spas and beautiful hill-top towns, namely Montefollonico, Toretta di Siena and Montepulciano, all within close reach of Montalcino, Bagno Vignoni, Pienza, and Chianciano Terme. From Florence, an escape to the countryside is as easy as driving an hour and a half to two hours were you can easily leave the city behind for a true weekend of relax in a place that has inspired so many writers and poets.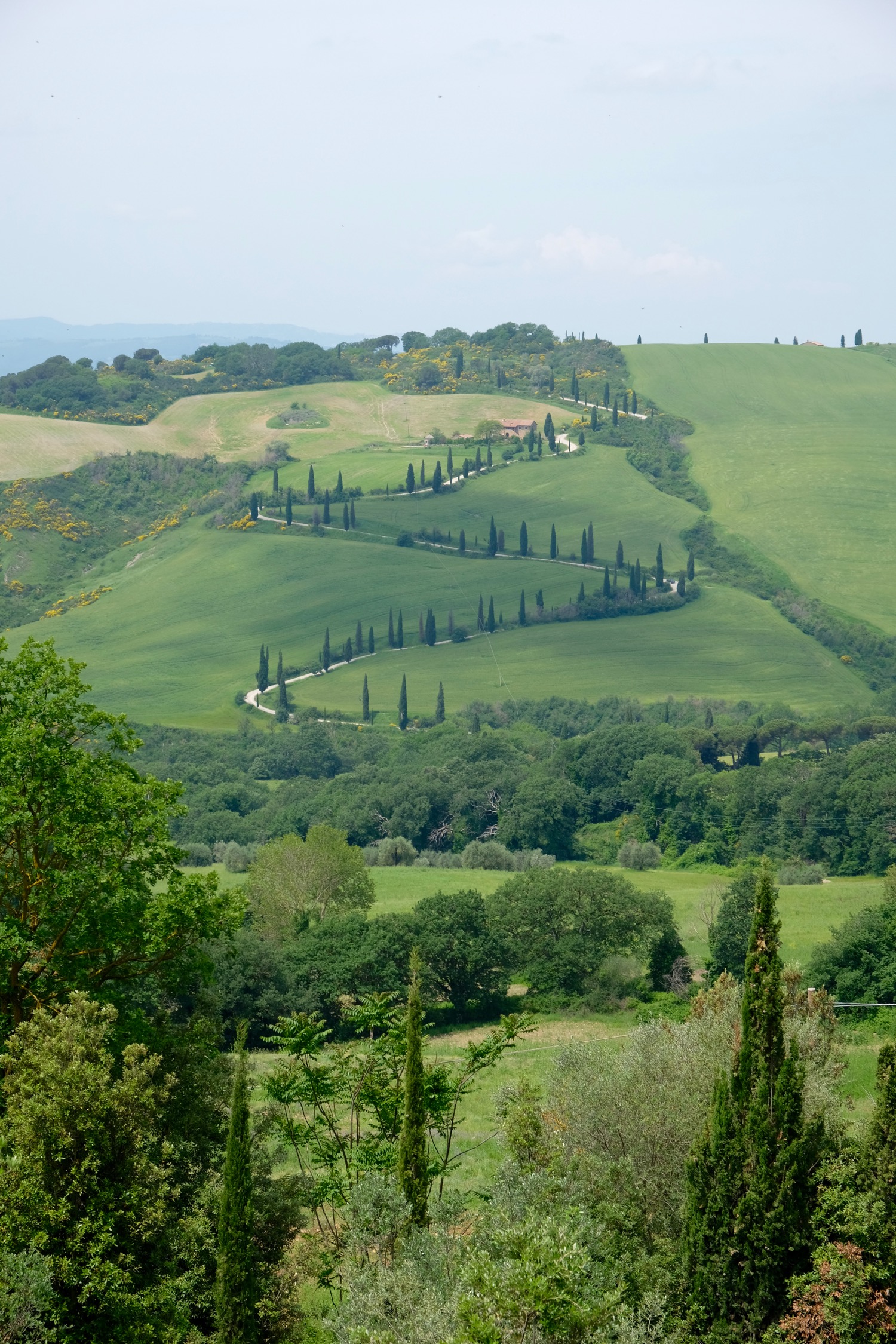 Stay | Follonico 4-Suite – Following A "S
lowsophy"
Montelpulciano was visible from our room at Follonico 4-Suite, a luxury boutique hideaway and a family-owned business that encourages a lovely 'slowsophy' weekend escape in Tuscany, our home for the next two nights. Owners Suzanne & Fabio, their kids and two (adorable) dogs are dedicated to life on the land and want their guests to feel the inspiration for organic living as well as living in the season. This isn't a place where you'll find much to do other than rest, relax, catch up on your reading and plan where to have dinner or explore the next day. In other words — perfection for those craving a break from daily stress. Nico and I were in bad need of something of that sort as every since Spring I have been hitting the ground running with work and new projects, all exciting sure, but all exhausting.
Driving down the small, dusty road to Follonico, my phone barely had a signal which already was a good sign (don't worry they have working WiFi) and I was instantly entranced by Suzanne's charming eye for interior design upon arrival. Years of vintage market browsing on her part resulted in lace wedding dresses, typewriters, antique mirror and mismatched crockery hung in various corners of the property next to mod cons like a "use-at-your-will" espresso machine and organic local wines in the honesty bar. Outside the entire farmhouse seemed to be in full bloom. This year's wet start and late arrival of summer's scorching heat meant beautiful roses continued to snake their way along stone walls, rosemary, sage and lavender swayed calmly in the breeze, additionally there is a Wisteria-laden pergola, a small pond, and green as far as the eye can see. 
Follonico's four suites have whimsical Italian names like "blu notte" "alba chiara" "rosso tramonto" "verde intenso" hinting at what you can expect in its breathtaking natural environment, also available are two gardens rooms, one with a jacuzzi hot tub. Each is unique, and all offer sweeping views of the surrounding countryside. Once inside, we found a lovely space that could be best described as country-chic and minimalist. Suzanne's intense passion for quality and working with Italian brands results in guests using luscious Bugatti-Made towels and sheets. The excellent, ethically-minded organic bath products from Bioofficina Toscana (I was so very grateful for the conditioner) were a luxurious added bonus from Rapolano Terme. A deliciously healthy and simple breakfast is served on top of beautiful ceramics by Ruggiero Gesu.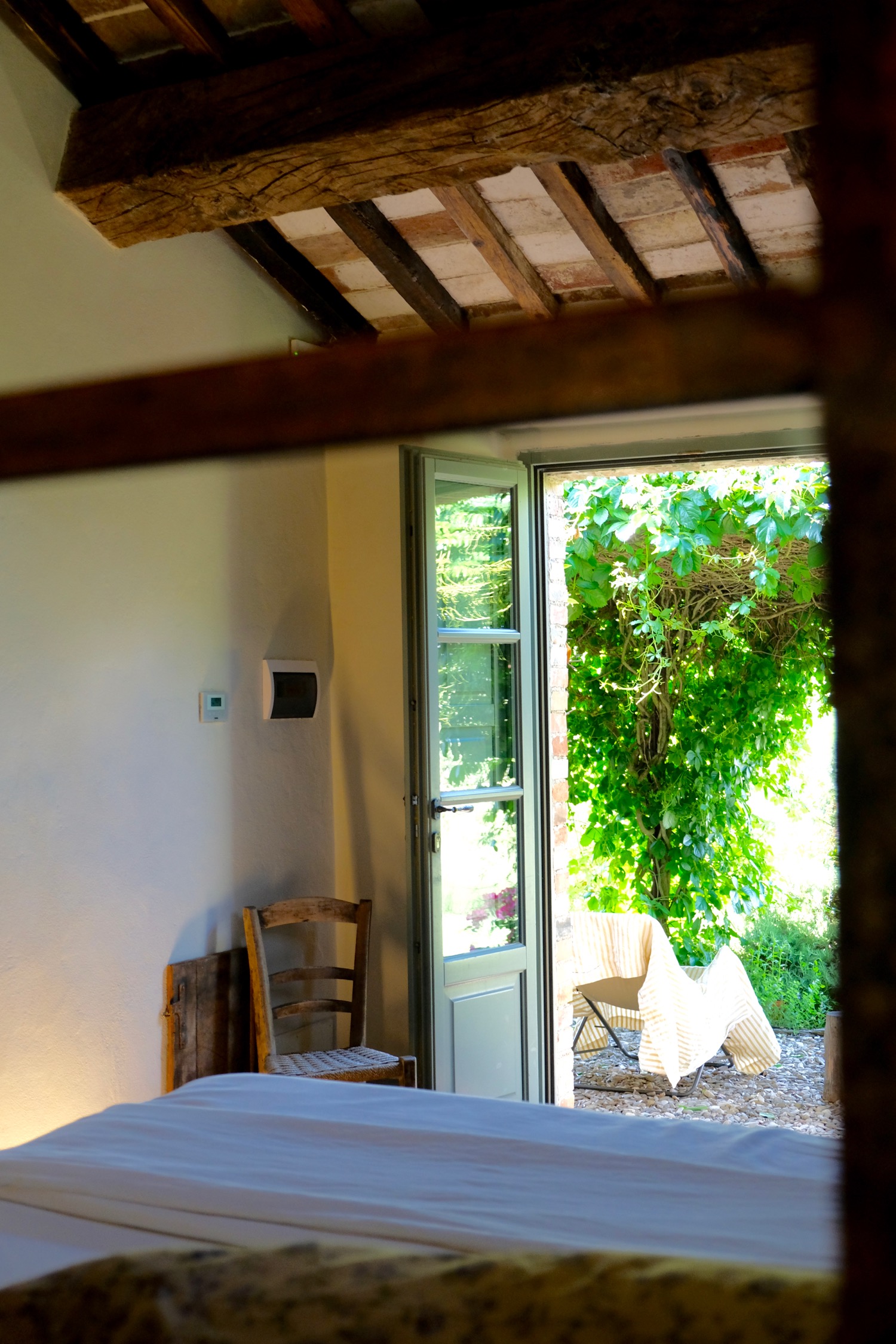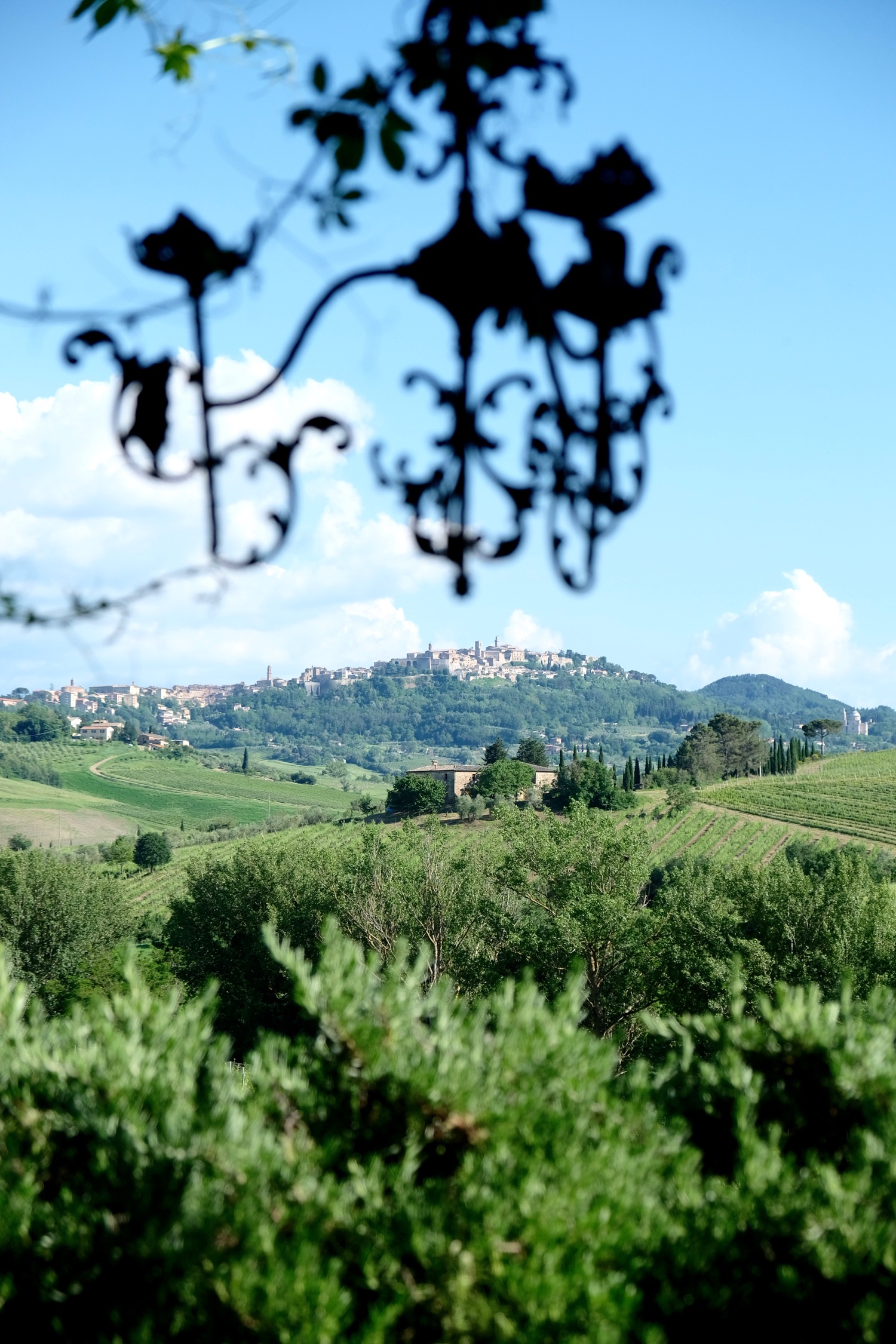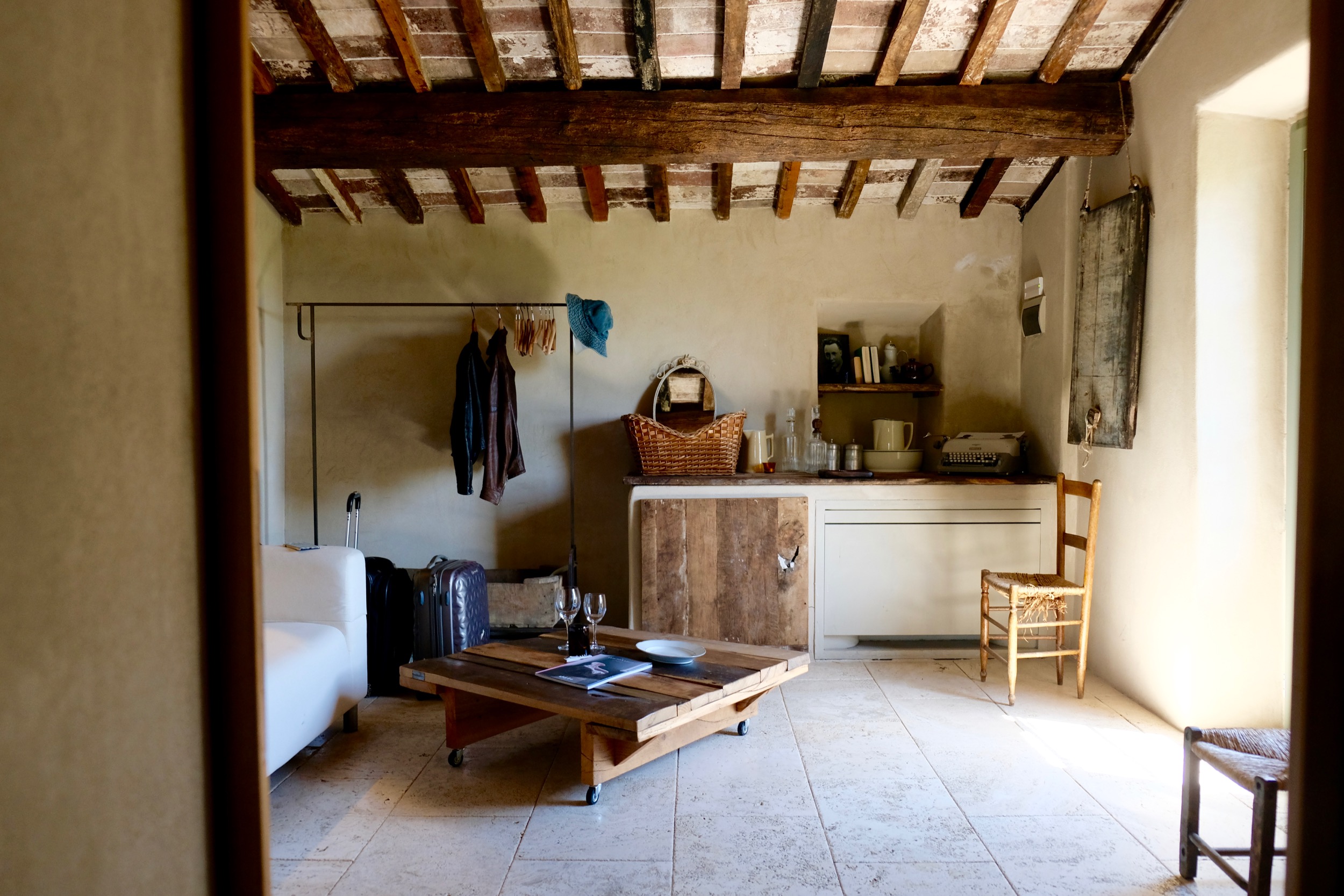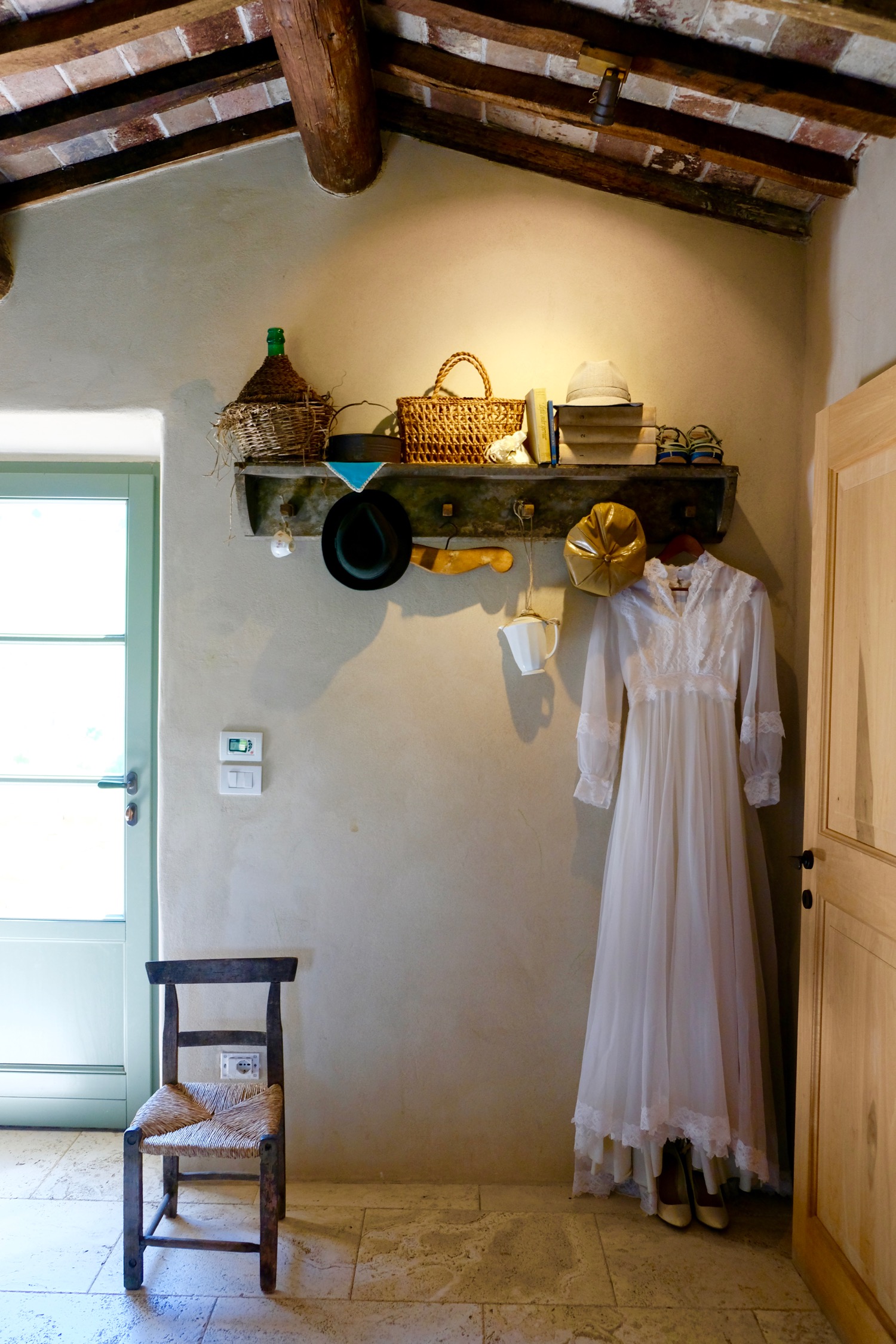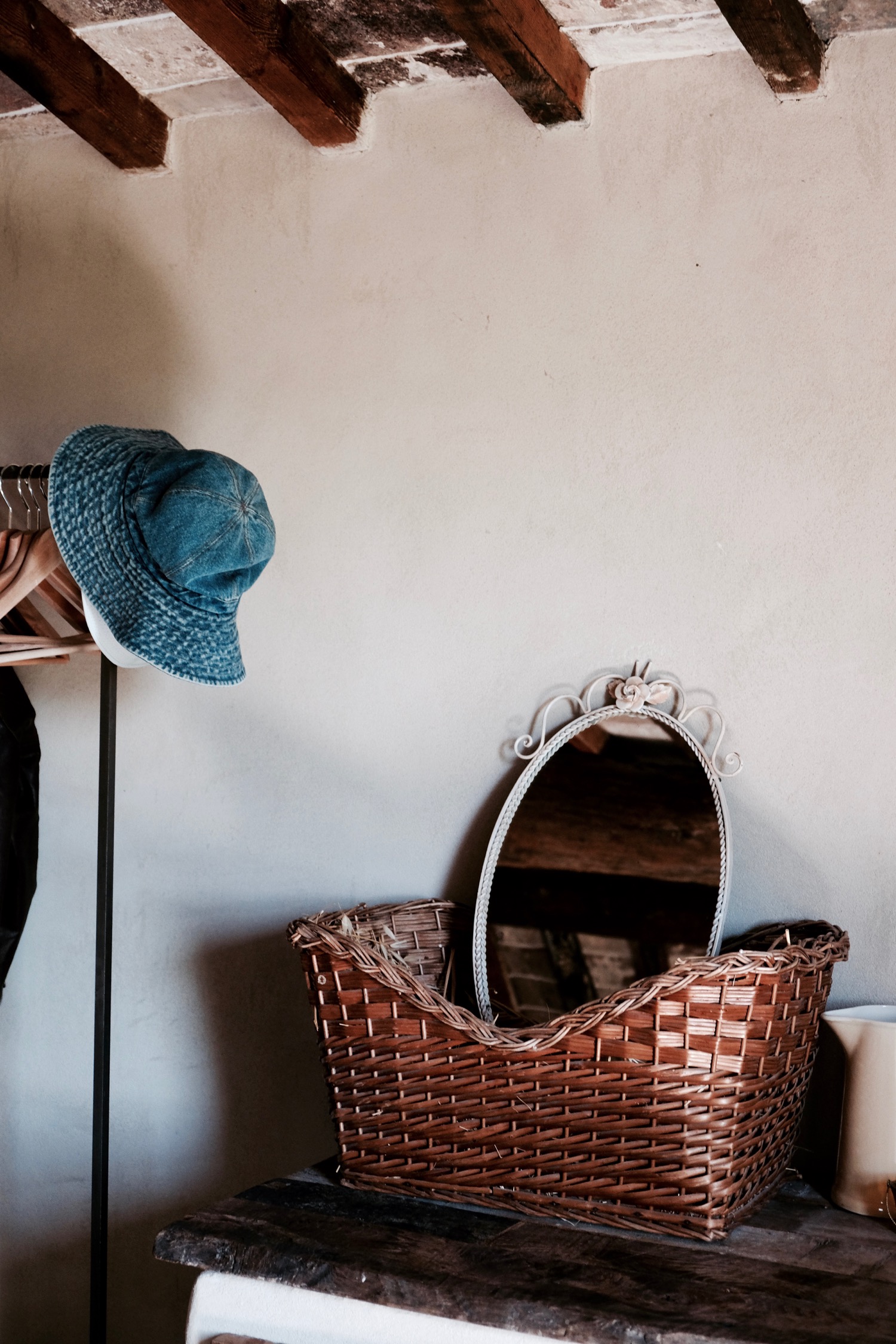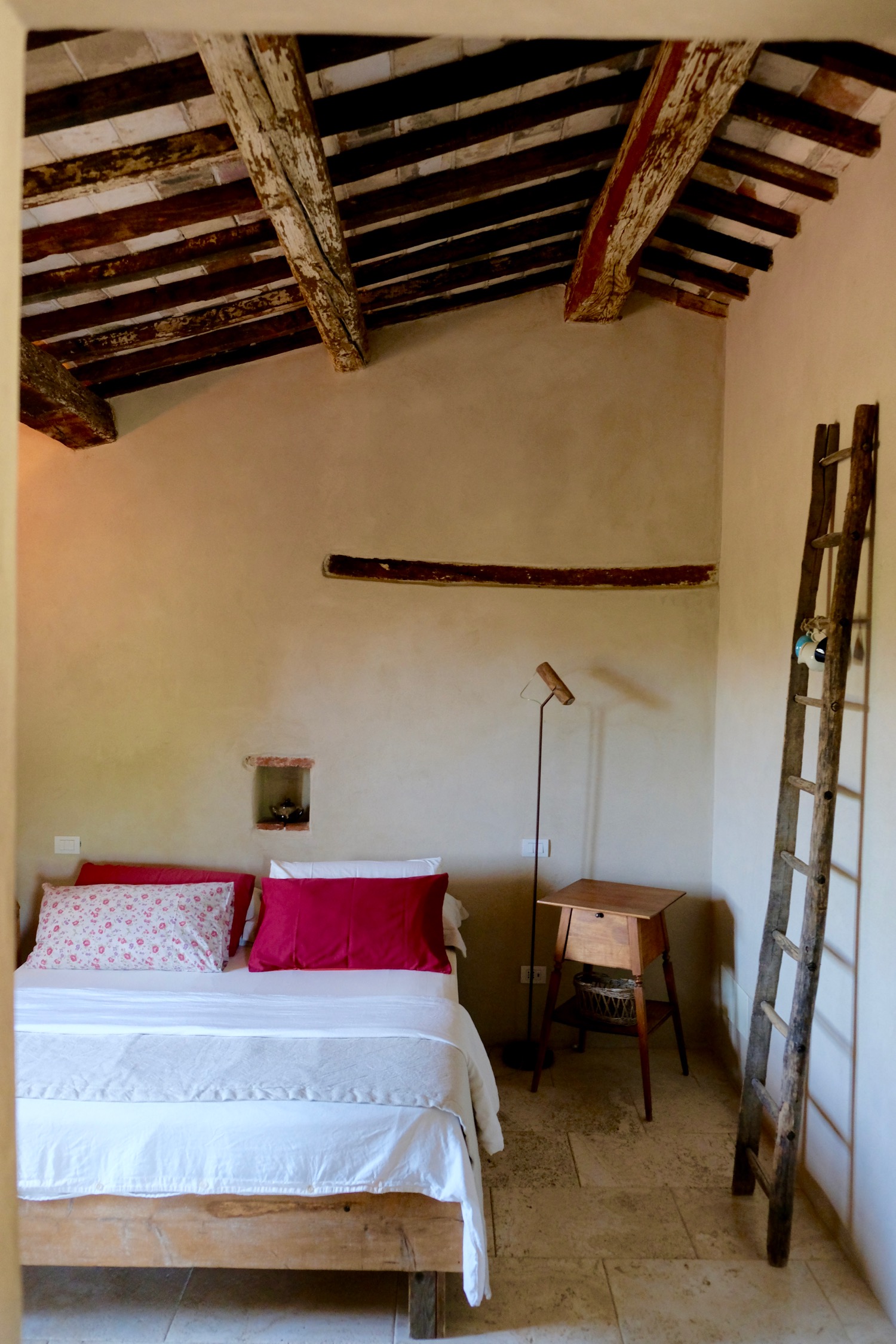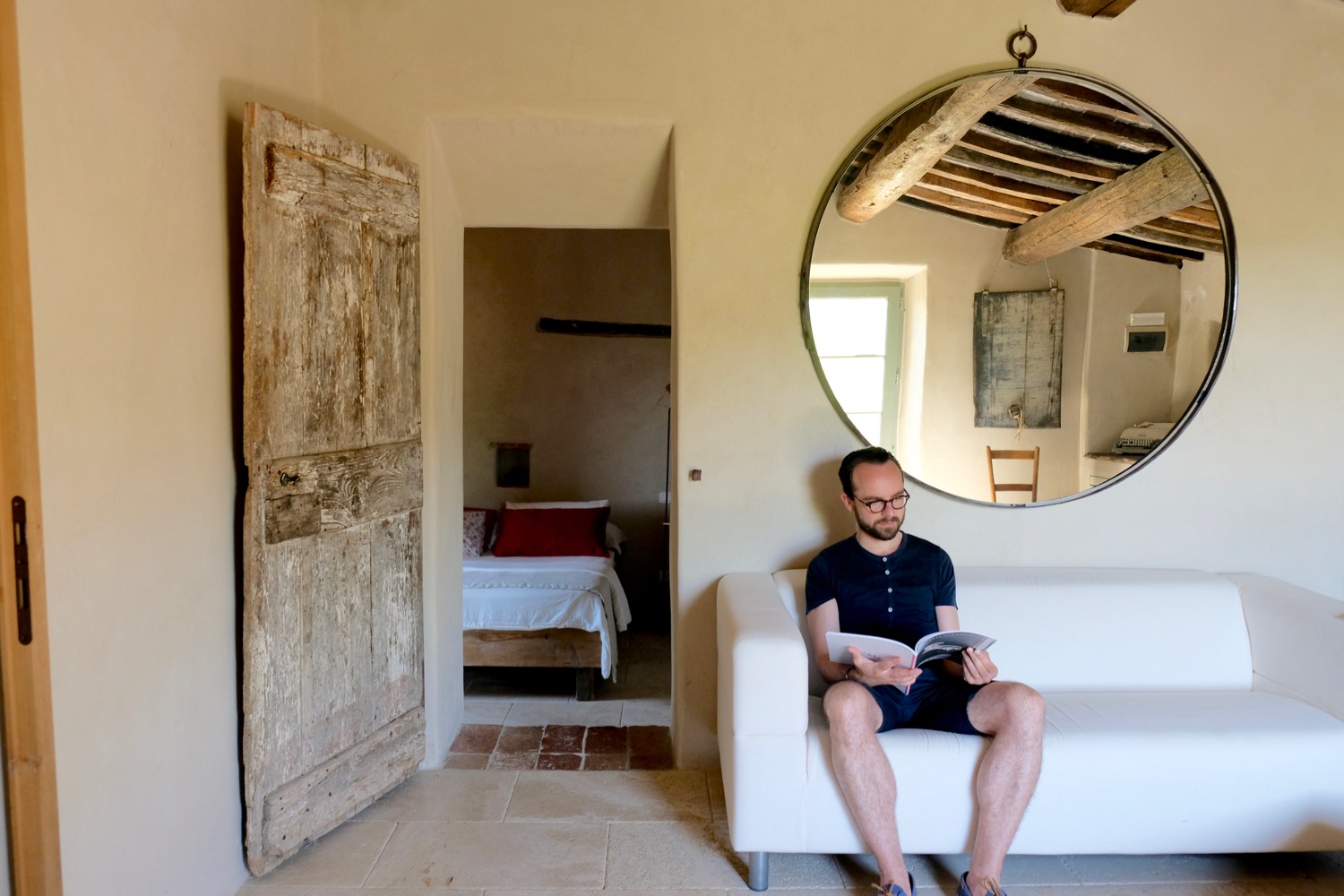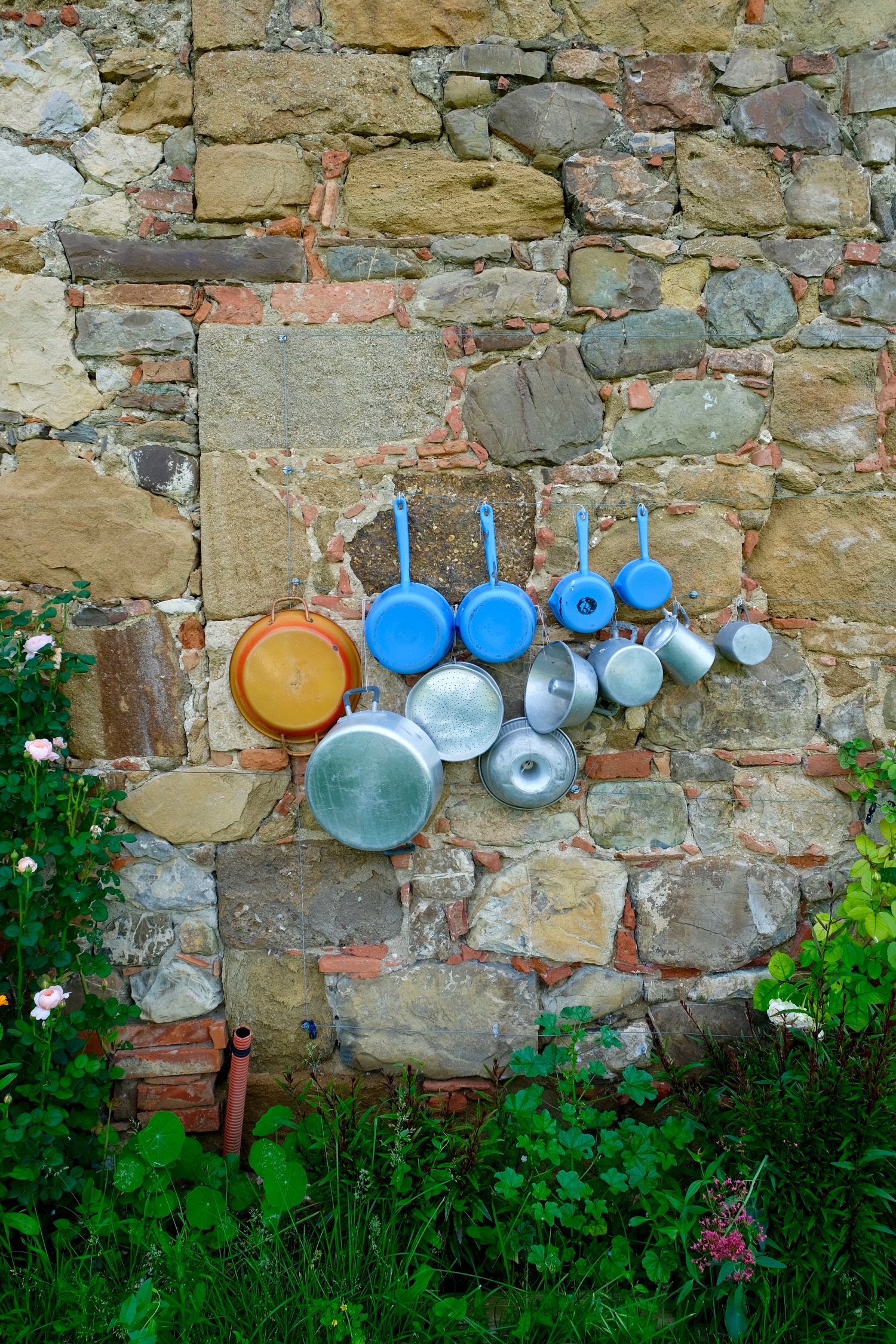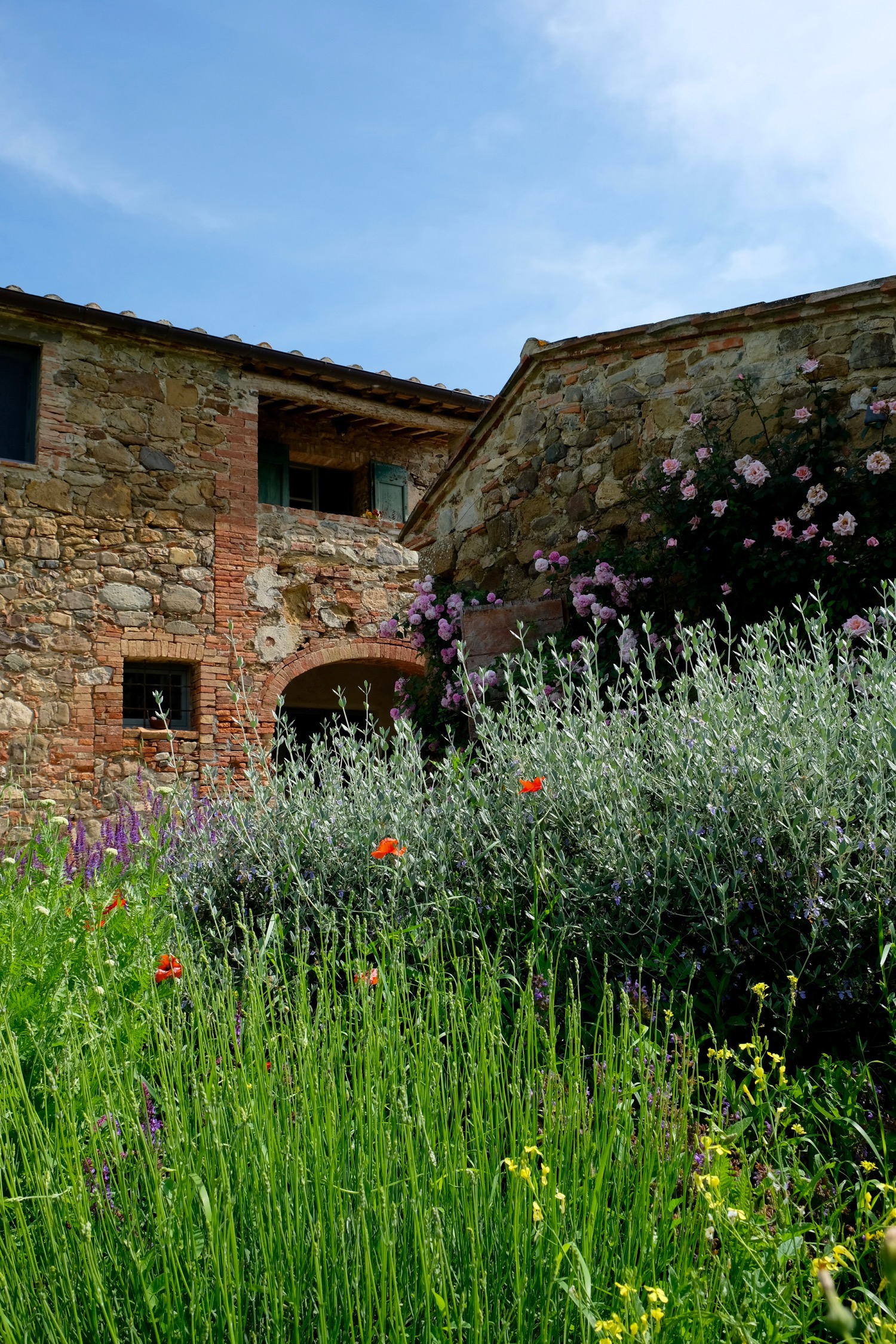 See | Montepulciano, Pienza, Chianciano Terme, La Foce Gardens
There is plenty to do in this area of Tuscany that my advice is to choose a few places without overpacking your itinerary. It's not really feasible to visit all Bagno Vignoni, Siena, Montalcino, Montepulciano and Pienza in one short weekend. Since I've been to most of these places already we focused on staying nearby, namely Montepulciano and Pienza with a side trip to Chianciano Terme for a dip in the thermal pools.
Montepulciano is perched prettily upon a high tufa ridge with a well-preserved historical center that makes you feel a bit like you've entered another world as soon as you cross through Porta al Prato. Montepulciano has Etruscan and Roman roots and according to legend it was founded by king Porsena, and was long fought over by the cities of Florence and Siena. Ruled by nobles families for centuries, it blossomed during the 16th century under Medici rule. Don't miss the Church of Sant'Agostino — designed by Michelozzo, the  Cathedral of Santa Maria Assunta and outside the city walls, the Church of San Biagio. 
The valleys below (Val di Chiana and Val d'Orcia) responsible for producing bottles of Vino Nobile di Montepulciano I love slowly strolling the Corso to Piazza Grande, an easy (uphill) walk to the gorgeous main square, the almost sober looking Duomo and its Renaissance palazzos. The day we were there coincided with an antique car show, so imagine my delight and seeing vintage convertibles (and the people matched) parked one by one on the ancient cobblestones. It almost felt too good to be true. After our lazy walk around town, we settled in the historic Caffè Poliziano, a wood-paneled bar with a view that will excite even the most jaded traveler. It's the perfect place for a before-dinner drinks or simply a rest on that uphill walk I mentioned before.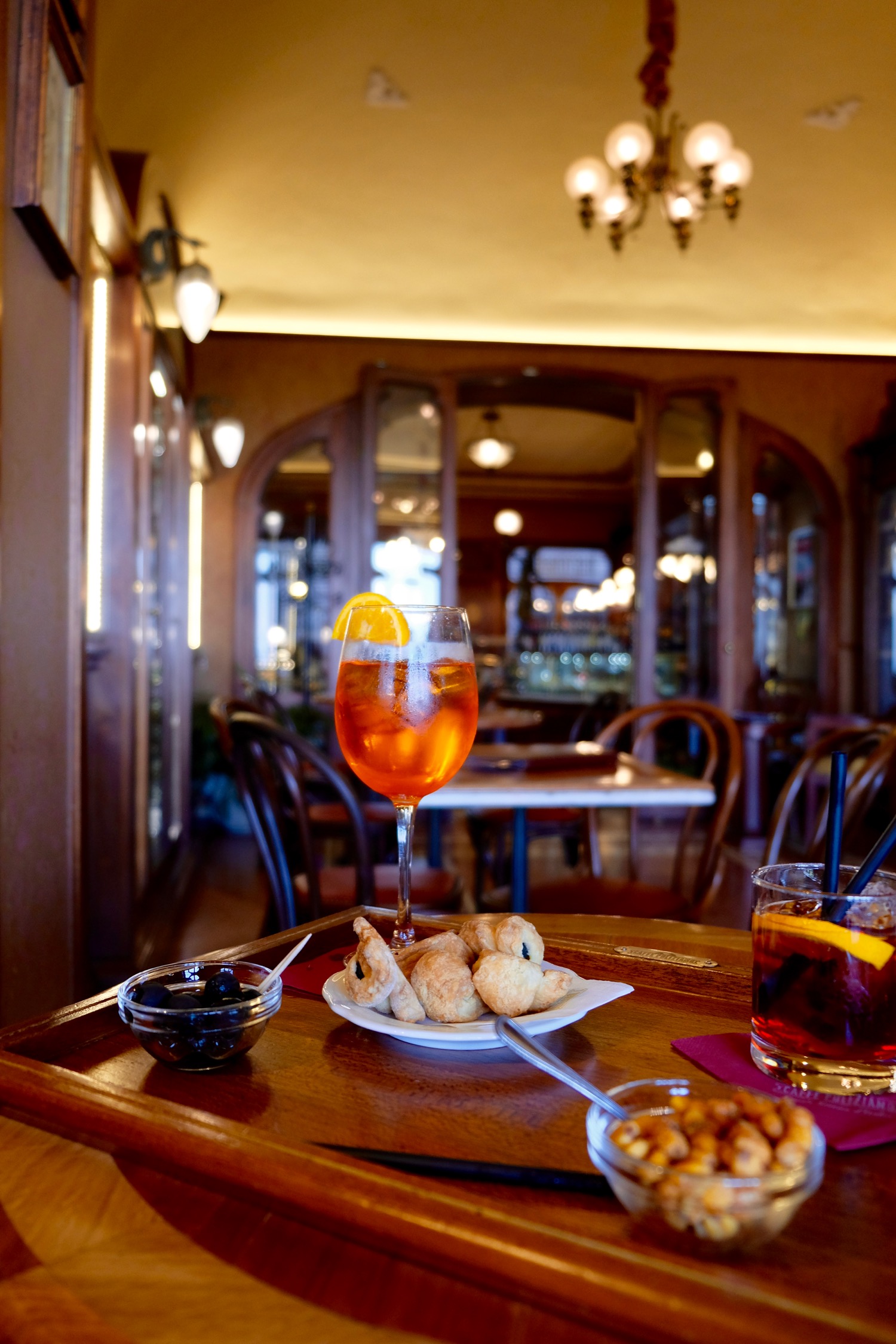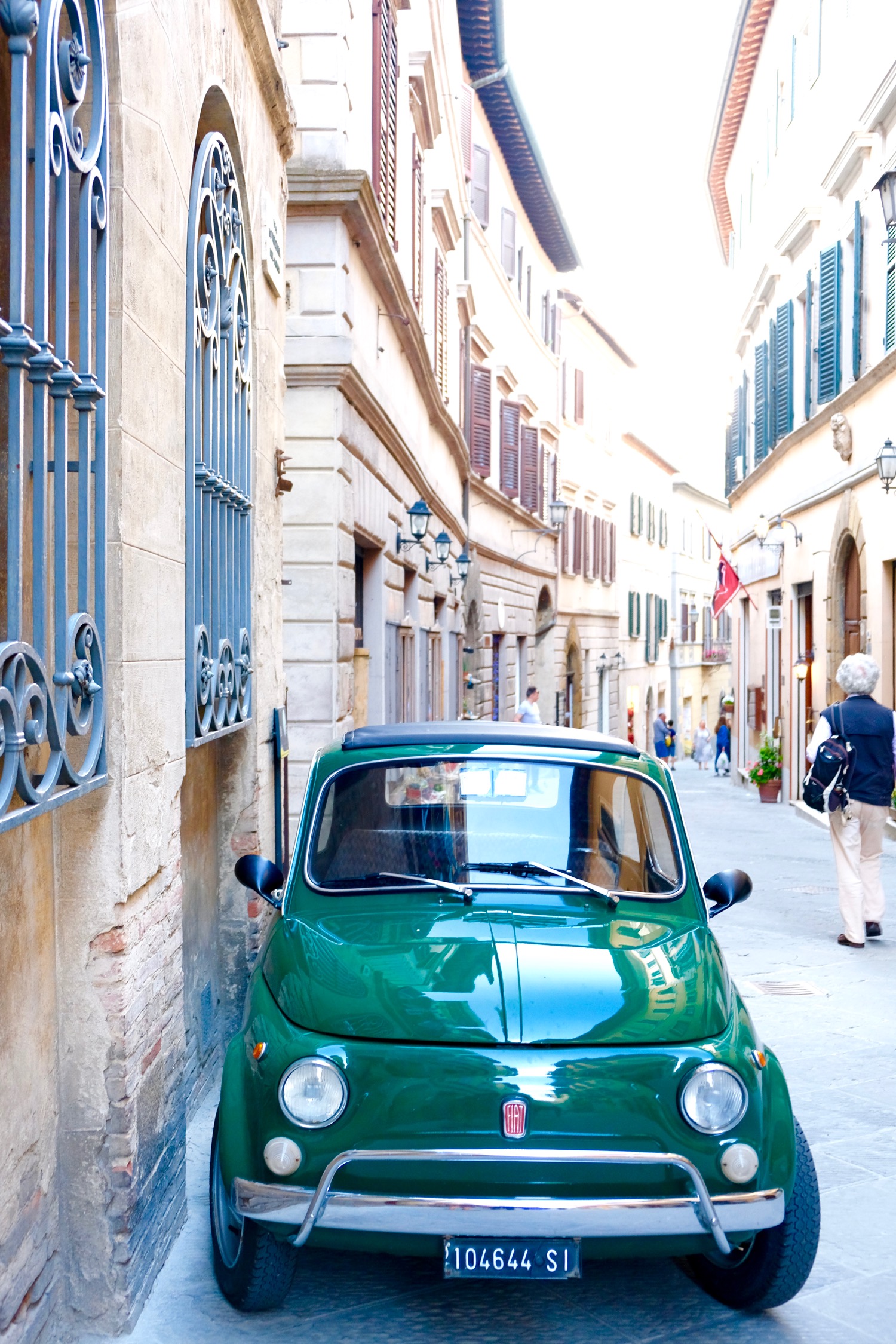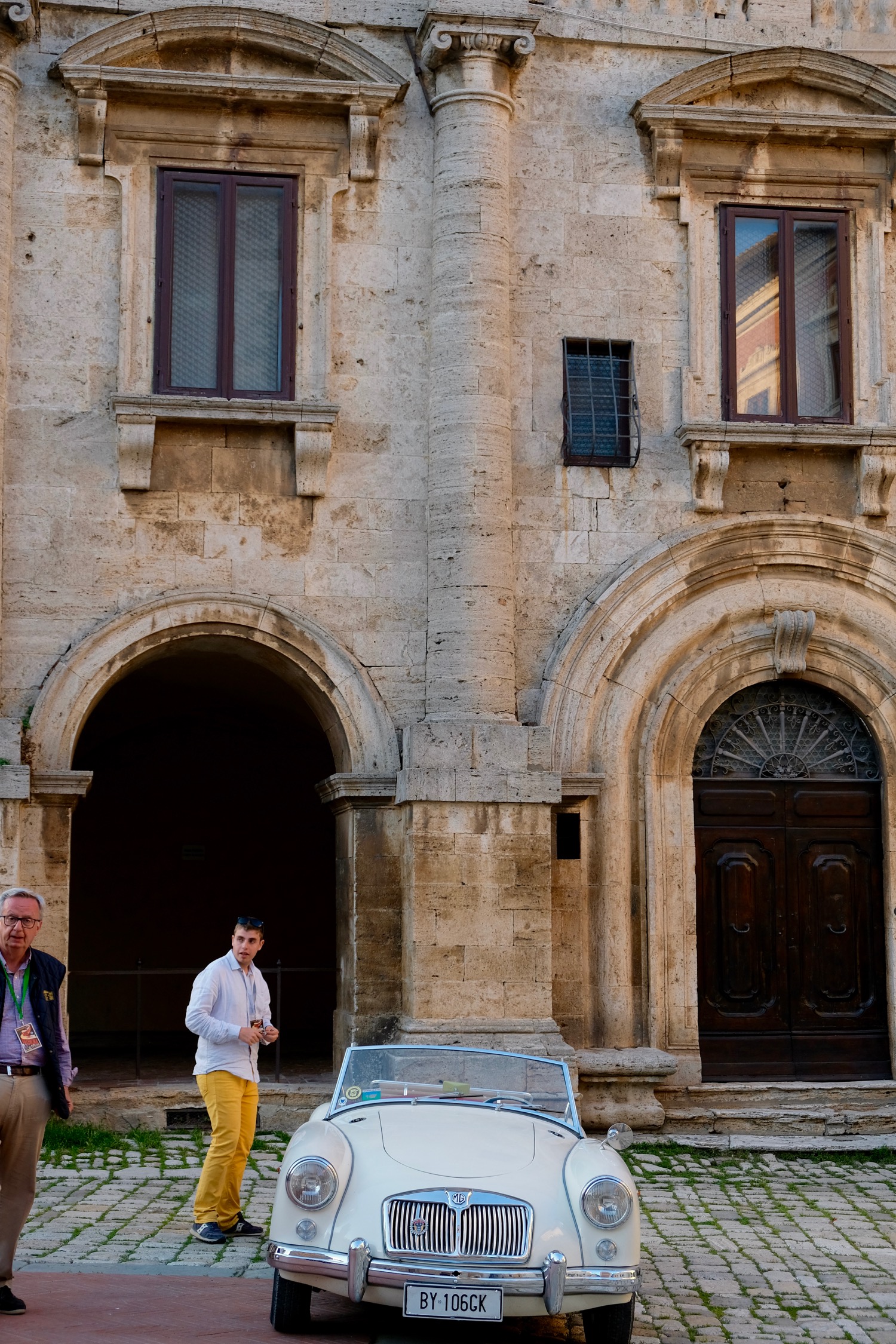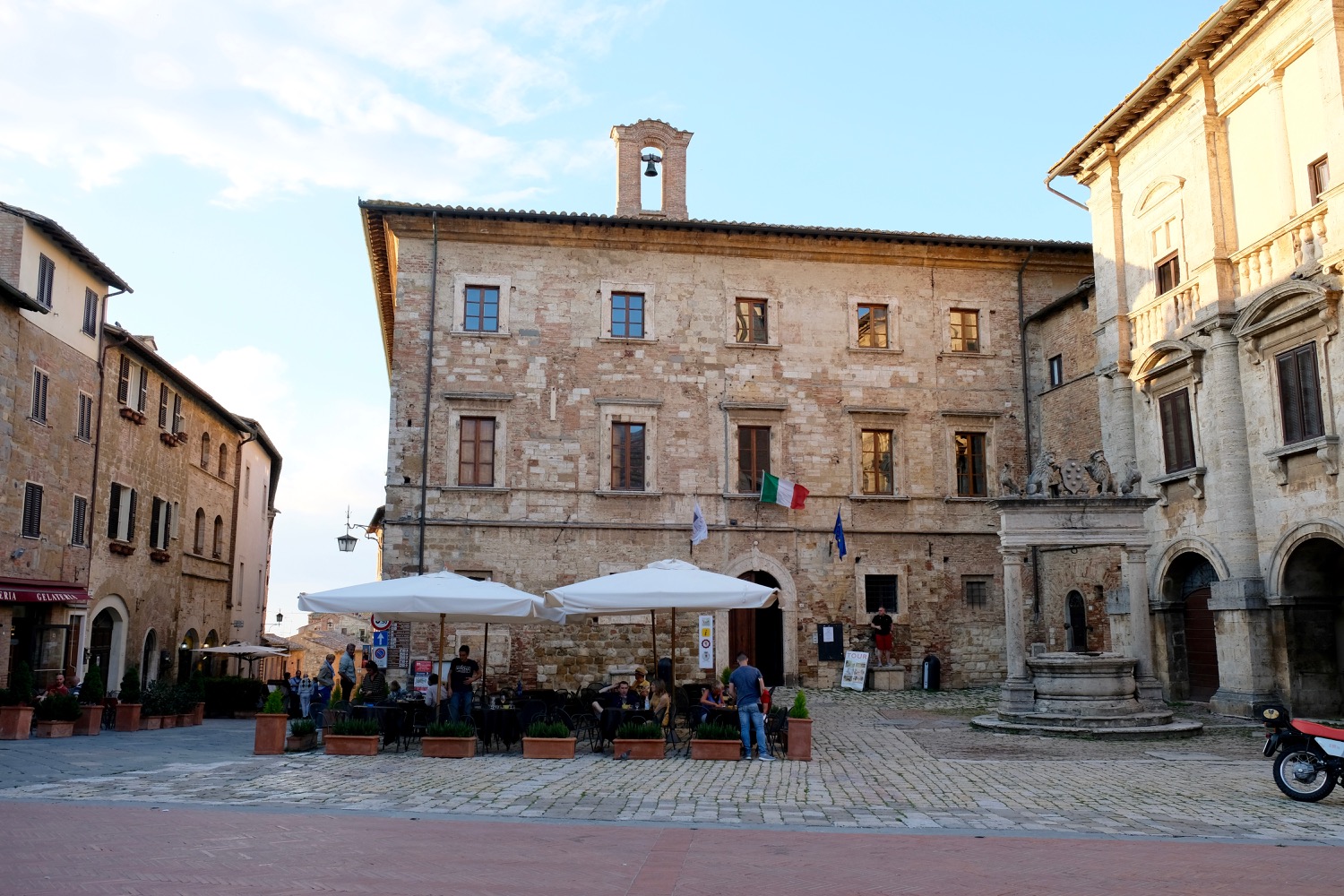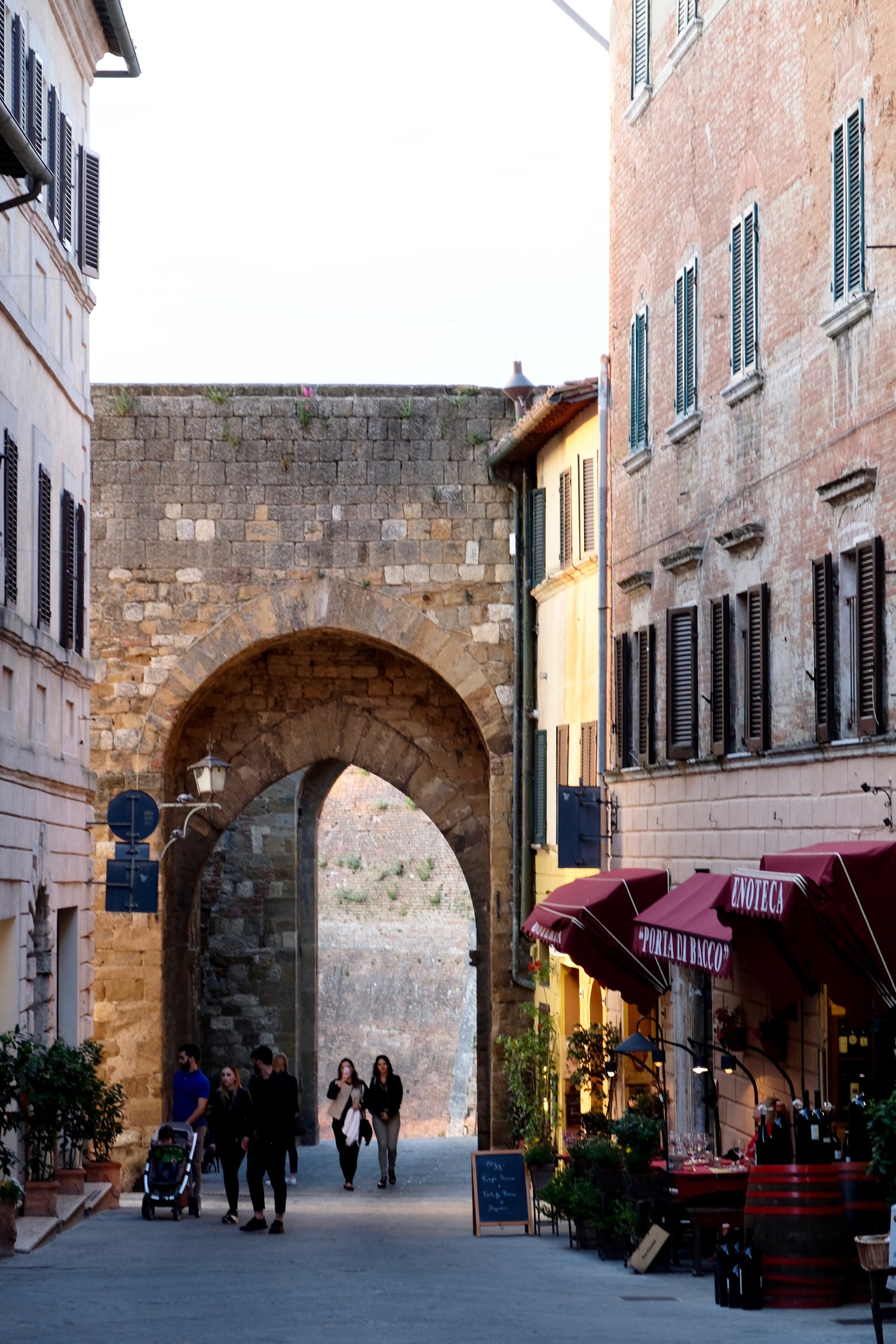 We made it to Pienza this trip, a place I haven't stepped foot in years, its name deserved from a 15th century pope, Pope Pius II, meaning "the city of Pius." He sought to turn his hometown into a Renaissance dream with the help of architect Bernardo Rossellino.  Construction upon the ancient hamlet begun around 1459 and in 1996 UNESCO awarded Pienza's historical center a World Heritage Site. Examples of its superb Renaissance architecture include the Cattedrale dell'Assunta, Palazzo Piccolomini, Palazzo Borgi, Palazzo Gonzaga and Palazzo del Cardinale Atrebatense. 
The Saturday we were there was sun-drenched but far from being uncomfortably warm (why it pays to visit before June) but as it is a popular town we certainly weren't alone. People were milling about, grabbing coffee, taking photos under the romantic signs of Via dell'Amore and sampling some of its award-winning pecorino (sheep) cheese.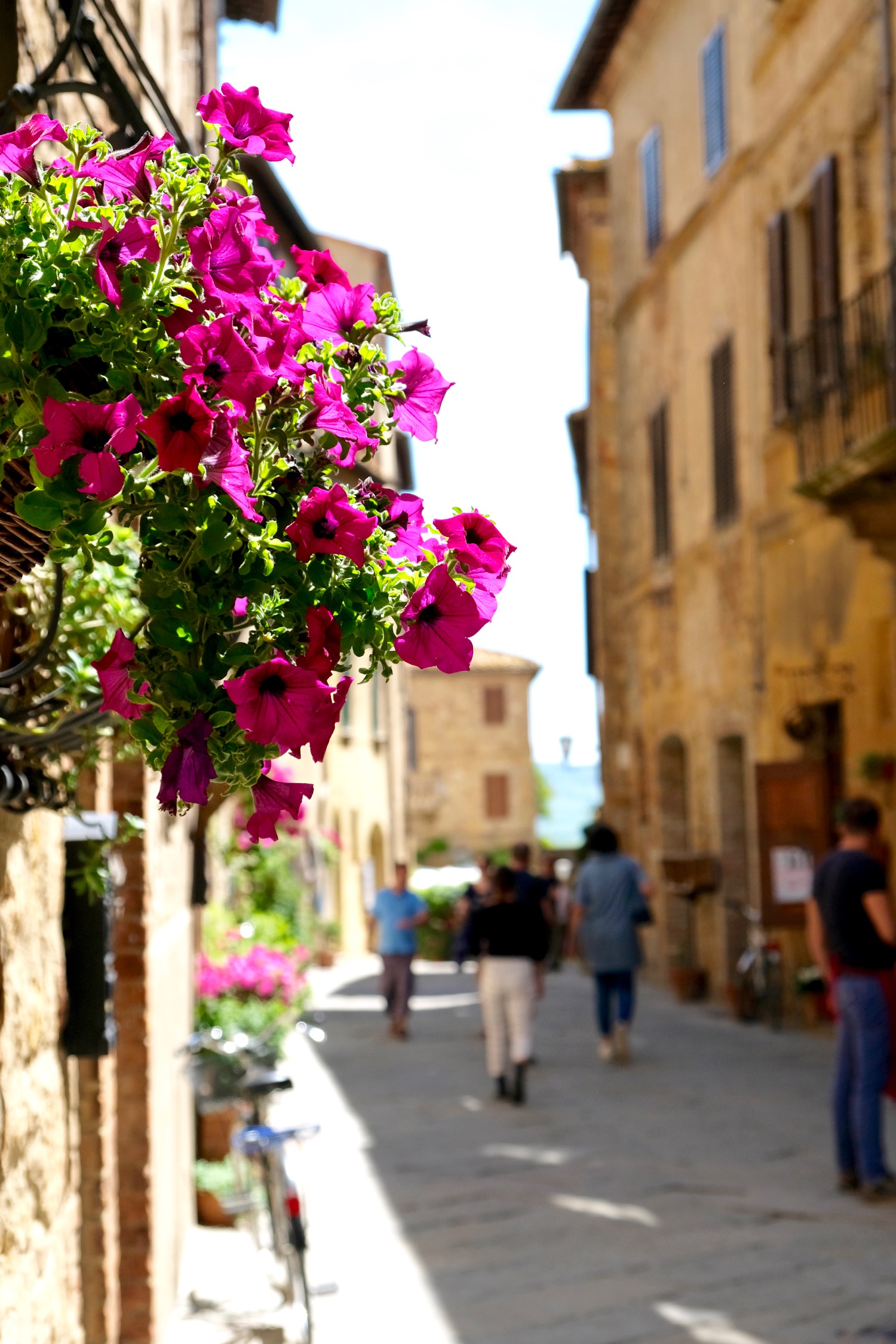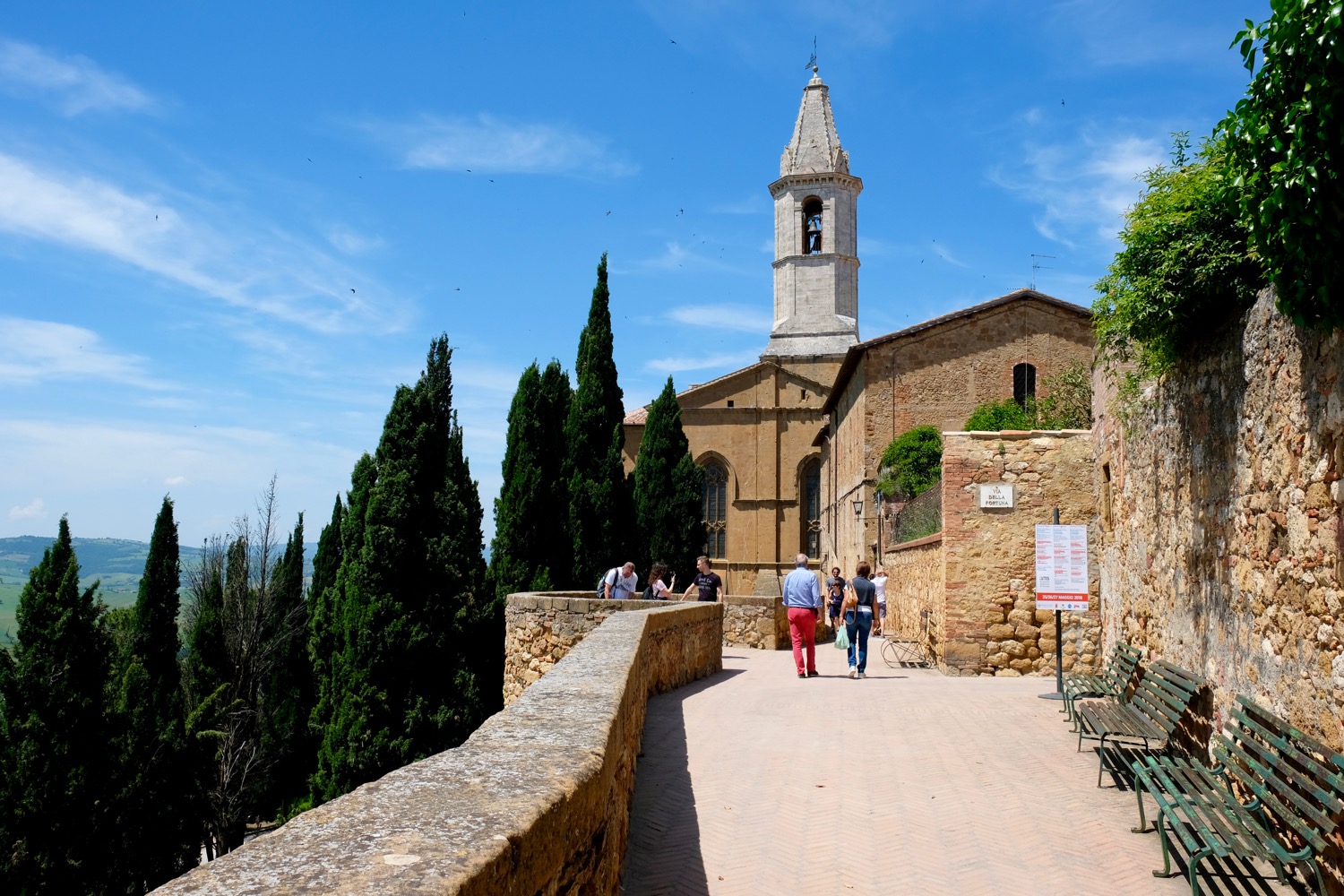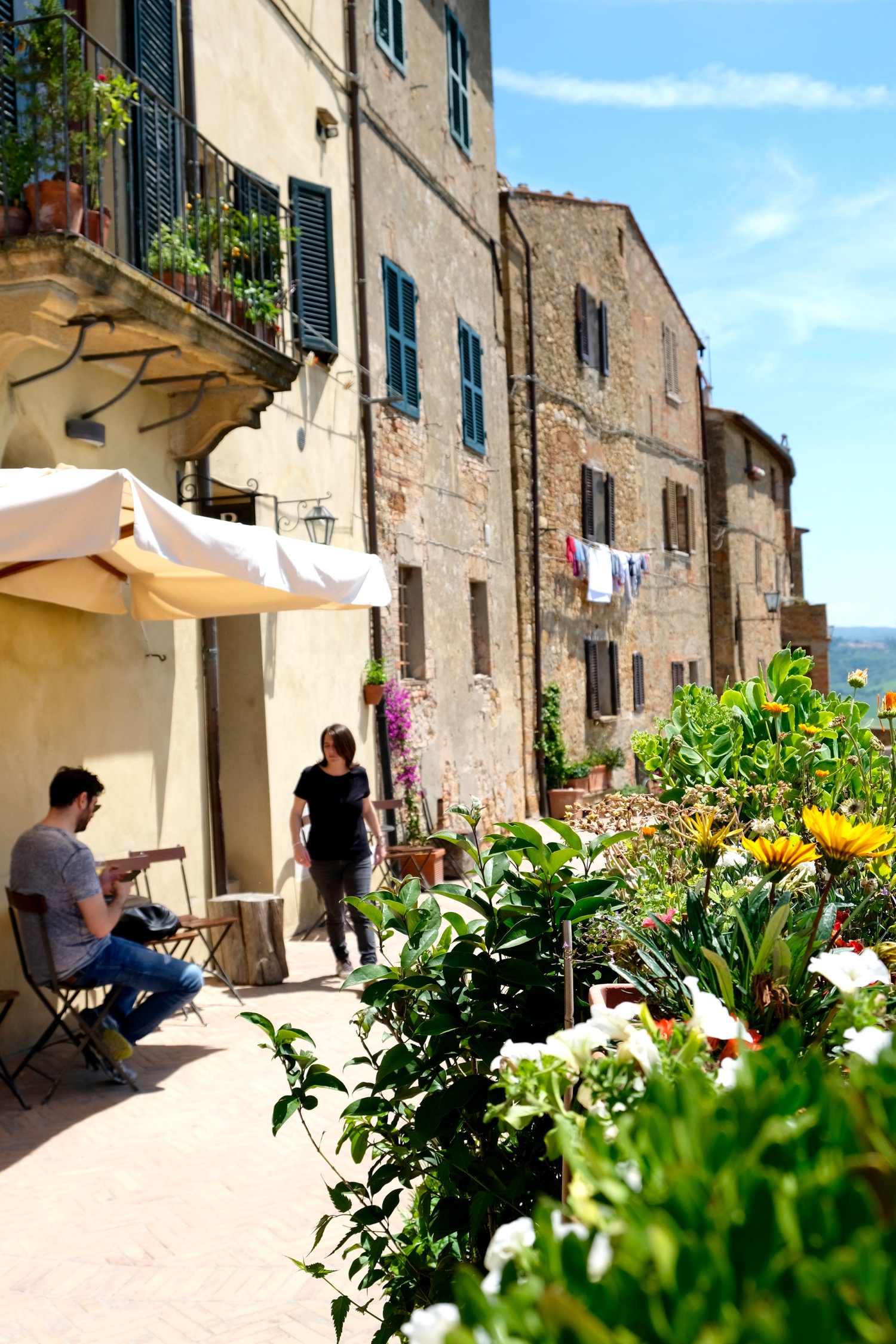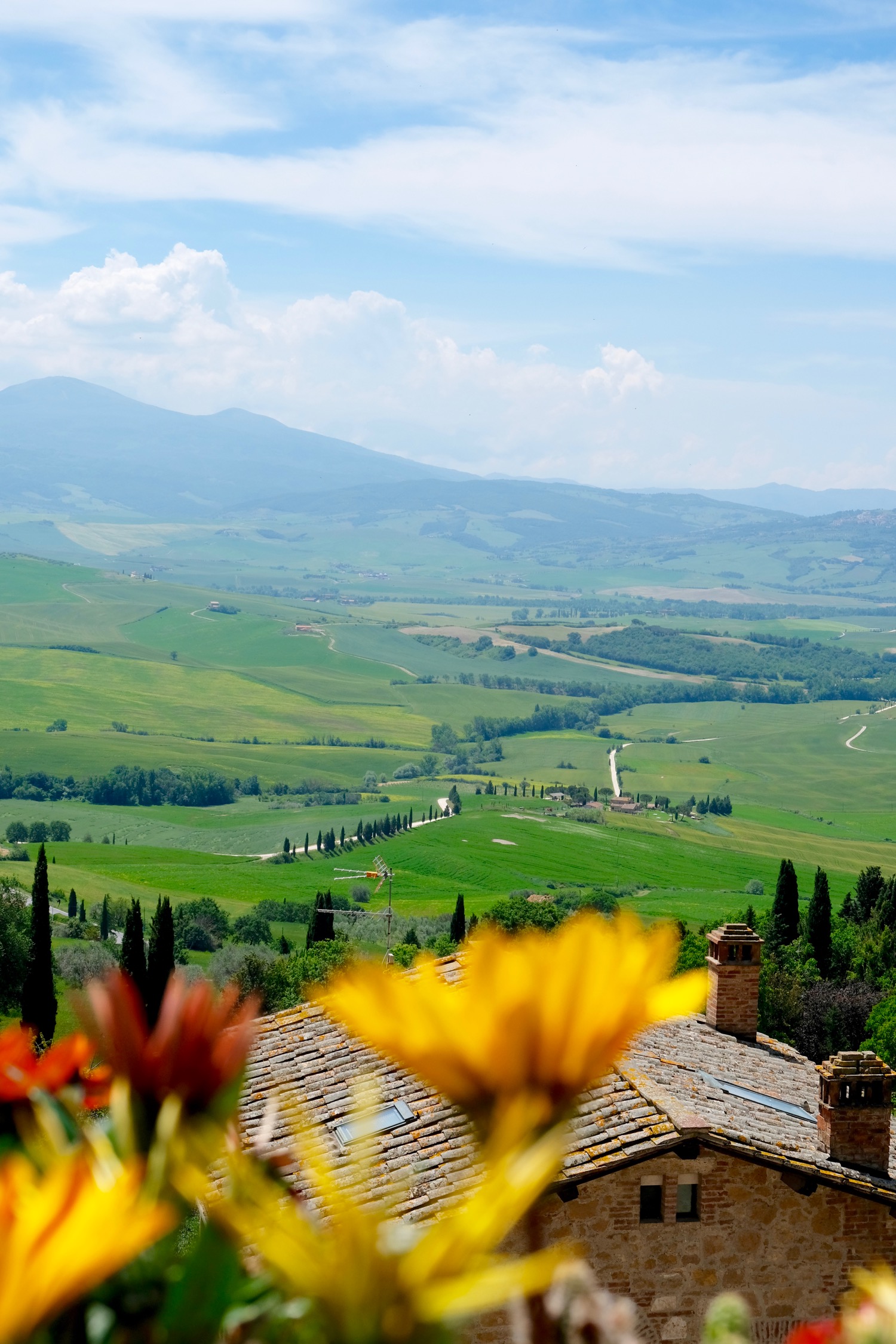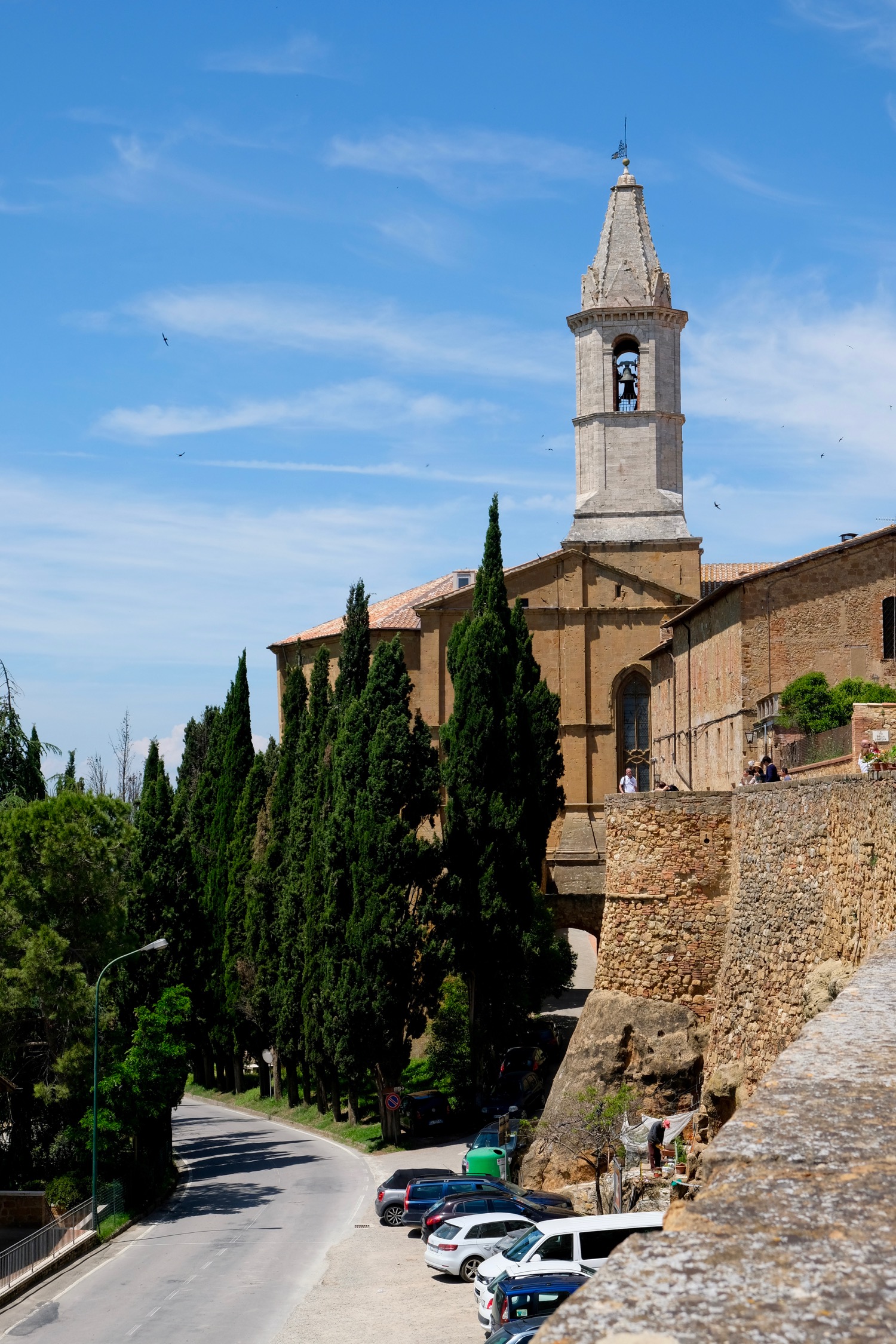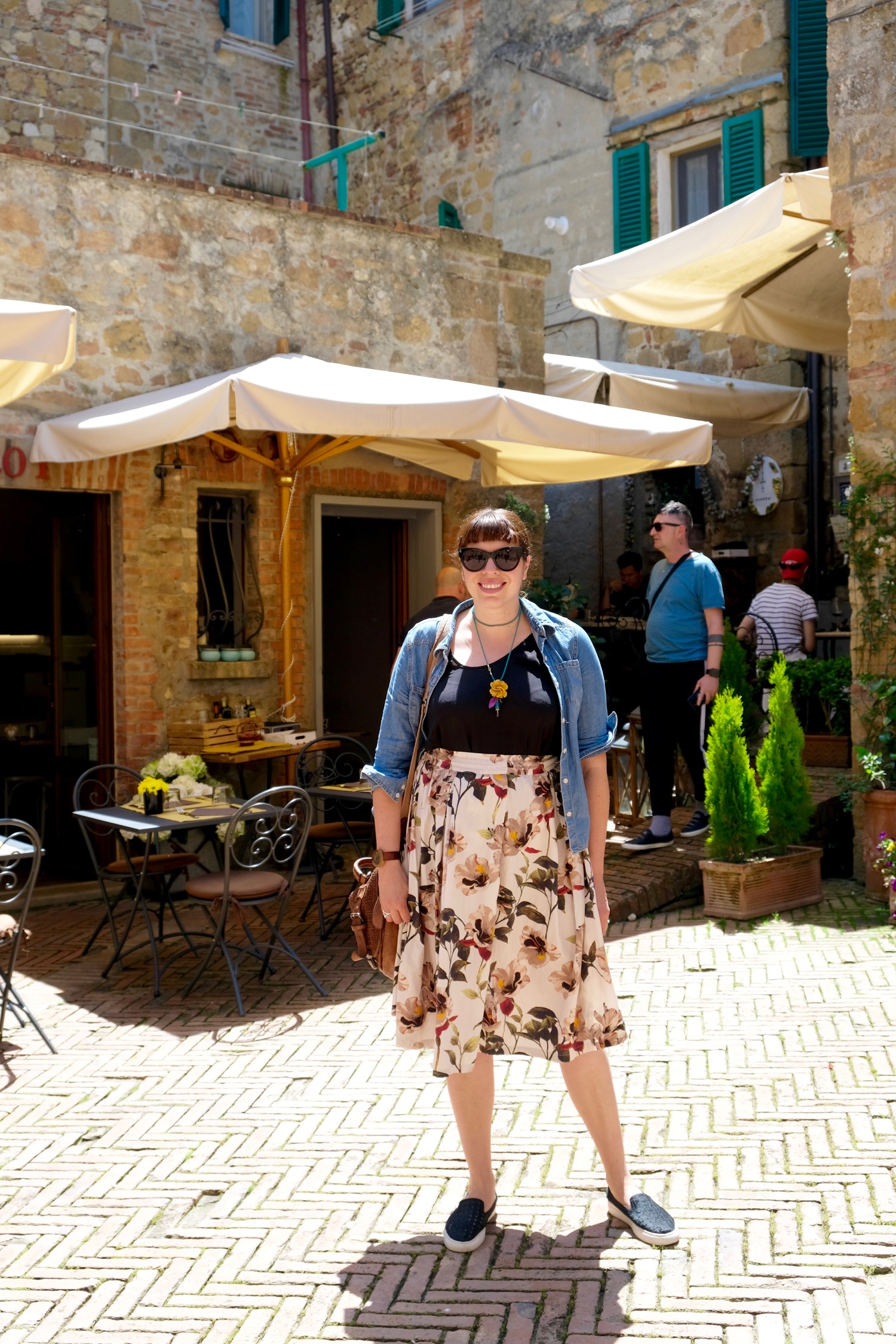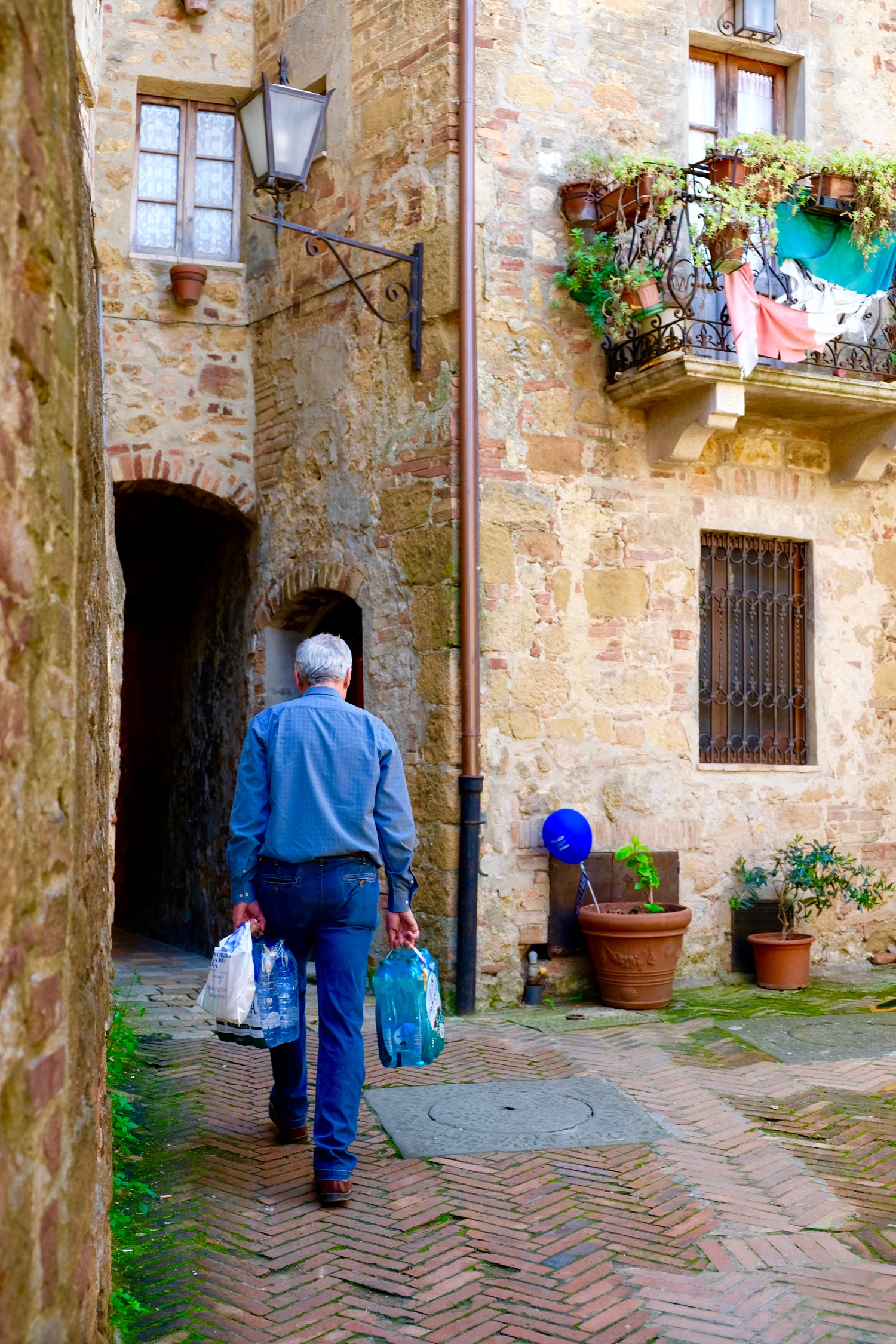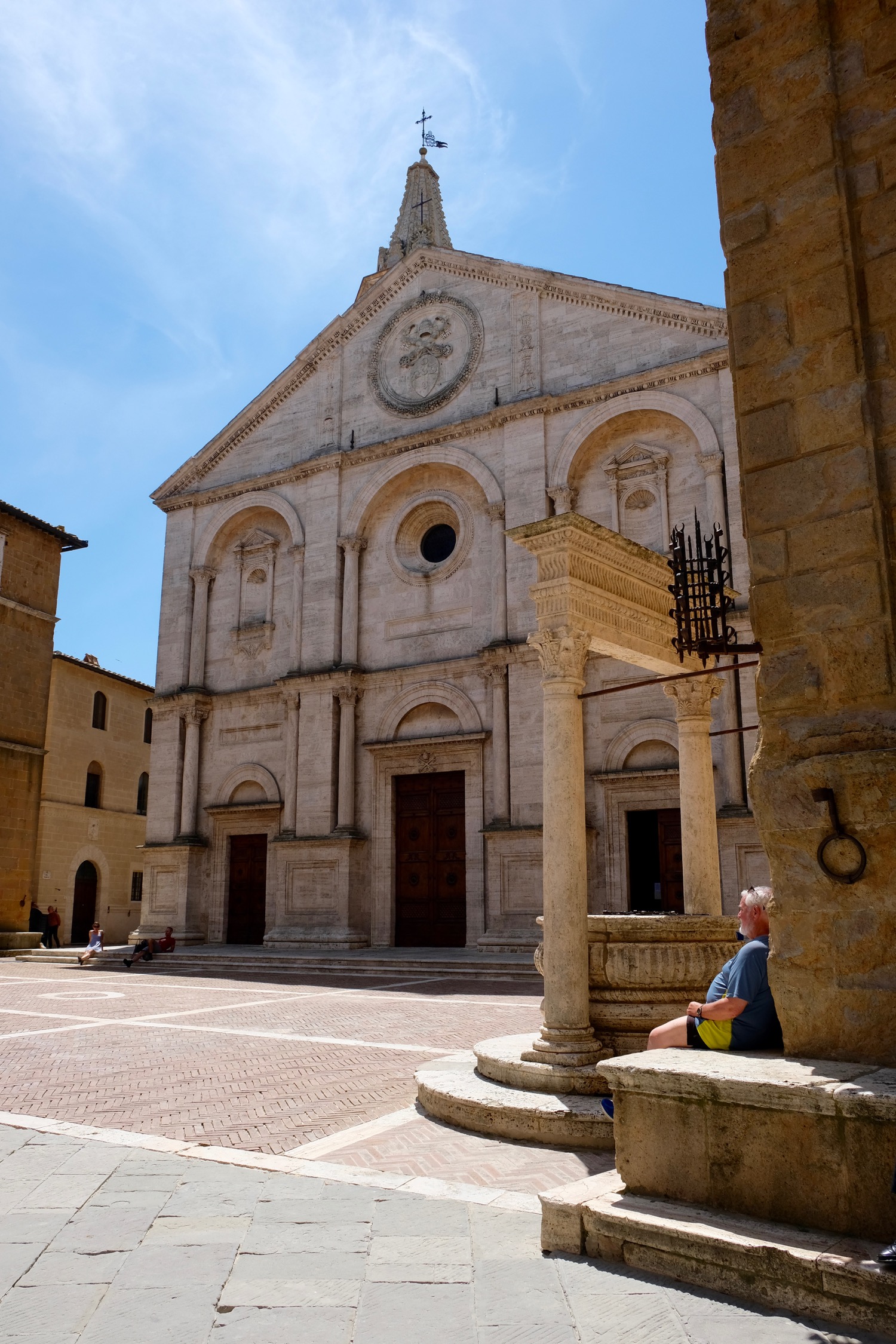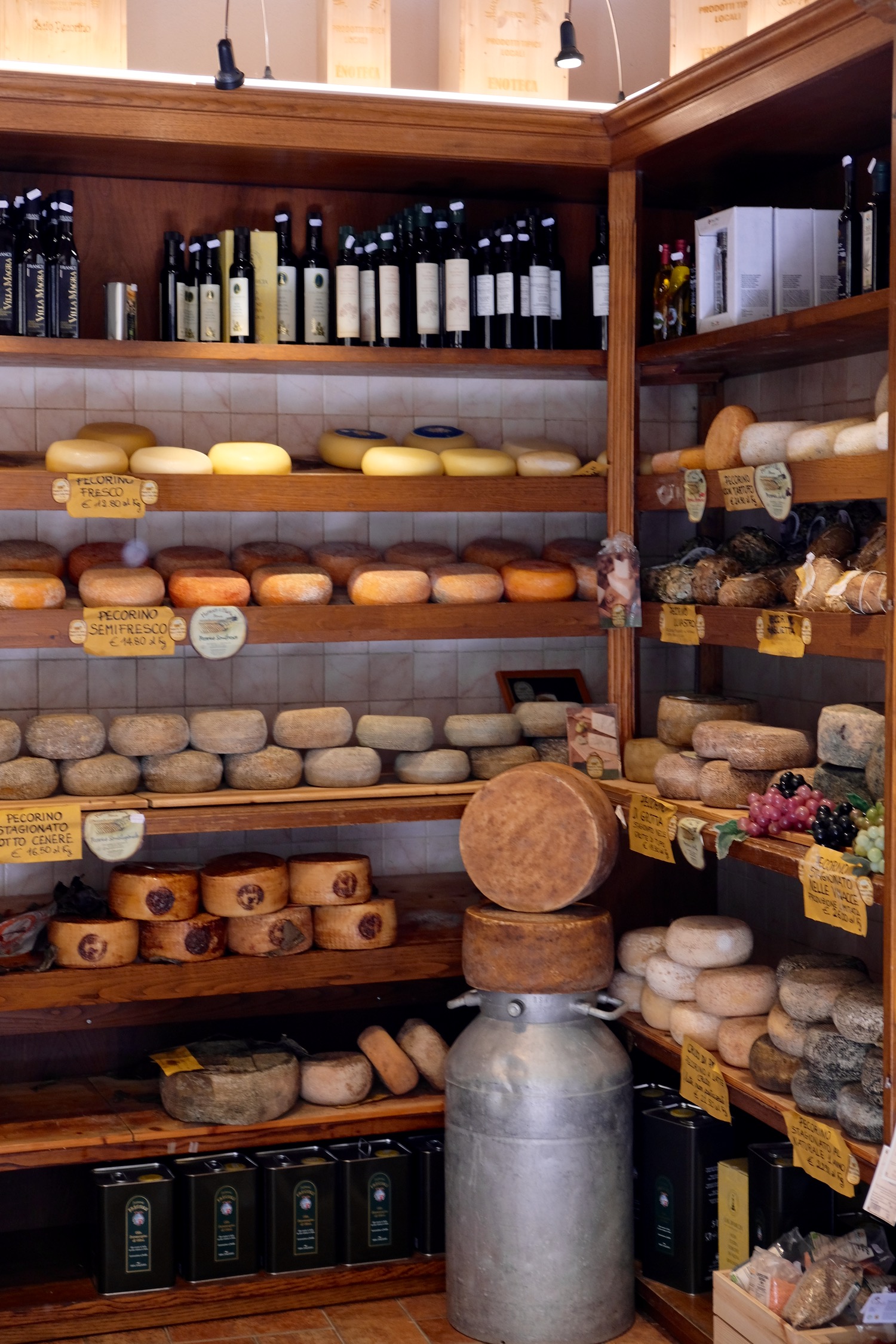 Another fun stop was in the thermal baths of Chianciano Terme close to the small town in the rolling coutryside of south-east Tuscany. We opted to wade in the pools of Piscine Termali Theia (Theia, "she who shines far", was the mother of Selene in Etruscan mythology), outdoor and indoor pools filled with the water from the nearby Sillene spring located in Via della Foresta, behind the Sillene structure. Thermal waters are considered a health benefit in Italy and the water here is enriched with minerals offering anti-inflammatory benefits among other therapeutic properties.
To visit, you can pay for a day pass (prices vary from 19 Euros for 4 hours plus family passes) which gains you access to this pools, lounge chairs, and various hydromassage jets throughout. The downer is that you have to wear a swim cap and it can get crowded but I honestly had a great time bobbing in the water among our beautifully green surroundings. There are of course facilities to take showers, buy food and whatnot and I spotted plenty of people in the garden picnicking as well.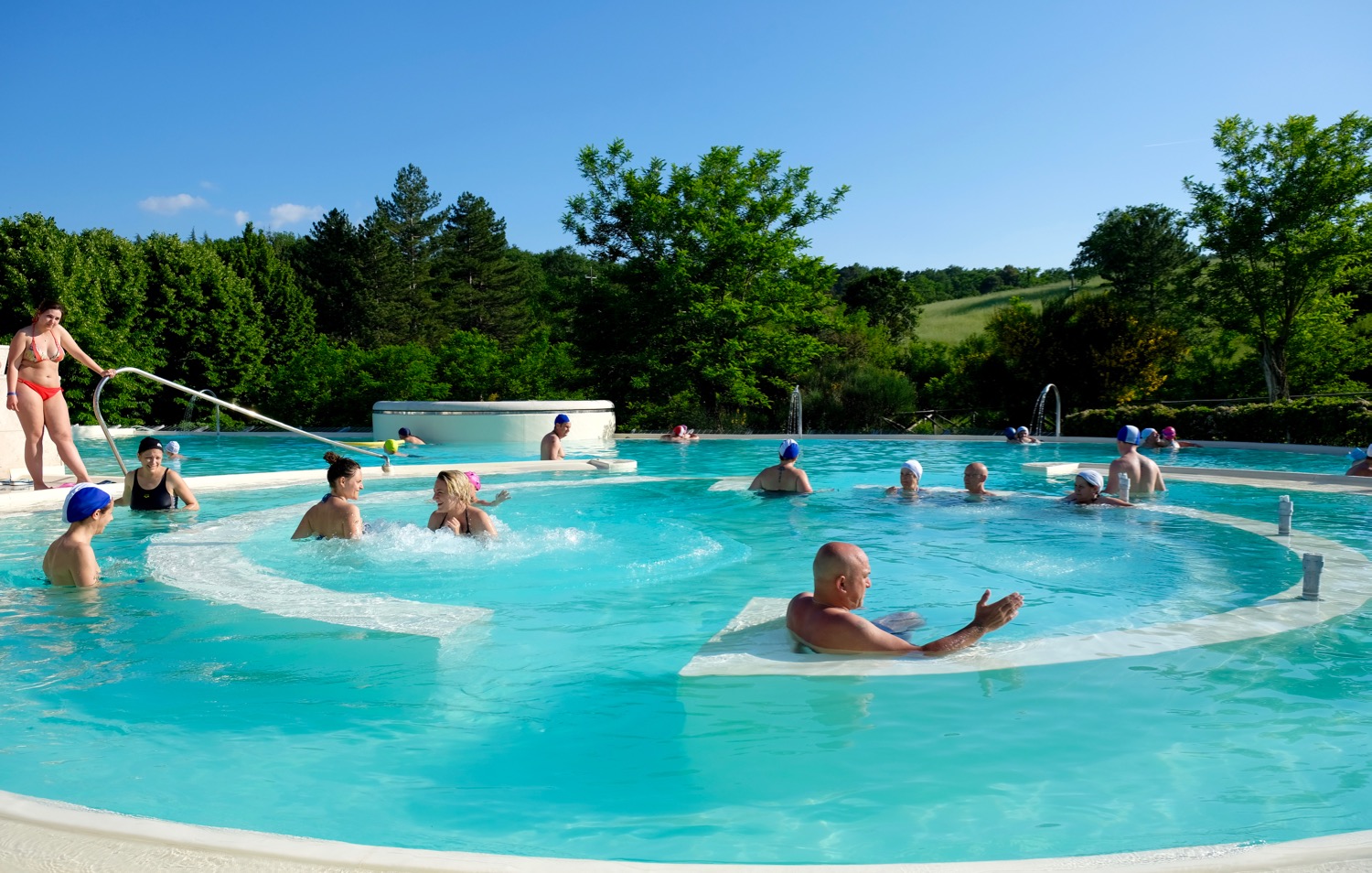 We made it a point to stop at La Foce gardens, You can only visit via private tour (it costs 10€ and lasts 45 minutes) but it is very worth any detour  The Villa itself (available to rent) was built in the late 15th century as a hospice for pilgrims and merchants traveling on the Via Francigena, it was later bought by Antonio Origo and his Anglo-American wife Iris in 1924. Their tireless efforts helped bring prosperity to this poverty-stricken area of Val d'Orcia and they hired Cecil Pinsent to design the villa's green spaces which is why we were there to visit. In fact nowadays, La Foce's gardens are considered one of best kept early 20th century gardens in all of Italy.
There are three levels to the garden, a formal Italian garden mingled with a more English style divided into geometrical 'rooms' by box hedges with lemon trees in terra-cotta pots, various terraces and a wisteria-covered pergola. After our tour we were utterly fascinated by Iris's story and I purchased her books Images and Shadows: Part of a Life and War in Val d'Orcia, stayed tuned for my Summer 2018 reading list, this will feature heavily. 
Info for La Foce: You can visit every Wednesday afternoon: 3pm, 4pm, 5pm, 6pm or every weekend (Sat. and Sun.) and national holidays (April 2, April 25, May 1, June 2, August 15, November 1): 11:30am, 3pm, 4:30pm. The gardens are open for visitors from March 24th to November 4th.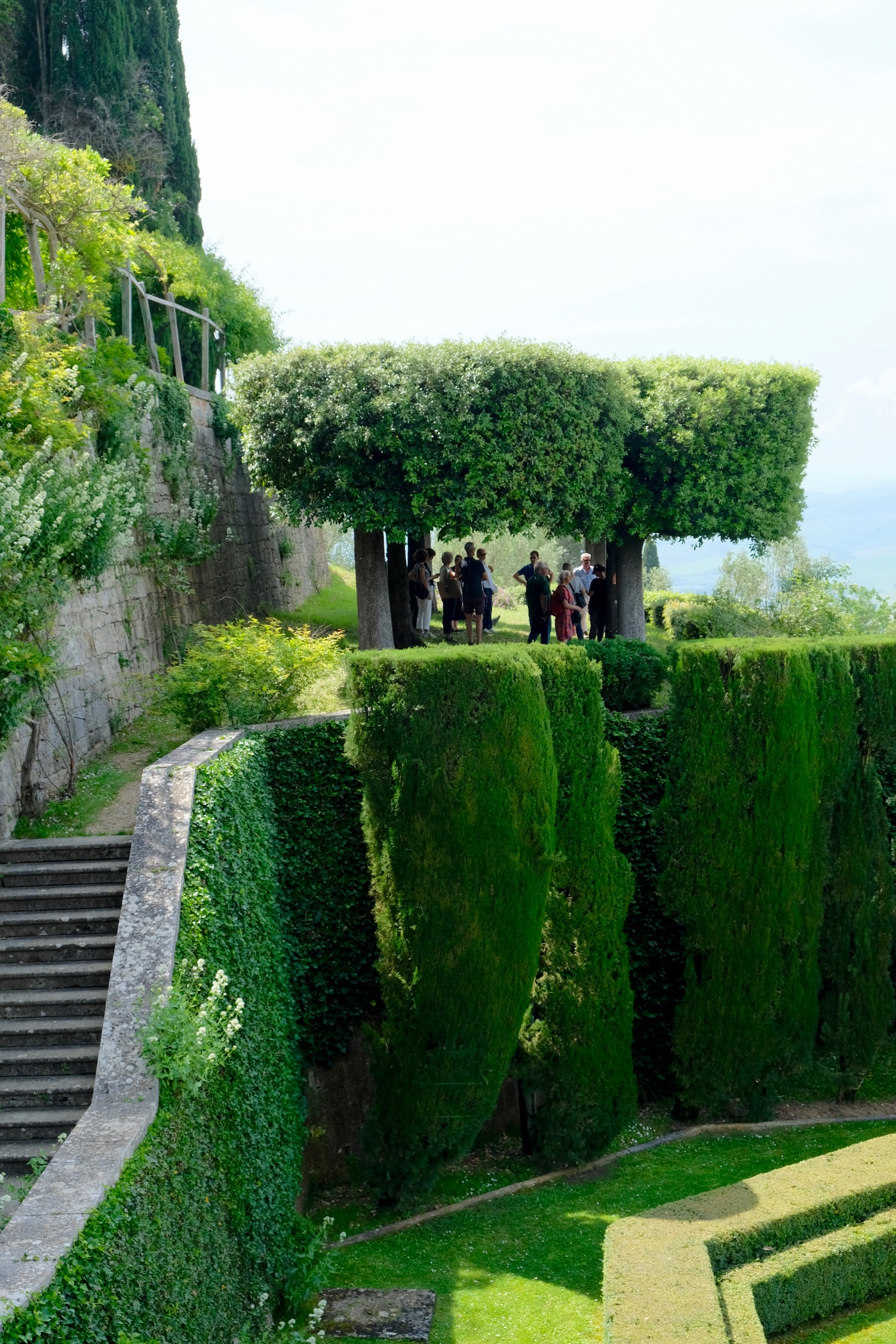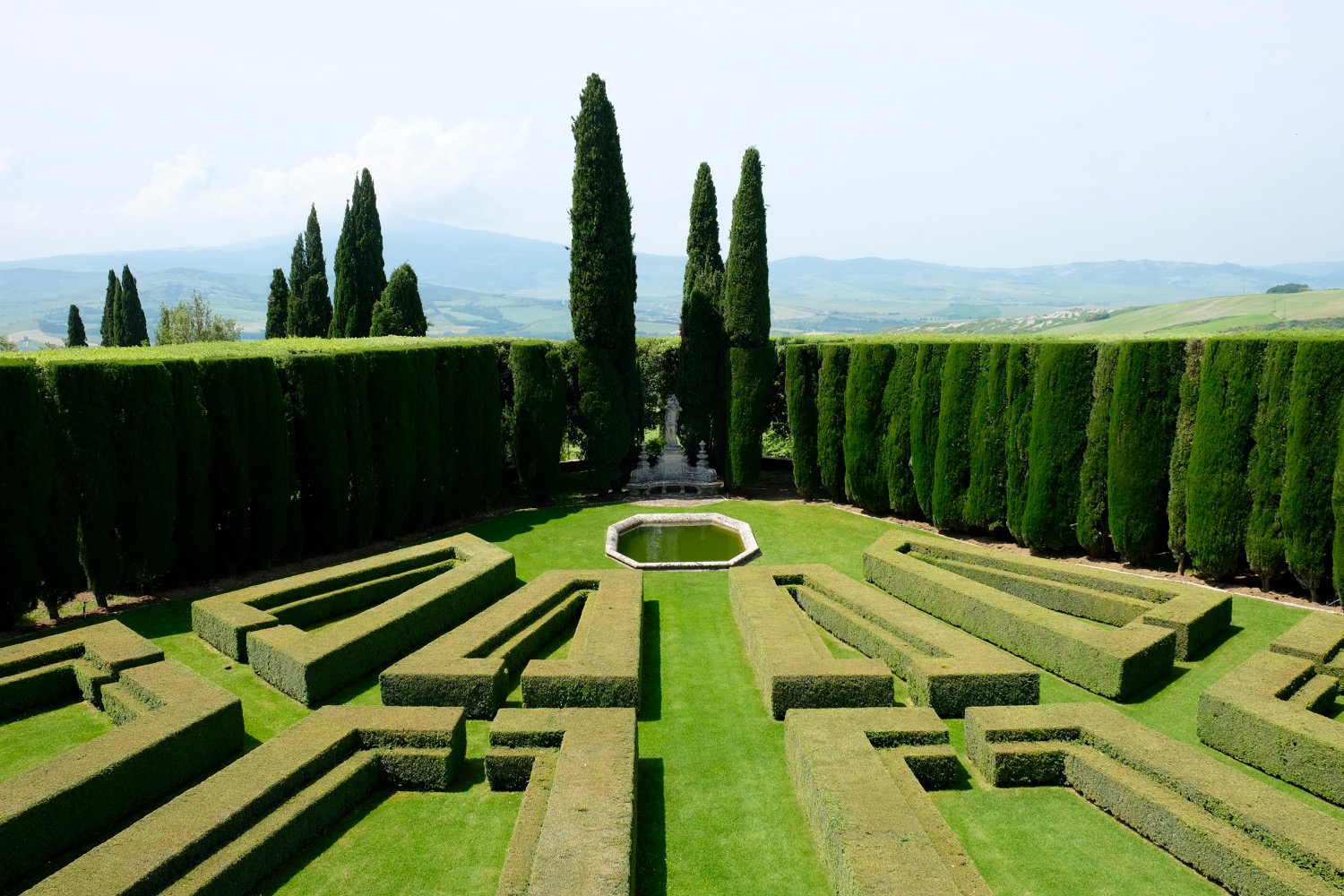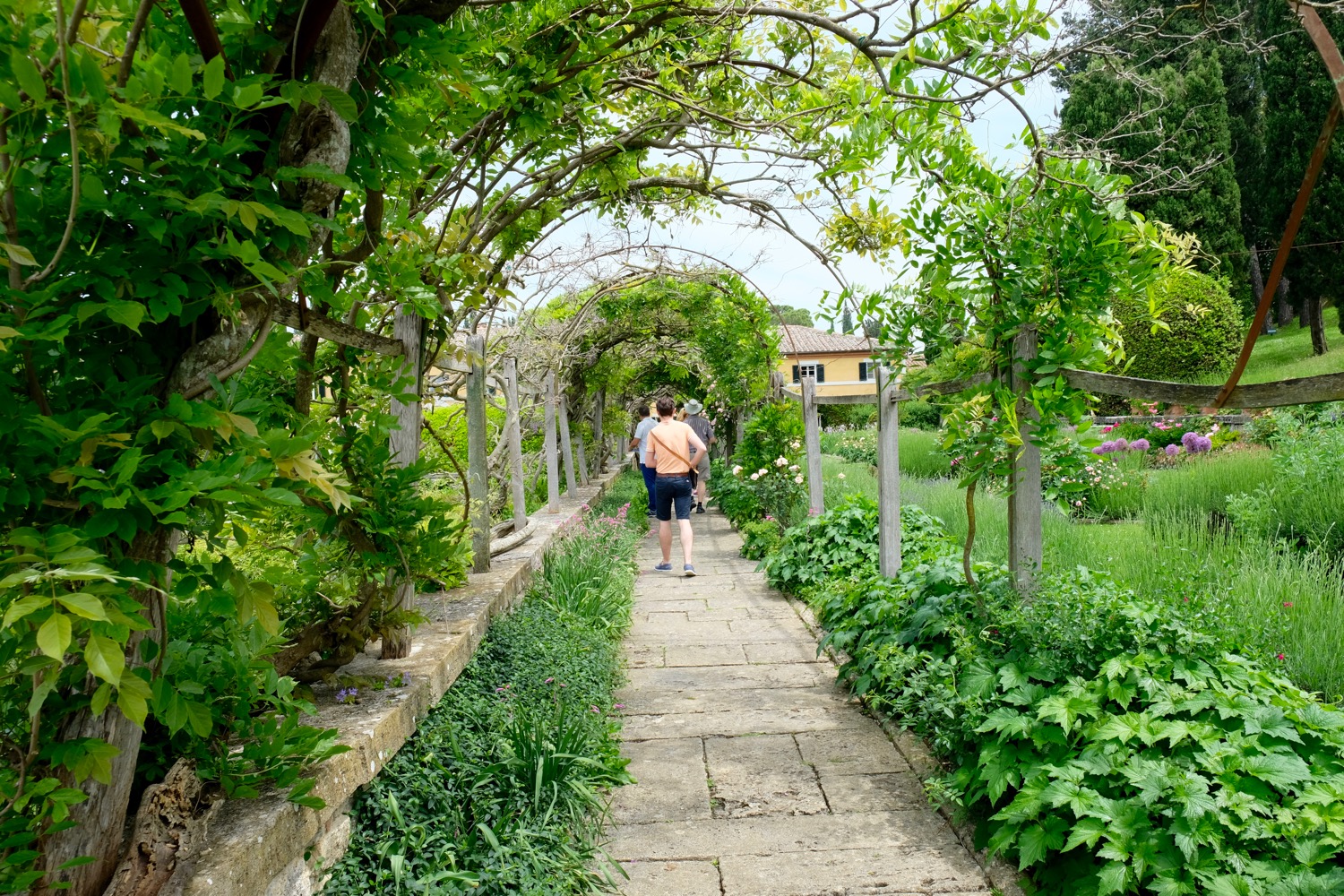 Eat | Stay Close to Home
The favorite part of any trip is choosing where were going to eat, so I typically make a few reservations and leave a few meals up for last minute decisions or changes. However two places, I knew I wanted to try. One was dinner at nearby Ristorante Osteria La Botte Piena in Montefollonico, a lovely slow-food recognized place serving up more modern Tuscan fare recommended to us by a friend who owns a winery in the area. We dug into a lovely plate of Cinta Senese cold cuts from the area and pickled veggies before I inhaled an asparagus and truffle pasta dish (all pasta is made in house). Nico went for the classic tagliatelle.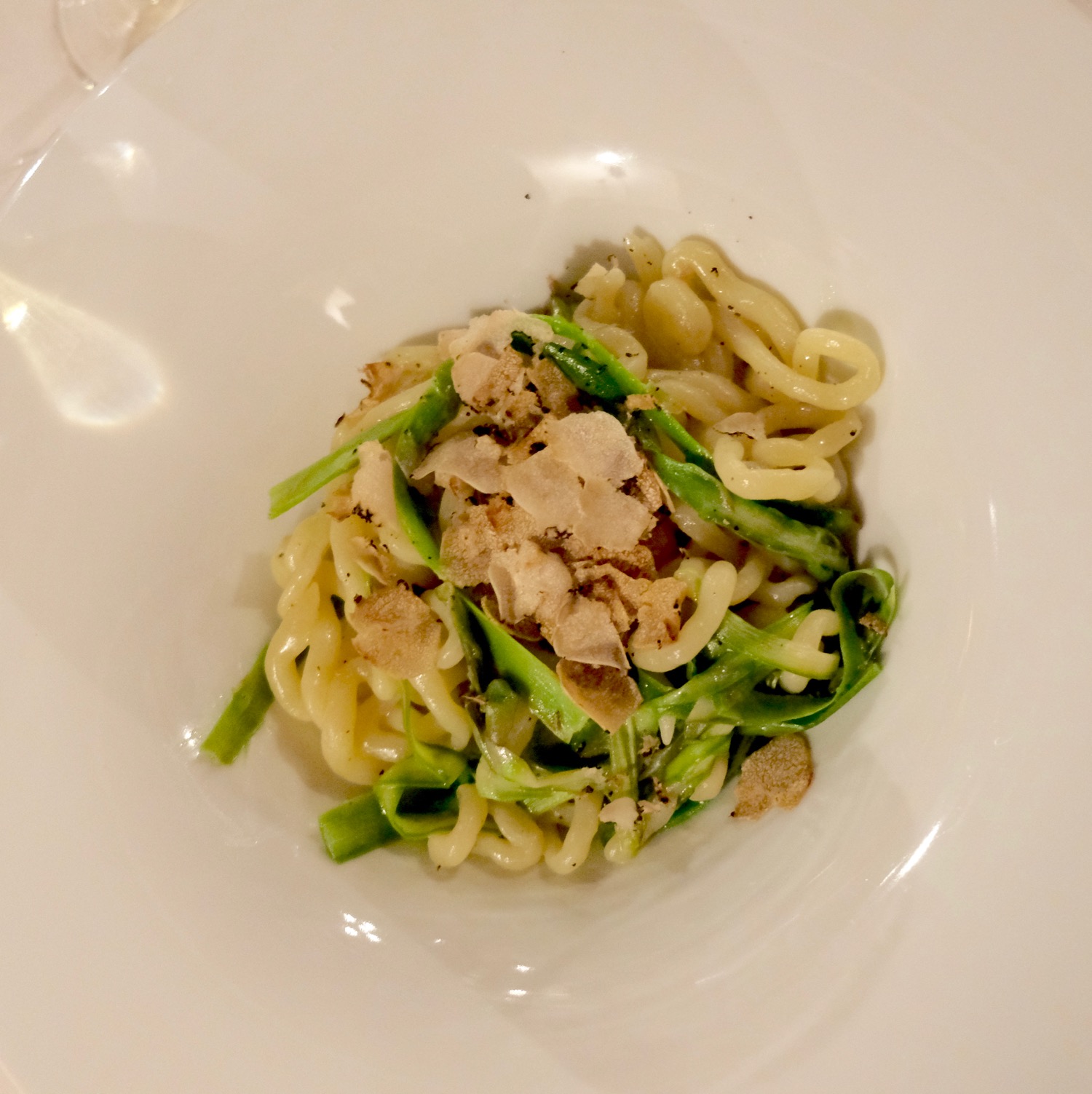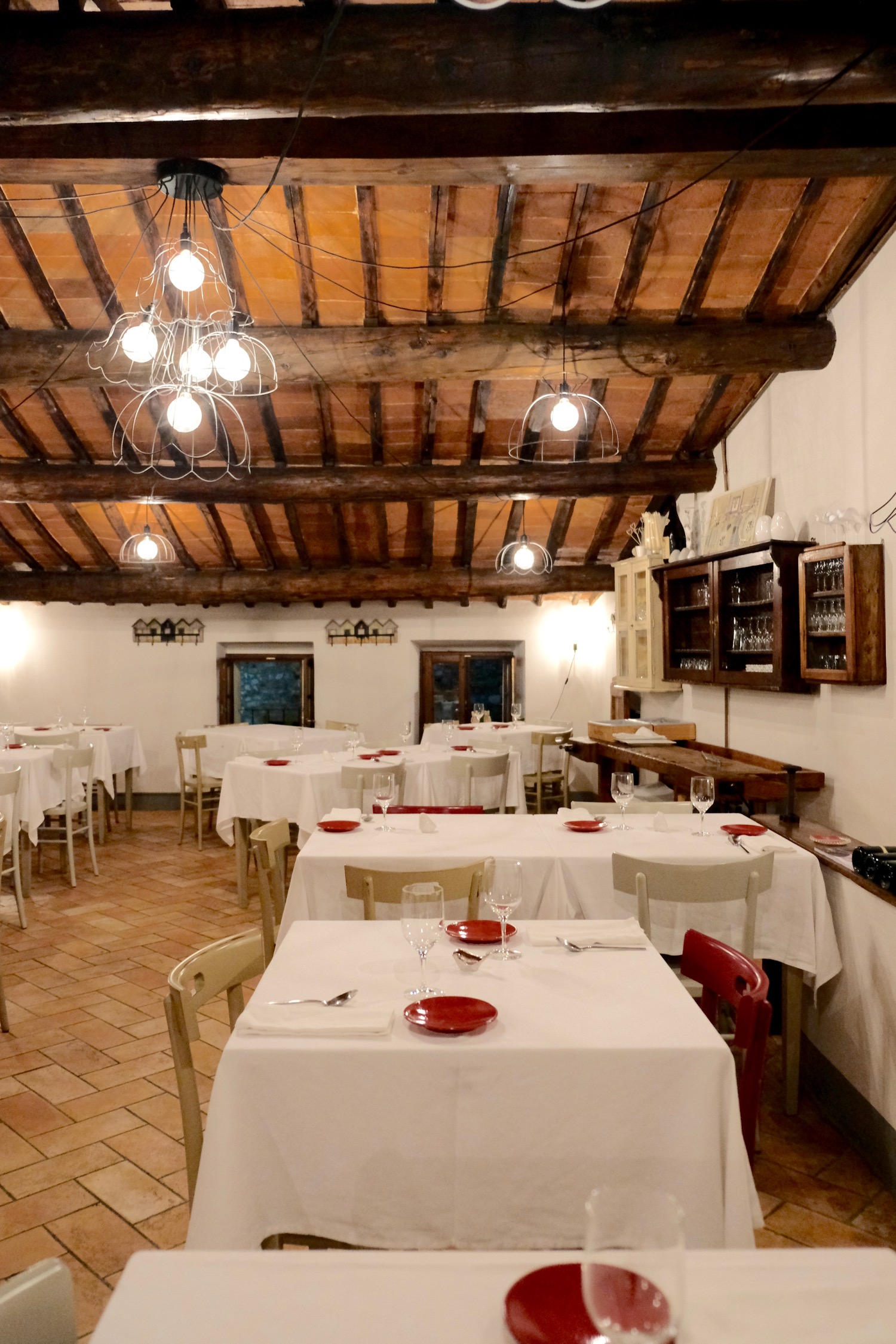 Lunch instead was at Podere il Casale, a rather well-known organic cheese farm, the brainchild of Sandra and Plisse, located not far from the city of Pienza. This place is nothing short of a delight and I was very happy I called because the place was packed when I arrived and we also spotted the resident peacock. This ancient farm is 100% organic, home to a farm-to-table restaurant serving authentic, seasonal fare and one of the best damn cheese plates we've had in Tuscany. The wines were equally as delightful, careful suggestions from nearby wineries — we opted for an organic rose near Montepulciano. Everything was delicious, fresh and memorable, this place completely lives up to its great reputation but make sure to call ahead and specify a nice table with a view.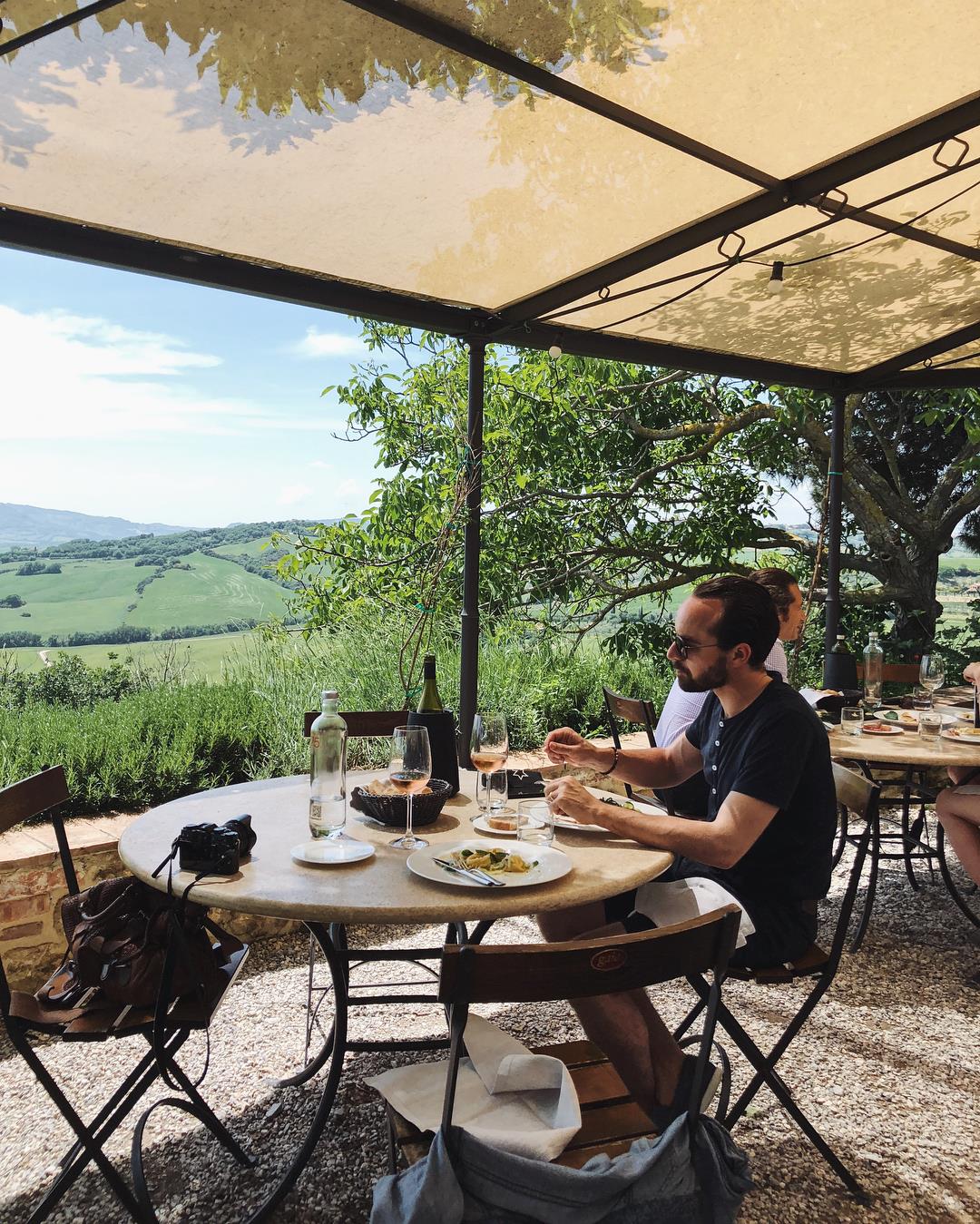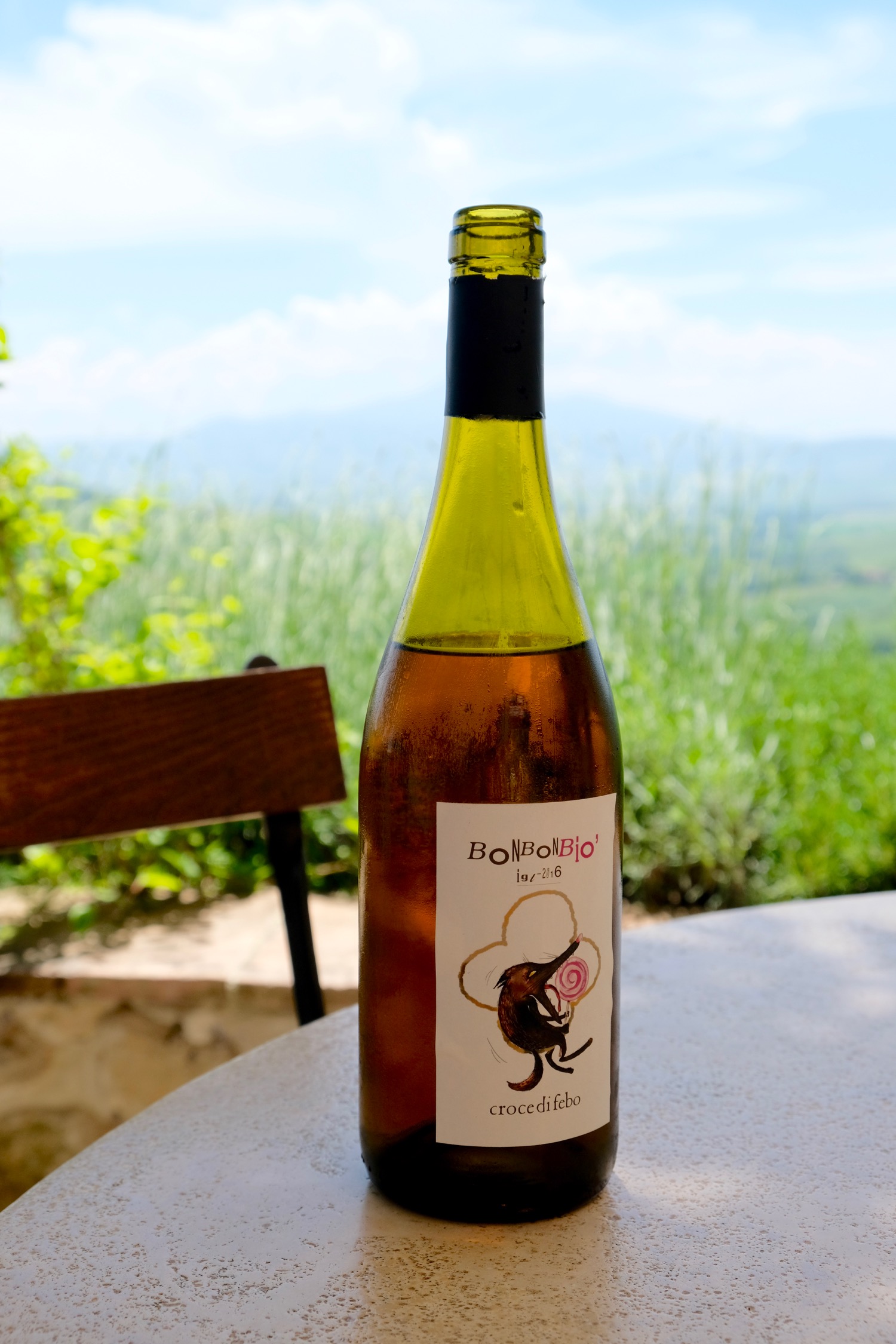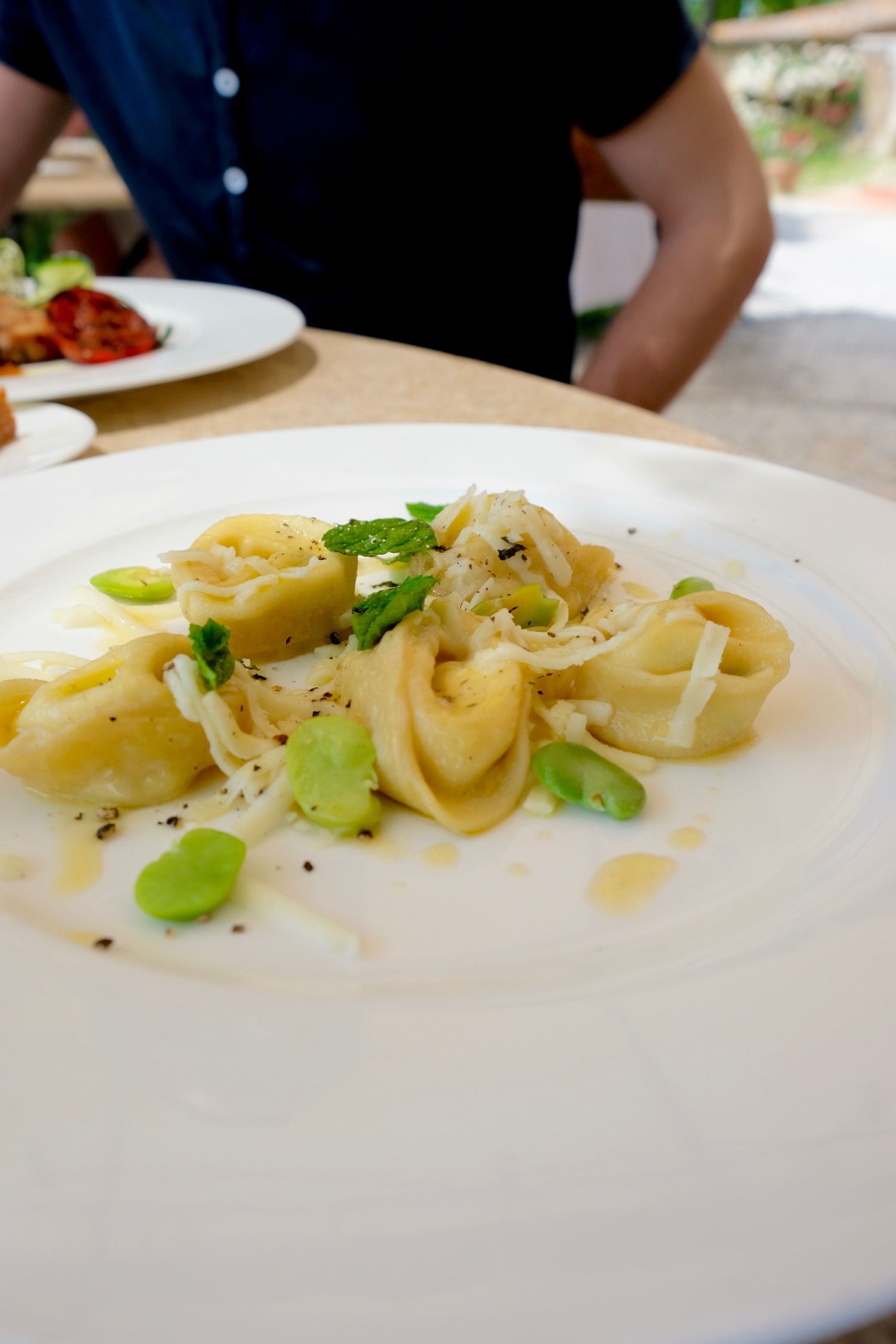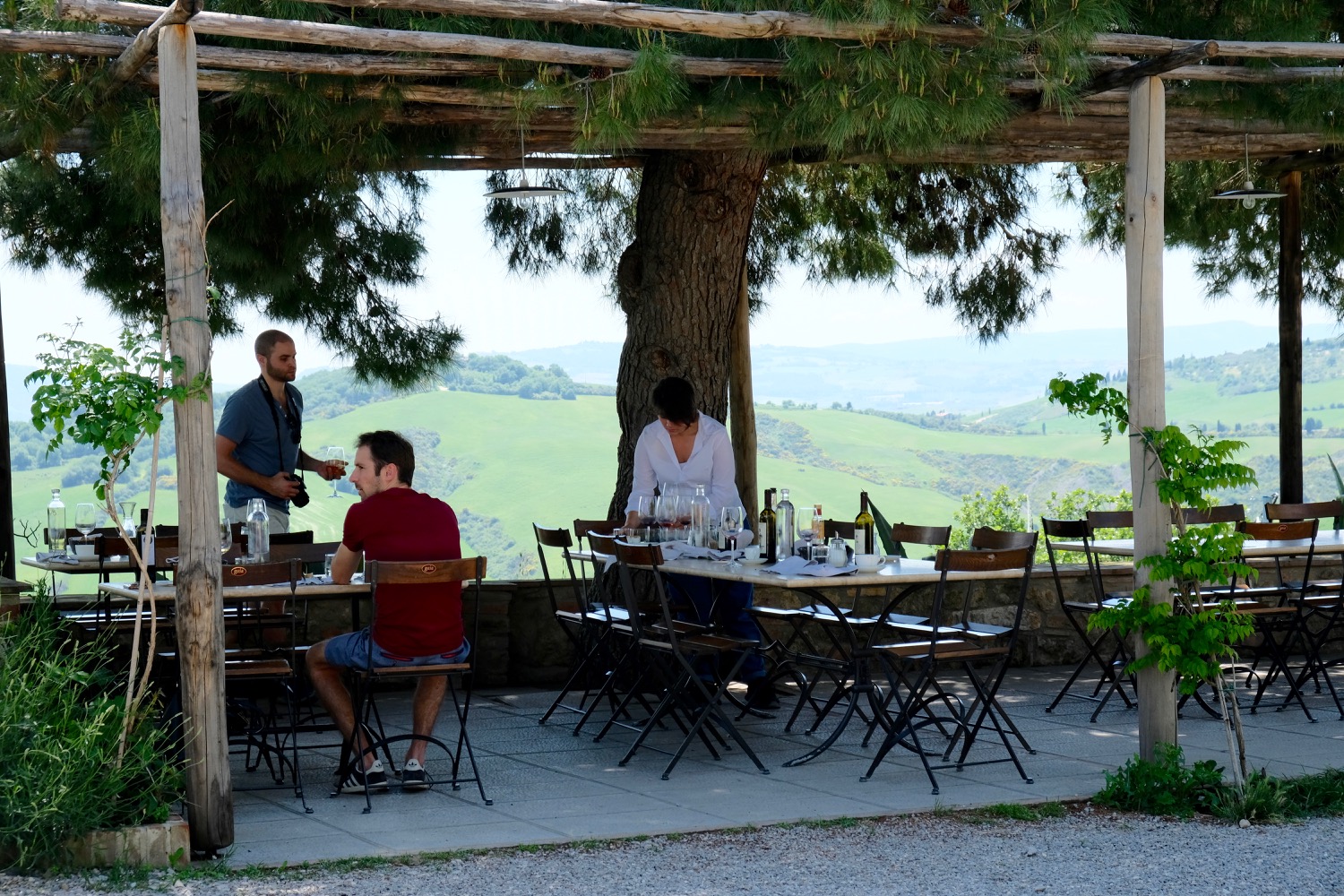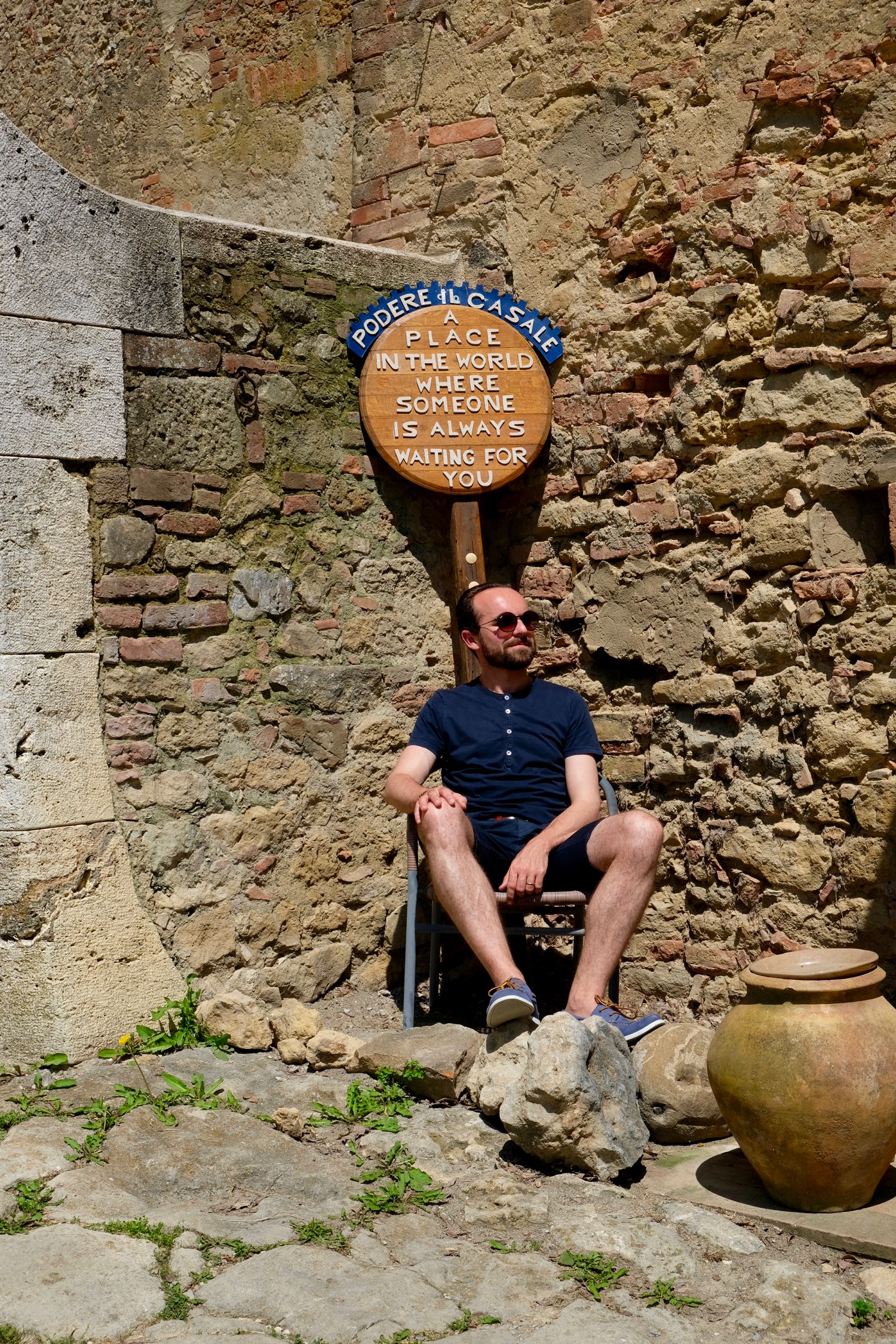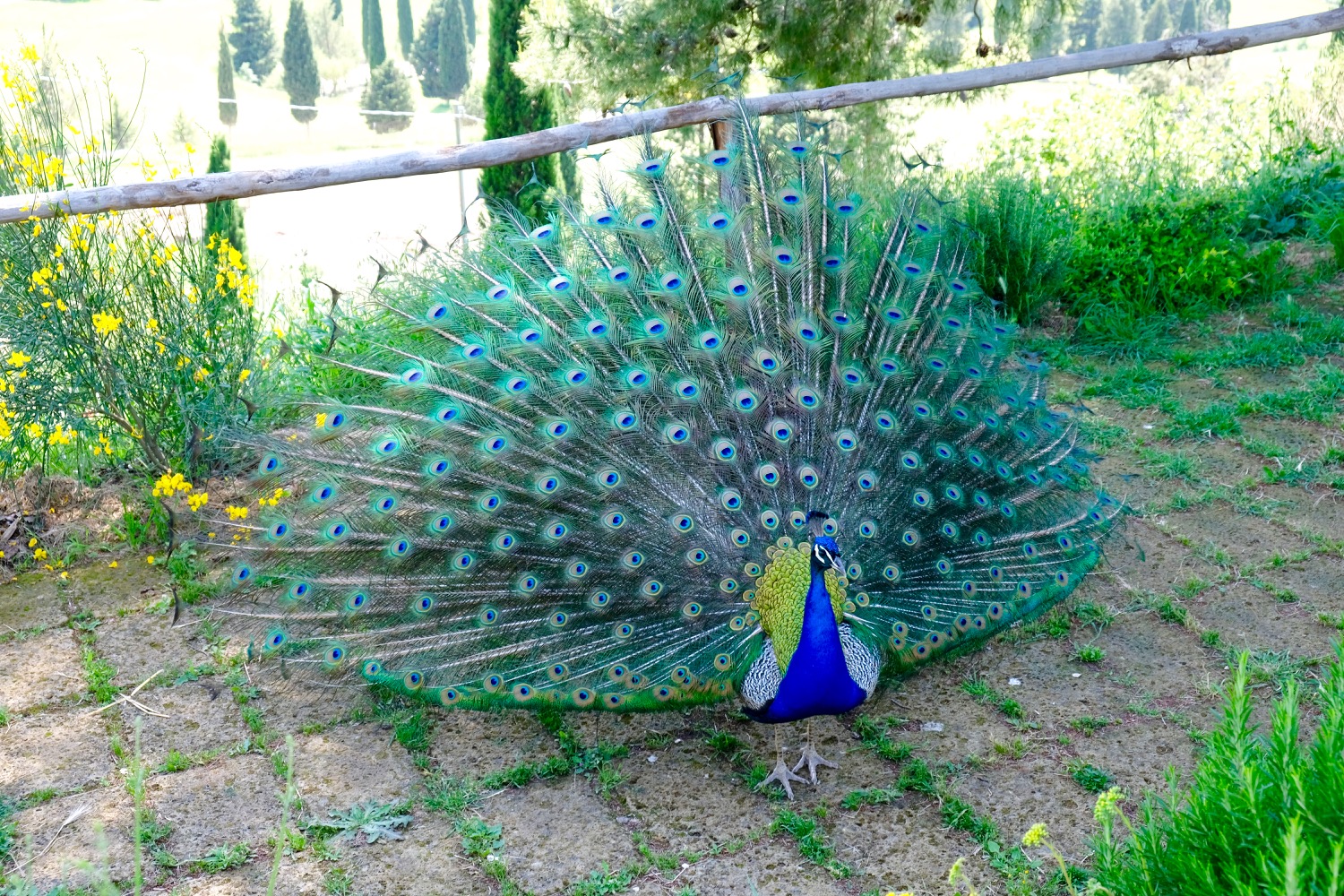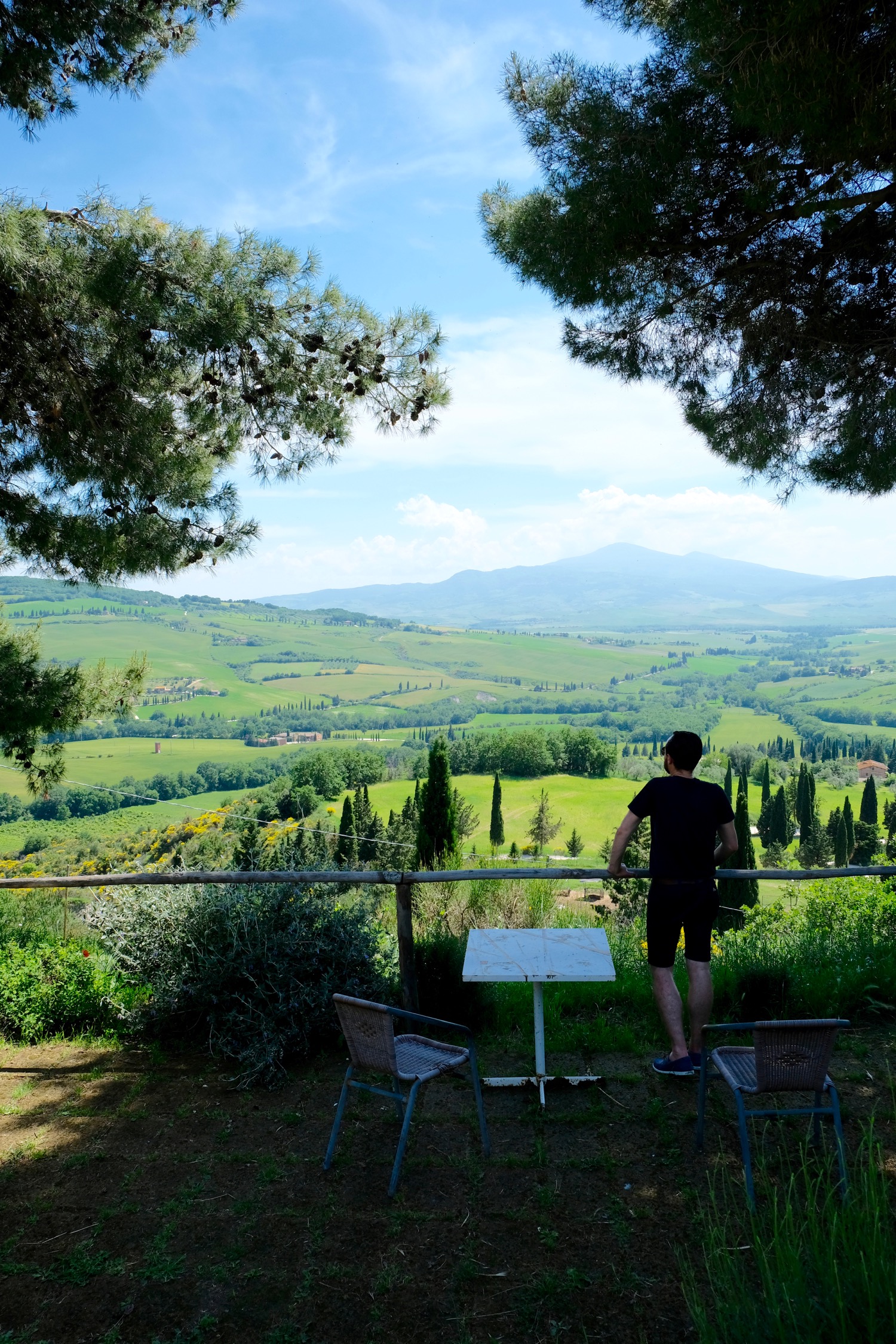 On our last night we chose to stay close to Follonico and go with Fabio's suggestion of Piccola Trattoria Guastini in Torrita di Siena. Part of the old stone walls of the town, this old-school restaurant is a delight if you want to fit in with the locals, also the view wasn't bad either. The menu is strictly Tuscan, plenty of offal, lampredotto and tripe to be had or a simple risotto if you were hankering for some vegetables at this point like me. Don't skip out on dessert, our panna cotta was simply legendary: worth the drive solely to return for dinner.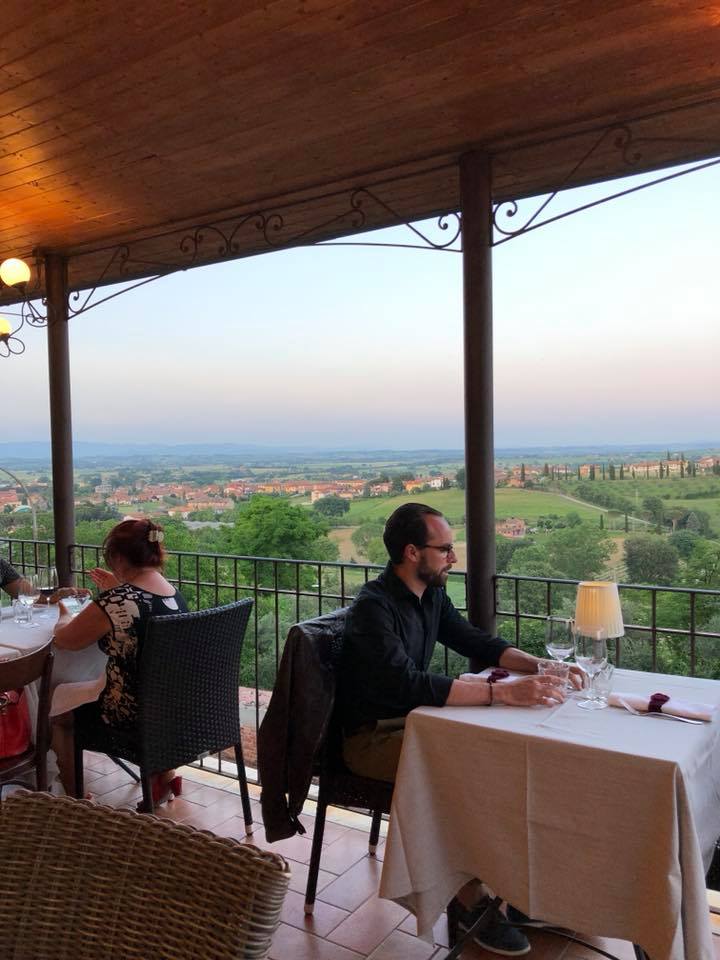 Link Love – Great Posts About Val D'Orcia and Surrounding 
Because I fell in love with Podere il Casale's lovely cheeses, this NY Times article on the famous pecorino (with a few surprises) will have you drooling.
Discover more about the Tuscan estate La Foce and its famous figure Oris Origo
My friend Giulia of Jul's Kitchen wrote this lovely guide to the area and considering she's a Tuscan native, her advice is one you'll want to heed.
Wineries to visit
I asked my good friend Shannon Fioravanti of the Pitti Gola and Osteria della Enoteca empire which wineries she would recommend in this area since they specifically seek out small, local and very interesting producers. Here's where she recommends going and its worth noting that since these are not huge touristic stops (the families live and work here), you should call or email ahead if you want to visit.
Montalcino: Le Ragnaie is a stunning property and carry consistent wines that are true to the territory. They have old vines of about 59 years that turn out one of their single vineyard brunello. A visit through the cellars is a treat as is staying in any of their apartments with awesome bathrooms! Owners Jenny and Ricardo helped to make sure they were up to American standards and size.
Baricci: is another classic and very traditional winery that is tiny but never to be under estimated. The family is so kind and the sons speak English and are happy to set up a tour and tasting!
Montepulciano: Contucci has a stunning historic palazzo right in the main square. The family goes back to noble roots but they are kind and passionate about their wine making and not at all stuffy! Their Riserva Noble di Montepulciano is always a winner!
---
Quick Details 
Stay
Follinico 4 Suite, an ideal escape at a beautifully kept country house with a panoramic view of the surrounding valley. Breakfast is very well curated with local ingredients (don't expect to stuff yourself). This place embodies the very idea of "relax" in the heart of a gem of the Tuscan countryside. address:

Località Casale 2, 53049 Torrita di Siena SI

.

 

website. Rooms from €200 per night (booking). Pet-friendly (advanced notice needed) and they can arrange cooking classes upon request.
Disclaimer: Follonico 4 Suite hosted our accommodation but everything on this post is 100% my opinion and I stand by that :). 
Arrive
Montepulciano is an 1 hour and 40 minutes away from Florence, a relatively easy drive and I recommend taking your car if you plan on visiting the outskirts (and you'll want to). By train to Chiusi and bus it can be reached in two hours and 30 minutes.
Park 
There are restrictions on where you can park in the historical centers of Montepulciano, Pienza, Montalcino however parking lots are well marked. Bring change.
Eat & Drink (more tips are found on the google map above). 
Lunch | Podere Il Casale, an organic farm and arguably one of the most popular places to dine in Val d'Orcia for its stunning vistas and lovely in-house pecorino cheese, marmalades. If you are into pork their succulent maiale with seasonal vegetables is legendary. Prices are mid-range and wines are excellent. Also on offer are farm visits and cheese-tasting. Book well in advance, especially for lunch. address:

Podere Il Casale 64 53026 Pienza (SI)

. +39 0578 755109, Open daily from 12:30-14:30, 7-9pm.
Drinks | Caffè Poliziano,

 a historic Art Nouveau cafe dating back to 1868 located in the heart of Montepulciano, this place is old school classy all of the way. I love it for a drink, preferably on the scenic balcony offering a view of Val di Chiana.

 address:

Via Voltaia nel Corso, 27/29, 53045 Montepulciano SI

. +39 0578 758615

 Open 7am-12am
Dinner |

Ristorante Osteria La Botte Piena

, a charming restaurant serving Tuscan classics with a modern twist in the lovely small town of Montefollonico. A friend recommended this to me and we loved our dinner here. Go for the Crete Senesi cold cuts starter (excellent) with pickled veggies and their tagliatelle pasta (seasonal) is excellent. Wine list is also very impressive. address:

Piazza Dionisia Cinughi, 12, 53049 Montefollonico SI. Open Friday to Tuesday for lunch & dinner. 
Dinner |

Piccola Trattoria Guastini

, old-school local favorite serving typical Tuscan cuisine with respect to slow food in Torrita di Siena (a close drive from Follonico). I love that they make their own bread, pasta and sauces (expect plenty of offal on the menu but I enjoyed an incredible asparagus risotto) and we had the best panna cotta dessert of our life here.  This place gets packed with locals so we recommend calling ahead and asking for a table on the terrace. address:

Via Passeggio Garibaldi, 52A, 53045 Torrita di Siena SI

, +39

0577 689215.
What's On The Menu
What you must try or buy: the pecorino or sheep cheese is excellent here (especially from Podere il Casale) but I would also go for the affettati  (cured meats and salumi) pickled veggies, fresh pici pasta with Chianina ragu, local DOCG wines.
Festivals
Wine | "Vino under the stars" Calici di Stelle takes place every August 10th on the night of San Lorenzo which coincides with the 

Perseid 

meteor showers. Plenty of places will celebrate all over Tuscany by opening up their cellars, including Montepulciano, and surrounding.  
Festival | "Bravio delle Botti" or a 1km race of the barrels (they weigh 80kg by the way) is an annual tradition in Montepulciano and takes place on August 26th. 
Read
War in Val d'Orcia by Iris Origo (1947). Iris's 

diary of the last years of Fascism and the liberation of Italy in Val d'Orcia. I also highly recommend her other books as well which I have yet to fully go through. 

The Hills of Tuscany: A New Life in an Old Land by Ferenc Máté.