A weekend in Paris, sounds so very 'ooo -la la' even saying it evokes images of biting into buttery, flaky croissants and sipping a glass of red wine in a small, crowded bar. And why shouldn't it? The pull to go visit one of the most famous cities in the world would make even the crankiest nonna smile, after all it's Paris.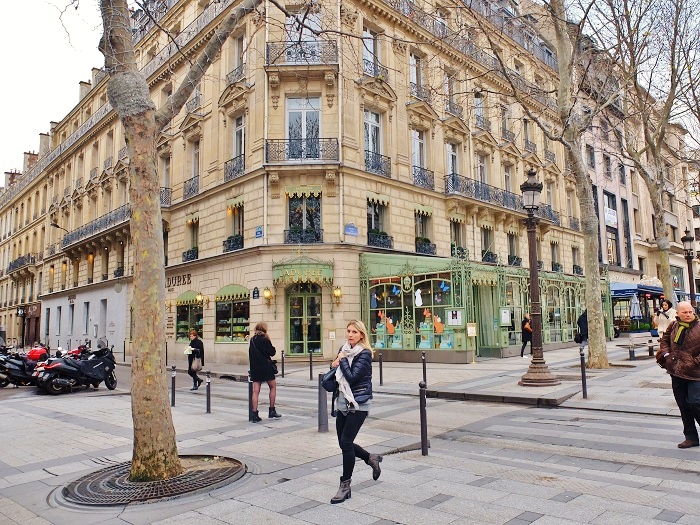 This is precisely why we found ourselves on an easyjet flight from Pisa to Paris on a cold January day, heading there for a long weekend as part of a special 30th birthday surprise for one of Nico's engineering school friends. We were armed with Paris City Passes, which for two days included all public transport, access to museums, maps and discounts. It's a pretty good deal.
Not exactly ideal to travel so soon after the Christmas holidays, however cheap flights and a chance to see a city that I last visited in 2006, was way too tempting for us both to say no. I wasn't deterred by the fact that it was winter and likely might rain. Or even more profound, it was so soon after the terrorist attacks on Charlie Hepdo, if anything, I wanted to go more than ever. There are a lot of reasons to love Paris, the butter, the intellectual quarter of Saint-Germain where Ernest Hemingway lived,  the beautiful Palais des Etudesit where Queen Margeret of Valois and Catherine de Medici started one of the first art collections of Paris, the crepes of Josselyns. Needless to say it was hard to limit this list to just thirteen.
1. Visiting in 'Off-Season' Means Less Crowds
Say you're visiting the 'city of love' in the dead of January and you might get a few looks. Or else people might just think you are a little cheap. However, if you get lucky enough to visit on a weekend when the sun is out and it is just crisp enough to require a coat and a hat, you'll find that all that walking does wonders for keeping you warm.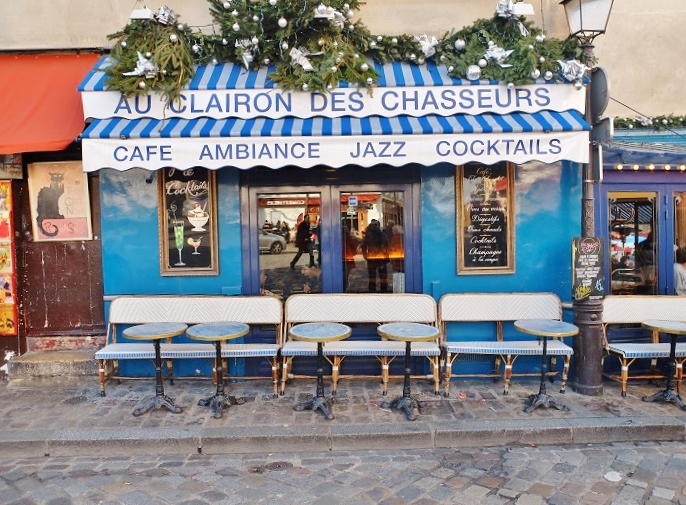 Exploring the streets of Montmartre in winter meant that I could actually see semi-empty beautiful cafe's like the one above. Thought the area has a bit of a 'Disneyland' appeal, with men clamoring to sketch you for a price, it's still well worth a visit.  Make sure to stop at Bateau Lavoire at #13 Place Emile-Goudeau, Pablo Picasso's ex art studio. The view from the Basilica of Sacre-Coeur is worth the hike. We got lucky with the most pristine, sunny morning.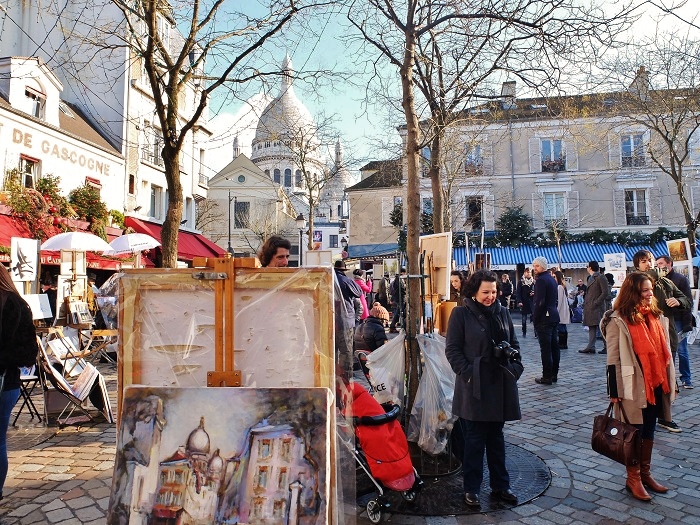 Speaking of Montemarte, artists such as Salvador Dalí, Amedeo Modigliani, Claude Monet, Piet Mondrian, Pablo Picasso, Camille Pissarro and Vincent van Gogh had their studios here but now I would imagine the rents would be much too high for any struggling artist.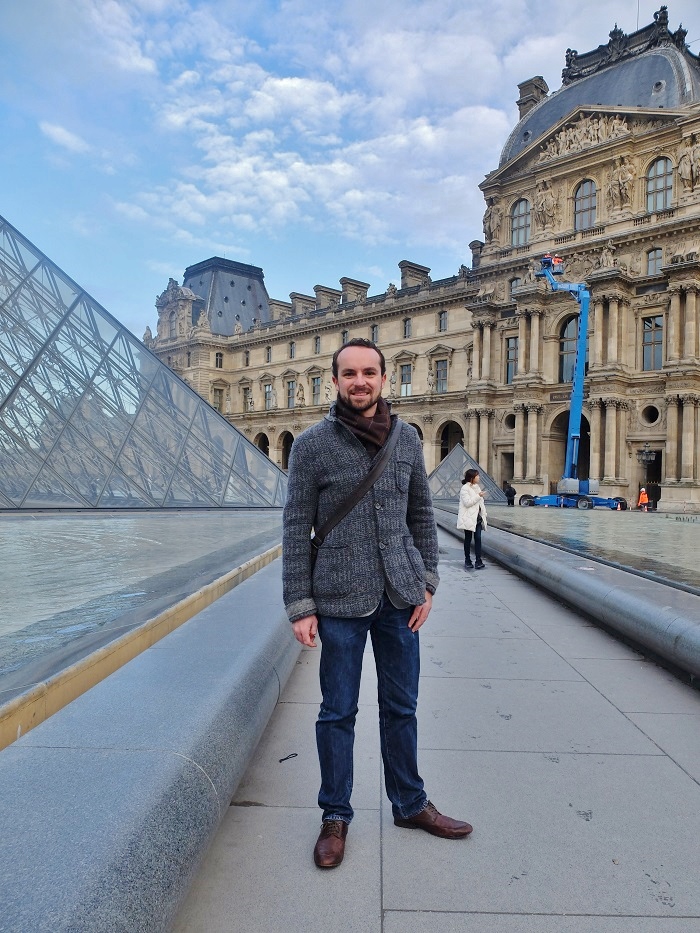 2. Trendy Hotels That Don't Always Break the Bank
We based at a hip, trendy hotel aimed at the fashionable younger crowd, If I'm honest probably way cooler than Nico and I. Mama's Shelter has locations in Bordeaux, Istanbul, Lyon and Marseille along with Paris and offers attractive, quirky accommodations for around 100 euros. In order to get the best rate, book early, and get breakfast included because it's awesome.
The concept of Mama's Shelter is simple, affordable rooms, a cool contemporary restaurant and bar with the interiors designed by Philippe Starck. Our room was a little dark, had a few freaky masks in it and came with lamps that looked like they could be used for outdoor camping, but as Nico pointed out, probably cost an arm and a leg. Our bed was extremely comfortable and the WiFi was free, and actually worked. I was seriously impressed.
I should also mention the rooms have free movies in English, though in order to brush up on my French I definitely fell asleep watching some weird movie about a French guy dating a not nice native all while lusting over a gorgeous ex-American classmate who just rolled back into town.Classy!
The only downside with Mama's was that it was a little far, out in the 11th district of Paris which meant you had to like walking, take the metro or there was a bus to the Louvre directly in front, which we didn't mind. I liked the vibe of the place, the bar and restaurant always seemed to be full of people and everyone was quite nice. However, due to the overload 'Mama's this and Mama's that' you may have the urge to never say the word 'Mama' again after your visit.
If you stay there, stop by the Père Lachaise Cemetery, which is located nearby. Actually quite a beautiful place with many famous people buried there, including Jim Morrison, Marcel Proust, Oscar Wilde and Edith Piaf.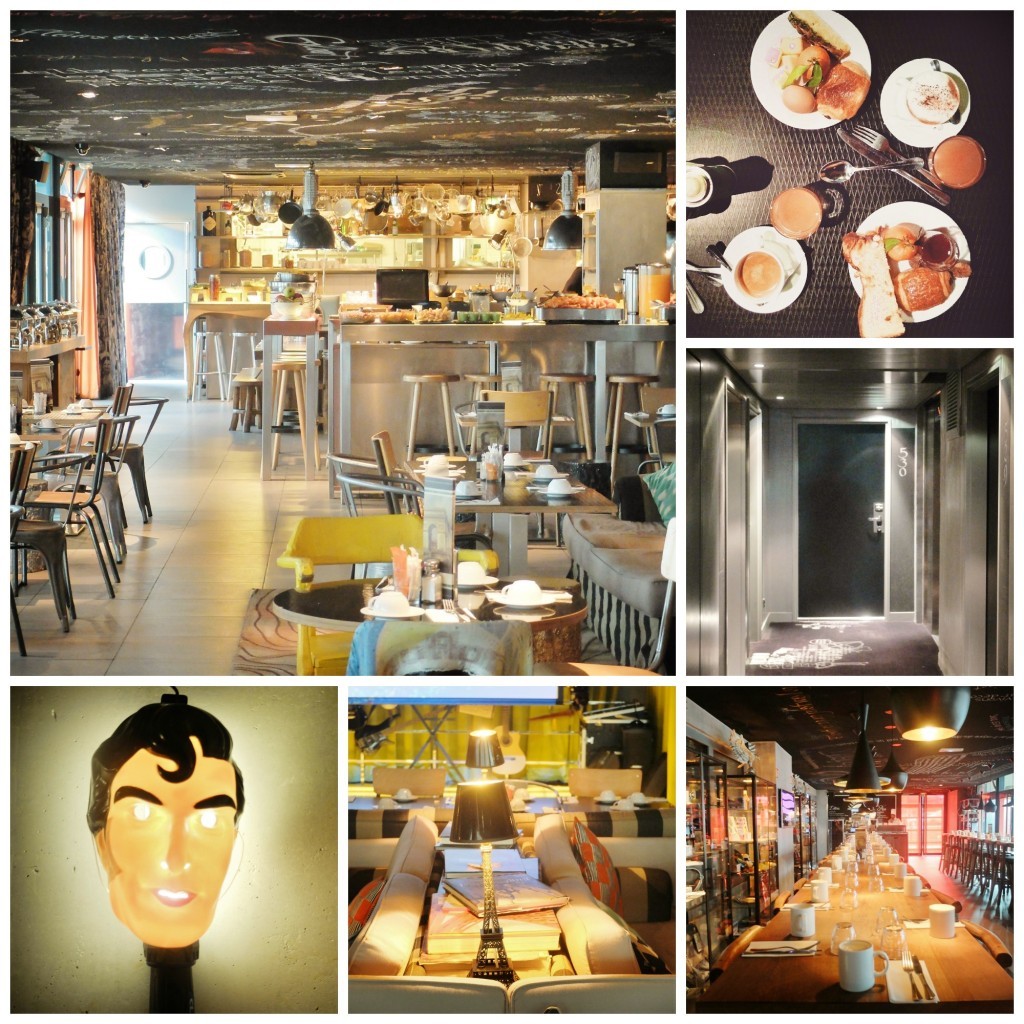 3. Easy to Get Your Romance On
Since we arrived Thursday evening, we just had time to get to our hotel before picking a spot for dinner. And you guys know how important food is to this girl. I find that the first meal always sets the tone for the trip. Lucky for me, Nico found a cute little place called Le Chemise. Charming interior with cozy two seaters with French couples chatting everywhere. The perfect meal to kick-start the weekend.
I loved this place. 
The waiter was extremely nice and mistook Nico for being Italian, he actually told him his French was really good which was hilarious. I suppose that is a sign that Mr. Pradier has been living in Florence too long. Back to foodie fun, the menu at Le Chemise changes seasonally, and I indulged in the classic onion soup, while Nico got frog legs (which yes, is actually pretty damn awesome). My plate of filet duck breast over sweet potato and orange Beurre was divine. For Paris, prices were reasonable, with appetizers ranging around 10-15 euros and main courses double that.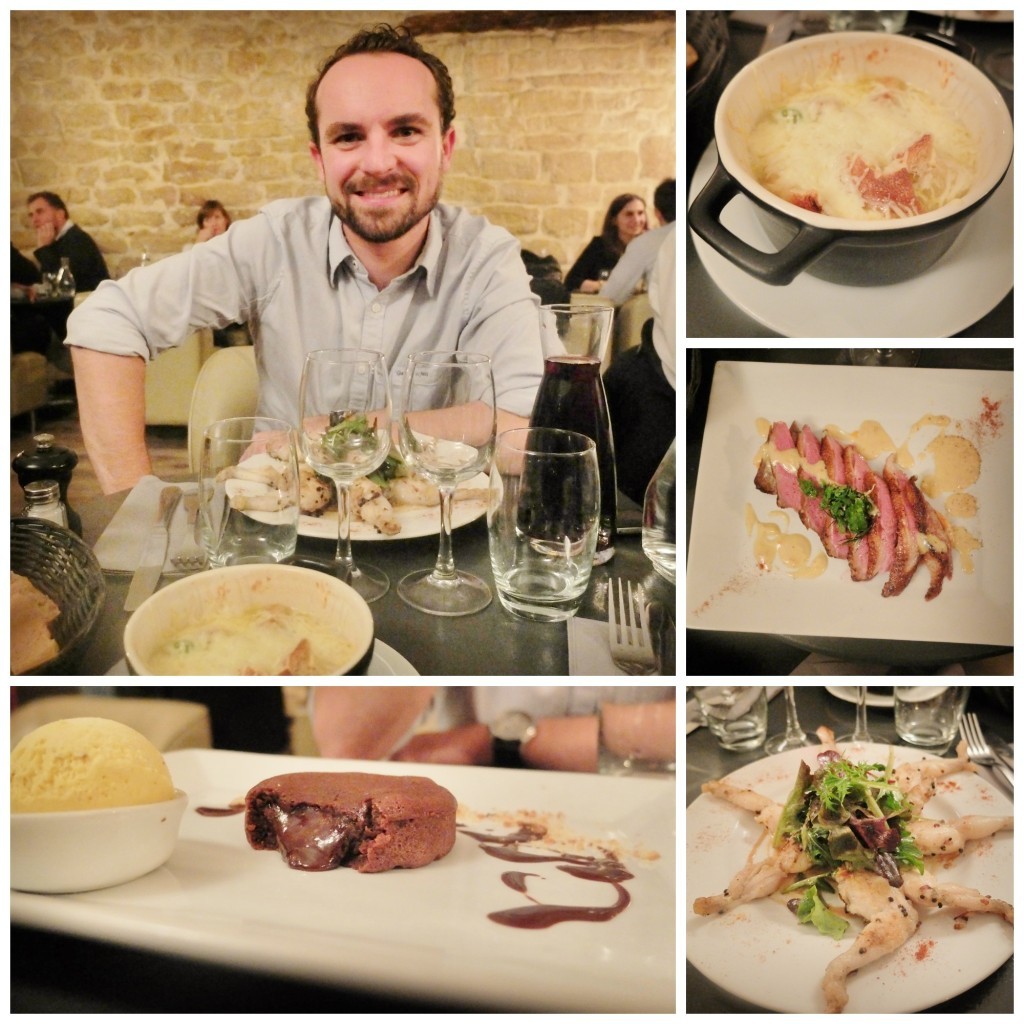 4. This City Is So Damn Pretty
Friday morning we had a great breakfast at Mama's Shelter and headed to the city for a walk before lunch. It had been so long that I had visited Paris that I forgot just how gorgeous this city was. Being January, we were both worried it would be a little cold but instead the weather was cool, but not freezing or raining, which we both considered a win.

5. The Perfect Place For A FancyPant's Lunch
Walking all morning was the perfect warm up before an incredible lunch at The Bristol, which has been impressing people since 1925 on the prestigious rue du Faubourg Saint-Honoré at the heart of Paris' fashion and arts district.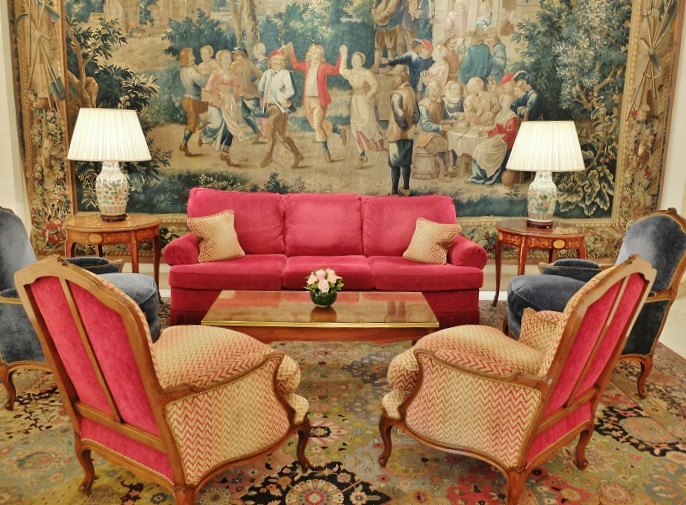 I was invited to try lunch at their 114 Faubourg, Bristol's luxury brasserie with 1-star rating in the Michelin guide. Needless to say we were more than a little excited to try out what was surely an interesting menu, the restaurant itself is like a 'who's who' of Parisian elite. I appreciated the charming, non-stuffy interior and they greeted us with a glass of champagne which is the way to any woman's heart.
Or at least mine. 
After starting with a beef bouillon, Nico opted for the Sole, a flat whitefish, that was perfectly, and I mean perfectly cooked. The presentation was also spot on, while I got the scallops infused in ginger (you know me). Gluttons are we, dessert was a must and I almost had trouble eating mine because it was so beautiful.
I got the vanilla Bourbon millefeuille, a heavenly salted butter caramel and Nico tried the Guanaja chocolate soufflé, served with an incredible Cognac ice cream. That ice cream, I could write poetry about that ice cream. If I said that this was one of the best meals of our lives, it wouldn't be an overstatement.
There are so many times you can eat in amazing places like this, with every detail curated to a luxurious perfection and wonderful service, I am still dreaming about that very special lunch.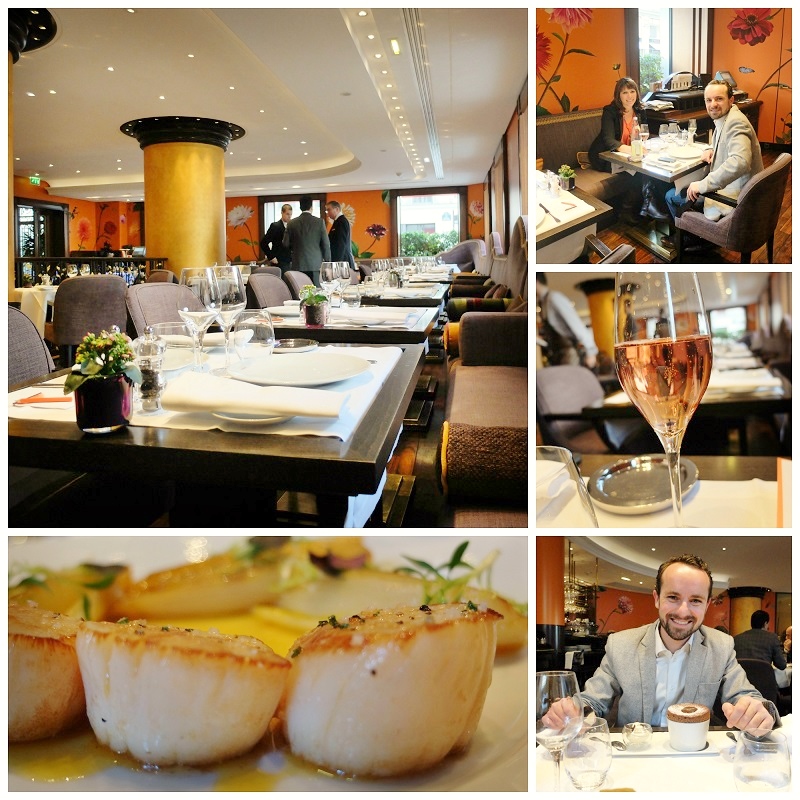 6. You Can Visit Paris's Finest via a Vintage Sidecar
After lunch we planned on meeting Thierry from Left Bank Scooters to take a spin around town in one of their sidecars. Since the city is always a bit hard to gage when you are constantly popping in and out of metro stations, I liked the idea of a private tour like this, where we could actually see the layout of the city and get an education from a local, plus did I mention I was in a sidecar?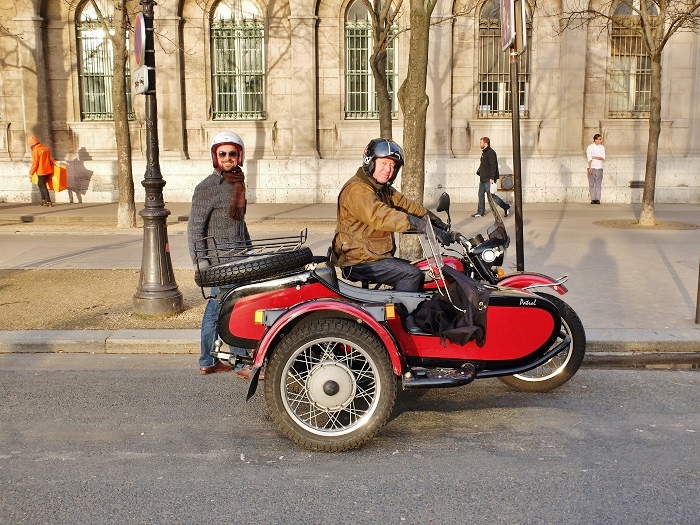 We started off close to the Opera house, which was built from 1861 to 1875 by Charles Garnier during the reign of Napoleon III. You can't miss this opulent building where so much of Paris congregates. Thierry stopped in front of the Palais Garnier and told us about the history of the most famous opera house in the world. Also the magical setting for Gaston Leroux's 1910 novel The Phantom of the Opera. 
We visited all sorts of interesting sites with Thierry, including some of his favorite spots, and we enjoyed chatting with him about the architecture and history of the city. I wouldn't want to spoil one of their tours for you guys but if you are looking for something fun and educational for a few hours on a nice day, you have to try this tour.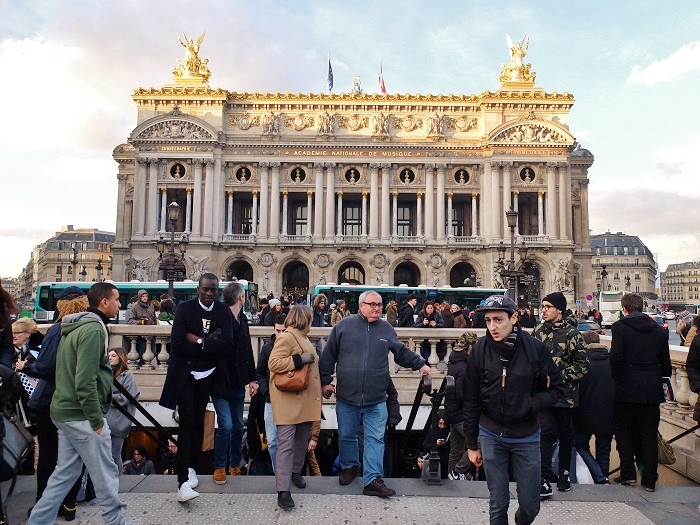 7. Kid's Fall and We all Think It's Cute
At a certain point on our sidecar tour we spotted a group of students playing music, all wearing robes and interesting outfits in front of the famous Opera house. To the delight of the surrounding crowd watching the buskers, a little girl wandered out towards them to leave a little money, as the 'ooo's and aww's' colored the touching moment, it also clearly distracted her and she actually fell face first into the guitar case where she just dropped her change. I'm going to chalk that moment off to a bit of 'emozione', and she seemed pretty happy afterwards. Ah those sweet, Paris moments ;-).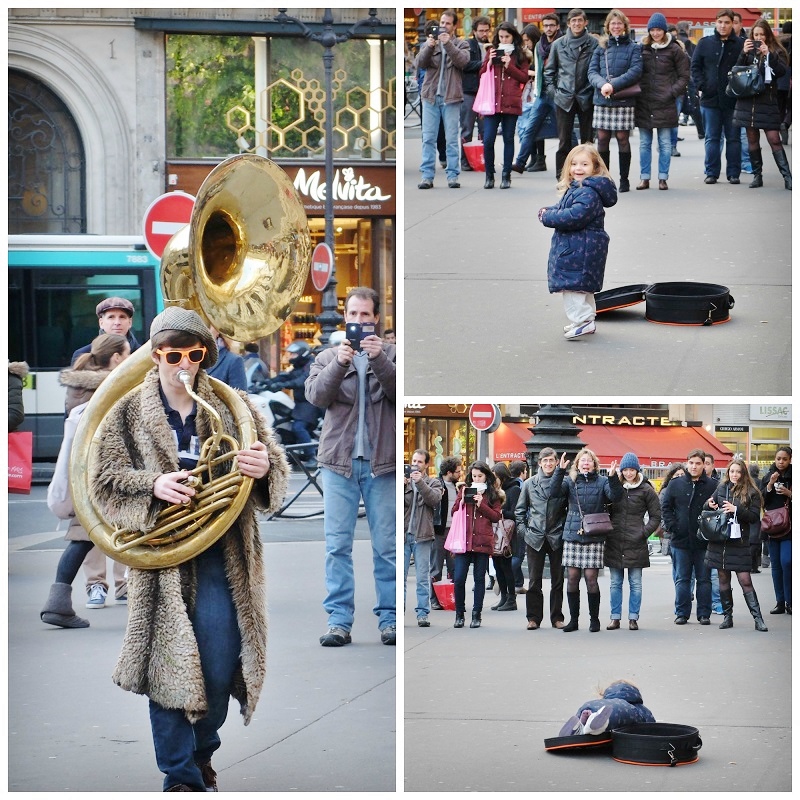 On this tour, I further realized what an incredible city Paris really is. I know that it get's a lot of flack for 'rude service' and perhaps not always living up to people's expectations but it's pretty hard to believe that when you are there on a nice day. Gorgeous, tree-lined avenues, beautiful boutiques and small cafe's. It's easy to fall in love here.
8. It really Does Feel Like a Movie Set
The city where Audrey Hepburn filmed 'Funny Face', or where we were all treated to the quirky justice in le fabuleux destin d'amélie poulain. What about Meg Ryan's French Kiss, the depressing 'Le Divorce' or going back in time with Owen Wilson to the intellectual hub of Paris in the 1920's in 'Midnight in Paris.'  I grew up to a bevy of films using this city as its backdrop, which only helps the fantasy build, which is why it's cool to see these places in person.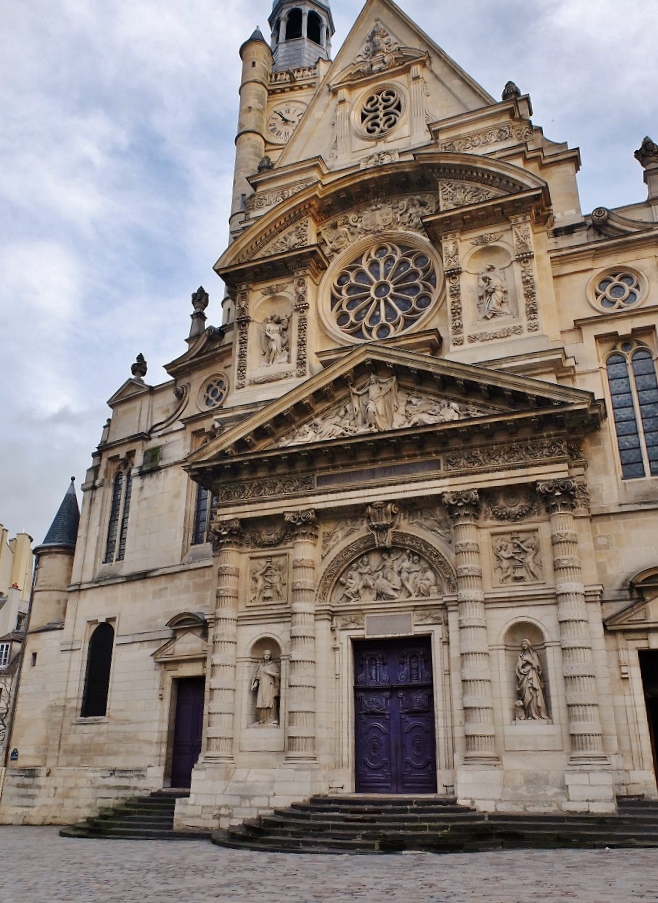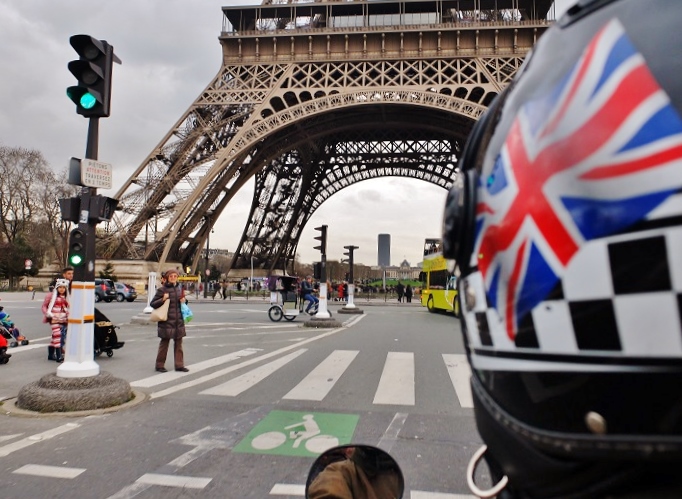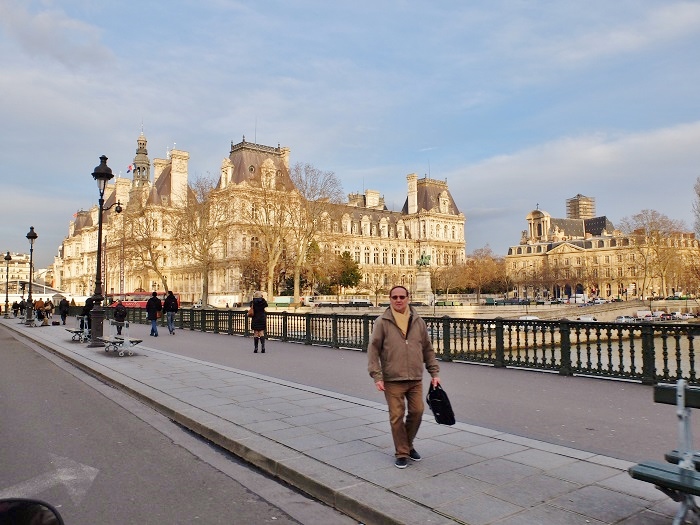 9. There Really Is Such a Thing As 'Going Crazy' Over Paris
I kid you not, according to wikipedia 'Paris syndrome is a transient psychological disorder encountered by some individuals visiting or vacationing in Paris or elsewhere in Western Europe. It is characterized by a number of psychiatric symptoms such as acute delusional states, hallucinations, feelings of persecution'. This is very real and usually affects people in Asia, who often romanticize Paris as a land of Chanel 5 and Amelie. They aren't wrong but Paris is a real city, which means it has real city problems in the form of pickpockets, stinky public transportation and dog poop.
Know Before You Go
As crazy as being in a strange, hallucinate state can seem, I can sort of understand this. New  language, new money, new smells, sounds and tastes. It can be overwhelming for some. All it takes is one lost iPhone after carelessly placed on a cafe table to set someone off. The Japanese embassy actually has a 24 hour hotline for tourists suffering from the syndrome.
What else can set people off? Well many people think Parisian waiters are mean, which honestly I haven't personally experienced. During this trip, people were beyond nice or just normal, nothing seemed 'spat on' or destroyed by someone's bad day, it also helps that I travel with a Frenchman and I smile a lot. Perhaps that makes people just uncomfortable enough to smile back, or they just think I'm stupid. In any case, I usually get nice treatment.
Lastly, I live in Florence, Italy which also can carry a case of 'traveler syndrome', or people being disappointed with the city they have dreamed about for so long. It happens but there are a few things you can do to combat this very real problem.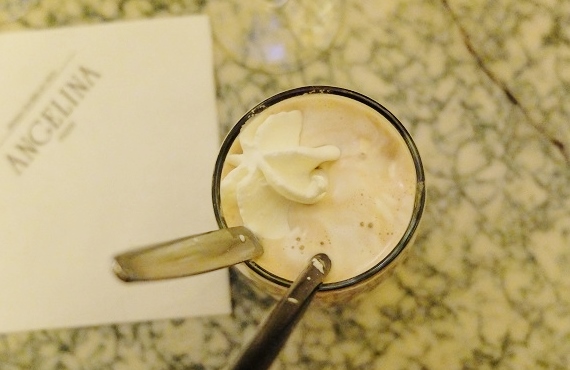 Perhaps what they are experiencing is the aftermath of a 'sugar' high which can certainly happen after visiting a place like the historic Angelina cafe, a belle époque salon selling pastries and velvety hot chocolate. Angelina's was founded in 1903 and was frequented by the likes of Marcel Proust and Coco Chanel.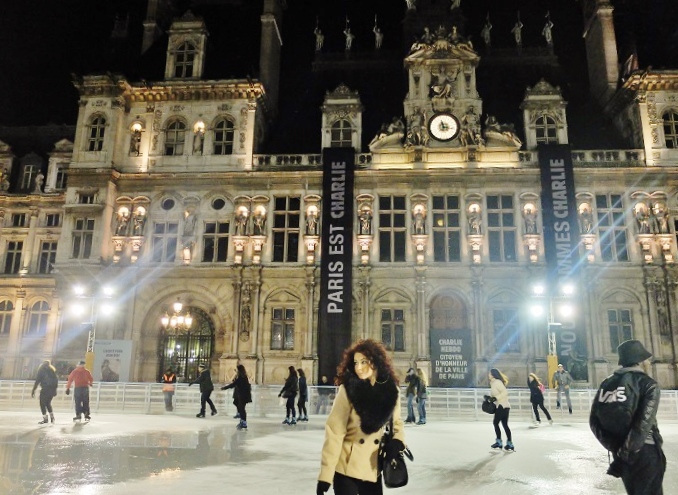 One way to combat this is by visiting a fun, relatively 'safe' attraction like the beautiful 1,365-square-metre ice-skating rink in front of the L'Hôtel de Ville, a 19th century building that is even prettier at night.
If you still don't believe me that this exists. I invite you to read this personal account of someone's 'attack' while trying to use a public toilet in the city.
 10. Spending 12+ Euros on a Drink Earn's You Prime Parisian Real Estate
We can all agree on the very real fact that prices in Paris can be a pretty cringe-worthy. More often than not, stopping in a random car or cafe for a beer, coffee or snack without researching first means you might get handed a bill that will cause the 'Paris syndrome' that I spoke about before.
One positive way to look at this though, is that because it is so expensive, your one drink means that no one can tell you to 'get lost' if you are looking to sip slowly and people watch.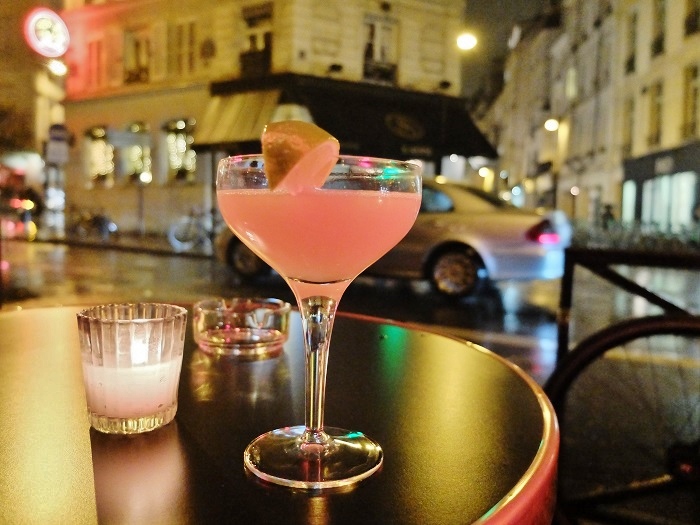 Luckily for us, one of these nights we were joined by travel blogger and fellow Texan, Leah Walker of Leah's Travels. Her love of Paris means she often finds herself coming back and has a new love for life in France. I was thrilled to finally put a face to a name, especially when it comes to blogging and social media. I'm sure we'll meet again and I hope cocktails are involved.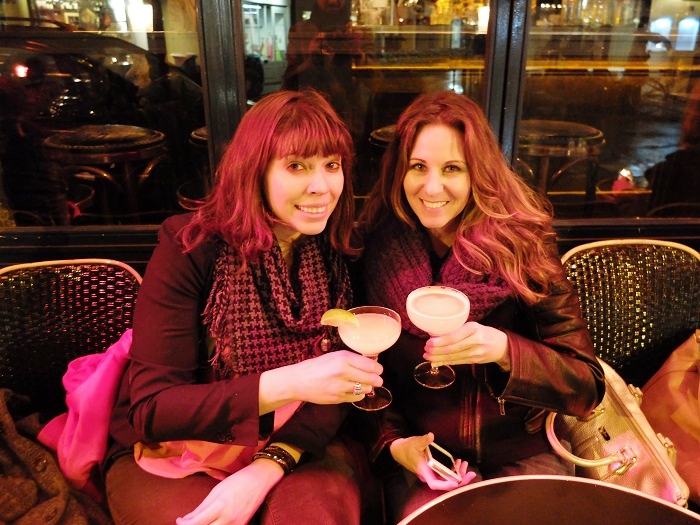 11. Visiting Sex Shops Has Never Been More Classy
Baguettes aren't the only phallic items you'll find in Paris, just head over to Pigalle and you will will likely see a lot more than just the Moulin Rouge. There are so many shops in this area, ranging from the places you wouldn't even send a creepy uncle to the one's that seem more like a fancy salon than a place selling sex toys.
Famous people like to visit them too, like this visit by Rihanna in 2010, and Dominique Strauss-Kahn was a well-known habitué of Les Chandelles (no one is surprised). I have a feeling that if you're a swinger, this city must be the adult version of candy land. In any case, visiting the erotic shops here is pretty normal, like going to the movies or drinking tea. Another reason to love Paris.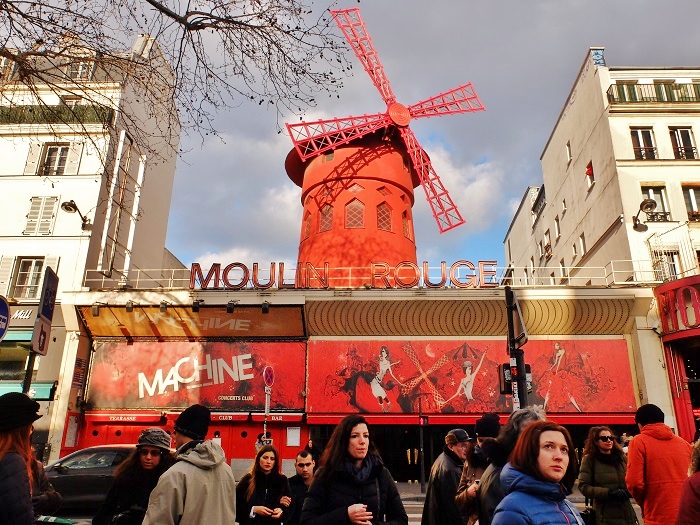 12. The Variety of Food is Refreshing
Big cities normally mean a wide variety of foods to reflect the multicultural diversity of the inhabitants living there. This is always quite exciting for me since we don't get that sort of variety back in Florence. Since we have spent a fair amount of time in France in 2014, I am slowly turning into a slice of comforting Camembert, the cheese is beyond awesome in this country.
Since we were only there for a weekend, we spent our main meals eating French, the first night at Le Chemise set the tone for a wonderful weekend, and Le Bristol was beyond my wildest expectations. I was also on the hunt for a decent brunch and ended up foregoing the 'American' variety of trying a Vietnamese one instead.
Le 37 m2 was something I had never heard of, essentially an interesting'Franco-Vietnamese' brunch serving bread and jam with bubble tea. Naturally the jams are homemade and excellent, followed by a hot Vietnamese platter, mine was a lightly-breaded, fragrant agrodolce chicken and thin veggies served with rice, omelette, and salad. Our green citron pie for dessert was a spot on way to finish. The place was tiny (hence the name) but filled with locals, I definitely felt like we stumbled upon a prize.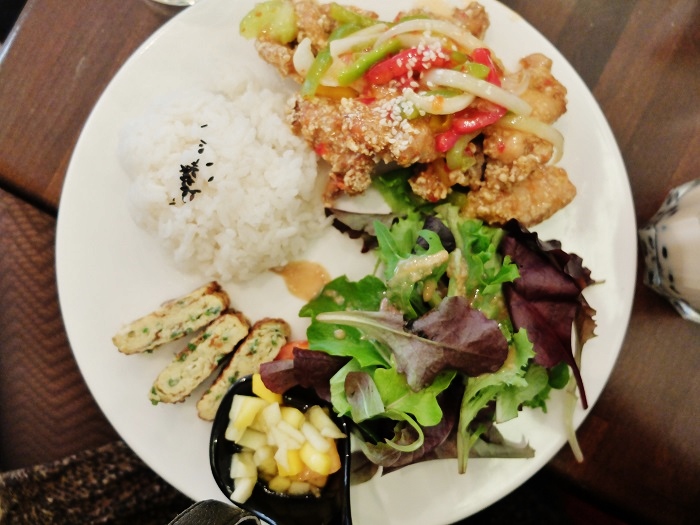 Another memorable meal was on our last day in Paris. Sunday's always give me the blues and this even more so because we had to leave back to reality, to work the next morning. Because the night before at Nico's friends birthday, I might have gone a little crazy with our moscow mules so thus was needed a bit of brunch to subside a morning headache. Brunch at Mama's looked amazing but it was a little too pricey for us (around 40 euros a head).
We ended up wandering to the montparnasse area of town, in search of food and a little art market they have on Sundays. That's when we found Crêperie Josselin, a tiny little place, all dark wood and Breton lace, on a street that seemed to be a little Brittany, there were so many creperie here.We were hustled in and got a tiny two seater in the very crowded room.
We ordered a bottle of crispy, dry cider and two savory crepes stuffed with cheese and potatoes, and then two sweet ones, I didn't want to leave. I really don't want to know just how much butter they use to make these magical crepes, they were the best I had ever had. Screw any American brunch, I would have this lunch over any egg & bacon any day. The place was a lot of fun, we definitely heard a few different languages and the waitresses are no-nonsense. Sunday brunch nirvana was the best way to end our trip.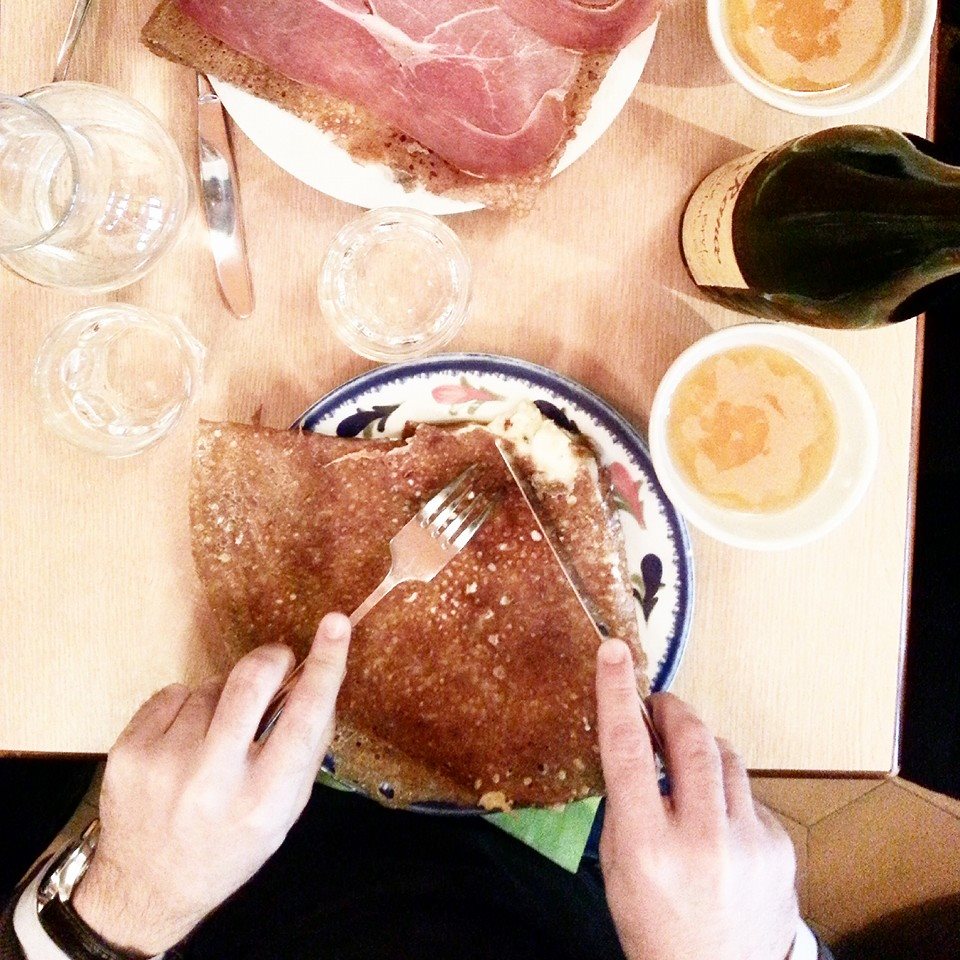 13. It's The One Place You'll Want Professional Pictures
I'm not the kind of girl who normally wants a professional to 'capture' the moment. As I have now reached thirty, I am treated to all sorts of professional shots from my friends on facebook celebrating engagements, weddings, babies, or god know what. Plus I have no problem snapping pics myself, though you really don't want a couple's trip like this just full of arm-raised selfies.
That's until I discovered Flytographer, a vacation photographer who can do a 'short shoot' in one of a 100 cities worldwide, Paris included. We got in touch during the planning of this trip and they graciously offered a 30 minute session for me to try, with the trusty Goncalo on charge of our shoot in Montmarte. The booking process is straightforward and professional, all you have to do is arrive at the meeting point 10 minutes before your appointment and voila, it's time to shoot (the safe kind).
Neither of us are supermodels yet Goncalo made us feel comfortable as we slowly made our way through one of the most charming areas of the city. Proof is in the shots, here are a few examples of our Flytographer session, I am beyond thrilled to have some truly incredible shots that immortalize the memory of this awesome weekend break.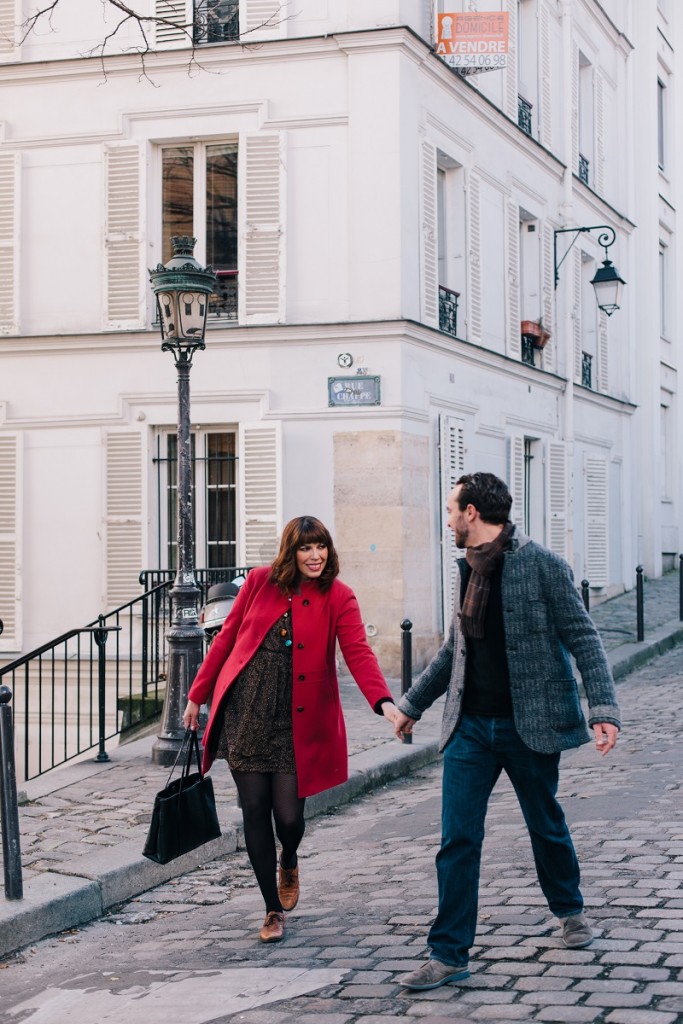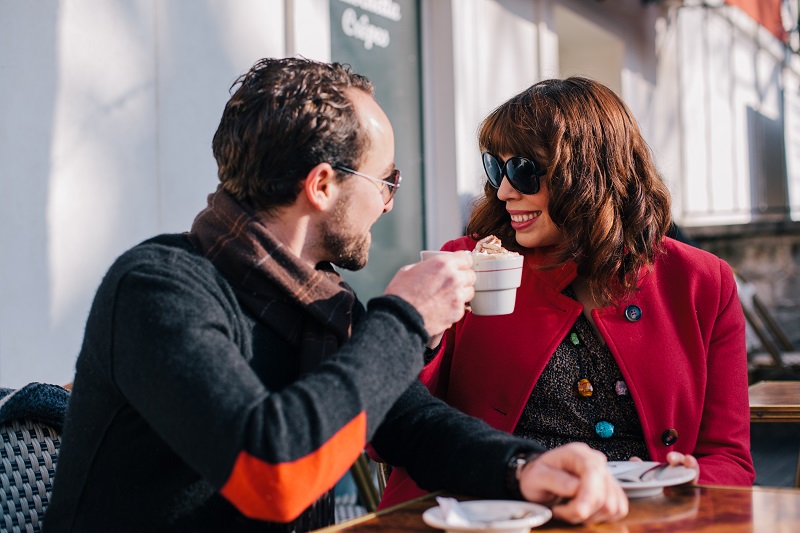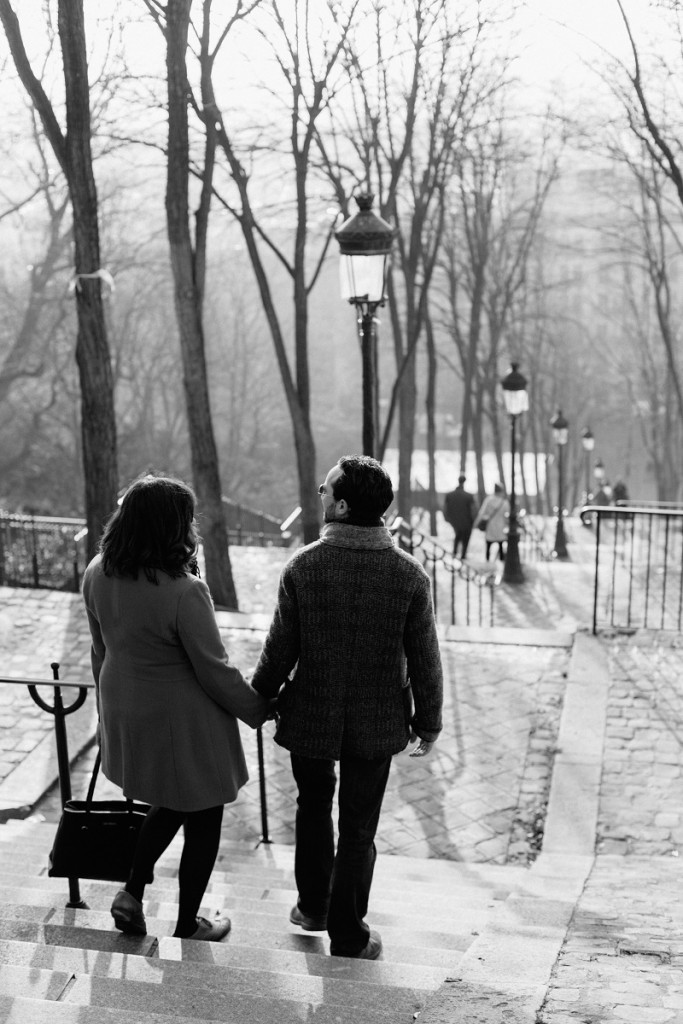 Ok So I added thirteen reasons but what about you? Have you visited Paris recently, or more importantly in winter? What did you like or didn't like. I could use your tips for the next time we find ourselves in the city. 
---
Useful Info and Places Mentioned
Getting Around: We used the Paris City Pass for two days, which includes all public transport, city museums, city cruise, bus toursm discounts and more. Two days for 99,00 €. Follow them for tips, info and great pics via facebook, twitter and instagram.
Hotel: Mama's Shelter Paris
, 
109 Rue de Bagnolet, 75020 Paris, France
+33 1 43 48 48 48. Site.
Restaurants
114 faubourg, 114 Rue du Faubourg Saint-Honoré, 75008 Paris, France
+33 1 53 43 44 44. Website.  Stunning restaurant in the historic Hotel Le Bristol, which have hosted the likes of Grace Kelly and Orson Welles. CondeNast describes this restaurant as "delicious French cuisine" is served in a classic Parisian brasserie setting.". Expensive but look out for the lunch deals, eating here is an experience!
Le Chemise, 42 Rue de Malte, 75011 Paris, France. From 12am to 2pm and from 7pm to 11pm / Closed Sundays, Saturday lunch and Monday lunch. Best for couples, book ahead. Highly recommend. *They are currently undergoing renovations and will reopen in March.
Angelina, 226 rue de Rivoli 1er, Paris. Pastries and hot chocolate, this place is an institution so expect a line if you plan on going on a cold afternoon or weekend.
Le 37 m2, 66-68 rue Rodier, 9e. website. Franco-Vietnamese brunch in a tiny space not far from Montemarte. I highly recommend it.
Crêperie Josselin, 67 Rue du Montparnasse, 75014 Paris, France
+33 1 43 20 93 50.
Attractions
Sidecar Tour with Leftbank Scooters. Private tour with up to three people, 200 euros for two (3.5 Hours). Thierry met us at the meeting point we suggested. What I liked about them was the straightforward communication to organize the tour and the fact that you can choose your own itinerary, a fabulous experience!
Ice Skating in front of the Hotel de Ville, address: Place de l'Hôtel de Ville, 4e
19 Dec – 3 Mar 2015, Mon & Thur noon-10pm; Tue, Wed & Fri 10am-10pm; Sat-Sun 10am-12am.
Artists' Street Market in Montparnasse, Marché Parisien de la Création, Blvd Edgar Quinet from rue Huygens to rue du Départ, 14th arrondisement. Sunday, 10am – 7pm. Métros: Edgar Quinet or Montparnasse Bienvenue. Cute street market selling local art, I purchased an re-done metro ticket from Peter Eichner who is there every Sunday. I recommend going to Josselyn's for lunch and visiting the market after, you won't regret it.
Père Lachaise Cemetery, 16 Rue du Repos, 75020 Paris, France +33 1 55 25 82 10.
Wonderful Paris Resources
Since I am not born and bred in Paris, I felt the need to include a few resources that I used to research this trip. These local experts are by far a lot more knowledgeable about the city than I.
Paris In Four Months. I have been following this photographer and Paris transplant's (Carin) Instagram account for some time now, her pictures paint Paris more beautiful than you could ever imagine and her website also has some great tips, especially for which caffes to visit.
De quelle planete es-tu? Blog. Meg, originally from Denver, is a fantastic photographer with a great eye for interesting places in Paris, her lifestyle blog is full of beautiful shots of Pair and unique tips.
Lost in Cheeseland. When I was looking for a brunch spot, I stumbled upon this blog written by Lindsey and haven't looked back since. She has spent over 9 years in Paris, is married to a Frenchman and contributes to a number of impressive publications, including The New York Times and CondeNast.
52 Martinis Blog. The concept of this blog is fantastic, every Wednesday they check out a new cocktail bar and write about it. For a girl who loves her cocktails, I definitely bookmarked this for future Paris trips.
My Parisian Life, really fabulous guide to Paris, I love how her site is curated and the tips they provide. Needless to say I needed more days in this city.
Girl's Guide to Paris, a wonderful and in-depth guide to Paris. Plenty of shopping, dining and tour tips.
Great Read's Set in Paris
Graham Robb, Parisians, 2010
Muriel Barbery, The Elegance of the Hedgehog, 2008
Edmund de Waal, The Hare With Amber Eyes, 2010
Emile Zola, The Ladies' Delight (Au Bonheur des Dames), 1883
Victor Hugo, Notre Dame de Paris (The Hunchback of Notre Dame), 1831
The Dud Avocado by Elaine Dundy, 1958.
A Moveable Feast by Ernest Hemingway, 1964.
The Flaneur by Edmund White, 2008.
Paris Journal 1956–1964 by Janet Flanner (Genêt)
Paris France by Gertrude Stein, 1940.
My Life in France by Julia Child, 2006.