Main cover photo sourced from Wikimedia Commons
When I first came (back) to Florence in 2007 I was in love with the city but had one serious problem, I didn't have any money. At the time, I was doing three to four odd jobs, mostly teaching English, and constantly running around the city getting a PhD in Italy's ATAF bus service. Meals were strictly reduced to eating at home, crappy aperitivo buffets and the occasional lunch with one, max two glasses of house wine.
However there were simpler pleasures to be had.
Namely taking one of my well-thumbed books to the park where I could find myself reading on a shady bench for hours on end, just listening to the hum of children playing or nonni discussing this week's gossip. Or I would enjoy a past time that would often warrant strange looks from drivers in Los Angeles, walking for hours on end while listening to a few podcasts or playlists. Florence, luckily, is an easier beast to navigate than Burbank on foot, its dusty, cobblestoned streets offer a 24/7 visual backdrop of Renaissance history with interesting factoids at every corner if you care to listen.
My advice? Look up.
Naturally I had my favorite places to loiter and I still do, one such place being Piazza della Signoria. A place of public executions, political strongholds and one fake David. Oh, and a historic Cafe that serves some of the best negroni cocktails this side of the Arno.
Home to the city's seat of power, The Palazzo Vecchio, itself an enigma of history stretching from its place as a Roman theater in the Roman town Florentia turned Renaissance-Romanesque fortress. You'll find any number of people milling about in the large open-air square where a puritanical friar named Savonarola once burned to death in 1498 as a finale to his own Bonfire of the Vanities.
However what I really like to do when I have a free moment or just need to think, is a walk through the Loggia dei Lanzi, a 14th century open-air sculpture gallery with an elegant Renaissance-style arched loggia across from the Palazzo Vecchio on the corner of Piazza della Signoria. It is the formidable home to a number of classical and Mannerist sculptures including Benvenuto Cellini's 16th-century bronze sculpture of Perseus with the severed head of Medusa and Giambologna's impressive "Rape of the Sabines (1583)."
Free during all periods of the year, it's a gathering place for tour groups snapping furiously away, students sketching from various corners and people like me, just taking in the scenery of a place I know I am supremely lucky to call home. You can often hear classical guitar wafting from the Polish busker who plays right outside and catch one of the street performers mimicking tourists walking to the Uffizi.
It hasn't changed that much in a 100 years and in fact, see how just how little it has changed since the 1890's here. When you pass by the symbolic huge stone lions, the art itself offers the viewer the chance to get up close and personal with precious artworks and Greek mythology in a way not normally possible.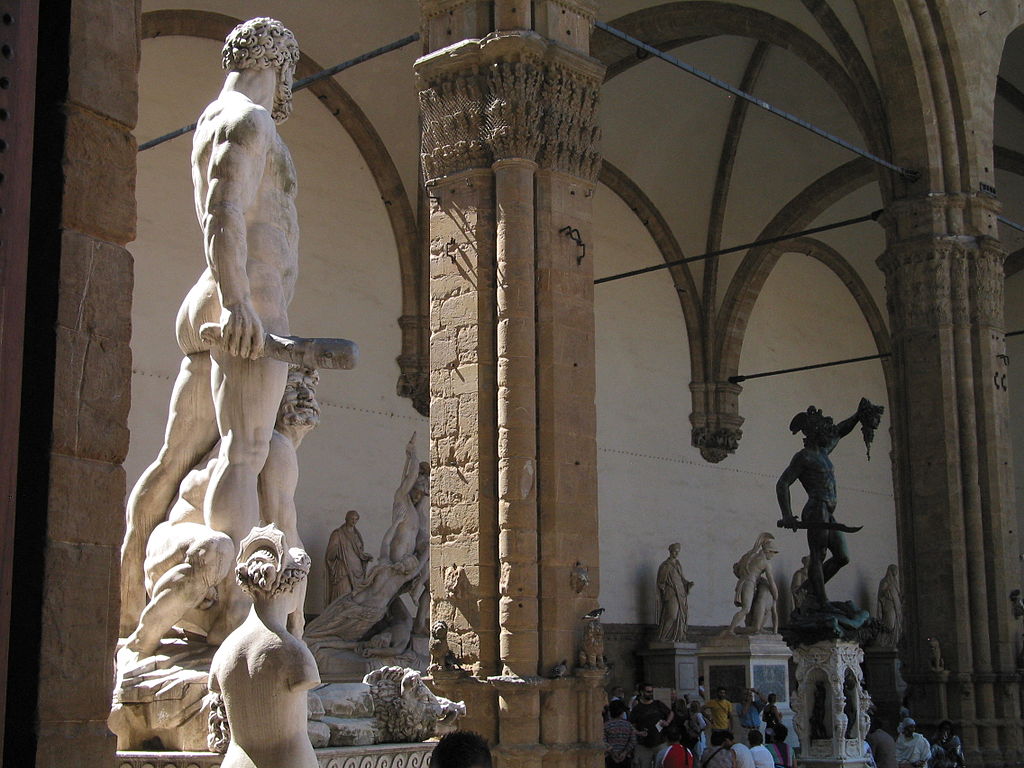 You can catch a glimpse of a new detail on each piece with every visit, a muscle, a facial expression. There are a few rules, namely you are not to touch the artwork or eat inside the Loggia itself (surprisingly so many people try to frequently make this their lunch spot only to get a stern telling off from one of the local volunteers).
Recently I asked my friend and my go-to local guide Alexandra Lawrence if we could do a live video on Facebook walking through this majestic place. Selfishly I also wanted to learn more about a place that I spent so much time over the past decade in. I embedded the video below so that you too can enjoy a walk through one of my favorite places in Florence, Italy and one that we should all treasure for years to come.
Alexandra offers private tours of the city's most famous places such as the Uffizi Gallery and Accademia but if you really want to do something special, ask her to show you what she loves about the city. Go to a lesser-known museum such as the Innocenti in Piazza SS. Annunziata or the Bargello.
….
If you enjoyed this video and want to see more, let me know! I get the best ideas from your comments, messages and emails and I need motivation to set up more of these tours so help me out guys!
SaveSave