Life is one hell of a ride
I've often coveted dreams of owning the Vespa you see in my logo. Just two-wheels and a dusty road in Tuscany, that's where you'd find me. Or rather wobbling my way on one flat tire as soon as I turn the bend, my hair a mess, a pair of sunglasses broken, that's the more realistic scenario with my perpetually clumsy self. In any case, I abandoned the dream of owning one long ago but occasionally embark on the odd ride every now and again when the occasion allows. Still, I believe a Vespa ride through the countryside is a once-in-a-lifetime activity —if done right, which is why I wanted to share this unique opportunity for a road-trip on two wheels on the blog.
What if you could go on a multi-day adventure on board a Vespa touring idyllic Italian villages and the beautiful countryside, either on your own or together with a like-minded group of Vespa-fans.
This just might be the option for you.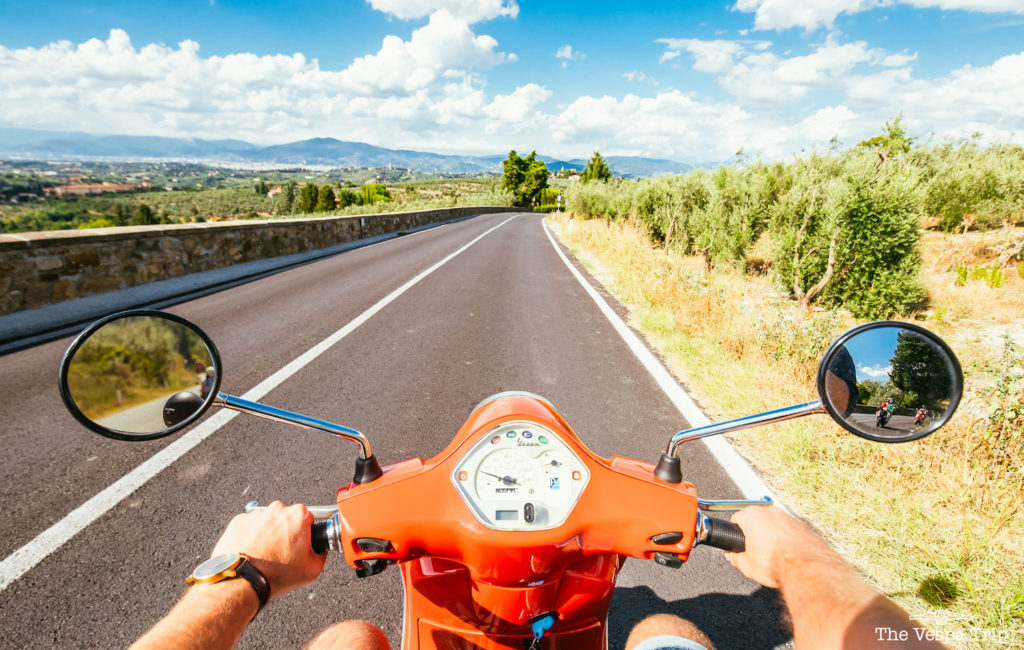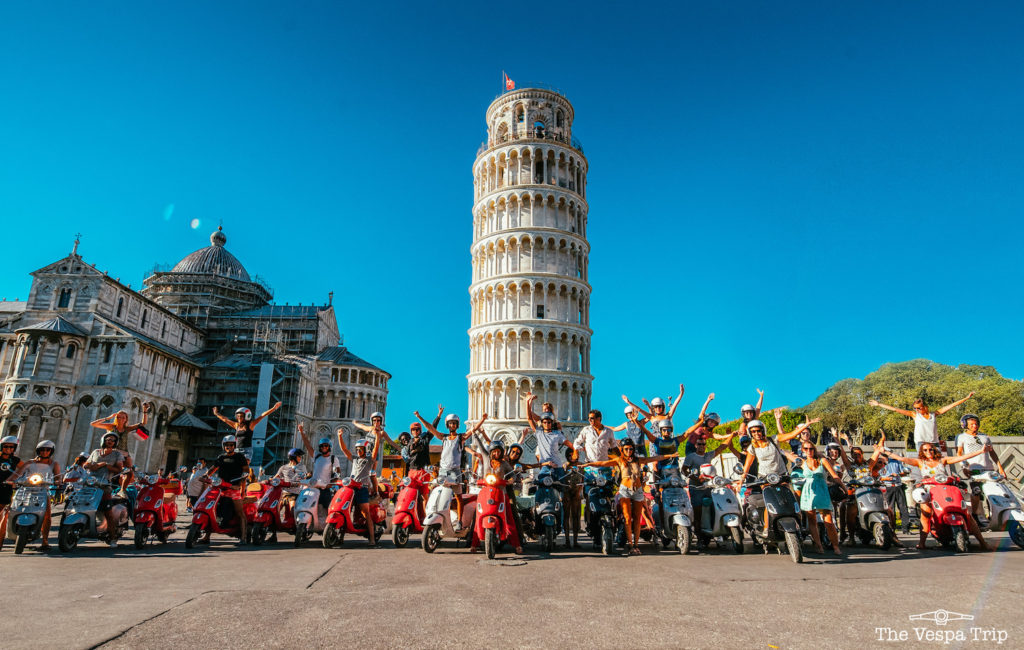 The Vespa Trip – An Idea is Born
I got to talking with the owner of The Vespa Trip, his name is Charles Van den Bossche, a dutch native who as always held a candle for Italy. I asked Charles how the idea for this company came about to which he replied "Since the beginning of our existence we have always organized road trips around Europe. It has always been my dream to organize a road trip with Vespa's as well so I decided to do it with a bunch of my international friends. We also took a photographer along and the trip was such a success that I was convinced of the idea and started selling it the next year. Quite quickly we received interest from all over the world for this trip."
The Vespa Trip's tagline is "It's the journey, not the destination." And the idea is to let people enjoy both the experience of the scenery around them together with that of driving a Vespa. People who join "the trip" will be on a one-week journey where they will visit both major towns and also smaller villages that aren't flooded with tourists.
It wasn't all smooth sailing, in the beginning they tried a various amount of routes that didn't include the busiest of roads this resulted in often choosing more bumpy choices in the form of non-intentional off roading and I can totally sympathize with Charles. I once went to visit an outdoor concert in Tuscany once with my ex-boyfriend and thanks to Google maps, we entered a road that Dante's Inferno would have deemed too extreme. In resulted in a little bit of crying and people getting out of the car to push into existence. Once google tried to direct me into a lake.
Trust me when I say it's great to have someone pre-map and test a route for you. Relationships can be killed over google maps and no one wants that.
So, Where do they go? 
The destinations for The Vespa Trip are in the areas of Tuscany, the Amalfi Coast and Sicily (god, I'd love to go there). For Tuscany the departure city is either Florence or Pisa (then it is the same route). Stops along the trip will include the cities of San Gimignano, Siena, Firenze, Vinci, Lucca, Pisa and (in their words) the awe-inspiring remoted village of Montefegatesi on top of the hills. 
While I've been everywhere on that list, Montefegatesi isn't one of them so I did a little research as I was writing this article. Apparently it is high above the other villages in the lovely Bagni di Lucca area, a place known for beautiful panoramas and hot springs, the town itself was once used by Lucca as a  "guard town" from nearby enemies looking to invade. I'm naturally curious so this would be reason enough for me to join the fun, in fact, if you'd like to read up on more of the beautiful villages in this area, Visit Tuscany has you covered here.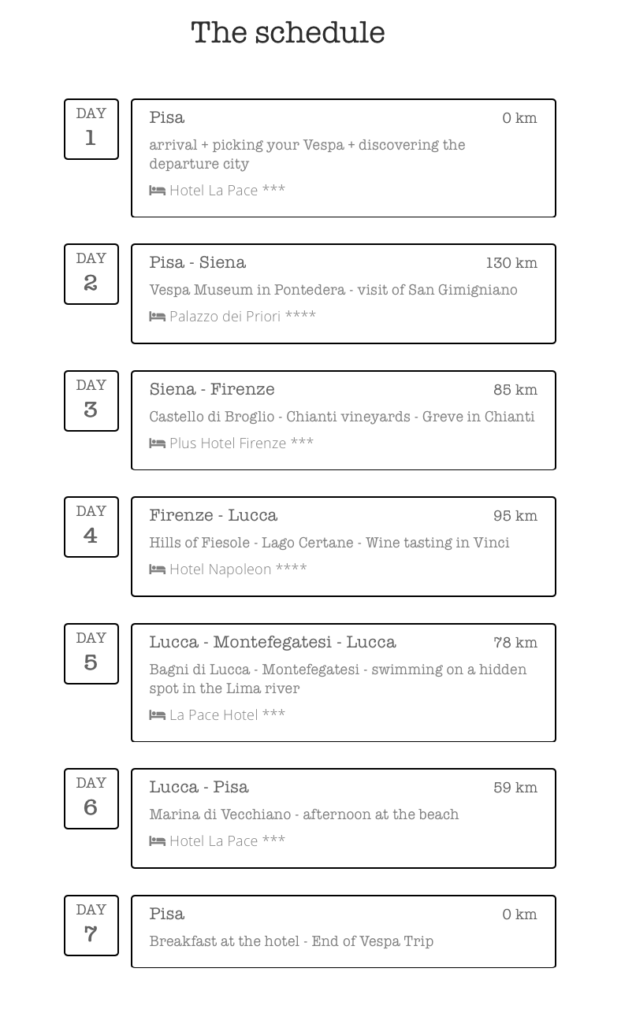 I asked Charles why he chose the destinations he did and he said "Tuscany is not only the home of the Vespa, but also one of the regions in the world where you have some magnificent cities who are all close to each other, which makes it easy for Vespa's. Another particular thing is that if you leave the city you find yourself almost immediately in the typical Italian countryside with views you can only witness in Tuscany. Amalfi Coast was the number one of our surveys when we asked our clients where to go next. I've done this trip together with my girlfriend and then I understood why. Sicily: I've done a Vespa Trip in Sicily before and what stroke me is the fact that once you exit the cities, it's like you are thrown back in time. Although it's a bit harder to fly on Sicily, I think the trip is definitely worth it."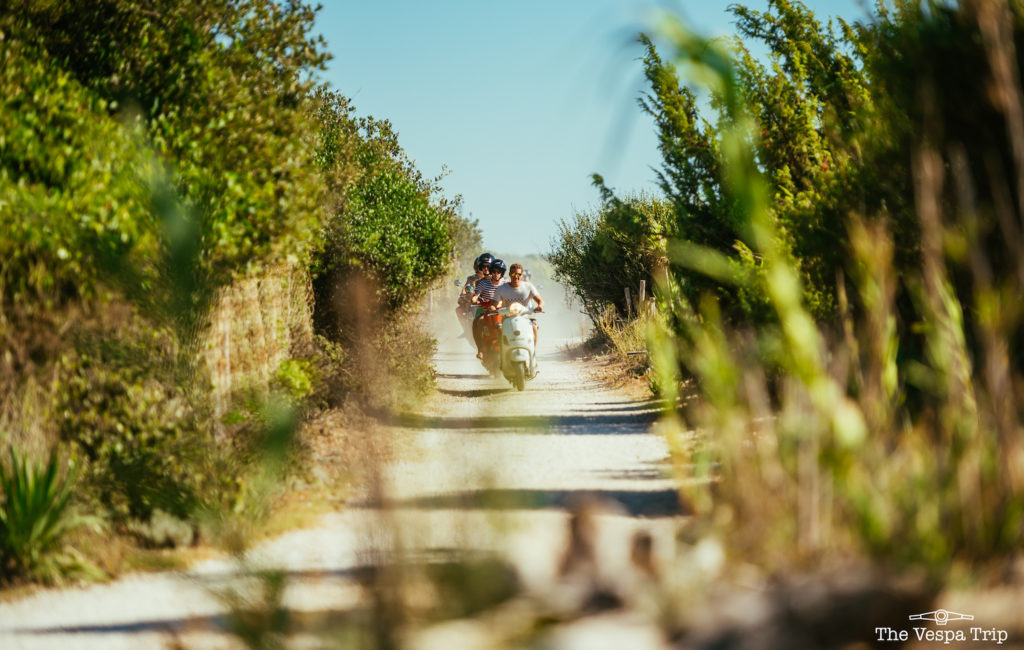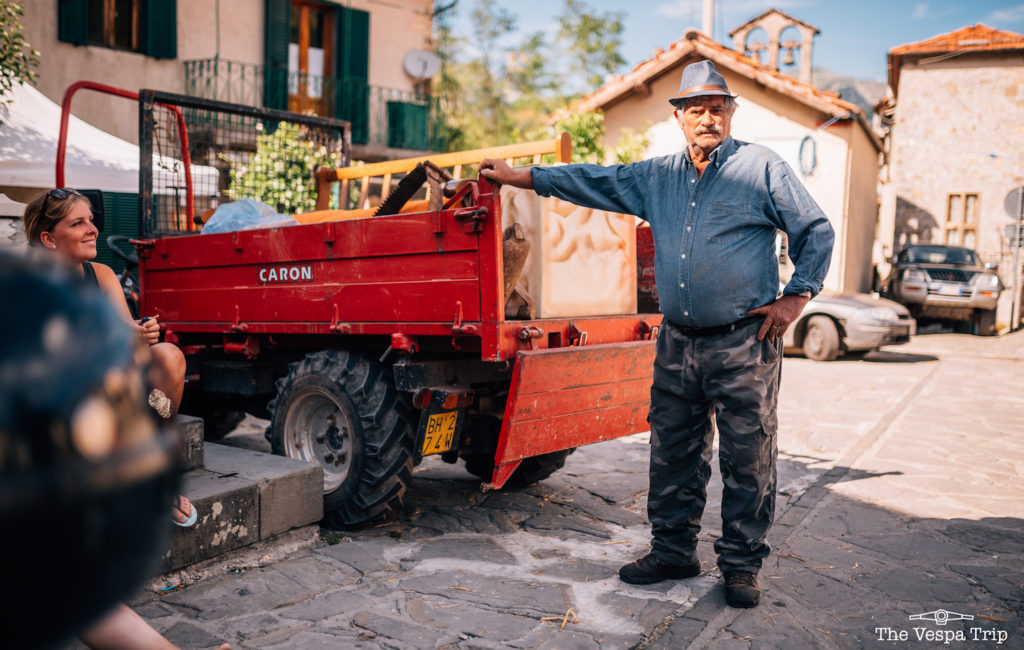 For the Sicily trip, you can expect to visit world famous salt mills of Trapani (I'm already jealous) and stop in some picturesque fisherman's villages. One notable location is in beautiful Cefalu where all of my friends claim to absolutely love. Send me a postcard if you go, please.  
Amalfi instead offers a chance to escape the chaos of Naples (though I totally recommend a few days in Napoli which I am obsessed with after reading the Napoli novels by Elena Ferrante. The legendary Amalfi route will start right after Pompei until you reach Salerno, taking you on a beautiful route towards the national park, Parco Regionale dei Monte Picentini. After spending a night in the authentic South Italian village of Avellino, The Vespa Trip will head back to Naples.
Charles filled me in on what a typical day could look like "naturally you can fill your days however you want, but usually the vespa riders start their around 10AM. Around noon you will always be able to stop at a smaller unique typical Italian village. In the afternoon you'll start driving again where you for example visit a wine castle and do some tasting. Around 6PM most drivers arrive at the hotel and can start planning for the night. We always recommend some of our favourite places to hang out and have dinner, but everybody is free to do whatever they want."
To me that sort of tour is absolutely perfect. Personally I am not a fan of 24/7 handholding, especially when it comes to restaurants where we tend to be really picky. I like that the fact that there is an itinerary so that you don't waste time wondering where to visit but once there you can decide what tickles your fancy.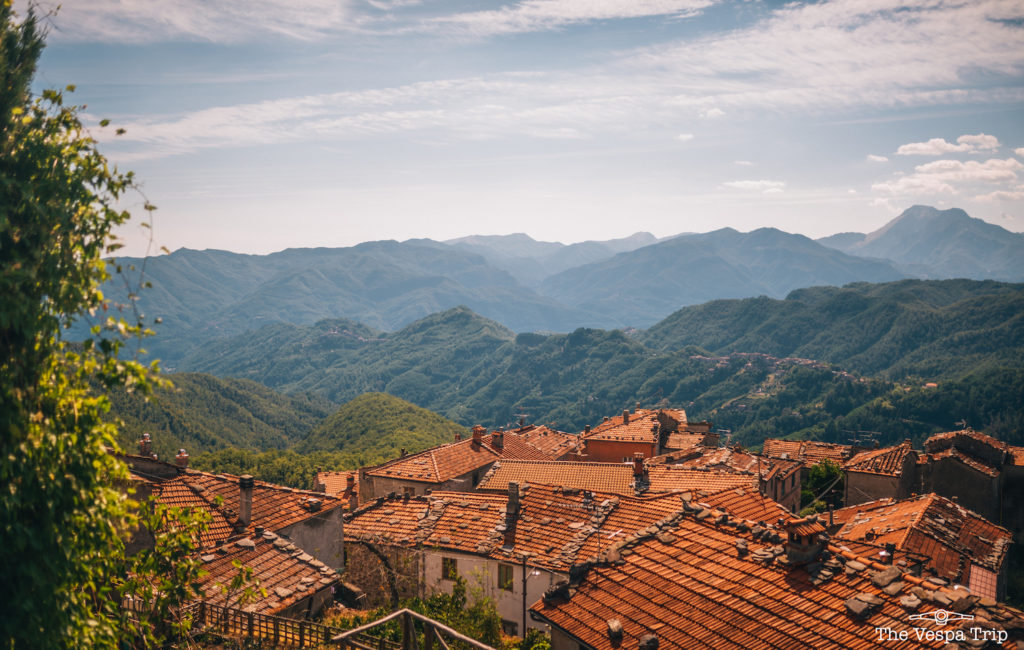 How much does this cost? 
The price for The Vespa Trip varies on the location. For seven days (6 nights in a hotel) in Tuscany, the prices ranges from €490,00-€590,00 depending on the week, and the destination. It's important to note that the trip always starts on a Tuesday, with the arrival day on a Monday. The prices for both Amalfi and Sicily are around the same, besides the hotel, the Vespa and breakfast is included as is your local guide. The Vespa Trip is designed for two riders on a Vespa during the week-long trip but if you want to go it alone, there is a 120€ solo driver supplement (if you come with a friend and want to drive alone) or 150€ if you just want to come alone in general.
What if I have no Vespa experience? 
Not a problem, They offer the option to arrive early in the day (preferably before noon) take a start-to-Vespa course. This costs (+50€ per Vespa) which starts at 2PM, their guide will explain you the tips and tricks of driving a Vespa and embark on a test ride the day before the trip actually starts. This is imperative to feeling comfortable on two-wheels and being that you are in the hands of experts, I would even do this if it had been awhile since you've ridden one just to get a refresher course. 
Also if you really don't want to drive, you can of course ride on the back of someone's vespa or the one of your friend if you come together with a group. I get it, I won't judge you especially if you had a little too much wine at lunch.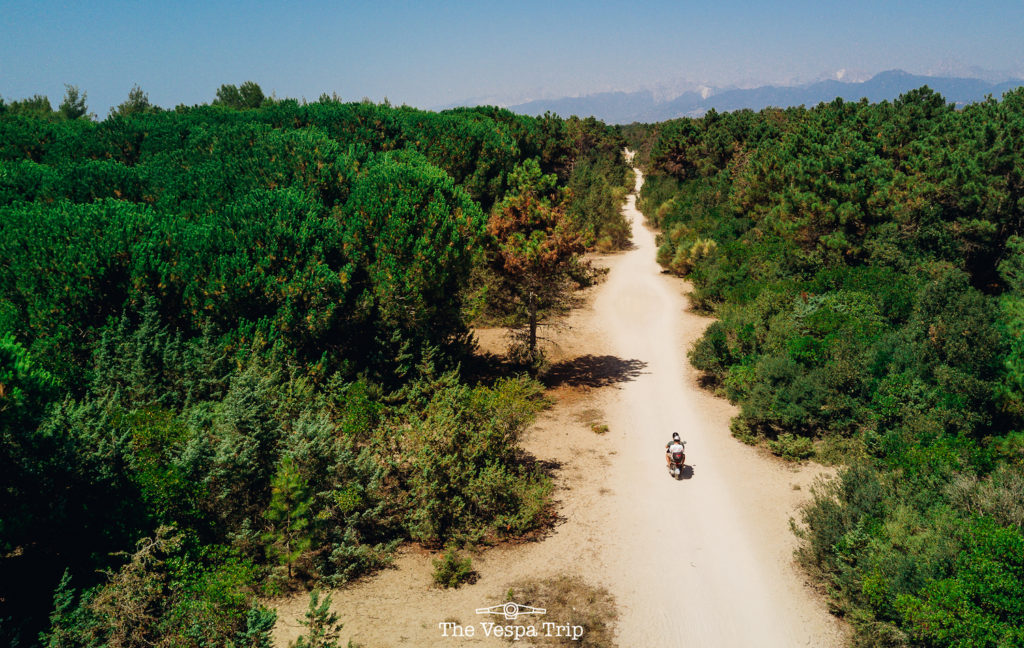 Final Thoughts and More Details
Naturally I had to inquire about funny stories because you know as a tour owner/leader you tend to see and hear it all. Charles didn't disappoint. He shared that one group was so overly excited about driving the Vespas that when they arrived at a local supermarket to pick up food, they actually drove inside the market to the shock of all those inside. It was pretty hilarious but I imagine that must have been a small town since in Florence they would be chasing you down the street with a broom or a stack of useless bollini to throw at you.
What do I need to bring? Your self and a friend (if you want) and of course you will need a driver's license for a normal car (B) or a motorcycle driver's license (A). 
There is also the option to rent a GPS (30€) so that you can have access to the itinerary without having to follow the guide. 
The hotels are in the 3 to 4 star category, and come with breakfast and occasionally a pool. The itinerary on the website gives you an idea of what hotels you will sleep in. 
3rd party damage insurance is included but they do recommend that you get travel insurance in advance to avoid potential larger costs during the trip should something happen. 
Included in the price are the hotel nights with breakfast, the Vespa with helmet, the guide and the roadbook.
Obviously you have to cover the costs of getting to Italy to start your Vespa Trip but from what I've been reading online, it seems like a good time to book tickets. USA Today was noting airfares to Rome recently from New York City, Los Angeles and San Fran starting at around $371 dollars. Woah!
Full disclaimer, I haven't yet been on the Vespa trip myself and this is a sponsored article however all opinions are 100% my own and I found Charles to be a genuinely interesting guy with a cool new concept in The Vespa Trip which is why this article is up on my blog. My hope is to join one of his tours this Spring to see how I fare on two wheels myself so perhaps we may be riding together if you decide to come to Tuscany. 
SaveSaveSaveSaveSaveSaveSaveSaveSaveSaveSaveSaveSaveSaveSaveSave