Ask anyone their favorite place in Tuscany and without a doubt you'll hear the hilltop Italian town of San Gimignano pretty high up on the list. Unique, it is. Its 13th century walls hold a wild berth of stories, walk along them and you'll be treated to breath-taking views of the valley below encircling it's charming medieval alleys.
It doesn't really surprise me that it has all of the components for a Tuscany "wow" factor. That being said, I've never really enjoyed going there myself. I've done the tours where you have an hour to wander time constraining any true, in-depth experience. Most people rushing to visit the torture or buying crappy souvenirs on the main drag from unscrupulous sellers. It's fast tourism at its worst best and it stresses me out as a traveler.
To be fair, I've even had bad experiences even on my own. Taking friends during the height of spring to find no parking or expensive parking coupled by tons of people milling in every corner, or lining up outside the famous gelato shop. I get it, the gelato's good. So are a lot of places. After awhile, I avoided it completely. Preferring smaller towns in Maremma or Val d'Orcia, the ancient village of Monticchiello always carrying a sweet spot in my heart (or my like my stomach).
But it was time to give San Gimignano another shot.
Thanks to my new friend Sarah, who's family run the beautiful Poggio Alloro organic farm just ten minutes outside San Gimignano's iconic walls, she was determined to show me another side to the town. I got the chance to stay at Poggio Alloro recently for a friend's birthday, we harvested saffron together with Sarah's family and a group of us spent an evening enjoying a generous saffron-infused menu in front of a large fireplace. Pure heaven thanks to her generous family.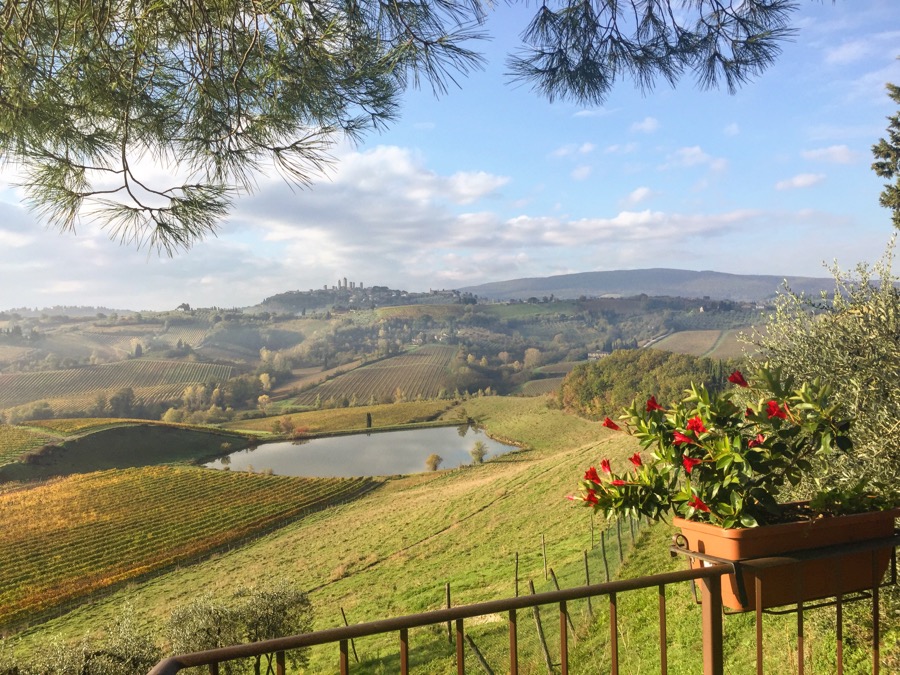 Growing up in the area, Sarah's memories are fond and vast. The safety of  suchTuscan towns means that teens got free range wandering every corner, choosing gelato over drinks (as I'd like to think). Eager to visit with a local expert, we gathered a group of friends and hopped on a train to Poggibonsi where Sarah picked us up for a winter adventure in the town of towers.
It was a cold, windy and rainy day, hardly ideal for sightseeing in a place known for its sunny panoramas, however this also meant that it was utterly devoid of people. We felt like we had the town all to ourselves, which is a real first for me in this place.
Regarding San Gimignano's history, it's generally thought that Etruscans inhabited this area for it's valuable position overlooking the land. Legend has it that in 60-something BC, two brothers Muzio and Silvio escaped Rome and later formed this pretty town though the first original recorded evidence of its existence dates back to 30th of August, 929. The time of most power was naturally during the Medieval period in Tuscany's history, when San Gimignano sat along the prized "via francigena" passageway of pilgrims heading towards Rome. 
As we walked the beautiful empty streets Sarah posed us a question. "Do you guys know San Gimignano's most important industries are?" (Besides tourism). We of corse mentioned wine, saffron, two items closely associated with the towered town. "Ma certo" (of course) she answered, "Saffron, wine and wool were also what flourished during the 13th and 14th centuries as well, nothing has changed."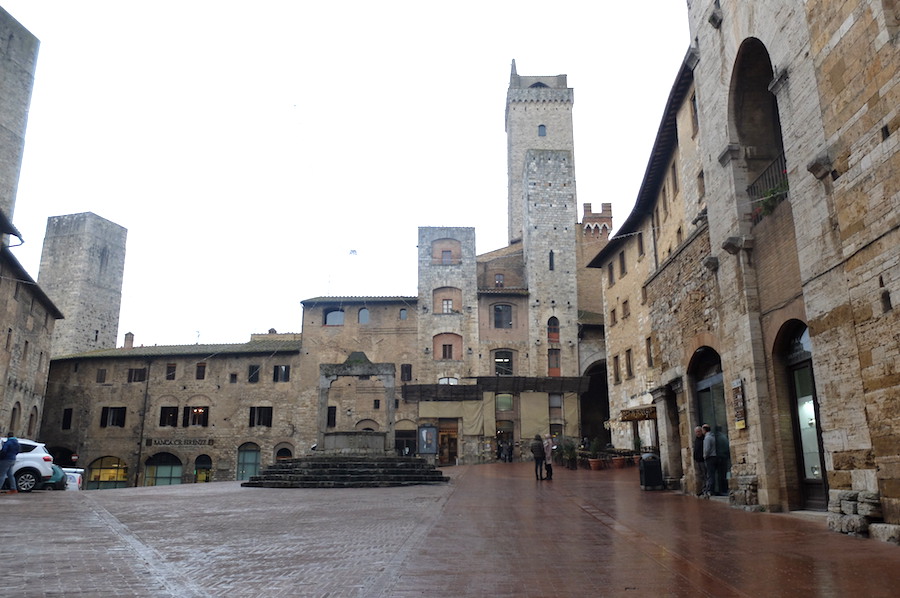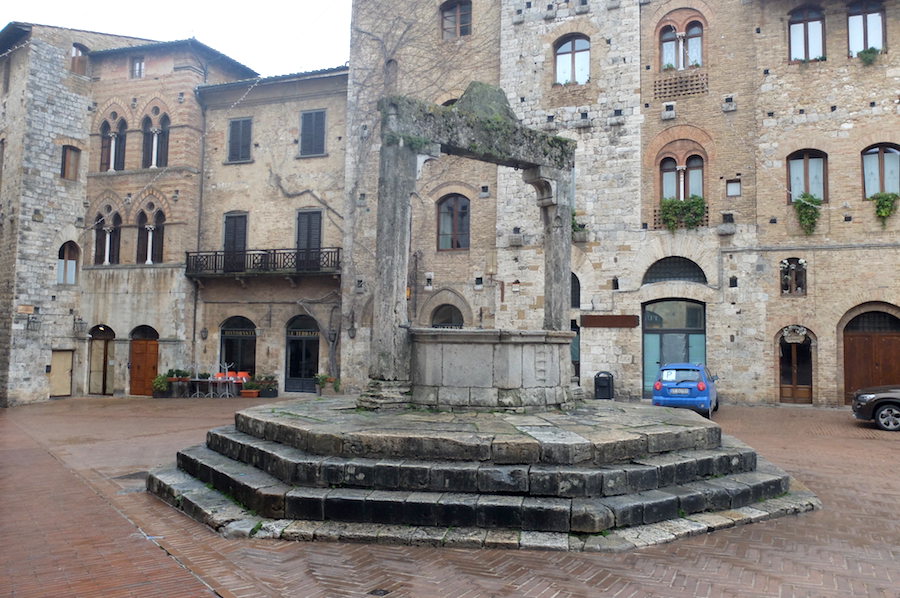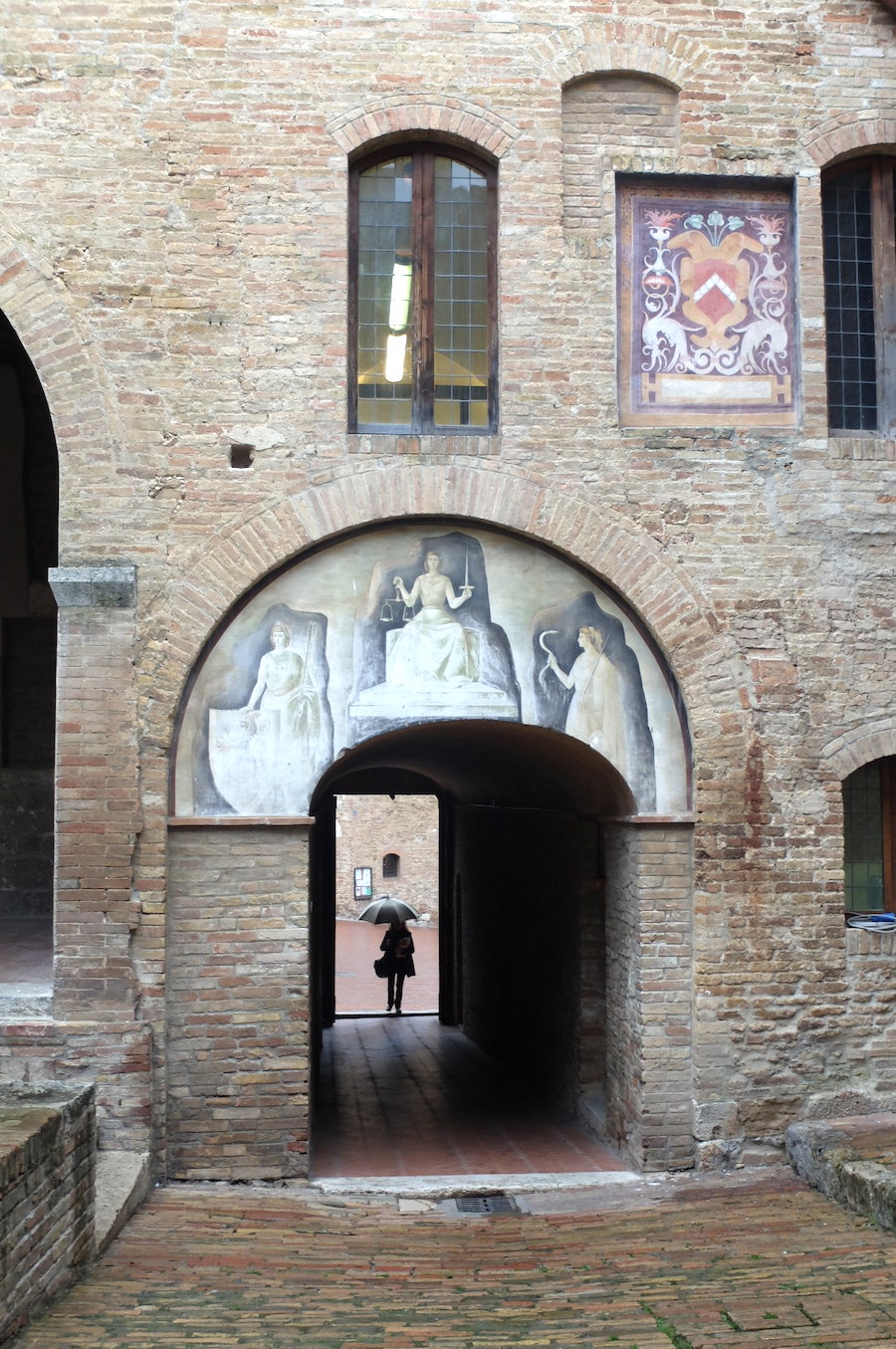 Always Start With A Coffee (And Crostini) 
Sarah was smart. She knows the first way to get anyone excited about visiting a place is to make sure their bellies are full and properly caffeinated. We met at a small cafe, Cafe Il Giardino, perched just outside the city walls along Viale Roma.
[easy-image-collage id=14315]
A cozy atmosphere permeated the small space, we squeezed into a table in the back with windows offering a jaw-dropping view. Huge cappuccinos were quickly served, that in itself a gift from the gods. Thanks to my friend Emiko, we all dove into a tasty crostoni (large toasted bread) covered with gorgonzola and roasted persimmons. It wasn't good, it was glorious.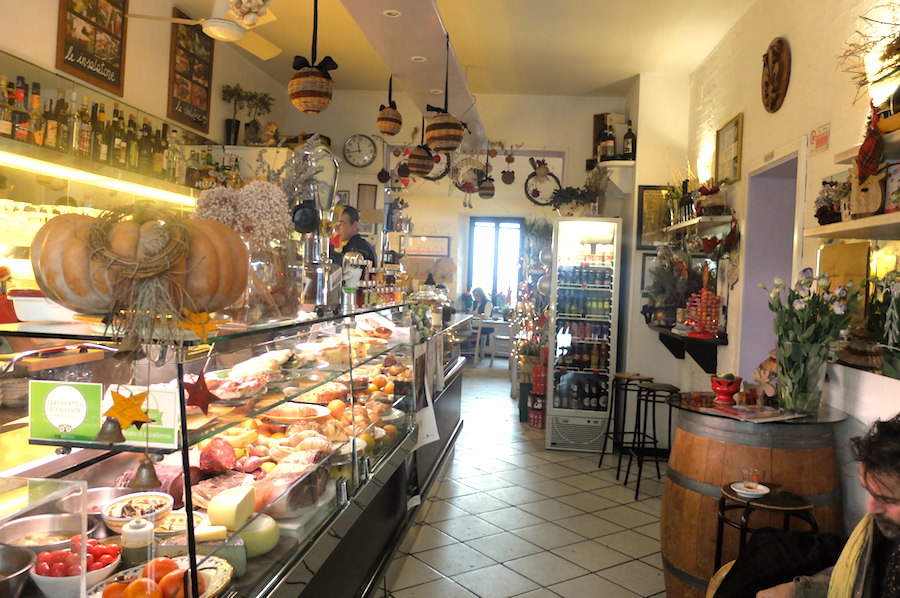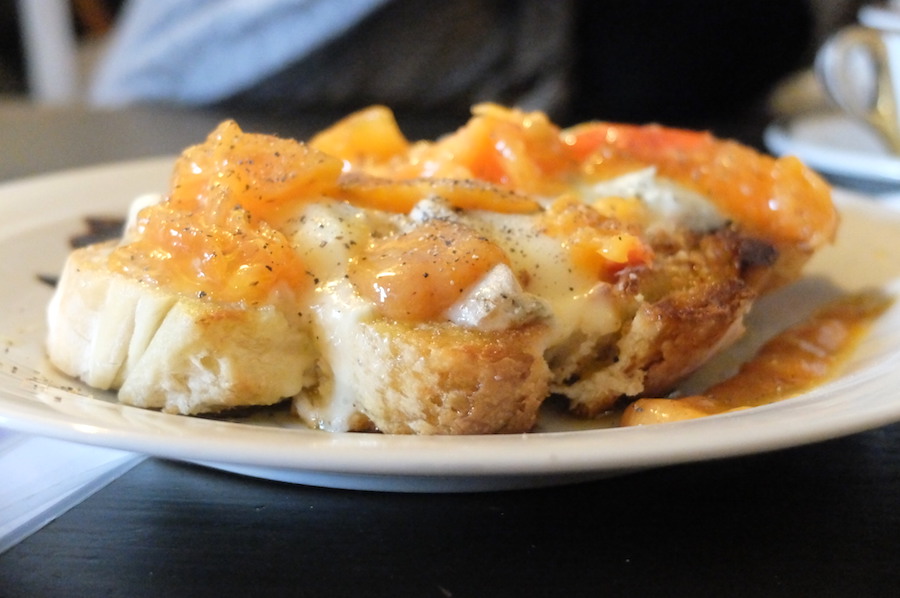 Eventually, we had to leave this place (I admit it was hard, as far as first impressions go, this gets a 10 in my book) and slowly we entered the main door of San Gimignano and up via san giovanni where there was nary a soul. Just us, together with our cameras attempting to capture the beautiful contrast of light that occurs when a misty darkness weaves itself through a winter's day.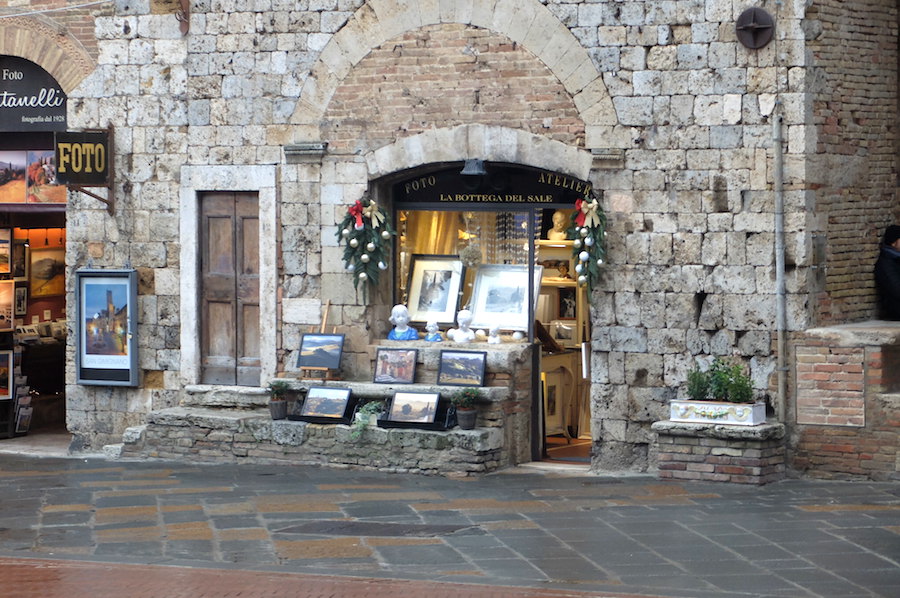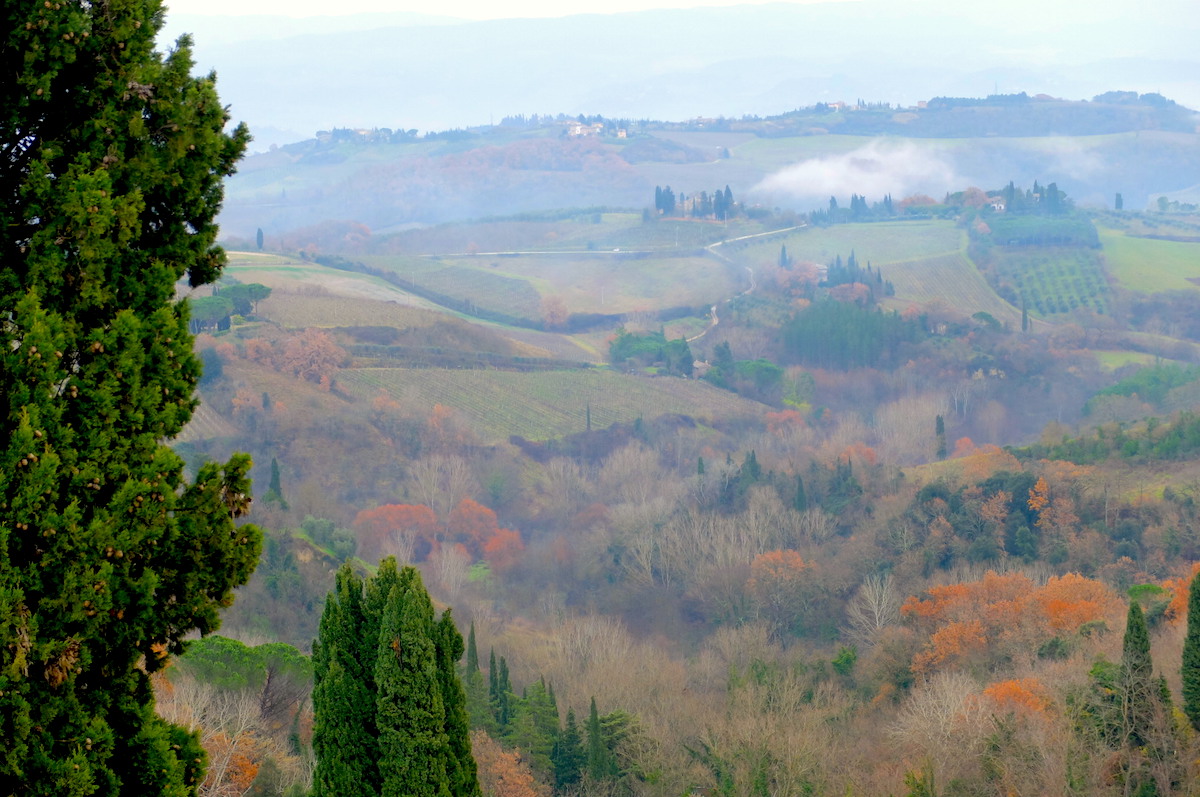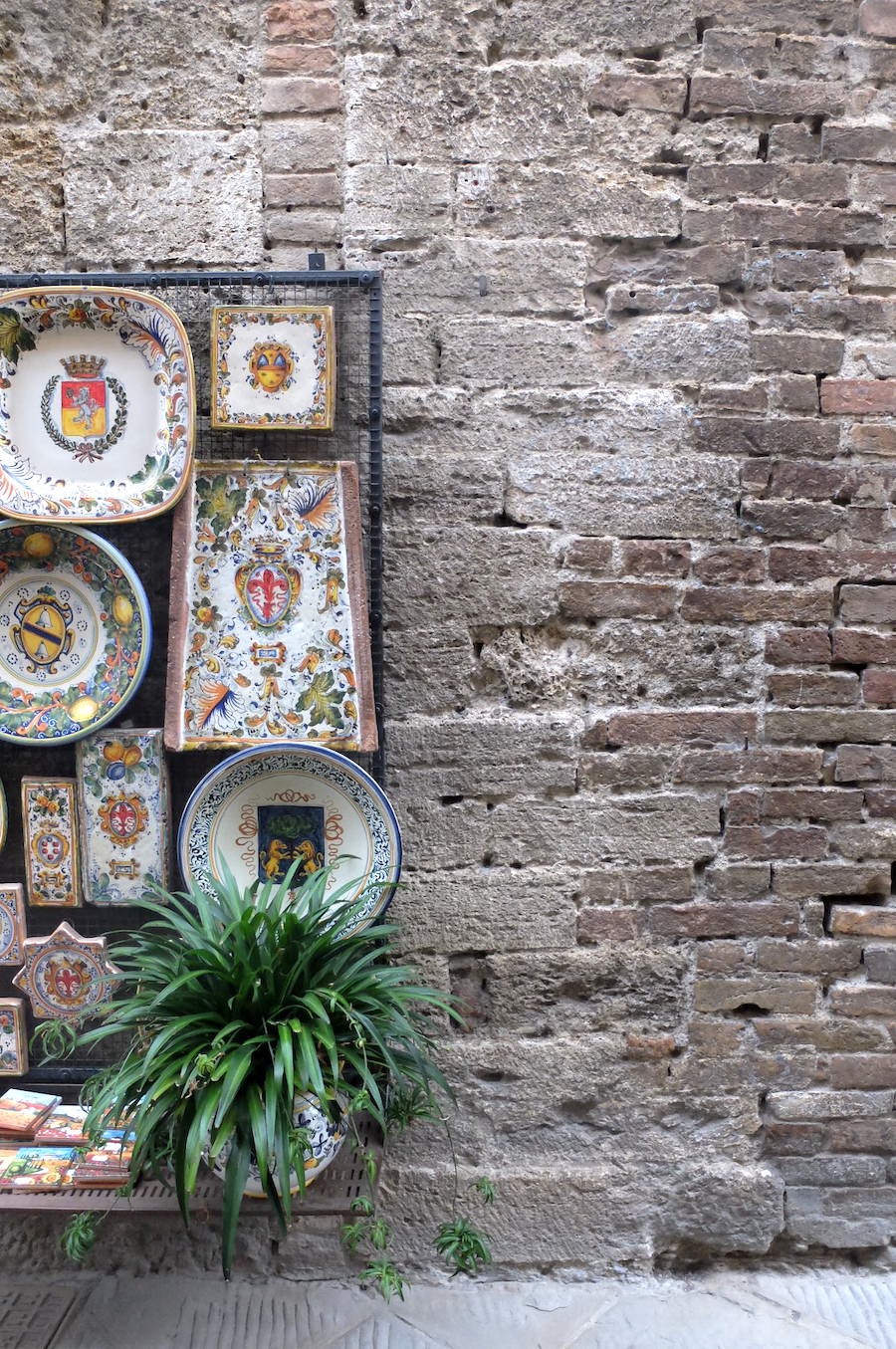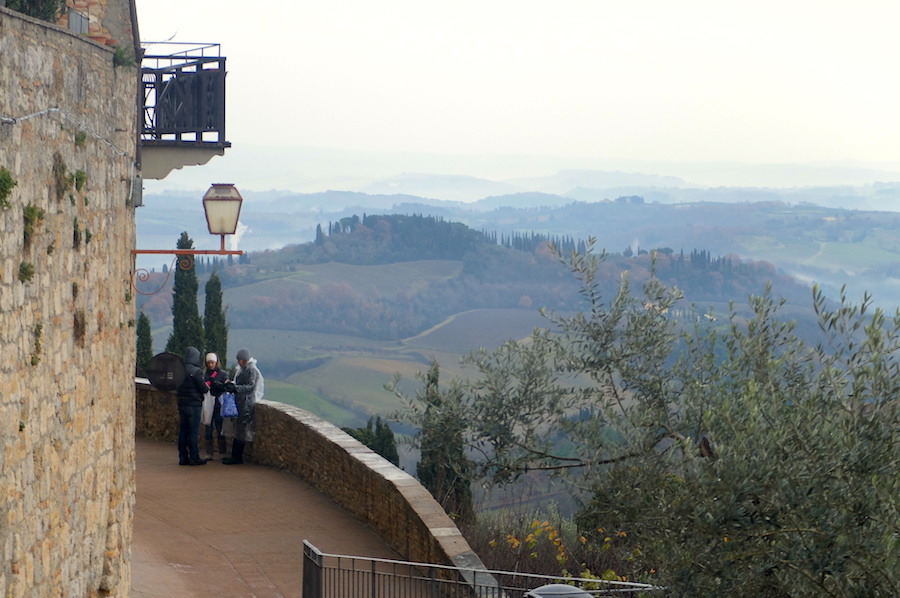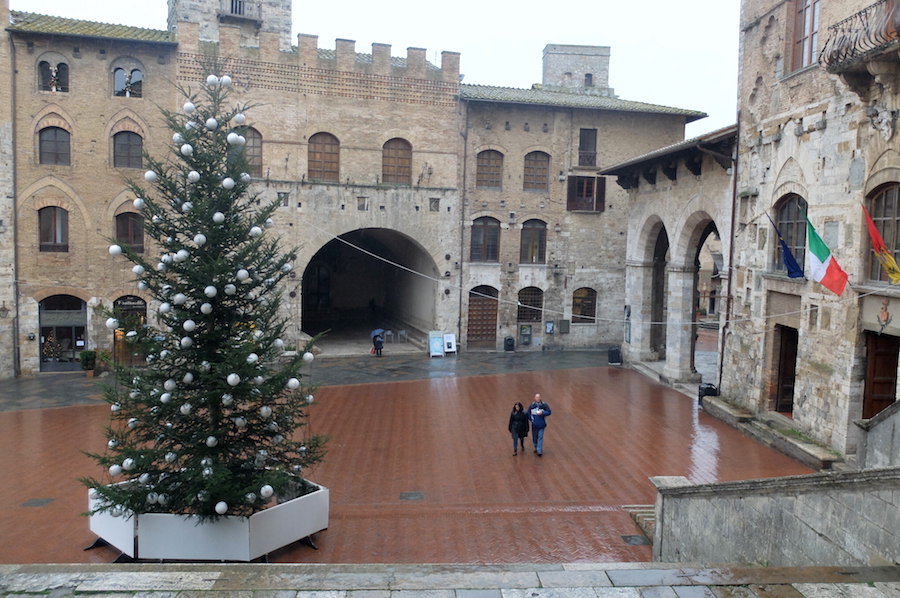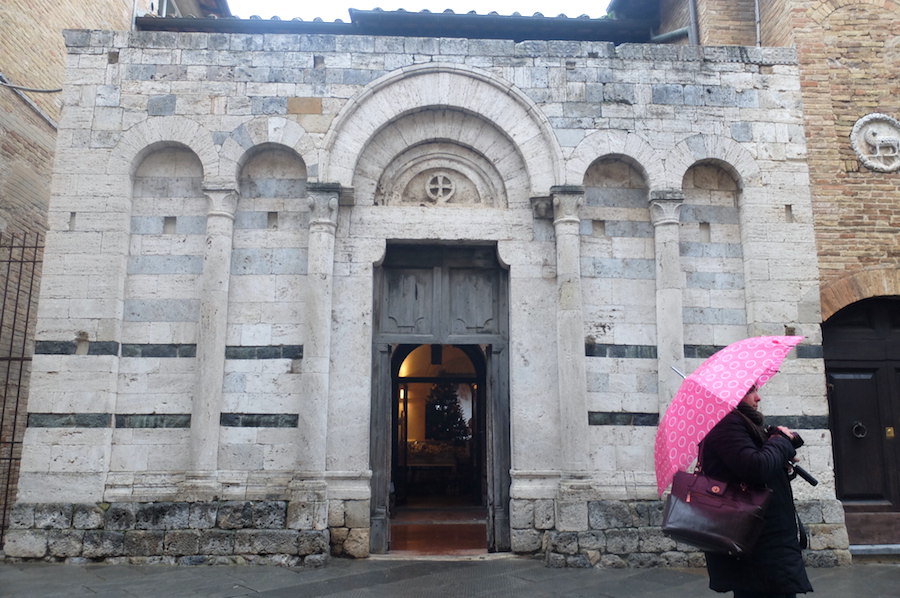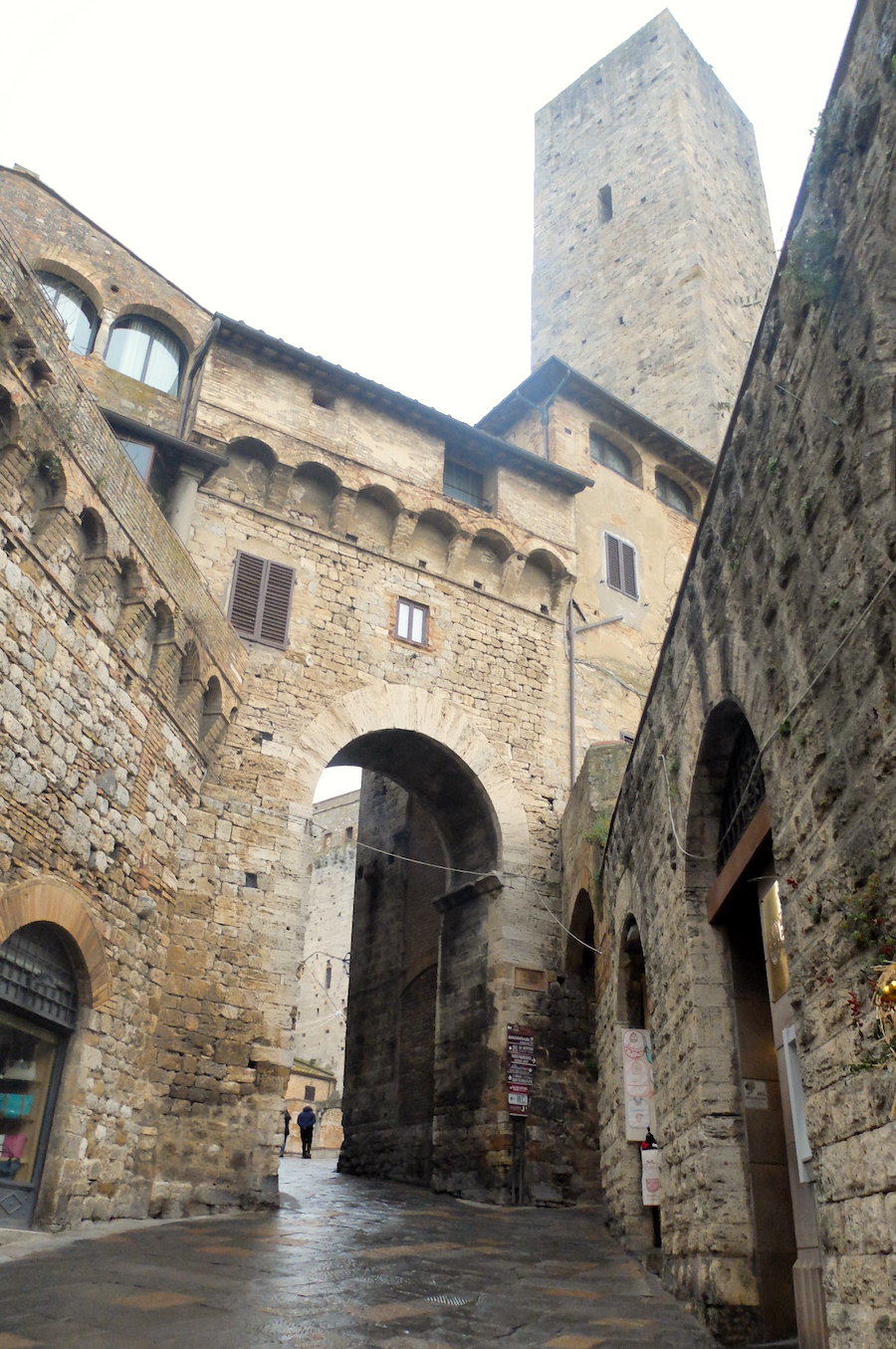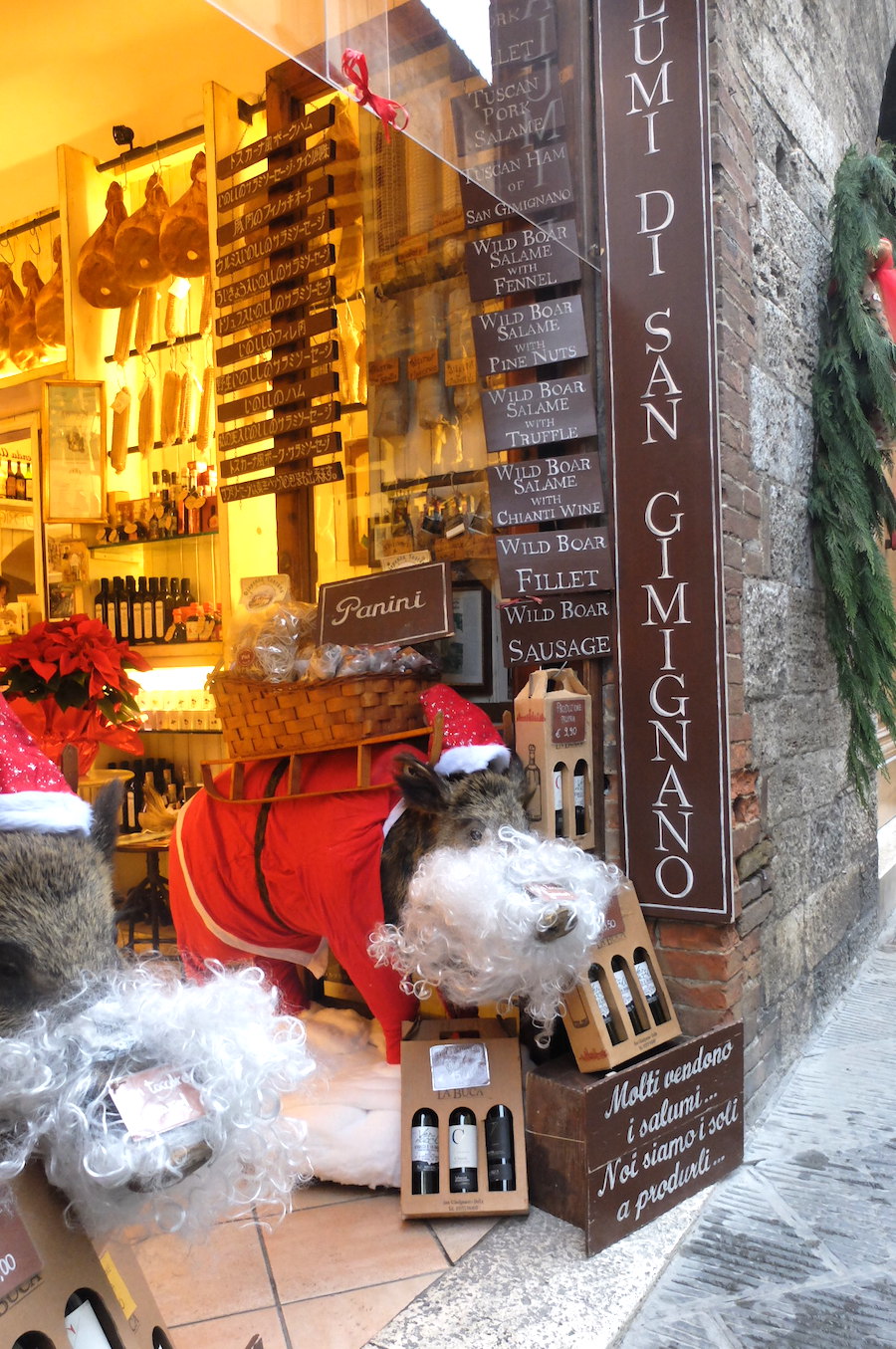 All about the details
Just weaving your way around the city's stone corners and leafy doorways, you can get a great feeling of what medieval Tuscany looked like. Several of the towers still remain and within the stone walls, you'll spot the slight evolution of its architecture. It made me think go scenes from the film 'Tea With Mussolini'  by Franco Zeffirelli of a group of no-nonsece English ladies bent on saving the town's icons from Nazi troops. 
Thanks to Sarah she pointed out many easy-to-miss details that naturally help a deeper story, and in same cases, an even more intriguing mystery. Here are a few favorites.
For example, a mark inside the stone where old iron stays existed to tie up horses in ancient times. Or a very interesting "pull-type" doorbell that was intriguing in its own right. I even spotted one of the "buchette" or small wine doors that you typically see in Florence.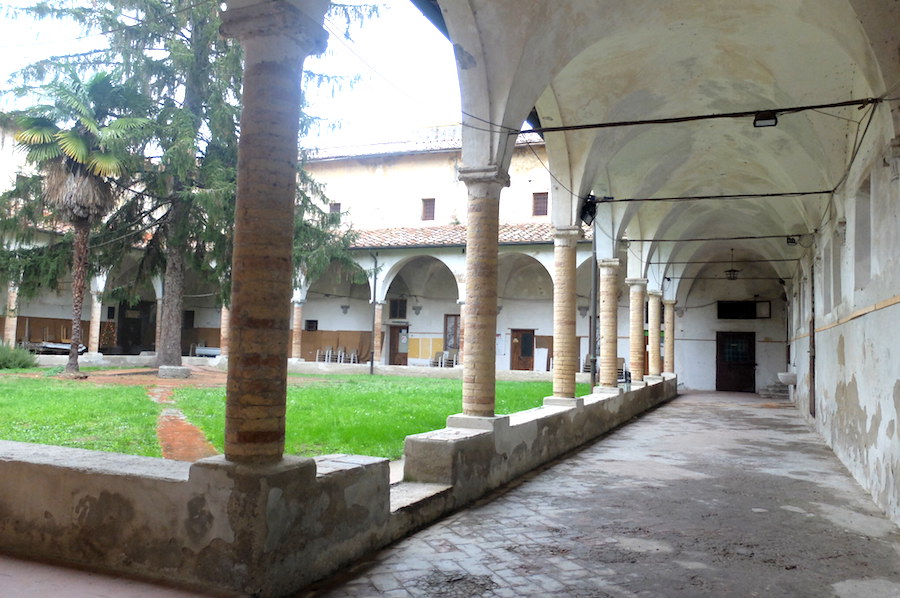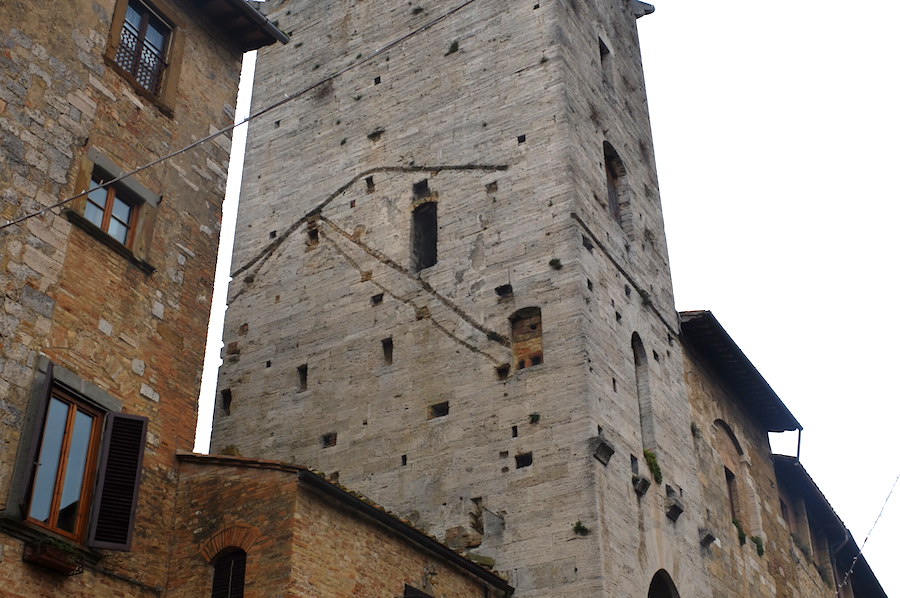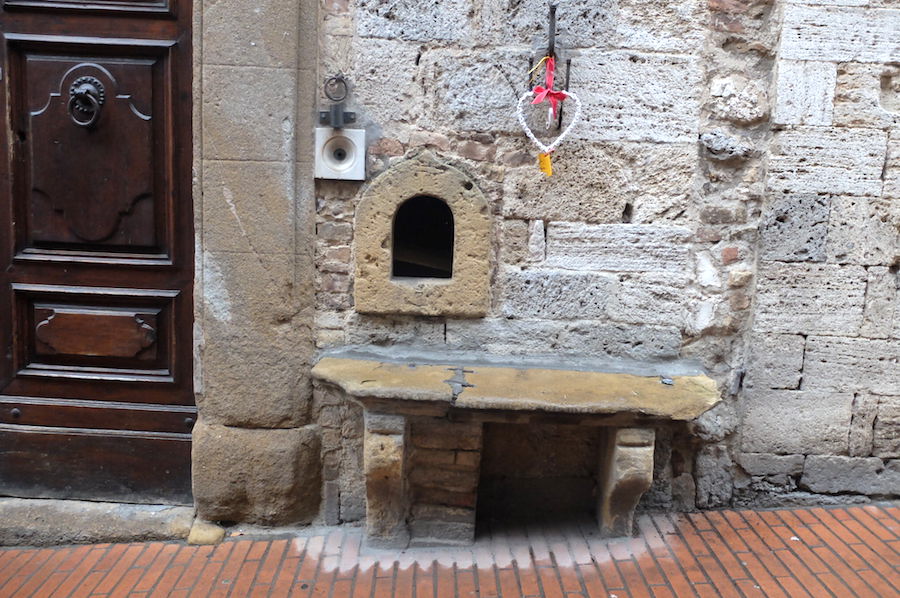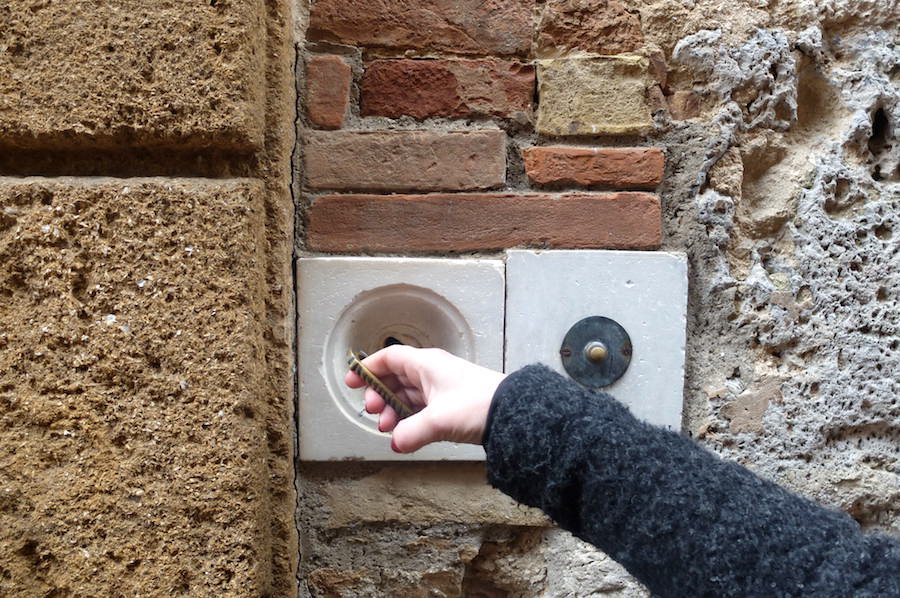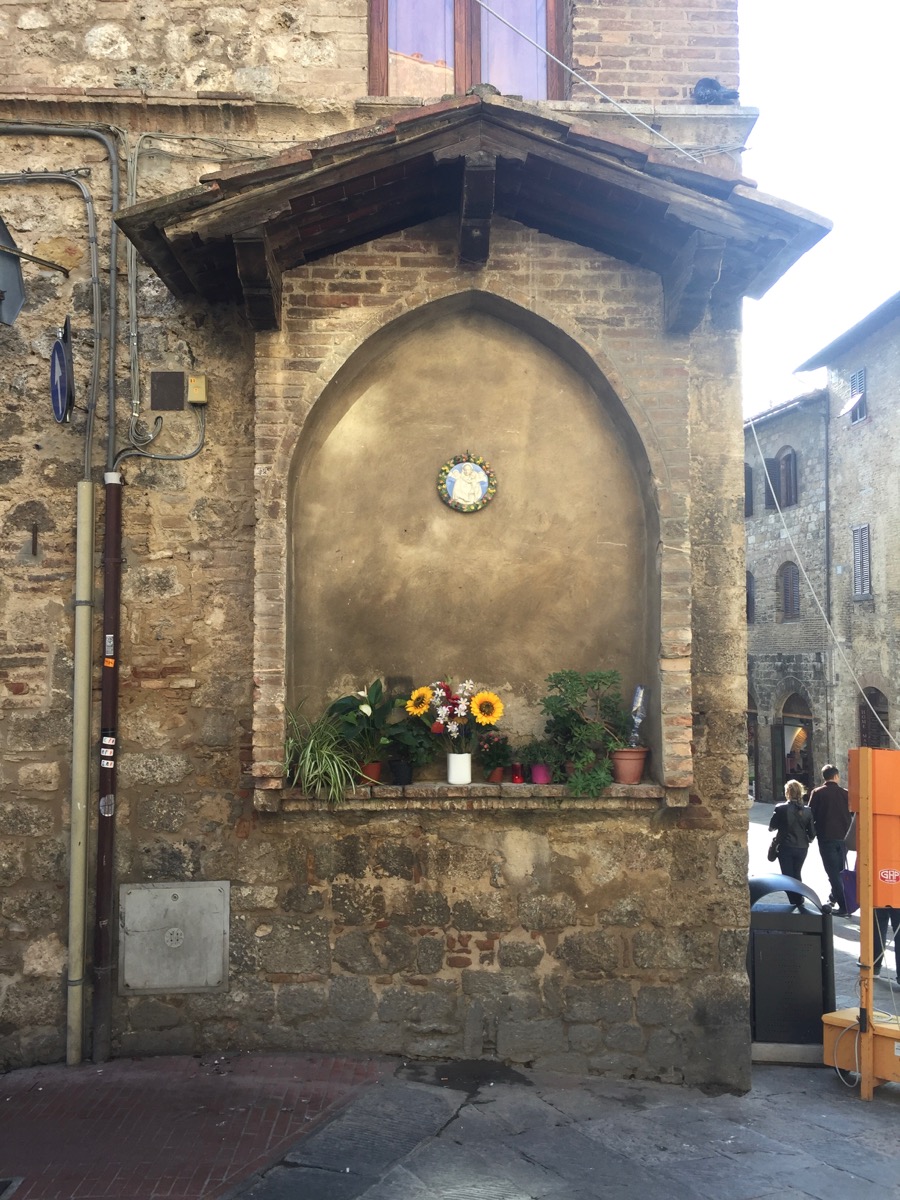 Naturally the Duomo of San Gimignano, also known as the Collegiata di San Gimignano is a must-visit, Sarah let us know that in the past it was free to visit and a lot more magical for her and friends to visit as children marveling at Renaissance frescoes by Domenico Ghirlandaio. However times change and now it's one of the most important touristic attractions, but it's an incredible place to see.  Here you'll see frescoes dating from the 1300's to later dates, the Duomo was damaged during WWII when a shell hit one side of the church.
This is a good time to get to know local hero Saint Fina (1238–1253), who (depicted below) died at an early age (one of the legends says that she punished herself after being seen talking to a boy, it was different times back then). More likely is that she died of a serious illness, and gained notoriety for choosing to sleep on a wooden pallet and declaring her love for Christ and preaching encouragement to the local people. She died at age 15.  In the most impressive fresco, you'll see Saint Fina's funeral, her body surrounded by the townspeople with the towers of San Gimignano flanking the group.
When they removed Saint Fina from her wooden pallet, they were surprised to see violets sprouting from the wood, and since then this became a popular local flower until even today where they grow freely on the town's walls. Her fest day, which has been celebrated since the 1400's is on March 12th, the anniversary of her death.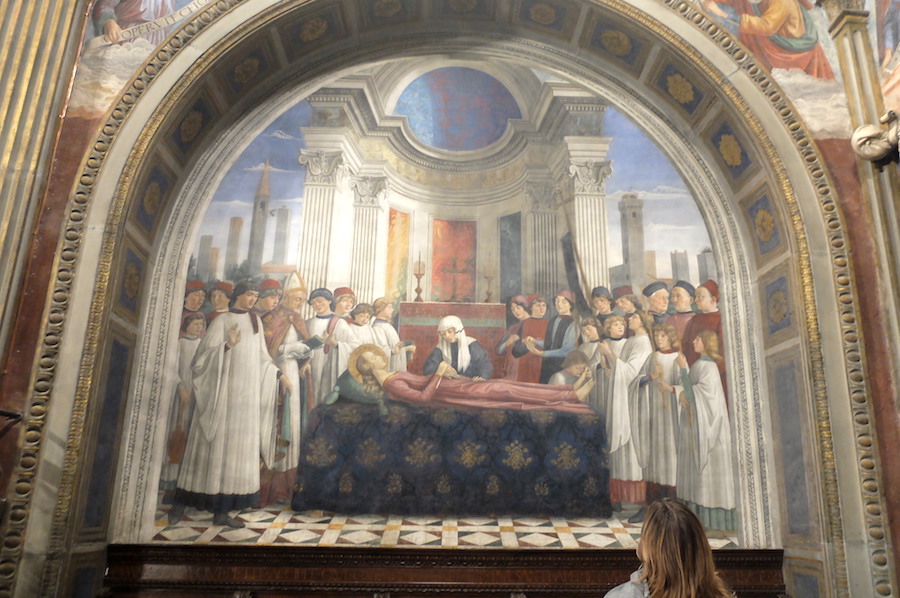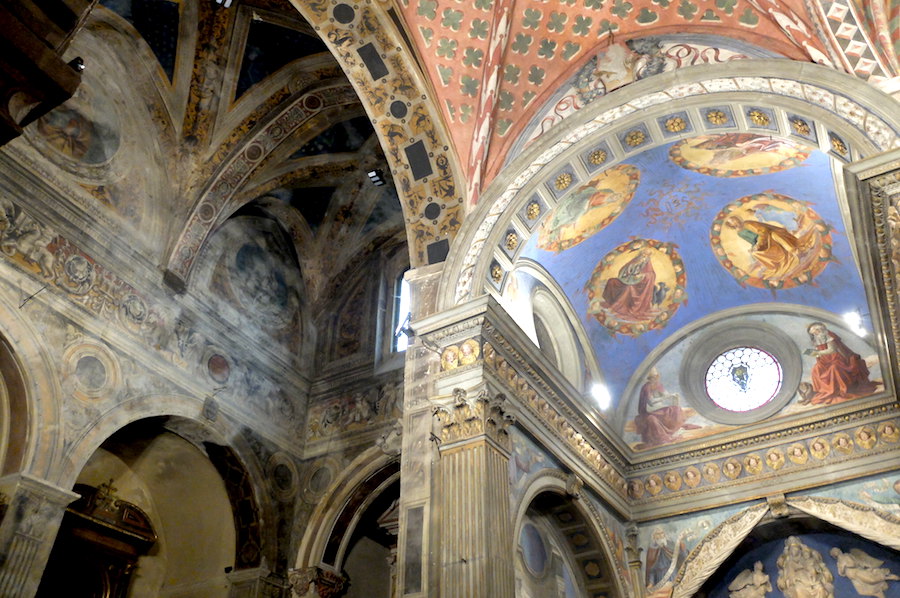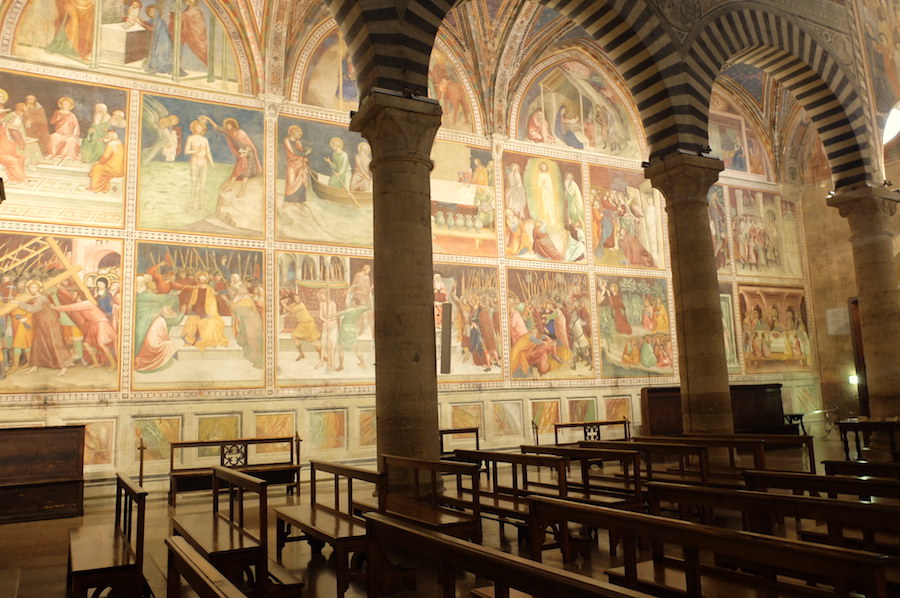 Another fun stop is the Museo SanGimignano1300 where you can see a full-scale model of San Gimignano as it was 700 years ago with 800 meticulously handcrafted structures and 72 towers which took three years to make by local artisans. You can read more about it here.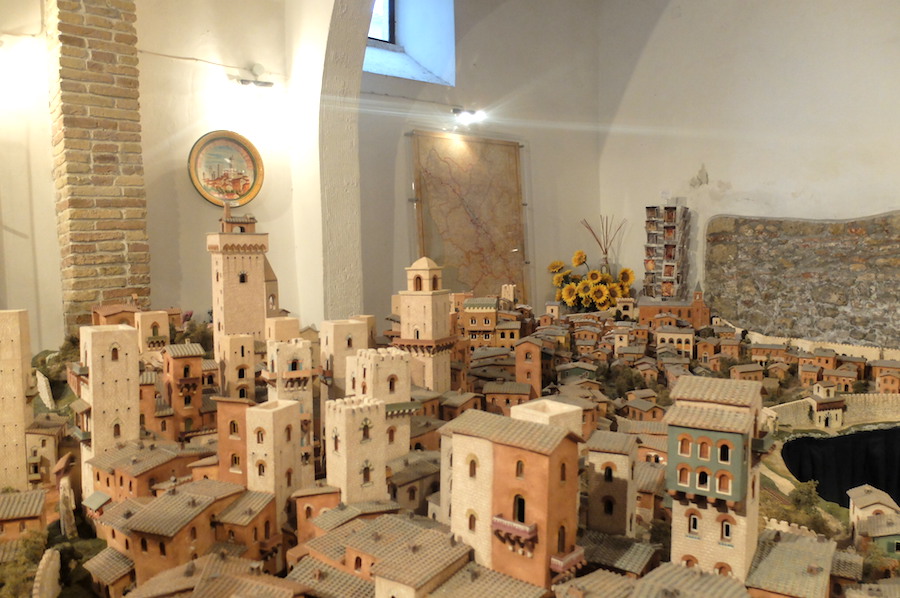 Going old school for lunch
Sarah shared with us that before working at her family's farm Poggio Alloro, she first worked at a small restaurant in San Gimignano, where we'd be going for lunch. Osteria dei Carceri is inconspicuous by nature, but is home to a warm and friendly atmosphere and some of the best hearty soup I've even had. Order the soup sampler platter (that way you can taste up to three, I loved the zuppa frantoiana) and you'll feel right at home.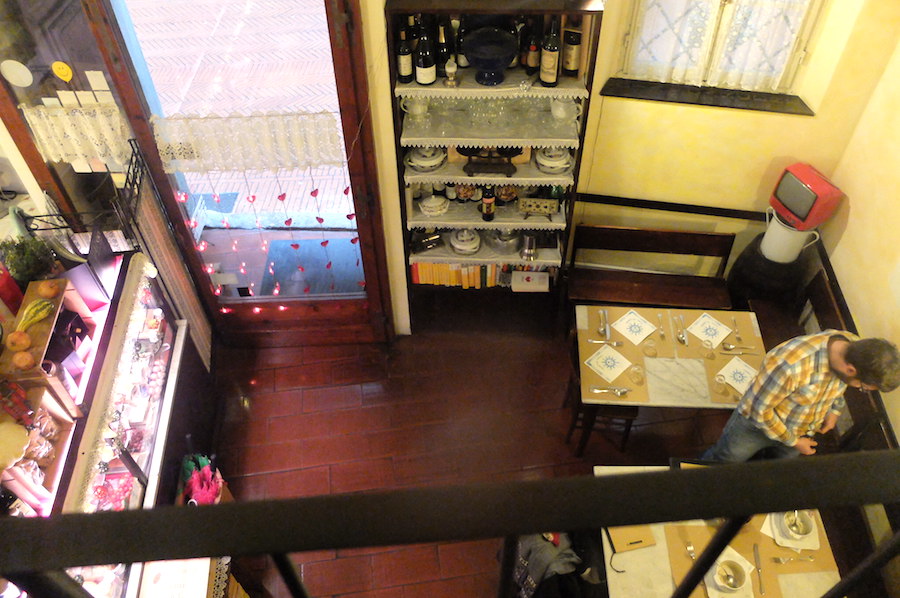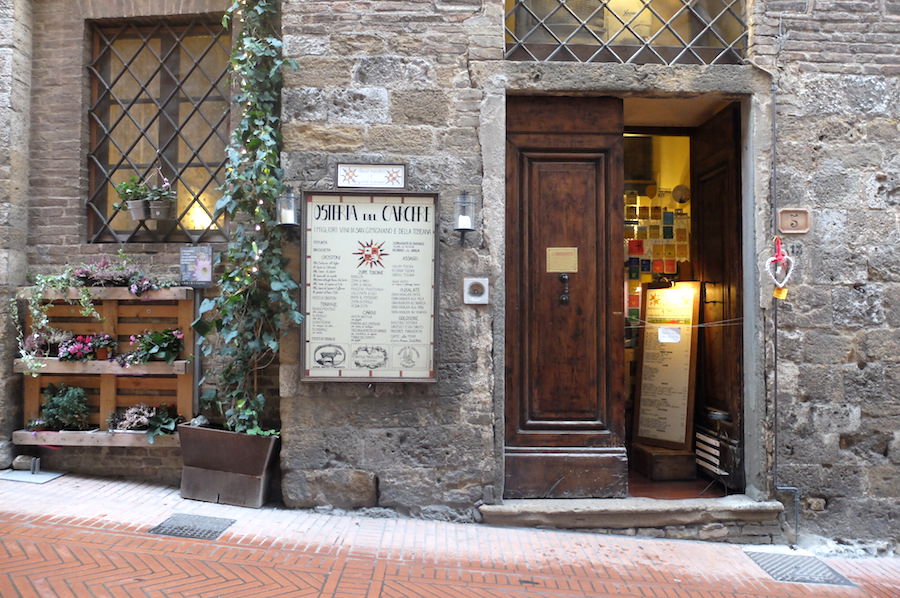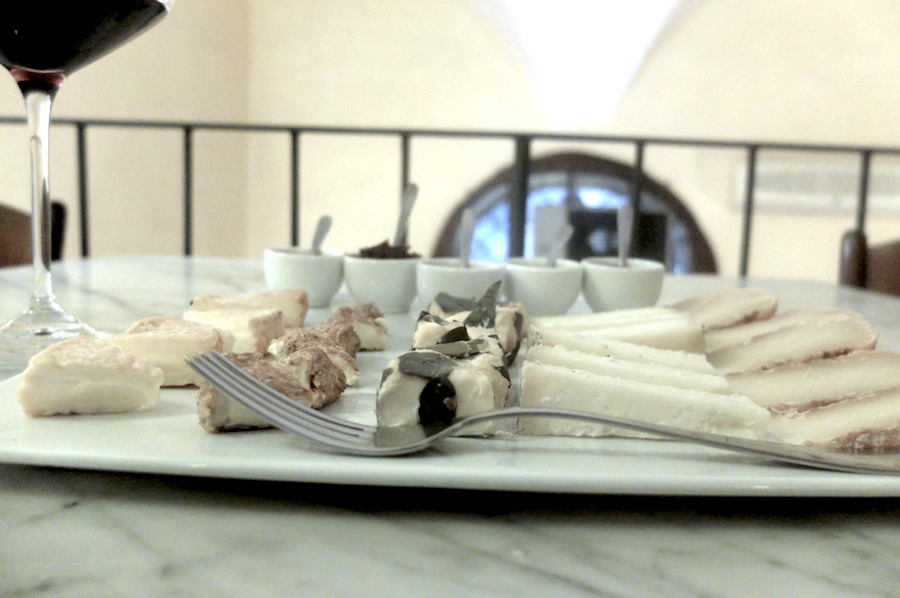 Tuscan Juxtapositions: A Medieval Town with Great Contemporary Art
Yes you can visit the torture museums and civic museum and everything else San Gimignano has to offer, but what might surprise you is the great contemporary art. We went to visit a former cinema and theatre space, the Galleria Continua. In this tiny town since 1990 it was the brainchild of three friends seeking to showcase artists from all over the world in a place so steeped in history. It's a lot of fun to walk around and read about their current exhibitions. Head downstairs to visit the theater space and a hidden courtyard with some jaw-dropping views.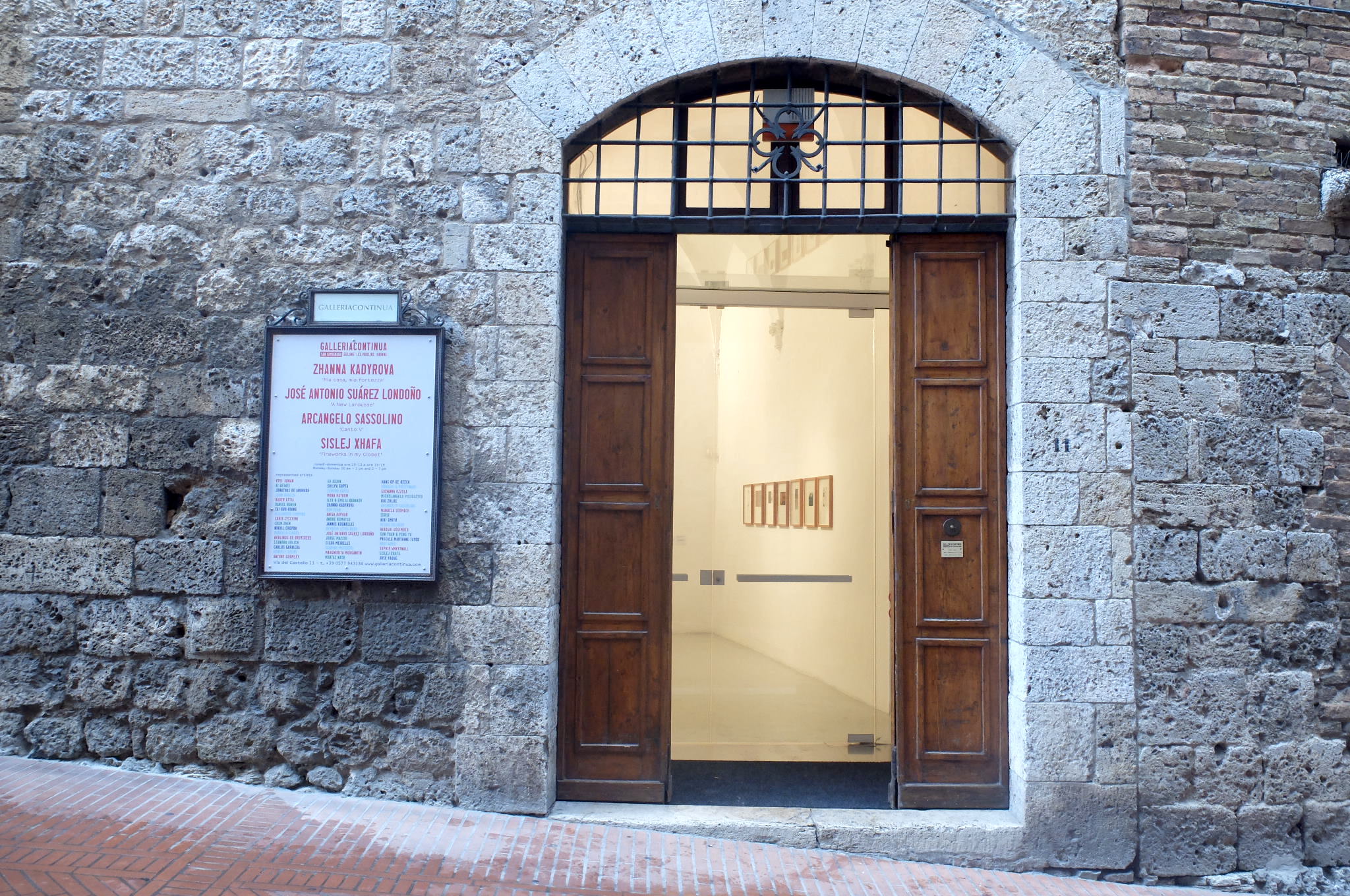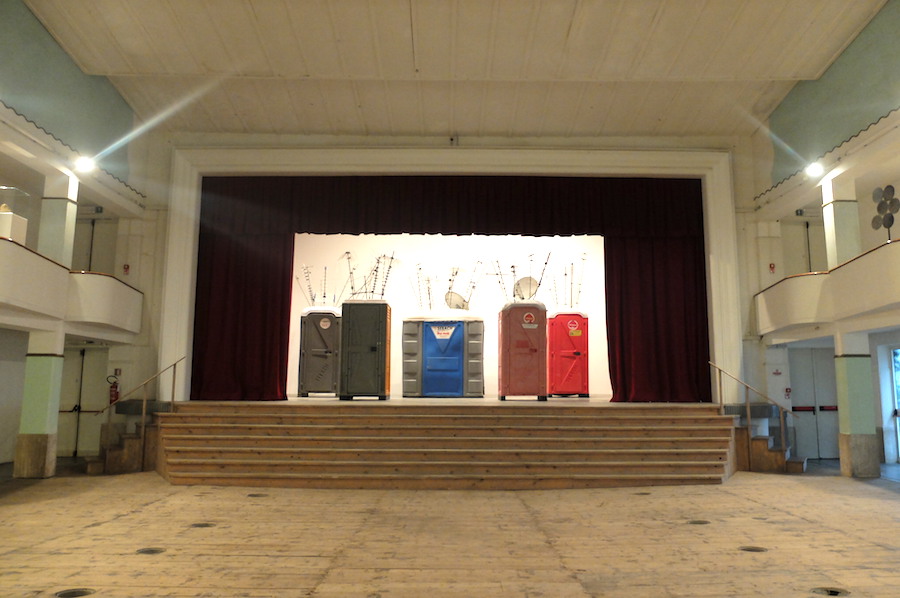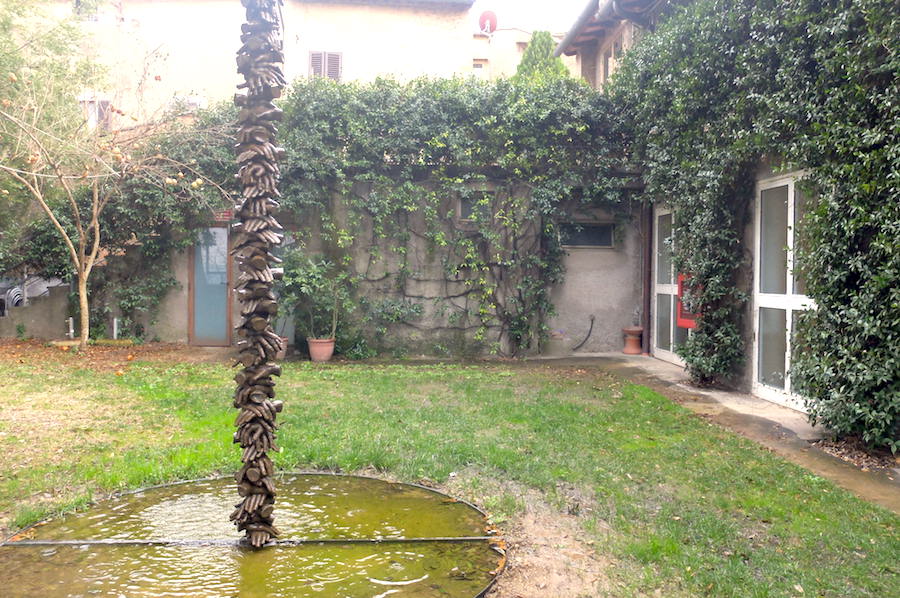 Don't miss the best place for a view
Once you're done for lunch and raring to go with a coffee or three, make your way from Piazza delle Erbe to La Rocca di Montestaffoli which features the 14 century ruins of an ex-fortress that offers views above the town. It's also home to the Museo del Vino wine museum (San Gimignano is well known for its vibrant Vernaccia white wine)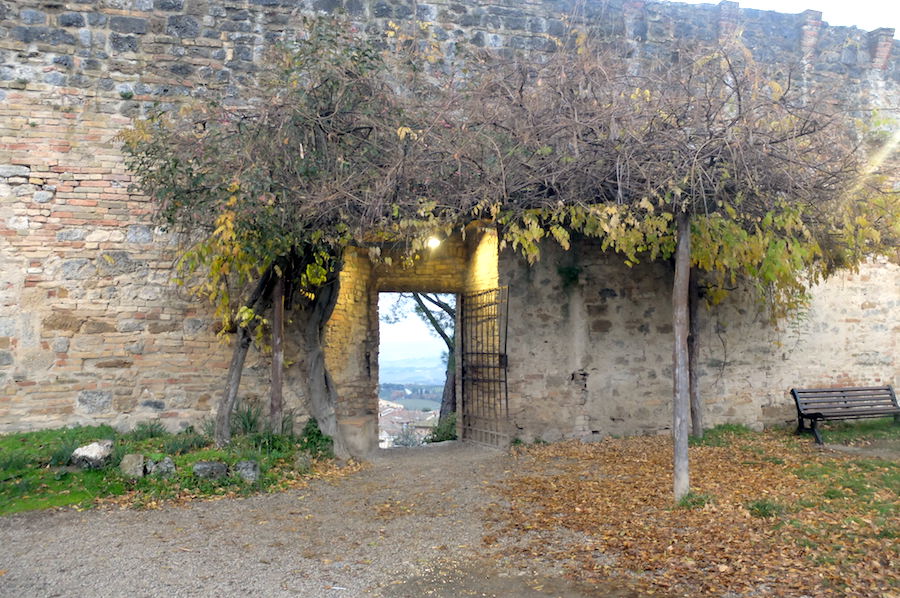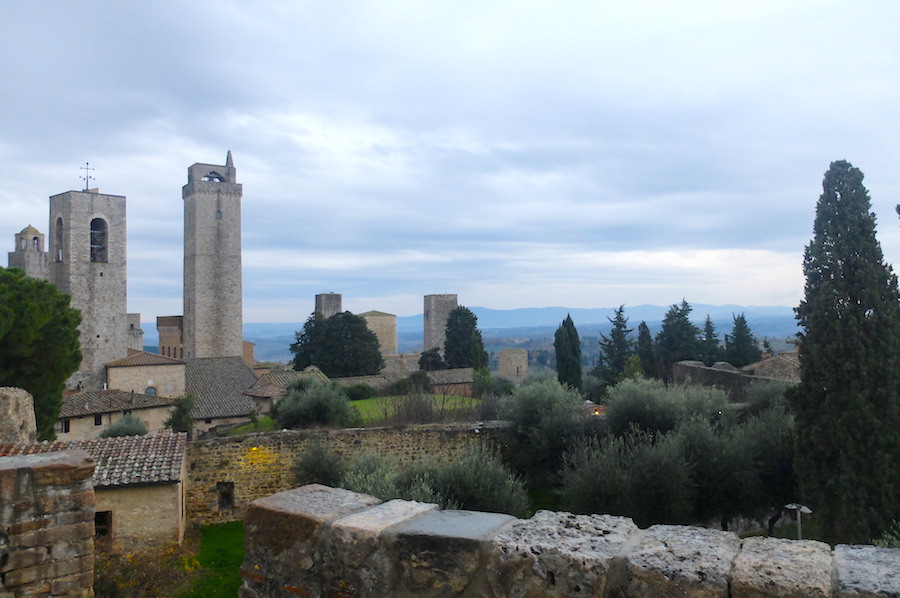 and a pretty olive grove that hosts events during the warmer months. 
Additional Tips
Other times to go
While I am not completely partial to winter, another fun to visit is in June during the "Ferie delle Messi" the Medieval Harvest Festival or fertility festival where four different contrade complete in honor of fertility at a special "giostra dei bastioni" where they compete on horsebacks, with sticks. The fair takes place every third weekend in June.
Eat
For breakfast, a light lunch or snack, Cafe Giardino is by far the best spot to go. Ask about their speciality crostoni. address: Viale Roma, 17, 53037 San Gimignano SI
For a more sumptuous lunch, go for Osteria Carceri. They don't serve pasta but instead enjoy one of their hearty soups and excellent cheese plate. address: Via del Castello, 13, 53037 San Gimignano SI. Open 12:30-3pm, 7:30-10pm every day but Wednesday. 
Visit
Galleria Continua which features contemporary art by artists from around the world. Free to visit, make sure to peek outside at their gorgeous hidden courtyard and incredible view. address:
Via del Castello 11, 53037 San Gimignano (SI). Open from Monday to Sunday, 10am-1pm / 2pm-7pm, or by appointment.
Rocca di Montestaffoli, the best place for amazing views of San Gimignano.  address: Via della Rocca, 53037 San Gimignano SI
Museo SanGimignano1300, Via Berignano, 23, 53037 – San Gimignano (Siena)
Duomo di San Gimignano, Piazza Duomo, 2, 53037 San Gimignano SI. Generally open until 5pm, tickets cost 4€. More details here.

Getting there
It's easiest to arrive by car, just take the A1 towards Impruneta and get off t at Poggibonsi Nord and follow the signs to San Gimignano (parking is pricey). For those without a car, you need to go to the Santa Maria Novella bus depot and get to Poggibonsi and take another bus from there. You can also take a train to Poggibonsi and hop on the bus 131. It costs 6,80 € by bus one way.