It was a rainy Sunday and anyone sane would have taken one look at the forecast and decided to stay in with a bubbling soup and a good book, it was not a day for outdoor activities.
I'm not one of those people. 
The mere existence of precipitation in Florence is almost always used as a viable excuse to cancel plans and in Italy you can see a pretty good reflection of that in the chaos that can sometimes ensue on the streets of the city between awkward driving and just walking in the city itself where no human can be deemed safe among pointy umbrella spokes inching ever so closely to your eyes. Somewhere in Ireland, Scotland or Portland, Oregon they would laugh at such a notion but all I have is my experience here in Florence, home sweet home for the past ten years. Personally I find it quite annoying when "rain" is used to cancel a dinner or lunch plan with a friend but live and let live is what I subscribe too nowadays.
Optimistic regarding the sunny skies the day before, Nico and I had arranged to rent e-bikes from a local shop in Florence all in order to visit a winery in the outskirts of the city for a wine and olive oil tasting. Lucky for us, there are certainly a plethora of interesting activities among Tuscany's cypress-lined dusty roads and they almost always include un bel bicchiere di vino (a glass of wine). Heck that's why I moved here guys.
Normally however, you either have to sign up for a tour or rent a car to make it to many of the region's most uggestiev locations which at times can prove cumbersome, especially for locals like us who don't always have the same access to funds as tourists from better-paid countries. The good thing to note is that you have options and here's where e-biking comes in.
Why is this important in Tuscany? Well we often refer to Tuscany's beautiful hills for a reason. They are beautiful, and they can be tough, for people like me, they are seriously difficult to actually cycle on unless you are super fit. I am not. Therefore the e-bike means I can actually do a 40 minute bike ride up a hill and feel like a female Lance Armstrong before the doping.
Keep in mind we do have bike-sharing in the city in the form of the orange and black MoBikes or the newer (and larger, more comfortable) Go Bee Bikes which aren't really meant to leave the city limits (though I have seem them in the most random of places).
Our bikes came from E-Bikes Firenze located on via Santa Reparata (in the historical center) from a friendly Scottish guy named John. John hasn't lived in Florence for a long time but he has quickly adapted to life in our beautiful Renaissance city like adapting to bad internet connections and same-day cancellations. Being that he is a new business owner and a genuinely nice guy, I really want to help support his venture since this was one of the best days Nico and I had last October.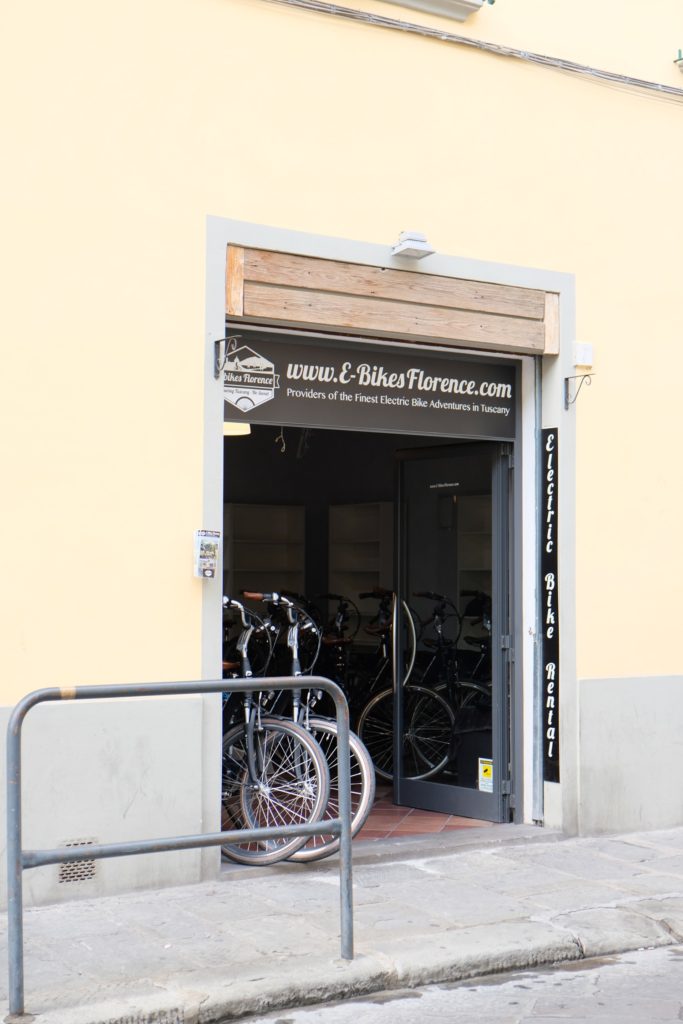 How do E-Bikes work? 
E-bikes by design are very similar to a normal bike, and functionally, they work the same too, inside however are where things change. E-Bikes (at least in the ones we took) have a seamless hub-integrated electric motor with at least 250 watts of power that give you a pretty big boost while cycling. Extremely easy to use, there are numerous levels of how much boost you want that once turned on you feel immediately as you pedal. Yes, you do need to pedal to use an e-bike, this is not a scooter.
Naturally the bike has been fully charged for whatever trip you might want to take, whether it be just an hour or 7. I appreciated that John's new Dutch bikes were fully equipped with space for your bag, iPhone holders on the handles so you could program your GPS routes. Missing was a garish, large and embarrassing logo which you often find on other similar rides around Florence that practically scream "hey there, I'm a tourist!."
John joked around with us and gave helpful advice, such as to not try to be an X-games veteran and pop the tires on deceptively high curbs around the outskirts of Florence. Obviously if something happens, all we have to do is give him a call and he would be there faster than you could say "oops, I did it again" to pick you up and the bike.
Obviously you have to respect local laws in the city, for example even if it is tempting don't go the opposite way on a one-way street (you can get fined if the cops catch you) and stop when you see a red light. Sounds simple but the reason why there are so many close calls in Florence between mopeds, bikes and cars is the fact that there seems to be a fair amount of idiots who truly believe that rules are meant to be broken.
Ps. I tried to find the proper link to urban bike paths from the comune of Firenze but I haven't yet managed to figure out the proper link form a website that looks like it was made in 1999. All that resulted was that I downloaded a bunch of random files that make absolutely no sense. Sigh, we can't have nice things around here can we? 
Our Route along the Arno river 
Nico and I stuck to a 7km route from Via Santa Reparata along the viale circling the city towards the Arno river. Once arriving at the Arno, bikes paths took us a long a shady, scenic route along the river's edge towards the event space Obihall and through a few park areas which I imagine would make sure pleasant stops in the summer months (the bikes come with locks). We made sure to read up some bike safety tips from the Intelligent Car Leasing company before setting off to ensure we stayed safe whilst we were out and about! When I used to live in this area I used to often take long walks here after downloading podcasts to learn about the world as I made my way from Girone to Florence on foot.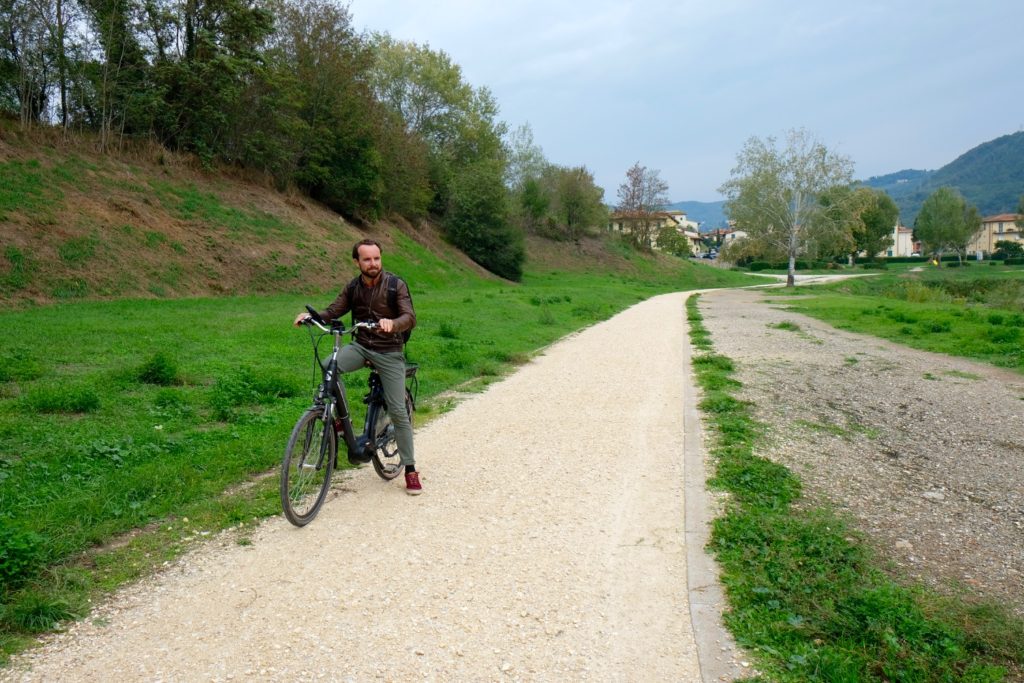 Discovering a family-owned organic wine and olive oil farm hidden in plain sight 
I was especially intrigued because the winery itself was located very close to where I used to live years ago in the suburbs of Florence, towards the neighborhood of Girone and Anchetta, little-known to non-Florentines and well, maybe them too, as you are actually in Fiesole. Our bikes took us to Fattoria di Poggiapiano along a delightful, hilly ride with beautiful views of the valley below.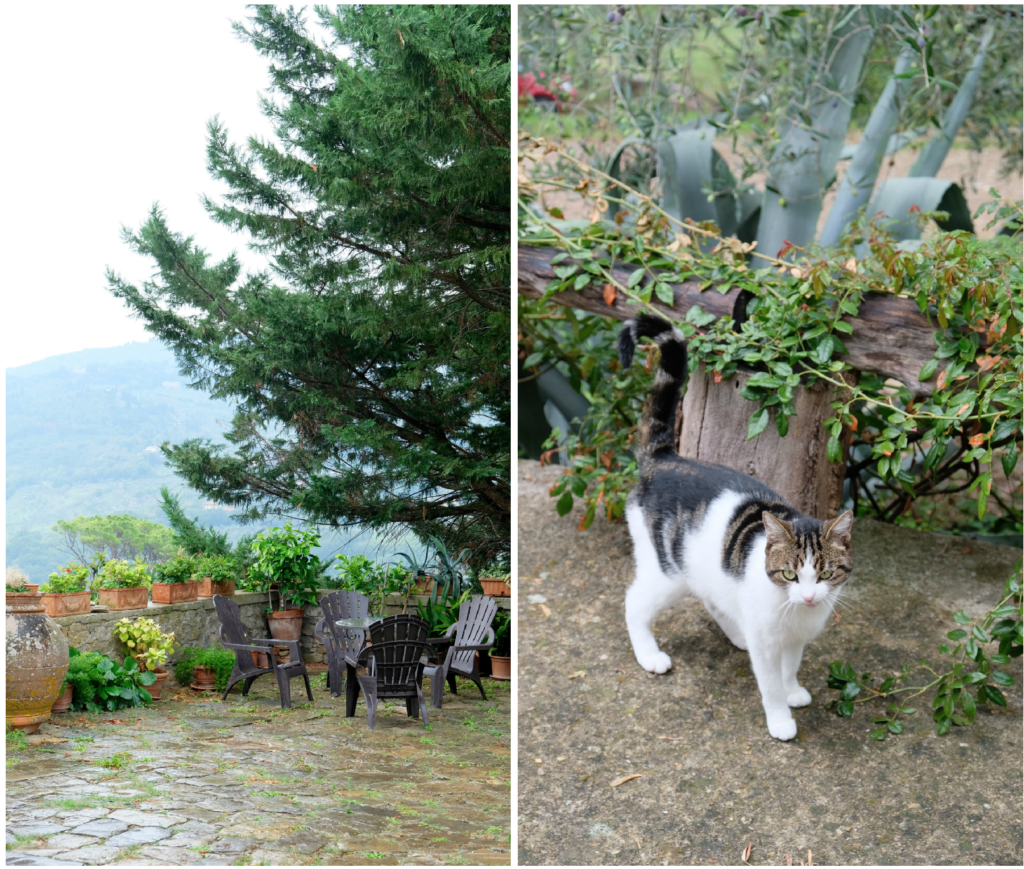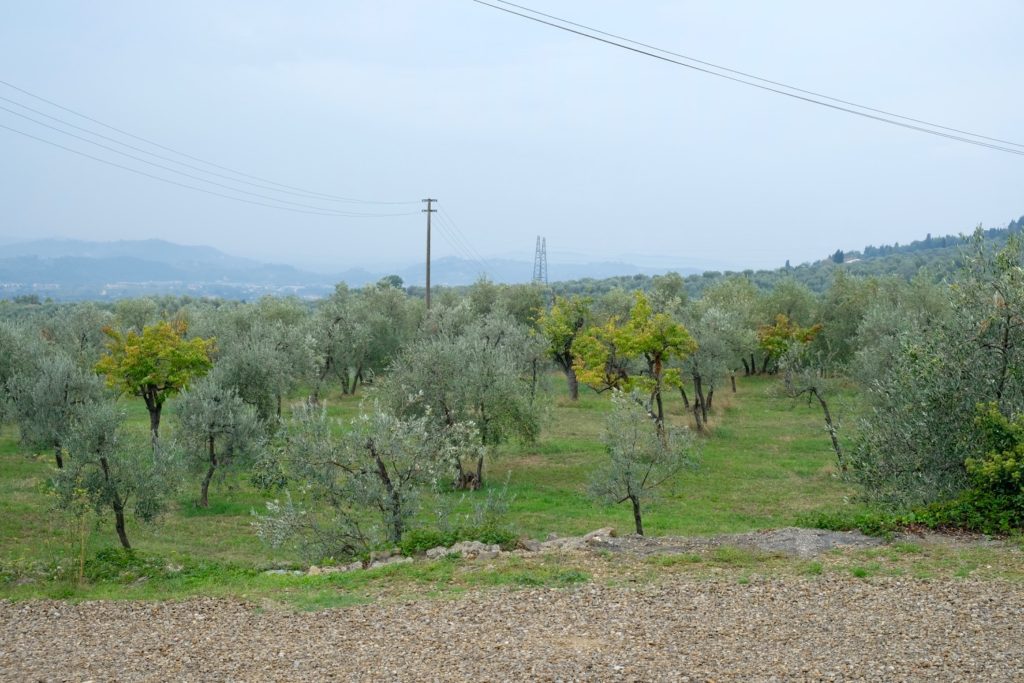 The tenuta has remained here since 1935 in the Galardi family but it wasn't until 1985, after the big freeze (I remember, it snowed in Texas that year) that a young Mauro Galardi brought the place back to life. After plenty of work and sacrifice the Galardi family is now proud of their successful and small enterprise with 17 hectares of land producing organic wine and extra virgin olive oil with trees carrying Tuscan Frantoio, Moraiolo and Leccino olives.
Martina, their only daughter, took us on a tour of the property all while clearly demonstrating a prose and passion I wish I had when I was 23 years old.
During the tasting, I fell in love with their white wine (rare for Tuscany) Erta al Mandolro, an IGT – Bianco di Toscana made with a blend of Trebbiano and Verdicchio grapes. Dry with slight citrus undertones, it was delightful on our thirsty palates and I vowed to come back to buy more before next summer. 
Their extra virgin evoo was just as notable. They produce two kinds, a Galardi Extra Virgin Olive Oil, made in the classic harvesting and extracting methods and their Galardi "Plenum" Extra Virgin Olive Oil, produced from olives picked at the perfect ripening point, by up to date extracting tecnologies combined with expedients, that decrease the quantity but increase considerably the quality.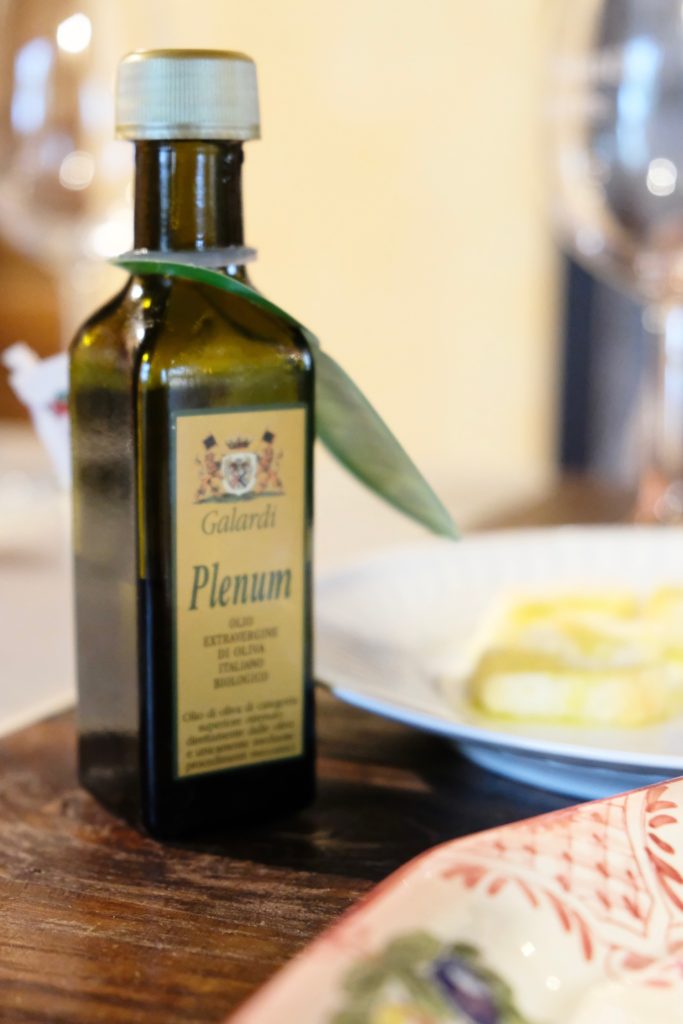 The best way to enjoy it? On plain toasted Tuscan bread, just one drizzle to reach the depths of heaven.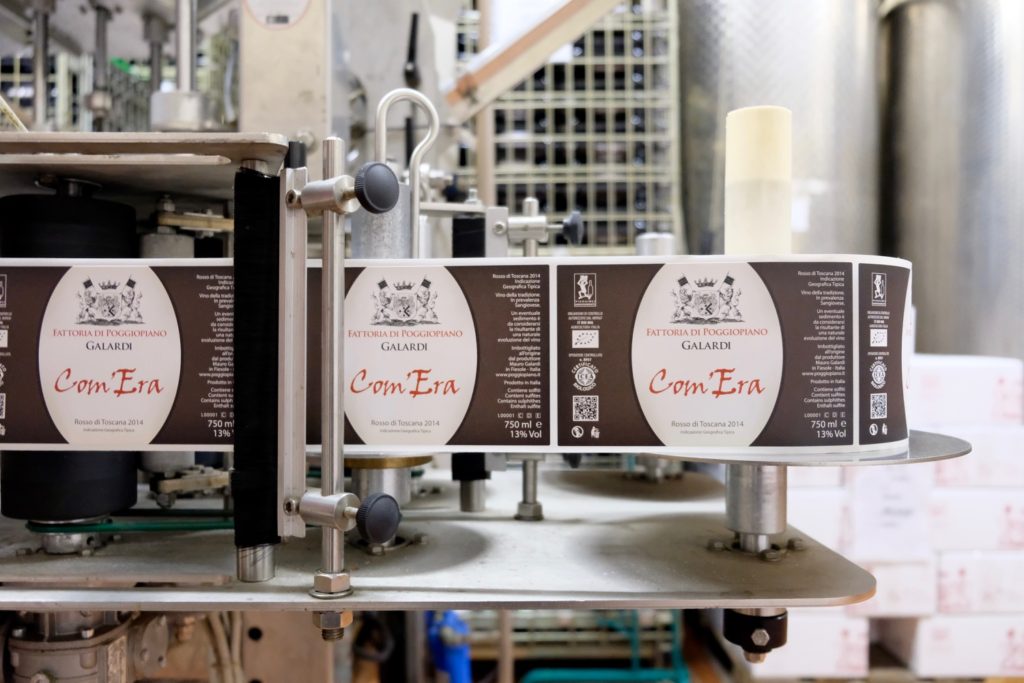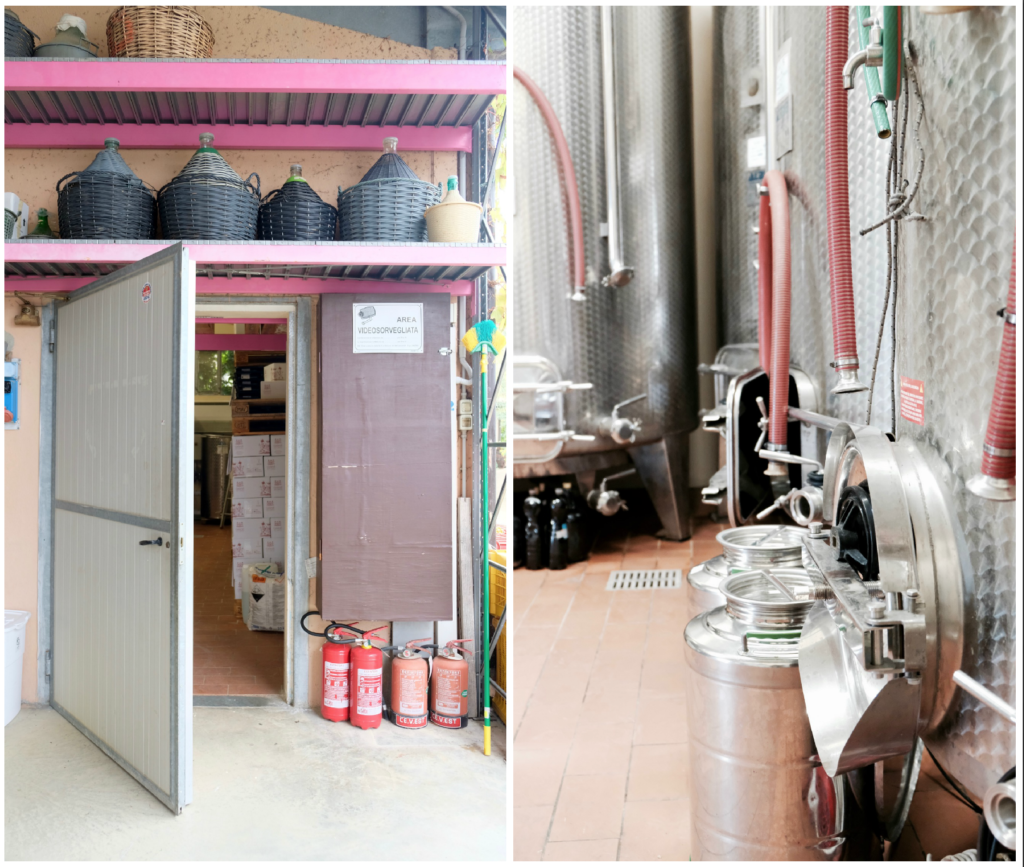 The rain softly dropped and yet everything was incredibly beautiful. The olives were on their slow transformation from green to a lovely purple with drops of dew hanging by a thread.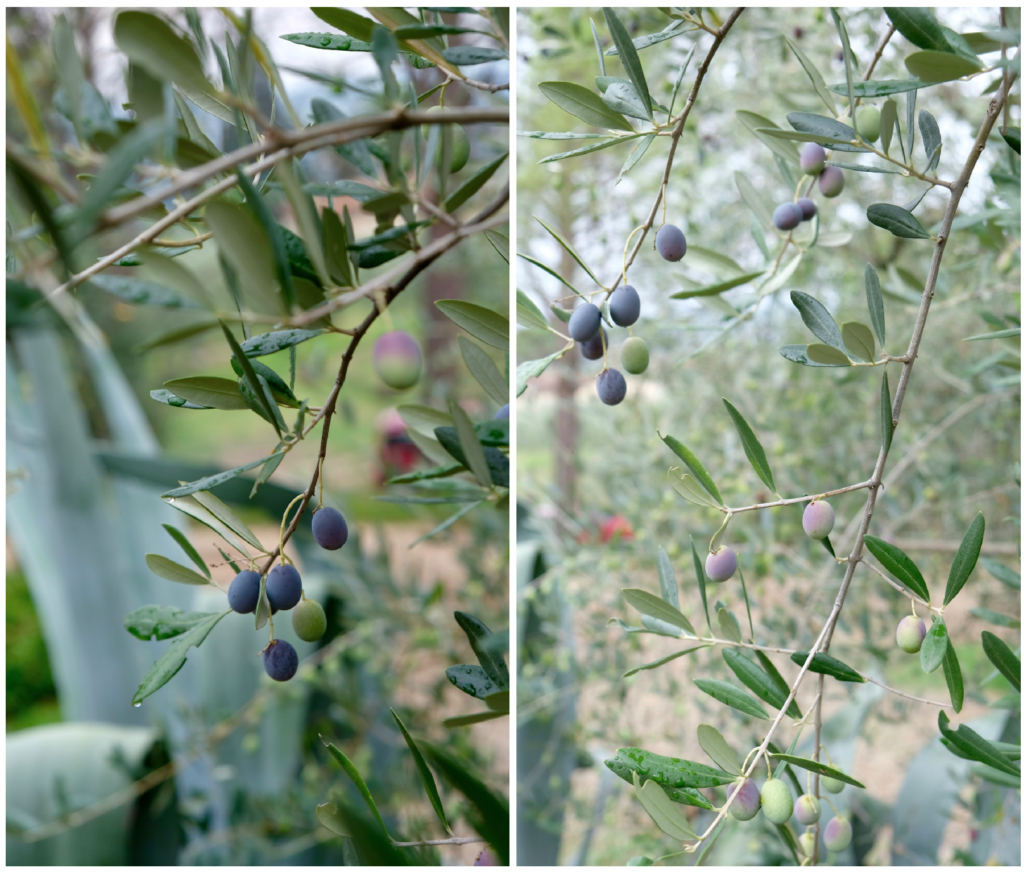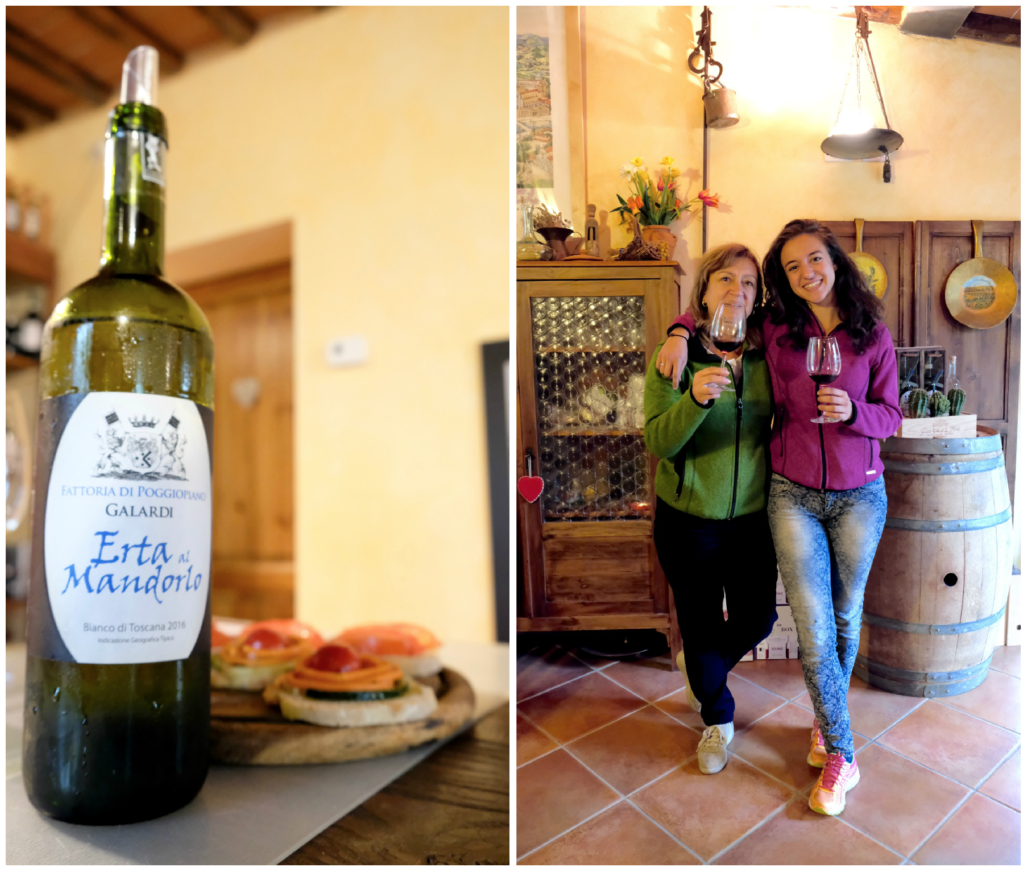 There are many tours in Tuscany that you can go on, many of which herd people in big groups through large, big-brand wineries with seasonal employees doing a quick explanation and tasting before visitors are ushered to the shop to buy wine and make their way to Siena, San Gimignano or another famous Tuscan town. This was very different. We had Martina and her mom all to ourselves and we felt sincerely welcomed. In fact, they were quite surprised that we braved the skies to visit them which naturally gave me an extra pep in my step as a now fully "expert" biker.
We we were about to leave, a German couple arrived, long-standing visitors turned friends to the Galardi family, come too stay in their adjacent rustic Tuscan agriturismo. In fact Martina's mom was fretting about which restaurant to take them to that night since they were die-hard Tuscan foodies. That's when I knew I really needed to come back here next time I have family and friends in town. It is the people who make their guests their friends from all over the world, all despite language barriers; yes, those are my kind of people.
---
Disclaimer: While John generously offered us the use of two e-bikes for this experience, I was not paid or asked to write this article, this is the result of us having a really great time and wanting to share the fun. All opinions are 100% my own. 
To rent an e-bike in Florence head over to John's shop at 
E-Bikes Firenze, Via Santa Reparata, 7R, Firenze. Rental prices from 25€ upwards.
SaveSaveSaveSaveSaveSave
SaveSave
SaveSave
SaveSave