Buon anno nuovo. If you live in Italy you've probably said this, or a simple "auguri", a million times now that it's been 2018 for 8 days. I've only been back since Friday from our whirlwind trip to visit my family back in Texas with a stop in California and I'm already back into my daily rituals of espresso drinking and conserving my boiler use and of course, plenty of puppy cuddles.
The jet-lag however has remained.
This year on New Year's Eve we rang in 2018 in the middle of absolute nowhere. Nowhere is called Marfa, Texas in Presidio County; a six and a half hour drive from San Antonio into a landscape that is both beautiful, and slightly jarring. We spent the night with very good friends and in good spirits, something I so very needed after a pretty stressful few months leading into the end of 2017.
The holiday feeling hasn't quite left Italy (ok I'm pushing it, as it is the 8th..) even though it's January, so in case you missed it here is a video I made last month showcasing Florence's beautifully festive streets. If you like it, subscribe to my YouTube channel which will get more of a facelift this year along with my Facebook Page where I regularly post videos.
January 2018 Link Love
"I think foreigners love Tuscan men because we're fit," says Jacopo. "We play soccer and go hunting. In the summer, we have fantastic tans and we're always exercising." This is just one "gem" from this hilarious article about What Makes Tuscan Men So Attractive by Elisa Scarton via The Florentine. Stay humble boys! 
I am so very excited that Lisa Clifford, Australian writer living in Florence, is now hosting her beautiful "Art of Writing" workshops in our Renaissance city. I had the pleasure to go last fall and it was an incredible experience that I would recommend to anyone looking to write a book. Ps. you get to stay at Palazzo San Niccolo too which is one of the hotels in the city (my opinion).
With a new year you definitely expect plenty of bloggers to write about their goals for the coming months, after all mine can be seen here, I really enjoyed this post by Sara of Verbalized. Not only is she beautifully succinct in how she writes, her photography is some of my favorite in Italy – follow her!
Heading to Rome anytime soon? Now visitors to the Eternal City will be able to use sophisticated virtual reality goggles to unlock the secrets of the monumental Baths of Caracalla, which were constructed in the heart of the capital in the early third century AD, read all about it here
I'm always looking for new book suggestions and I especially appreciated this roundup by The Atlantic of their favorites from 2017. 
"Old meets new" in this new exhibition in Naples which runs through April.
Speaking of Naples, you might know about my obsession with writer Elena Ferrante and her "My Brilliant Friend" series that spoke to so many who loved her depictions of Napoli. Now enjoy this photo essay by The Guardian!
If you are new to Florence, or Italy in general and you are checking out my blog for the first time, benvenuta! Feel free to browse my list of recommended eats around town here or get beyond the obvious tips on exploring the city here. I did this interview with the regional blog Around Tuscany that tells you a little more of my story if you're interested and you can see my work over at Italy Magazine, Lonely Planet, among others. 
Guys I am so excited about this wellness workshop between the lovely ladies over at Cultural Salon Firenze and Relax Firenze which is taking place on January 8th (that's today!) at Palazzo San Niccolò from 5-9pm! The premise will be entirely about making 2018 one where you not only feel good mentally, but also physically. You can learn more about Feng Shui, Reflexology, Yoga, Astrology, Reiki, Essential oils and more. More info can be found here.
It is "saldi" sales season currently in Italy and this is the prime time to pick up anything major you need for your house as prices are slashed all over the city (typically from 30% – 70%). It's hard to think about spending money right after Christmas but I will say, it is smart to pick up things like pots and pans, sheets and linens, jackets and shoes. Pickings can quickly become limited for popular shops like Cos or Coin Casa but you'll see discounts up until mid-february.
"Pitti the Fool" – same joke I used every year, sorry – because the Pitti fashionistas are back in town for four days from January 9-12 for the menswear trade fair at Pitti Imagine Uomo. This is of course very exciting in some ways (great looking people!) and very annoying in others (pea-cocking is rampant, traffic sucks and taxis are nonexistent). Unless you work in the field, you can't actually go to the shows but there will be plenty of afterparties and men in sock-less loafers milling about town so get out those cameras. Or you can follow me on Instagram as I will attend at least one or two events for the shear voyeur-ness of it all. You can check out the full list of events on the official website here.
Art lovers will be seriously excited about the exhibit at Palazzo Strozzi which will be on only until 21 January 2018, so get on it! It is titled The Cinquecento in Florence. From Michelangelo and Pontormo to Giambologna and it is a spectacular exhibition devoted to the art of the 16th century in Florence showcasing over seventy works of art by such artists as Michelangelo, Bronzino, Giorgio Vasari, Rosso Fiorentino, Pontormo, Santi di Tito, Giambologna and Bartolomeo Ammannati." 
The above also pairs well with the CCC Strozzina exhibit at Palazzo Strozzi, Radical Utopias, covering exciting movement in Florence in the 60's and 70's. The exhibition will be bringing together for the very first time in a single venue the visionary work of such groups and figures as 9999, Archizoom, Remo Buti, Gianni Pettena, Superstudio, Ufo and Zzigurat, in a kaleidoscopic dialogue between objects of design, videos, installations, performances and narratives.
Are you a student looking to meet people? There is a Venezuelan happy hour being hosted on January 11th at 8pm food and wine included, all for 12 euros. It looks like a lot of fun and you can reserve your spot here.
Lovers of David Bowie will appreciate a night dedicated to the legacy of this master of music at cool spot Glue on January 13th, 10pm onwards. Glue is located on Viale Manfredo Fanti, 20. 
On January 14th from 10-8pm, pay a visit to a special "Wao! Market" hosted by Frigo for Lightlife (also a great pop-up yoga studio where I've done yoga with this girl) on Via dei Serragli where you can purchase goods from several vintage and used-clothed sellers.
Four times a month there is a morning market in Florence's largest outdoor park, Cascine, every Tuesday from 7 am – 2 pm. You'll find everything from underwear to food stuffs in this very expansive market affair. The location can be found  along Viale Lincoln. 
Lovers of Swing Dance will appreciate a fun excuse to get out of the house this winter as Tasso Hostel is hosting a special swing dancing night on January 18th from 9-12:30am. There will be lessons available to all and honestly, this sounds like a LOT of fun.
"Visiting the mining town of Pyramiden on Svalbard feels like traveling back in time. Once a thriving mining settlement, Pyramiden has been almost entirely abandoned since it was shut down in 1998." This is the premise for a photography exhibit by Clara Vannucci that personally sounds very intriguing to me at the Leica store by the Ponte Vecchio, open to the public, you can check it out on January 19th 6-8pm. 
The British Institute of Florence is one of my favorite places in town and it happens to be home to some very interesting lectures that I know you guys would love too. I had a look at their January calendar and here are some that you might interested in attending. You can do for a one day membership (6€) to life (€600). Here are a few lectures/events worth noting for the month.
Wed, January 10th, 6-7pm. "Blurring the boundaries: Italian neorealism", lecture by  by Patrick Hazard. In their words: "Beginning with a look at the work of De Sica and Rossellini, this lecture will explore the complex borderline between narrative fiction and documentary film."

Wed, January 17th, 6-7pm. "Love letters from Mount Rushmore", lecture by 

Richard Cerasani. In their words: " Love letters from Mount Rushmore between a young sculptor and his wife, relating their adventures and struggles with separation during an interesting time in US history."
If you are as obsessed with wine as I am, Signorvino by the Ponte Vecchio is offering several evenings of an informative yet informal introduction to wine which will combine 4 glasses paired with finger foods for the cost of 35€ for each lesson/experience. Below are the options for this January and February. Please note that the tastings will be in English and Italian!
Thursday 18 January from 20:00: Red Wines
Thursday, February 15, from 20:00: Food & Wine pairing
Sophie, a local life coach and friend, is hosting another edition of her good-vibes-inducing girly meet-up on January 19th at the St. Regis. This edition's theme is "Fabulously feminine" and will include prosecco and nibbles in a very sumptuous ambiance. A great way to meet other ladies (as is the Cultural Salon) and help pump each other up.
Women's March 2018! If the beginning of this was any indication of the year to come, we have some serious conversations to be had.. However in Florence, people are not staying dormant. Join a women's march on January 21st from 2.30 to 5pm in Piazza San Lorenzo.More info can be found here. 
A beer fair "Birraio dell'Anno" is coming to town from January 19-21st at the Obihall (number 14 bus, like the Winterpark, in fact you can combine the two if you are feeling frisky) where you can try over 150 different types of artisanal craft beers from all over Italy. It costs 7€ to get in and you get a glass for all of those beer tastings, a pretty sweet deal if you ask me!
Until the nineteenth century, the Rificolona farmer's market was traditionally held in Piazza SS.ma Annunziata on the occasion of the birth of the Virgin Mary. From 1984 onwards this tradition has seen a revival and nowadays multiple 'Fierucole' are being held every month, dedicated mainly to small-scale organic farming, crafts and rural life, involving small family farms and local artisans. This January, head to Piazza Santo Spirito on the 21st of January for a peek into one of my favorite, and most traditional, local markets where you can buy organic honey, kombucha, parmesan cheese, balsamic vinegar and much more. 
The Firenze Winter Park is back in action along the Lungarno (you can take the number 14 bus from the center of Florence) and offers a chance to ice-skate and "snow tube" down a man-made ramp. Great for kids and masochistic adults (but they do offer free WiFi, I checked), it is open until the 25th of February. Costs around 6€,  + 2€ for renting the skates.
Fire and Fury: It's been one hell of a year with Donald Trump as president and there is one really cool local event that I am very curious about attending on January 21 (a Sunday, from 6-11pm). Come and join Ian Bickerton as they unravel the spectacle to uncover the truth behind the reality show in Washington. They provide plenty of food and wine so there will be a fee of €25
On January 27th, Cinema La Compania (via cavour) will be screening a documentary film titled 'Shalom Italia' at 7pm, followed by Q&A with the director Tamar Tal Anati. Shalom Italia is a road -documentary of three Firenze-born brothers who set off on a journey through Toscana in search of a cave,  where they hid as children during the second world war. Their quest, full of humor, food and Tuscan landscapes, straddles the boundary between history and myth, both of which really, truly happened. Watch the trailer: with Italian subs or with ENG subs)
The Vintage Selection fair 31 is back at the Stazione Leopolda from January 24-28th for a few days of vintage fashion and events in a pretty cool ambiance (even if slightly outside of the center, just take the Tramvia). It costs 5€ to go and I'd pair it with happy hour which coincidentally could be dangerous because you'll certainly want to buy more after a drink or three.
The perfect January activity is a trip to the trusty cinema, in my case our beloved original-language theater Odeon which is back on track with a superb list of options. And there is plenty to see this month including The Billboard Outside Ebbings, Missouri, and Ella & John. check out the program until February here  Price: 8 euros for a normal ticket.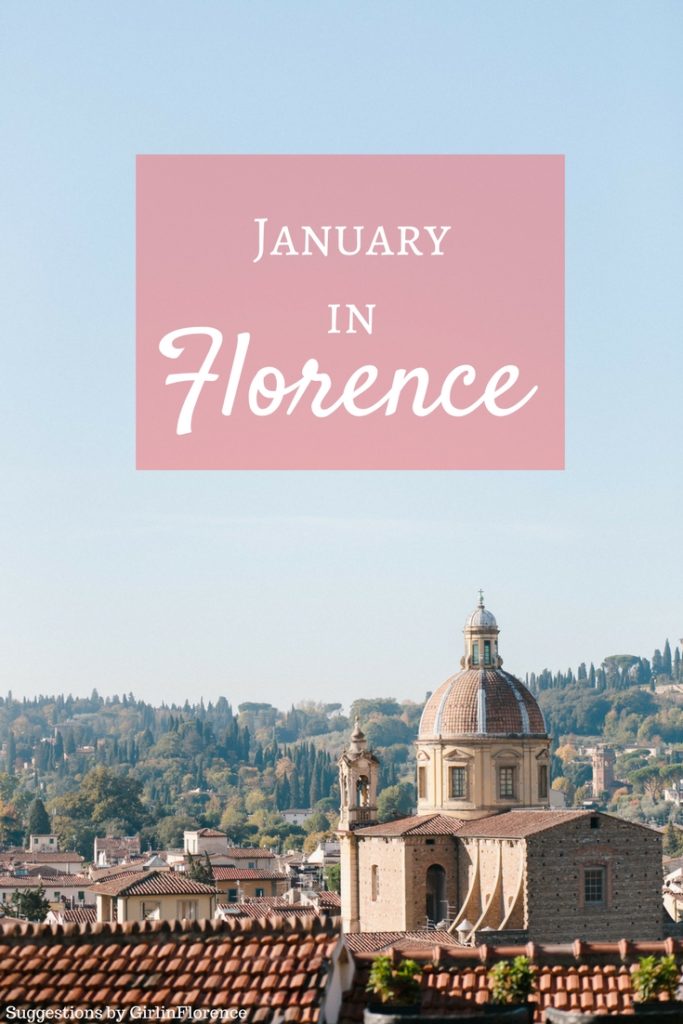 SaveSaveSaveSaveSaveSave
SaveSaveSaveSaveSaveSaveSaveSaveSaveSaveSaveSaveSaveSave
SaveSave
SaveSave