July has arrived and it leaves in its wake the heatwave we've all been complaining about for almost the entirety of June. Yesterday, I was actually cold in my house as the summer storms have begun and the city gets a welcome break from the sun's relentless beating. Florence is full-to-bursting as it is every July, I tend to get up early and wander the Duomo side of the city only then or after dark, a bit vampire-isa, I know, but pushing my way through crowds isn't my idea of a good time.
This next month my plan is to work as much as possible before my family comes in the latter half of July for a fun two-week Italy adventure that we've planned together. I also want to keep up my ems training (more on that here) and eating well as much as possible because the first part of this year has been a gluttonous free-for-all. We also have plans to head to the Dolomites for a photo tour aimed at showing us how to take really good landscapes photos, I'll be reporting back, hopefully with beautiful photos to share with you all.
As far as summer's go, I also want to hear from you! Comment on this year's summer plans and just say hello.
As usual here is a roundup of this month's link love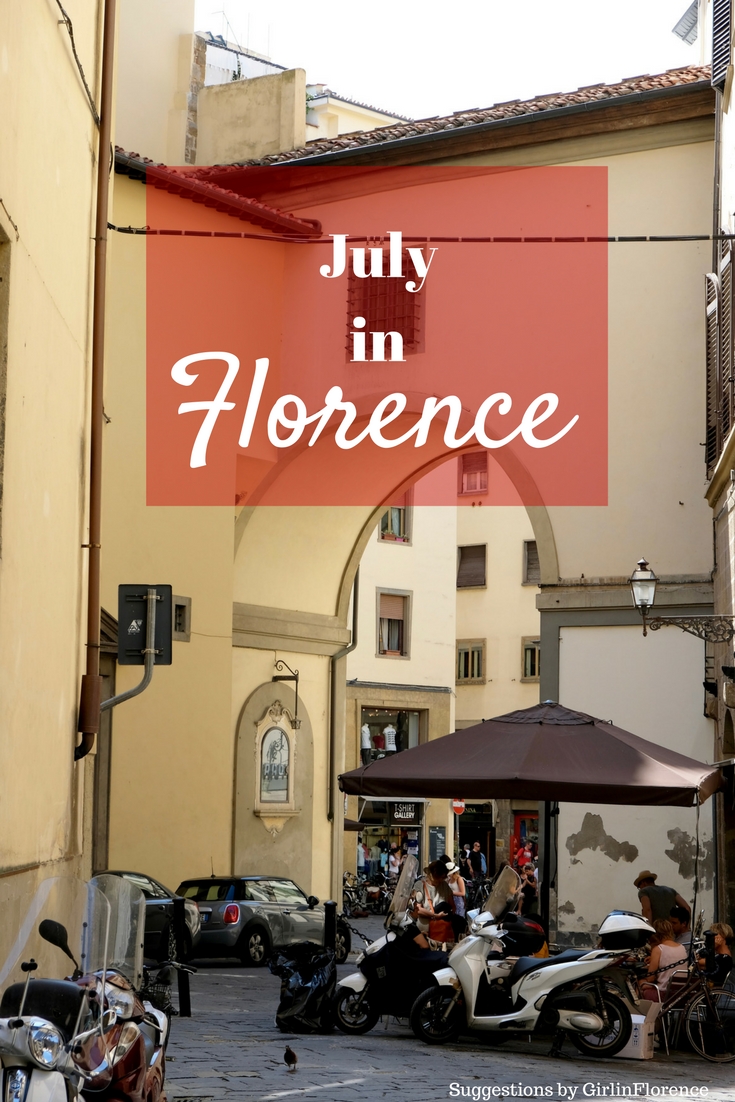 The first Sunday of the month falls on July 2nd, meaning that many of the state museums will be packed with visitors enjoying the monthly #DomenicalMuseo when state museums are open FREE to the public. I might sound like a broken record but seriously, visit one of the less famous ones (Bargello, Medici Chapels) and revel in less-crowded glory (here's the list).
Love to draw? Meet up with like-minded folk this Sunday, July 2nd, in Piazza di Santo Spirito for a special morning sketching the city. This is organized by local artist Tom J. Byrne.
Also on the 2nd (woah this day is popular) the Foreigners in Florence cineclub will be heading to Tasso Hostel to screen a movie "24 Hour Party People" about the most important era in the modern music and maybe one of the most important places too: Manchester in the 80s. Drinks, discussions and fun folks. 
Don't miss this summer's Ytalia exhibit which features over 100 contemporary artworks themed on "energy, thoughts, beauty" by major Italian artists in key locations around Florence until October 2nd, this includes Forte Belvedere, Palazzo Vecchio, Museo Marino Marini, Palazzo Pitti, The Boboli Gardens, the Uffizi Galleries, Santa Croce Church. We visited the 16th century Forte Belvedere which hosts many of the works including a giant skeleton lying down in front of the panorama of the city and so much more. It isn't free this year but residents can buy a card for 2€ for the whole season (bring your residency document) while visitors will may a 3€ entrance fee.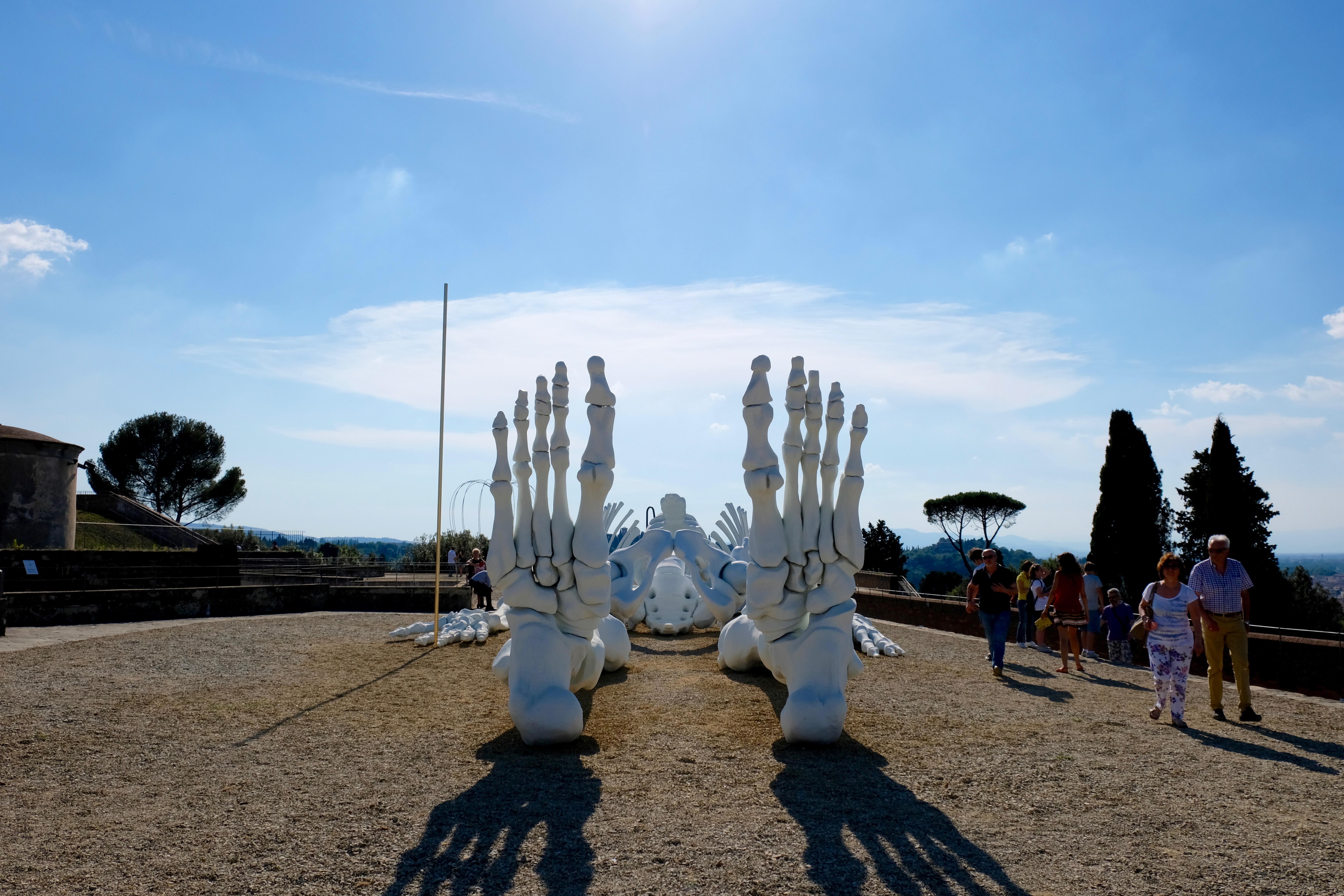 Find yourself having trouble saying no or setting boundaries? Well on July 3rd, you can learn some important tools on the first of a series of dinners, workshops and activities in a Women's Empowerment journey, where Gitte Lassen, multi-dimensional therapist, will be sharing with us her insights and teachings on "The Art of Saying 'No.' 7:30pm, at Spazio Glicine, RSVP here. 
Despite the fact that we are in Italy, July 4th always remains a fun day for patriotic Americans who want to celebrate Independence day in Florence with an event that usually involved burgers. Here are a few ideas of what to do for the 4th.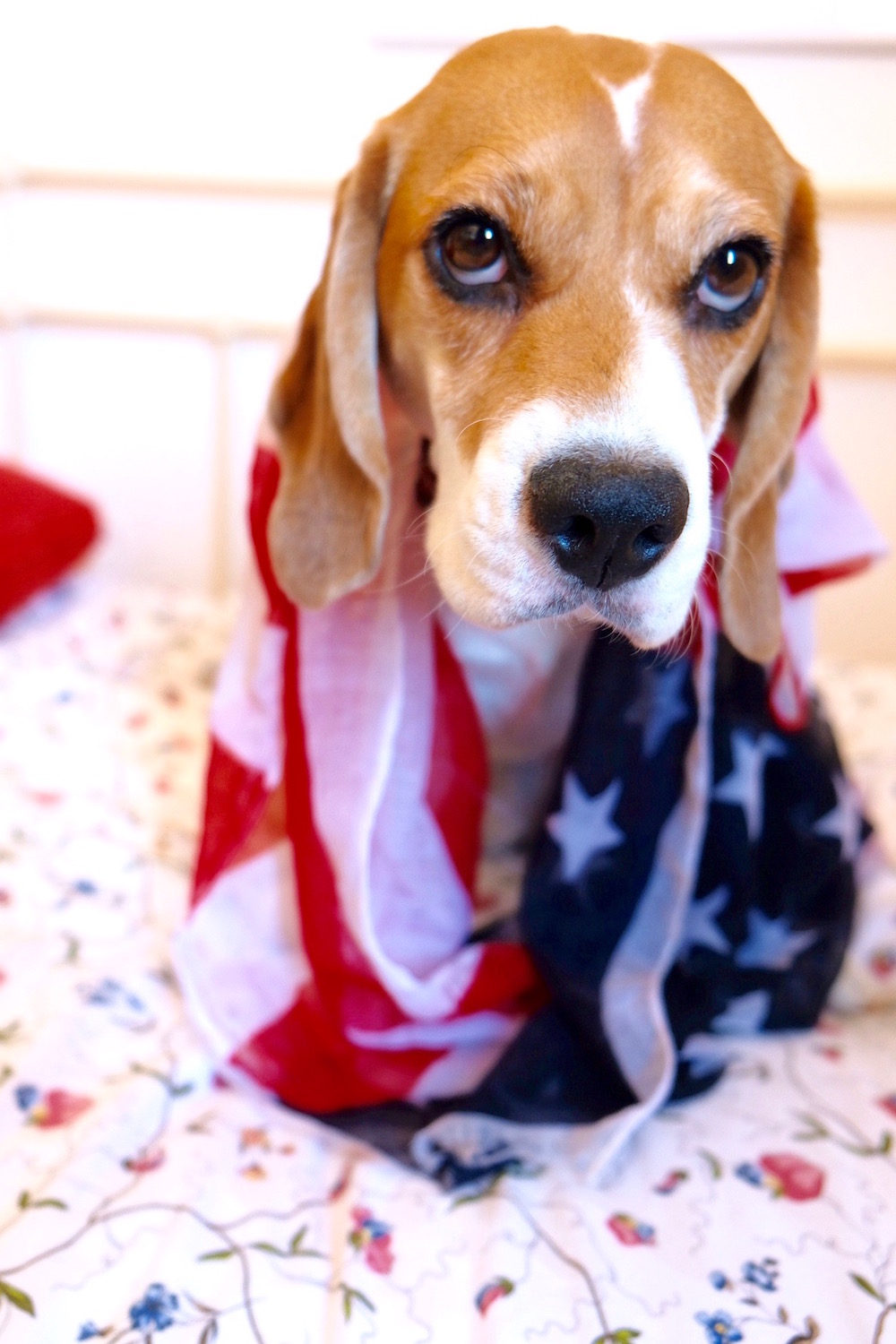 Annual 4th of July party and charity benefit for "Help the Children Florence". organized by the Tuscan American Association at 

la Villa "Il Palazzaccio". The fun starts at 18:45pm and ends around 10pm. To get there you can take the tram from the Santa Maria Novella station and get off at Villa Costanza Scandicci where there will be a shuttle to take you to the festivities. 

Head to The Goose on July 4th at 8:30pm for a special Song/writer showcase which brings the talent of two of Firenze's favorites – Featured Artist Tim Daish and Guest Host Marisa Garreffa. This is an open-mic event designed to showcase the work of locals, more info can be found here. 
Enjoy the 4th of July with a special picnic at the Giardino Dell'ArteCultura with Foodora (a food delivery company) who will be giving away 8 euro voucher towards your order from numerous restaurants around the city as everyone picnics around the garden. There will also be a bar to get drinks and a live music set. The fun starts at 8pm.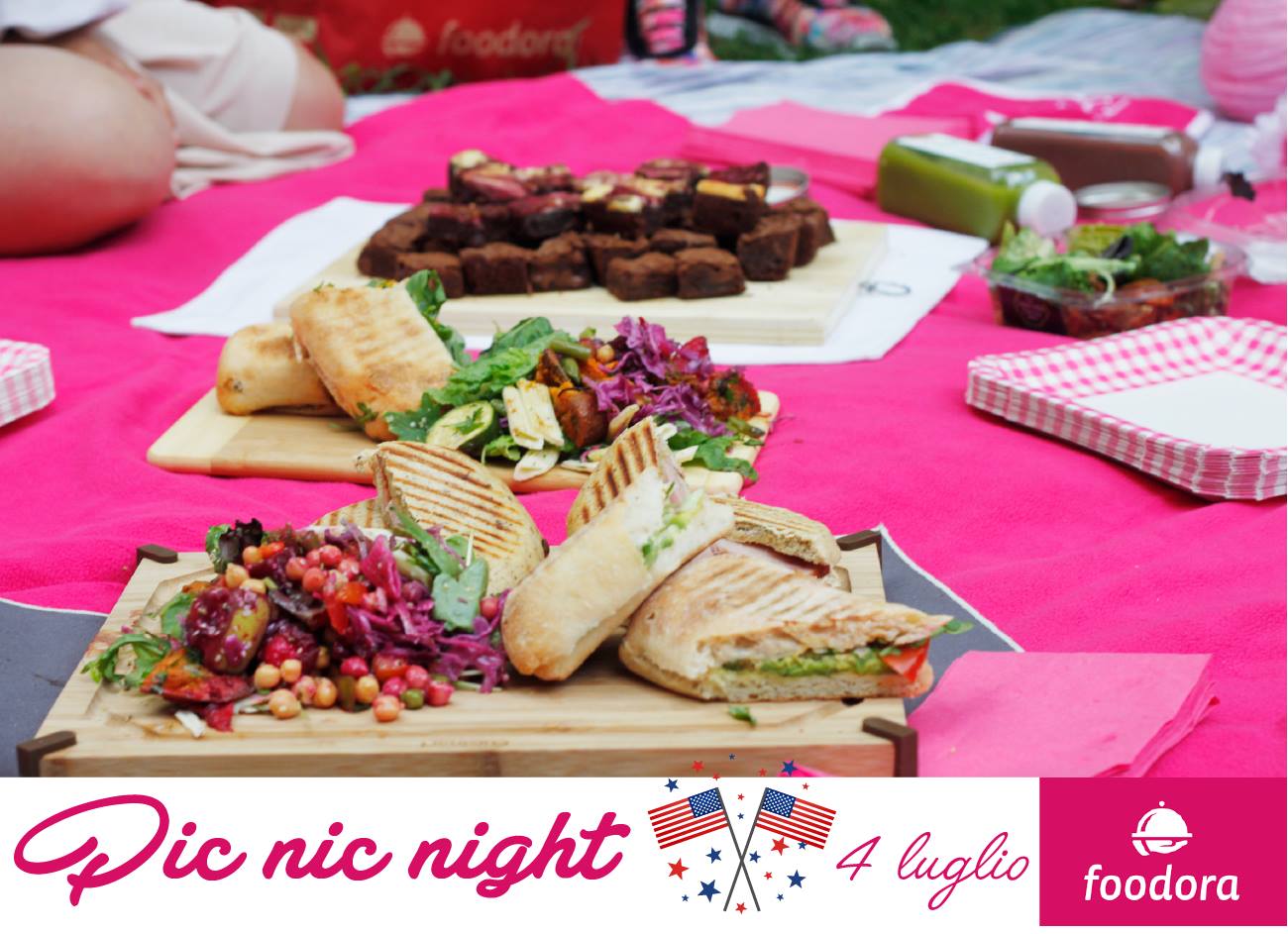 July 5th marks this month's open-mic night at Tasso Hostel where anyone can perform their original content to a fun group of locals (I always adore the scene). This month's host is the wonderful Marisa Garreffa and there will also be special guest Baret Malarian who will be reading from his freshly published book, The Fabrications.
The annual charity dinner for the l'Associazione Tumori Toscana A.T.T. e l' Associazione Borgognissanti, will take place with a splendid dinner under the stars in Piazza Ognissanti (fancy!) on July 6th at 8:30pm. In addition to dinner, there will be a live jazz band to make the event even more magical.
Estate Fiorentina (Florentine summer Festival) has officially kicked off with a plethora of really great events, you can find out more on their official website but below you'll find a roundup of some personal favorites.
Every Thursday through the summer at the Balagan Cafe at the Florence Synagogue there will be an events including aperitivo, live music, book presentations and more in one of the coolest spots in Sant'Ambrogio. Check out specifics here. address: Via Luigi Carlo Farini, 6.
This year's Apriti Cinema is in Piazzale degli Uffizi and offers an exciting array of films under the open air of one of the world's best museums (and it's free!). The shows run until July 19th and take place at 10pm, first come, first serves when it comes to seats. See the full program rundown here.
https://www.instagram.com/p/BV0NpvLARz7/?taken-by=cinemalacompagnia
Nestled in between Piazza della Repubblica and Orsanmichele Church & Museum is the Serre Torrigiani in piazzetta, an urban garden cafe that is showcasing at least two cultural events a week this summer, a combination of live music, workshops with kids, book presentations and more. Below is a few of the events during the beginning of the month, you can find the rest here. address:  Piazza dei Tre Re, 1. 
July 1st, Jazz live music set at 9pm.
July 2nd, (kids), at court with a prince and princess, legends, fantasies and more for kids starting at 11am
July 7th, live music at 7pm: Shamanic songs are sound that speaks and that can interact with human and extra human events.
July 8th, live guitar set at 7pm
July 9th, (kids) 11am, animation for kids is back with the setting being pastry servants who once served kings and queens, apt to share their stories. That same evening at 6pm there will be a workshop about a special Italian plant "nepitella" (a bit like oregano but minty) and the creation of mini urban gardens for children and adults.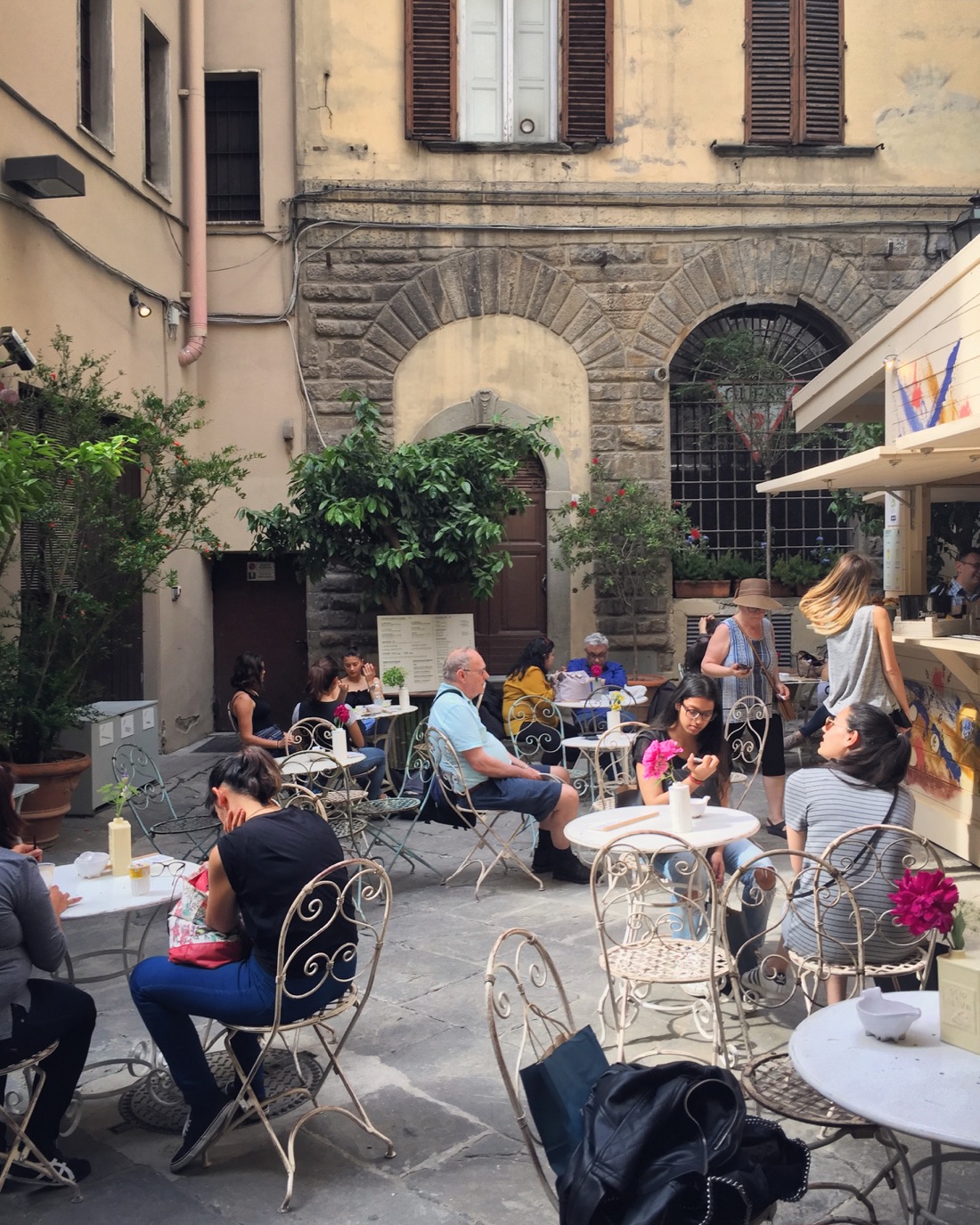 Live concerts and dance in the majestic setting of the 13th century Bargello Museum's beautiful courtyard, yet another lovely series of events this July and the Florence Dance Festival is one you don't want to miss featuring the talented choreography of some of the best Italian and International dance companies. This is an annual event that has taken place here for over 25 years. See the full program for July here. address: via del proconsolo.
On July 9th you can enjoy sushi on one of Florence's majestic rooftops (Empireo Bar at Hotel Plaza Lucchesi) together with food delivery service Foodora. It will be 30€ for a Hoseki dinner kit and one drink. 8pm. address: Lungarno della zecca vecchia 38. 
July 12th my friends over at Creative people in Florence will be hosting an evening of art music and dance with Associazione Heyart al ArtGarden 2017 (the horticulture garden near Piazza della Liberta). 
A weekend of wine and pottery! My friends at Officina Ceramica are offering open-to-the-public pottery classes the weekend of the 14th-15th of July. There will be a one-hour pop-up lesson of making pottery using the wheel for a cost of 15€ which includes what you make and a glass of wine (because I mean, why not). On Friday, the 14th you can join the fun form 7pm onwards while Saturday classes will be from 10-1pm. Reservations are mandatory, book your spot by calling Enzo at +39 339 13 12 990 or by emailing
[email protected]
LIBERTÀ, UGUAGLIANZA, FRATERNITY. a live music event in Piazza Ognissanti Words that mark Bastille day, or the national holiday celebrating France as a republic. As per usual, they will be hosting on July 14th from 8:30pm. It's always a lot of fun and while I'll be at a wedding, normally this is one French event I never miss in Florence.
Not in Florence but this is an event close to my heart and would be such a wonderful experience for anyone visiting Florence. A wonderful organic winery Querceto di Castellina (in Castelina in Chianti, a hour from Florence) is hosting summertime celebrations showcasing the culinary delights of La Tenda Rossa and their fabulous organic wines. This month's will be on July 15th. Reserve your spot by emailing [email protected], +39 0577733590 or [email protected], +39 055826132.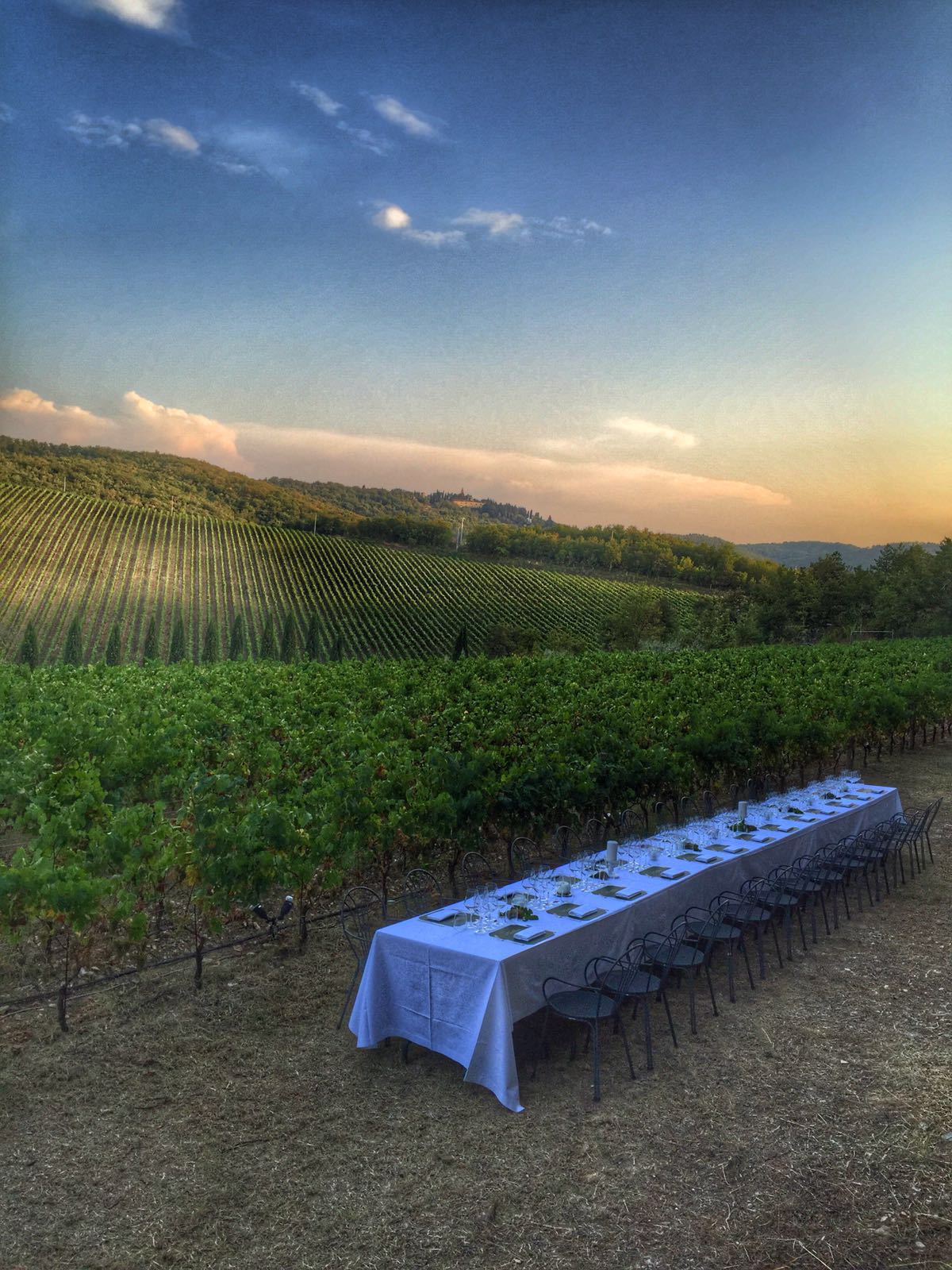 The monthly organic market in Piazza Santo Spirito will be held on July 16th this month and will be themed around Tuscan grain. This is a great opportunity to browse like a local and enjoy one of Italy's best pastimes, slowly walking through a market and taking in the local scene. 
Swing dance is coming to the majestic courtyard of former-prison turned contemporary urban space, La Murate on July 16th. Join the fun that starts around 7pm.
When I can't take the heat in my third-floor walkup, going to the movies means I get free air conditioning with the cost of a cinema ticket so I highly recommend seeing this month's original language lineup at The Odeon Firenze. Out this month is The Lost City of Z, Spiderman and that's not all. You can download the program here (until the 16th). 
On July 20th, Villa Medicea di Lilliano will be showcasing an opera under the stars in their majestic setting just a few kilometers from Florence. A donation of 15€ is asked per person and you can purchase the estate's wines to drink if you so wish in a picnic style on the day of. The fun starts around 8pm. More details here.
If outdoor bars and live music is your thing, Off Bar at Fortezza di Basso is hosting a Pajama party on July 22nd starting around 10pm. I will be very very impressed if Italians actually come in their pajamas.
My friends over at Querceto di Castellina will be hosting an uber fun event featuring wine and yoga with Jen Warakomski (who doesn't love that) on July 22nd from 10-5pm. Reserve your spot by emailing at [email protected].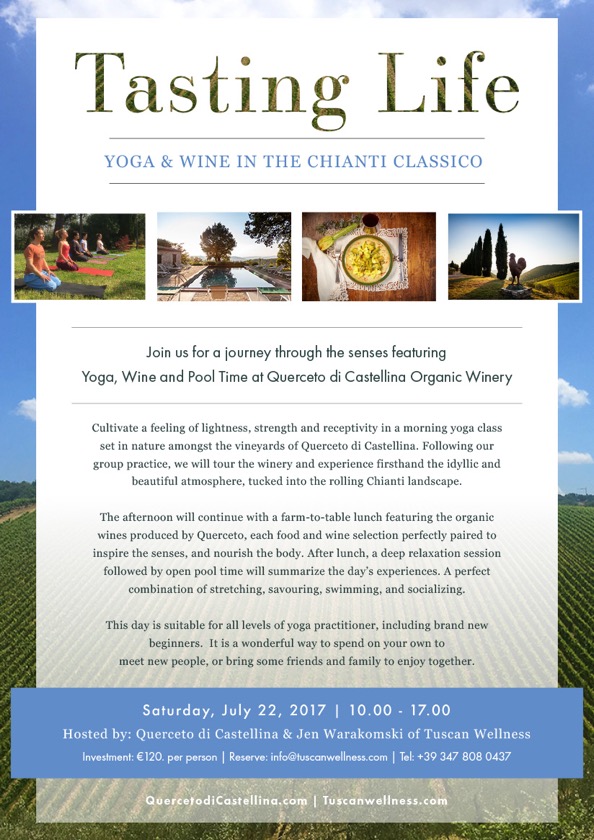 While not exactly a specific event, June marks the opening of many of the city's rooftop terraces. Most of which are on top of hotels where anyone can go for an aperitif drink, or sometimes even stay for dinner. The bonus is you get a beautiful, panoramic view of the city. Just be aware that drinks will often be a little pricier. This is definitely one of our favorite activities on a beautiful summer evening. Favorites include:
B-Roof is the newly inaugurated rooftop bar on Hotel Baglioni. It is the ideal place for a sundowner aperitivo with a large, expansive terrace at your beck and call with a bird's eye view of the Duomo cathedral (and not only). Dig into curated snacks and fun cocktails, keep in mind that it's best to make a reservation. Added bonus, you are very close to the train station should you need to jet off quickly. +39 055 23588865 www.hotelbaglioni.it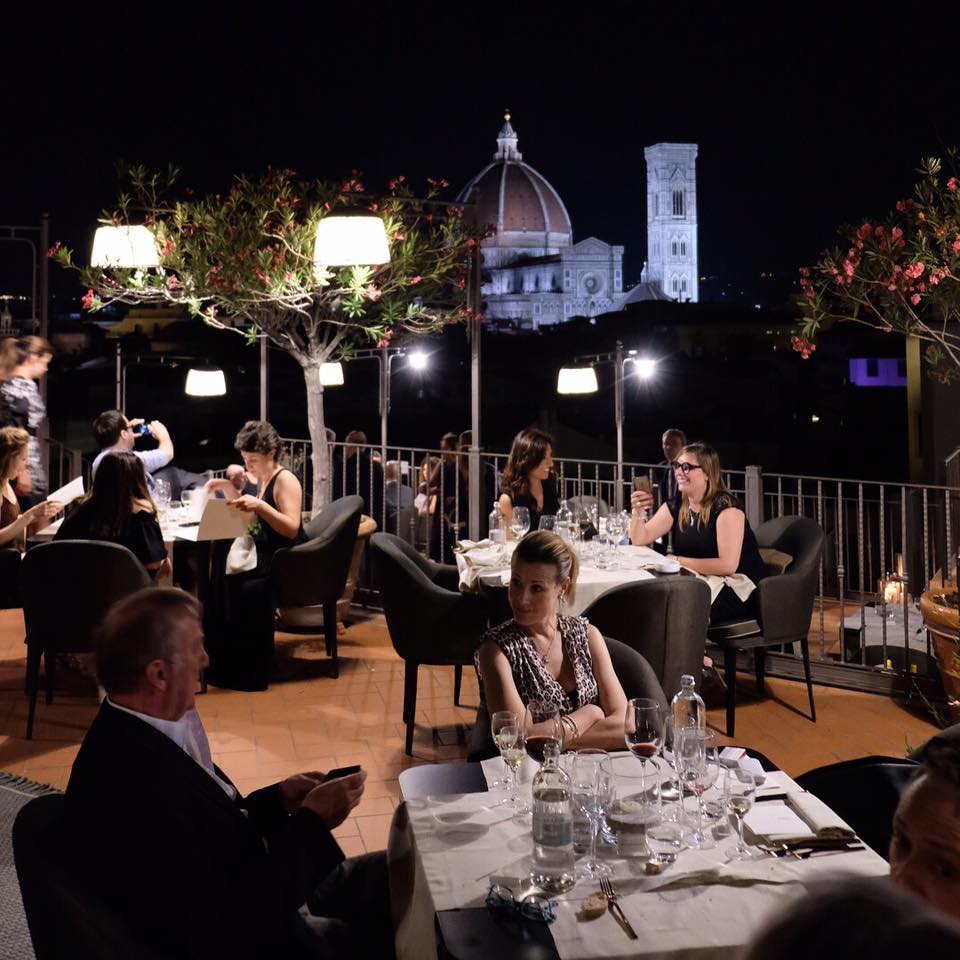 "La Terrazza" on top of Hotel Continental is open to the public and is a sexy, sophisticated spot to sip a moscow mule with a birds-eye view of the Ponte Vecchio. Pricey, cocktails cost around 16 (if not more) euros, open daily from 3:30pm-10pm. address: Vicolo dell'Oro, 6r – 50123 Florence, Phone. +39 055 2726 5806 , E-mail. [email protected].
S.esto at Hotel Excelsior is a prime spot for fashionistas to grab a drink on one of the best terraces in town. I would skip dinner here and just get the drink. Piazza Ognissanti, 3. Open 7:30pm-10:30pm.
Say hello to the Duomo! Grand Hotel Cavour is my usual choice to take people for a drink with an awesome view. I like its intimate feel, not outrageous prices and niceness of the bar staff. Drinks aren't as great as Continental but I assure you, this place is worth visiting without giving your wallet a heart attack. address: Via del Proconsolo, 3.
Oblate stays cool. On top of the Oblate library lies a cafe that is quite popular with the Italian student population. The great thing is you can also get a drink here and prices are cheap so this is a wonderful option for those who are on a budget, but still want the Duomo smack in their face. address: via dell'Oriuolo, 26. Cool place to organize a private aperitivo as well. Info here.
Hotel Plaza Hotel Lucchesi's stunning rooftop terrace by the National Library has stepped up their game this year by hosting a special aperitivo night each Sunday with food by popular chef Simone of Essenziale. Also on tap are two special dinners on Thursday the 22nd of June and Thursday the 13th of July

 with a themed "sac dinner" by gourmet restaurant La Tende Rosso. 

reservations recommended Prenotazioni ed Informazioni allo 0552623500 [email protected]. address: 

Lungarno della Zecca Vecchia, 38.
Grande Hotel Minerva, '360 Three Sixty' Rooftop Bar: has a new menu for 2016. Next to the pool in piazza santa maria novella, this place is too cool for words which is perfectly in line with the hotel's recent renovations. Open daily from 7pm-midnight.. Drinks range from 6 euros for a glass of prosecco and 12 euros for a cocktail. Email [email protected] for a reservation.
Hotel Torre Guelfa has a tiny bar on Borgo Apostoli on top of an ancient tower (you have to ask at reception if they have space, hotel guests get first priority). The view from here is one of the best in town and drinks are as affordable as 9€ for a spritz (a steal on a Florentine rooftop).
https://www.instagram.com/p/BU7bv4njT0n/?taken-by=girlinflorence
SaveSaveSaveSaveSaveSaveSaveSaveSaveSaveSaveSaveSaveSave
SaveSave
SaveSave
SaveSave