I admit my tardiness in getting this personal list of interesting June events around Florence, but I have a good excuse. One of my friends celebrated her bachelorette party this past weekend and my priority was on her happiness and work a close second which results naturally, in the blog getting a bit less love. However despite the fact that June has bull-dozed its way into existence, I am cool with that. The weather is almost uncomfortably warm, to the point that we all need to resume our "two-a-days" (not football but showers) and I am consuming more water than I think is humanely possible. But, this also means longer after-dinner walks with Nico and Ginger, and a return to healthier summer meals couples with "treat yo self" moments and my new favorite wellness center in town (watch this space, post(s) coming out soon) which is helping me not get my groove back per-say—but hopefully my sanity and a proper waistline. Anyone visiting Florence might be slightly dismayed by news of city workers washing people quite literally off the steps of churches and sweating their way through tour groups on the Ponte Vecchio, but they will also be treated to the opening of one of the summer's foremost exhibits (Ytalia) and outside terrace dining that makes the stinky height of the day kinda worth it.
https://www.instagram.com/p/BUjCrRYDzuG/?taken-by=girlinflorence
Link Love and a helpful block hack for the month of June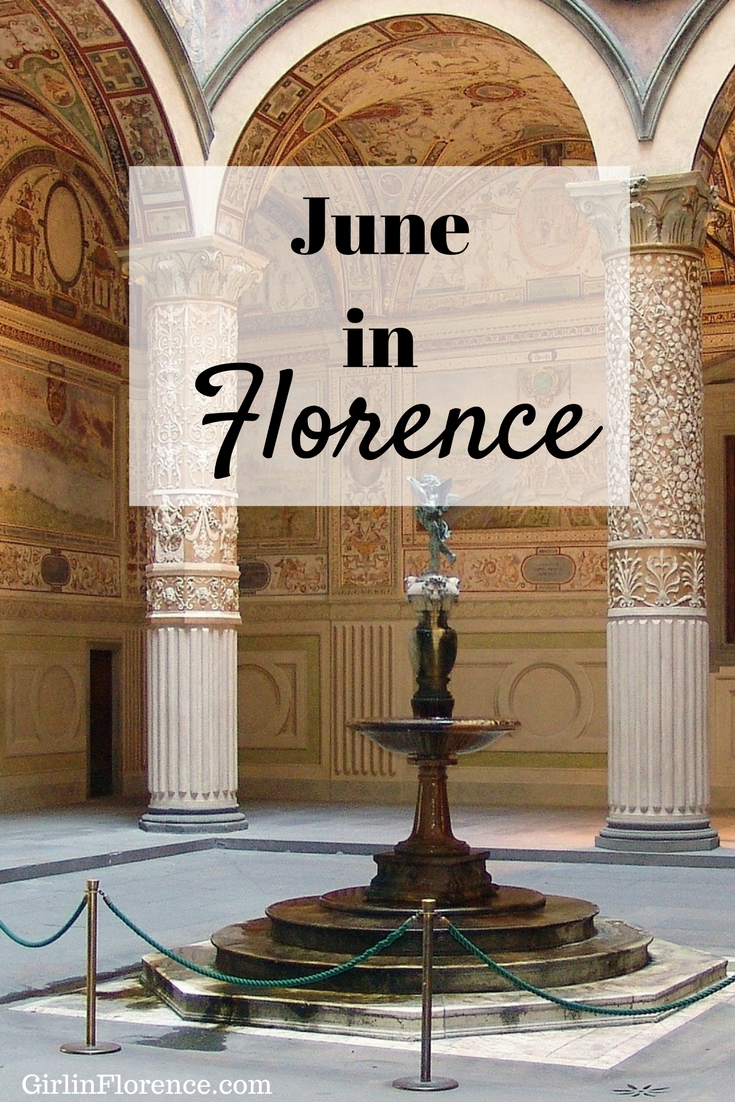 June 2nd kicked off the much-anticipated Ytalia exhibit which features over 100 contemporary artworks themed on "energy, thoughts, beauty" by major Italian artists in key locations around Florence until October 2nd, this includes Forte Belvedere, Palazzo Vecchio, Museo Marino Marini, Palazzo Pitti, The Boboli Gardens, the Uffizi Galleries, Santa Croce Church. We visited the 16th century Forte Belvedere which hosts many of the works including a giant skeleton lying down in front of the panorama of the city and so much more. It isn't free this year but residents can buy a card for 2€ for the whole season (bring your residency document) while visitors will may a 3€ entrance fee.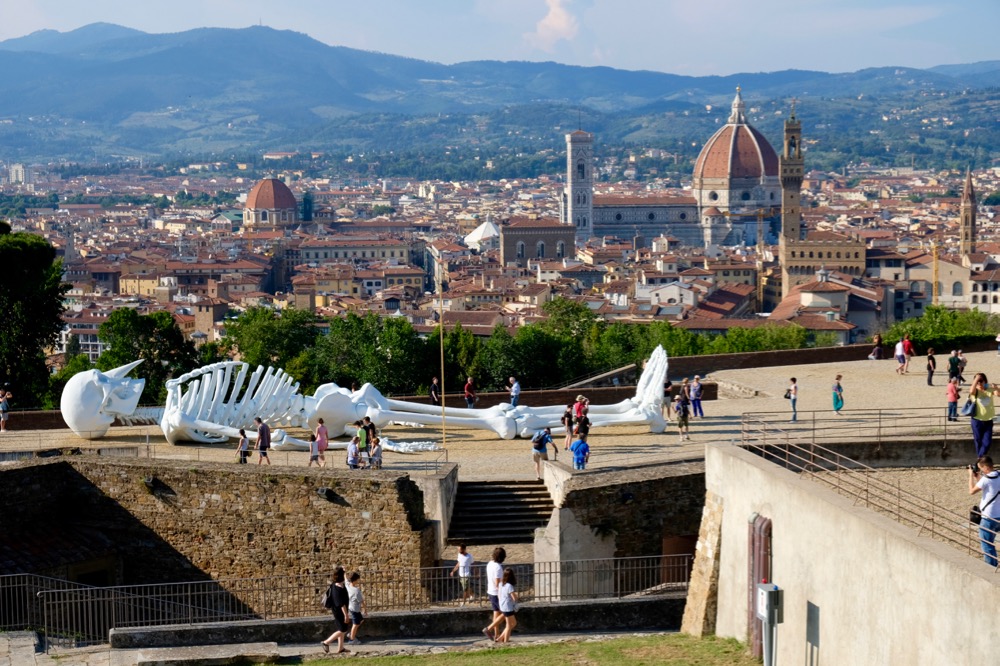 June 2nd (worth mentioning even if this post is being published on the 4th) is a holiday in Italy that everyone should know about, it celebrates Italy decision to become a republic in a tight vote following the Second World War. Viva #FestadellaRepubblica
https://www.instagram.com/p/BU1G6OGDb92/?taken-by=girlinflorence
The first Sunday of the month falls on June 4th, which after a long weekend following the celebration of Italy's anniversary as a republic feels absolutely luxurious, meaning that many of the state museums will be packed with visitors enjoying the monthly #DomenicalMuseo when state museums are open FREE to the public. I might sound like a broken record but seriously, visit one of the less famous ones (Bargello, Medici Chapels) and revel in non-crowded glory (here's the list).
Well guys June, means the return of Calcio Storico, Florence's own brand of violent historical football pitting together men in tights grouped by neighborhoods of the city (obviously I'm for Santo Spirito or "Bianchi")  who are very very angry (or really excited, it just depends how you look at it.). The games begin on June 10th, 11th with the final winner-takes-all taking place on June 24th on the Festa di San Giovanni, feast day in the city of Florence which also includes a costumed parade throughout the city. It's always a lot of fun in my book! Tickets range from 29€ to 80€ depending on just how much of a fan you are. More info on tickets here.
The Florence opera is back with a series of summer classic music concerts in the courtyard of Palazzo Pitti with La Cenerentola by Gioacchino Rossini playing from June 9 to 30 and La Traviata by Giuseppe Verdi from June 16 to July 1, concerts typically start around 9pm. Check out the summer program here. I checked out the prices and they range around 20-90€ a person.
Very excited to hear that Pride Park Firenze is back for its second year at the Limonaia di Villa Strozzi from June 10th to the 8th of July. It's a celebration of the LGBTQI community in Florence and includes a wide range of exciting events (book presentations, free yoga, henna, concerts and not only). I highly suggest reading this great interview by one of the event organizers and The Florentine here to learn more about this important event.
Get out of town and head to Pistoia on June 10th for a special instameet with local instagrammers in a true gem of a city very close to Florence, the theme is #TesoridiPistoia or "treasures of Pistoia". Check out the program (in Italian) and reserve your spot!
Pitti Uomo is back this June from the 13th-16th with three days of fashion shows showcasing the latest in menswear and a plethora of events that coincide with this biannual fair. Though most of the events are by private invite only, the city becomes a well-dressed open fashion show with "candid" posing in various squares, coffee bars and fancy bars.  Check out the event list here.
For those looking for a truly cultured experience, NYU's 2017 summer season is kicking off this month until August 4th with a delightful array of events involving poets, writers, actors, intellectuals with all sorts of creative protagonists on the grounds of one of the most beautiful villas in the city, Villa La Pietra. Reserve your spot by emailing which event you'd like to attend to [email protected]. Notable events for June include:
Thurs/June 8th: The writer's season 1 "

Dialogues and readings with contemporary American and Italian writers curated by writer and NYU Florence lecturer

Alessandro Raveggi." 6-9pm.
Friday/June 16th: "

To mark the 30th anniversary of Primo Levi's death

,

Jacob Olesen

performs a stage reading of

If This is A Man 

Primo Levi's powerful account of survival at Auschwitz." 9-10pm. 

Tues/June 20th. Sammy Davis Jr. I've Gotta be me "

A PBS biographical film from the acclaimed

American Masters

series, to be broadcast in the winter of 2017, directed by Sam Pollard and written by

Laurence Maslon

, It is the first documentary to examine the personal and artistic identity of this extraordinary entertainer in the context of social and racial evolution of the 20th Century." 6-7:30pm. 

Thurs/June 29th: The Merchant of Venice: "

Witness four actors play over fifteen characters in this scrappy production of Shakespeare's dark comedy." 9-10pm. 
My friends over at CPIF (Creative People in Florence) are hosting an event of art, performance and music at the Giardino dell'Orticultura on July 12, 2017 in collaboration with Associazione Heyart. They are looking for artists, so if this is the sort of thing that this tickles your fancy, email [email protected].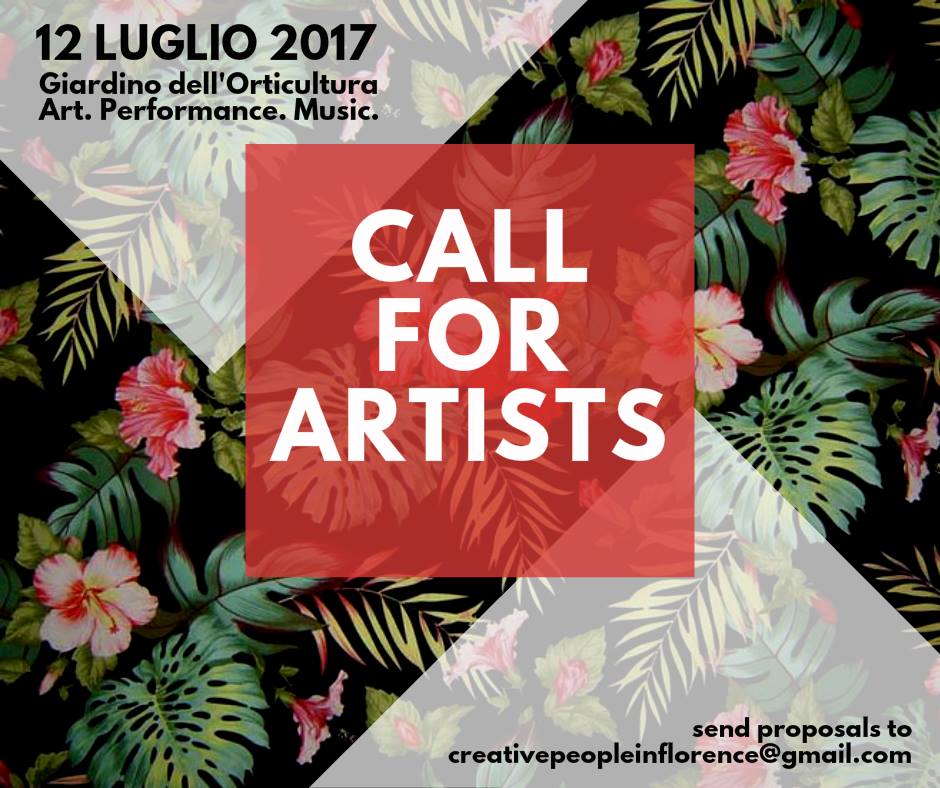 Fans of the band Radiohead (that includes me) will be delighted to know that this world-class band will be playing at the hippodrome at Cascine Park on June 14th (9pm). address: Viale del Visarno 14. I had a  look at the website and it looks like tickets are starting at 69€. 
Not in Florence but this is an event close to my heart and would be such a wonderful experience for anyone visiting Florence. A wonderful organic winery Querceto di Castellina (in Castelina in Chianti, a hour from Florence) is hosting summertime celebrations showcasing the culinary delights of La Tenda Rossa and their fabulous organic wines. This summer's vineyard dinners will be on June 17th, July 15th and August 5th. Reserve your spot by emailing [email protected], +39 0577733590 or [email protected], +39 055826132.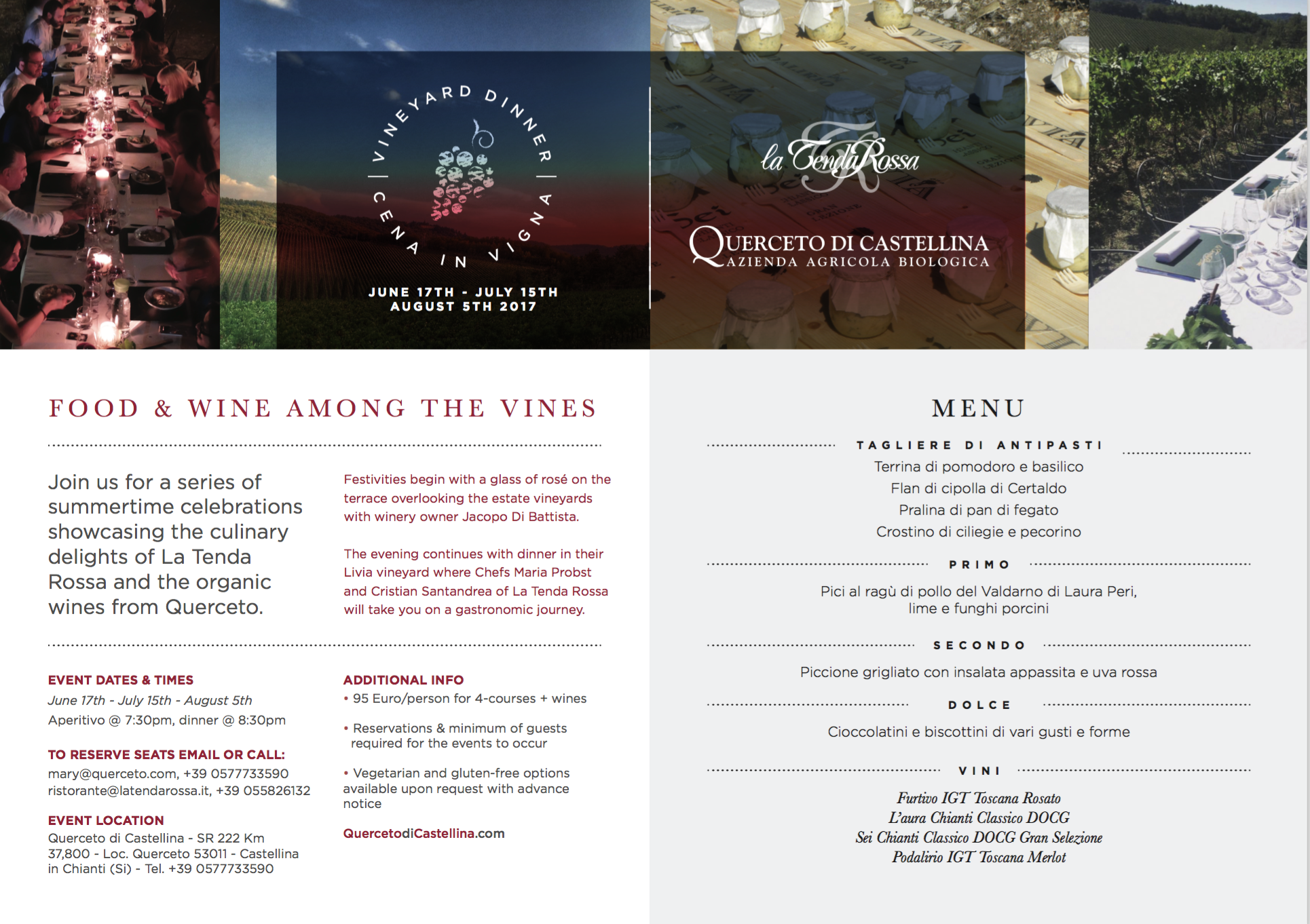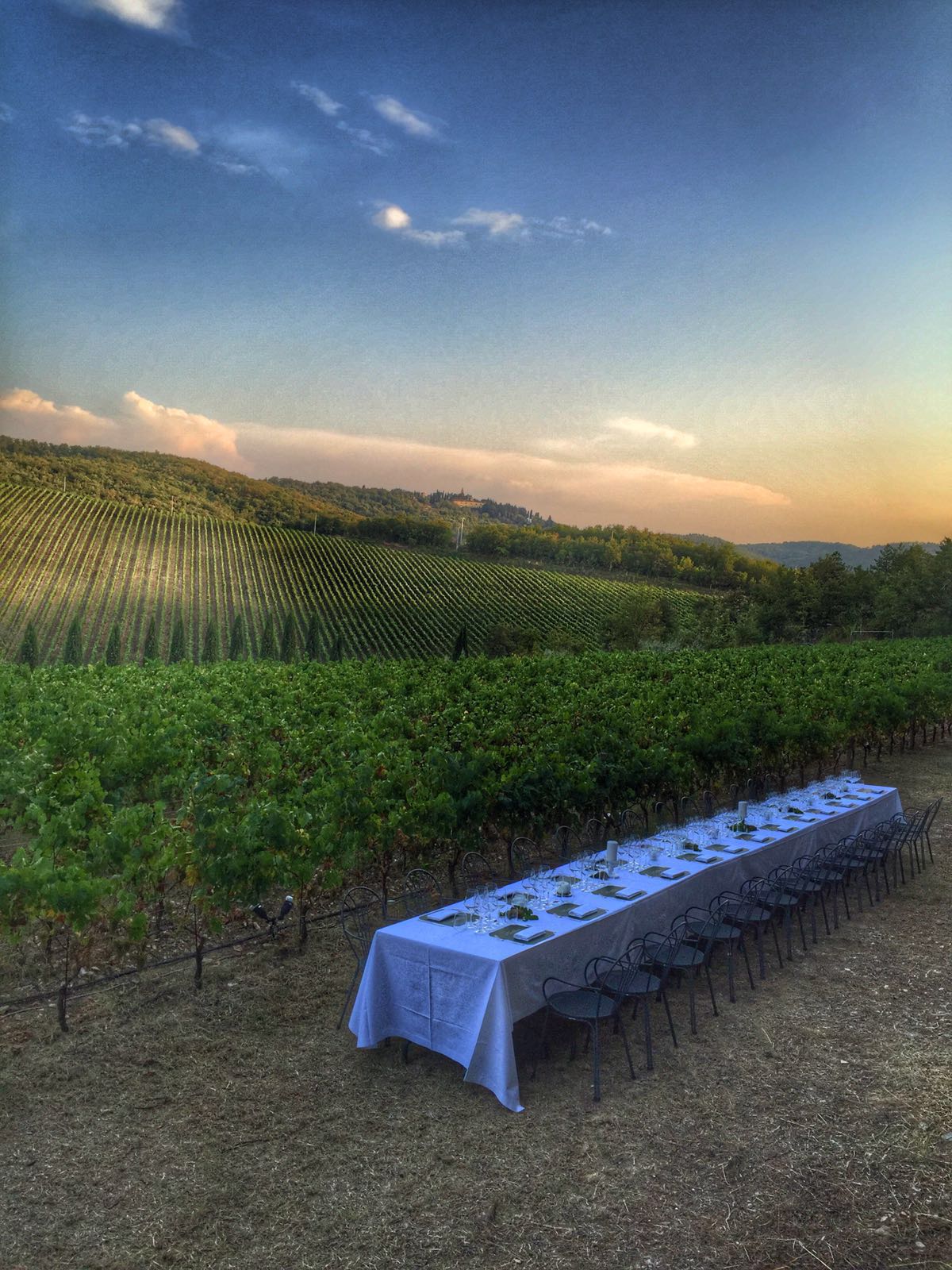 The monthly organic market in Piazza Santo Spirito will be held on June 18th this month and will be themed around Tuscan bees. This is a great opportunity to browse like a local and enjoy one of Italy's best pastimes, searching through a market like a champ.
I'm excited to hear that Apriti Cinema, a great initiative showing outdoor movies in Florentine locations, will be back this year with the location being Piazzale degli Uffizi. The fun starts on June 26th and will show films (with Italian subtitles) nightly until July 19th. Here is the full program.
Head to one of the city's best outdoor spaces, the Giardino dell'ArteCultura in the horticulture garden of Florence. On June 22nd, a Thursday, they will hosting a kid-friendly event with games and art together with KinderGarten (a local school) and Florentine artists. More details can be found here.
Those who wish they were at Cannes shouldn't be too sad because from June 29th to the 23rd will be "Cannes in Florence" a preview of the film festival hosted at Cinema la Compagnia on Via Camillo Cavour, 50/R.
I'm excited about the return of the Bargello's Florence dance festival on June 27th (running until July 25th) in the majestic settings of the courtyard of this ex-prison turned art museum. Expect over 500 performances and a true expression in visual dance creativity combined with a celebration of performance arts. Each act starts around 9:30pm with the cost of teh ticket ranging around 20€ per adult (discounts apply for multiple shows, they are offering a special card this year offering three entrance tickets for the price of two).
Piazza Santa Croce is playing host to 500 musicians in a special concert "La Piazza Incanta" on June 28th at 8:30pm. as part of the 25th anniversary of local bank CR Firenze (my bank coincidentally). The music will be orchestral and featuring the gerats such as Schubert, Beethoven, Tchaikovsky, Verdi, Orff, Gershwin. Spots are free with a reservation, email [email protected]. 
I've always been a fan of Vintage Selection and this year's summer edition is taking place from June 28-30th at the Fortezza di Basso and offers fans of vintage and vintage-inspired a decent selection of goods ranging from glittery vests to signatire Chanel bags. Info: Open 9 am – 7 pm (last day 9 am – 4 pm), Admission 5,00 euro. 
When I can't take the heat in my third-floor walkup, going to the movies means I get free air conditioning with the cost of a cinema ticket so I highly recommend seeing this month's original language lineup at The Odeon Firenze. Out this month is Pirates of the Caribbean, Wonder Woman, On the Milk Road, The Mummy and that's not all, you can download the program here.
While not exactly a specific event, June marks the opening of many of the city's rooftop terraces. Most of which are on top of hotels where anyone can go for an aperitif drink, or sometimes even stay for dinner. The bonus is you get a beautiful, panoramic view of the city. Just be aware that drinks will often be a little pricier. This is definitely one of our favorite activities on a beautiful summer evening. Favorites include:
"La Terrazza" on top of Hotel Continental is open to the public and is a sexy, sophisticated spot to sip a moscow mule with a birds-eye view of the Ponte Vecchio. Pricey, cocktails cost around 16 (if not more) euros, open daily from 3:30pm-10pm. address: Vicolo dell'Oro, 6r – 50123 Florence, Phone. +39 055 2726 5806 , E-mail. [email protected].
S.esto at Hotel Excelsior is a prime spot for fashionistas to grab a drink on one of the best terraces in town. I would skip dinner here and just get the drink. Piazza Ognissanti, 3. Open 7:30pm-10:30pm.
Say hello to the Duomo! Grand Hotel Cavour is my usual choice to take people for a drink with an awesome view. I like its intimate feel, not outrageous prices and niceness of the bar staff. Drinks aren't as great as Continental but I assure you, this place is worth visiting without giving your wallet a heart attack. address: Via del Proconsolo, 3.
Oblate stays cool. On top of the Oblate library lies a cafe that is quite popular with the Italian student population. The great thing is you can also get a drink here and prices are cheap so this is a wonderful option for those who are on a budget, but still want the Duomo smack in their face. address: via dell'Oriuolo, 26. Cool place to organize a private aperitivo as well. Info here.
Hotel Plaza Hotel Lucchesi's stunning rooftop terrace by the National Library has stepped up their game this year by hosting a special aperitivo night each Sunday with food by popular chef Simone of Essenziale. Also on tap are two special dinners on Thursday the 22nd of June and Thursday the 13th of July

 with a themed "sac dinner" by gourmet restaurant La Tende Rosso. 

reservations recommended Prenotazioni ed Informazioni allo 0552623500 [email protected]. address: 

Lungarno della Zecca Vecchia, 38.
Grande Hotel Minerva, '360 Three Sixty' Rooftop Bar: has a new menu for 2016. Next to the pool in piazza santa maria novella, this place is too cool for words which is perfectly in line with the hotel's recent renovations. Open daily from 7pm-midnight.. Drinks range from 6 euros for a glass of prosecco and 12 euros for a cocktail. Email [email protected] for a reservation.
Hotel Torre Guelfa has a tiny bar on Borgo Apostoli on top of an ancient tower (you have to ask at reception if they have space, hotel guests get first priority). The view from here is one of the best in town and drinks are as affordable as 9€ for a spritz (a steal on a Florentine rooftop).