For a girl who has done her fair amount of food tours, I knew I was going to love Rocio's the second Nico and I rolled up to the pretty corner in Condesa in Mexico City. It all started when she told us about her previous night's adventures. It involved a bit of drinking, an interesting conversation, a jealous boyfriend and plenty of "honesty hour" conversation which basically had us laughing the entire tour. Her easy familiarity won me over immediately. 
We hadn't even had coffee yet and everything was off to a great start. 
Rocio is from Mexico City, born and raised in metropolis that is bursting to the seams with frenetic energy and great food. She is a food blogger, a dog-lover (her dog often takes center stage on her instagram account), and creator of "Eat Like a Local" Mexico where people looking to explore the tastier side to the DF can choose between full day tours such as "Mexican Food 101" or a deeper visit to Rocio's favorite places, think tacos, pulques, beer and mezcals.
I'm a huge fan of private tours if you haven't guessed and my husband is a convert too after traipsing the world with me to all sorts of interesting destinations. I have discovered so much that we would never have known about if not for a trusted local. In honor of this wonderful day in Mexico City, a day where I almost needed to call in the help of stretchy pants and in Nico's case, multiple shots of Mezcal, Here's why you too, should consider a food tour through one of the most complex cities in the world.
Nerd out with fellow foodies and get an introduction to the city
Just as I imagine it would be torture for a museum lover to be around someone who's idea of purgatory would be a tour through the Uffizi, same goes with food. You can be certain on a tour (most of the time) that the other people with you are as interested in food, or at least a bit more curious to know more about the food culture in the city they're in. Who knows, you might even make a friend or three.
With Eat with A Local, group sizes are small (maximum group size of 6), Rocio likes it that way, and that particular morning it was myself and Nico, two girls from San Francisco who were Eat Like a Local veterans and a TV producer from Australia. Our aim? To eat and drink as much as possible and si, we were definitely in the right place. Conversation was easy and in time everyone felt really comfortable to be in each other's company.
Why Take A Tour and not just wing it? A worthy question since you certainly can find all of the info on where to go on Lonely Planet or online blogs. I do so much research but I always end up leaving a place feeling like I have barely scratched the surface. However, trust me when I say making your life easy on vacation goes a long way into actually having a good time. With a city this huge, I wasn't about to undertake the decisive challenge of trying to navigate all of Mexico's markets on my own right. I hate jostling with maps on crowded subways, fumbling my words and getting lost. For at least a few hours, it was nice to just be a happy visitor, confidentially snapping away and being an active listener.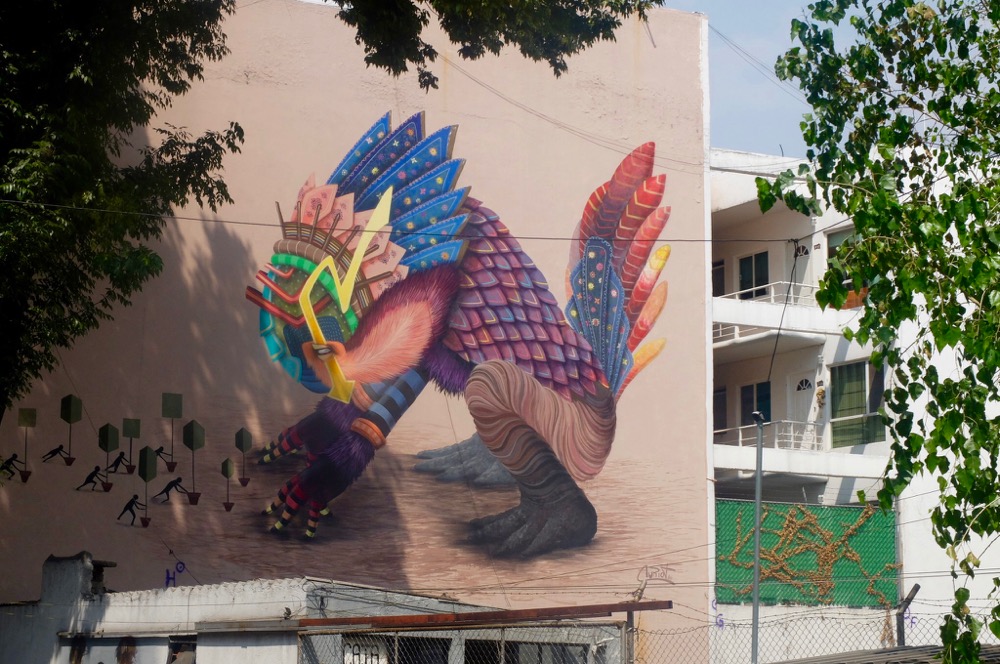 My advice is to plan a tour or two during the beginning of your trip that way it sets the tone on what you will be seeing and eating the rest of your vacation. You'll have so much knowledge after that you will likely try more things on your own after you know what the heck they are.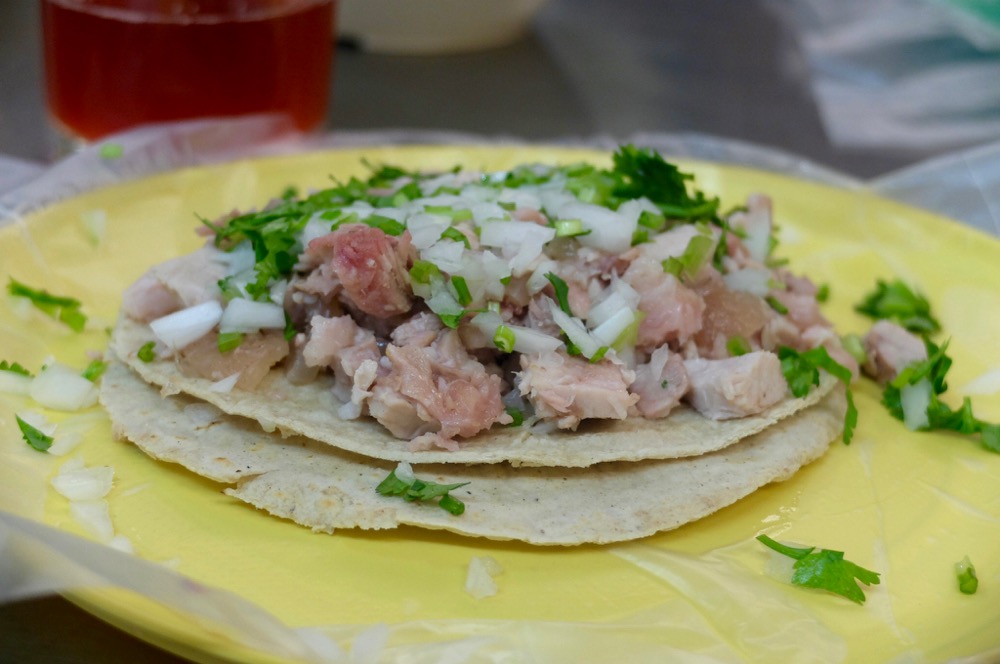 Your navigation skills will never be as good as that of a local 
One of the reasons I choose to visit Mexico City's markets was because quite honestly, many of the places Rocio took us I probably wouldn't have had the balls or as in Italian "corraggio" to visit. Our particular plan was to hit up three markets while also intermingling the experience with gourmet stops for breakfast and a few cool eateries in the neighborhood's of Condesa and Roma Norte (hipster hollywood).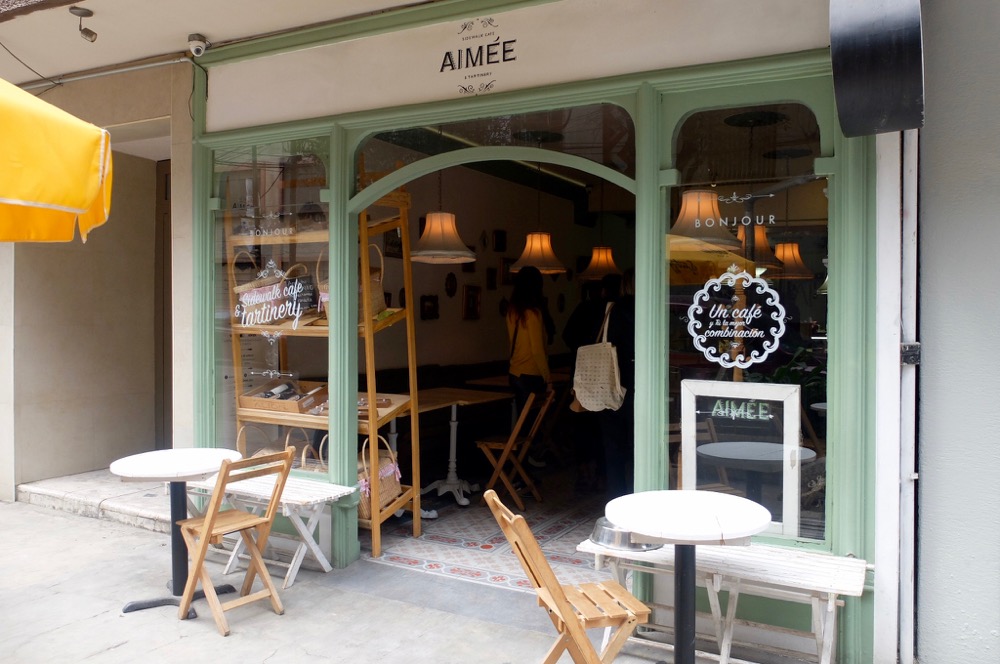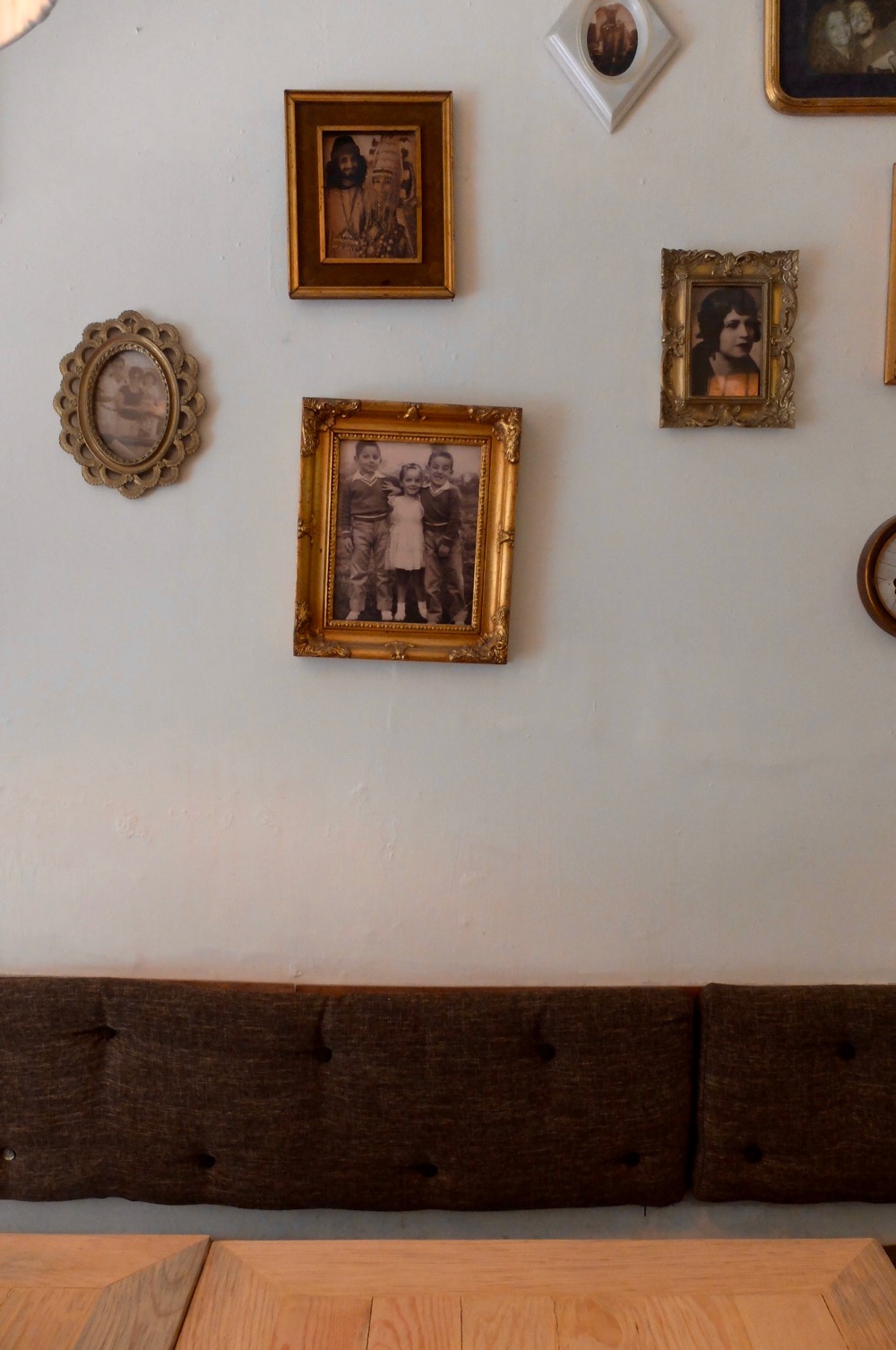 We found ourselves often in the middle of chaotic mercados (markets, Mexico City has over three-hundred if anyone's interested), these are places where people screamed pleasantries to one another and anyone could get dizzy from the labyrinth of tiny alleyways which ensure that only a seasoned local knows where to go.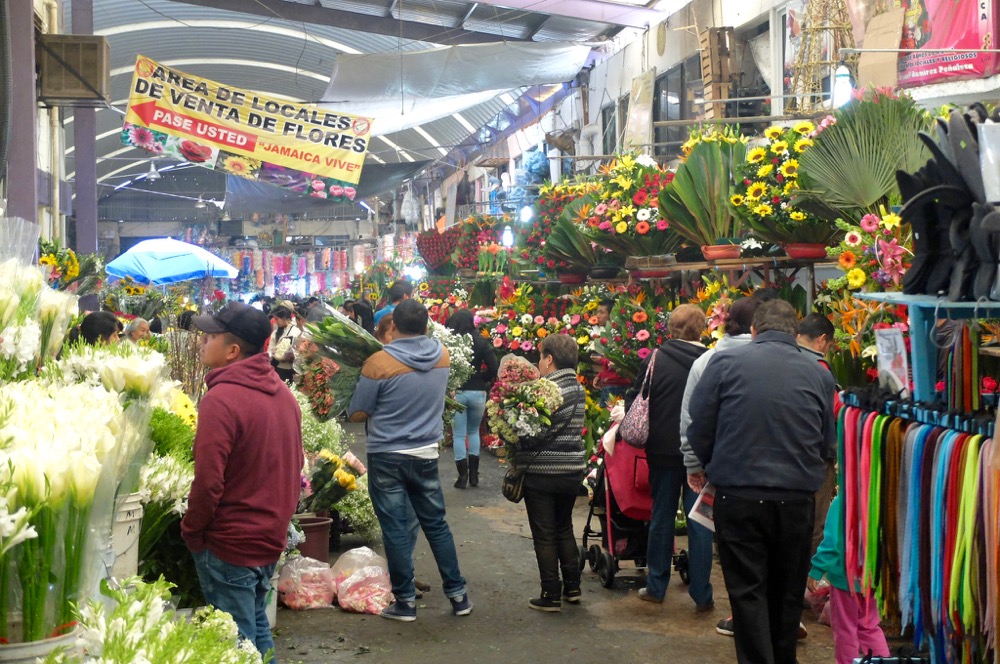 These places would eat you alive instead of the other way around. I'm sure if I tried to go it alone, I would have found myself alone and shivering next to a pile of nopal, cactus carcasses, in Merced market as passerby's wonder "who the heck is this gal?."
We also were privy to some of the cooler places in town located in the popular neighborhoods of Roma Norte and Condesa. Our last stop was at a nice restaurant where we got a behind-the-scenes look into the kitchen and got to relax with a beer and some last bites. The perfect ending to what was a very eventful day.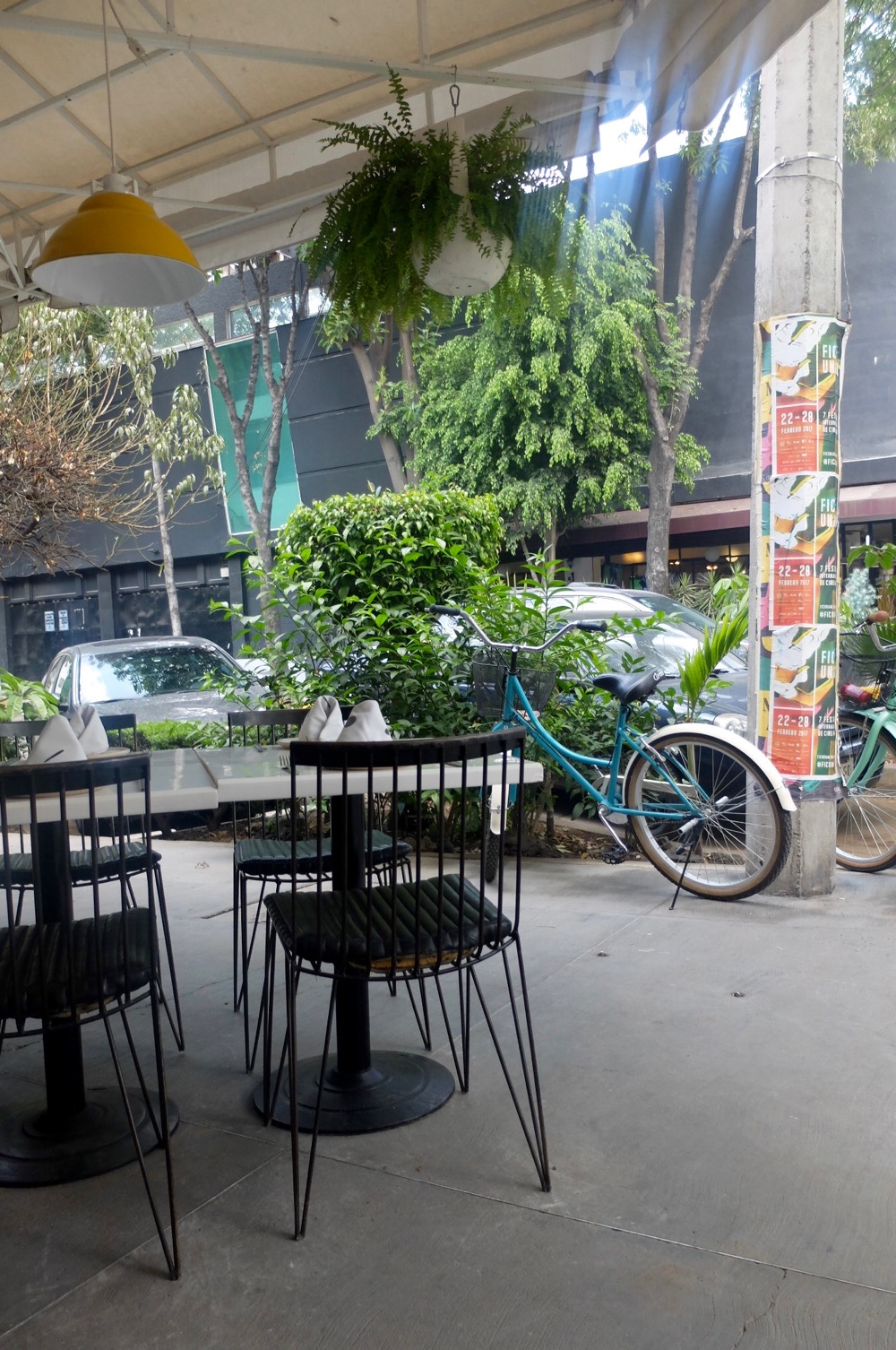 Culture meets food all in one place
One of the best parts about this particular tour wasn't only the food, but rather the context surrounding it and proved when visiting a local pastry shop (pastelerías). I grew up eating conchas, a sweet bread roll covered in a cookie crust that comes in a variety of flavors (and colors). Eating them usually meant that any shirt you were wearing would be covered in sugar but my were they so good when freshly baked. That and the gingerbread pigs Marranitos, which aren't actually made with Ginger but instead with molasses.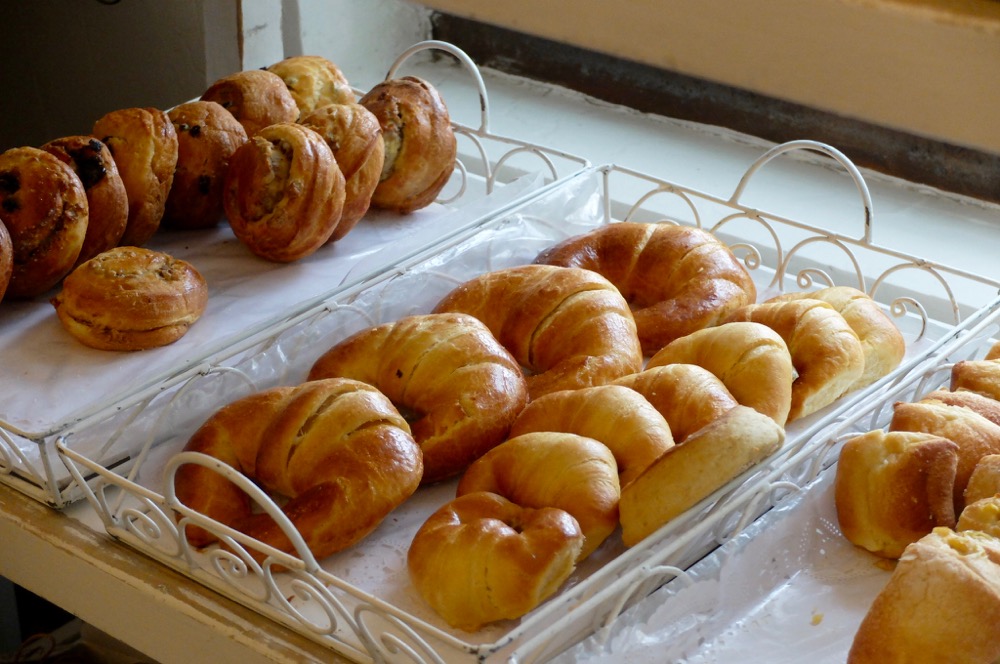 As Rocio explained, making pastries tended to be a task done by women, in fact in Mexico you can bet on there being over 2,500 varieties. During the 19th century, a time when it was a bit more conservative than today, flirting over sweet breads wasn't out of the ordinary. The word Abrazo might mean "a hug" or in the pastry sense, a dollop of cream or jam placed in the center of a square piece of danish dough. So give me a "abrazo" could have more than a double meeting for a clever patron. I kind of love the idea of naughty double meanings which also find their home very well in the Italian language (be careful when saying peas, or fig)!
Speaking of culture trips, nothing was freakier than our stop at the witchcraft market or Mercado de Sonora which is thriving in Mexico City. Imagine whole sections of markets dedicated to potions, herbs, animals, tonics prescriptions, you have a problem, they have a solution. Want to find love, get married, hurt an enemy? They got it.
If you need a little more help you'll find that the market also has witches, bruja means white witch and shamans to help on a more intimate level (for a price), also on hand are tarot card readers. It's a weird and bazaar place, one where smoke is omnipresence and you feel like you've just been teleported into another world, which well, you have. I feel like my mom would love this place. 
One of my favorite Rocio stories during our witchcraft adventures was when she told us about a guy who couldn't manage to break up with his annoying girlfriend. Naturally, he enlisted the help of the witchcraft experts at his local market as of course, they know best then manning up and actually telling the poor girl you just weren't that into her. Their advice was to cover himself with honey and then rub himself with a piece of meat. The meat is then meant to be put in a bag, and fed to a black dog. ONLY a black dog. If that wasn't bad enough, this ritual was to be repeated daily for a month.
Something tells me that guy is still with his girlfriend.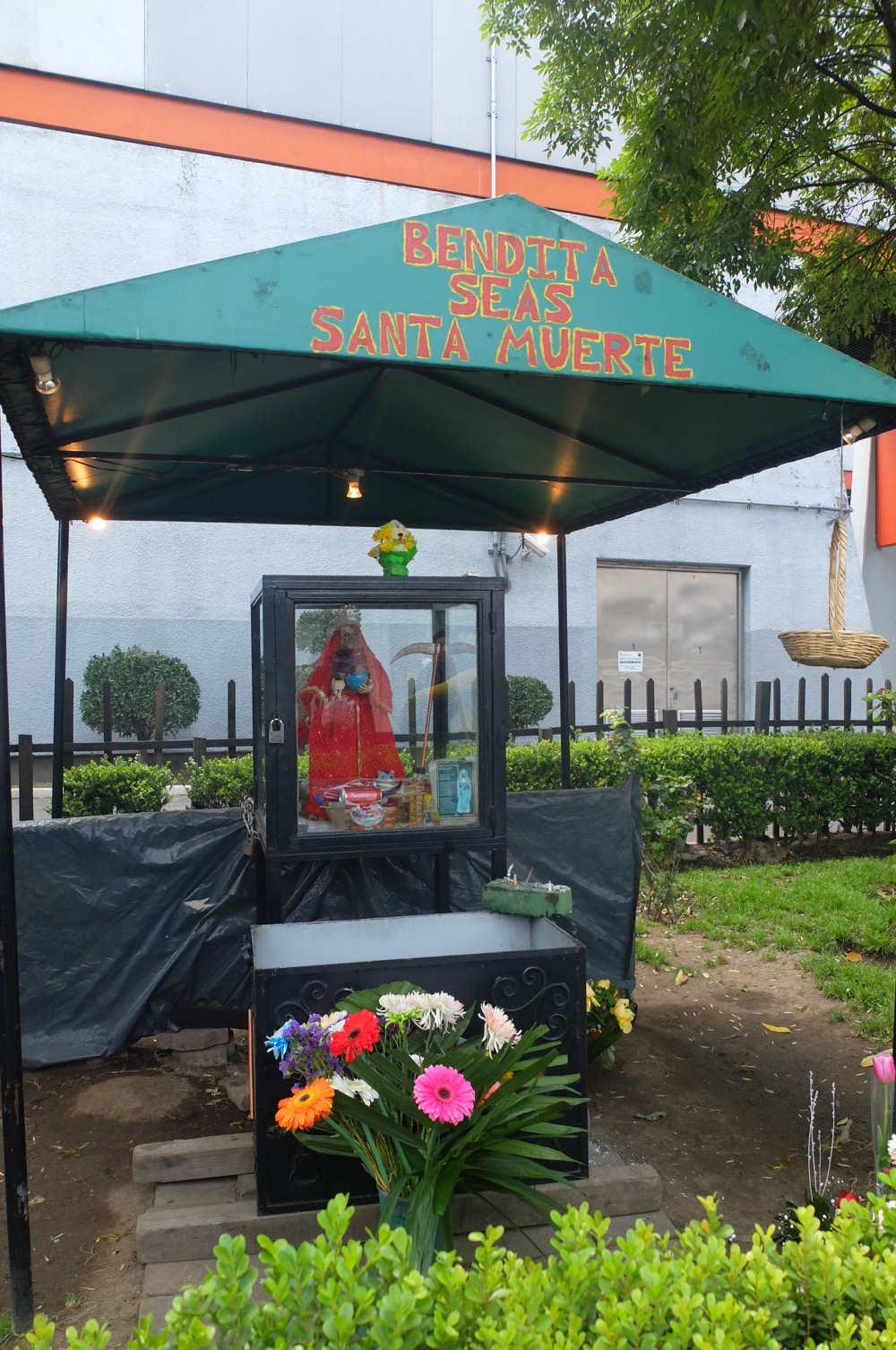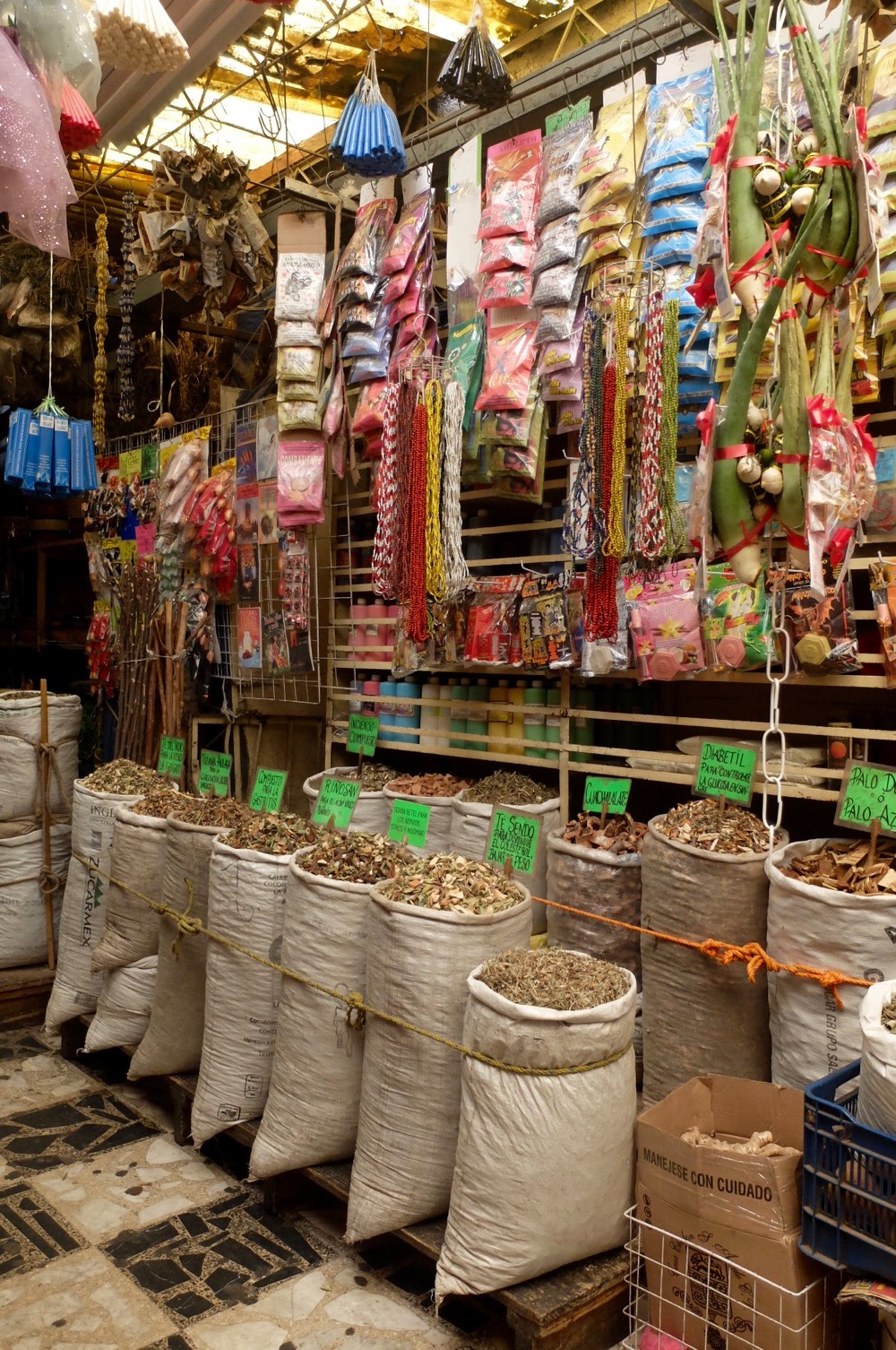 Mexican cuisine isn't just tacos and margaritas
Another thing to note, Mexican food is far more than just guacamole, enchiladas, margaritas and nachos. Sure, those things exist too and I had some of the best tacos in my life, but what tours like this are about are really diving into a culture's cuisine and that means opening your mind and tastebuds to new flavors, textures and varying combinations.
In fact one of my favorite things that we tried during the tour (and we tried a lot) were green chorizo tacos, think succulent pork sausage seasoned with chiles, spices and a touch of vinegar and then adding fresh herbs and cilantro for that green pop of freshness. Let's just say it made the cover photo for this post for a reason. 
Also refreshing was the chance to dive into the many interesting fruits that you only find south of the border. We tried tepache, a pineapple purple banana and one of my favorites was the granada china translated as a "Chinese pomegranate." It reminded of a less zingy passion fruit. Cut open in the middle, you just need to use a spoon to scoop out the inner goodness.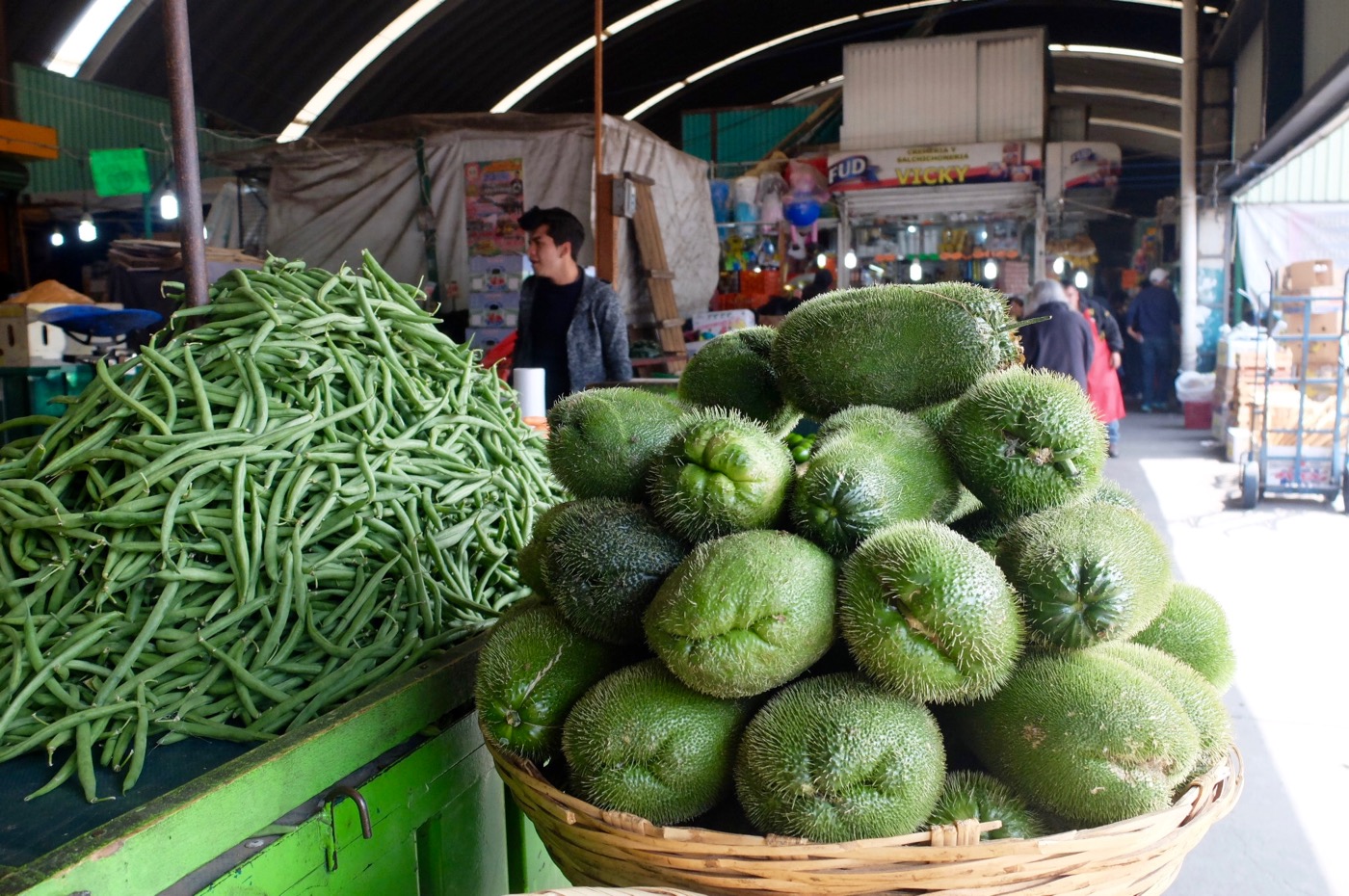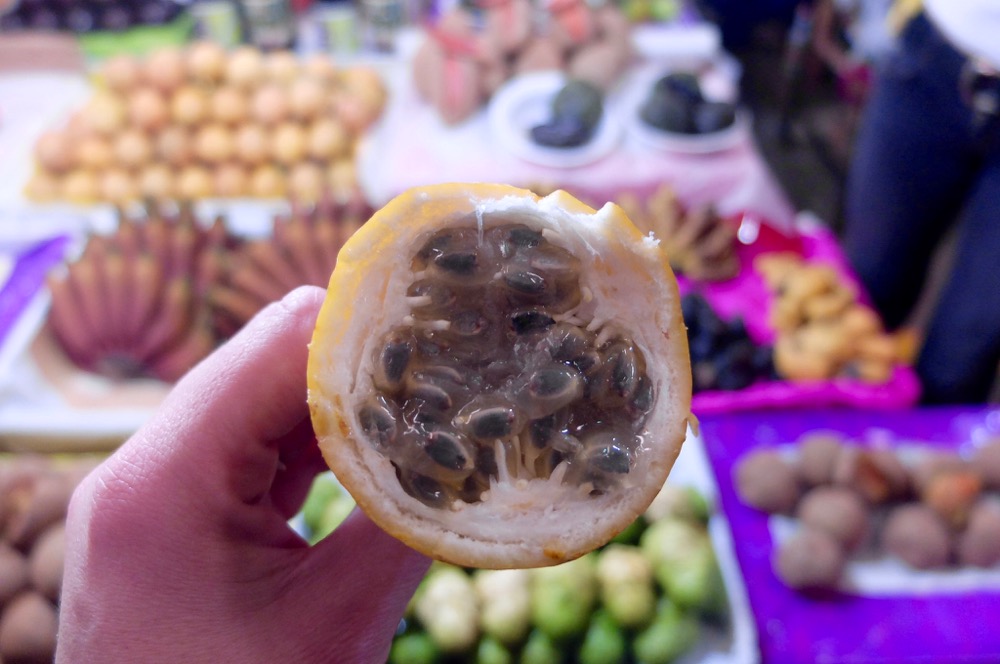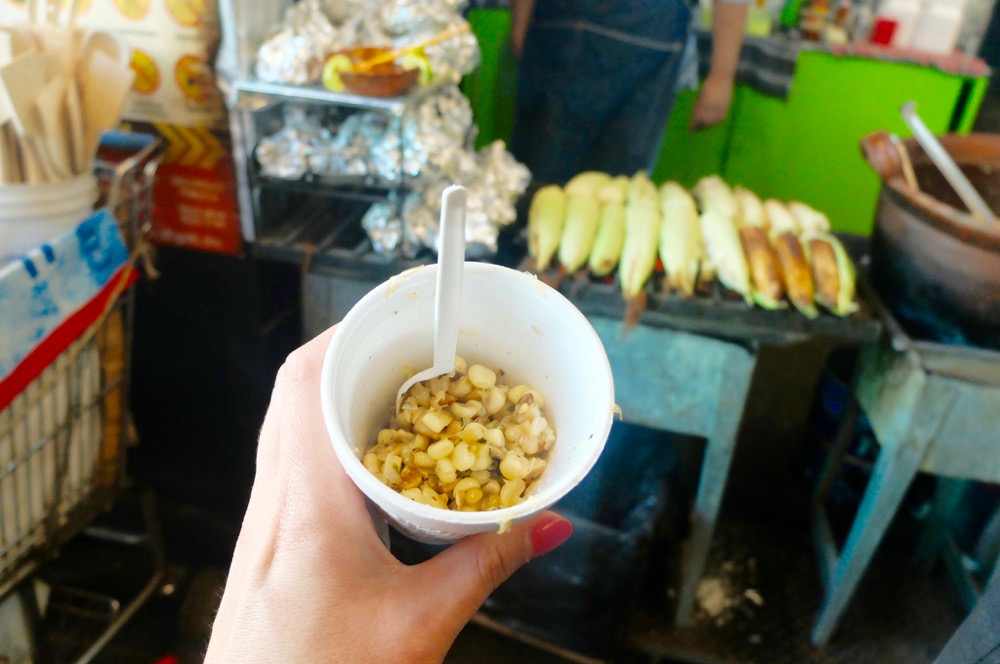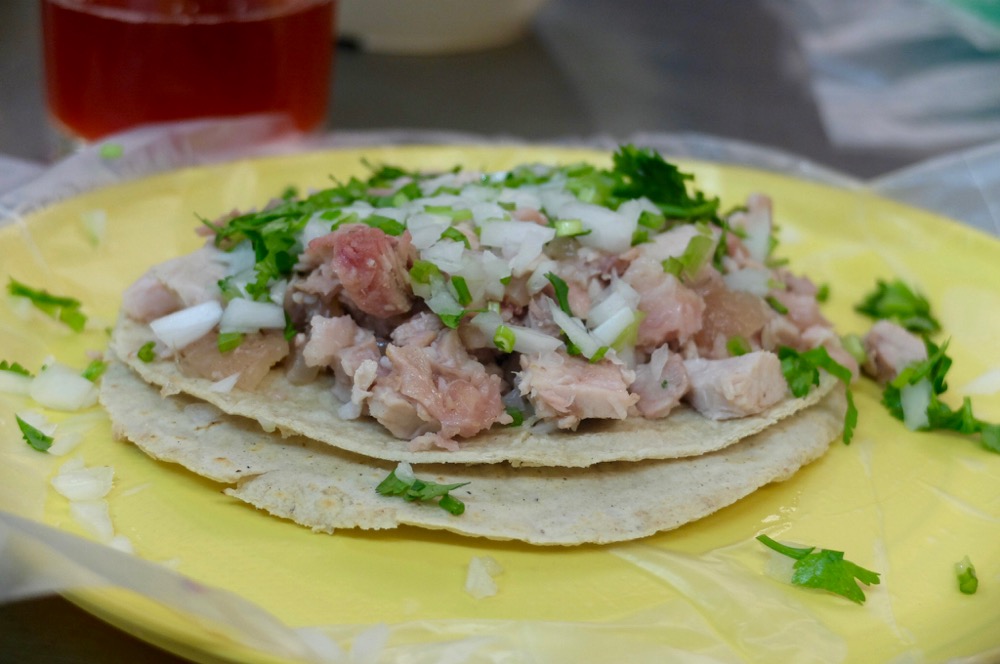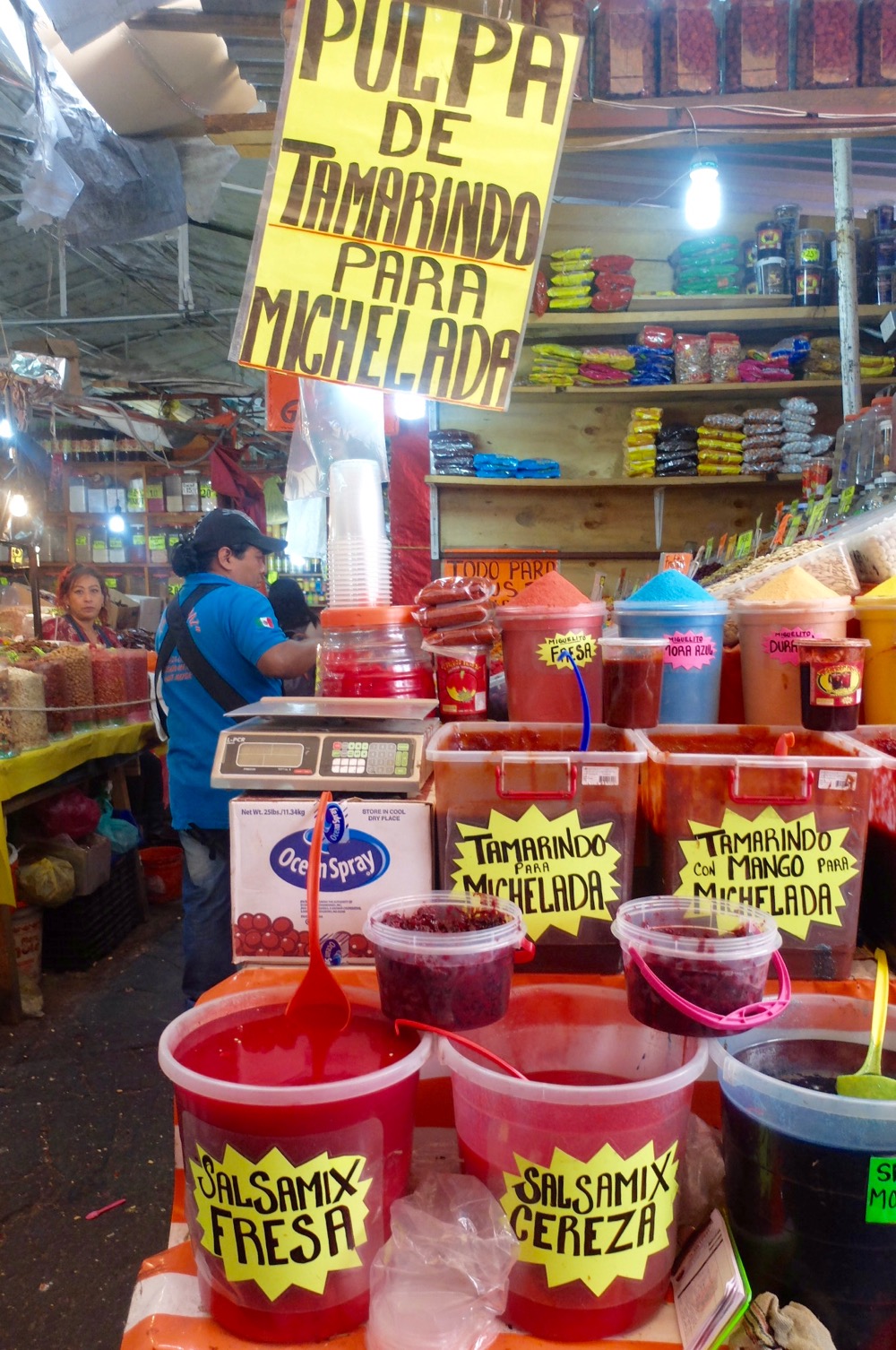 If you're going to eat insects, it's best done with a few new friends
I'm not going to lie, I haven't always been known as being an adventurous eater. However, Rocio wasn't going to have none of that as we piled up in front of one woman's stands filled to the brim with piles of edible insects.
Eating insects have been part of the social fabric in Mexico for some time, serving as a strong source of protein in the pre-hispanic period. Now they are considered delicacies, sold at markets and seen on menus of some of the hottest restaurants in town, including the famous Pujol. We of course decided to bite the grasshopper bullet and dive into nature's earliest snack food. Varieties you can try include gusanos de maguey (worms), chapulines (grasshoppers) among others.
Nico particular liked the grasshoppers, noting a nutty– crunchy taste that wasn't unpleasant in the least. I however, tried a weird bug that left a strange aftertaste in my mouth or it could be that I was chewing on a leg, who knows in any case it was a strange and fun experience. I'd do it again, but probably in a tour setting like this.
Not everyone might be up for trying crunchy grasshoppers (actually pretty good) but at the very least, you'll be exposed to what true Mexican food looks like. Our tour lasted about five hours, from 9:30am-3:30 roughly, we were full to bursting at the end and Rocio is generous with her time and suggestions if you have any particular queries about where to go during the rest of your time in Mexico City.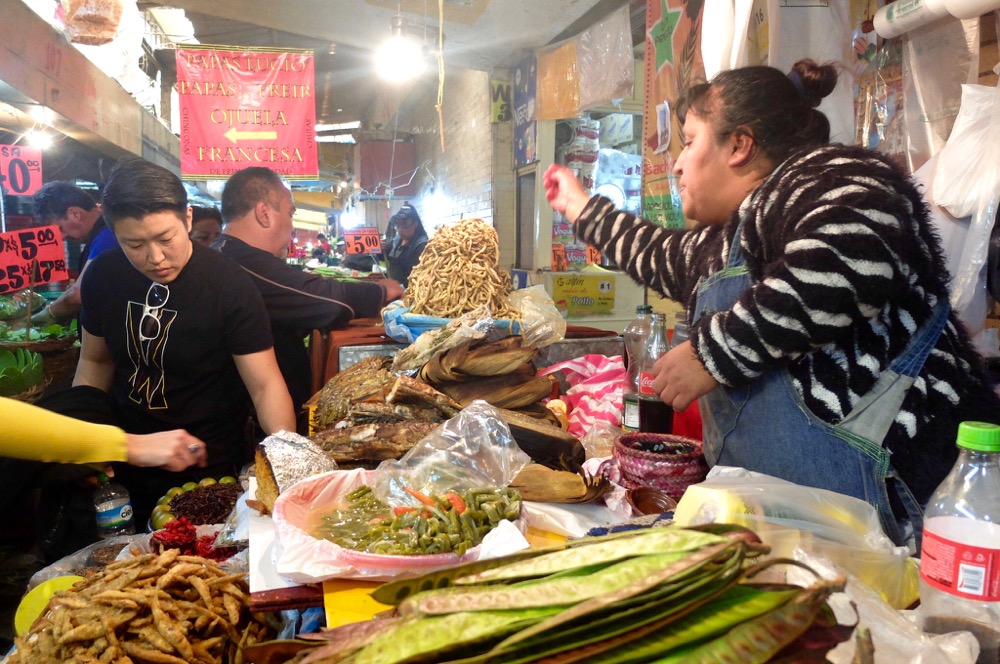 Quick Details
Obviously you have choice when it comes to tours, but Eat Like a Local Mexico took us to three markets located in Mexico City where we hopped on the metro (cheapest in the world mind you) and in between, we also stopped at a bakery, coffee shop and a nice restaurant for a beer and more curated bites. Her tours range from 75 USD to over 100USD, ranging from 3 hours to full day tours.
By the way "Why Rocio's tours" when there are so many options available? Well I'll tell you what on me over. I read her blog post on why people shouldn't visit El Mercado de San Juan where she says "And really, if you want to eat pecorino cheese at a Mexican Market you should get your priorities straight." At that moment, I knew she was the guide for me. 
Disclaimer: While the tour was offered free of charge, all opinions are 100% my own.