I remember visiting my friend Emiko in Porto Ercole in 2015 when she was there for a six month period along Tuscany's silver coastline. Beloved by those in the know, it is certainly not a place as famous as Liguria's Cinque Terre or further down south, the popular Amalfi Coast. But that's why I love it.
Here, the coastal towns of Porto Ercole, and Porto Santo Stefano in the promontory of Monte Argentario fill up with locals or visiting Italians in the summer looking to escape the city's heat (seriously summer in Italy can be a little overrated). Otherwise it's a place which exhibits a slow, but pleasant rhythm that only seaside life can exude when off season finally hits its shores. I was in love immediately, of course. The vibe, the less frenetic energy — the first shop Emiko took us to pick up salumi near the main square was filled with local deliciousness and of course, she already knew the owner by name. By sunset, we were sitting at the local no-nonsence bar, slowly sipping sprizes as a slow pink haze set over the harbor of Porto Ercole. That weekend we spent time both walking along the pretty ports, exploring a local farm, and took our car up to the top of Monte Argentario for a bit of mountain food and incredible views of the lagoon surrounding Orbetello. It was magical and I miss it.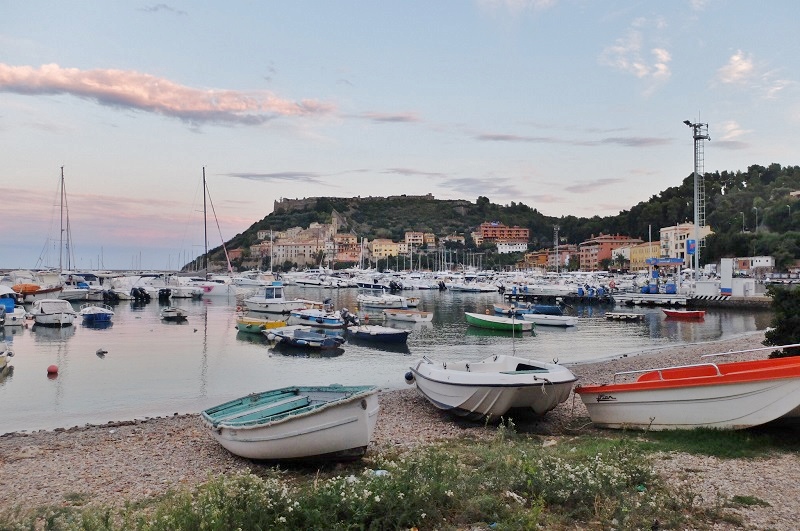 When I first saw Emiko's book, Acquacotta: Recipes and Stories from Tuscany's Secret Silver Coast, I gasped. It was so beautiful. Her landscape photography accenting the blues and greens with boats bobbing in the harbor, the salmon-colored pages and hand-drawn illustrations. It is a work of love and appreciation for an area of Tuscany that perfectly blends sea and mountain life, an area not far from the border of Lazio and a hearty cuisine adapted to the hard-working fisherman, buttari (cowboys) and families that came with them. It's a book of recipes, an education of local Tuscan ingredients and a collection of Emiko's heartfelt stories. Sectioned into five different parts, expect to be dazzled by delicious recipes from the woods, sea and lagoon, vegetable patch, farmhouse and of course dolci (sweets). I got the chance to ask Emiko a few questions about the book and also share with you guys one of my personal favorite recipes.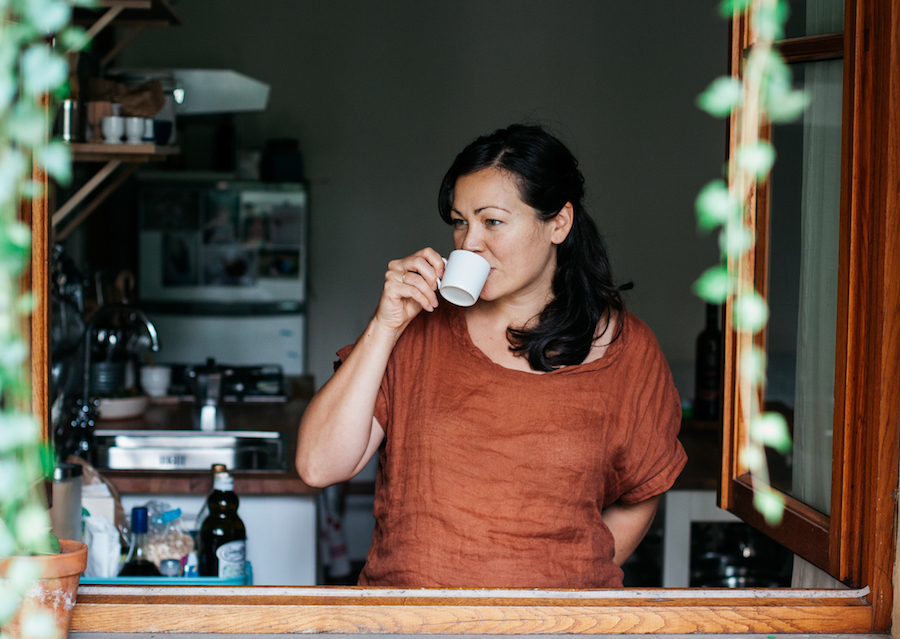 I have to ask the classic question for those who have yet to read the book. What inspired you to write this considering now everyone knows this area of Tuscany?
I wanted to share the stories about this corner of Tuscany that I felt was really special and really unique. It's a different Tuscany to the one people think they may know, so different that most Florentines wouldn't know what buglione or caldaro is, or what corolli or sfratti are (the first two are stews, the second two are cookies). And yet they're all from the same region. Like with my first book, Florentine, I wanted to show how Tuscan cuisine is not just regional, it changes from town to town and this beautiful corner of Maremma is particularly good at highlighting that, where you find a completely different menu and set of traditions from towns that are only a 10 minute drive away!
During your six months there, you certainly did a lot of research! How did you start the process of collecting all of the information needed to write this book?
It started with mentally taking notes – whenever we were out, maybe at the beach, or the market and noticing little things that stood out to me. I take a lot of notes on my phone as sometimes I don't have a pen and paper with me. And then we might be out for lunch or dinner with friends – more mental note-taking then furious scribbling or typing when back home. Then I started trying to source cookbooks on the area, but this was pretty tricky. I have a bibliography in the back of the book of some of the really useful ones. Aldo Santini's Cucina Maremmana was one of my favourites. Then it took visiting places, asking people for help or suggestions (Valentina from Villa Acquaviva even gave me an incredible lesson in making ciaffagnoni, the paper-thin crepes from the village of Manciano, for example), and lots of eating! And amongst all of it, lots of cooking and trying out recipes at home and trying them out on friends.
What are some of your favorite finds/recipes that readers can look forward to in the book?
For me, the wonderful thing about this area is finding dishes that you can't usually find in cookbooks or even in restaurants. They're the sort of thing people might cook at home, or maybe not even anymore – they can remember their grandmothers cooking these things. Recipes like the caldaro (a fish stew with a huge medley of different types of seafood, Argentario's version of Cacciucco Livornese), pagnotella (a fig and chocolate "bread", it's a little like a mix between fruit cake and brownies), but also simple preparations like bread with wine and sugar or grilled bread rubbed with lemon, olive oil and salt. But then there are also classic Maremman dishes like wild boar stew, huge spinach and ricotta tortelli to be served with a really tasty Maremman ragu (it has sausages in it) and of course, acquacotta (three kinds actually). You can also find a lot of recipes that would appeal to those with dietary restricitions – plenty of vegan dishes (that pagnotella is one), gluten-free dishes (think polenta crostini or gnocchi made with chestnut flour) and egg-free pasta and cookies.
Can you expand on the title and (of course the famous dish) Acquacotta?
The title literally means "Cooked water" and is actually the name of a typical Maremman dish, a soup. It's the kind of dish that changes it's set of ingredients completely as you move from town to town in Maremma, but they have in common the fact that the ingredients (usually local greens, tomatoes, garlic, sometimes potatoes or mushrooms or seafood, are indeed cooked in water). The classic Acquacotta has an egg per person poached directly in the soup too, and it's served over a slice of grilled bread. (There's an excerpt from the book where I talk more about what Acquacotta is all about here on Food52)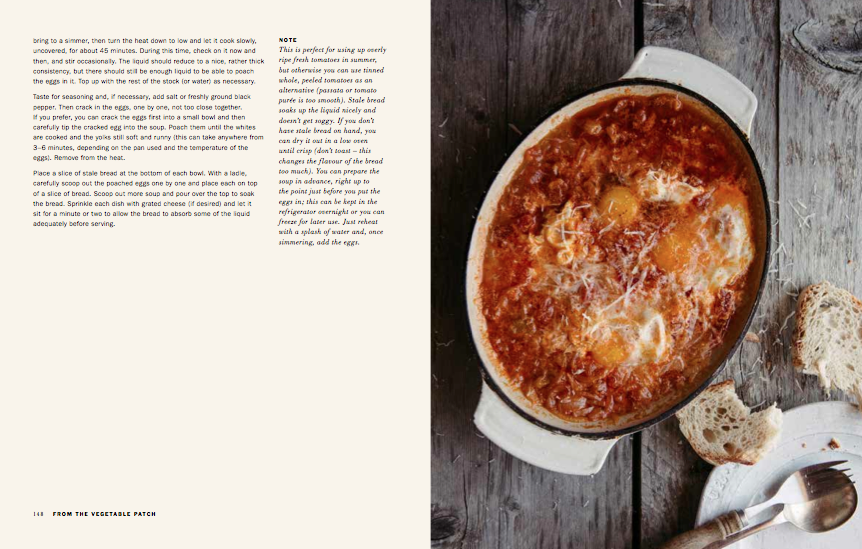 I love that you also include roadside stands and stories of people you met, can you let us know what are some of the staples of cuisine in the Maremma area of Tuscany?
Mushrooms, definitely, especially wild ones like porcini or chanterelles. The forest is a great source of foraged (in other words, free) ingredients and since Maremma has so much of it, things like chestnuts, wild herbs, wild asparagus and game, especially wild boars, abound. Then of course there is the sea – the Maremman coast is dotted with fishing villages, so the sea and its access to the islands has always meant an important source of food. Some of the more unusual seafood that you only find here includes eels from the lagoon of Orbetello and bottarga (cured/salted mullet roe). You also have wonderful local olive oil and local wine varieties (which yes, also end up in the dishes, not just drank alongside them!).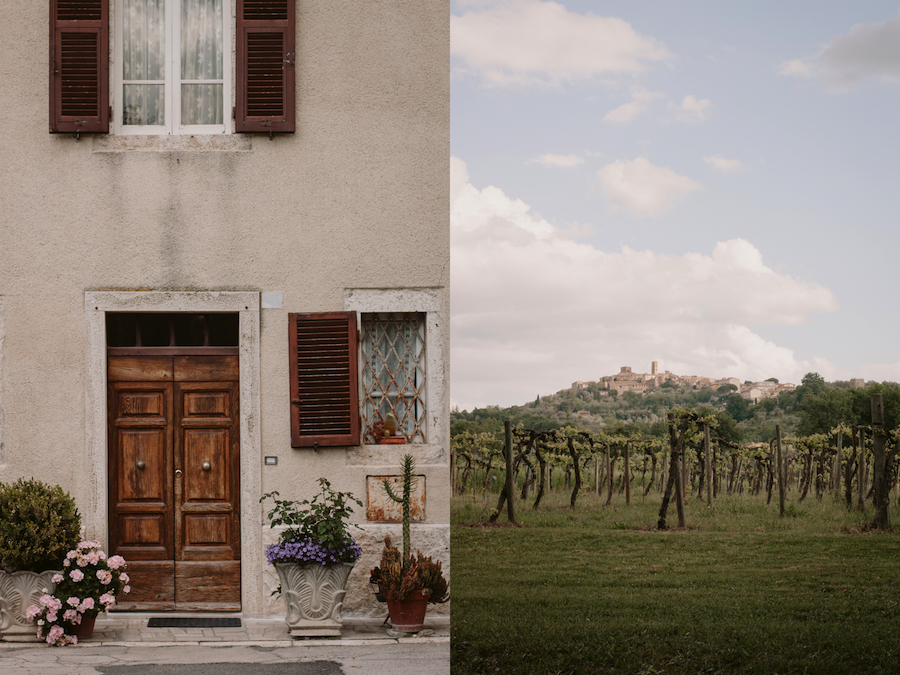 For readers who might want visit some of the places that inspired recipes in the book, do you have a suggested itinerary they should follow?
For anyone who can get their hands on it, I wrote a food itinerary for Monte Argentario for the current issue of my favourite food and travel magazine, Gourmet Traveller, but I also have a Gastronomic Guide to Porto Ercole and surrounds for my blog, which I will keep updated!
What's the first dish you order when you return to Porto Ercole? I think I know what your daughter's would be
My daughter's is most certainly strawberry gelato! Preferably at Gelateria Creole on the port in Porto Ercole. If it's the right season then pasta with arselle, tiny, delicious wedge clams that are found locally along fine-sanded beaches is wonderful – even better than pasta con le vongole, if you can imagine that! Il Braccio on Porto Ercole's Feniglia beach does a great one. Spring is the ideal time for it, before it gets too hot and the clams bury themselves far down in the sand to keep cool.
….
Thank you Emiko, for always delighting the senses and motivating people like myself to get back in the kitchen and not be scared to play with new ingredients we're not normally comfortable with. In honor of this giveaway I asked Emiko to share one of my personal favorite recipes from the book. A simple, yet absolutely perfect dinner-on-the-go plate of tagliolini al limone. The first time I made this I always didn't tell Nico it was done because I wanted to slurp up every greedy bite to myself.
---
Tagliolini al limone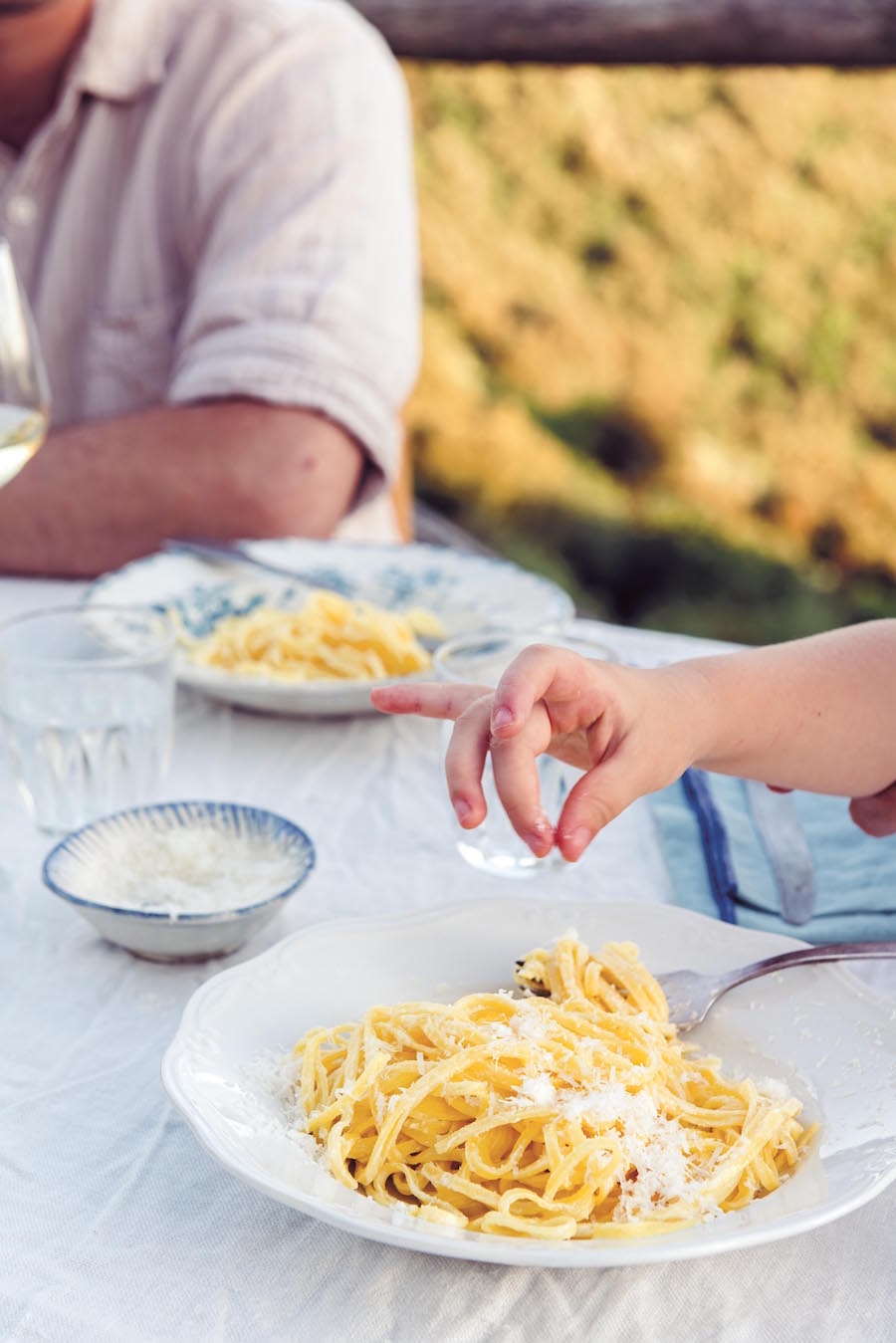 Any pasta can work with this, I particularly like something long and flat, like linguine, bavette or tagliolini, with this silky, creamy, tangy sauce of lemon and its zest. A dash of cream binds everything together but Marco sometimes likes to put caprino, soft and tangy goat's curd, instead. This can all be done in the time it takes the pasta to cook. If you're in a real hurry to get food on the table, you can buy fresh pasta (as opposed to dried) and it only takes minutes to cook – and you'll still be able to make the sauce in that time.
Note: Seek out organic lemons, as they haven't been treated with pesticides or waxed, and since the flavour of this dish relies mostly on their zest, those kind of treatments are the last thing you want to taste. Do give them a good rinse under running water and pat dry before using, though.
Serves 4
---
2 large organic lemons
50 grams of butter
1 tablespoon extra virgin olive oil
125 ml single cream
320 grams of tagliolini (or other long pasta)
50 grams (a handful) of grated pecorino or parmesan cheese
Put a large pot of water on to boil the pasta. When boiling, add salt (1 teaspoon for every litre of water) and the pasta.
Finely grate the lemons with a microplane for their zest (careful not to use any of the white pith, it is unpleasantly bitter), then, cut them in half and squeeze all the juice from them. Set aside.
Place butter and olive oil in a skillet to melt over medium heat. Once melted, add the lemon zest and let infuse for about 1 minute, stirring. Do not let the lemon burn; add the lemon juice and let simmer 3 minutes. Add cream, about half the cheese and season with salt and pepper; cook a further 1-2 minutes or until thick. Remove from the heat.
Drain pasta when al dente (save about 125 ml of the pasta cooking water), and toss the tagliolini in the pan with the lemon sauce to coat. Add some extra pasta water if it is looking dry. Serve with the rest of the grated cheese.
ACQUACOTTA: Recipes from Tuscany's Secret Silver Coast by Emiko Davies is published by Hardie Grant. Photography: Lauren Bamford. 
---
Giveaway Details
In order to share the love, Emiko and I have teamed up for our second giveaway sending a lucky reader a new copy of Acquacotta. Last year's was so successful that I was jumping to see what we could come up with this time. To win, all you have to do is comment on this post telling us what you love to eat when you are at the beach or the mountains. It could be a special recipe that you love, otherwise it could be a special place you return to every year — or an incredible one-off experience. Be creative, be open. The reason I blog is to learn more about you guys and with this giveaway, it's also a chance to give back thanks to the generosity by both Emiko and Hardie Grant.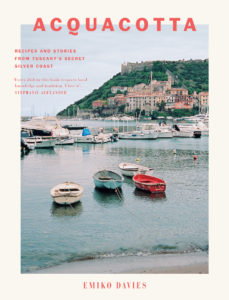 Emiko and I will personally choose the winner and send them a brand-spanking new copy of this awesome new book which I already adore.
We will announce the winner on my facebook page (and instagram), I'd rather do this sooner than later. So rule wise, the last comment will be accepted one week after the publication of this post.
Also give us a follow on instagram (my account and hers) to keep updated with what's going on in our day to day lives, from Emiko's adventures hosting events all over the world and my dalliances in Florence and around the world.
*Keep in mind that you can order the book already here
.
For those who don't know Emiko Davies, she is a food writer (with Australian and Japanese roots) based in Tuscany. She has a popular Italian food column on Food52 and trust me when I say you'll find her blog just as awesome as I do, check it out! This is her second cookbook, you can discover more about her first one, The Florentine, here
.