"You know, we wanted to open a place where we would like to eat, where we would send our friends."
#NoInsalataSoloBistecca (no salad, only steak) if anything, this hashtag should make you fall in love with this place before you've stepped foot though the door.
Over a glass of well — more like a bottle of wine with the new team of Osteria della Enoteca on Via Romana [the same location as the ex Santo Graal] and the same team of Enoteca Pitti Gola e Cantina, what I really wanted to know is why take on a restaurant when you already own one of the most successful wine bars in town?
The answer is pretty simple, why not?
Life is about challenging yourself and while I'm not a crazy risk-taker myself I respect people that are. Osteria dell'Enoteca's team includes Edoardo Fioravanti, Manuele Giovanelli, Lorenzo Ricci and Zeno Fioravanti, assisted by Shannon Fioravanti. Chef Nicola Chiappi is a Florentine native, and honed his skills at Santo Bevitore, La Murate and Ditta Artigianale before becoming head chef at Osteria dell'Enoteca. The nucleus where they all have met was of course at Enoteca Pitti Gola e Cantina which by the way is reaching its 9th year of business. A place I fell in love with for a passionate group of people serving up high-quality traditional Italian wines (and a wine club!) with light lunch and dinner options to pair.
Osteria dell'Enoteca serves up quality Tuscan food paired with excellent wines in a comfortable, yet contemporary setting, with around 50-60 covers between the front and back dining rooms (also open to private dinners and events).
The team have all gotten their hands wet in the food industry, but with this new place just down the street from Pitti Gola, they are going full steam ahead and diving into the restaurant business. This I commend them for, taking on quite a new challenge and as a friend of Shannon and Edo, I feel like I got to share in the excitement, nervousness and pride of a process of owning a business in Italy. This of course might mean little to no days off for any of them in the foreseeable future, another financial investment and the risk that all restauranteurs take here in Italy. However, it almost as if all signs pointed to this becoming a reality. It was the logical next step after Pitti Gola, this new place allows them to serve second courses and meat dishes, plus expand on their wide knowledge of wine. For Lorenzo Ricci, this will be his first time entering the world of owning a piece of something, which is pretty remarkable for someone who is only 26 years of age. By the way ladies, Lorenzo is also single and ready to mingle so don't be shy!
https://www.instagram.com/p/BRnZG5VFLH0/?taken-by=osteriadellenoteca
The goal essentially, is to bring an osteria experience locals normally enjoy when they leave Florence into the surrounding countryside for Sunday lunch, complete with a separate steak and grilled meats menu (yes!). The menu features more than just the fare of your average local rustic trattoria, but doesn't go into the fancy fusion route that appeals to only certain personalities. For me, it's a refreshing change from the Asian fusion, tapas, cocktail revolution I've seen so far in town. Don't get me wrong, I love all of that too, but since 99% of the queries I get on the blog, or from friends or family isn't where to eat the best Japanese fusion, having a really good Italian option to recommend in the heart of a neighborhood I love and live in is actually priceless. Especially one that is both simultaneously perfect for a date night out, or a fun group of friends or colleagues. Essentially it hits all bases, unless you're a vegan.
As far as locations go, Via Romana encapsulates the spirit of Florence in a street.
It stretches from Porta Romana to Pitti Palace, a pretty walk that passes by numerous mom & pop shops, an entrance to the Boboli gardens and retains an authentic spirit that I really hope remains in tourist-friendly Firenze. I get my shoes fixed on this street and buy plenty of gifts for my family in its many eclectic shops and boutiques, the only negative is the microscopic sidewalks; a tale-tale Florentine problem that causes cars, scooters and red buses alike to whiz by your head at a terrifying speed, but I can live with that. This is real Florence, the good, the bad, the scuffed, the beautiful, it's a road that serves as a real life jack-of-all-trades.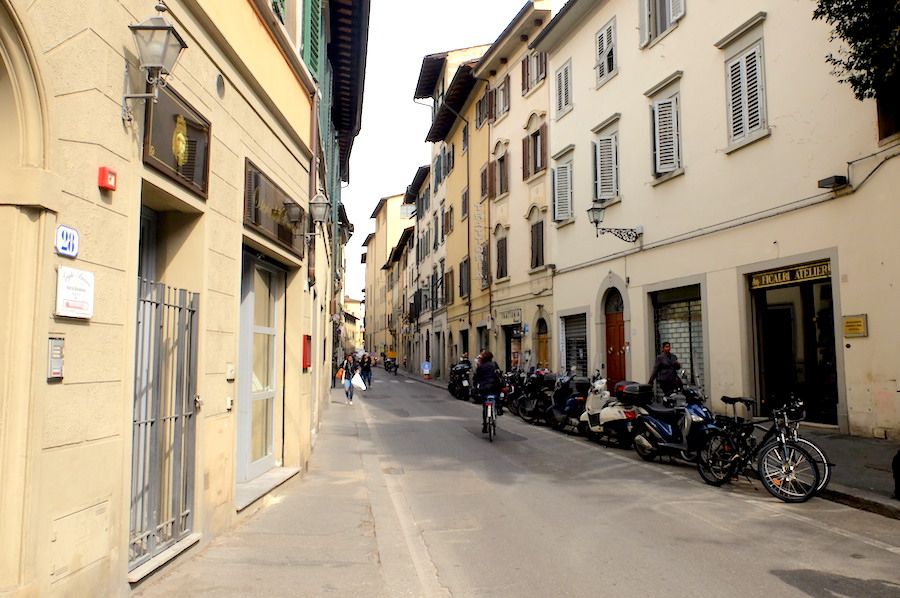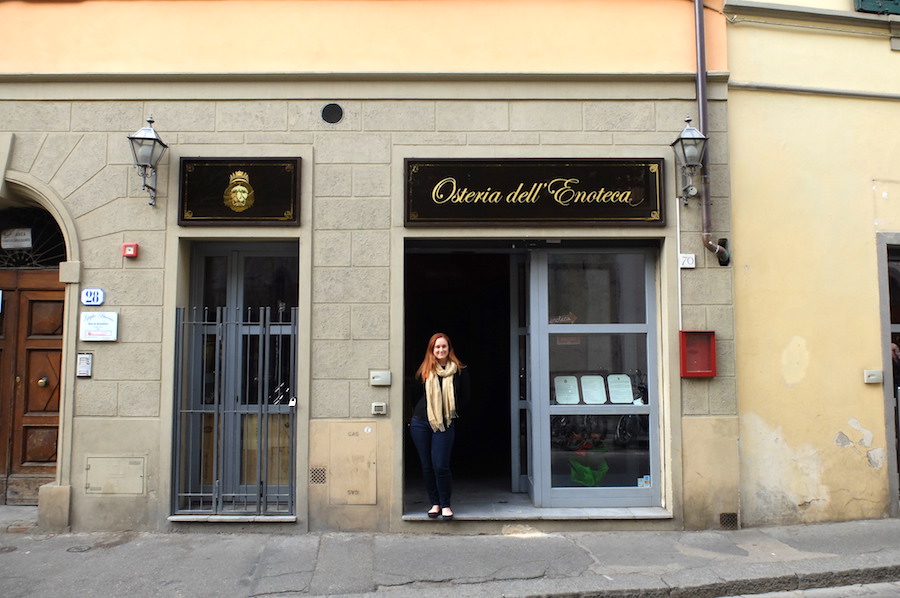 One thing you'll notice about the city of Florence is 2017 is the many, many new openings of restaurants, wine bars, and reopening of places that once closed for good; it's a city imploding with flavor and options, but what makes Osteria della Enoteca special to this girl in Florence is their refreshing return to familiarity. I like the merge between modern design (unique lighting, interesting artwork) peppered with comfortable accents (fresh flowers, books, tablecloths) and I'm sure we'll see a few more changes on the design front in the future.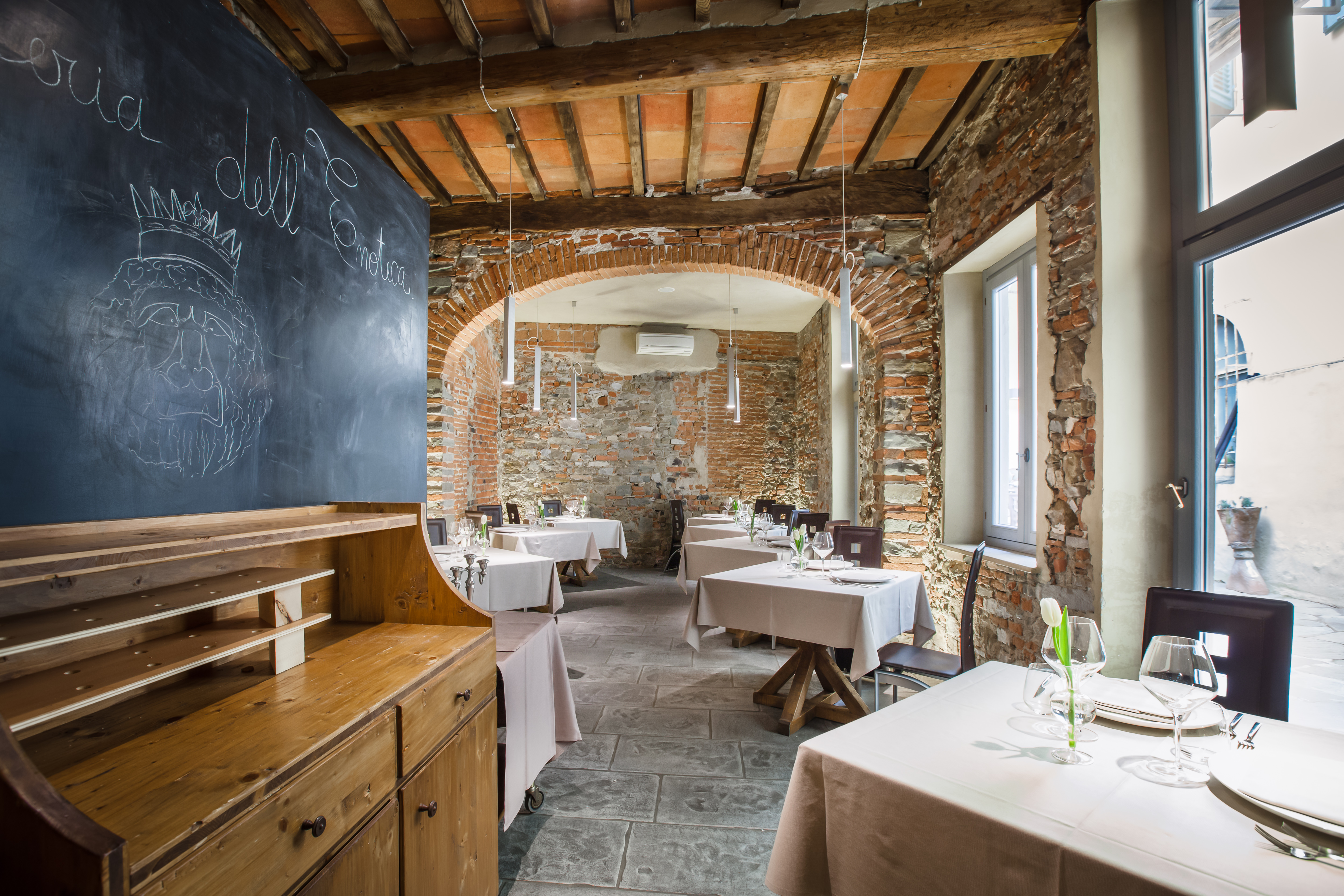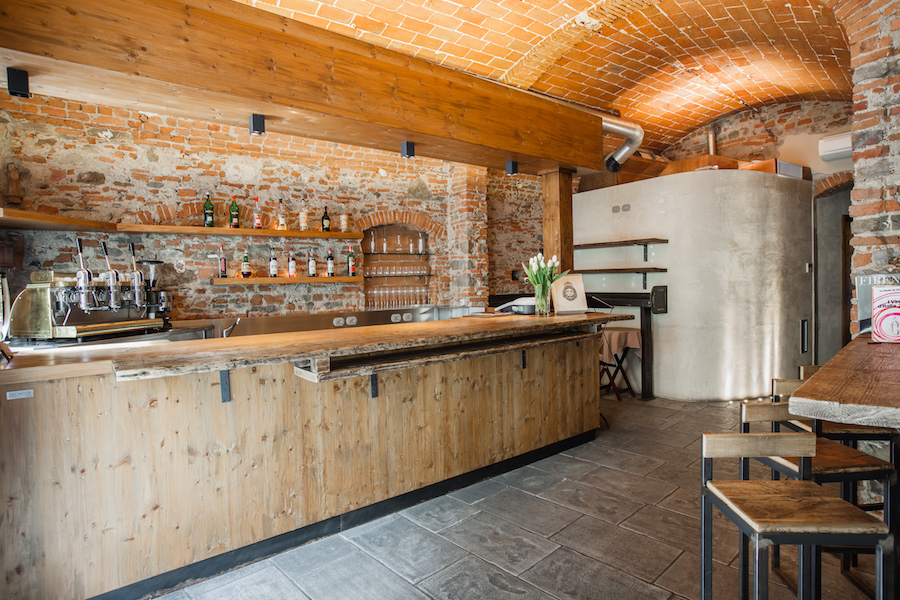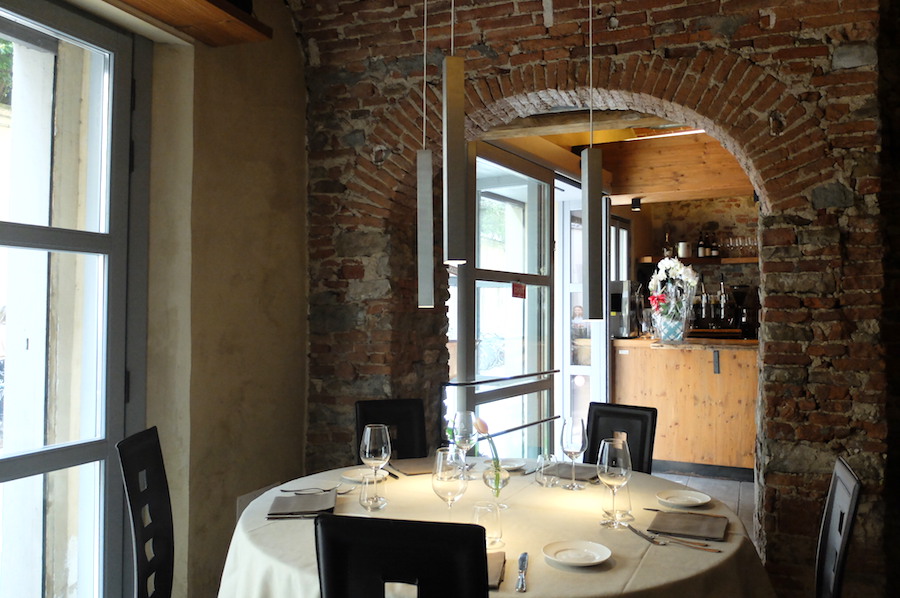 What can you expect? Let's talk food! 
Let's be honest, the food essentially talks for itself and my two experiences there for pre-opening meals (it officially opens to the public on March 30th) have been pretty incredible. Ingredients are prized and precious since even at Enoteca Pitti Gola e Cantina it's all about less is more, quality takes time and slow-food reigns king. For the restaurant, the fruit and veg comes from local Frutta e Verdura team on Borgo San Jacopo whereas the salumi and steaks are sourced from Salumificio Mannori in Vergaio, Prato. The menu is perfectly balanced, a decent selection of appetizers, first and second courses (plus that bistecca/steak menu) depending on the season. Dessert isn't to be missed, while I've only tried the coffee creme brûlée, that was enough for me to leave space for something sweet every time I visit this place. Of course Nico loved it too (he could have eaten three).
Stand out stars for me included the chicken liver terrine served with a vin santo reduction which will convert squeamish liver eaters like myself, I can absolutely admit that I am not a fan of crostini toscana (chicken liver spread on toasted bread) because of its strong, unique flavor however this is different, perfectly creamy sprinkled with salt (I was told the secret is a healthy use of butter) and make some believe I could indeed be a "liver lover" after all. This followed by the baccala (cod, slow-cooked with milk) over a slice of grilled polenta.  This was absolutely exquisite, both creamy and crunchy and.. just the right amount of salt. They also serve this at Enoteca Pitti Gola e Cantina and I'm thrilled they've had the good sense to bring them here too. Appetizers range from around 7-10€.
They also make a wonderful beef tartare with 24 month aged parmesan and a heavenly cured meat charcuterie platter. For our first courses, I've tried both the pappardelle with ossobuco ragu (ingenious idea – 12€) and the freshly-made tortelli stuffed with fave beans and pecorino (12€). Steak lovers, you will be in heaven here, the selection of grilled meats really sets the tone of the restaurant, both their traditional Florentine porterhouse steak on the bone and their bistecca sourced from the hills of Val di Chiana in Tuscany.
I'll never forget the first time I saw a Florentine bistecca up close and personal, I thought it was a joke, some kind of food parody to impress tourist groups but instead I've learned to dig in quicker than most, grabbing at the prized filet before other forks encroach on my territory. No sauce in sight (you know I grew up with BBQ of every flavor and kind in Texas) the focus is on the quality and cut of the meat, just lightly sprinkled with salt and pepper before being roasted o an open flame.
Also not to be missed, the melt-in-your-mouth tasty scamerita di maiale grigio del Casentino (grilled pork shoulder), a cross between maiale rosa e il Moro Romagnolo or di Cinto Senese.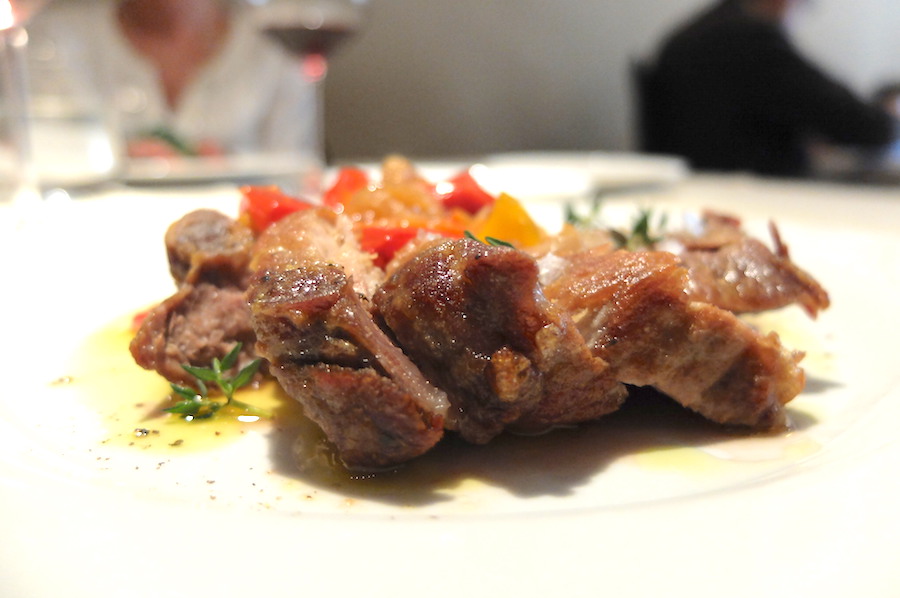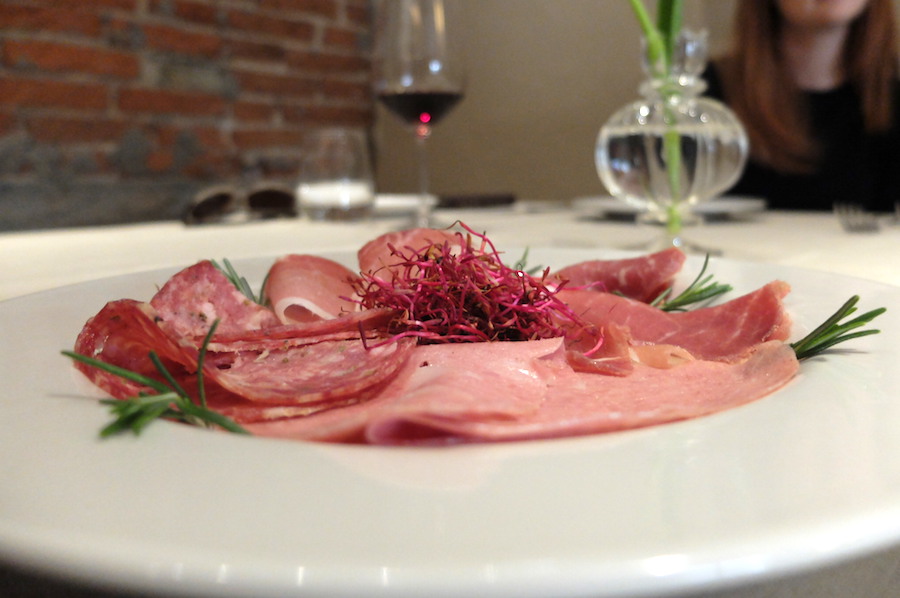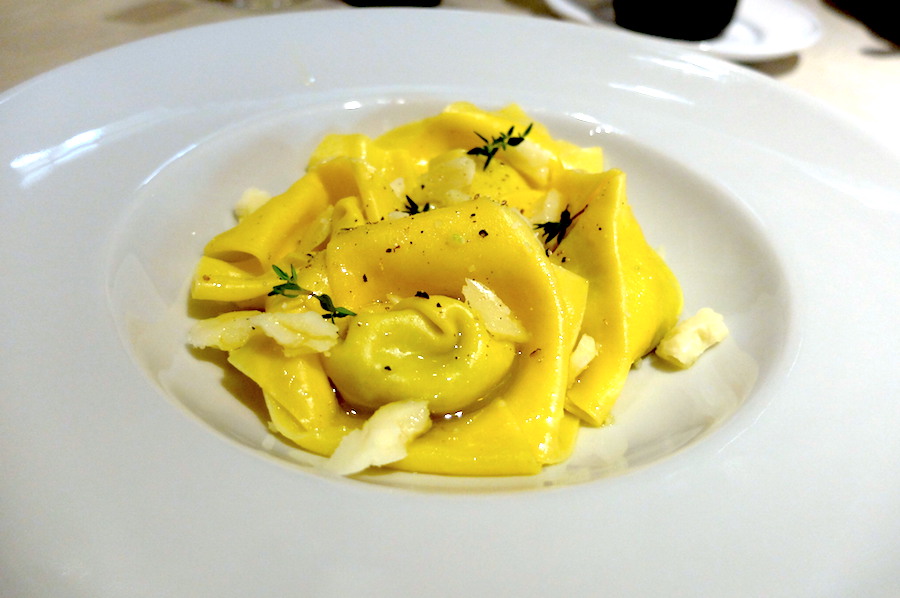 Dessert ranges from homemade tiramisu to coffee creme brûlée and artisan gelato from La Sorbettiera, what impressed me is that each portion is 4€, a refreshing (and surprising) price in a town where it isn't common to see desserts priced around 7-9€. After you must ask about their homemade liquors, my favorite being the limoncello infusion that Shannon has resurrected from her husband's grandfather's recipe. In fact, I liked it so much I begged for the recipe so below you can figure out how to make your own limoncello!
Osteria della Enoteca
Via Romana, 70/r, Firenze FI 50125. [email protected]m. www.osteriadellenoteca.com. Open for Lunch 12:00-14:30, Open for Dinner 19:00-23:00.  Closed on Tuesdays. Reservations can be made through the website.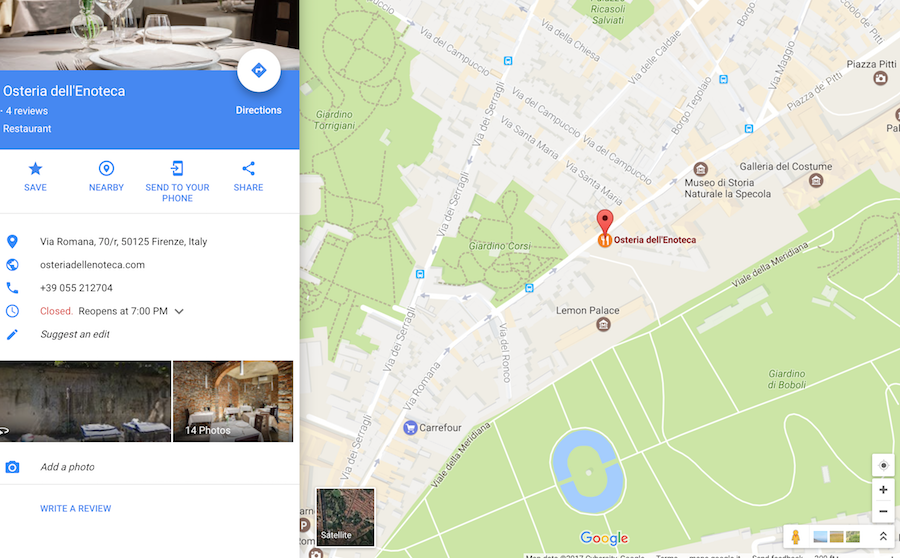 Limoncello recipe
The original recipe is from Nonno Quirici, Shannon's husband's grandfather. He hand wrote it for her a few years ago and after a few batches of the traditional, lemon recipe she thought it would be fun to experiment with other flavors following the same method. Thus far Shannon has used this recipe with a Citrus Mix, with Lemon and Lavender, with Mandarins and her all time favorite, Chamomile flowers.
1 0.75 liter Bottle Alcohol Etilico 95% *
*As a note if you can't get high proof alcohol pure you can use vodka instead although taste as you adjust the sugar amounts so it doesn't become too sweet.
10 organic lemons
1 kilo sugar
4 cups water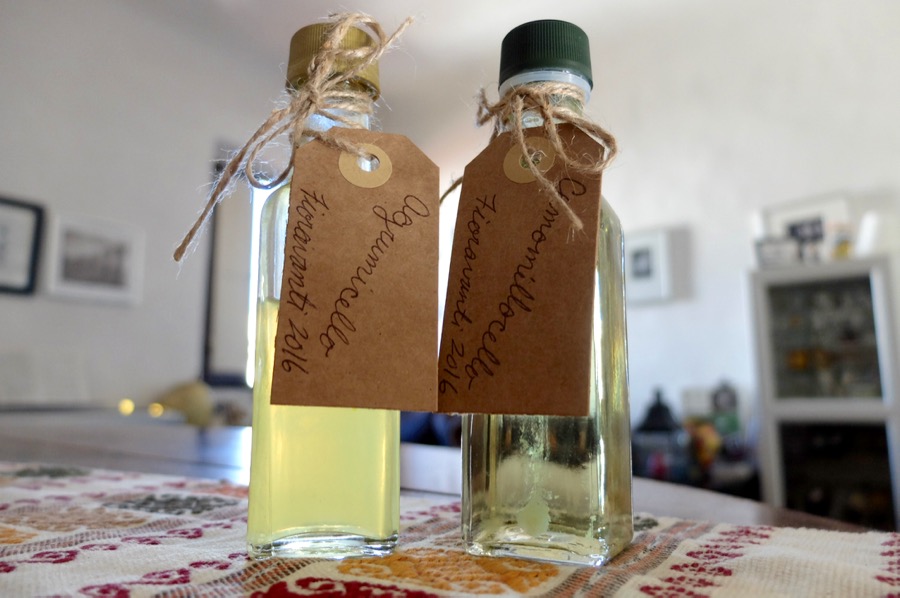 Start by using a potato peeler to peel the skins off of your lemons. The organic tend to have the best taste as the skins are not treated by outside chemicals and such. As you peel you want to avoid any of the white inside of the lemon as that will result in a bitter taste in your liquor later. The essential oils in the skin is what makes the taste so that's all you need. Sometimes if I peeled too deep I'll take a little paring knife or even better a flexible fish knife and filet off a bit more of the white. Then take all of the peels and put them into a glass container with a top that closes. Pour over you alcohol and seal tightly. Now its actually a lovely bottle as it infuses so I know people who keep it in sight in their kitchen although Nono made the point it is best left in a dark cool area. Leave it for 40 days. I have in the past forgotten about it and found myself with 60 day infused liquor. That's not a problem at all it just makes the flavors more so intense, but a reminder on my calendar does help.
After your 40 days and 40 nights are over you can go ahead and strain out the liquor in a large bucket or pot. In a separate pot make your simple syrup. Take 1 kilo of sugar, I like the super fine white sugar because it melt fast and smooth. Use the same amount of sugar as water, for me that turns out to be right about 4 cups. Bring the liquid to a boil stirring occasionally. I like to not only wait until the sugar has dissolved but until it also changes from a white color to transparent. Now turn of the heat.
This is the part that will be a little different for everyone depending on your tastes. Pour some of the simple syrup into your alcohol and taste it. If its still to strong of an alcohol taste go ahead and add more. When I make this it depends a bit on what flavors I am infusing sometimes I like it sweeter and sometimes a bit stronger. I find often a 1 part alcohol to 2 or 3 parts simple syrup works pretty well.
Now Nono says to then leave the finished bottled liquid for another 40 days to settle. We almost never make it for the second waiting period. If I make very large batches maybe the last few bottles actually survive 40 days, but that same night we pretty much always want to crack one open and try it out. It is best when kept in the freezer and served in little glasses freezing cold.
If on the same day that you strain and mix the liquor with simple syrup you replace the glass jar with a new batch I find the waiting time between batches to be less painful. Get creative use your favorite flavors of anything that would contain essential oils that can infuse. Seasonal fruits are always fun like the Mandarins that are only around in the winter. To then be drinking such a fresh taste of them in the spring is always fun. Hope you enjoy your own infusions at home! Cheers!